During WWII there were radar towers in the South Bay poised atop Tennyson Place in Hermosa Beach, and the reason had everything to do with the altitude. Rumored to be the highest point west of Pacific Coast Highway, this area remains an ideal spot for building one's dream home.
There are oversized parcels of land, the draw of an exclusive beachside neighborhood and best of all, prime views—stretching across ocean and hillside.
"It's a very unique spot because the lots are massive"
says real estate agent Rob Freedman, who is co-listing the property, "and it's pretty sleepy back there. It's a hidden gem."
On a particularly lofty Tennyson lot, a custom home (more like a mini-compound) was erected a few years ago. The approximately 7,300-square-foot home spanning three levels was designed in dreamy partnership with its plethora of outdoor places, and the resulting atmosphere is one of private, fresh-air luxury. Step inside and, though you may still technically be in the South Bay, just a one-minute drive from Pacific Coast Highway, you're guaranteed to feel somewhere far, far away.
The architect is Louie Tomaro, whose assembly of geometric angles, plentiful glass, and overhanging eaves are cleverly softened by an inviting palette of Spanish cedar, white stucco, and textured stone. Indoors, sunlight and stirring views are everywhere.
"When you get panoramic first-floor views, and panoramic second-floor views, that's very unusual," points out co-listing agent Bryn Stroyke. It's not by accident but by meticulous planning that palm trees, blue skies, and ocean vistas follow you through home and yard. "The way the home is situated on the site takes full advantage of the lot," explains Freedman, whose real estate acumen is supplemented with a Cornell architecture degree. "It's got about a good a view that you can get in Hermosa Beach."
The home opens onto the formal living room, a floating space with walls of glass on three sides, revealing grand vistas. "The living room became the perfect space to utilize the cantilever which welcomes you as you enter in the front door," says architect Tomaro.
"Entering the living room gives the sense as if you are floating over the ocean in the view beyond." From the exterior, it's one of the home's most captivating features—a glassy cube seemingly held up by air. "The floating, cantilevered look softens things," says the home's builder, Dan Bronner of Dolphin Construction. "It really lightens up a big structure."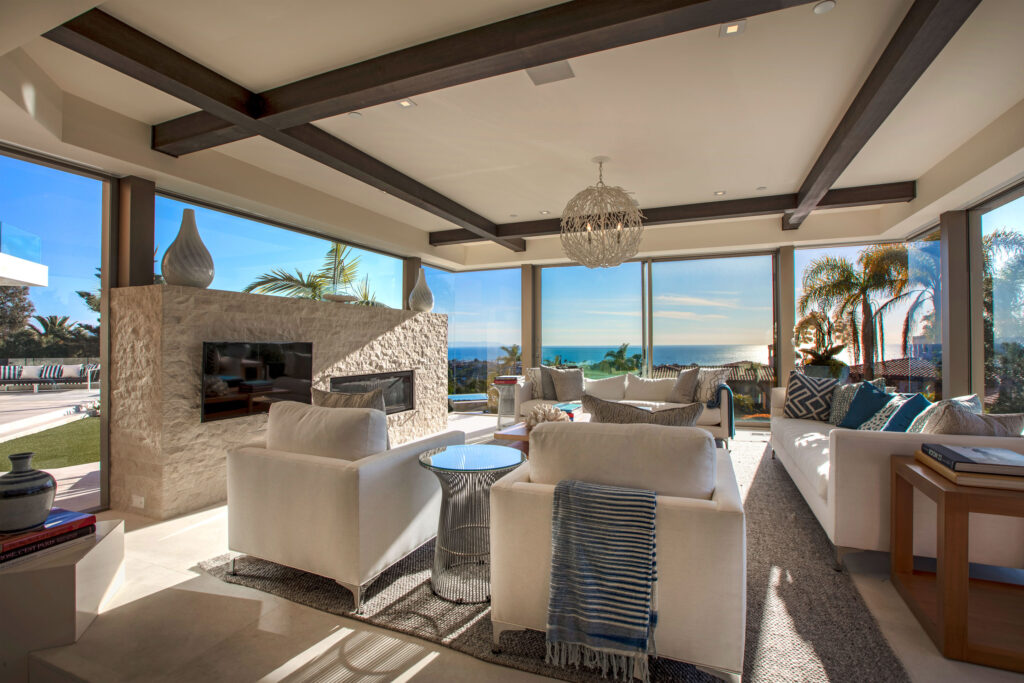 The main floor of the home's interior hosts a myriad of clean-cut and spacious gathering spaces, nearly all of them designed to grant instant access to the outdoors via endless glass walls and doors that pocket neatly into the walls.
The openness of the home lends a flow to, and between, indoor and outdoor spaces. "The style of the Tennyson project is a coastal contemporary home that was driven by the family's active lifestyle," explains Tomaro. "The clean lines and floor-to-ceiling glass create a modern feel that allowed us to fully capitalize on the stunning views this sight had to offer," he adds.
The kitchen, for instance, a gleaming place of wood, steel, and stone, adjoins not only the outdoors but also a spacious family room and a sitting nook—a pure white space that connects dramatically to the back yard via glass walls.
"The sliding doors that pocket into the wall allows you to join the front and back of the house together," notes Bronner. "It's a wonderful place to have an entertaining evening, and have it flow seamlessly from the back yard, through the house, and into the front yard."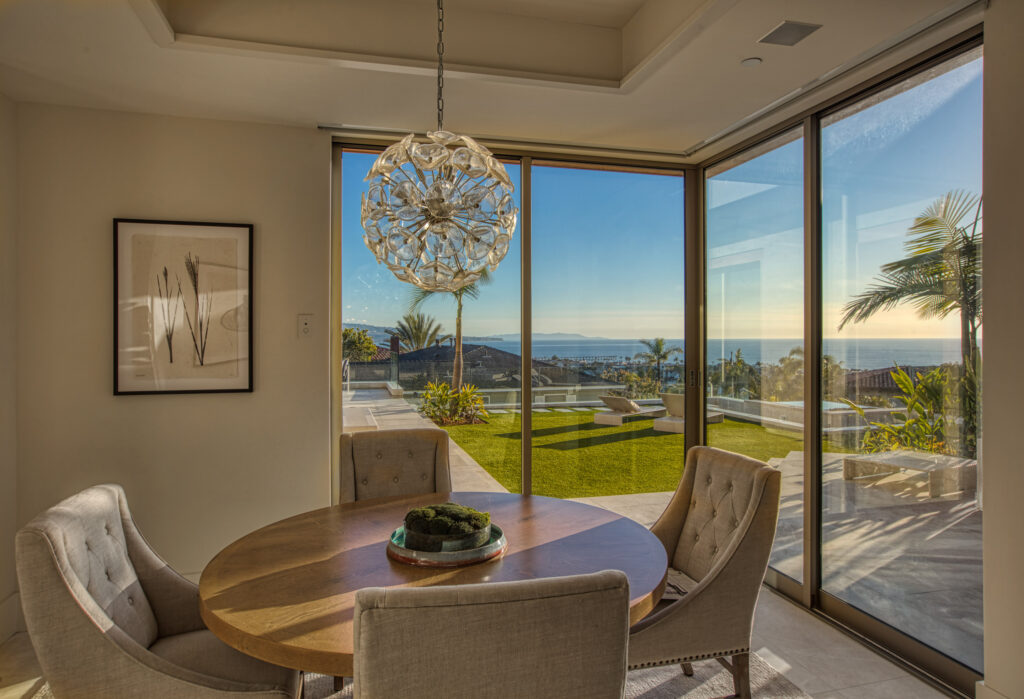 Speaking of the outdoors, the size of the lot affords plenty of al fresco areas; each varies but all look and feel like the leisured grounds of a world-class resort. "There are multiple entertainment areas," Tomaro describes, "with the pool and yard providing a focal point for the public and private spaces to wrap around, creating a constant indoor-outdoor relationship."
Due to the amount of space, says Stroyke, "There are no hard decisions. You're able to accommodate everything. The back yard features an elegant swimming pool and spa adjacent to a covered cabana that's ideal for warm-weather lounging.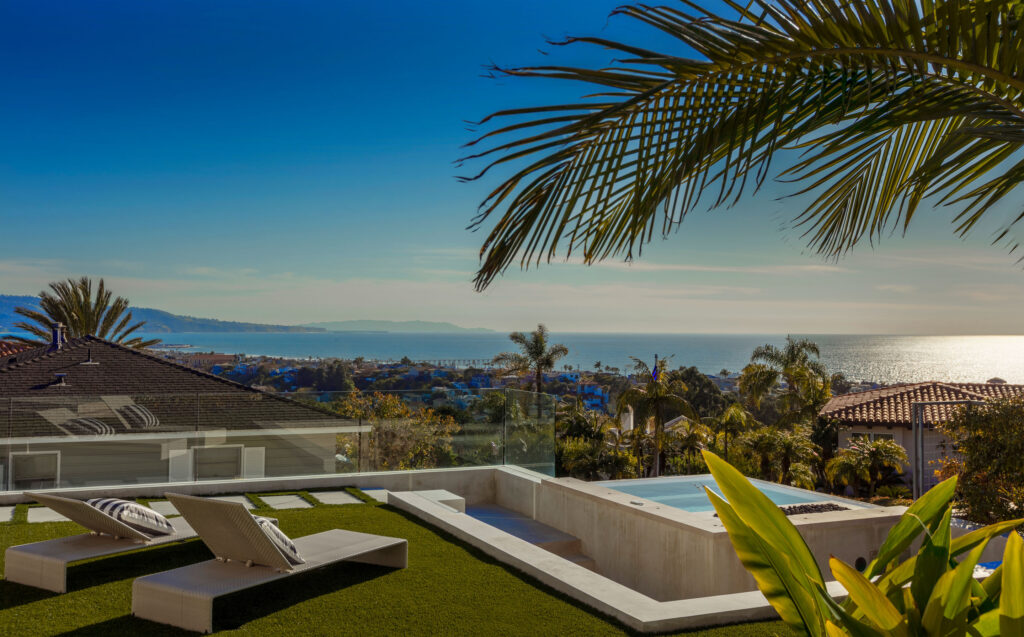 Steps away is a tidy sports court, and at the southwest corner of the grassy front yard, a spacious hot tub with a dramatic fire feature. "You can sit with quite a few people, have a glass of wine and overlook Catalina Island with fantastic views," says Freedman.
Back inside, the top floor features four of the home's five bedrooms, including a mellow master suite with a custom mahogany beam-work ceiling, inlaid fireplace and fresh-air sitting balcony that faces the ocean square on—one of the home's many spots to ponder the brilliant colors at sunset.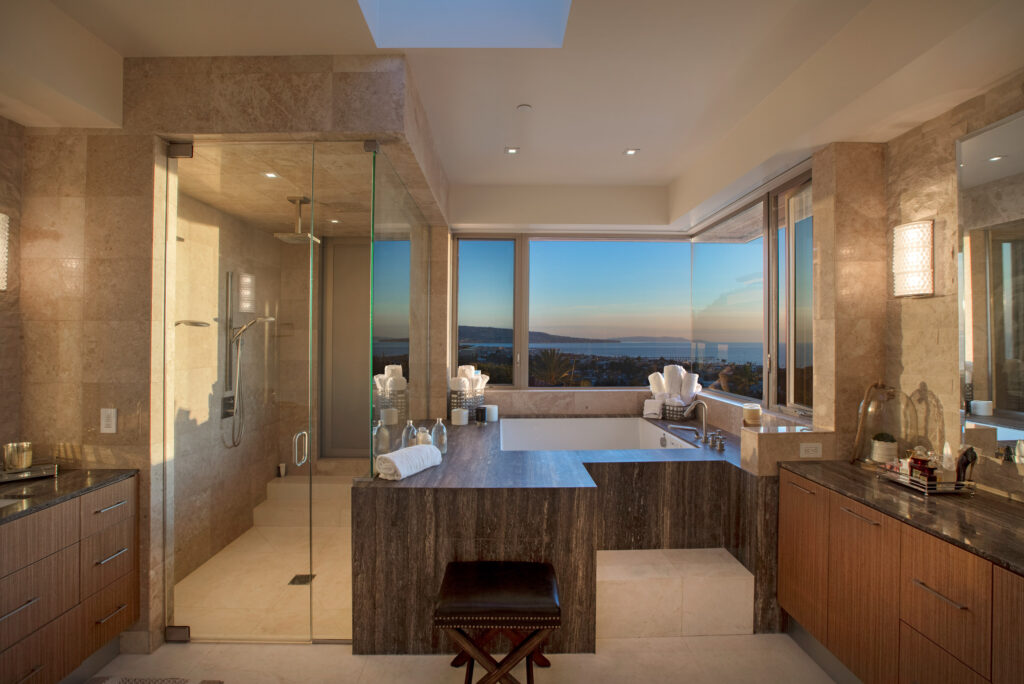 An equally prime place is the master bath suite, a luxurious space decked in wood and natural stone, with plentiful ocean views, even from the soaking tub and the generous walk-in shower.
Not to miss on this floor is a grand deck, over 1,000 feet in size, adjoining a spacious gym and dance rehearsal studio. Cleverly shaded to blunt the sun's strongest rays, and capture a full panorama of ocean views, from north to south, this private space beckons as a lounge for everyday use, or as an ideal site for full-blown soirées.
Rounding out the home's star-studded amenities is a lower level with a plush theater, chic wine cellar and kid-friendly recreation room. A seven-car garage, in addition to an exterior parking area, is a convenient touch for a home that's bound to have guests.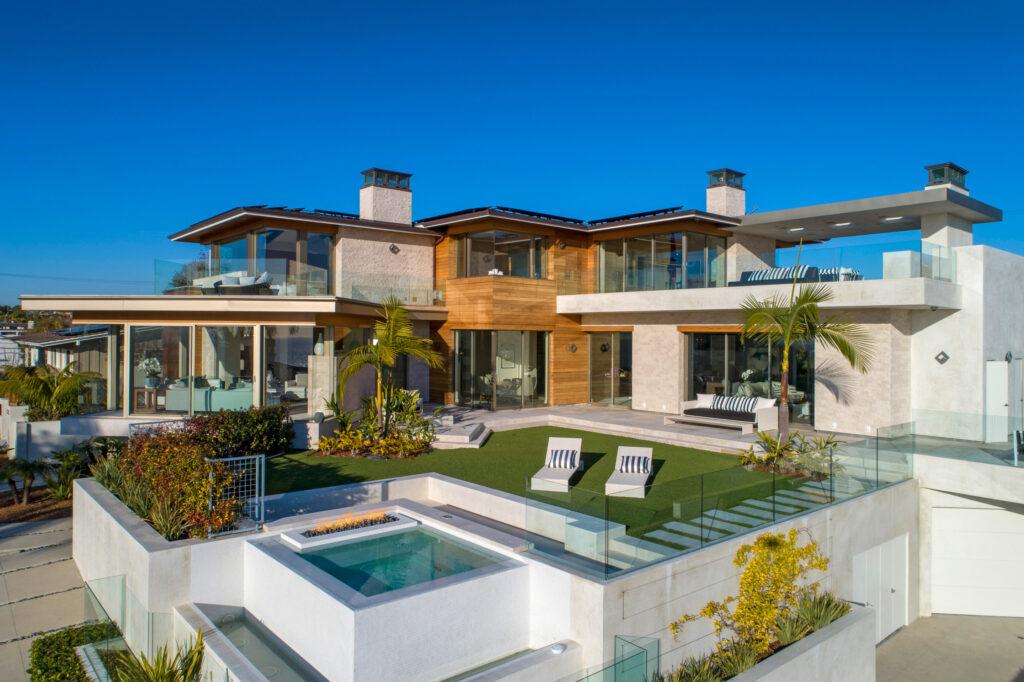 "It's a big, pavilion home that at once is perfect for a family, yet has this architectural verve about it that's livable, yet uplifting," says Freedman. Indeed, this sculpted and elegant place, soaked in light and ocean vistas, and stocked with abundant outdoor spaces satisfies the most-sought-after trifecta in South Bay luxe house hunting.
There's no need to make those not-uncommon compromises, such as swapping views for size, and foregoing pool dreams in order to save precious lawn space. As Stroyke simply sums it up: "With this property, you can have your cake and eat it too."
PRESENTED BY
Rob Freedman | 310.291.7779
of The Domo Group – RE/MAX Estate Properties

Bryn Stroyke | 310.880.3436
of Stroyke Properties
List Price
$16,750,000