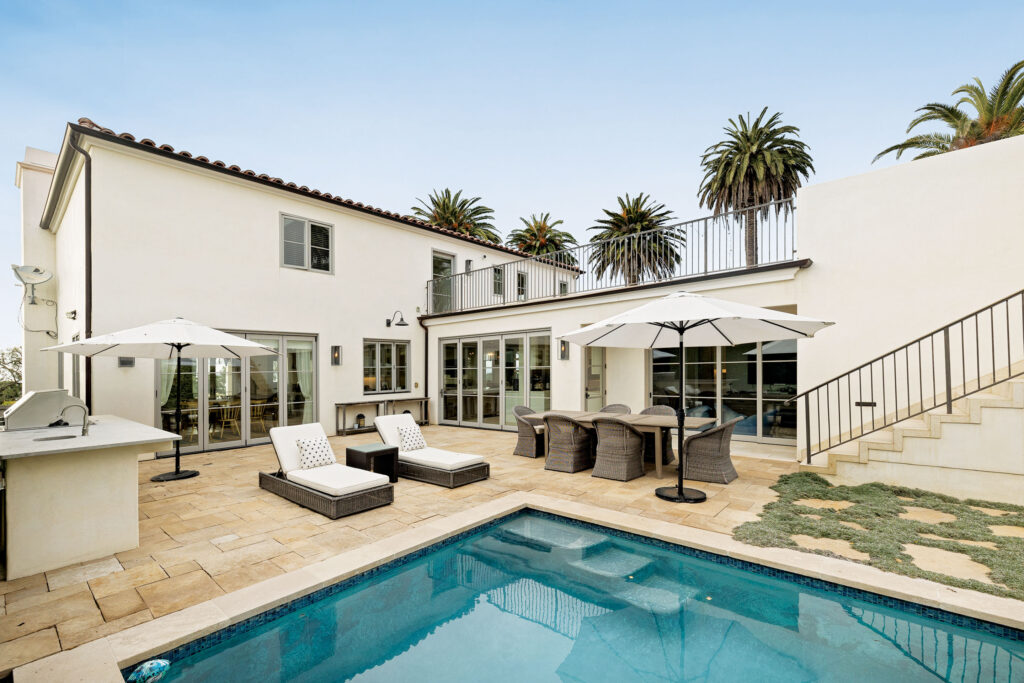 1700 Paseo del Mar a Storybook Domestic Residence in Palos Verdes Estates Has a Vibrant Bluff Top Perspective & Ocean Views as Far as the Eye Can See
"Paseo del Mar is certainly the A-list street in Palos Verdes Estates," states real estate agent Gerard Bisignano of Vista Sotheby's International Realty, "if not all of Palos Verdes."
It's along a particularly sweet stretch of this broad street, known for its grand homes and views, that an elegant two-story home sits on an expansive corner lot with a sweeping perspective across the Pacific Ocean.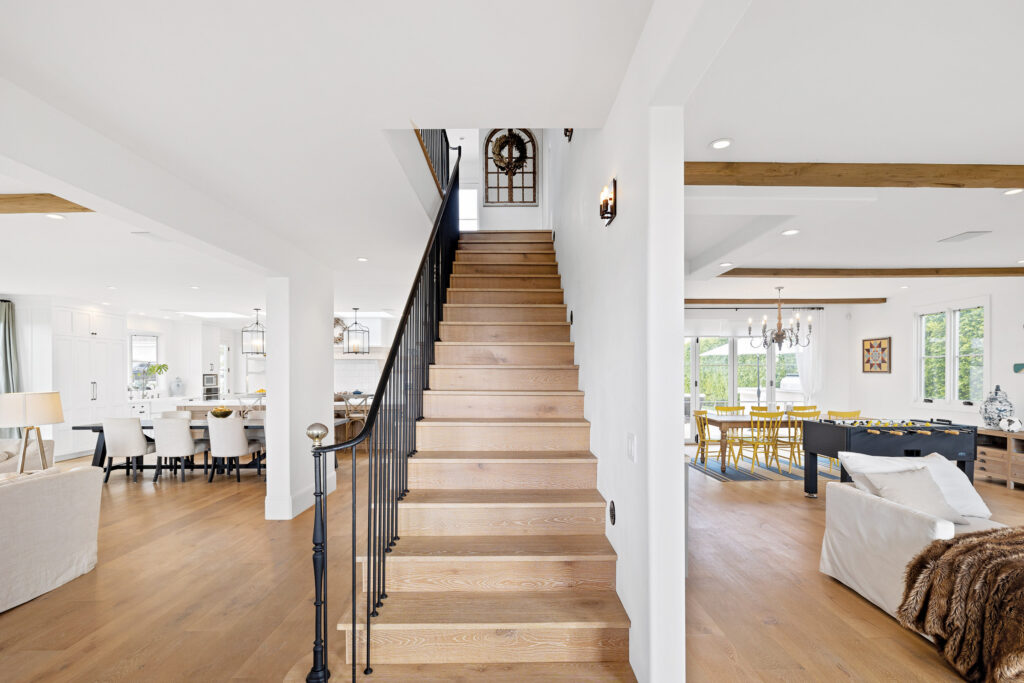 With 5 bedrooms and 7 bathrooms, the roughly 5,200-square-foot residence is Mediterranean in style, with classic notes in the form of tall exterior columns and an open-air porch extending across the front of 1700 Paseo del Mar.
"This house checks off a lot of the major priority items for a family looking to move to Palos Verdes Estates," points out Gerard Bisignano.
In addition to helming his own real estate team, the agent is also an architectural specialist of national note, repping the famed Richard Neutra-designed Kaufman Desert House in Palm Springs, for one.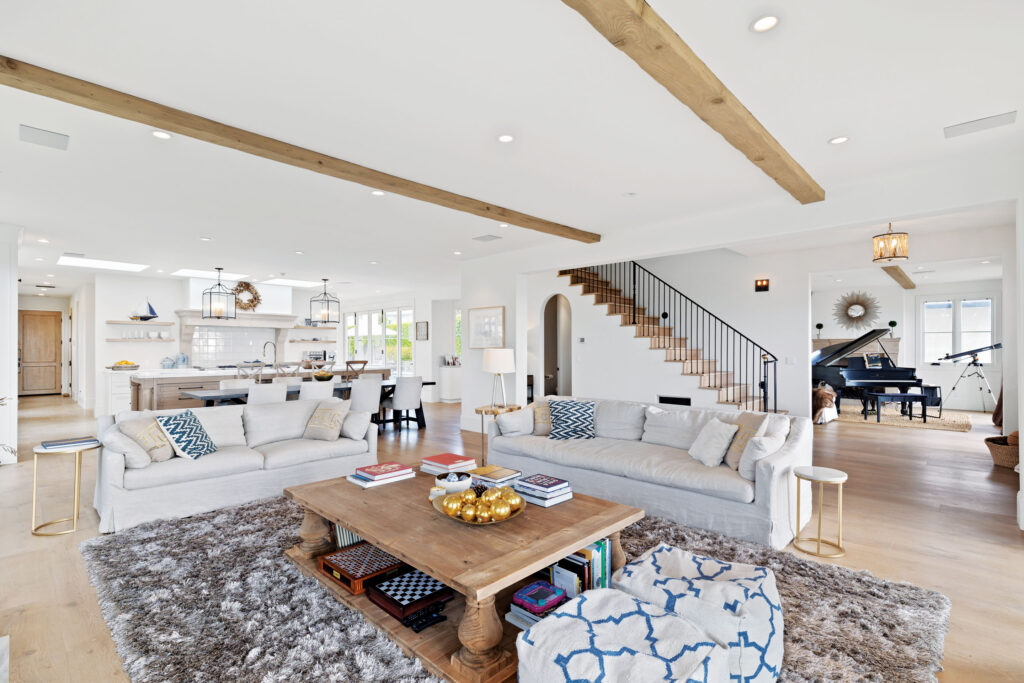 An extensive overhaul has brought this classic Palos Verdes home up to date, in alignment with a thoroughly modern style of living—polished in the luxury coastal vein, with pure white walls, pale wood floors and exposed beams.
"It's been completely remodeled to a degree that really will cater to the most discerning tastes," says Gerard Bisignano.
The porch, for instance, is just one of the property's seemingly countless fresh-air living areas: from a graceful seating area in the front yard where sunset colors mingle with the flickering flames of the fire feature—to a private backyard oasis where you float in the pool while soaking up views of palm trees and the sky's soothing blue hues.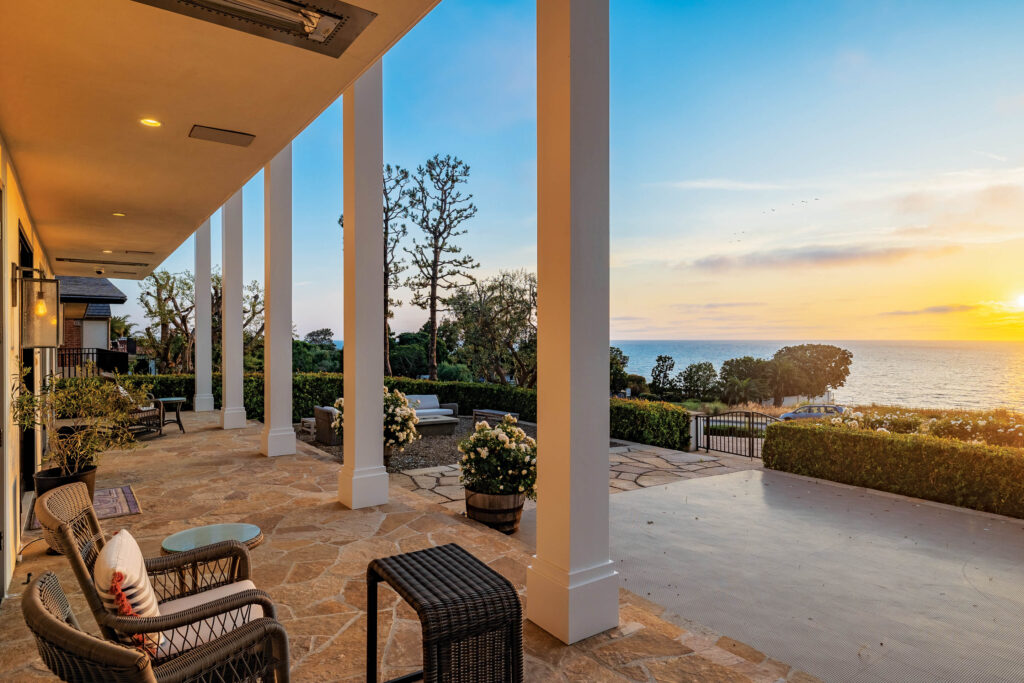 These sculpted spaces are meant to capture the treasure of the golden-ticket location, situated high on the peninsula's bluff and oversized, with a larger-than-usual lot size of 13,000 square feet.
"It's on a corner," Gerard Bisignano says of the expansive property, "which gives you an open-air perspective."
The north is completely unobstructed, so nearly every corner of 1700 Paseo del Mar has views extending up to the Santa Monica Mountains and Point Dume, along with the Queen's Necklace, glittering with lights after the dramatic hues of sunset have cast off. To boot, directly across the street as far as the eye can see, is green parkland, flush with bluff-top greenery and palm trees.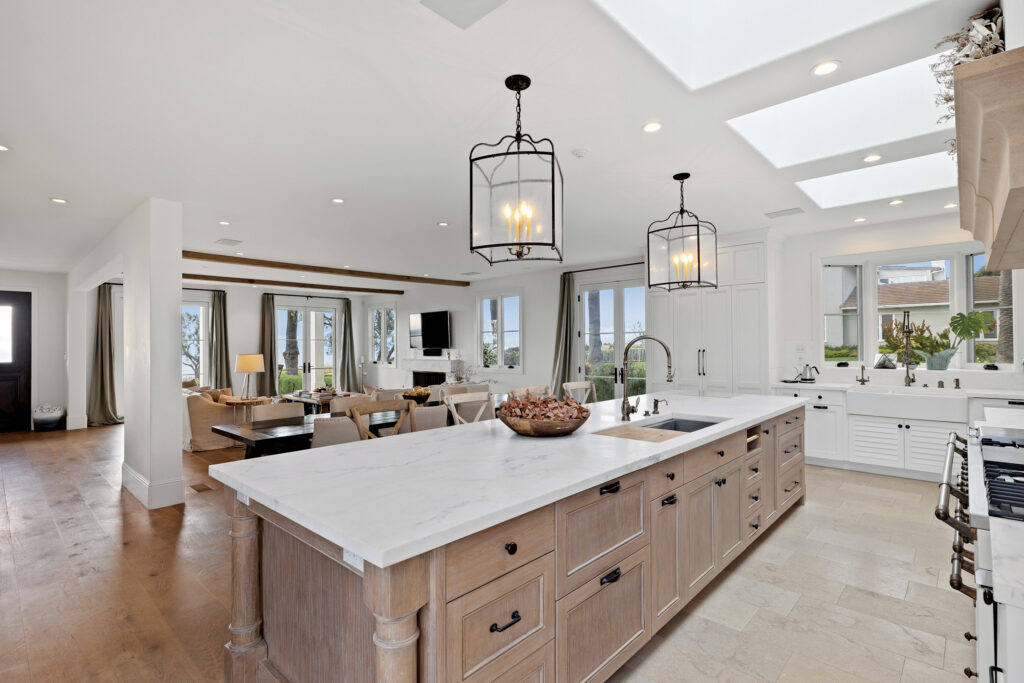 "It will never be built on," Gerard Bisignano says of the protected greenbelt that further opens 1700 Paseo del Mar to widescreen water views.
The upstairs houses sunny bedrooms, including a fireplaced primary suite where you step onto the balcony from oversized French doors to watch birds dipping into white-tipped waves and the glitter of morning sun casting over the water. A bonus of the floorplan is a separate two-bedroom, one-bathroom living suite on the main floor, cleverly distinct from, yet accessible to the main house—and ideal for housing guests and family.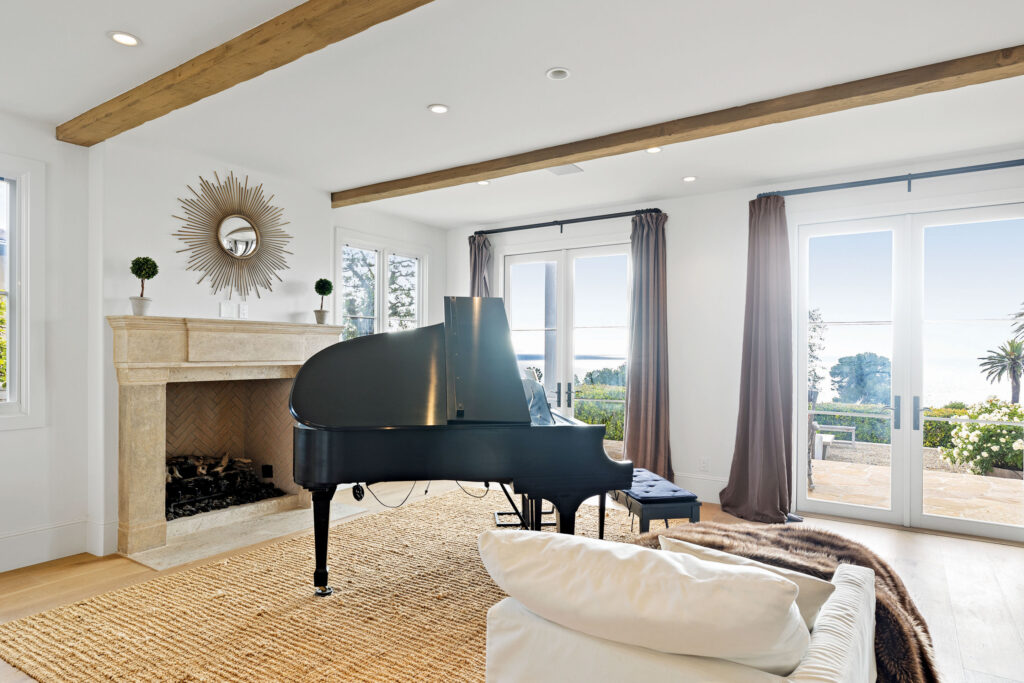 Downstairs are main living spaces, all delightfully open and bright. The main public areas include multiple spaces for dining and gathering. Like a living room with an elegant white marble fireplace that's neighbors with a pleasingly chic, white-on-white kitchen. In this inviting family hub, soft light streams down from a trio of skylights, casting sunlight onto the glossy marble island. A gleaming Lacanche range, named for the French village where the 6-foot wide appliance was handcrafted, sits center stage in the kitchen, framed above with sculpted limestone.
One of the most pragmatically appealing features of the house is a butler's kitchen situated discreetly behind the main kitchen. Aptly described by the agent as a "kitchen within a kitchen," this fully outfitted cooking and prep space serves as a tucked-away area where dishes can be warmed and stored before serving—ideal for a small dinner party or a fete for over a hundred, which the scale of the house can accommodate.
"We counted seven different food prep areas in the house," notes Gerard Bisignano, including an outdoor kitchen where drinks and food are served up to guests during fresh-air gatherings. "It's an entertainer's house because it's wide open," says the real estate agent.
The ceilings are high, and the proportions are perfect: inviting, open, and tasteful. A constant, too, are the oversized windows and expansive French doors for a constant link between the indoors and this dreamlike natural environment, complete with palm trees, blue waters, and endless skies.
"The house," Gerard Bisignano adds, "has barely been lived in since the major remodel because the owners are based in San Francisco."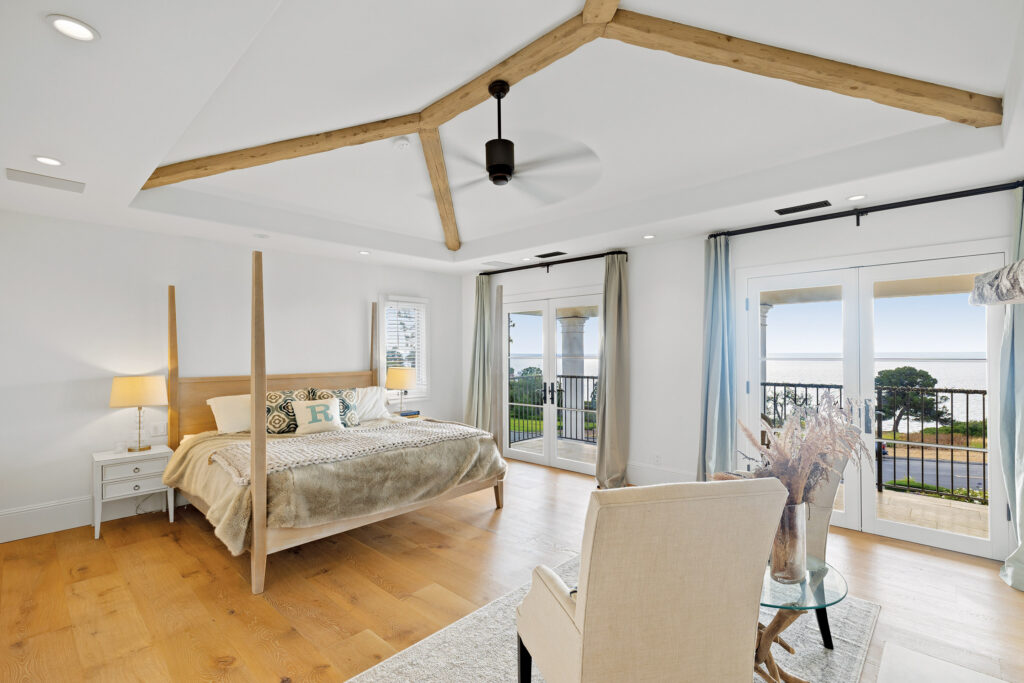 New owners will have much to savor in this roomy coastal haven—with the versatility to keenly shift between a sun-splashed domestic hub and a refined entertaining residence.
Location is yet another plus: "You're really close to everything," explains Gerard Bisignano. "You can be in Malibu Cove in two minutes, and you can be in Redondo Beach in about six or seven minutes."
The address also boasts remarkable walkability—along the bluff tops and to the beach, or to local dining, the market and even schools.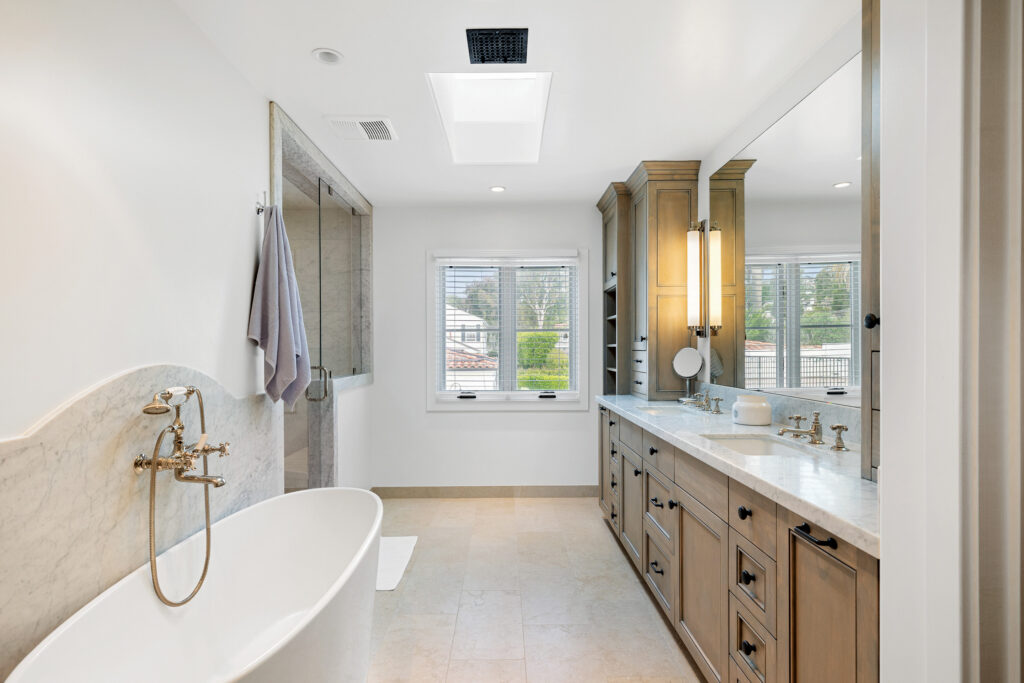 "You can practically throw a rock and reach the high school," he says with a chuckle, "and the elementary and intermediary schools are right up the hill."
From playdates to elegant parties, all within sight of the Pacific Ocean.
Gerard Bisignano of The Bisignano Group
Vista Sotheby's International Realty
310.990.4727
List Price: $7,999,000
Photography Courtesy of The Bisignano Group