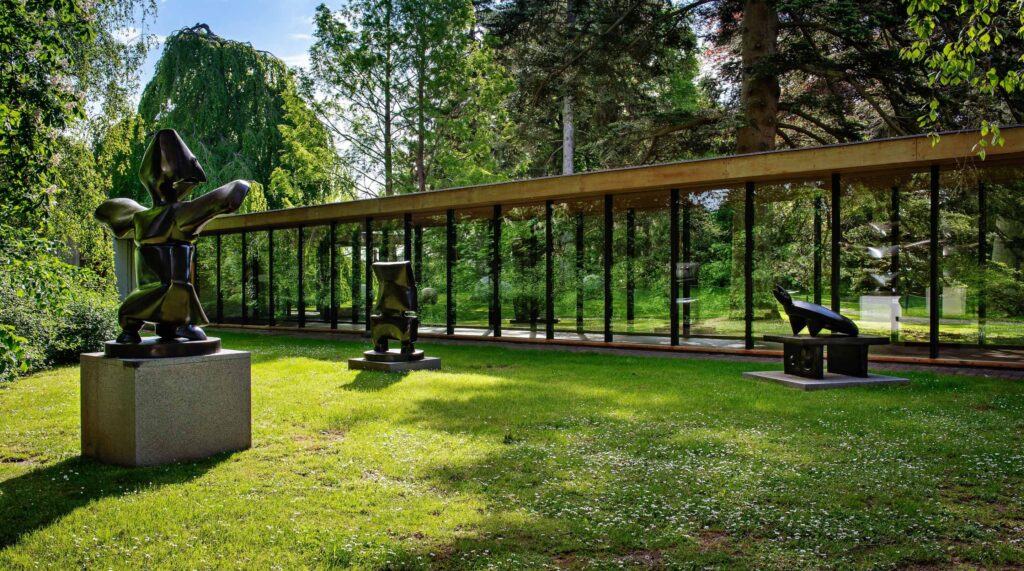 North of Copenhagen—Unesco's World Capital of Architecture 2023—the Louisiana Museum of Modern Art Epitomizes Denmark's Democratic Design Ideals
In the village of Humlebæk, on the shore of Øresund Sound, the Louisiana Museum of Modern Art is one of the most significant works of Danish modernist design in all of Denmark. One is impressed, but not surprised. The whole country stands on the formidable shoulders of Danish design giants whose iconic work reverberates in spaces throughout the world in the form of Arne Jacobsen's Egg Chair, Hans Wegner's Wishbone Chair, and Poul Henningsen's PH 5 pendant. The list goes breathtakingly on. 
Drawn from this illustrious tradition, the Louisiana Museum of Modern Art was built in 1958, taking shape as a series of graceful, glass-facaded pavilions surrounding a 19th-century grand dame called the Old Villa whose first owner, nobleman Alexander Brun, christened Louise, the name of his three wives.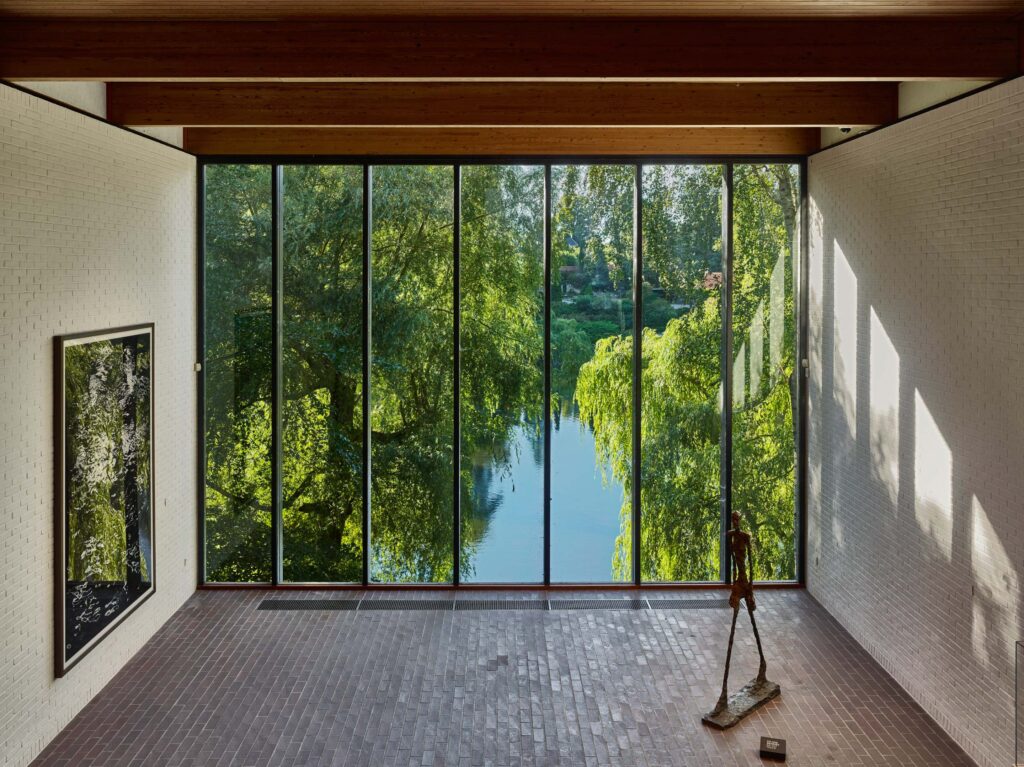 A subsequent owner, Knud W. Jensen, had a different vision for the property and it looked like the future: a venue in which to see Danish modern art that, until that point, had no special place in Danish museums.
"But as early as one year later, at the large Documenta II exhibition in Kassel, he was struck by what he called a 'Documenta shock,'" as the museum puts it.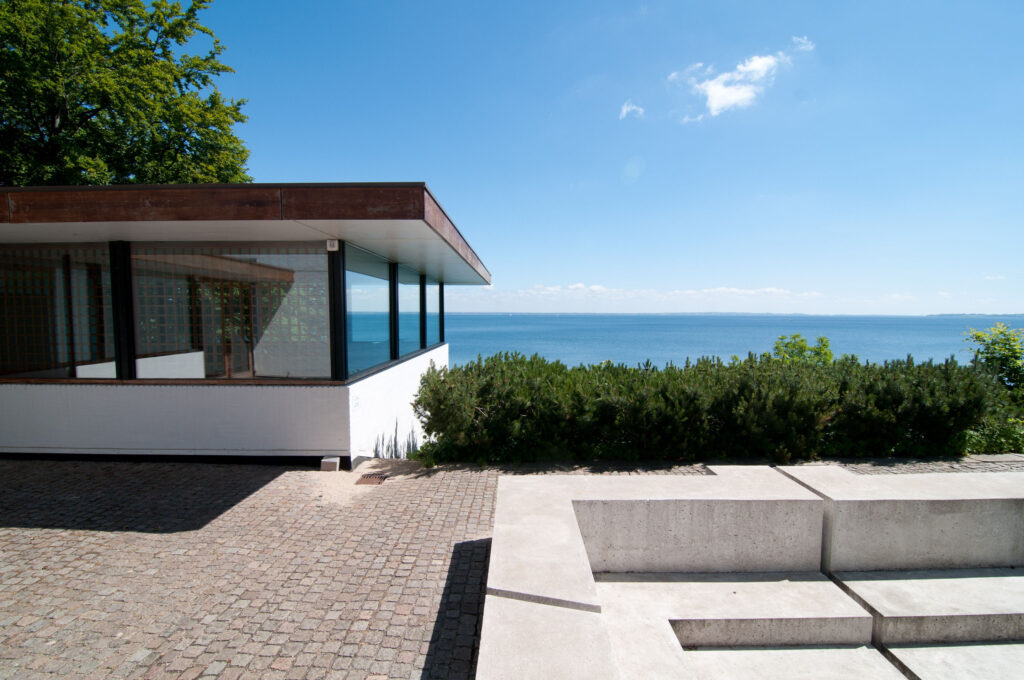 "Jensen decided immediately to change course and now saw it as a clear mission to promote international art in Denmark."
Today, considered one of the world's most respected and discriminating exhibition spaces, the Louisiana Museum of Modern Art makes good on Jensen's ambitions, attracting top shows and artistic talent, along with an international contingent of visitors. Some come for the architecture alone—an elegant and precise design by Danish architects Vilhelm Wolhert and Jørgen Bo who surveyed the site at length before settling on its utopia of exhibition halls and glass-walled corridors from which to stop and gaze out at the greenery and the sea.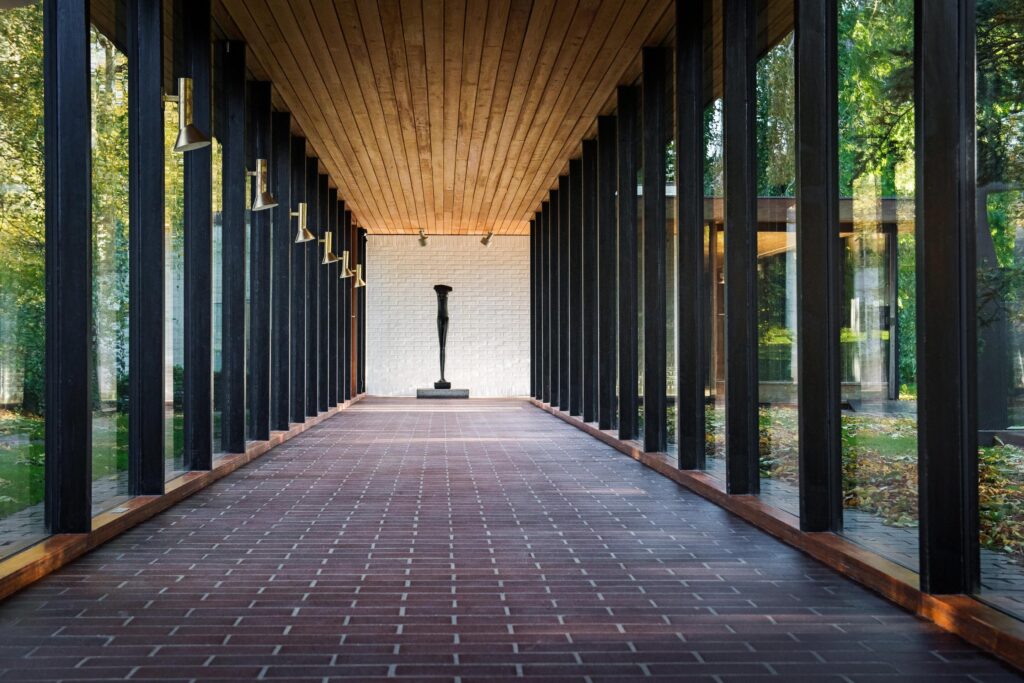 Usually flabbergasted—such beauty. A minimal material palette of white walls, laminated wood ceilings and deep red tiles, meanwhile, characterize the interior canvas of the buildings and express a genuine fidelity to the simplicity of Scandinavian style. That the architecture looks effortless, that it feels light, that it breathes easily is all the result of scrupulous Danish decision-making.
In its final composition, which now consists of a few additional structures including a sea-facing café, the low-slung pile is on par with any work adorning its walls or dotting its astonishing sculpture park—and there are quite a few of those. The Louisiana Museum of Modern Art's collection includes an international representation of 4,000 works dating from 1945 to the present.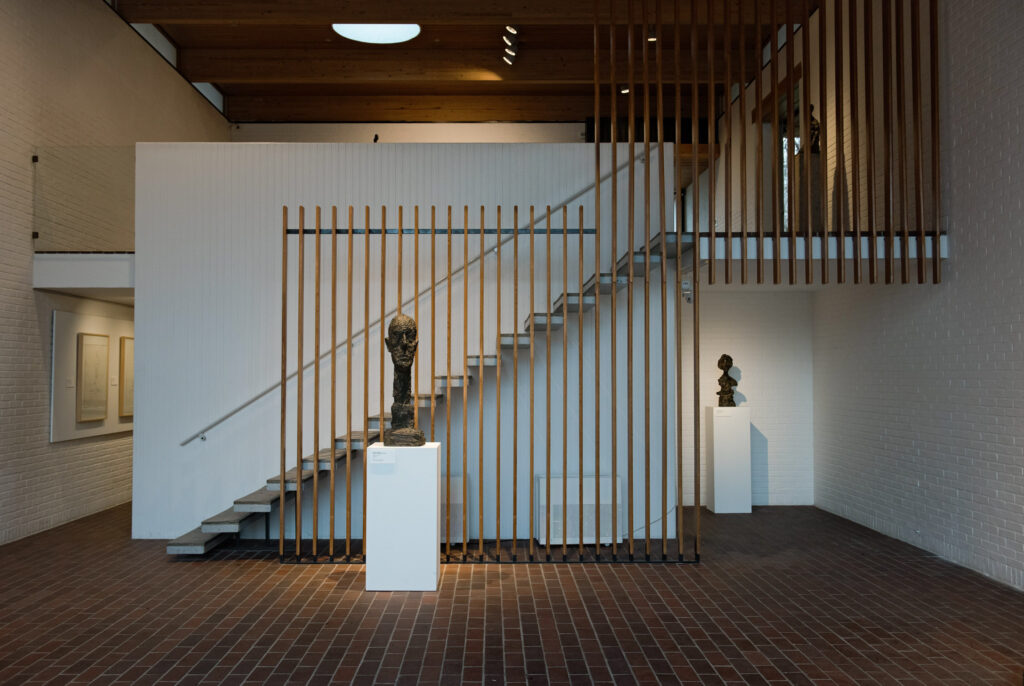 These pieces span genres and are rotated in and out. The scrupulousness applied to crafting the architecture extends to the exhibitions themselves. In keeping with Danish minimalism, artwork is afforded the space to show properly. Galleries are not gushing over with every great work, though they might have been had the space been less considered and the art disorganized.
As it is, the museum exhibits its collection in groups of work and artistic periods, ranging from Constructivism to the American pop art movement, staging up to 10 special exhibits a year. But it is a show year-round. Put it this way: It is one thing to see a Lichtenstein up close, but quite another to see it here.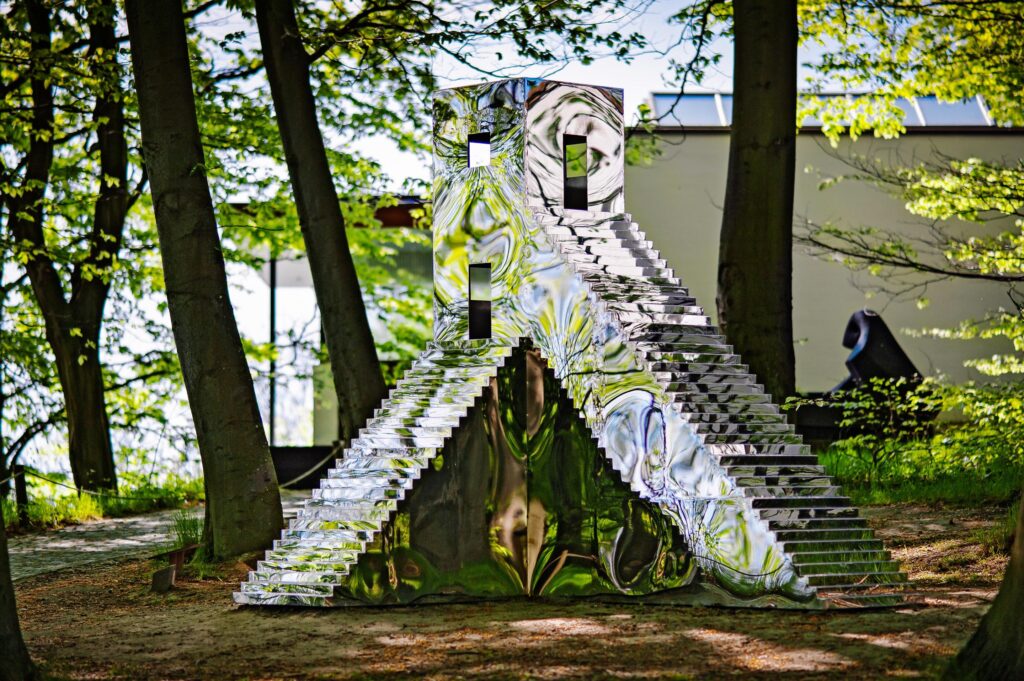 Outside is splendor, the museum's Sculpture Park, a swath of open lawns, shady trees and a grand panorama of the Sound. Here is one world-class piece of sculpture after another, including works from American artists Alexander Calder and Richard Serra whose installation, "The Gate in the Gorge," is a sharp-lined triumph.
There same is true of Polish-German sensation Alicja Kwade's thought-provoking spherical stones. With its thoughtful distribution of trophies, Sculpture Park is a highlight of the museum. Nonetheless, the Louisiana Museum of Modern Art's founder had concerns.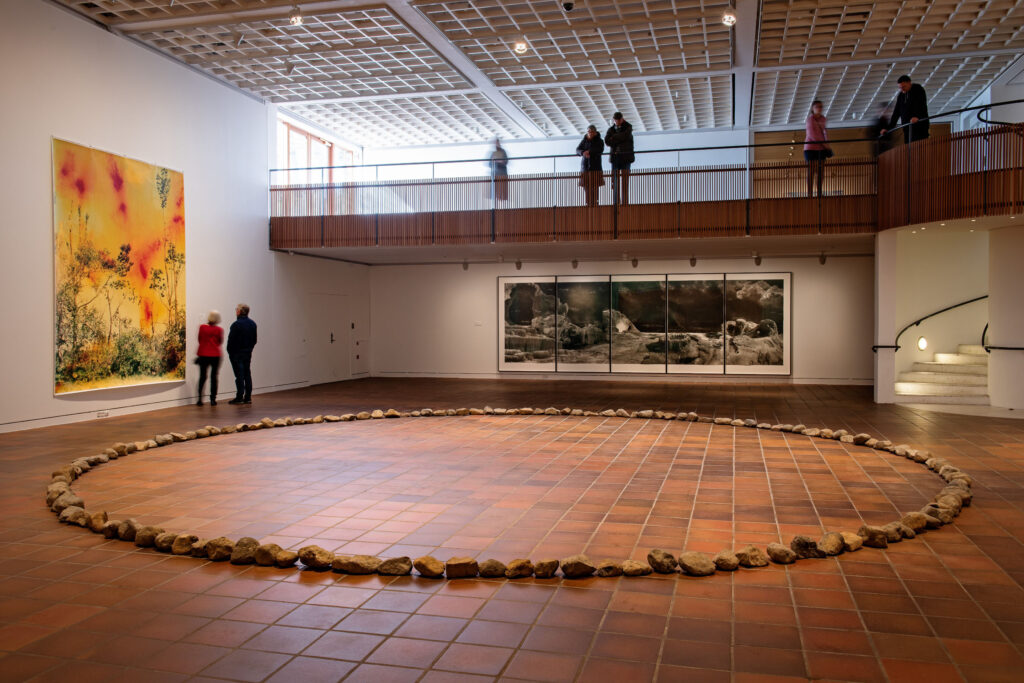 "For Jensen," as noted by the museum, "nature could almost become too dominant if there was not something man-made added to it."
In his own words, Jensen remarked: "Each work demands to be seen without too much competition from other works of art and without a restrictive landscape setting."
For his scrutiny, the park is perfectly balanced.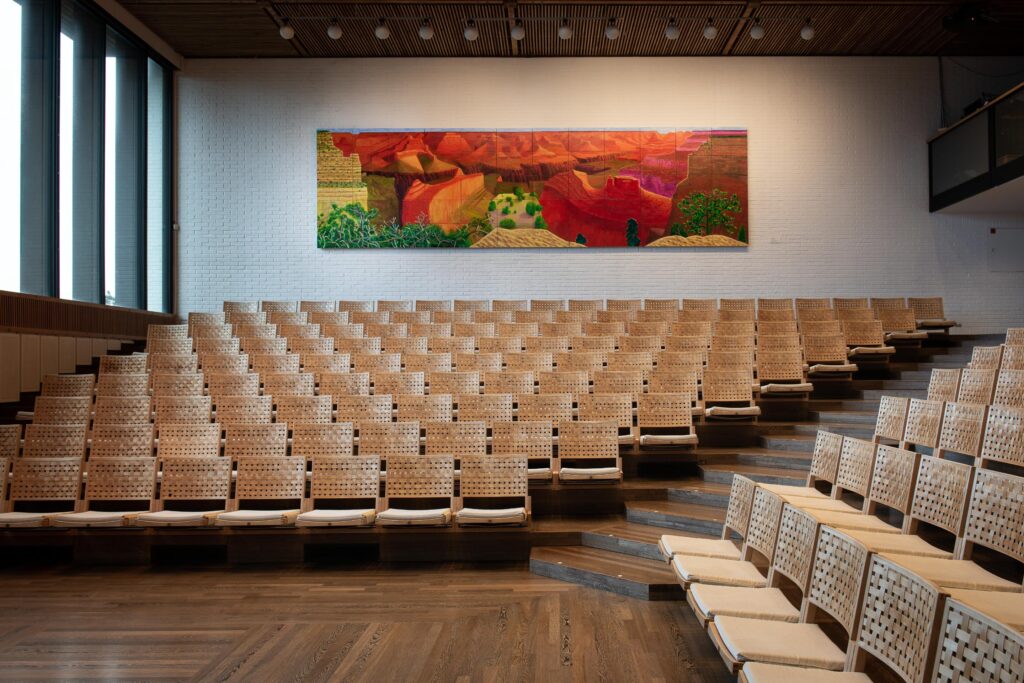 As a whole, the Louisiana Museum of Modern Art is too. Of this alliance between the built environment and the natural world, French architect Jean Nouvel perceptively observed: "In Louisiana, each thing is immediate. Each thing is immediately felt and everything is at home."
The flowers, the sea, and the sky—all of it, he pointed out. The museum belongs to the landscape. The buildings belong. The art too.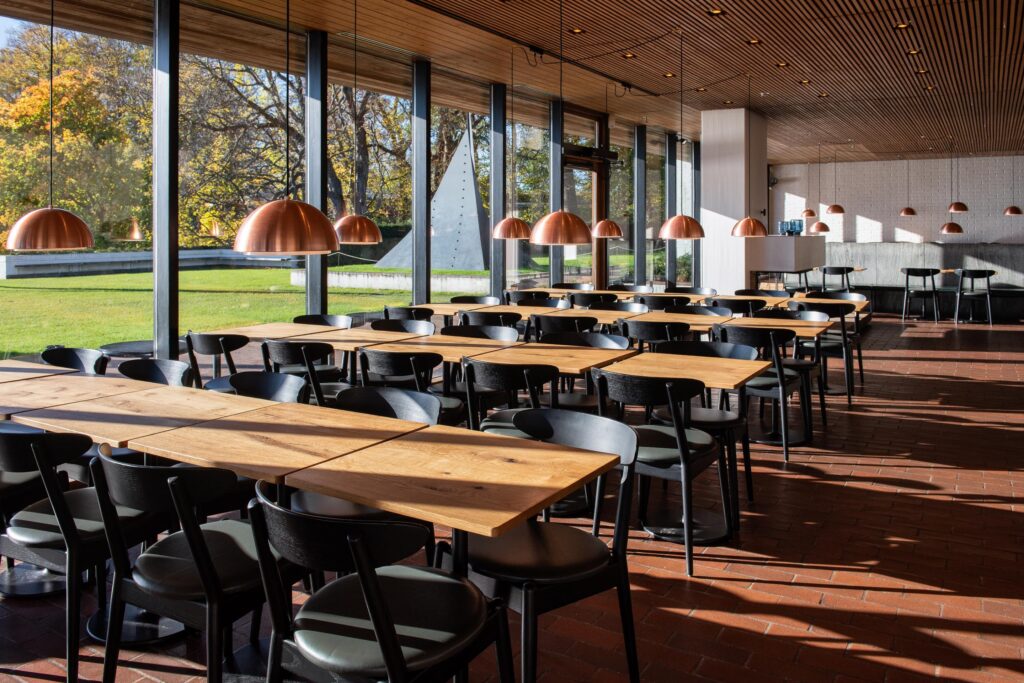 "Everything belongs to everything," Jean Nouvel insisted. "And this doesn't exist anywhere else."
Actually, a version of that observation happens a lot in Denmark where harmonious design is a watchword, a practice, and a museum. In this instance, a quality and uncomplicated expression of the democratic, humanistically-driven Danish Modern ideal—good design for everyone.
Louisiana Museum of Modern Art | louisiana.dk
Photography by Kim Hansen & Jeremy Jachym