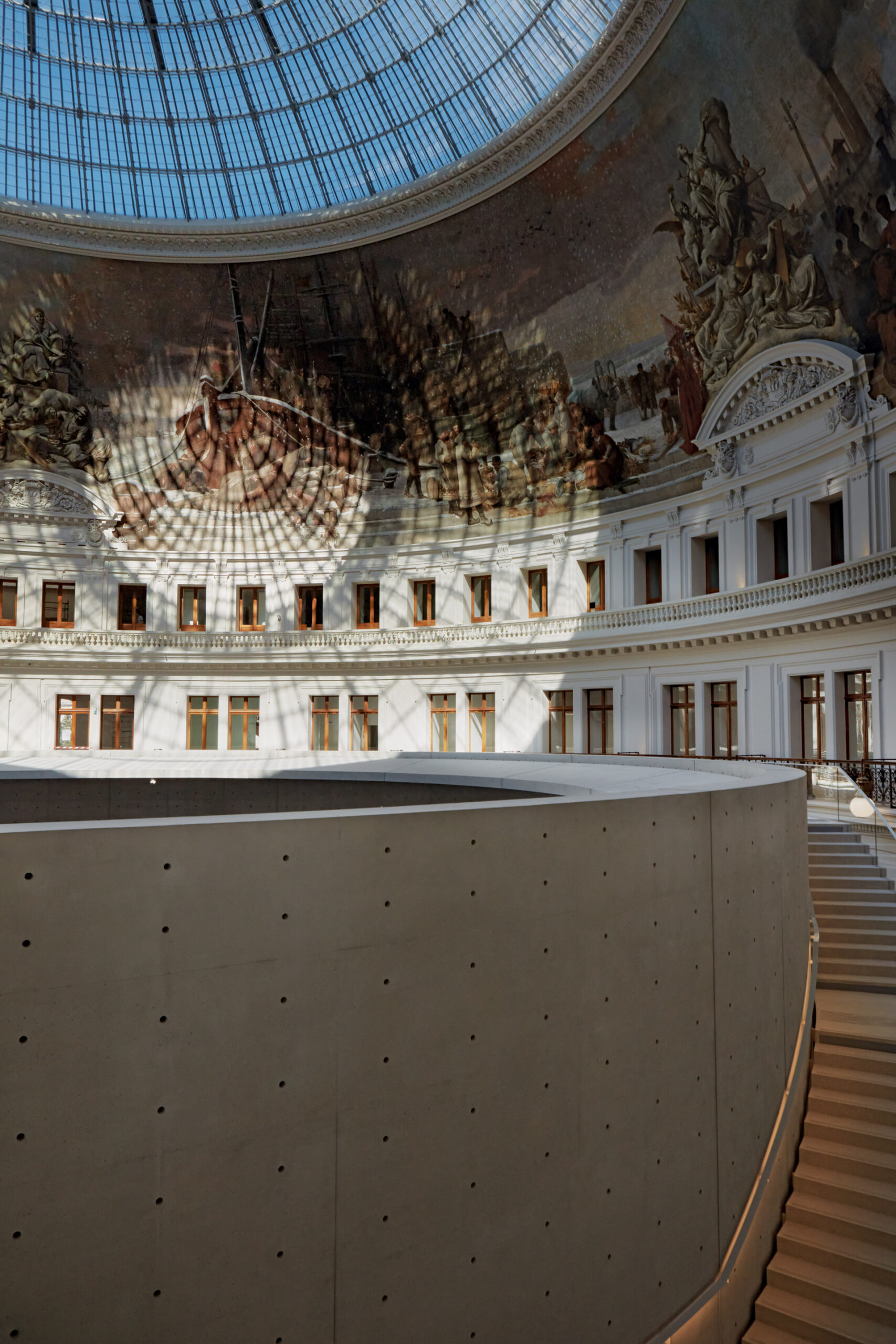 Newly Shed of Its Scaffolding, the Redesigned Bourse De Commerce Building in Paris Marks a Full-circle Moment for Japanese Architect Tadao Ando
One is in good company to believe that, architecturally, there is very little—perhaps nothing at all—that Japanese architect Tadao Ando cannot do. Churches, temples, houses, centers of culture—his range of work is as legendary as the man himself. His affection for empty space, natural materials, and organic forms makes Tadao Ando an undisputed standard-bearer of minimalism in the modern day.
The fact is, however, that the famously self-taught Pritzker Prize-winner does some of his most remarkable work when wading into the waters of the past, evidenced by his architectural interventions of the exhibition space Wrightwood 659, a Frank Lloyd Wright redo in Chicago, and more recently of the Bourse de Commerce building, which he transformed into a spectacular contemporary art museum.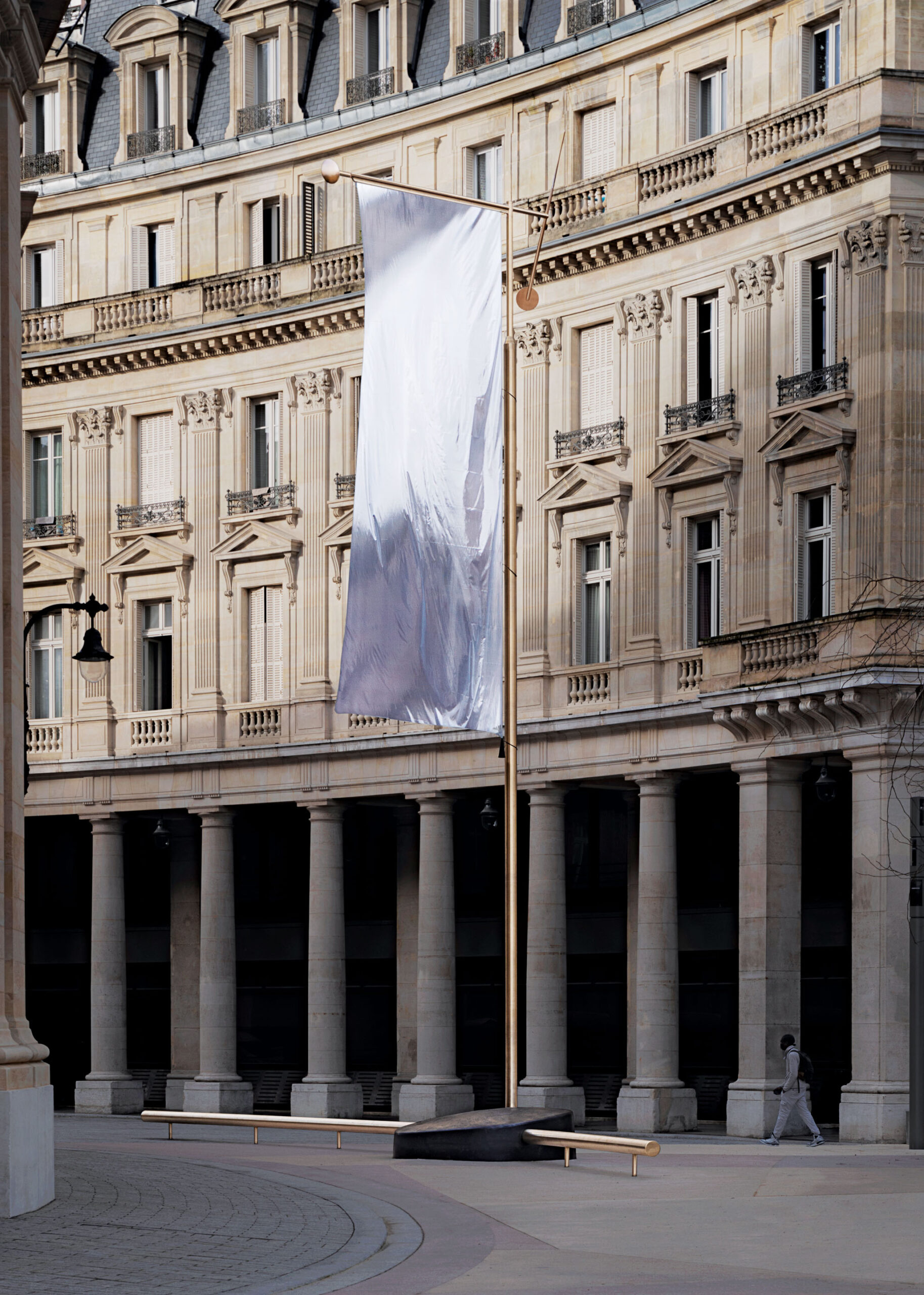 A Pinault Collection venue, Bourse de Commerce is the latest creative endeavor of French magnate and art lover François Pinault, who commissioned Tadao Ando to head its epic three-year overhaul. In a city tripping over itself with grand galleries and prodigious art, it would take an undertaking of rigorous thought and relentless pursuit to make a newcomer shine. He had the edifice, but in appointing Tadao Ando to the project, François Pinault planted a rather formidable flag. This building would be great.
Tadao Ando's challenge was to breathe new life into the building—one with 10 exhibition spaces, an auditorium, a restaurant, and a rediscovered engine room that was redesigned and its machines restored—without revising the existing structure.
"In tackling the revitalization of the historic building," Tadao Ando notes.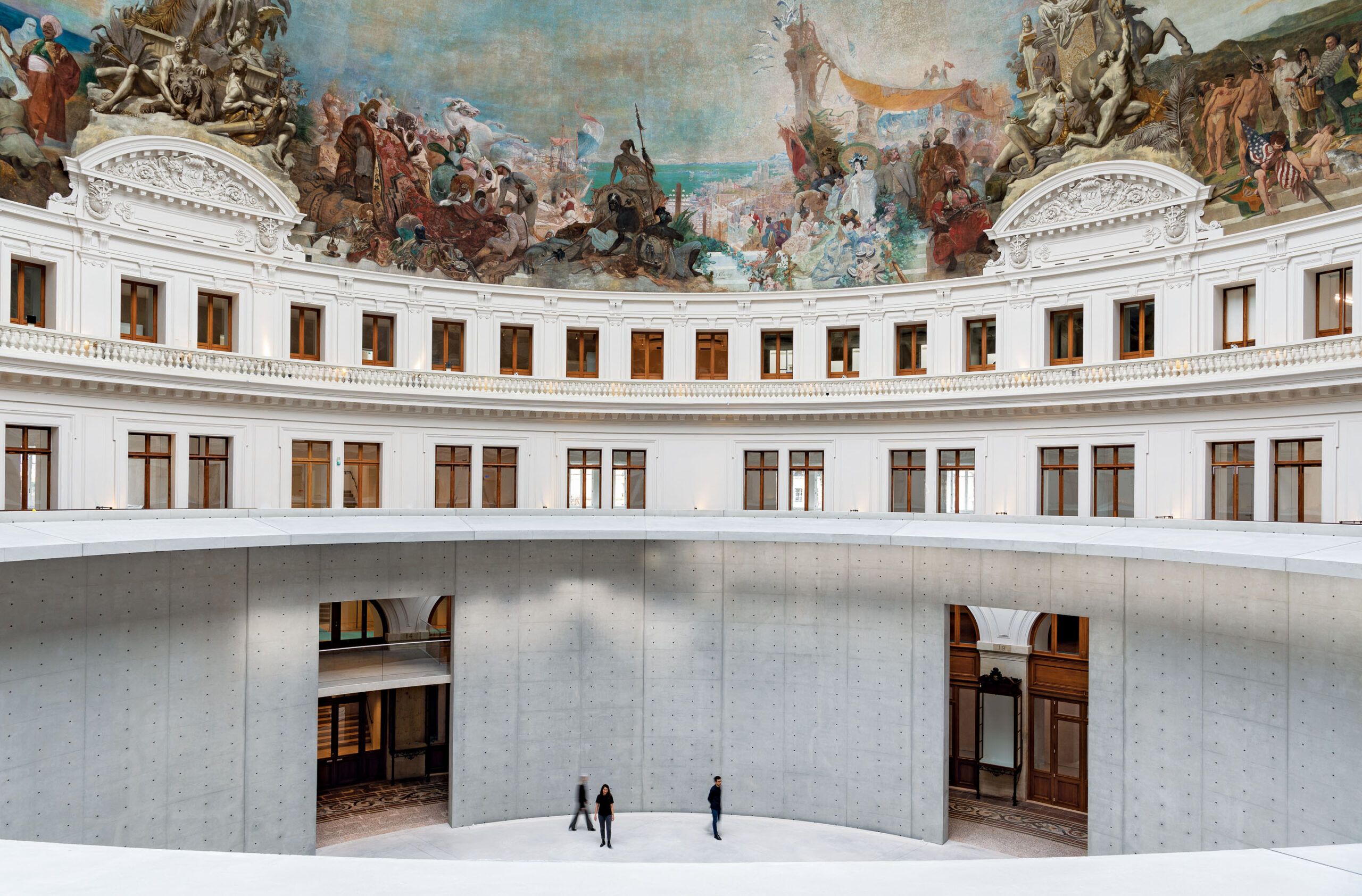 "I sought to set up a vibrant space appropriate for a venue for contemporary art by inserting, in a respectful manner, a new space within the old walls etched with the memories of the city to create a nestled composition that would spark a lively dialogue between the old and new."
The project proves that Tadao Ando is an architect most at home in vastness—the void. An extravagant example of his "haiku effect," Bourse de Commerce allowed Tadao Ando to use, as is his way, empty space as a means to express the beauty of simplicity. It is a space for contemplation. Of artwork, of one's thoughts about it, and of many other ideas besides. It's poetry and pondering. That type of architecture, that type of immensity. It's Tadao Ando.
A proponent of using geometry as a means of perfection, Tadao Ando returns, time and again, to the circle. Round and round one goes in the building. Between the concrete walls and internal facade designed by Henri Blondel is a circulation space. Staircases curve the outside of the concrete walls "like a thin fruit peel," according to the program notes. The second-floor passageway allows one to walk around the cylinder and offers a new perspective of the glass dome and the frescoes at its base.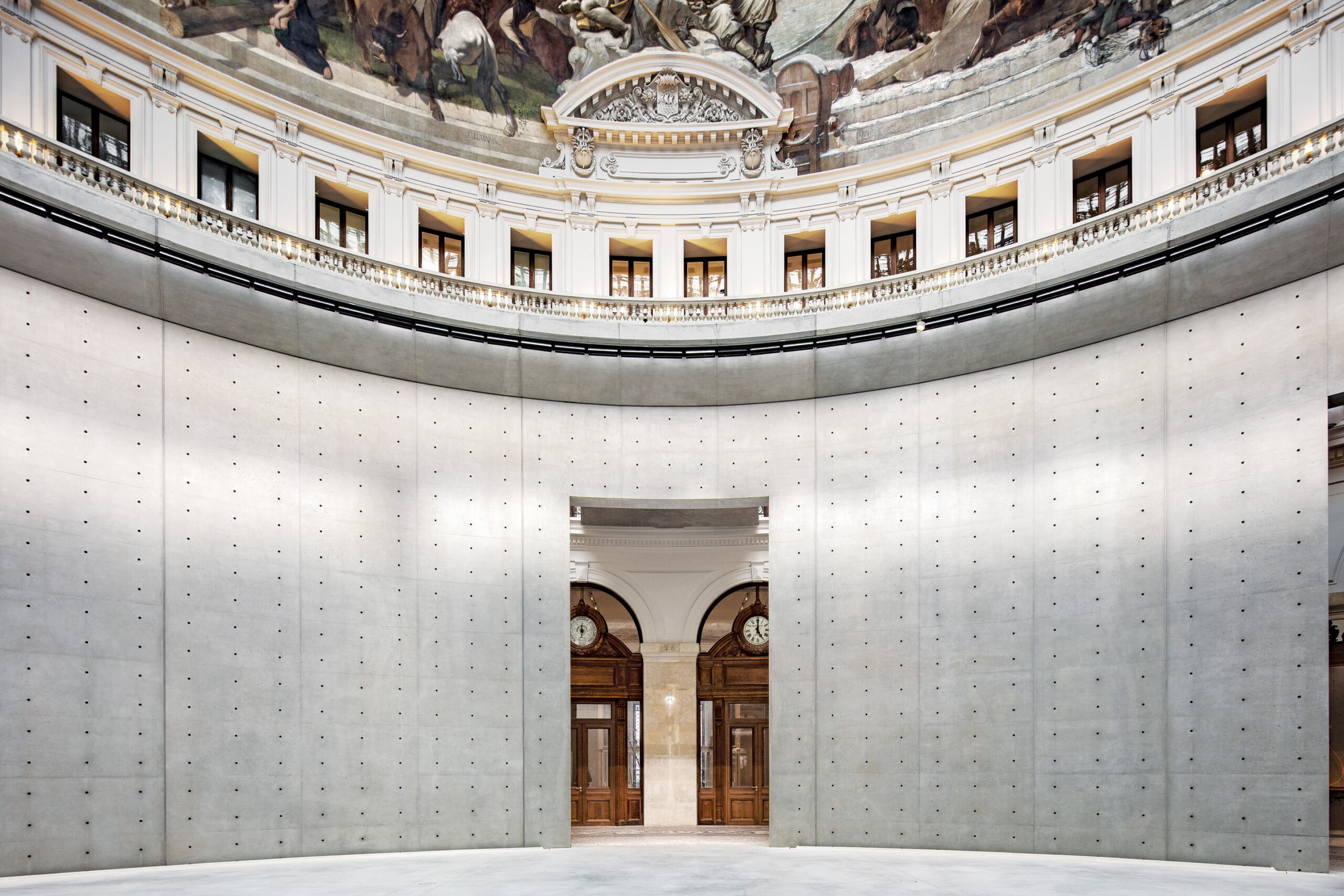 "On the walkway that crowns the cylinder, as if in levitation, facing the facades and the décor of the Bourse de Commerce, the stuccoes masking the birth of the dome and the large painted panorama"—one initially painted in 1889 by five artists and touched up in 2018 by 24 restorers—"the visitor has a new experience of the building…This plan makes it possible to obscure the visitor's bearings in order to magnify an integrated, unified, abstract space, in the spirit of the perfect form, emblematic of the utopian 18th-century."
Tadao Ando's dedication to shape is seconded only by his fidelity to concrete. His mastery with the material, one that he manages to infuse with an improbable lightness, is core to his architecture, whether it is the transcendent Church of Light, where he carved a slight, cross-shaped aperture into a concrete wall to let in a stream of natural light at the altar; or in the Bourse de Commerce, where he inserted an enormous, 30-foot-tall concrete cylinder, a stunning ground- to second-floor abstraction, within the walls of the neoclassical rotunda. A move that proves—if proof is still required—that Tadao Ando never met a slab of concrete he could not shape into something magnificent.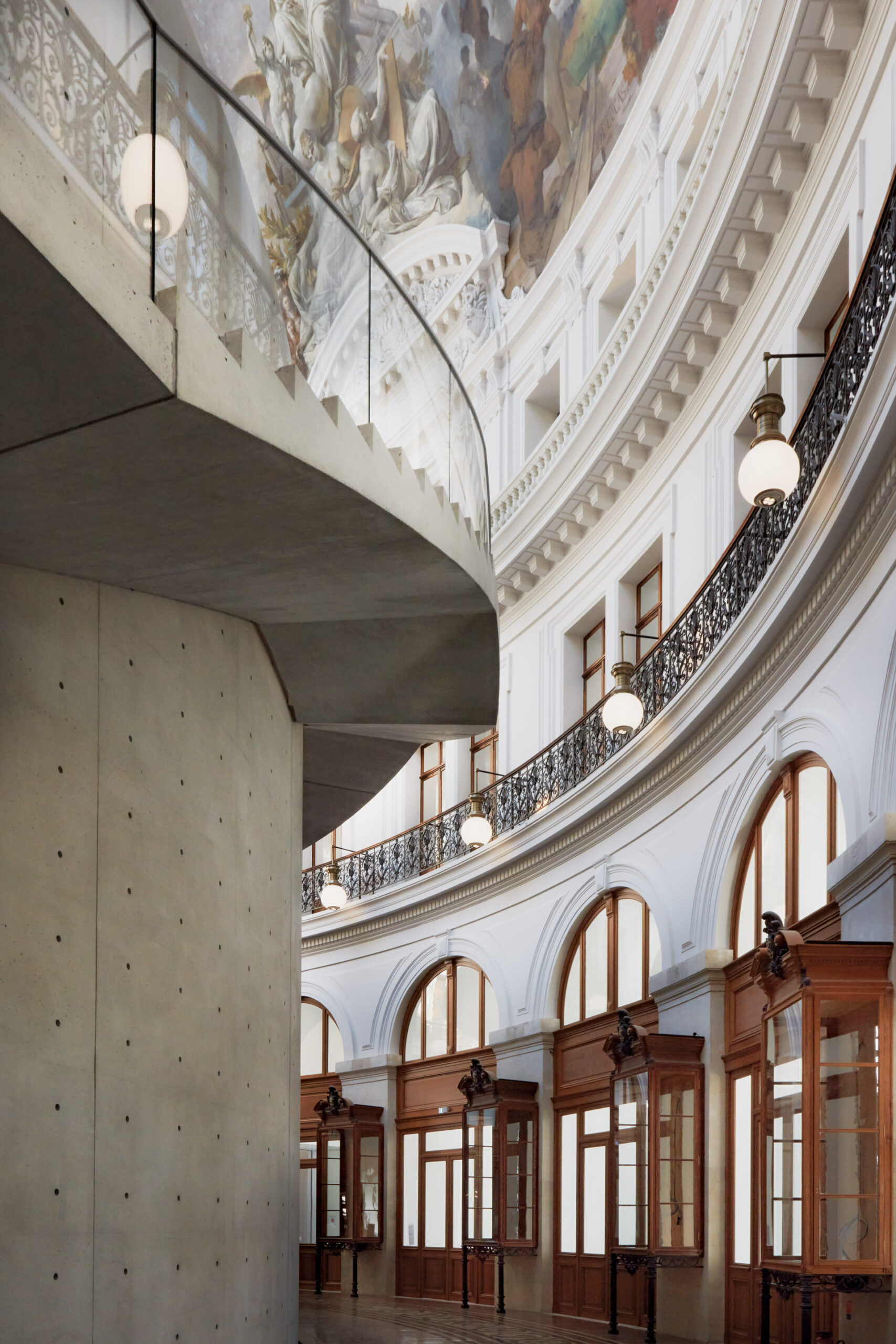 First, a granary, then a building busy with brokers, Bourse de Commerce is another grand cultural inheritance for France, whose cup in this particular category has long runneth over.
"The essential feature of its architecture—glass dome, open cylinder, disc of the promenade—create a hypnotic circular scenography," and a grand set piece besides.
But one with Tadao Ando's strong consideration for clarity, his appreciation for presence, and his devotion to the art of nothingness. With François Pinault's passion and backing, Bourse de Commerce is the ultimate canvas, and for Tadao Ando, another masterpiece.
Bourse de Commerce | pinaultcollection.com/en/boursedecommerce
Photography: Maxime Tétard, Marc Domage, Ronan & Erwan Bouroullec, Patrick Tourneboeuf, and Studio Bouroullec