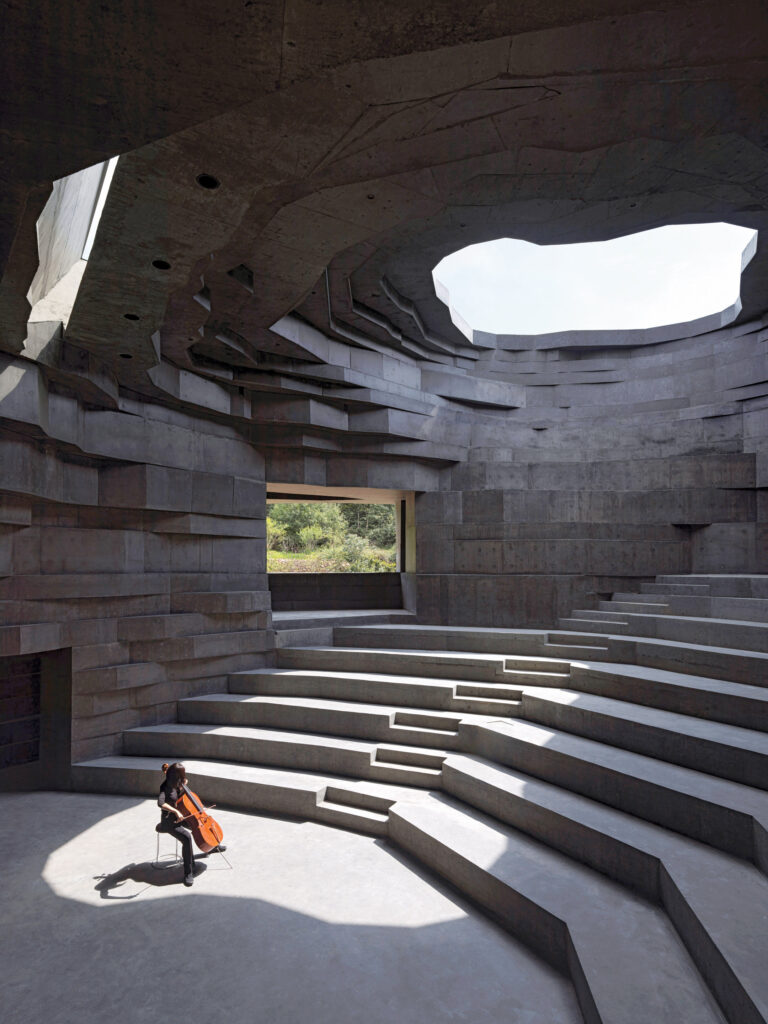 OPEN Architecture's Conceptual Chapel of Sound Strikes a Chord as a Contemplative Open-air Concert Hall in Harmony With the Landscape
Led by founding partners Li Hu and Huang Wenjing, OPEN Architecture is one of the most dynamic practices of the current era, known for its pantheon of highly conceptual cultural architecture, from museums and art centers to a soaring, sci-fi-like sun tower. Chapel of Sound is something of a crescendo for the studio—another work to dazzle the eye, boggle the mind, and stimulate the senses. 
Resting on a gentle slope and shaped like an inverted cone, Chapel of Sound is a poetic and profoundly radical structure whose rough, rock-like façade echoes the raw and largely fragile surround. Nevertheless, it reads as artificial and human-built. This is intentional, note architects Li Hu and Huang Wenjing, a duo that designs with transgressive gusto, creating architecture with relationships and reconnection as foundational principles. This is especially true of the Chapel of Sound, a space designed to give shape to a shapeless thing—sound itself.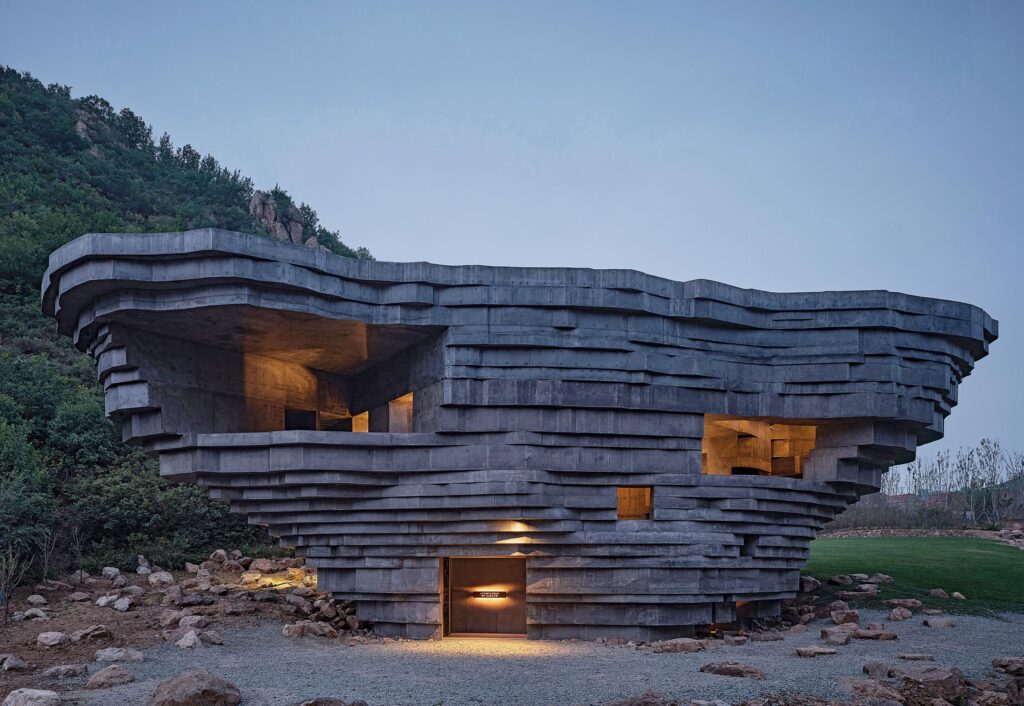 Given very little direction beyond the initial design brief, in which the client—with whom Li Hu and Huang Wenjing had previously worked on the otherworldly Dune Art Museum—requested an outdoor concert hall, the architects were at liberty to create what they liked. In this case, a building born from imagination and observation alike.
"Inspiration comes from many directions for us," they say. "Nature is the ultimate one. Rocks have always fascinated us—we pick up local specimens wherever we go, so naturally, we were inspired by the rocks and geological formations at the site."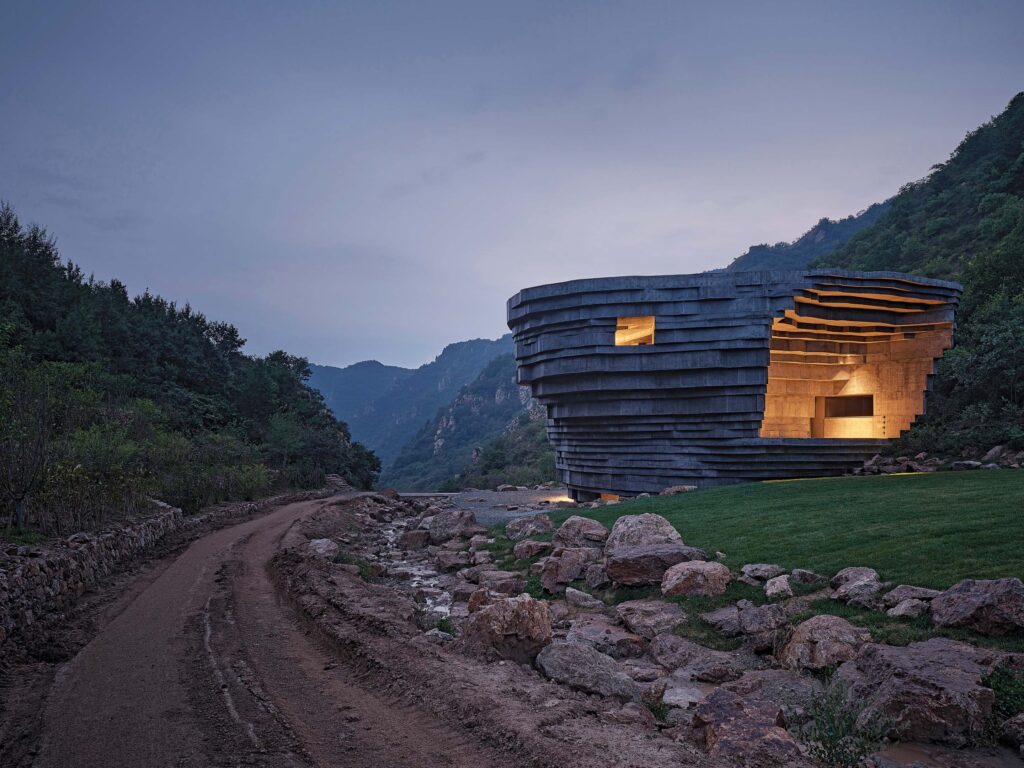 On another note, they add, "When we were doing research, we came across scenes of concerts being played in natural caves which deeply touched us, seeing how nature cradles and amplifies music, and how human-created art can connect with immensely powerful nature."
Li Hu and Huang Wenjing's fidelity to nature cuts across projects but is particularly resonant with the Chapel of Sound. There is a strong spirit in the valley and the remnants of the Great Wall here are quite unlike what tourists normally see. Dilapidated and hidden on a mountain ridge, they are built into the actual landscape.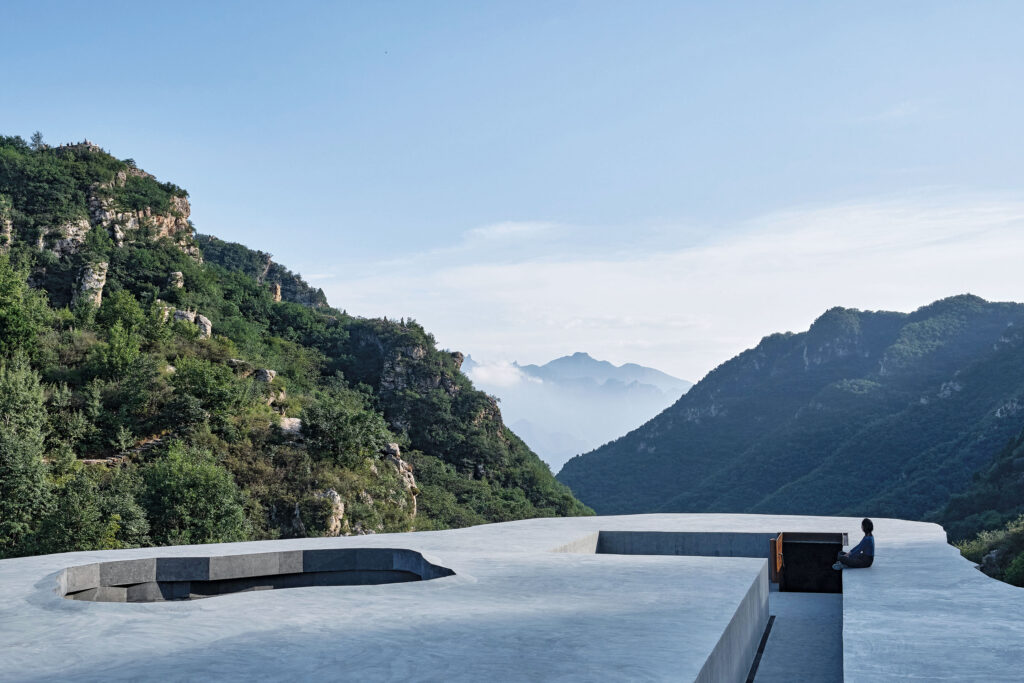 But, as said Huang Wenjing told The World Around, "We are at a different age." Rather than "build against," she pondered, "maybe we build something that can coexist with nature."
But to do so while still respecting the existing historical landmark. In quickly realizing that any attempt to embed architecture into the surrounding mountain landscape would destroy the existing fragile balance between the topography and the ecosystem, Li Hu and Huang Wenjing decided to, as they put it, "translate that primitive quality into a special building, something that might seem like a prehistoric boulder landed here mysteriously, touching the ground with minimum footprint."
This special building articulates much of OPEN Architecture's broader philosophies about doing architecture. They are humanists and Chapel of Sound is a deeply humanistic endeavor. It's also intensely rational, a structure of two forces: the intuitive (or emotional reaction) and the logical (function).
That these forces are in harmony is what makes Chapel of Sound as architecturally elegant as it is transcendent, a feeling amplified by large shafts of natural light that stream through the rooftop void. Bronze handrails and doors, meanwhile, lend add warmth to the concrete environment.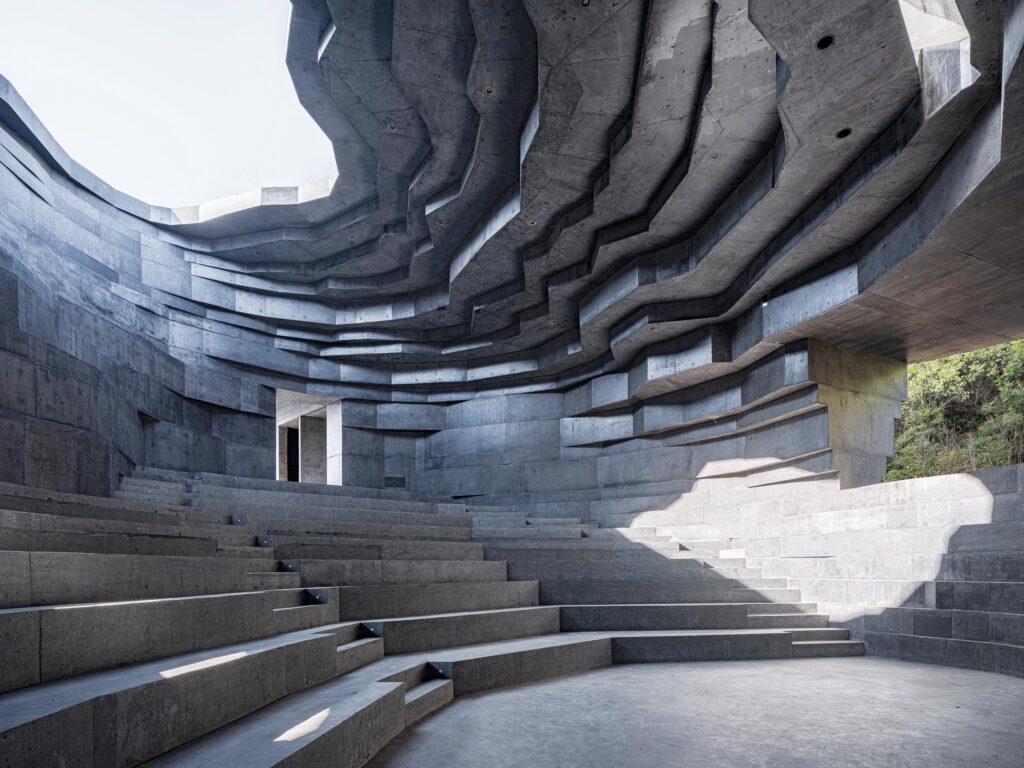 "We gave lots of thought to how it may be used when there is no performance," the architects explain of the structure, whose seamless and simplistic-appearing monolith disguises sophisticated modern technologies integrated within.
The result is calm and peaceful and at the same time feeds one's natural inclination to think and explore.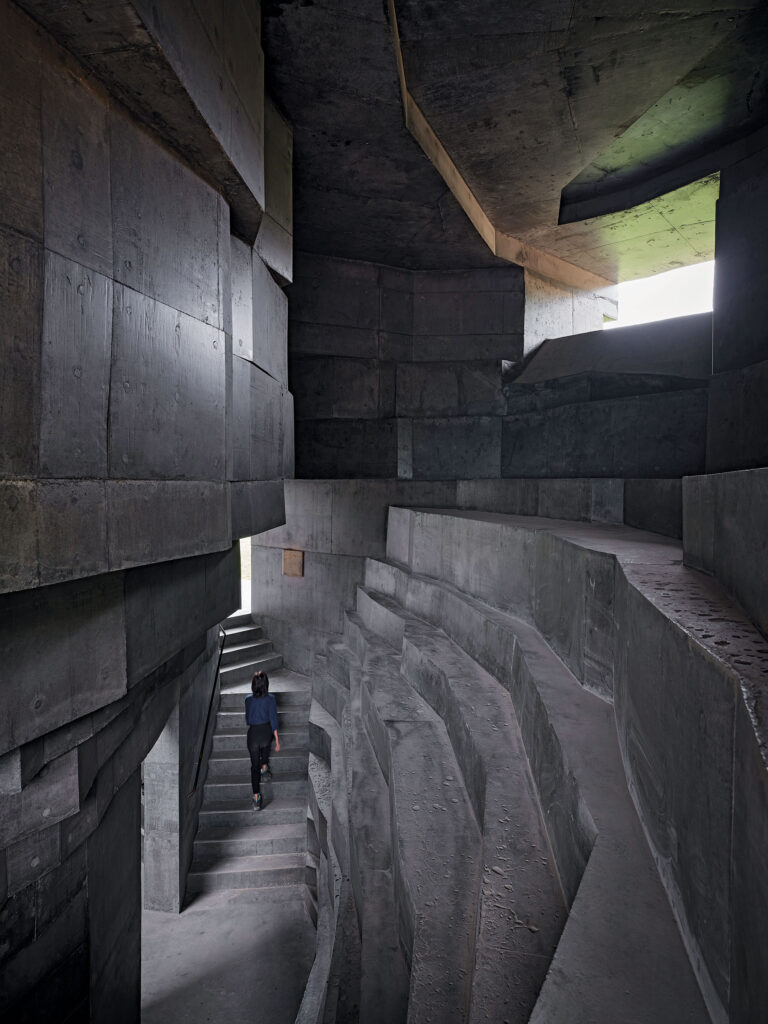 "It feels serene and comfortable for one person alone in the space," with "many viewing platforms for people to appreciate the beautiful landscape and feel fully connected to nature. We hope the building conveys something primordial and spiritual, which reflects the reality of nature itself. In our contemporary life overflowing with information, anxiety, and virtual reality, we feel it is more important than ever to reconnect with our innate sensitivities; to see, to feel, to hear, and to sense with our own body and mind. And to be at a whole with nature."
Imagine a building named Chapel of Sound to quell the noise of our world.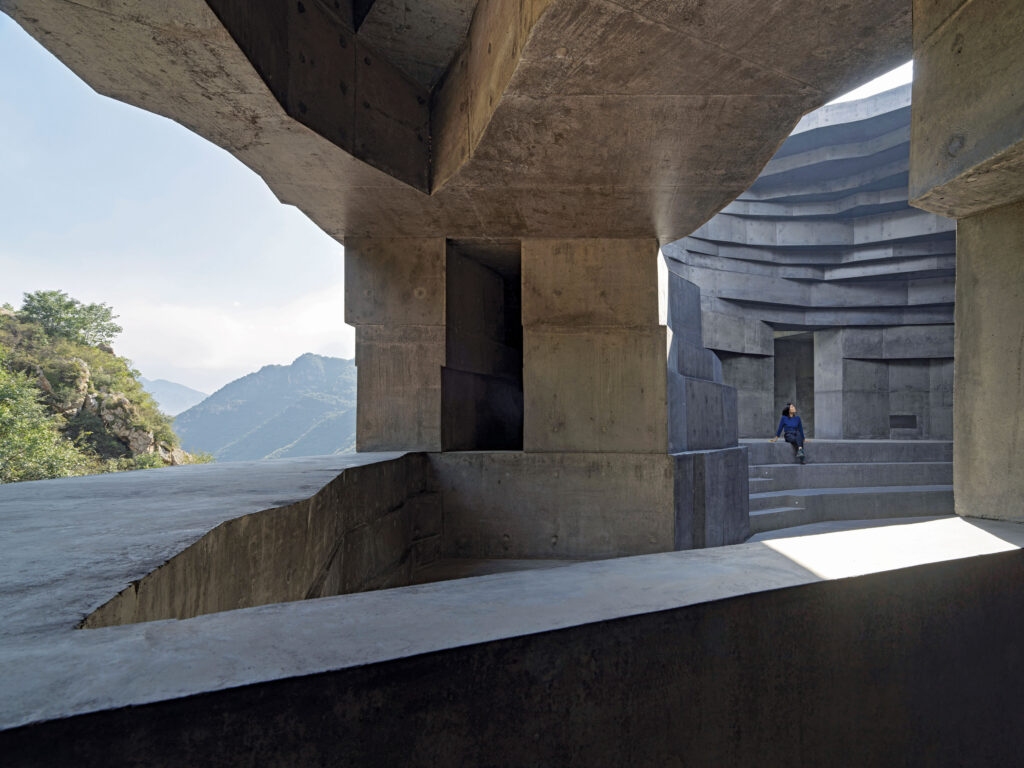 In the end, Li Hu and Huang Wenjing envisioned and realized a venue for multiple experiences: listening to music in an acoustical space surrounded by nature, gathering communally, or spending time alone solo in contemplation of a place, an age, the natural world.
Put another way, "The world is full of gigantic spaces," Li Hu told The World Around. "Here you can feel it. That is the human scale. The human relationship. It's very important."
OPEN Architecture | openarch.com
Photography by Jonathan Leijonhufvud and Zhu Runzi