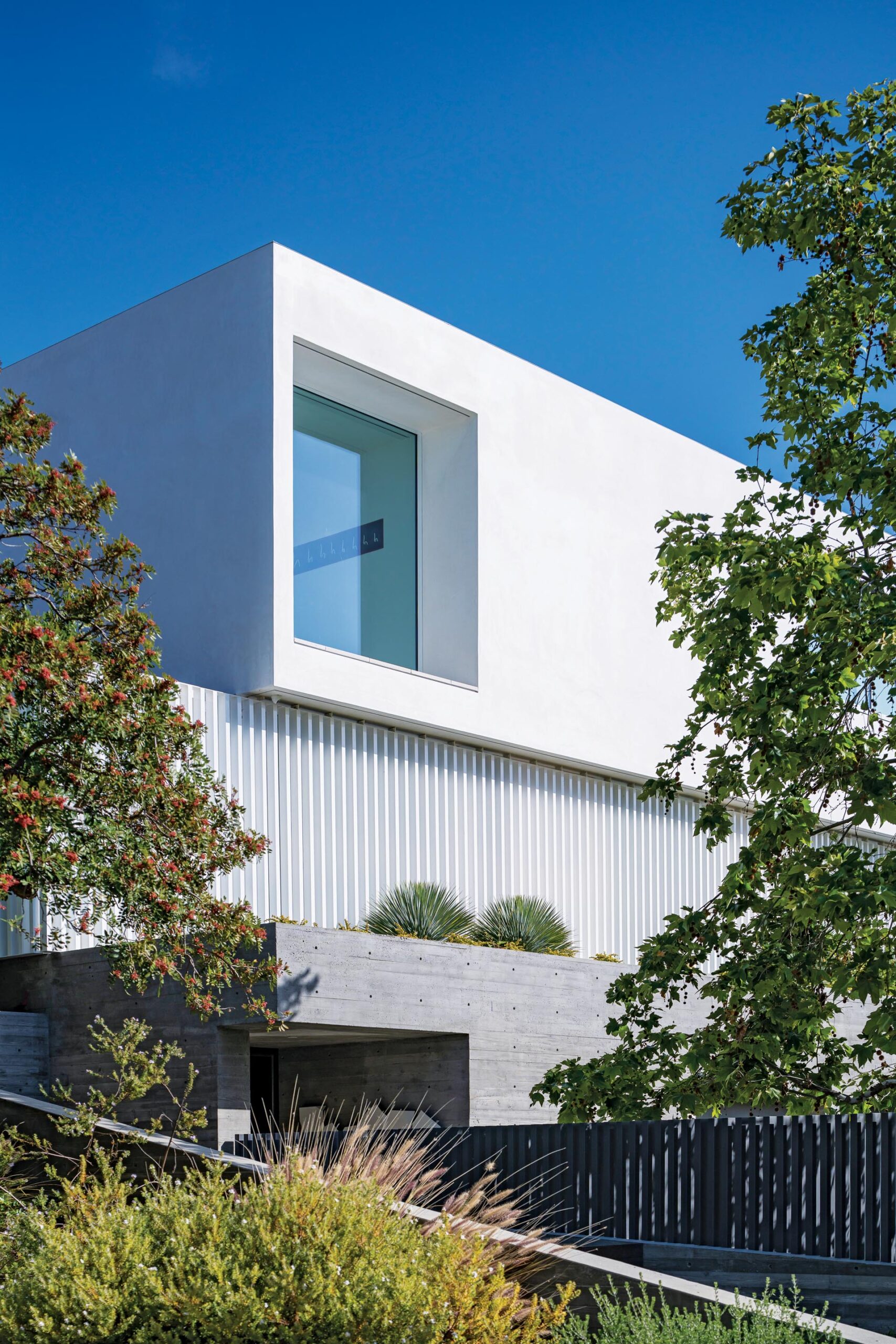 Consisting of Three Levels of Stacked Volumes—Each With a Different Exterior Material—This Minimalist Home Is Centered on Both the Homeowner's Art Collection and the Surrounding Landscape
Strategically placed in both the interior spaces and the outdoor areas, the impressive art collection was one of the elements that guided the design throughout the project. The architects opted for a minimalist approach and pared-down decor, which also helps to capture the beauty of nature. 
With its pure lines and geometric forms, the L-shaped house has the particularity of featuring a different exterior material at every level, creating visual interest through contrast and balance at the same time.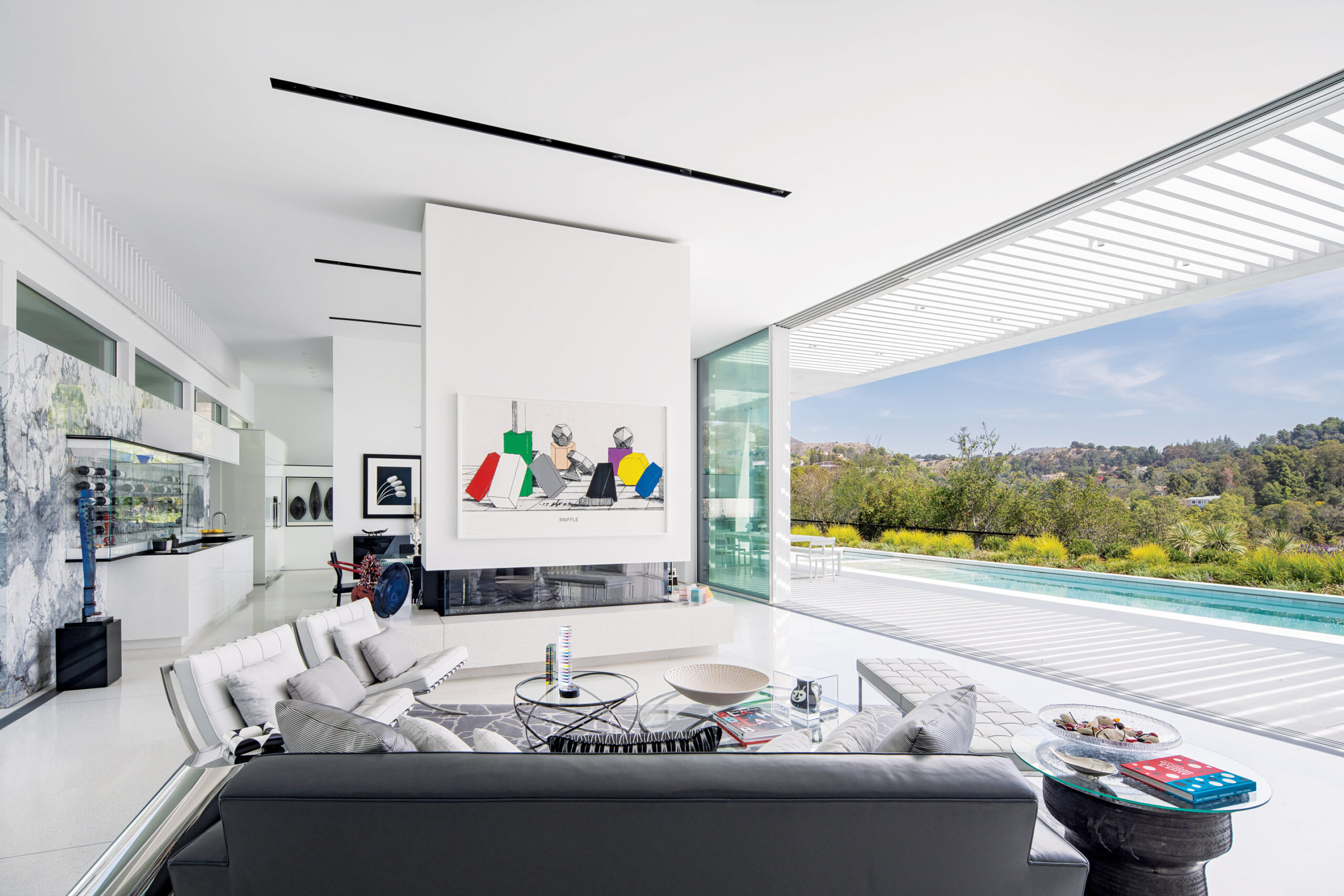 Chosen for its earthy tactility and its structural qualities, board-formed concrete characterizes the basement level, which is integrated into the sloping hillside. In the entrance, a staircase crafted from poured terrazzo and solid wood leads to the main level where a glass facade is clad with an array of aluminum louvers, providing a sense of indoor/outdoor openness throughout the great room—which comprises an open kitchen and dining area—as well as its auxiliary spaces.
Wrapped in white stucco, the top level—with cool gray wood flooring to delimitate the private areas of the home—includes the main suite and a perpendicular wing with two additional bedrooms and their bathrooms.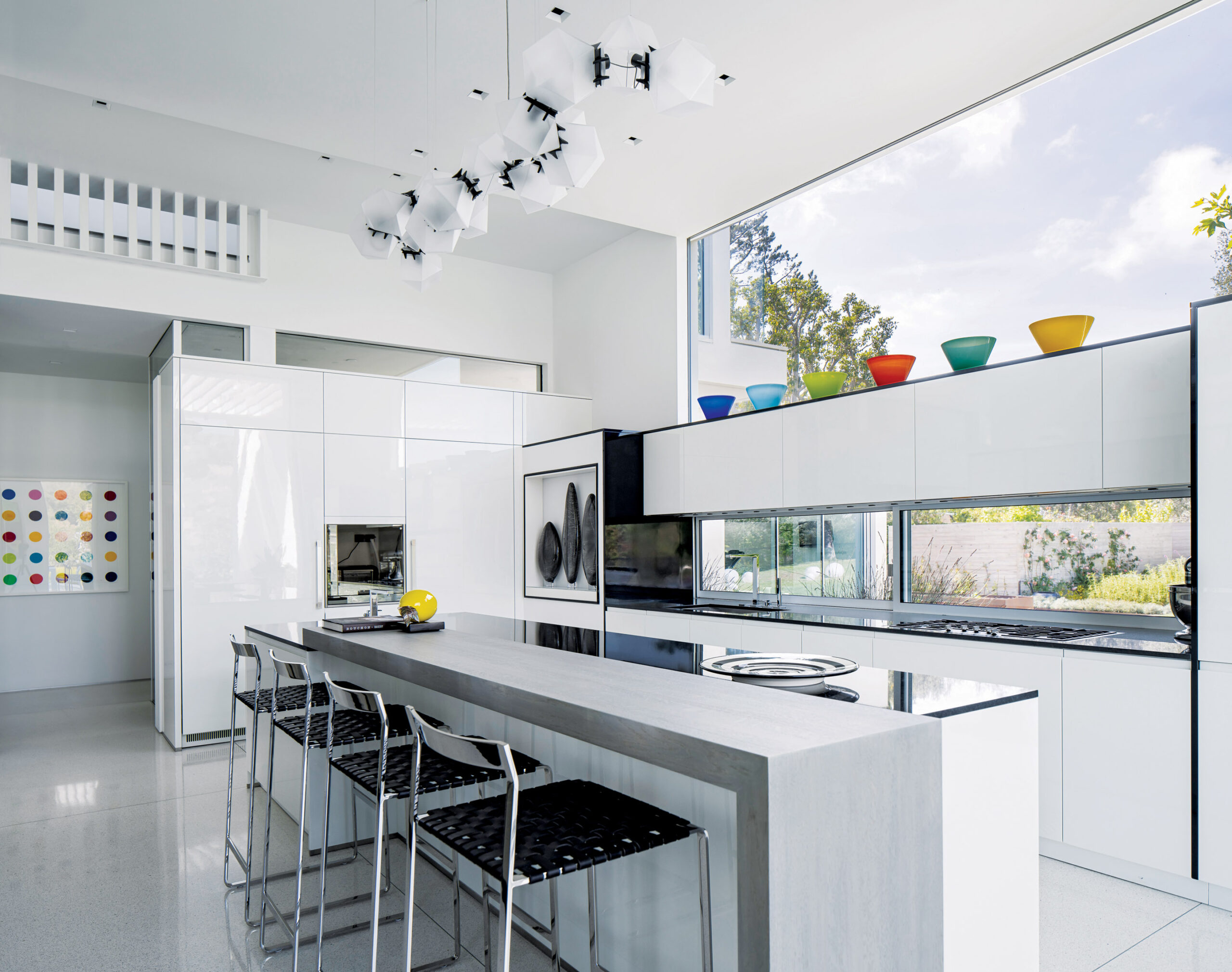 Floor-to-ceiling windows and sliding doors let an abundance of natural light in while opening the living room up to the deck and swimming pool outside, where the use of terrazzo flooring creates visual continuity.
"An abstract sculpture by Guy Dill is enclosed within an exterior courtyard adjacent to the entry procession," describe the architects.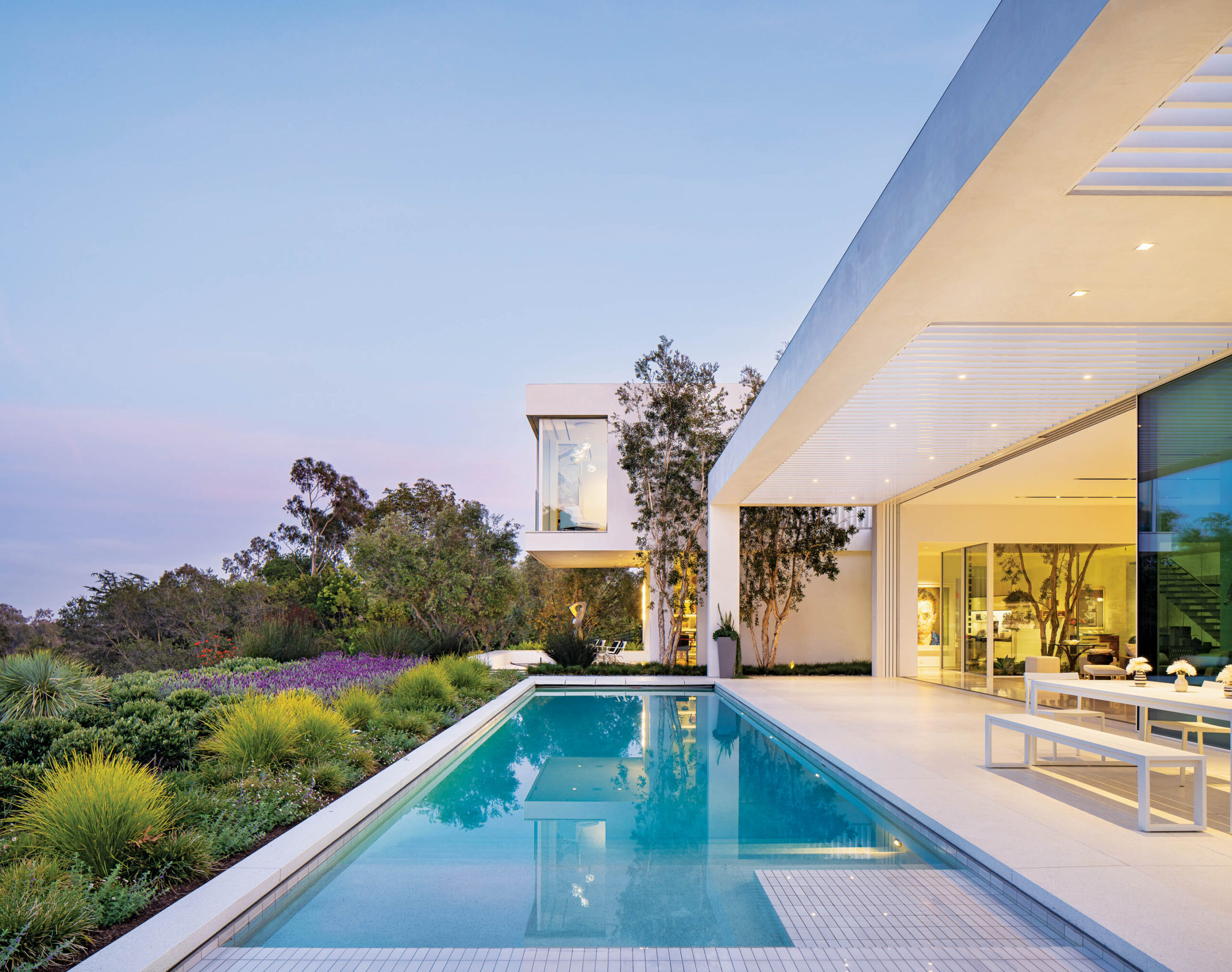 "The sculpture garden narrows to form a 3-foot-wide landscaped alcove that traverses the living spaces before intersecting with the spacious backyard. And at the edge of the living room, a melaleuca tree in an open-top glass case extends upwards through a void in the roof."
Inside, neutral colors including black, white and greys combine with a few pops of bright colors, while outside an earthy material palette made of board-formed concrete, blackened steel and decomposed granite prevails.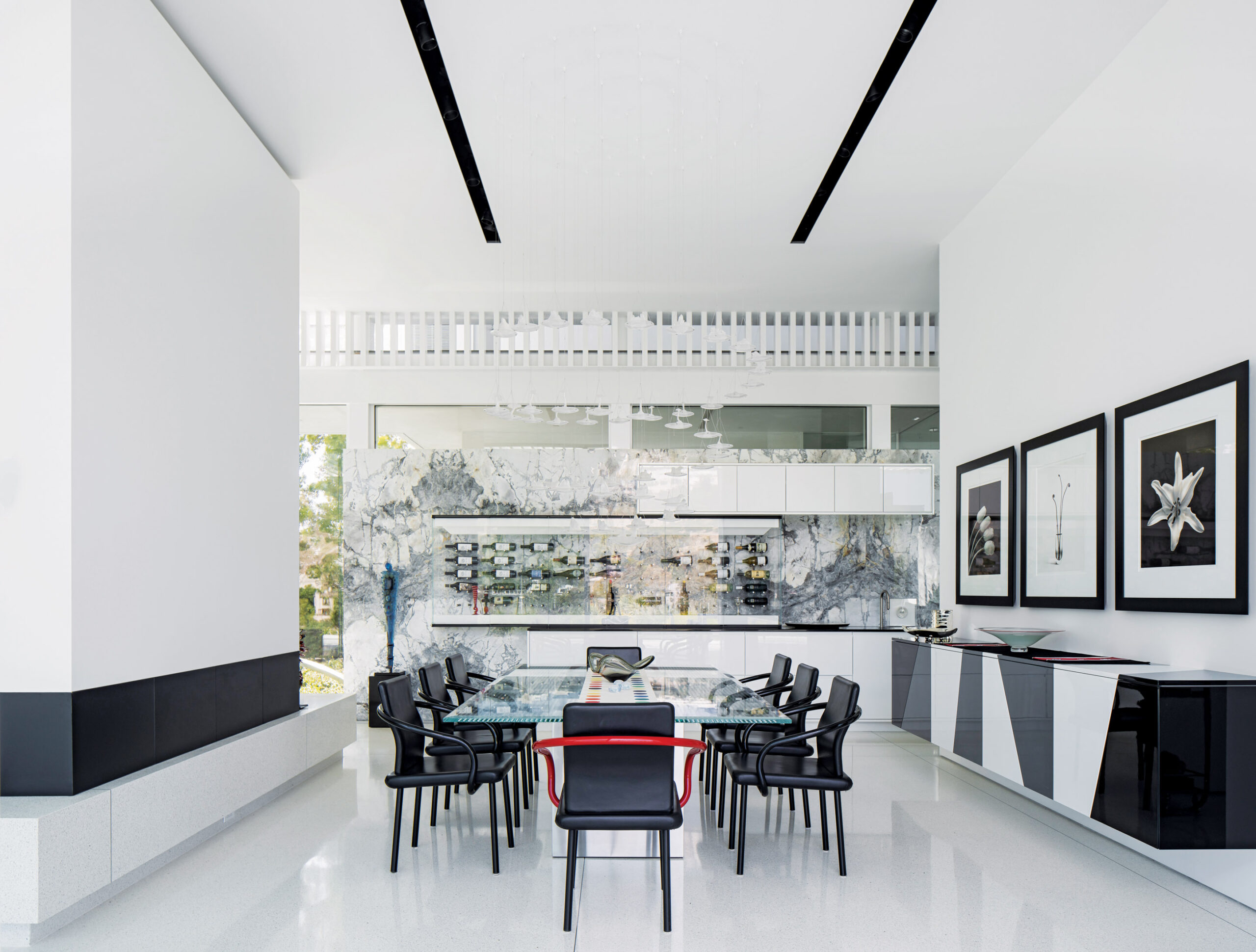 The Abramson Architects team designed an entertaining alfresco area with a fire pit, built-in concrete bench, vegetable garden in raised steel garden beds, barbecue with a countertop for outdoor dining, and water fountain inspired by the work of Mexican architect Luis Barragán, making the most of the Southern California weather.
"Architectural gardens and pockets of lush greenery suggest that the home is woven into the fabric of the graded topography," the architects say.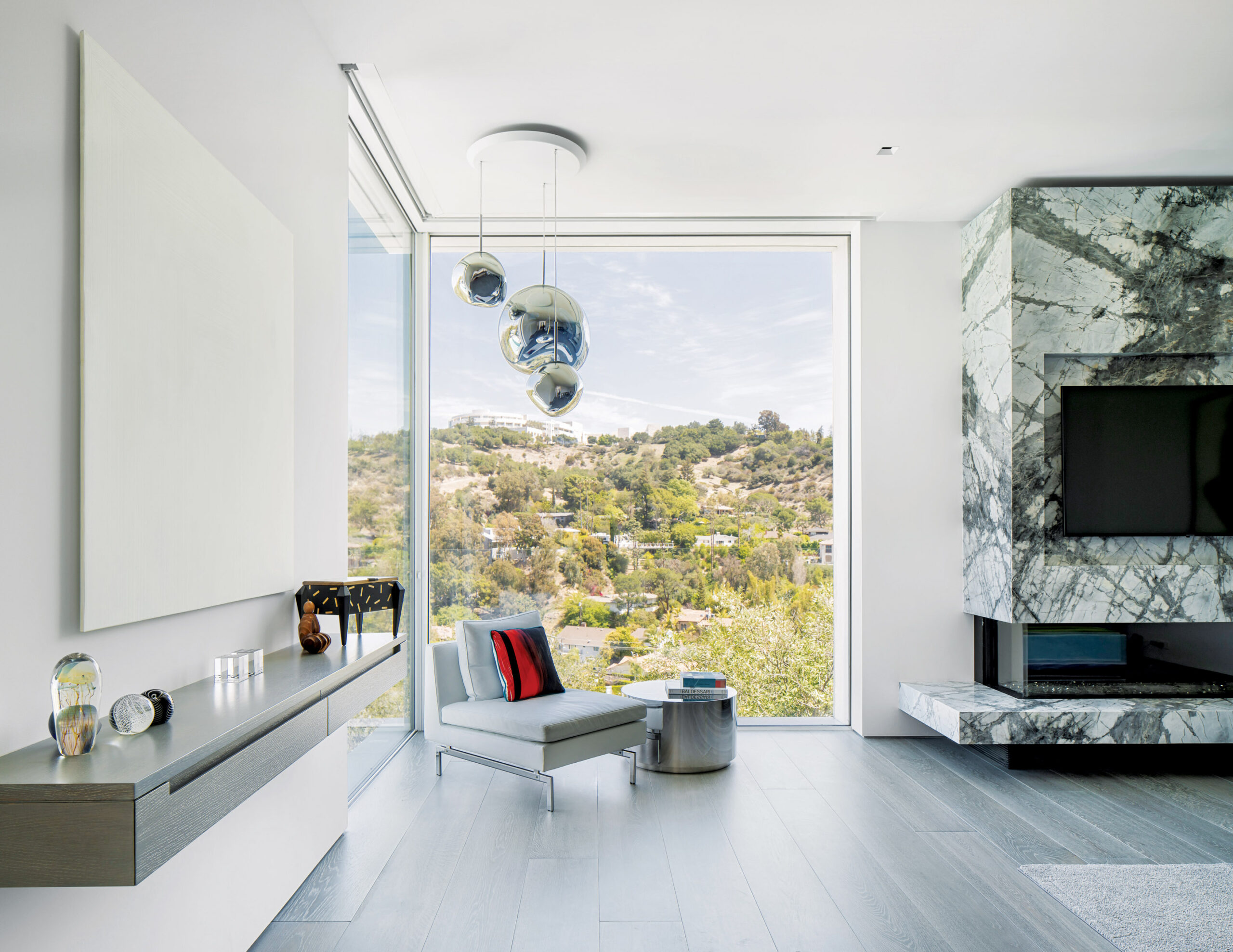 Elegant yet inviting, this sophisticated home is an ode to art and nature thanks to a design that highlights without competing with its collection and surroundings.
Abramson Architects | abramsonarchitects.com
Images: Manolo Langis