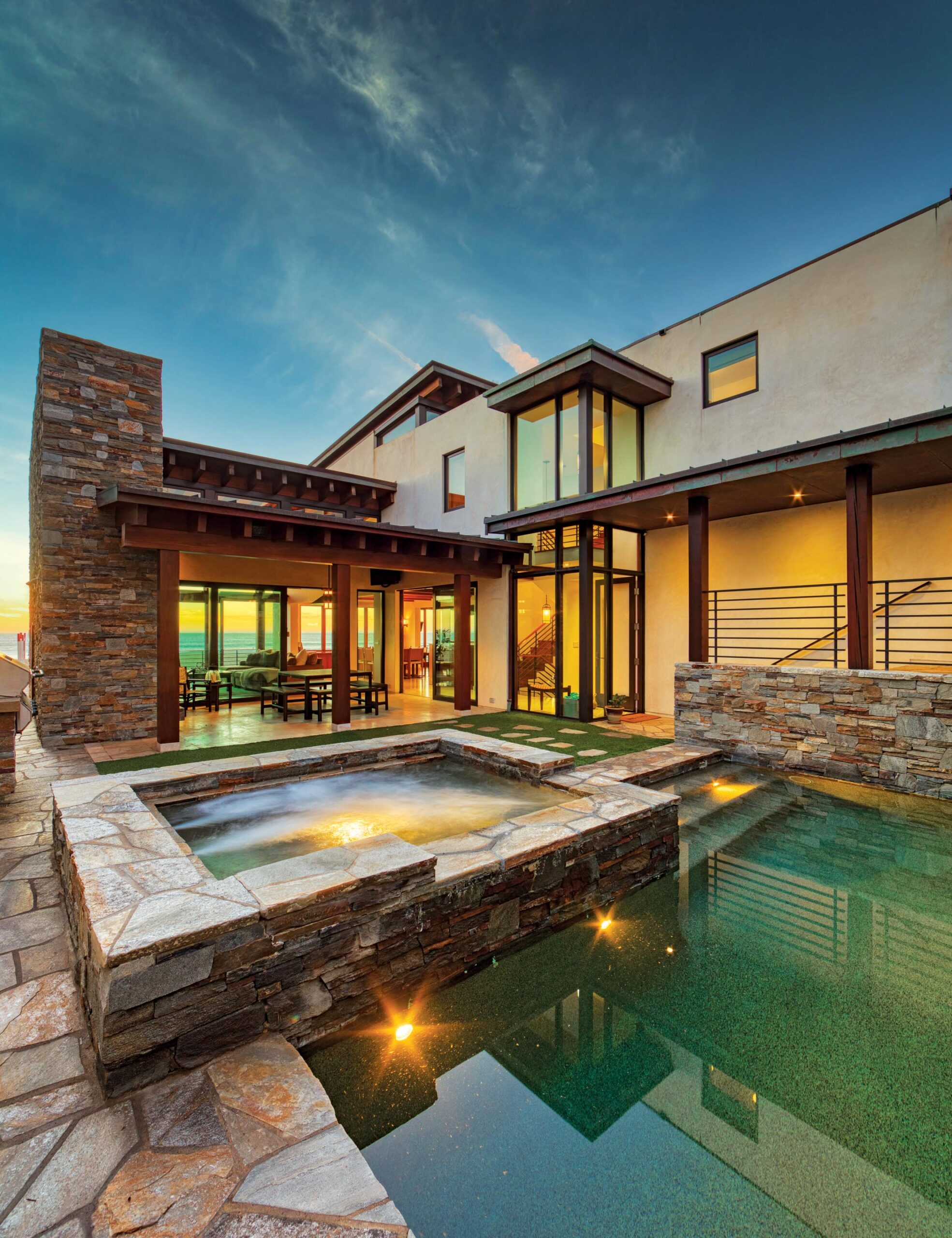 3301 The Strand A Warmly Luxurious Strand Retreat by KAA Design Group Offers an Everyday Getaway in an Enchanting Setting
"It's more than a triple threat," remarks Nick Schneider. The South Bay real estate agent is describing 3301 The Strand—a big, contemporary residence with an atmosphere of quiet luxury that by design, completely embraces its dramatic oceanfront setting.
"It's a KAA home, built by Dave Baldwin on a double lot," continues Nick Schneider: "It has a pool, a Jacuzzi and privacy, and a very special North Hermosa Beach location along the best stretch of beach in all of Southern California."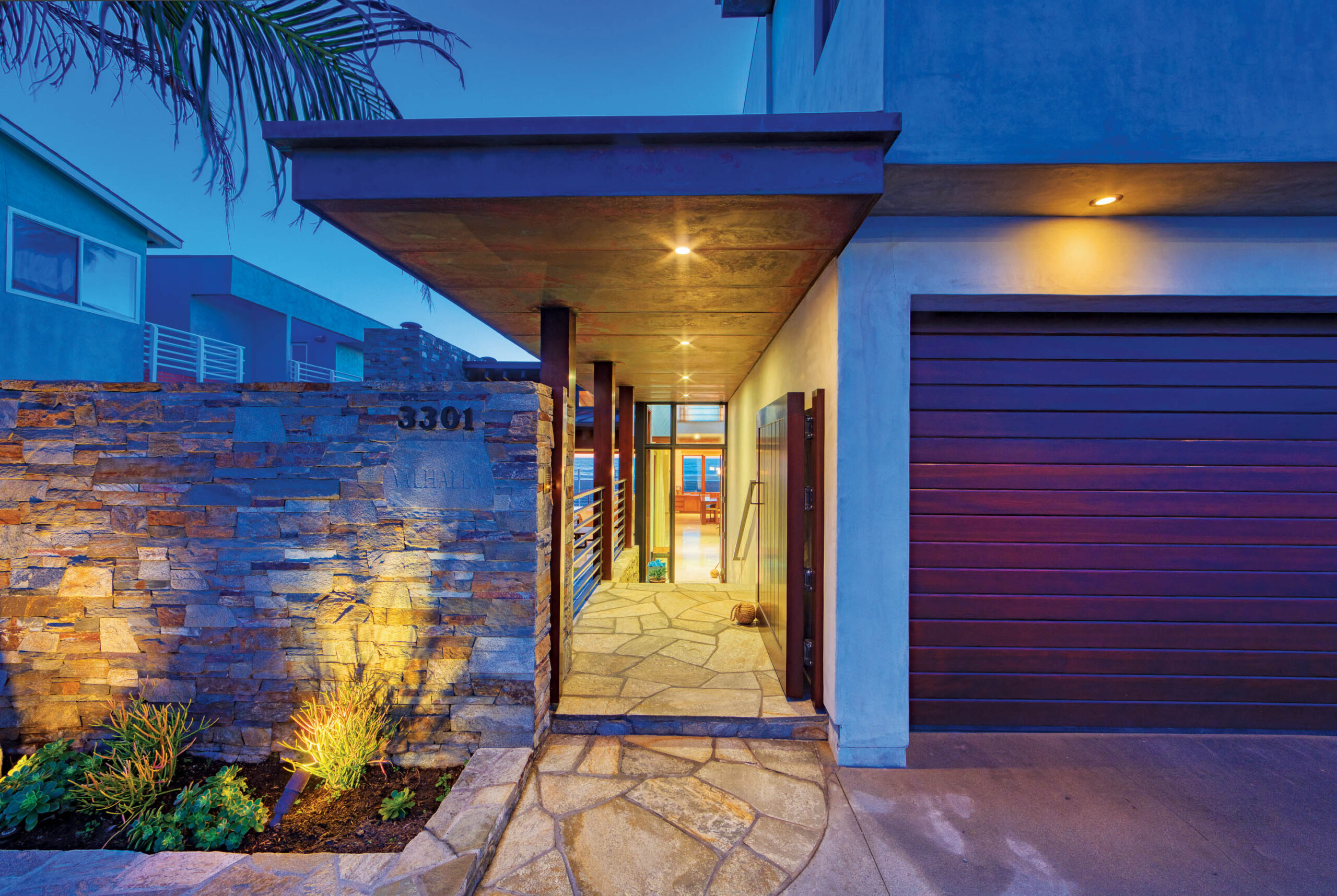 The rarity of this expansive property is not lost on anyone who regularly visits the Strand. Designed by architect Grant Kirkpatrick of renowned local firm KAA Design Group, the home's beach-facing exterior features suede-like stucco and endless glass, the latter punctuated by ebony-hued beams and slender overhanging eaves.
Nick Schneider explains: "Your typical Strand lot is thirty feet wide so with this home you're getting sixty feet of sunsets."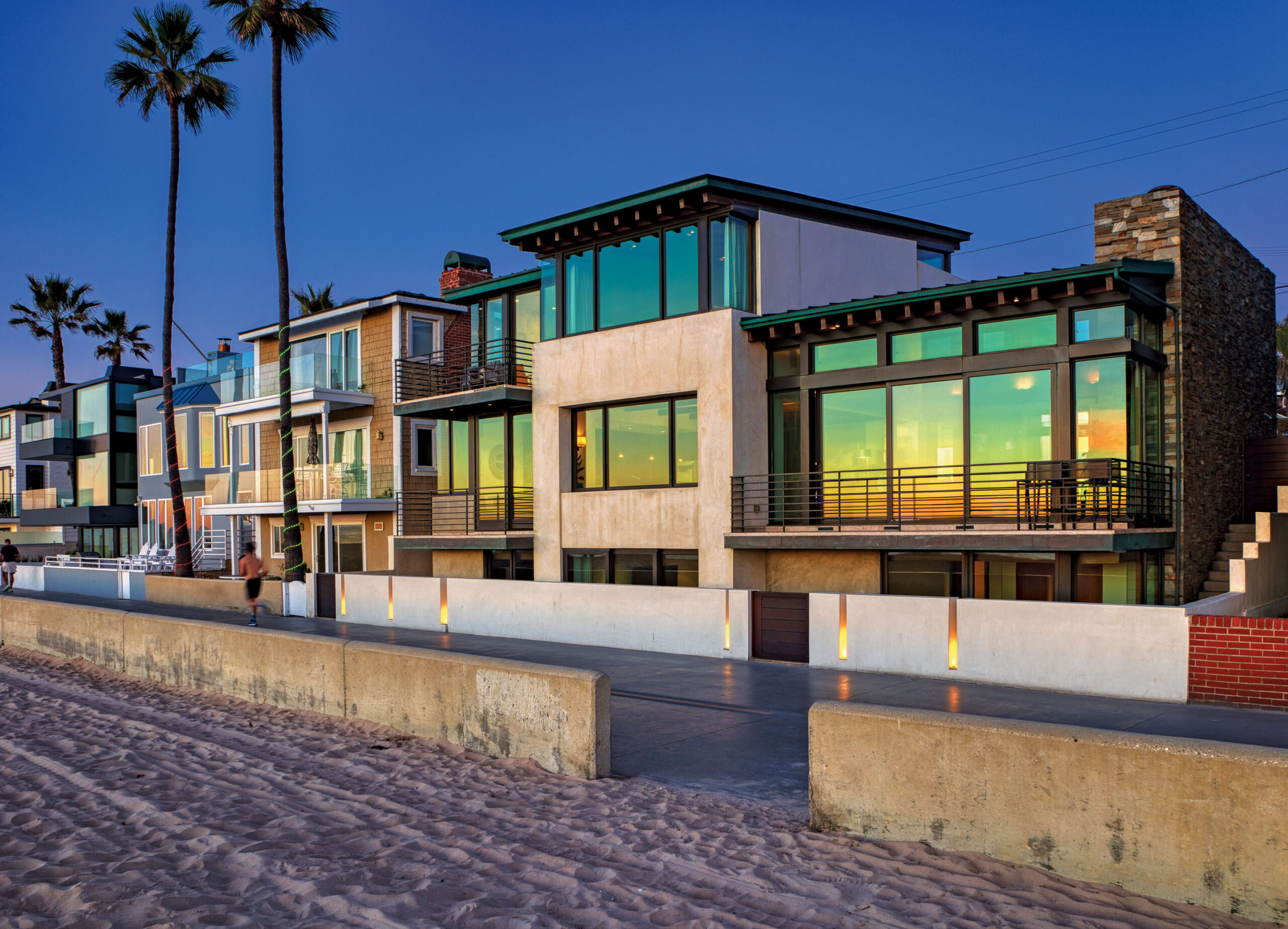 Once inside, the 5-bedroom, 4-bathroom residence lives like a compound that enjoys a seamless relationship with the coast's ever-shifting vision of sea, sand, and sky. Glass walls and open-air spaces dominate, so no matter where you are, you never forget you're living right at the beach.
"Views are completely unobstructed," adds real estate agent John Corrales. "Even the scenic lifeguard tower is perfectly placed just south of the home."
There are front-row scenes of violet-soaked sunsets, puffed clouds on azure skies, and white-capped ocean waters where surfers catch waves and dolphins frolic.
Along with its one-with-nature atmosphere, the home has its sensational moments. Chief among them is a private interior courtyard—the first space you encounter after walking from the street through the hearty wood entrance. Akin to a mini Shangri-La, this is where you can float in the turquoise pool or soak in the warm spa. There's a green turf for playing games and a barbecue station where you can grill up dinner and serve guests in the alfresco dining area, a covered space warmed by a flickering fireplace that is just steps away. All the while the courtyard has brilliant vistas, looking across the beach to the ocean and beyond.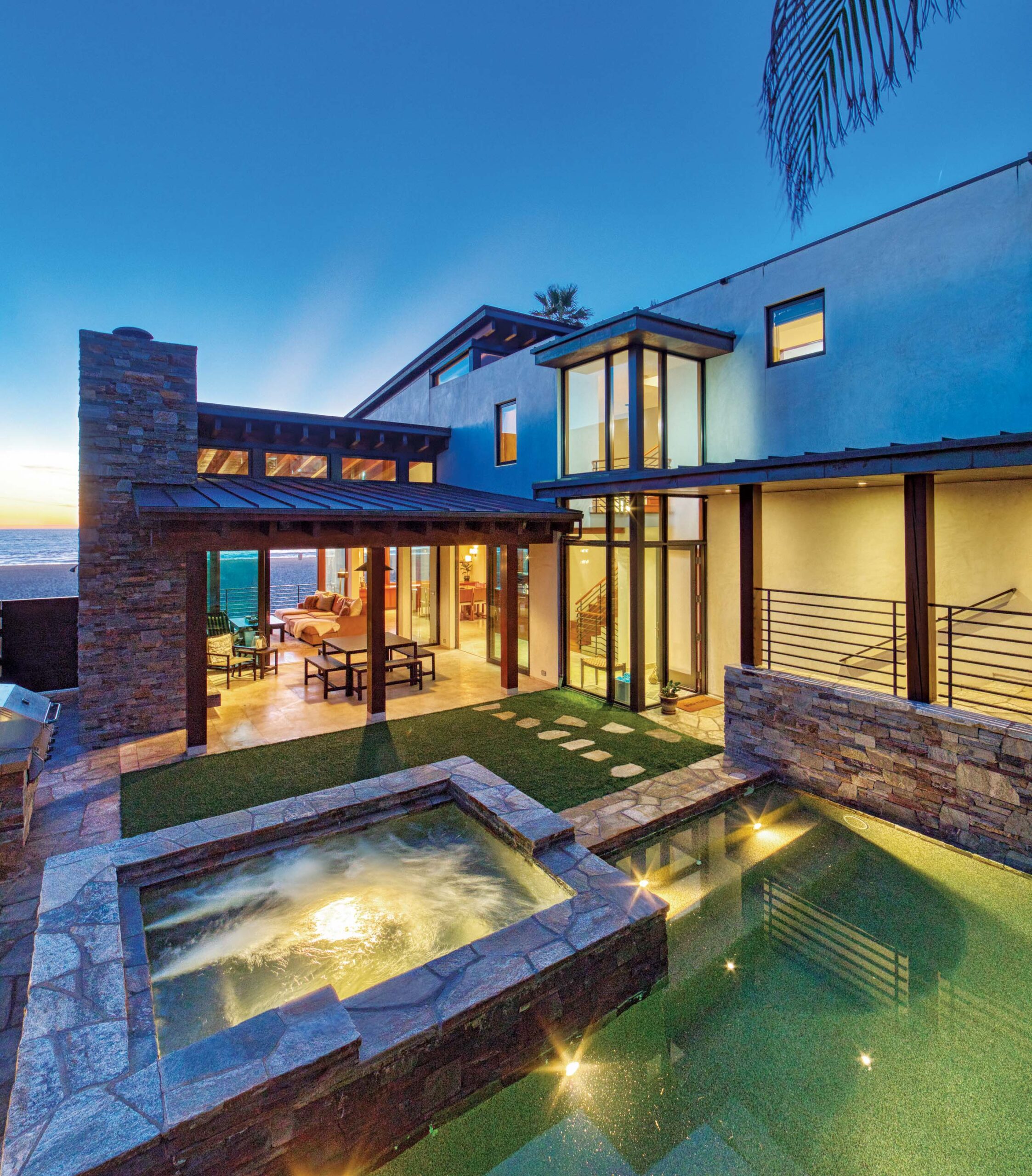 "When you're in the pool or hot tub and looking at the ocean, you've got sixty feet of views," points out Nick Schneider, "yet no one on the Strand can see you."
Notable is this privacy factor since the space is set back from the beach, yet linked to the oceanview family room; a welcoming gathering space with a sloped wood ceiling and a fireplace set into the earthy stone wall.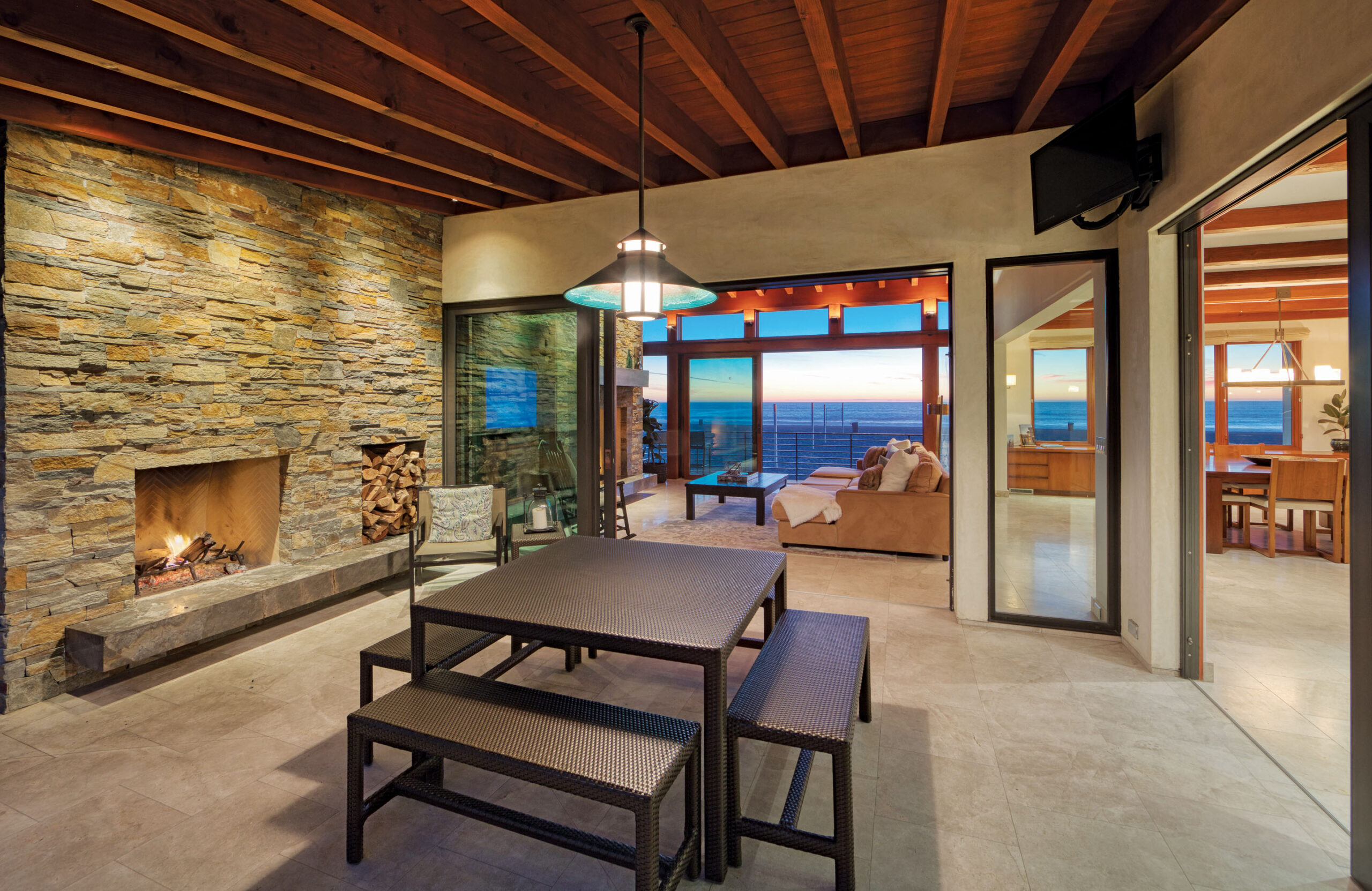 "The courtyard is one of the most frequently used areas of the home," notes John Corrales. "The indoor-outdoor experience is fantastic. If it's raining you can still be outside." (The effect of two fireplaces blazing at once while soaking in a bubbling spa and watching the sun dip into the Pacific Ocean adds up to an experience without compare.)
Each of the home's three levels has been well-crafted to serve the full spectrum of au courant beach living—and beyond. The top floor houses four of the five bedrooms, all generously scaled thanks to the property's larger-than-usual Strand footprint. The master suite is a soothing retreat with ocean views and a standout walk-in closet that features sleek wood cabinetry, efficiently arranged in a clean-cut maze. The master bathroom is where spa design principles come into play: You can soak in the deep stone tub while enjoying wide-angle views of the beach and ocean, then step onto the balcony to bask in the soothing sea air.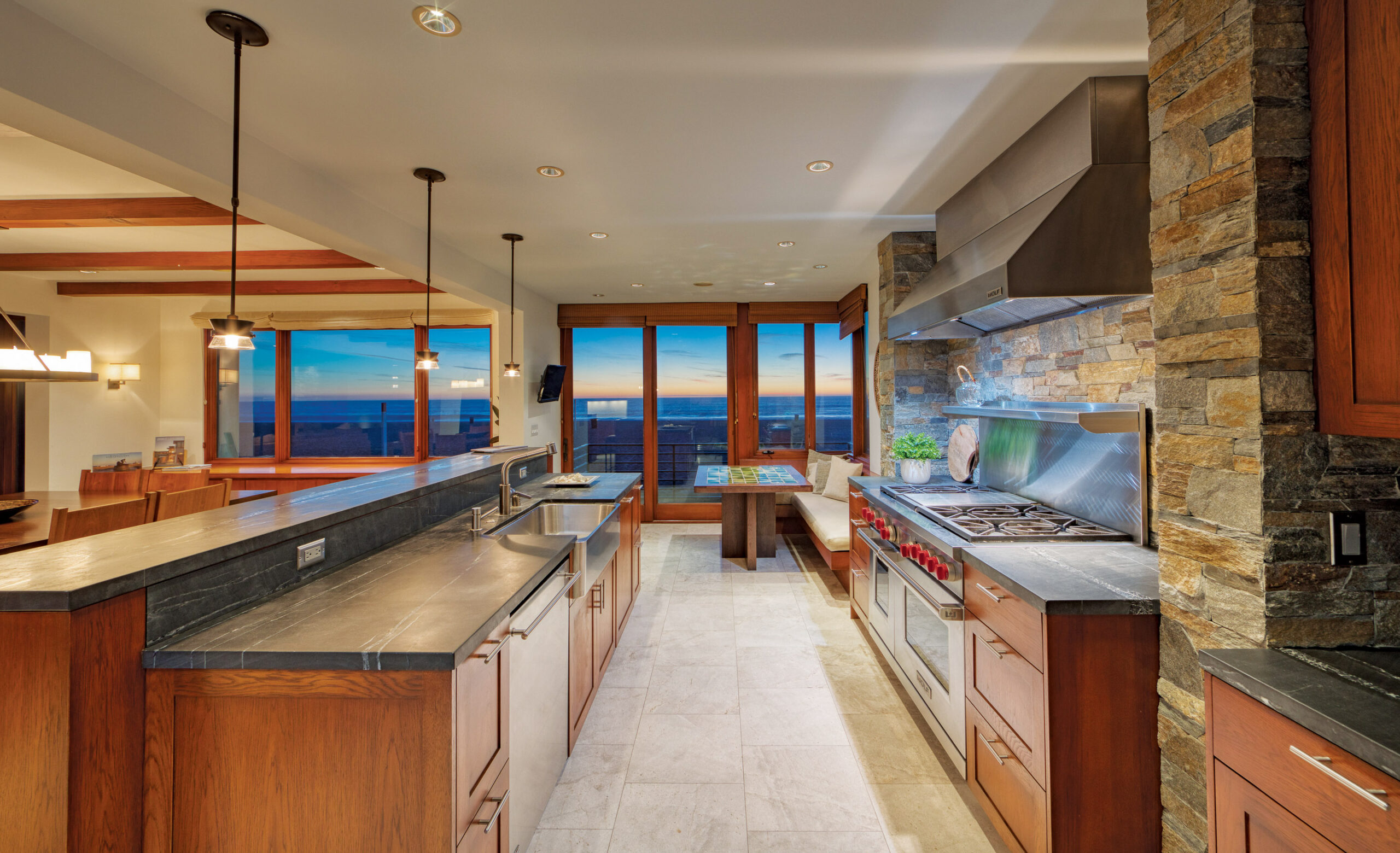 Perhaps just as relaxing is the custom stone spa located on the property's first floor, an amenity designed for the needs of a professional athlete, from its walk-in steam shower to the seated sauna.
This level, also home to a dedicated office with beach views, is filled with natural light and otherwise dedicated to recreation, from its sizable entertaining room with full-fledged kitchen and bar, to the wine cellar with wood racking for hundreds of vintages. Guests can step outside to congregate in the neat stone courtyard, or head to the beach for a game of volleyball and a dip in the ocean.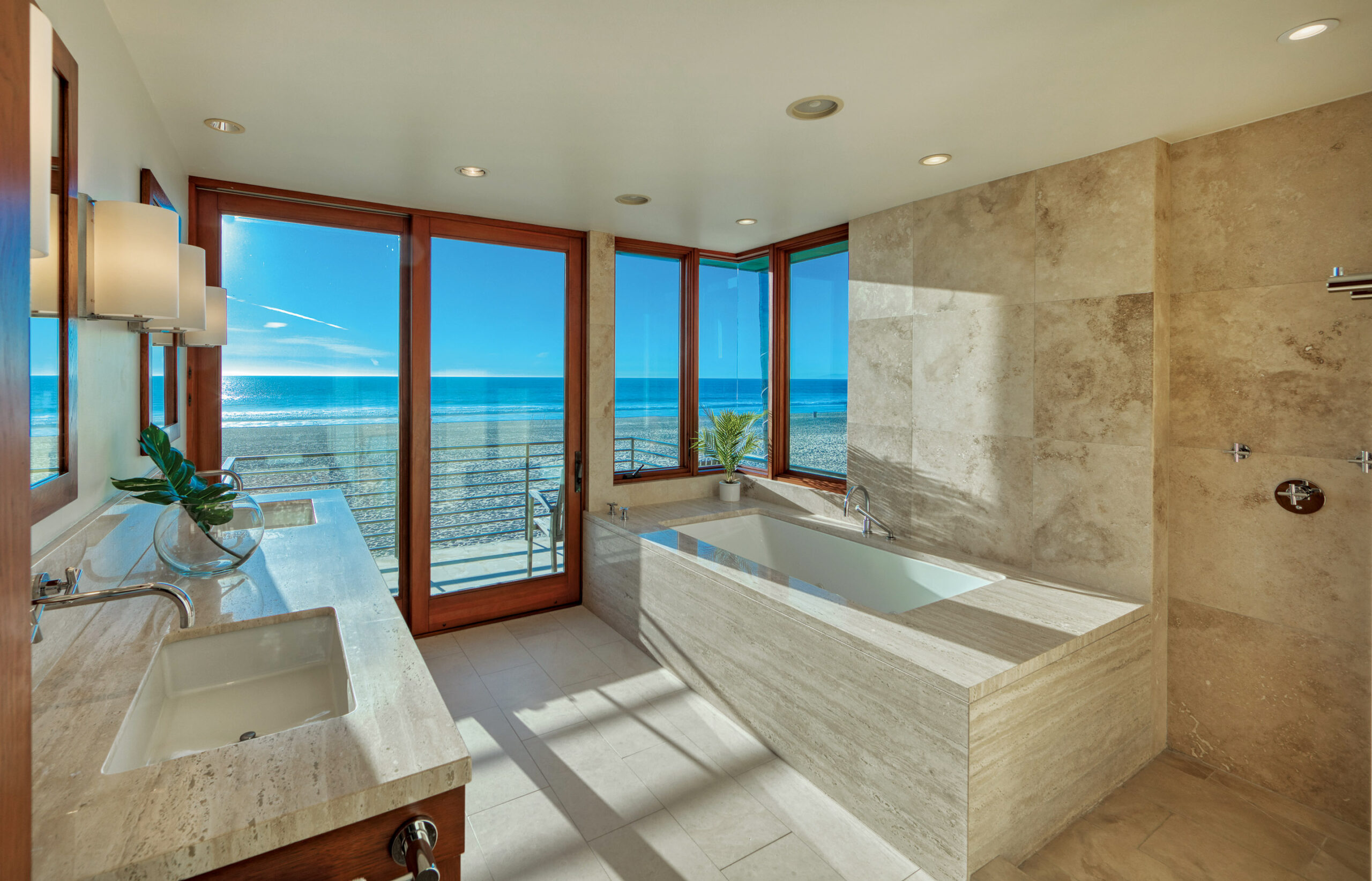 Living in such warmly elegant accommodations, so neatly twined with the outdoors, is inviting—but so is the surrounding community. You can be immersed in the downtown scenes of either Hermosa Beach or Manhattan Beach, both less than a mile away, and reach either town's pier in about 15 minutes on foot.
"The home is just south of the Manhattan Beach-Hermosa Beach border," points out Nick Schneider, "and is the last, true double lot that close to Manhattan Beach."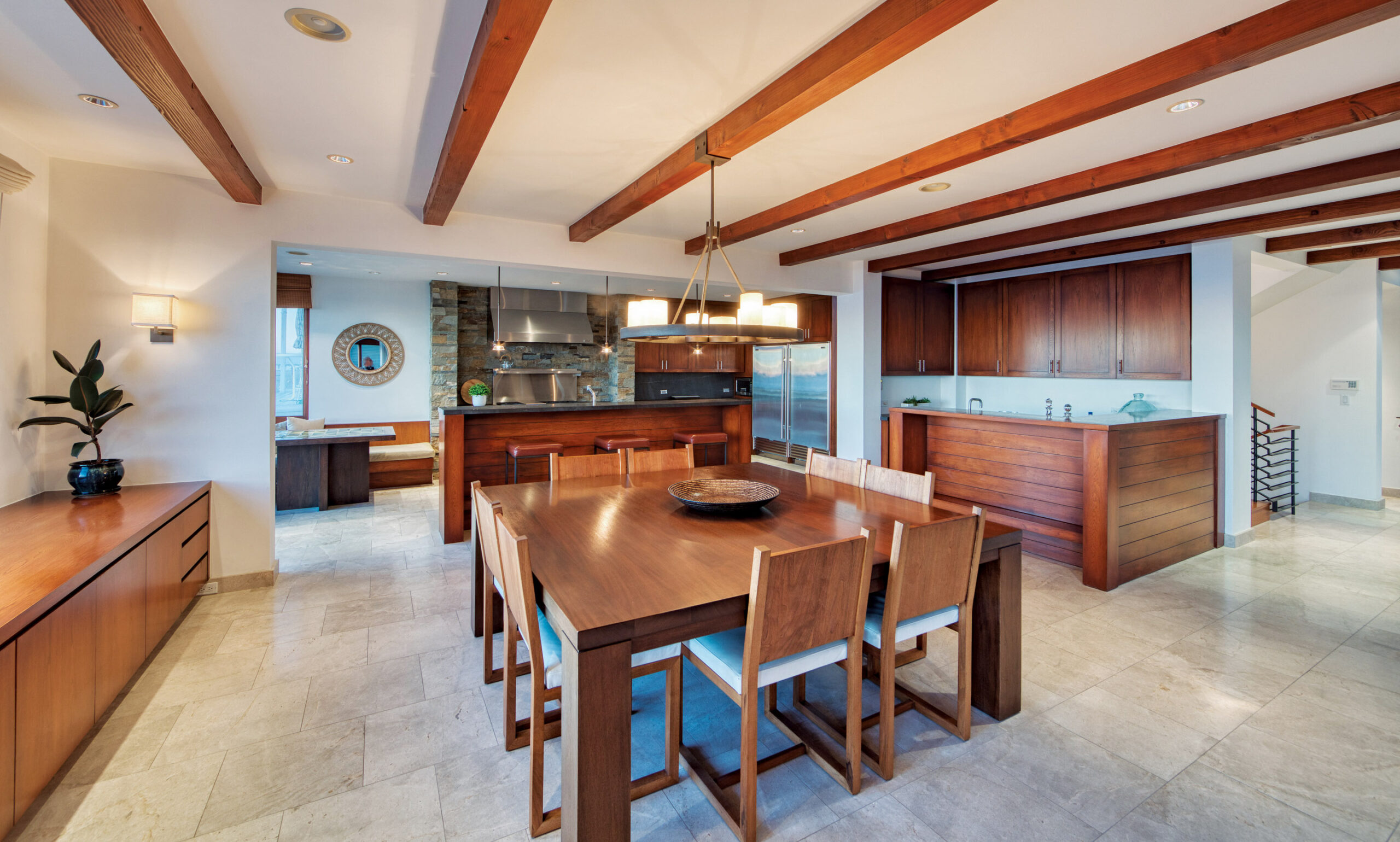 In line with the generous size of the home is its roomy street location. Hermosa Avenue, where the home is situated, is extra-wide along this particular stretch.
"It's like a semi-private road," John Corrales describes, "and there's no home directly behind this one."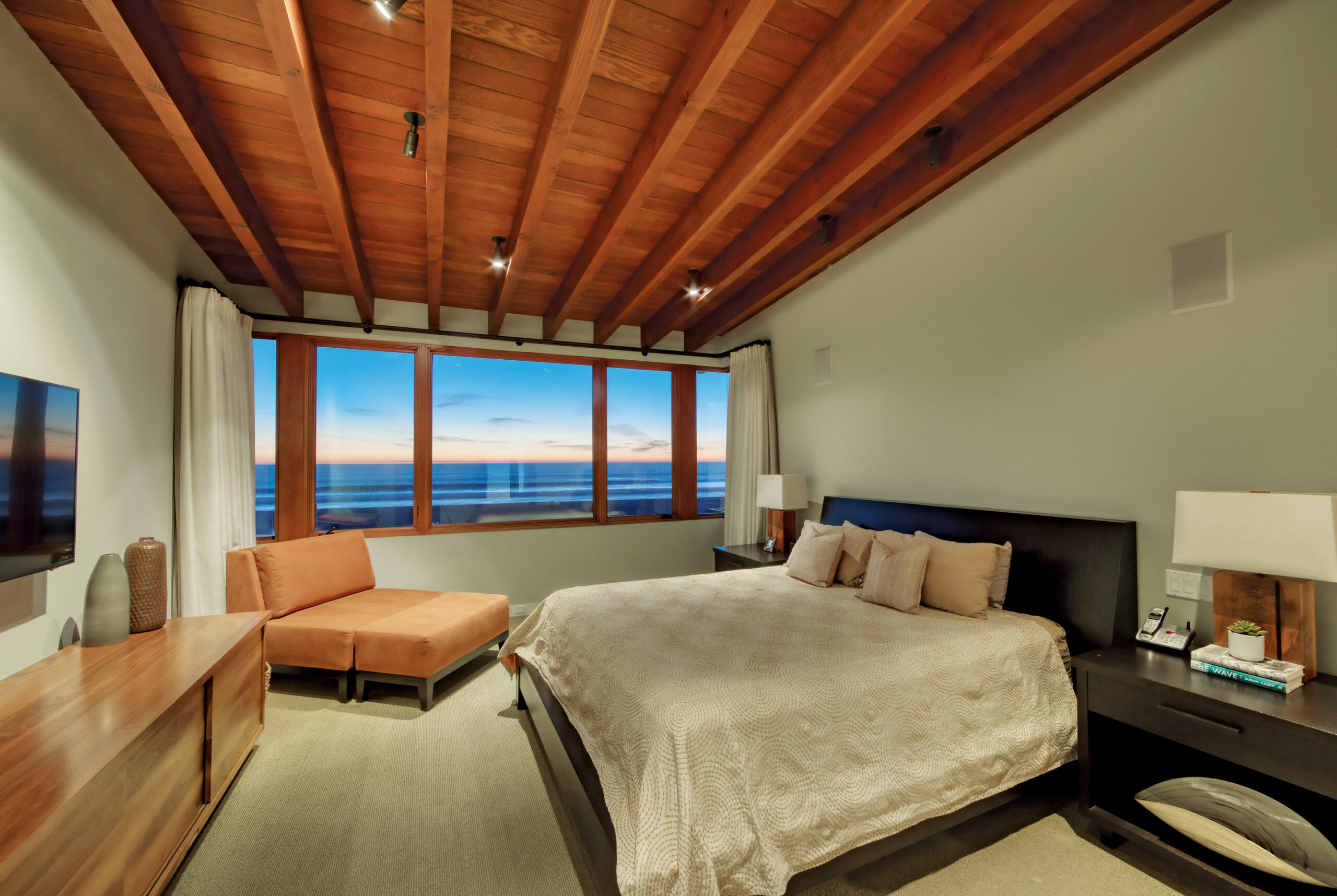 Its desirable address, however, is just another exclusive feature to add to a home already stocked with so many—from an exclusive design and workmanship factor to a rare, double-lot dimension that offers not only bigger and broader ocean views but a much grander sense of life at the beach.
Nick Schneider | 310.809.4875 | DRE# 01867363
John Corrales | 310.346.3332 | DRE# 01263687
of Compass
List Price $22,900,000
Photography by Paul Jonason