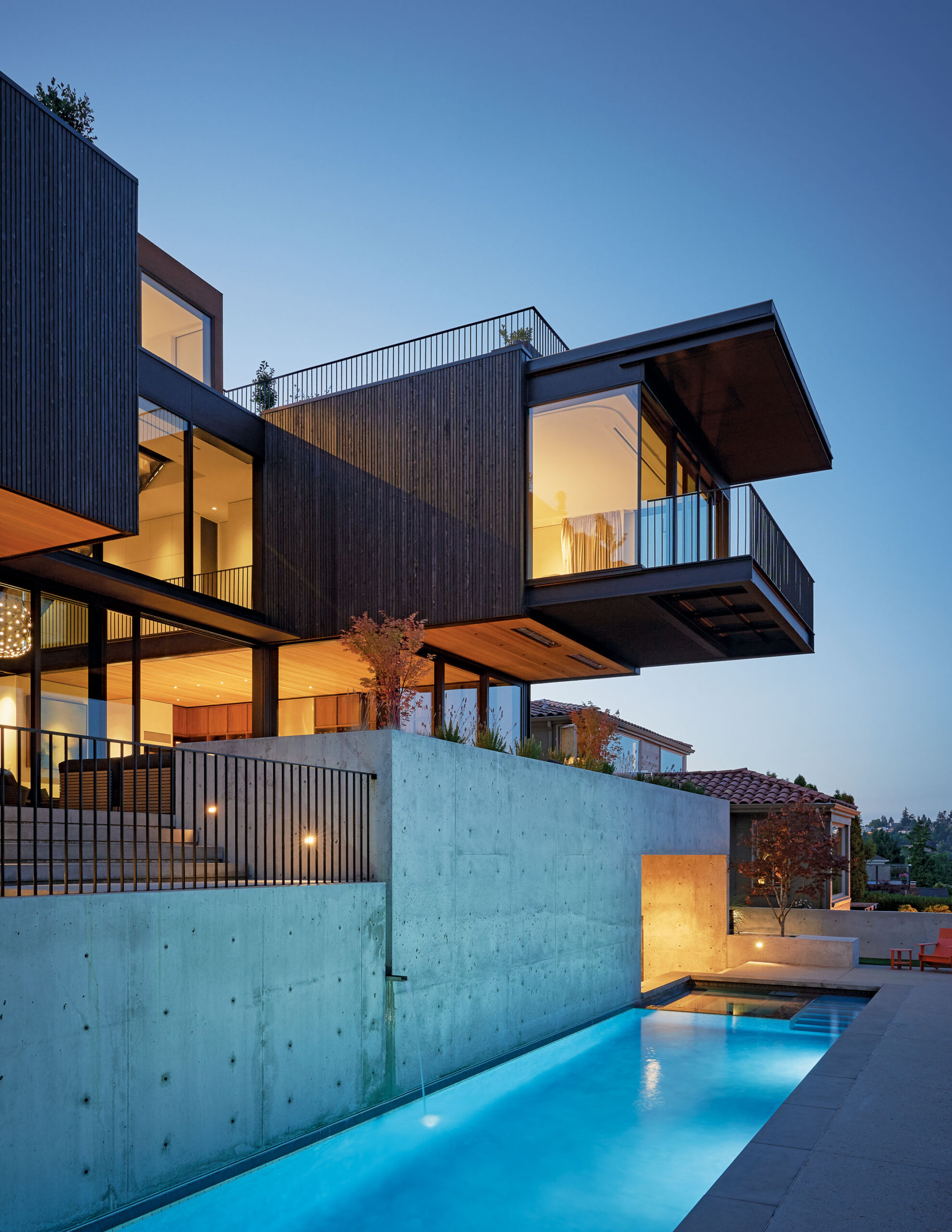 Offering Spectacular Views of Downtown Seattle and Puget Sound, a 5,500-square-foot Home Designed by Architecture Studio GO'C Had to Satisfy All Eight Members of This Family
"It certainly doesn't always happen, but on this house, the first sketch of the floor plan was very close to what we built," remembers Jon Gentry, co-founder of GO'C.
"One key approach that we talk about in our studio is to absorb all of the changes and input from the clients, consultants and builders, and let them inform the design, but to hold on to the essence of that initial concept."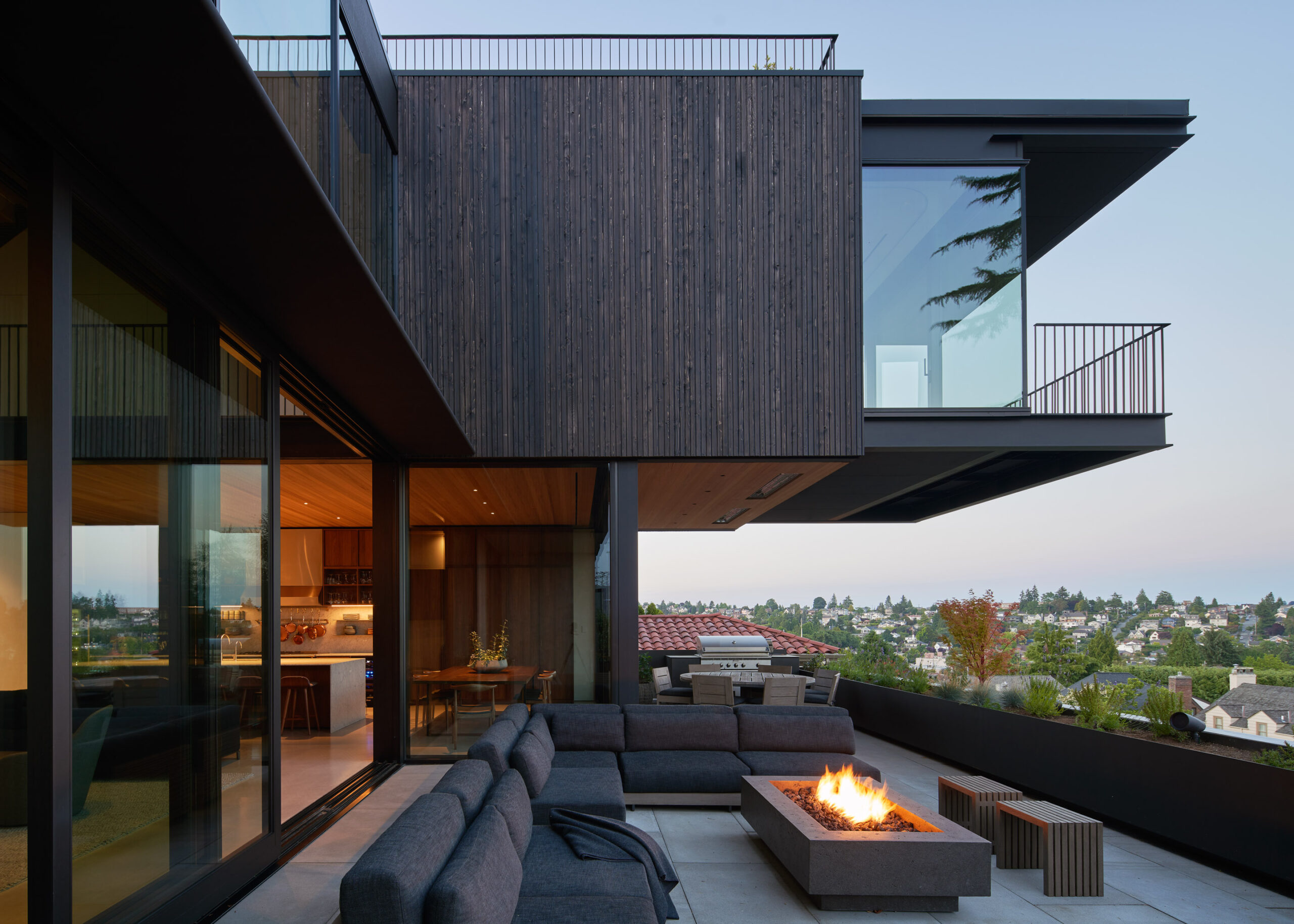 "These site constraints drove how the lower floor and pool terrace would engage the ground plan and how privacy would be achieved," the architects of GO'C say. "This also set up opportunities for how the lighter upper floor could extend out over the site, capturing light and views while creating covered outdoor spaces below."
Organized in two main living levels plus the basement that opens out onto the pool terrace and the large roof deck and gardens—accessed from the upper-level bridge via a suspended staircase—the house comprises a double-height living space with a wood-burning fireplace and chimney at its heart for a warm ambiance.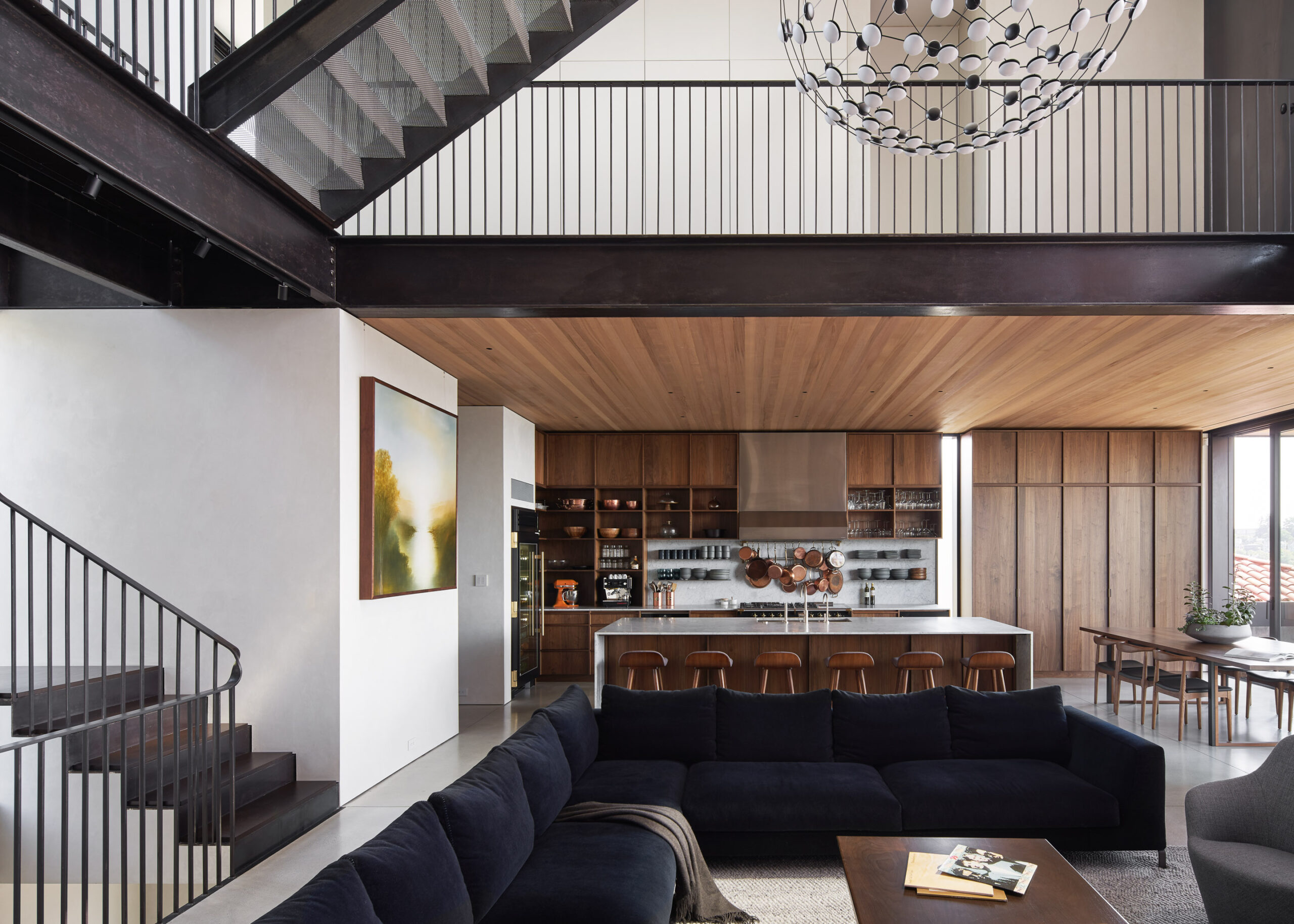 For music lover and owner of a local record label Brandon, it was essential to intertwine audio throughout the home while also creating a space for his record collection. For New York Times best-selling author and chef Sarah, calm nooks for writing, a library for her books and a large kitchen were at the top of her list. To make everyone happy, including the six children, a dedicated kids' area connected to the family living space was also created. 
"With our choice of materials, we wanted to accentuate the horizontality of the form and to ground it in the site," expresses Aimée O'Carroll, co-founder of GO'C.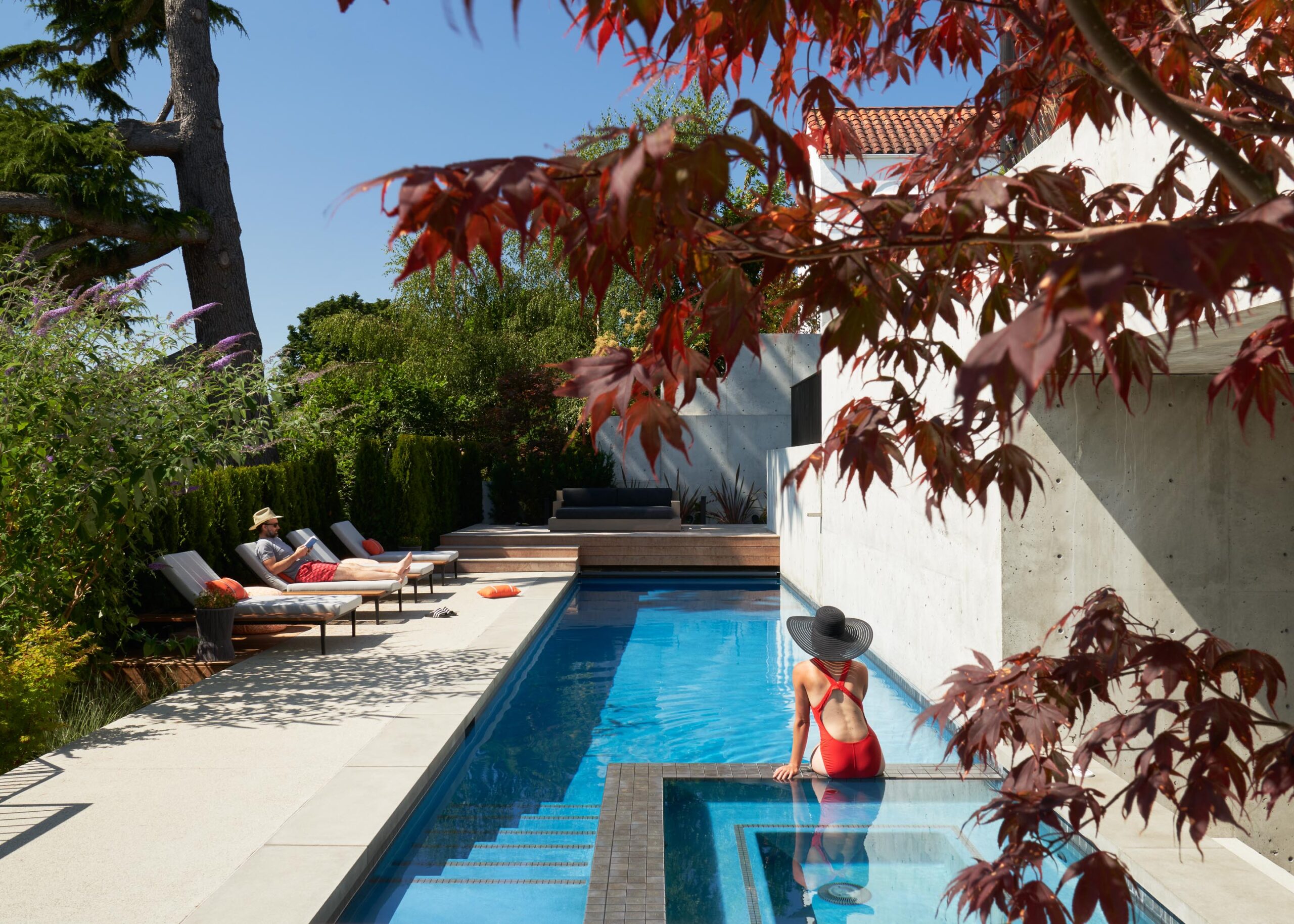 This visually translated through the use of exterior plaster, exposed concrete walls, and the ebony-stained rain screen at the upper level. 
"All of the beautifully crafted metalwork on this project became a primary design thread that ties it all together," adds Jon Gentry.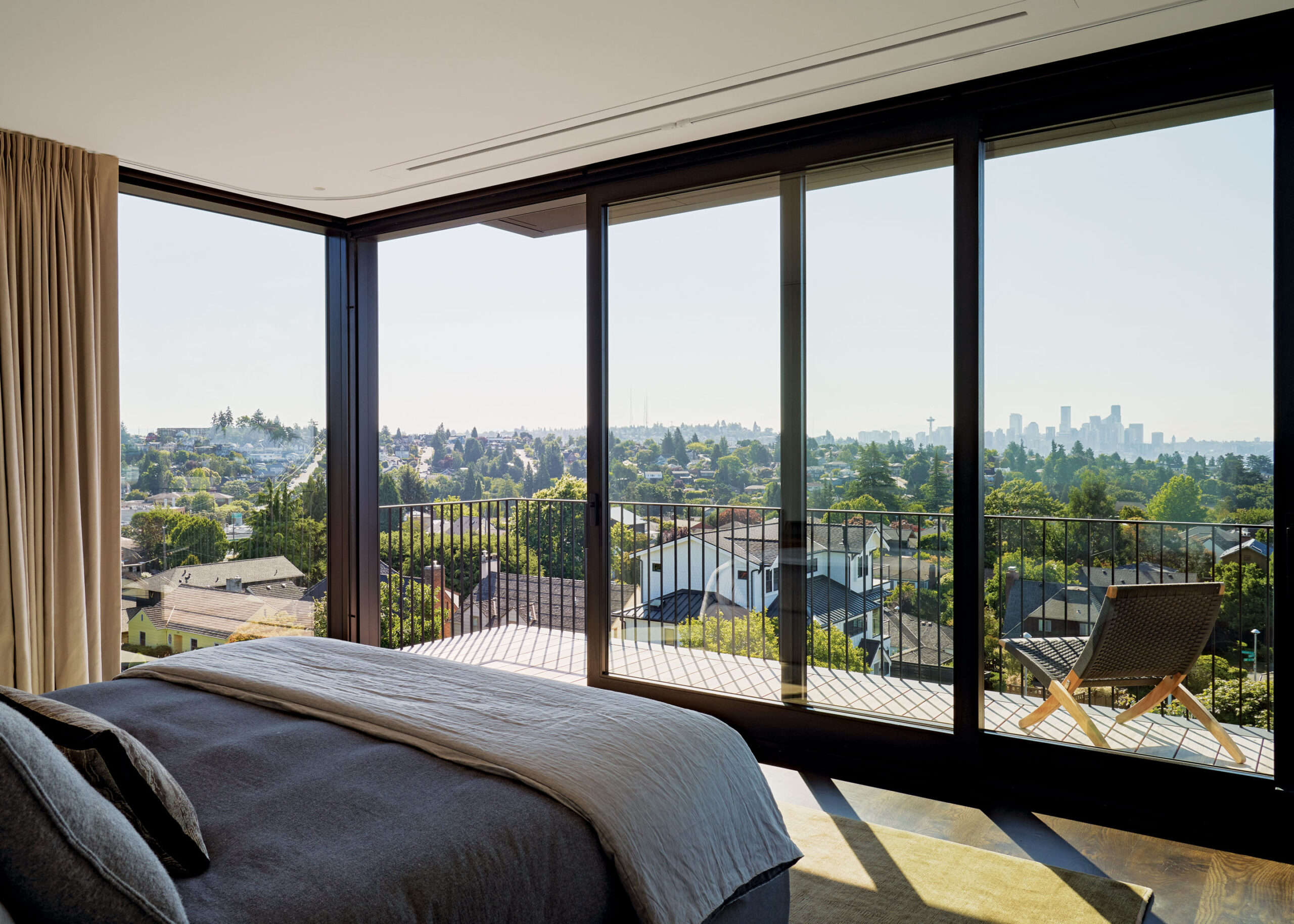 "From the exposed structural steel to the bridge railings and stair treads all the way down to the first thing you touch with the entry door pull, the hand-crafted metalwork is evident and speaks to the level of care and craft that we were aiming for from the start."
Providing both privacy and spaces for entertaining while being surrounded by a stunning panorama, this family house combines high style and functionality in an inviting and refined atmosphere where feeling at ease is the guiding principle.
GO'C Architecture & Design | gocstudio.com