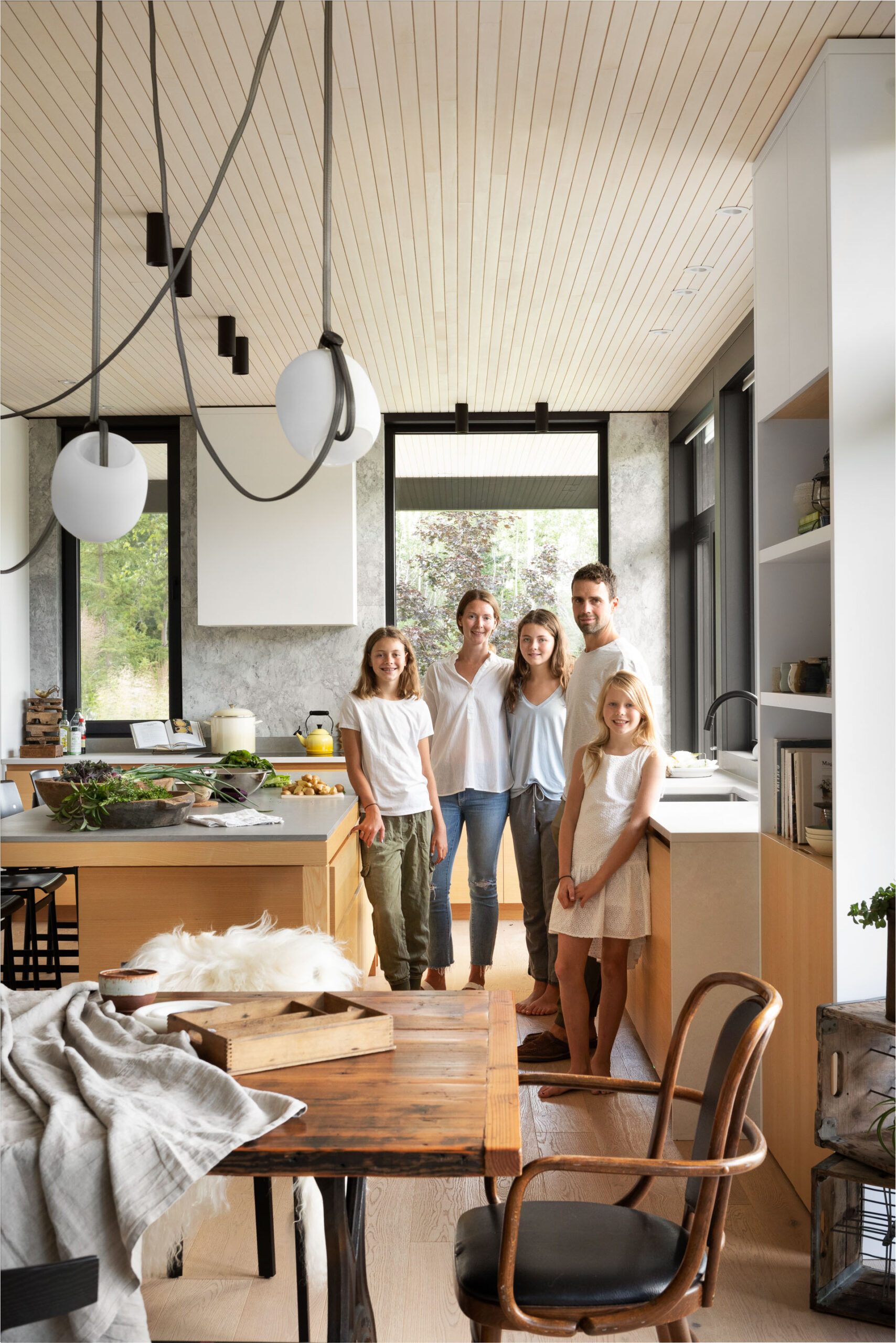 For a Former Professional Athlete and His Loved Ones, Falken Reynolds Reinterpreted the Classic Canadian Mountain or Lake Home With a Contemporary Eye
The couple—in their 30s—both grew up in Northern British Columbia in Canada and chose the region to build a summer cabin 15 years ago which would become their new home. They trusted the team of interior design practice Falken Reynolds to turn their dream into reality. 
"This was our first project where we were truly able to design the house from the inside out—a Frank Lloyd Wright perspective that we think is so important in creating a home that will be lived in and loved," confesses Chad Falkenberg, principal at Falken Reynolds.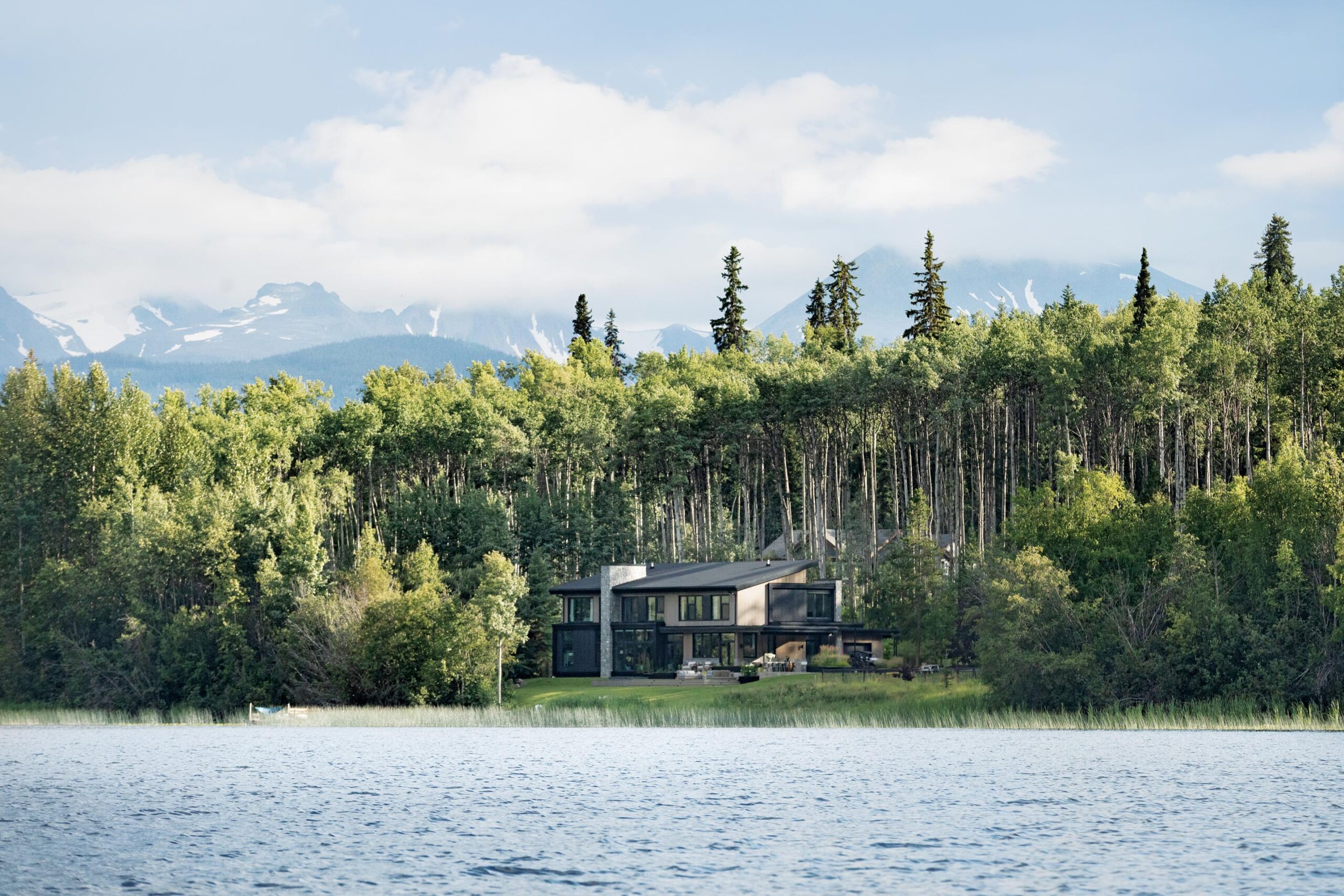 "The stunning views over the lake and all of the connections between the spaces took first priority so all the other details could support and enhance them."
Situated on a 20-acre lot near the small town of Smithers, the two-story, 4,100-square-foot house comprises an open plan on the main level that connects to the large deck facing the lake while the bedrooms, office and study rooms are located on the upper floor.
Surrounded by nature, the property is ideal for the family who loves outdoor activities such as camping, fishing, hiking, trail running, boating and cycling.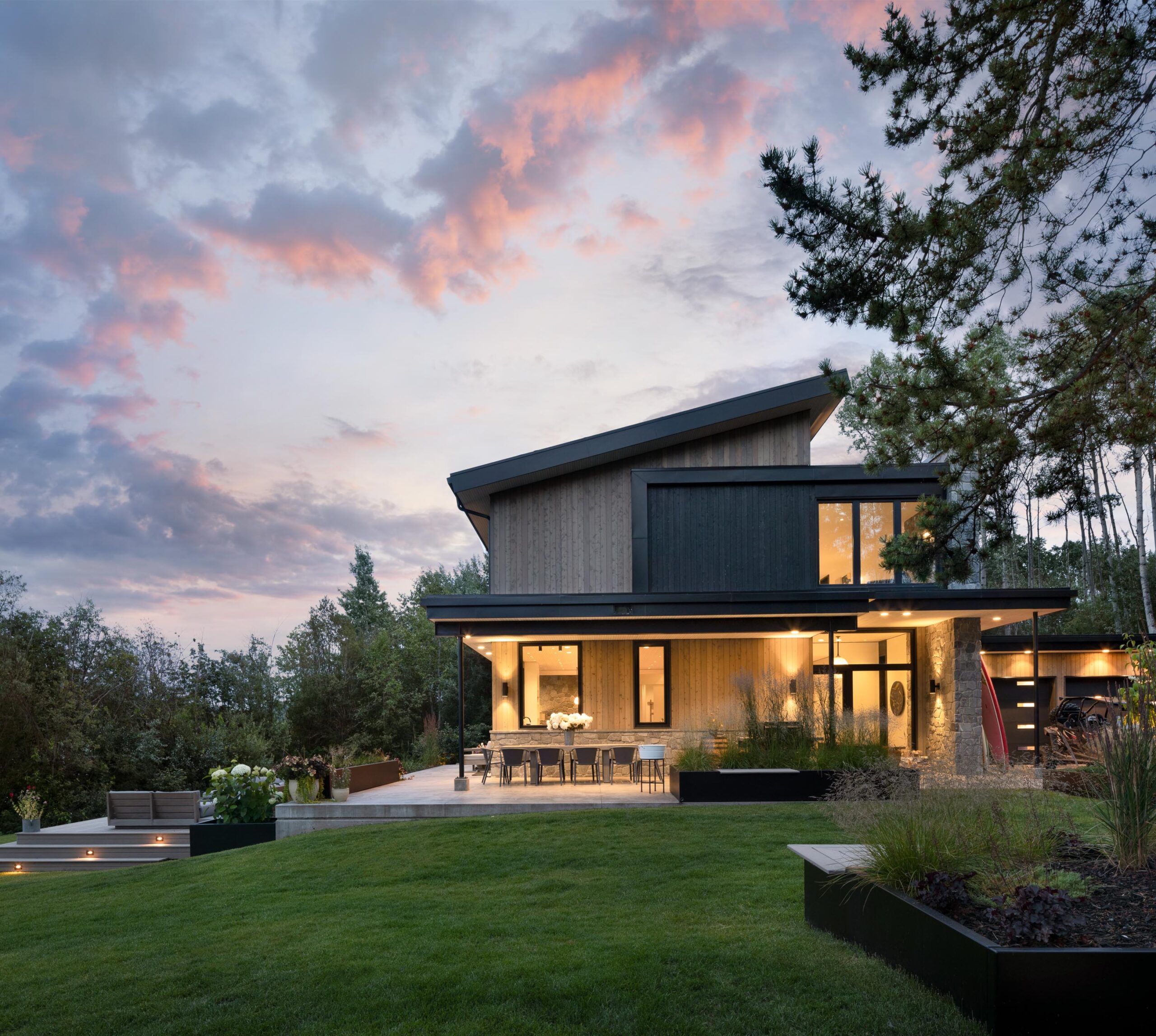 "We referenced both traditional rugged mountain homes and breezy lakeside cabins of the area, and interpreted them with a contemporary approach," says Chad Falkenberg.
The panorama was the main source of inspiration and informed all of Falken Reynolds' decisions, especially for the materials that had to be durable and efficient, resulting in the use of stone, wood, and leather.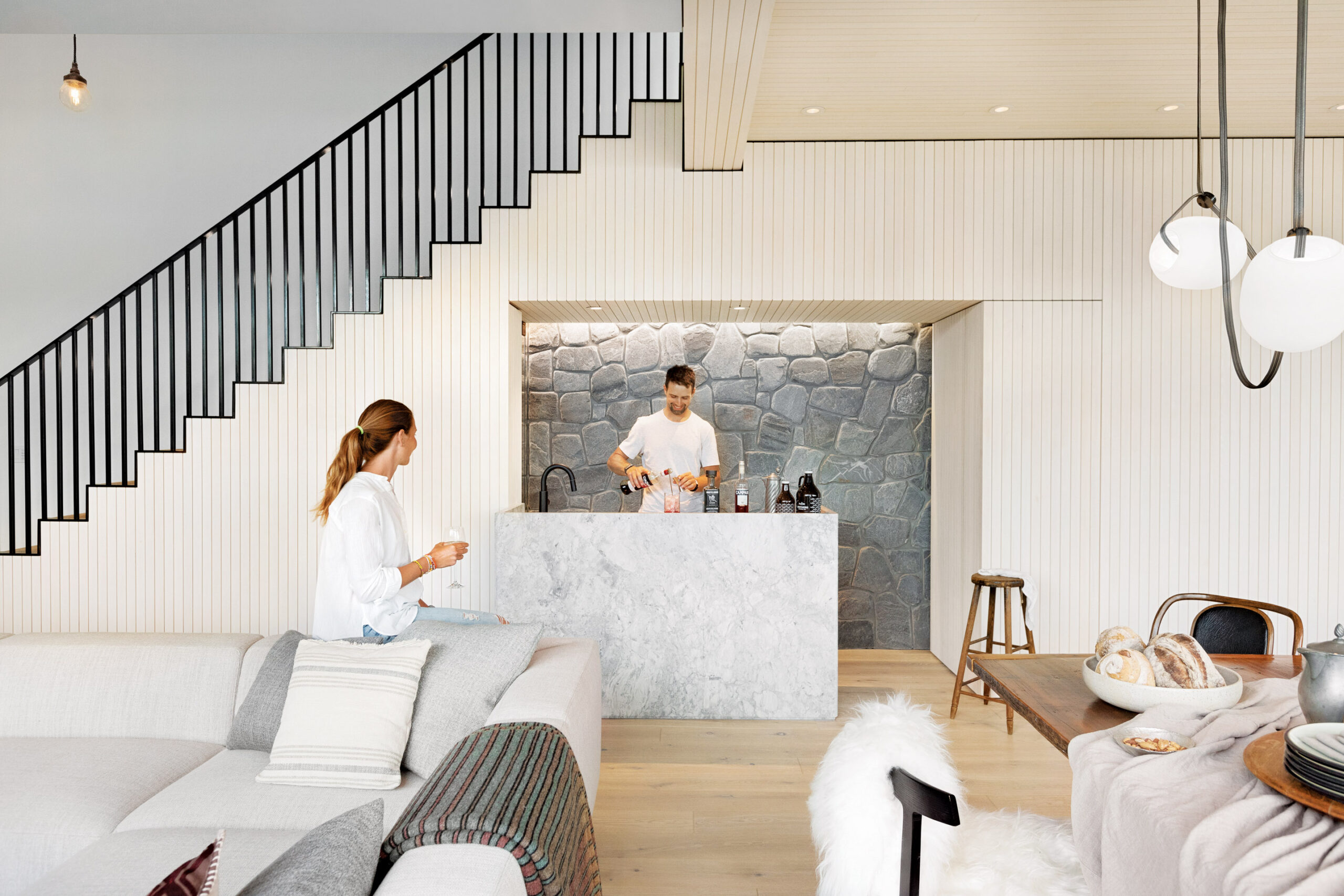 "Black reveals above the walls and millwork create the illusion of the wood ceiling floating—the same principle Mies van der Rohe used in the Barcelona Pavilion—adding a sense of both strength and lightness," notes Chad Falkenberg.
In addition to optimizing the exceptional views, allowing the spaces to function effortlessly for an active family in all four very distinctive seasons and creating the perfect home for entertaining were at the top of the list for this project.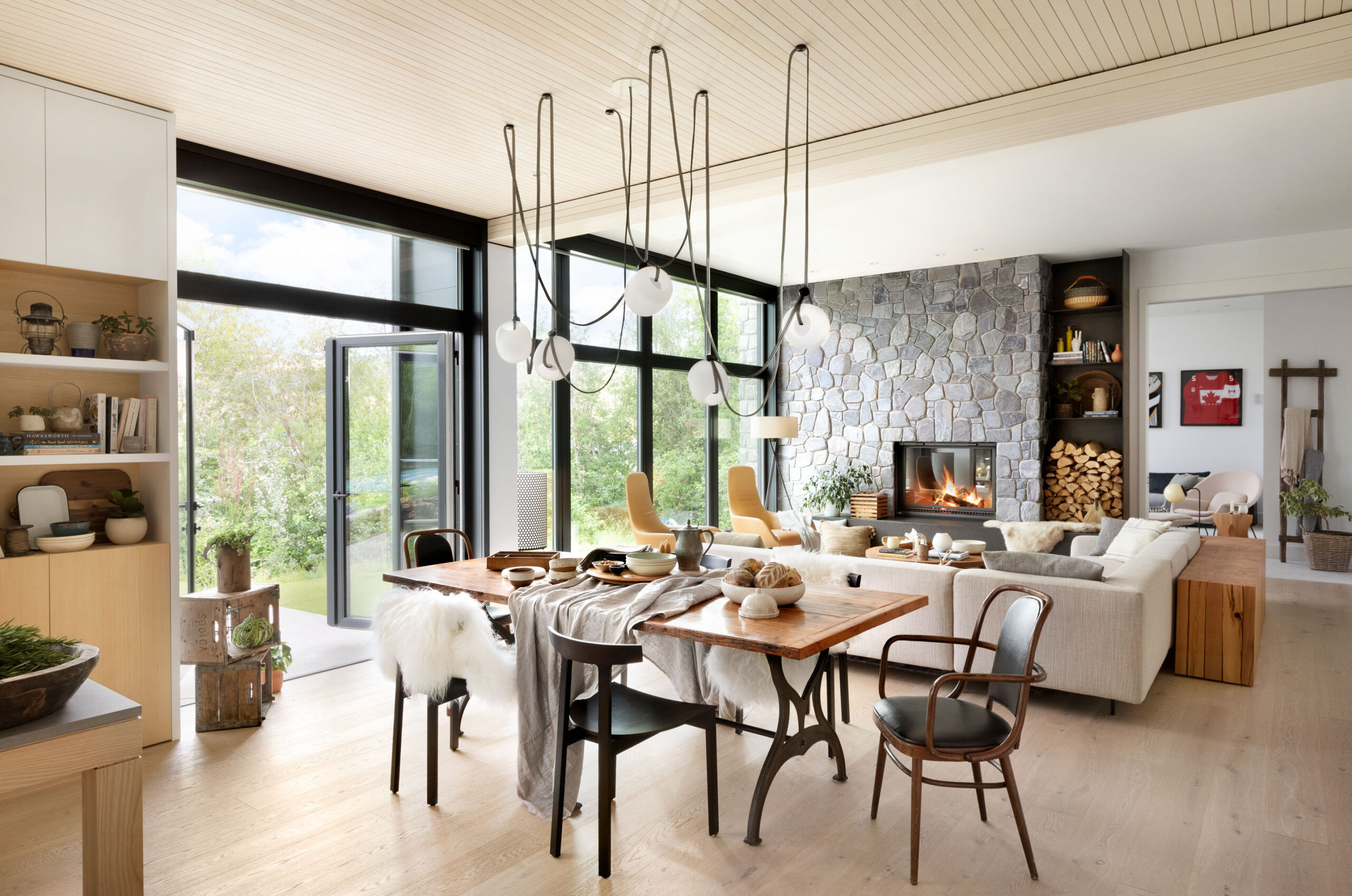 "To make the house feel welcoming, the outdoor living spaces—dining, fire pit, tennis court, and dock—all face the front yard," describes Chad Falkenberg.
The light color palette and pieces of furniture and lighting by Muuto, Scott Landon Antiques, Bensen, Zanotta, Roll and Hill, Gubi, Cappellini, Knoll and Flexform—to name only a few of the brands that populate the space—contribute to the casual yet refined atmosphere.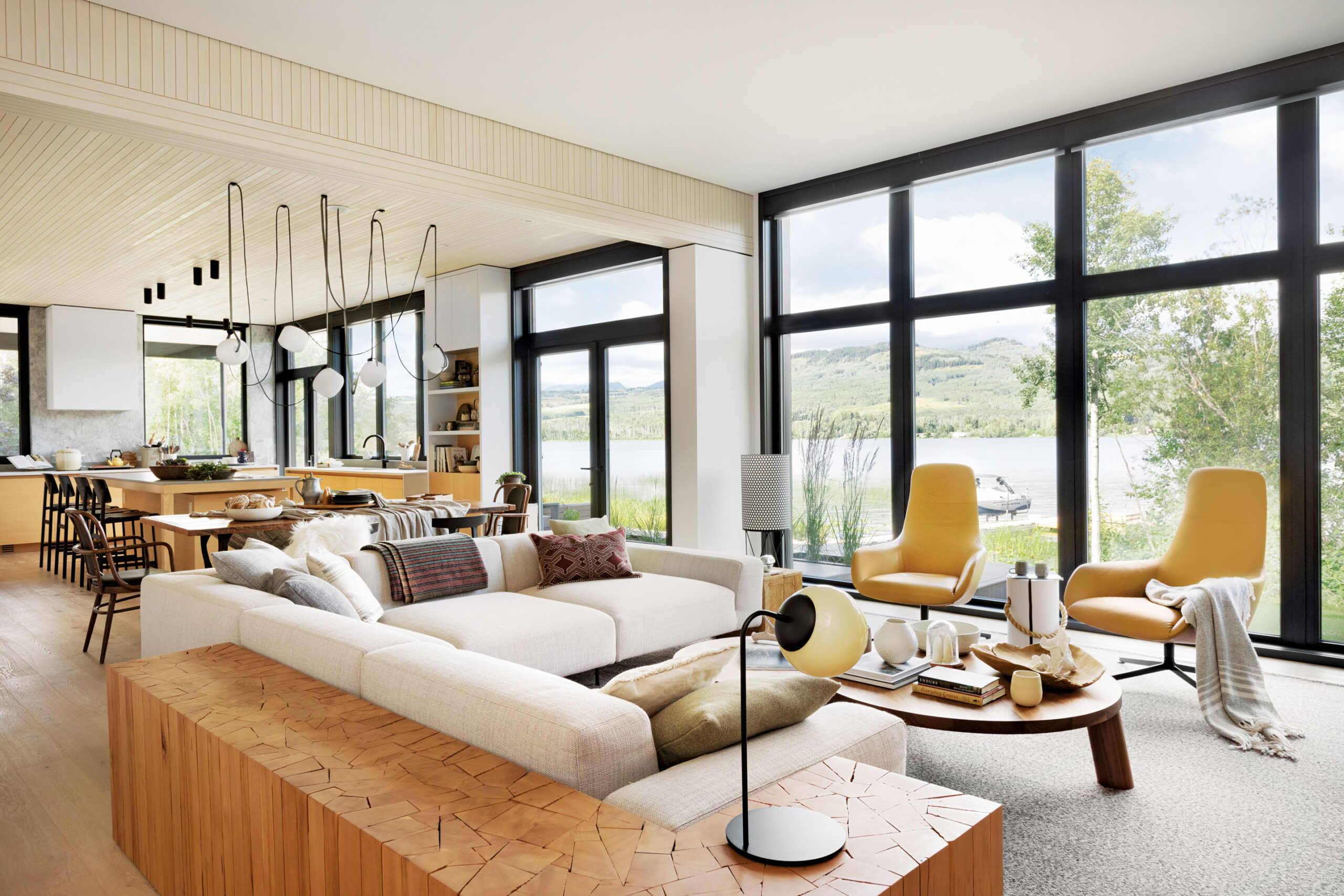 "The concept was a home that felt like a cozy alpine cabin with nods to both country and modern aesthetic," says Chad Falkenberg.
"After living in the home for almost a year, the homeowner gave one of the best compliments we could get from client by saying 'We use every inch of this house.'"
Falken Reynolds | falkenreynolds.com
Photos: Ema Peter