2208 The Strand A Multi-unit Property Along Manhattan Beach Strand Boasts Four Sun-splashed Oceanfront Residences—one for Each Level—with Uplifting Panoramas of the Pacific Ocean
Multi-residence properties and The Strand are rarely found in the same sentence. That's because the phenomenon is a rare one along this exclusive stretch of Southern California coastline that winds along the South Bay's scene-filled beaches. Yet at one of the most desirable points of the Strand—2208 The Strand in Manhattan Beach—there's a modern structure housing four separate oceanfront units; each a sunny private haven at the beach.
"It's an A location in central Manhattan Beach," says real estate agent Shawn Dugan of Strand Hill Properties about 2208 The Strand, which spans 9 bedrooms and 8 bathrooms—approximately 5,200 square feet in total. Nicely equidistant from the eateries of the North End and the bustle of the Pier and Downtown—all only 10 minutes away on foot—this is a convenient location that nonetheless stays unruffled and quiet.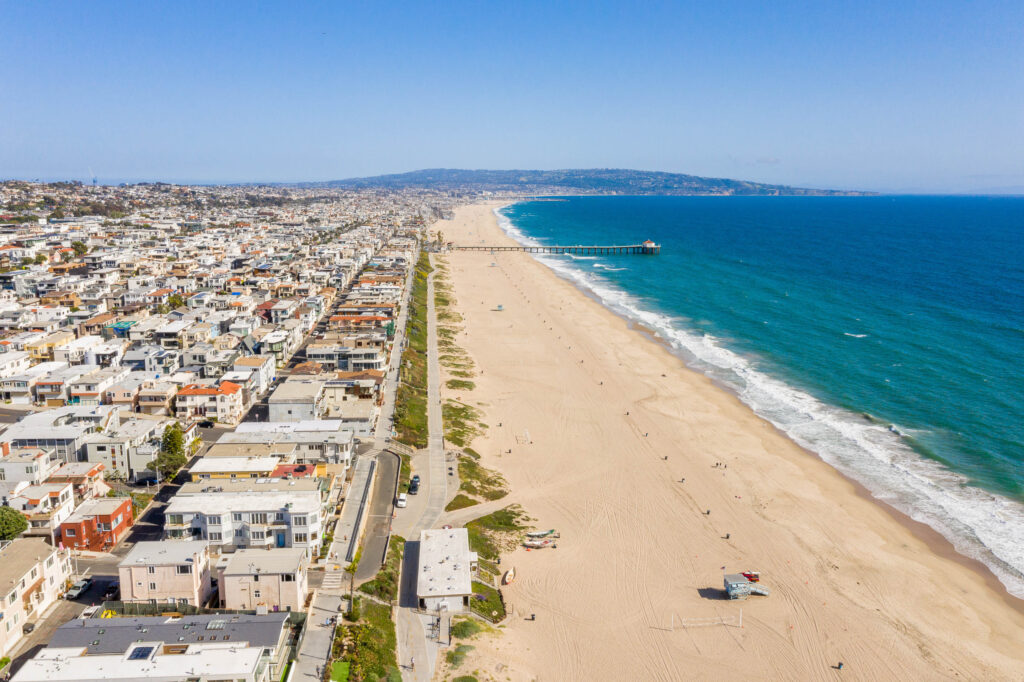 An ideal spot for enjoying quiet mornings along the broad beachfront, mid-day surf sessions, and sunset cruises along the dedicated bike path. Or hours on your private oceanfront balcony, pondering the sea life and white-capped waves that are part of the front-row scenes of sea and sky.
"The property is raised up high, so it has elevated Strand views," Shawn Dugan points out.
Even the first level of this four-level property features a balcony with unblocked beach vistas—a rarity among first levels on the Strand. And it's the balcony on each level that serves as the centerpiece of all units—each with sliding Fleetwood doors that merge main living spaces with the fresh ocean air and vibrant beach scenes outdoors.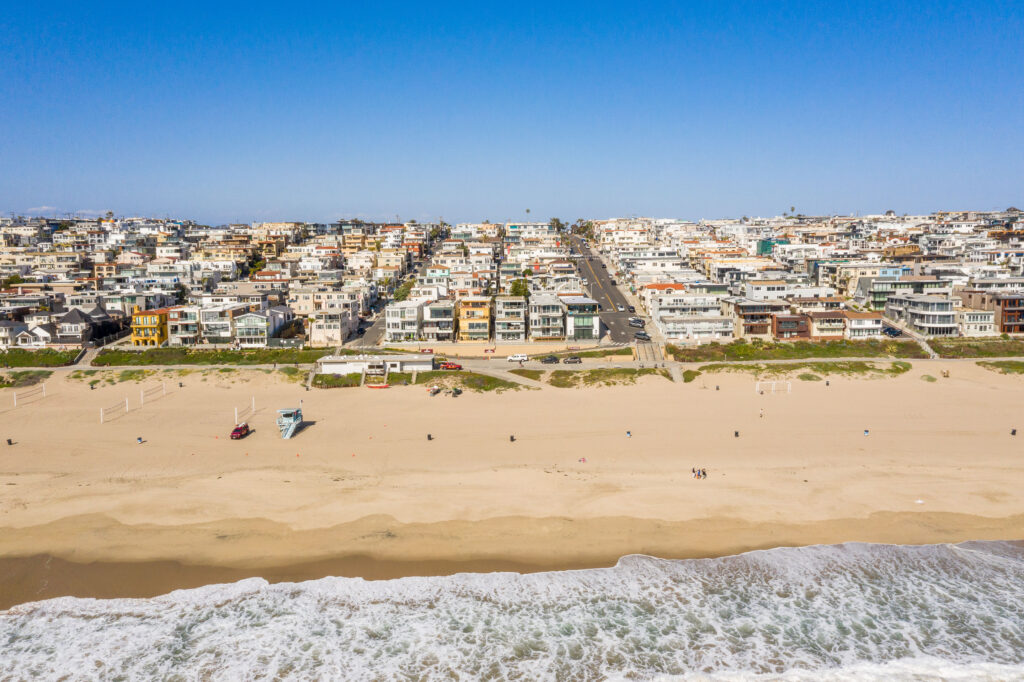 Recently remodeled, 2208 The Strand boasts a crisp, beach-friendly palette throughout: Pale-hued plank floors and white walls dominate in each of the units; a perfect backdrop for scene-stealing coastal views. Bathrooms and kitchens are streamlined and modern; and the flickering flames in sleek, cube-like white fireplaces add ambiance to starlit evenings.
"As an income property, it's one of the best," says Shawn Dugan, who specializes in Strand builds of all stripes, from luxurious single-family homes to multi-residence properties like this.
It's the fresh condition and user-friendly layout of these units, however—there are three 2-bedroom, 2-bathroom residences, and one 3-bedroom, 2-bathroom residence—that gives them perennial appeal.
"Each unit has been completely re-done, and has a great floorplan with open space," states Shawn Dugan. "It's consistent with what an architect would draw up today."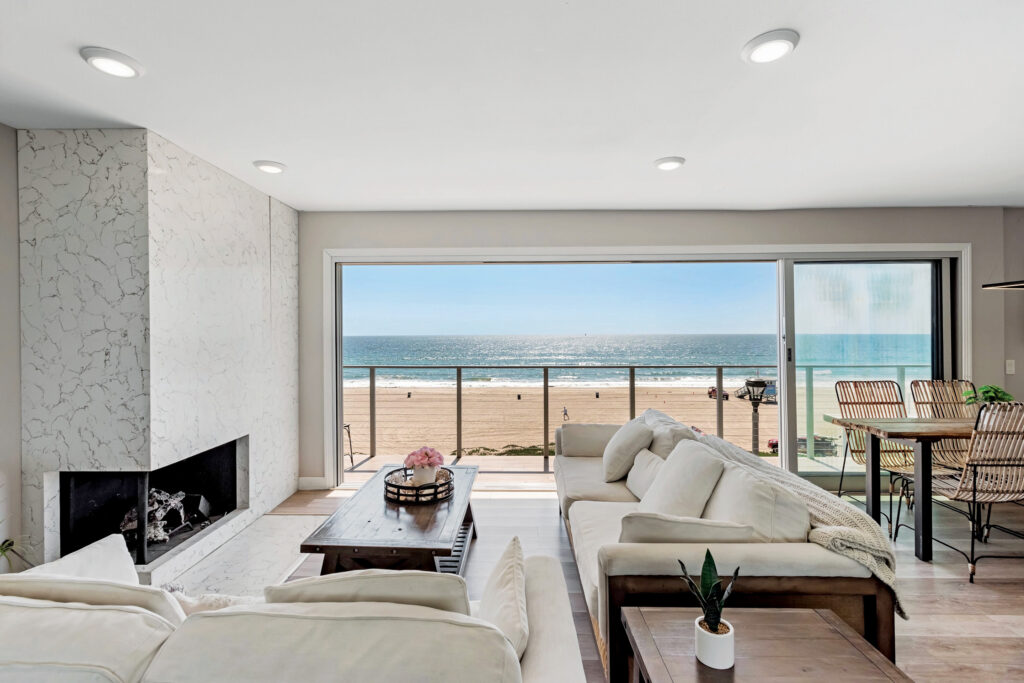 Though tied together by a similar aesthetic, each unit has a different take on the Pacific Ocean. The uppermost floor, for instance, is a high-rise perch with a spacious, shaded deck that's shrouded from passersby by virtue of it being tucked back from the Strand. Both bedrooms are en-suite, and the kitchen, with its pale great cabinets and stone countertops, is nicely set apart from the great room, where jewel-like sunset hues signal the start of the evening.
The third floor is similarly open and airy, with exposed white ceiling beams and a private, open-air deck. There are three bedrooms and separate spaces for cooking and gathering, from an intimate dining room to an eat-in bar in the sunny white kitchen.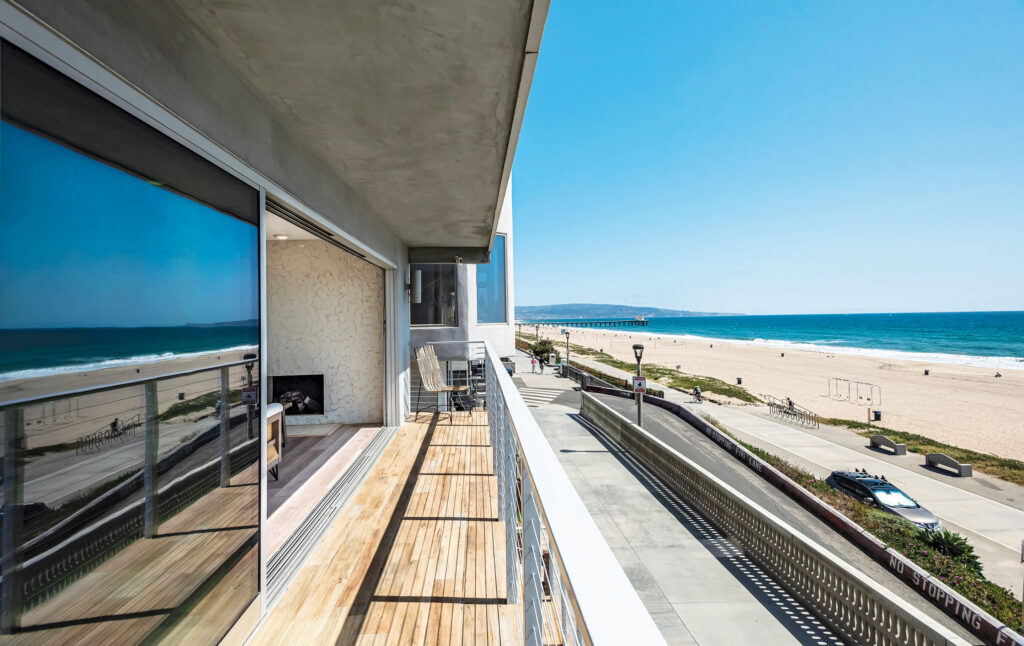 The two lower units—each with two bedrooms—are distinguished by their nearer proximity to the Strand and sand. Glass walls open to sitting balconies with minimalist cable rail systems where you can overlook the action on the beach and Strand, or partake of sparkling sea views that extend from the Santa Monica Mountains to Palos Verdes.
Indoors, an open-plan design encompasses main living spaces: You can dine and gather over ocean views, whether in the kitchen or while lounging in the fireplaced living room.
Privacy is another factor. Since each residence occupies its own floor, there are no shared walls, Shawn Dugan points out. Each of the four units has its own unique beach perspective and, unlike most Strand properties, there are four, full-fledged oceanview levels, instead of the usual three.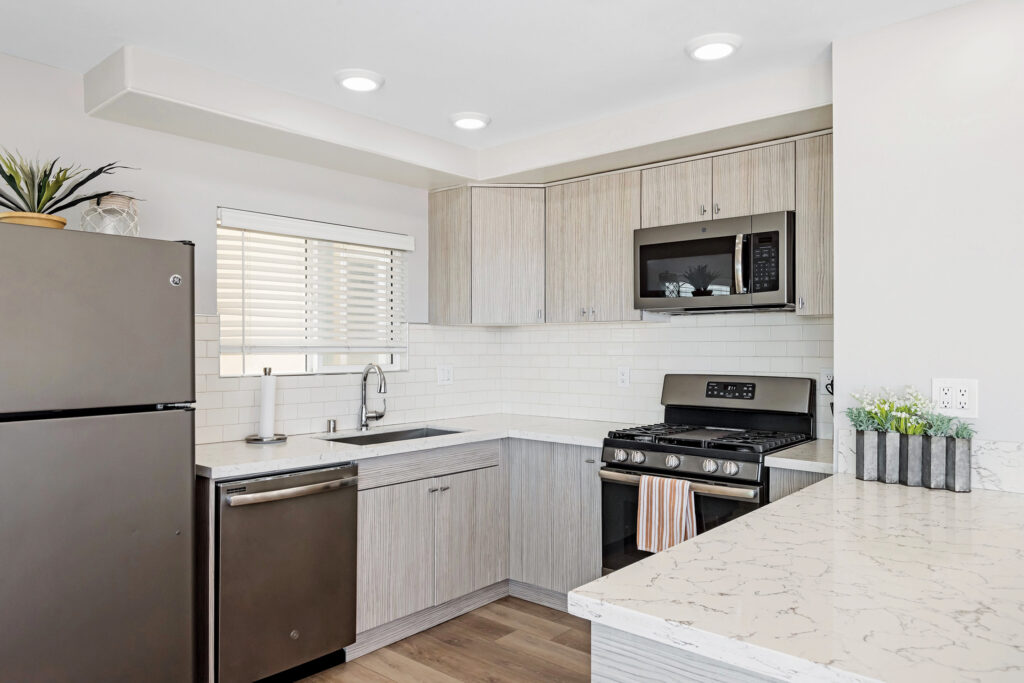 "The units check a lot of those lifestyle boxes that people living on the Strand desire," he adds.
In a time when traditional housing, from its concept to look, is being reorganized and re-visioned, this property presents a flexible canvas for living and investing. Or doing both.
"The property currently has longtime tenants and a monthly cash flow of $36,000," points out Shawn Dugan.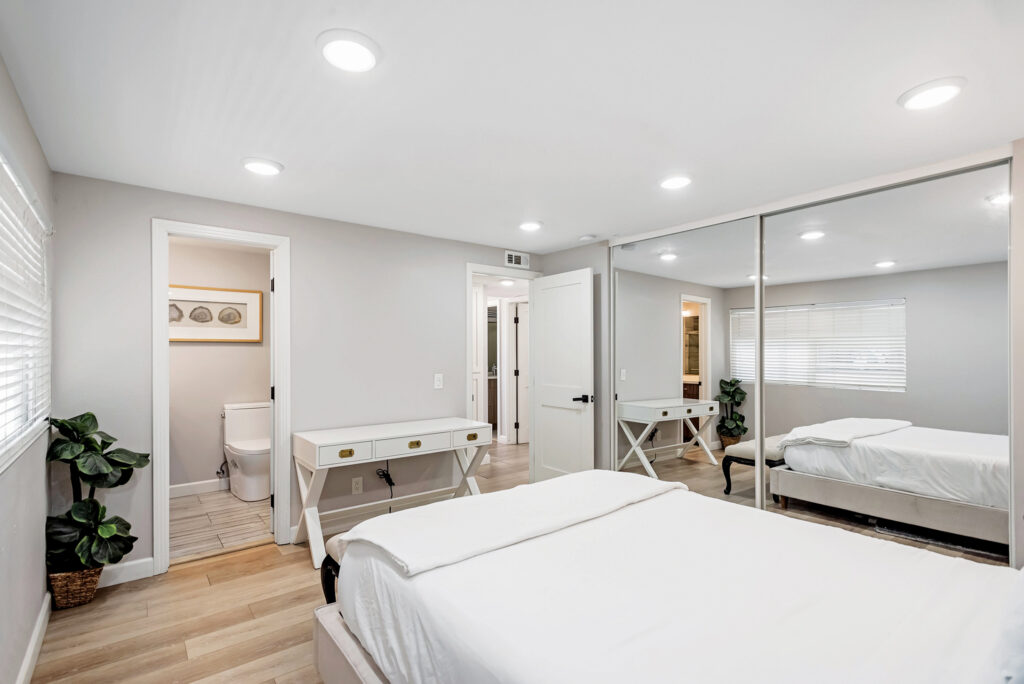 One might also utilize the four units for other purposes. Vacation rentals. Living in one unit while renting the others. Or reconfiguring the unit distribution to create an even larger owner's unit while keeping the remaining ones as rentals.
He also notes—for those potentially interested in building a portfolio of Strand investment properties—that the seller, an investor with multiple properties along the Strand, would also consider this property as part of a larger Strand acquisition, consisting of additional properties not yet on the market.
Back at 2208 The Strand, the agent explains: "There are four separate units, which come out to about $3.6 million per unit. However, if these were sold as condos they'd be a lot higher in value."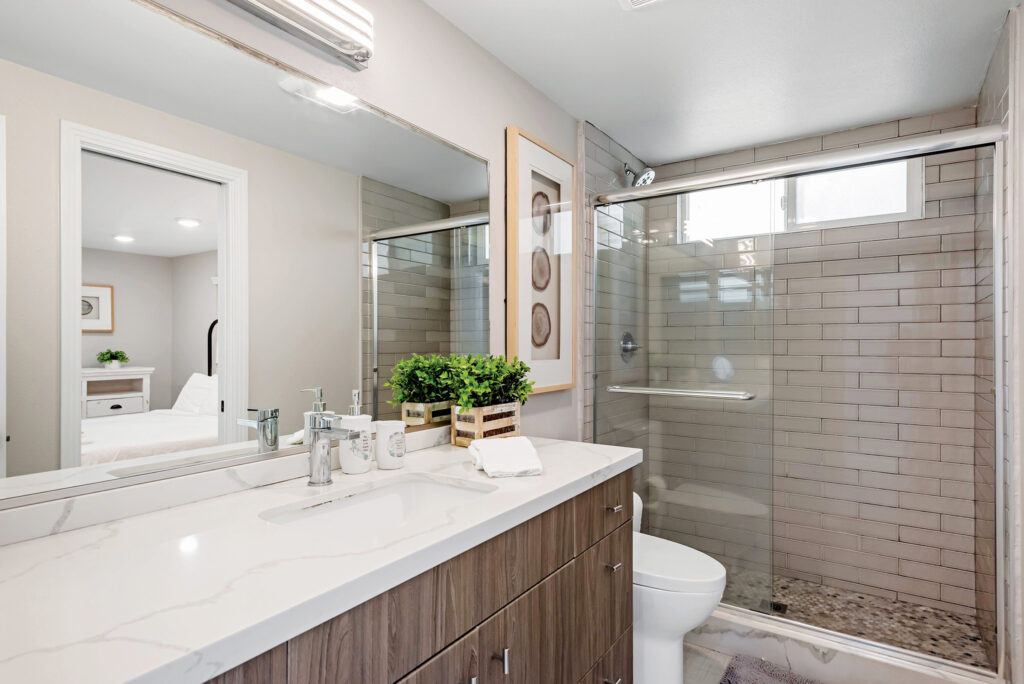 The Strand is a place where properties can reach the 30-million range points out Shawn Dugan, this property is priced scarcely above lot value. Yet with its uber-plum location, ocean views from every floor, and an option to serve as an income or an owner-occupied property, it becomes an even more rare find.
"I think it's one of those properties that, once sold, buyers on the sideline will think of it as the one that got away," states Shawn Dugan. "There just aren't many opportunities like this one."
Shawn Dugan | DRE #01749343 | 310.265.3428
Strand Hill Properties
List Price: $14,350,000
Photography by Paul Jonason