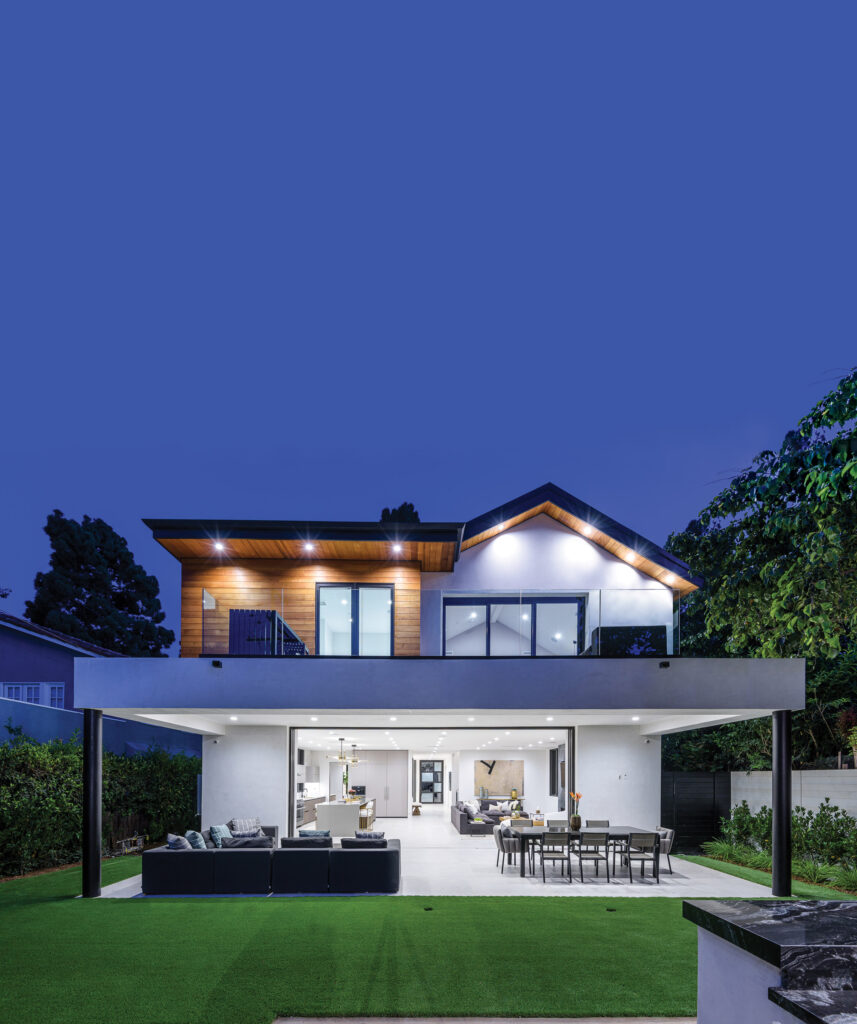 319 14th Street A Luxurious Architectural Home, Offers the Unique Flexibility of Spaces Designed to Accommodate the Myriad Changing Needs of a Growing Family
The homes within walking distance of Montana Avenue are considered among Santa Monica's most desirable. So it's not surprising that this is where you'll discover 319 14th Street. What is surprising, however, is finding a modern home tucked within the traditional and Spanish Colonial style offering common to this family-friendly neighborhood. 
"The way the home is sited—above the street level and back from the property line—not only makes it feel private but gives it a strong sense of majesty," says real estate agent Charles Pence of Pence Hathorn Silver at Compass who holds the listing.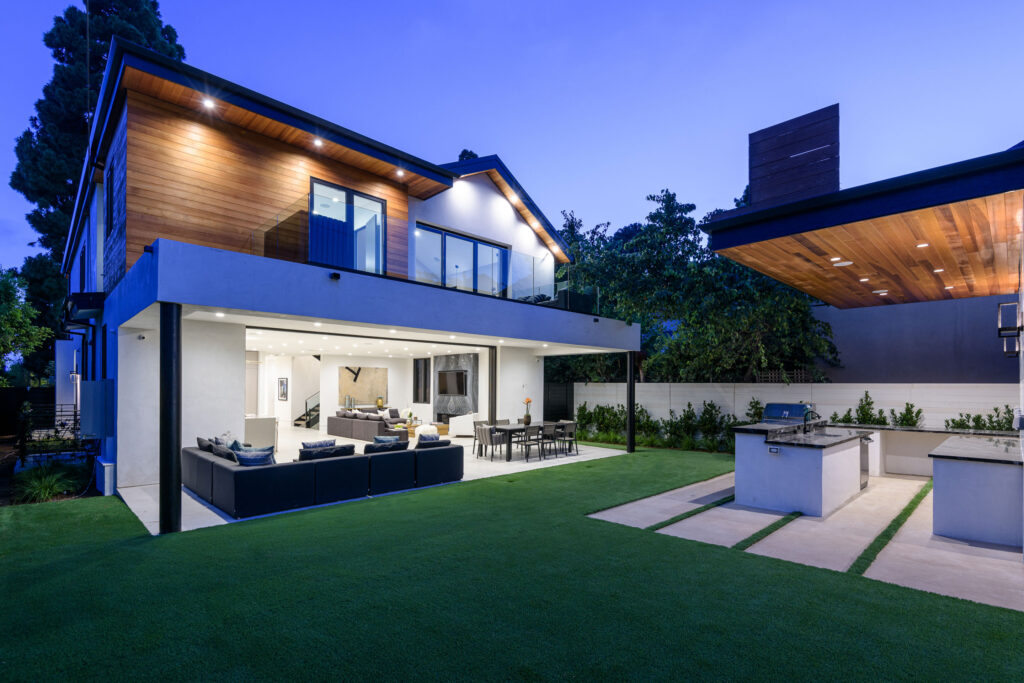 Deep steps that rise from the street to the lawn confirm this feeling, having the effect of compelling visitors to slow down and enjoy this home's beautiful proportions. Lush plantings shield its clean-lined facade from the street while its peaked roof and a partially wood-clad exterior nod to the profiles of the neighborhood's more classic structures.
"The goal was to create a modern home yet have it blend into its surrounding through the use of these traditional, familiar forms," says the home's architect, Ken Ungar.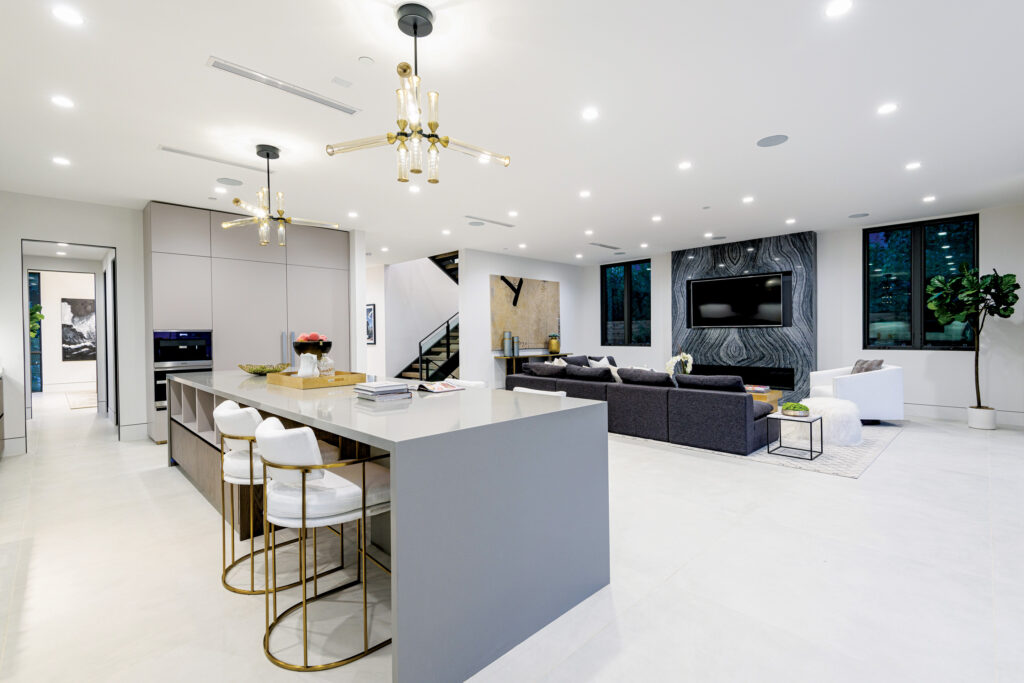 During a career that has spanned more than three decades, Ken Ungar has designed over two hundred homes across Los Angeles for clients that include LeBron James, Reese Witherspoon, Jennifer Garner and media magnate Byron Allen.
What unites a diverse portfolio of styles that range from transitional to Tudor is an innate understanding of the livable luxury and indoor-outdoor lifestyle that is at the heart of what Southern California living is all about. Intimately familiar with Santa Monica's strict building codes, he nimbly navigates within its limitations, seeing them as design challenges that flex his creative muscles rather than limitations.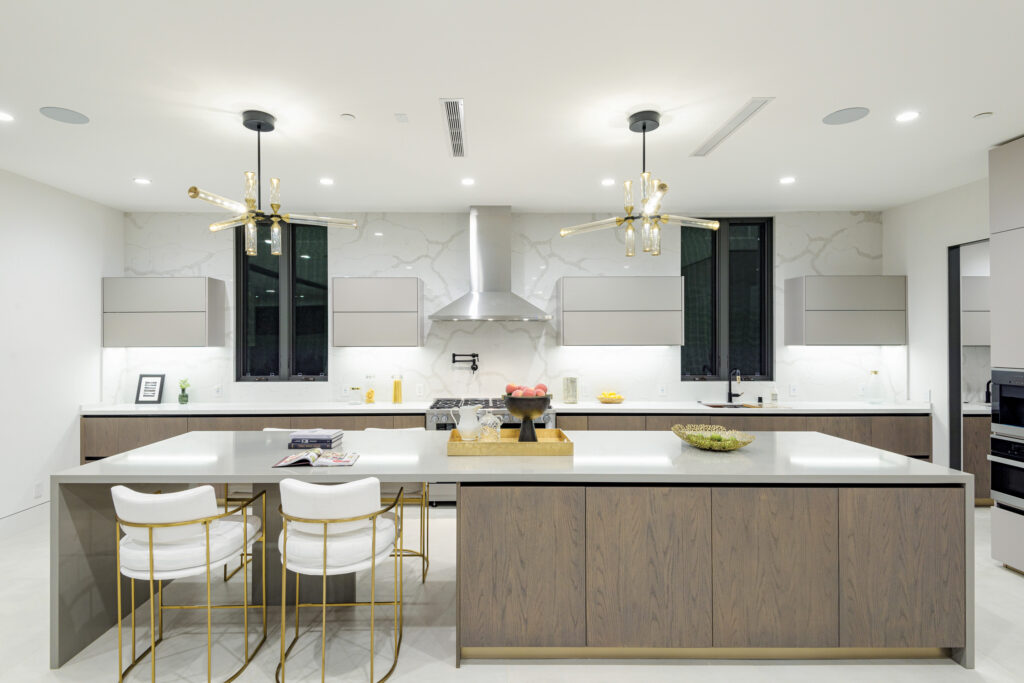 "Working within the confines of Santa Monica's zoning laws, my aim was to create a design that was unique and special yet considerate of its location."
Ken Ungar's expertise is confirmed by the experience of the interior. The discrete exterior belies the expansive experience tucked behind the home's large front door.
"Due to the quality and nature of the natural light that floods the interior, there is an unconscious feeling of being uplifted," Ken Ungar says. "It's incredibly, almost unexpectedly, bright and open inside," Charles Pence confirms.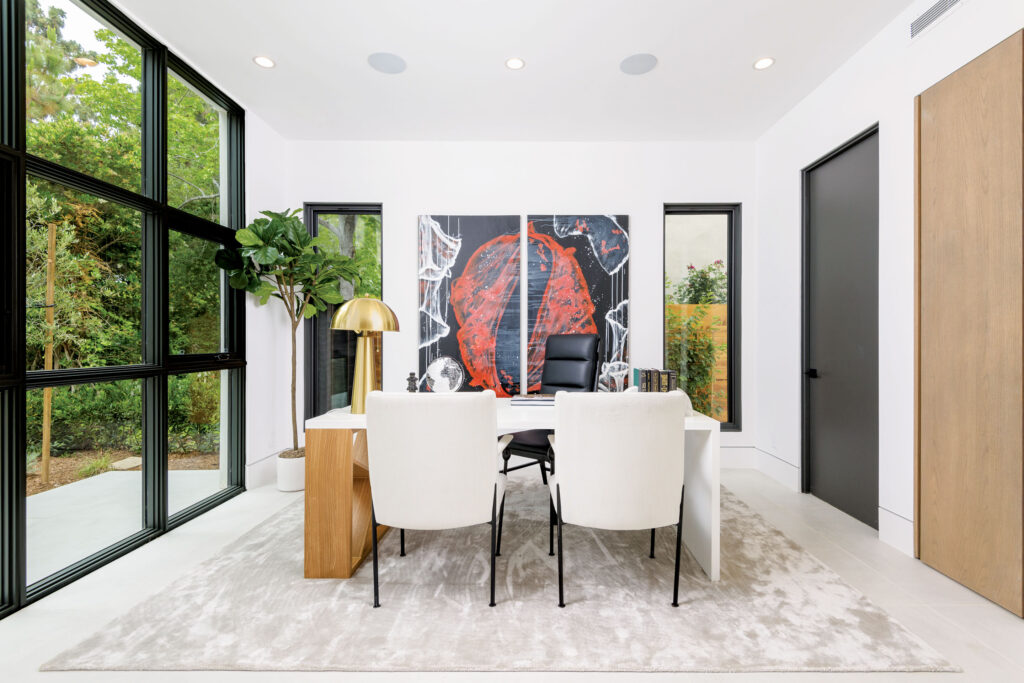 That effect is underlined by high ceilings, a 22-foot wide wall of sliding glass doors that open up the back of the house and 6,000 square feet of flexible space that sprawl over the three-story interior.
"This home has been thoughtfully designed to support a family's needs as they change and grow over the years," says Charles Pence.
Witness the two rooms the flank the front door. To one side is a large room with a private bath.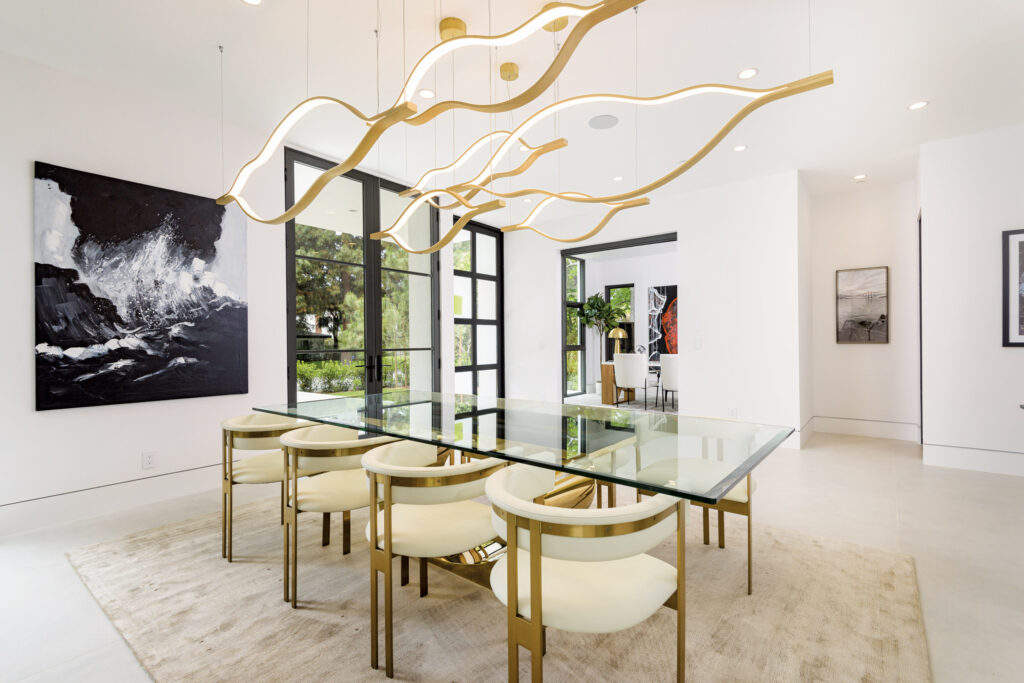 "It can be used a listening or music room, a guest room or, with work from home now a reality, it would make an ideal office space," says Charles Pence.
On the other side is a room that can serve as a formal living room, a dining room, a library or a playroom. A well-designed kitchen is consistent in its role as the centerpiece of daily living. This one, with its Miele appliances, its extended island, its impeccably designed storage, and its open-plan footprint, invites both home and professional cooks alike to flex their culinary muscles.
It shares space with a large open room with a dramatic fireplace that can be designed as a welcoming family room or large casual dining area. Just beyond its perimeter and that massive wall of sliding glass doors, is a covered living and dining space that seamlessly unites the interior with the expansive backyard.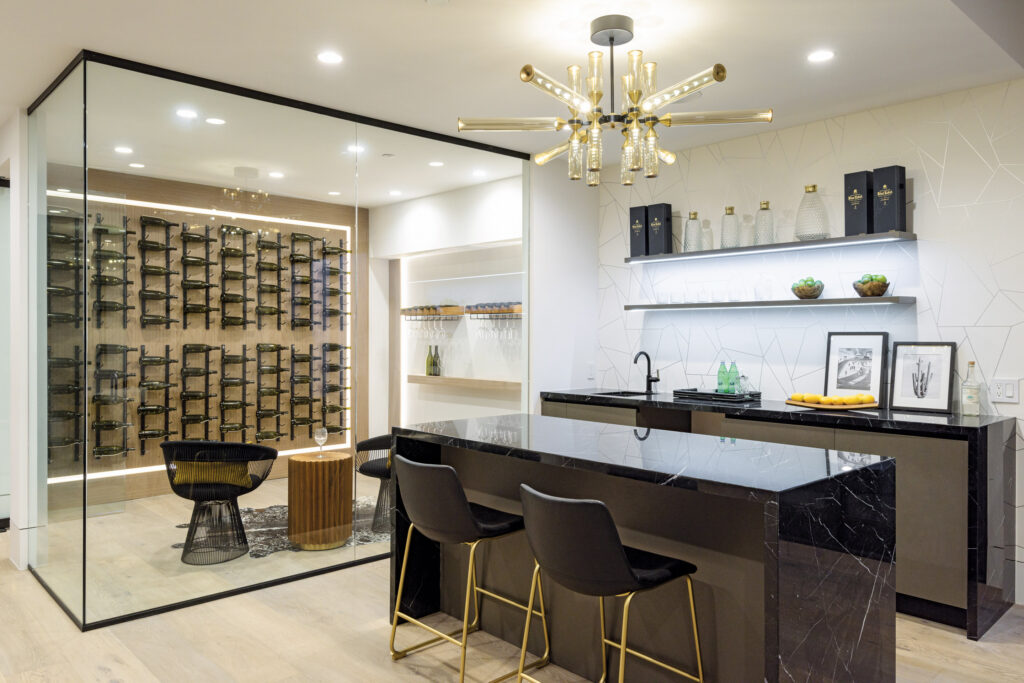 That long covered patio is partnered with full outdoor kitchen that includes a deluxe gleaming Miele BBQ. Shaded by an extension off the garage roofline, it sets the stage for the full range of entertaining, from casual weekend barbecues to large-scale cocktail parties.
For formal events, set up one of the bartenders behind the built-in bar and the other behind the kitchen's island to ensure the easy flow of guests that support a successful party that goes until the wee hours.
Plan for a pool here—there are already plans on file—and watch as your home becomes the one where everyone congregates. That will be true even on rainy days when they head to the subterranean lower level, brightened by a mirrored wall.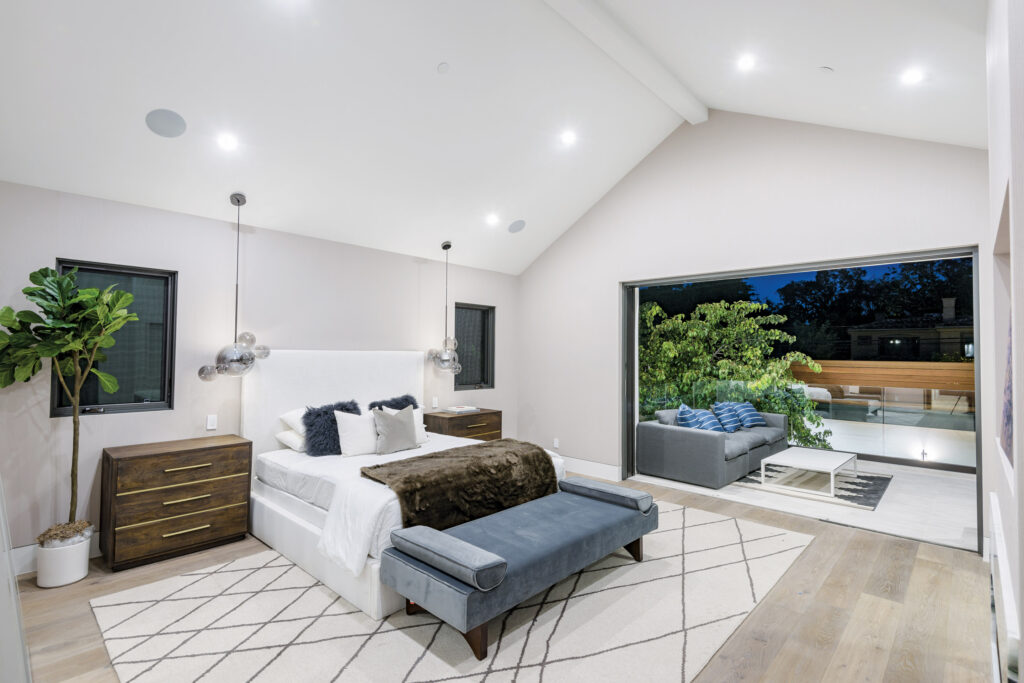 "In addition to its large living area and its gym, there's a dramatic walk-in wine room with a wine tasting area and a kitchenette so this level can stand alone, independent of what's going on upstairs," says Charles Pence.
A triple-tiered home theatre that can be expanded to seat a dozen guests, confirms this level as a prime space for entertaining.
A floating staircase leads to the top floor. The primary suite with its vaulted ceiling, fireplace and large deck, rivals the expansive feeling of a four-star hotel. Witness its bathroom's book-matched marble walls, a freestanding tub and a steam shower or its two walk-in closets, complete with islands. These amenities find their reflection in this floor's three other ensuite bedrooms.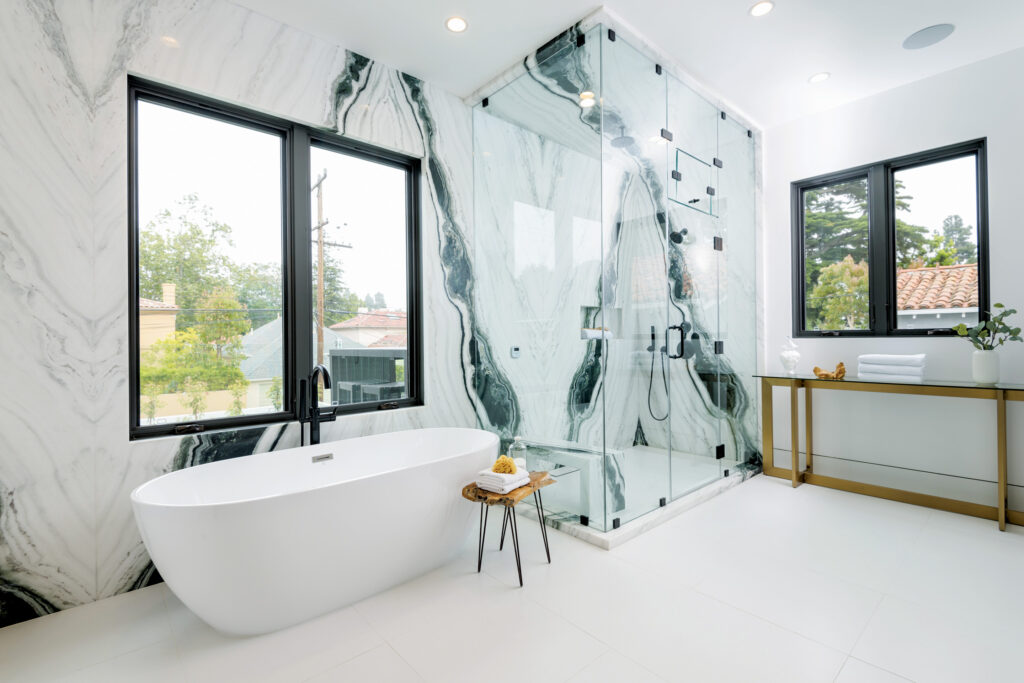 "This is a unique property, designed by a phenomenal architect, that offers beauty, luxury and the appeal of flexible, wide open spaces in a great location on a stunning tree-lined street," says Charles Pence. "It's a great home for a growing family."
Charles Pence | 310.403.9238
Pence Hathorn Silver | Compass
Listed at: $7,995,000
Photography by Noel Kleinman Real Estate Photography