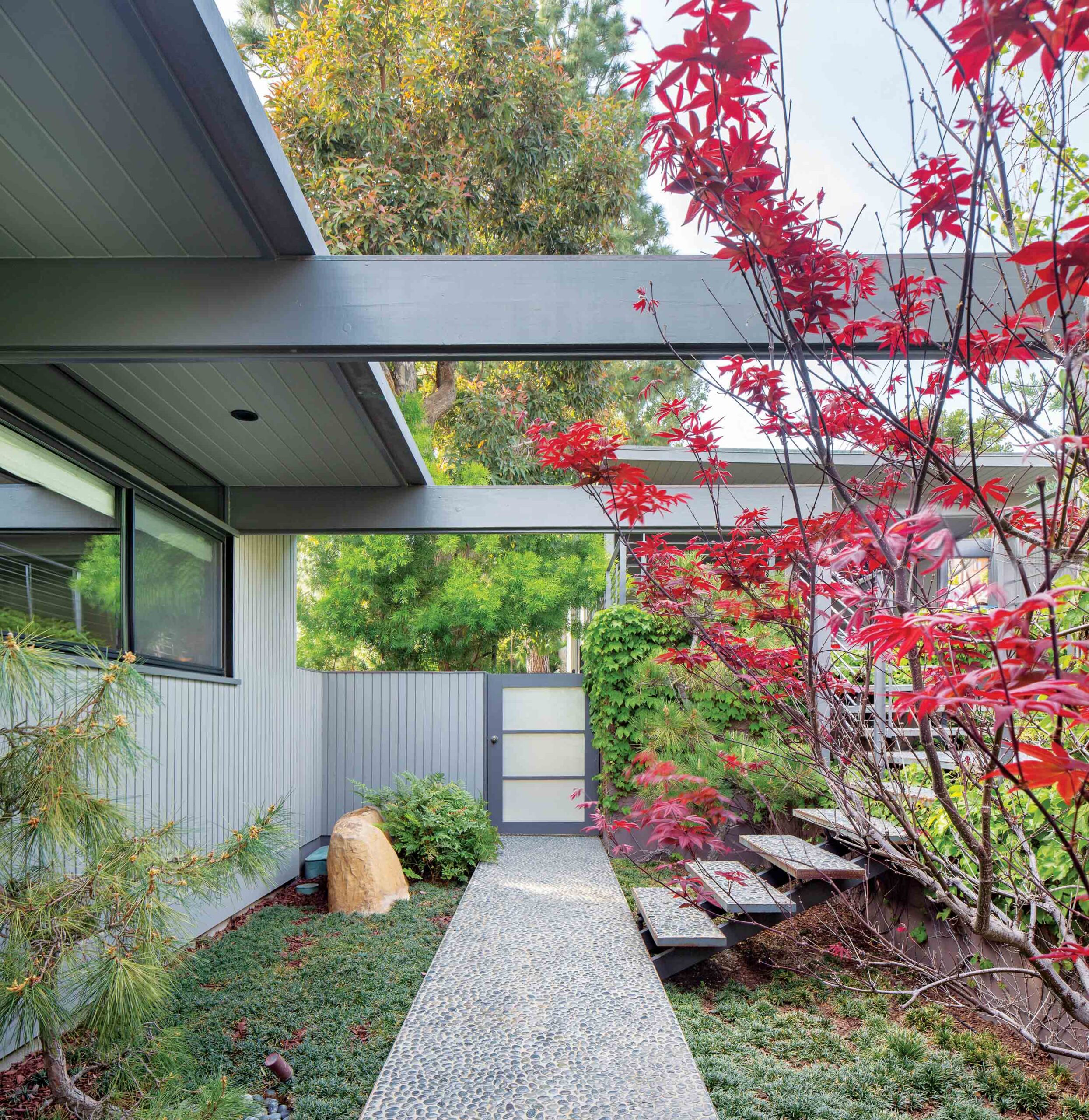 An Impeccably Updated Midcentury Modern Home in Crestwood Hills Offers Expansive Views, a Sprawling Pool, Gracious Living, and Inspirational Work From Home Space
Among the five-star neighborhoods located west of the 405, Brentwood stands out for its sociability. It's the site of some of the city's best public and private schools. It offers plenty of curated shopping and cafe clusters, like those found in Brentwood Village, within the Brentwood Country Mart, and along the strip of San Vicente Boulevard between Wilshire and Bundy. The Getty Museum and the Skirball Center are located here as are many of the city's best restaurants. And, it's within easy driving distance of all Los Angeles has to offer. 
The addresses north of Sunset are considered the most prestigious. Among these, Crestwood Hills, located at the top of Kenter Canyon, is notable for its distinctive cluster of Midcentury Modern homes. Originally founded by a group of musicians driven by a vision of architectural beauty, it was incorporated as the Mutual Housing Group in 1946, later morphing into the Crestwood Hills Association. It's here, tucked into a quiet cul-de-sac, that you'll find the Osoling Residence at 12506 Cloud Lane.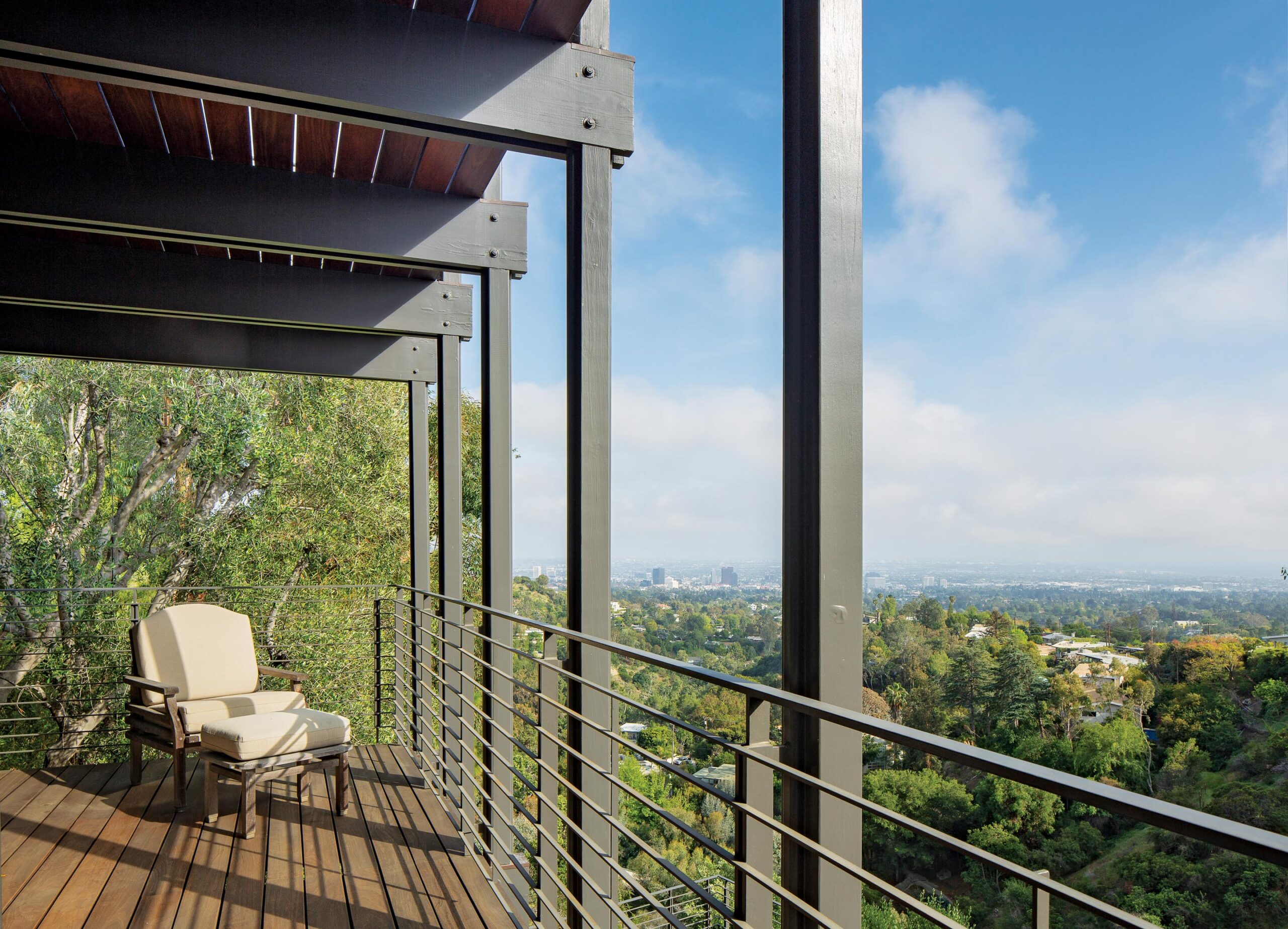 Even among a dazzling community of homes that include designs by many of the marquee names of the period, including A. Quincy Jones, Craig Ellwood, and Richard Neutra, this house is a standout. Its airy construction expertly merges indoors and out via expansive glass walls, slender metalwork, and spacious decks that span each floor offering dramatic ocean views from nearly every room. 
Credit for the home's architecture goes to Ray Osoling, a building contractor and mechanical engineer designer. While he'd built a home for his sister and her family in Los Feliz, he may have been drawn to this enclave by the presence of Westridge Canyonback Wilderness Park's nearly 40 miles of hiking trails, catnip to a man who'd been in the first team that ascended the western face of what is known as Piute Crag 2 in the Sierra Nevadas.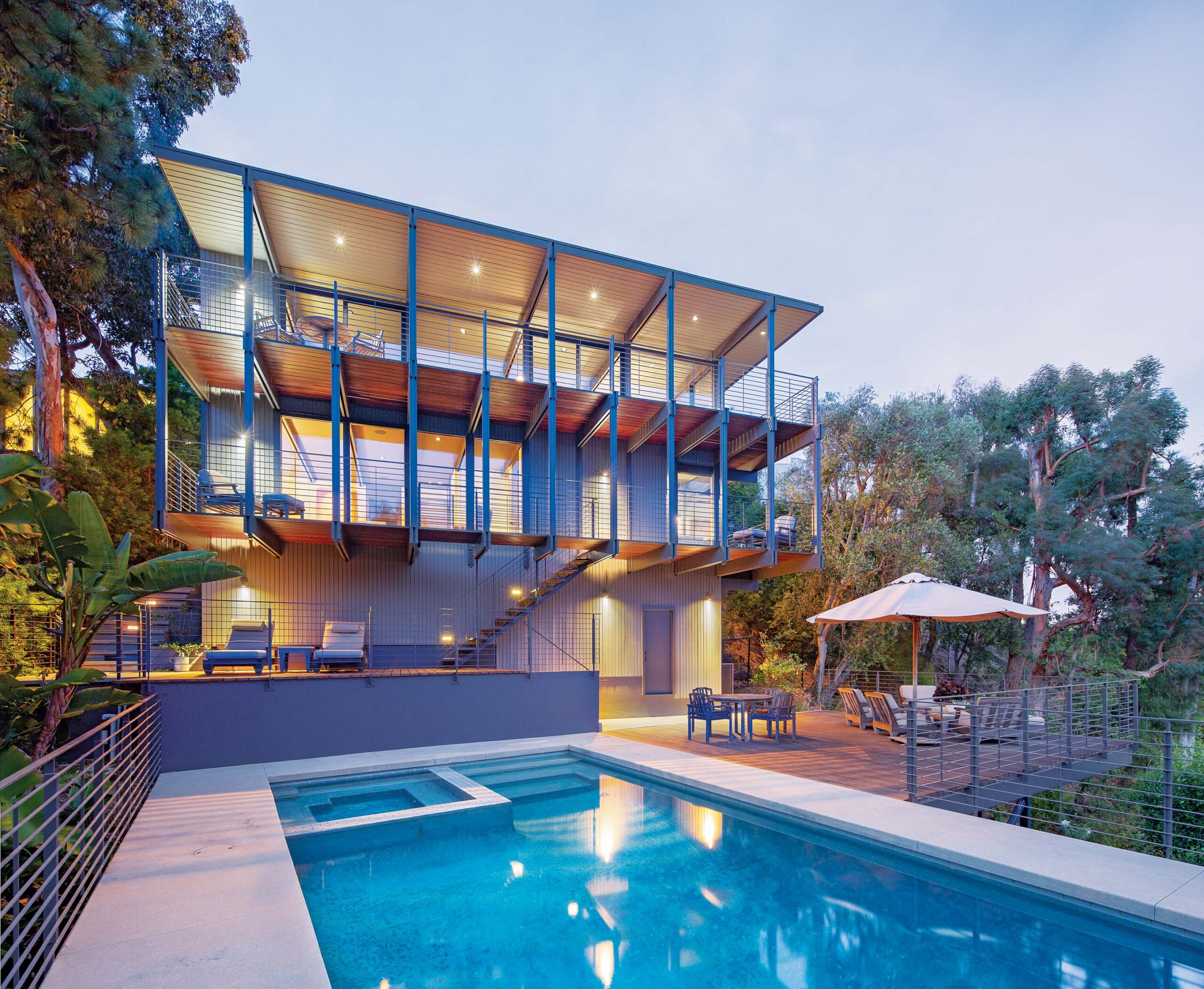 "If the Neutra connection is true," says a former owner, "it's probably the most water-tight and best-constructed Neutra-affiliated house in Los Angeles."
Certainly many of the home's attributes, from its slender steel framing to its crisp, straight lines, its easy flow, and its use of simple materials, echo those found in Richard Neutra's work. 
The two-story home takes full advantage of its hilltop location. Large windows frame mesmerizing vistas that sweep from ocean to the canyon to the city; they also harness the breezes to provide refreshing cross-ventilation. Those who have come to enjoy the benefits of working from home will appreciate how a top-floor bedroom has been reimagined as an office space and library.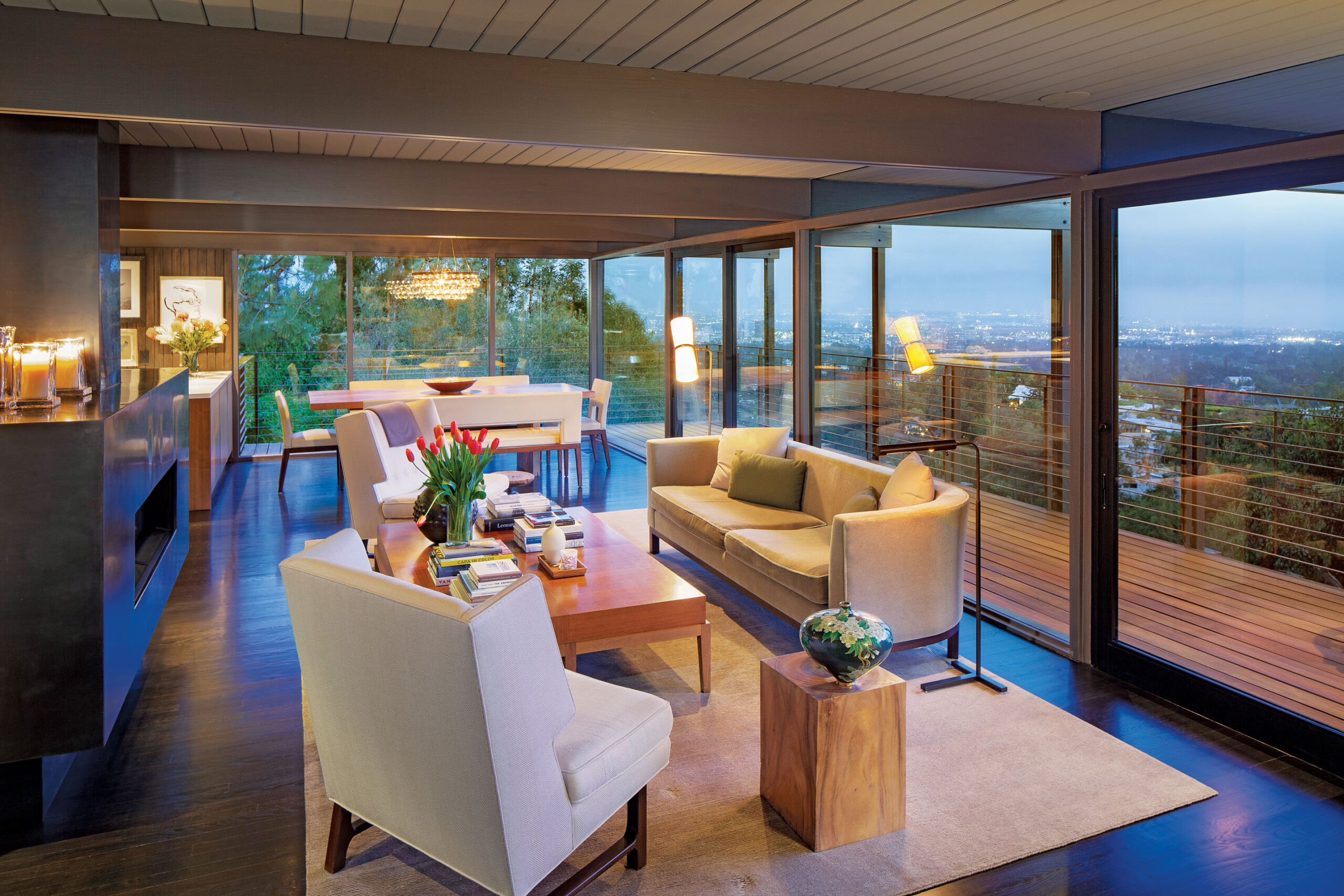 With the property's tall trees swaying just outside windows, it retains an air of serenity even when the rest of the home is crowded with friends and family enjoying the pool. This solitude is ideal for a writer's retreat, an editing bay, or a production office. Or, of course, the space can be converted back to a bedroom. With the interplay of branches conjuring up a storybook treehouse and the rustle of the leaves playing nature's white noise, here's the perfect setting for a middle school or teenage child beginning to test their independence and autonomy. 
An open plan living space fills the remainder of the top floor, It corrals a kitchen, a dining area, and a living room into its footprint. Dark wood-paneled walls and beamed ceilings keep the focus on the views and settle a feeling of calm over the interior. Every detail, from the tiles lining the sink's backsplash, to the kitchen's sleek, pale wood cabinetry, topped by glistening white countertops that sparkle in the sun, to the living room's floating credenza and gas fireplace, has been impeccably updated.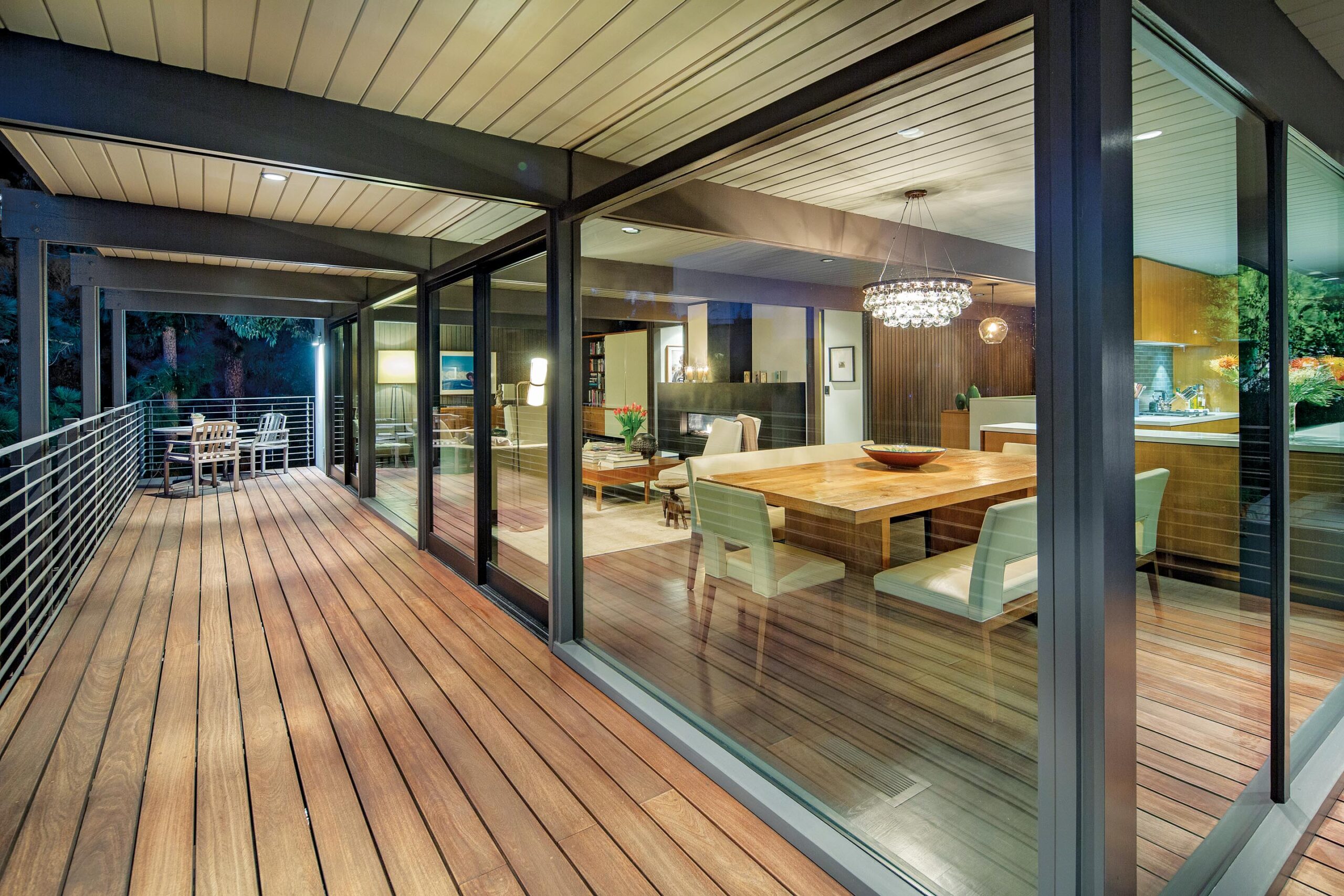 That attention to detail infuses every corner of this home. From its polished wood floors and the glistening fixtures and cool stone floors of its three bathrooms to its laundry, its tactile stone pathways, even its inviting pool with built-in spa has been skillfully updated and modernized, bringing this home gracefully into the present while seamlessly incorporating the beauty of the past.
Tucked into the lower level, the primary suite showcases privacy and luxury with a walk-in closet.  Easy access to the pool and expansive pool deck set the scene for late-night dips or early morning laps while multi-level sprawling decks and an in-pool hot tub welcome guests for weekend pool parties.  The residence is hidden from the street by Shoji-style fencing and landscaped with Japanese maple trees.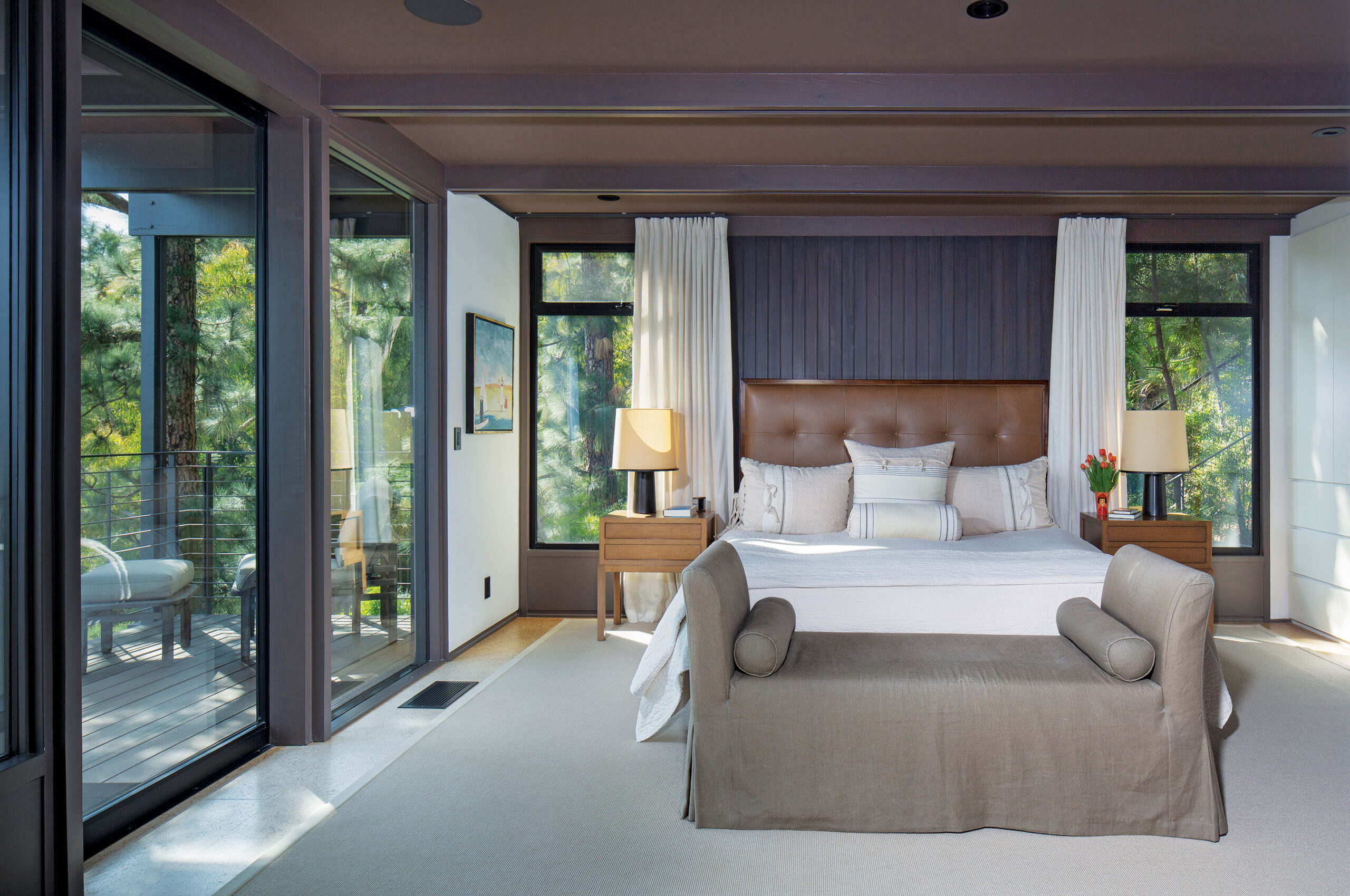 "What better affords the joy of Southern California living than beautiful architecture, a pool, and a gorgeous view?" says realtor Crosby Doe of Crosby Doe Associates, Inc.
"I find it most rewarding to have discovered the work of teacher, designer and builder Ray Osoling, who designed and hand-built for himself a classic and enduring example of modern California architecture here at Cloud Lane."
Crosby Doe | 310.428-6755 | BRE#463731
crosby@crosbydoe.com | ArchitectureForSale.com
List Price $4,000,000
Photography by Jim Simmons Photography