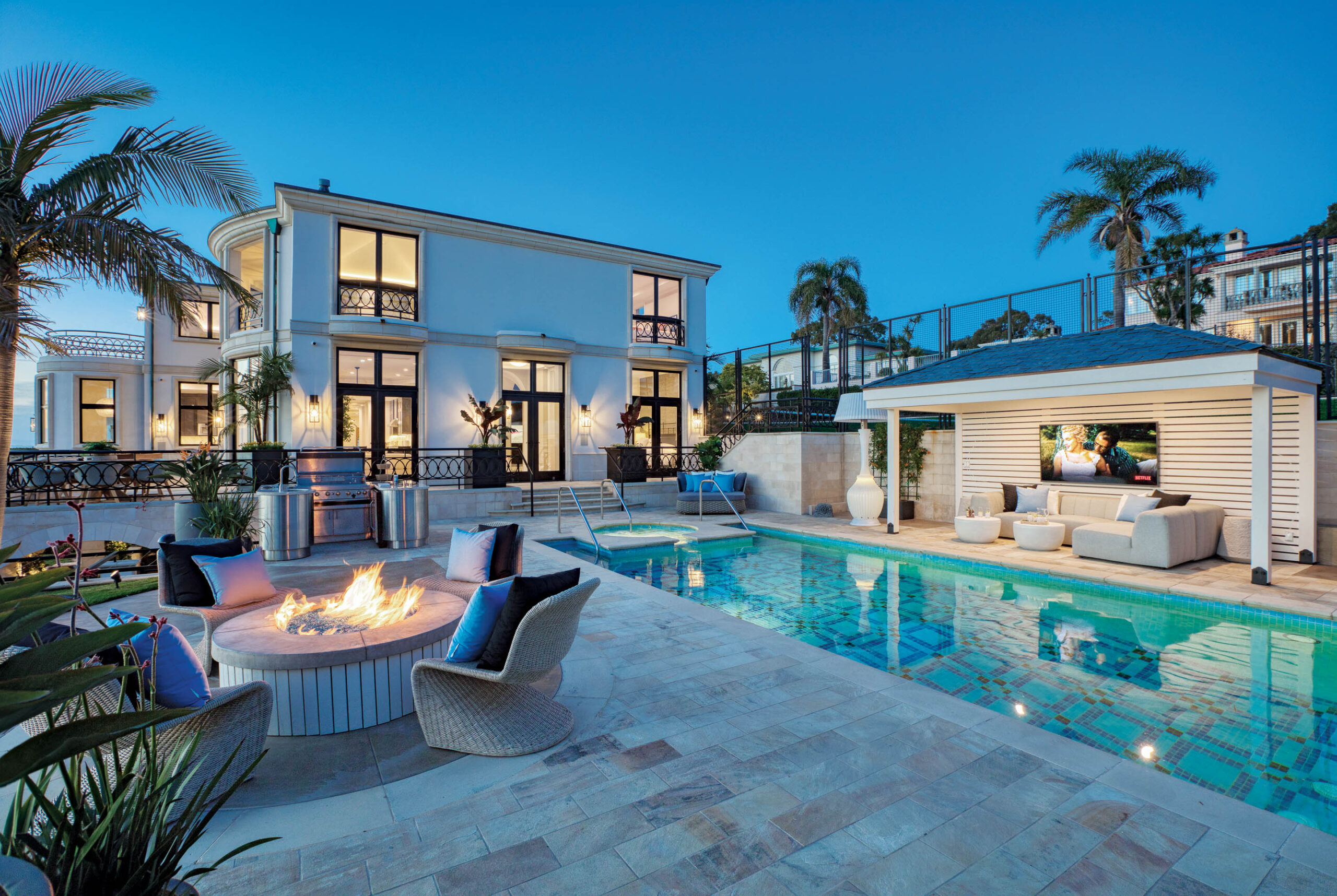 Sweeping Ocean Views and a Lavish, Fresh Air Lifestyle Takes Center Stage at This Newly Revisioned California Estate
As you cruise along the easy curves of Via Coronel, Palos Verdes Estates climbing higher along the Palos Verdes hillside, the vivid contrast of lush green against blue sea and sky comes clearer into view. So too does the heightened sense of peace that accompanies such scenes.
At one of the street's highest points, a gated entrance leads onto a tidy circular driveway, neatly framed with old-growth trees and shapely green hedges. The structure then comes into view—a European-styled estate that's been thoughtfully refreshed, inside and out, to support an elegant mode of coastal living, circa 2022.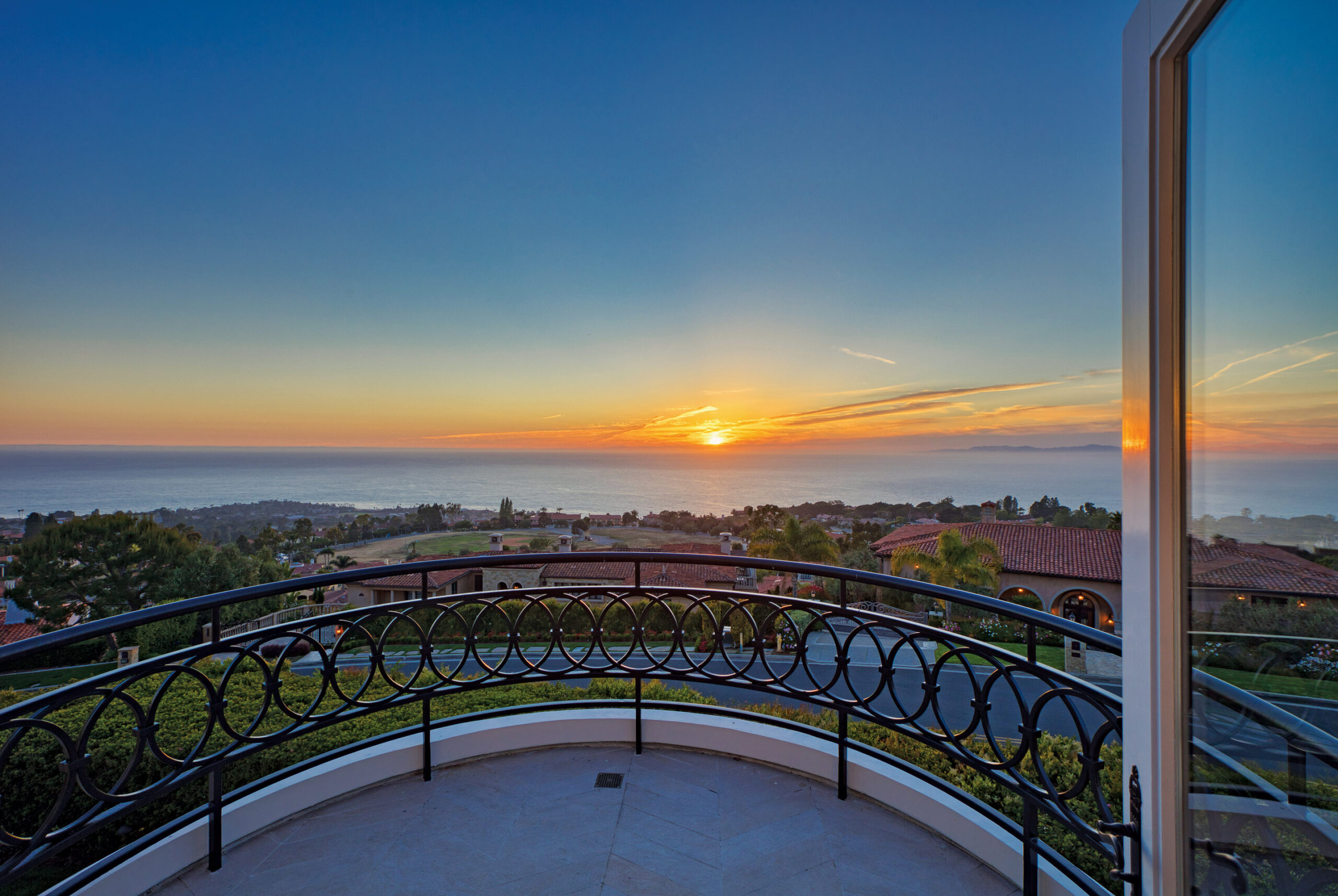 A tennis court and a resort-style pool deck with a bubbling spa and outdoor kitchen are among the highlights; so too is the oceanview fountain system inspired by the elaborate fountains at Bellagio in Las Vegas, down to a pulse-beating display of lights and music. There are manicured green spaces too, designed for playing games on the lawn or quiet meetings over color-drenched sunsets. So neatly linked are the outdoor spaces with the home's interior, there seems to be little division between the two.
This is partially due to the phenomenon of views at this address. Unblocked and spread across rolling green hills, there's a bounty of blue sky and Pacific Ocean scenes at every turn.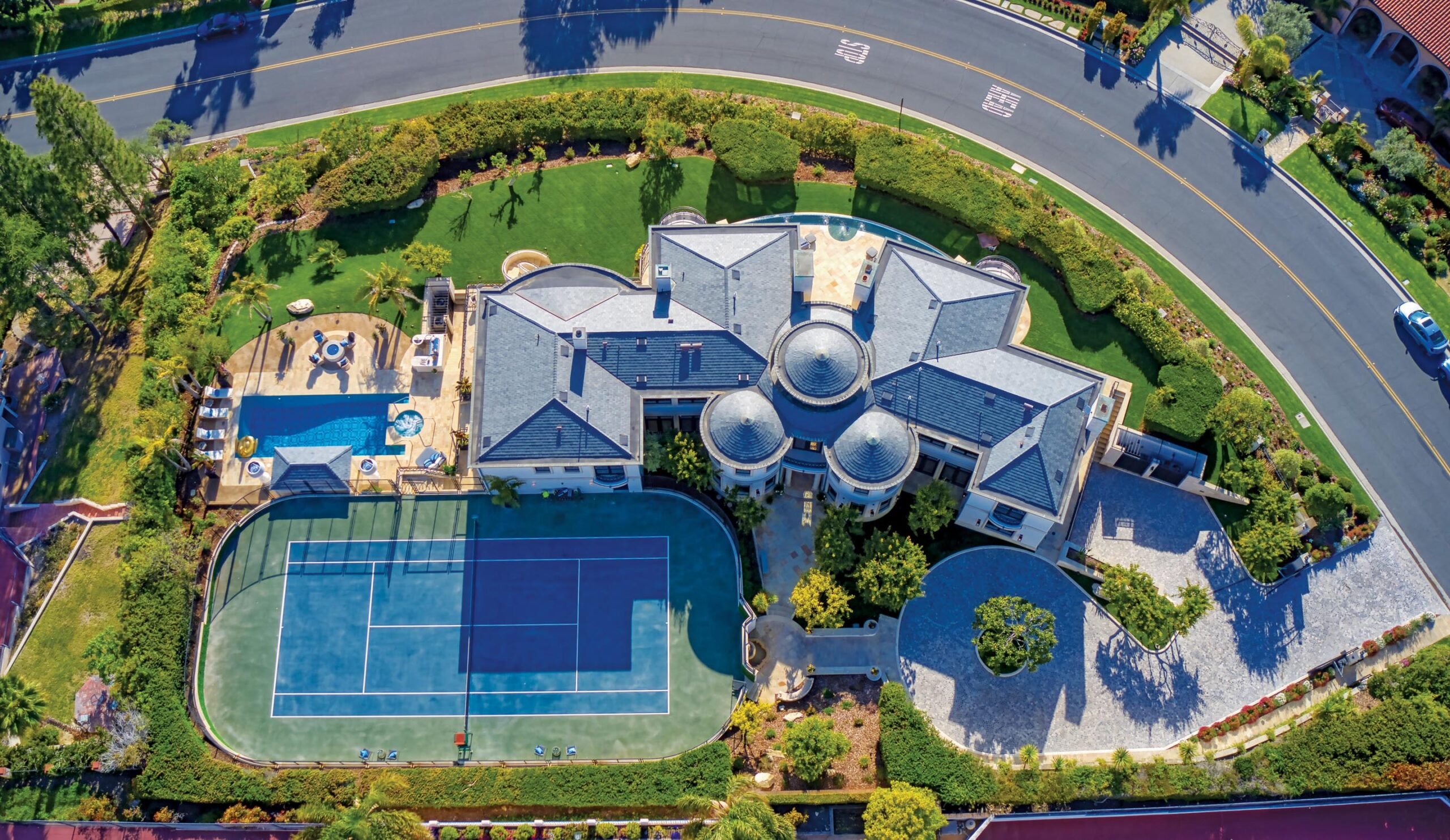 "Hands down, these are the best ocean views I've ever seen on a property," states longtime real estate agent Brett Zebrowski of Palm Realty Boutique, who during the last two years updated and re-styled the interior and exterior of the home, originally designed by architect Ardeshir Nozari of Nozari + Nozari Architects.
"It doesn't matter where you are on the property," Brett Zebrowski continues: "If you're playing tennis, if you're in the pool swimming, working out in the gym on the bottom floor, or playing in the yard. If you're in the kitchen, a living room, one of the bedrooms or just walking down the hall—It makes no difference: Anywhere you are in the house you have an unobstructed, two-hundred-seventy-degree panoramic ocean view."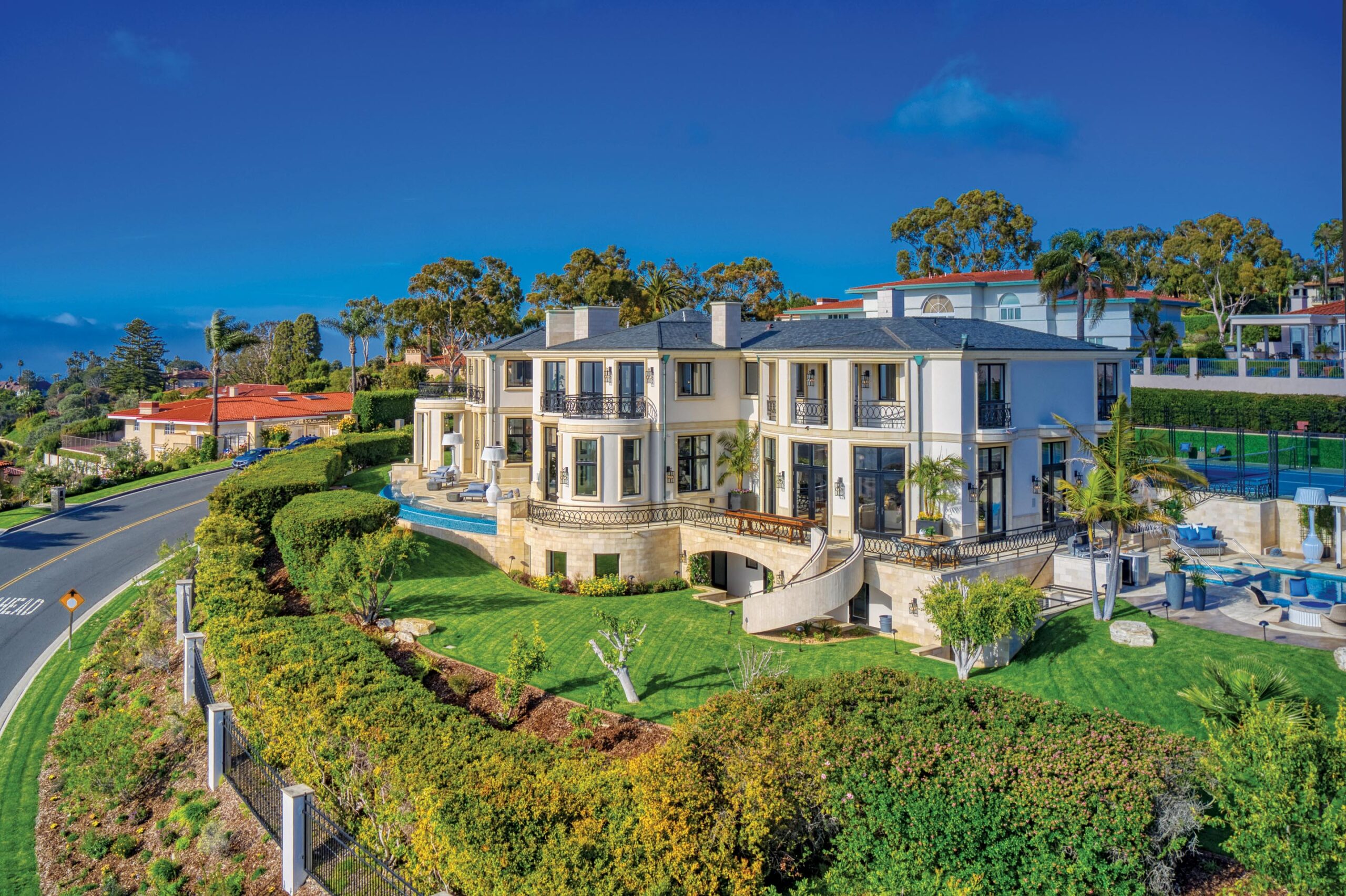 Due to the height of the property, views are nicely textured beyond sea and sky and include Catalina Island along with the entire South Bay. Malibu, Santa Monica, and Downtown Los Angeles are also part of the visual mix, with the pale twinkle of lights, also known as the Queen's Necklace, outlining the shape of the Santa Monica Bay after dark.
Styled in the vein of European sophistication, the three-story residence is generously scaled and equipped with architectural markers of traditional luxury. There's a grand entrance stretching 30 feet skyward that's centered by a gold rotunda, filling the crisp interior with natural light and introducing the opulence of home.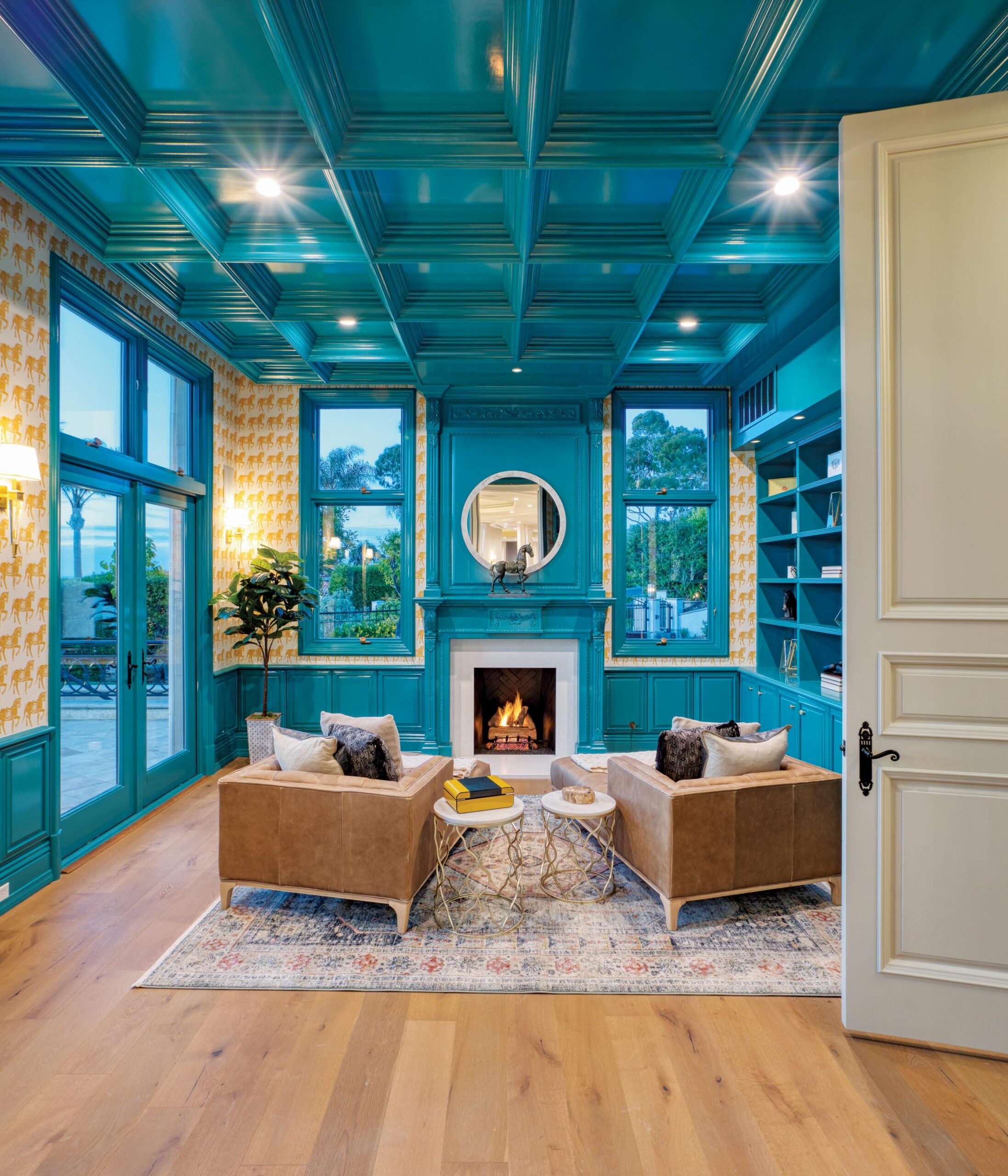 Floors of finely grained wood, set in a classic chevron pattern, contrast against sunlit white walls, and the home's airy spaces are set apart by graceful archways and regal columns. Heightening the elegance of the home are the curves you encounter everywhere.
"The whole house is rounded," points out Brett Zebrowski.
"It's curved everywhere—round rooms, round decks, and round walls. Even the railings have circles in them. It's extremely difficult to build, and hard to pull off, but it gives the home a unique feel you're not going to experience anywhere else."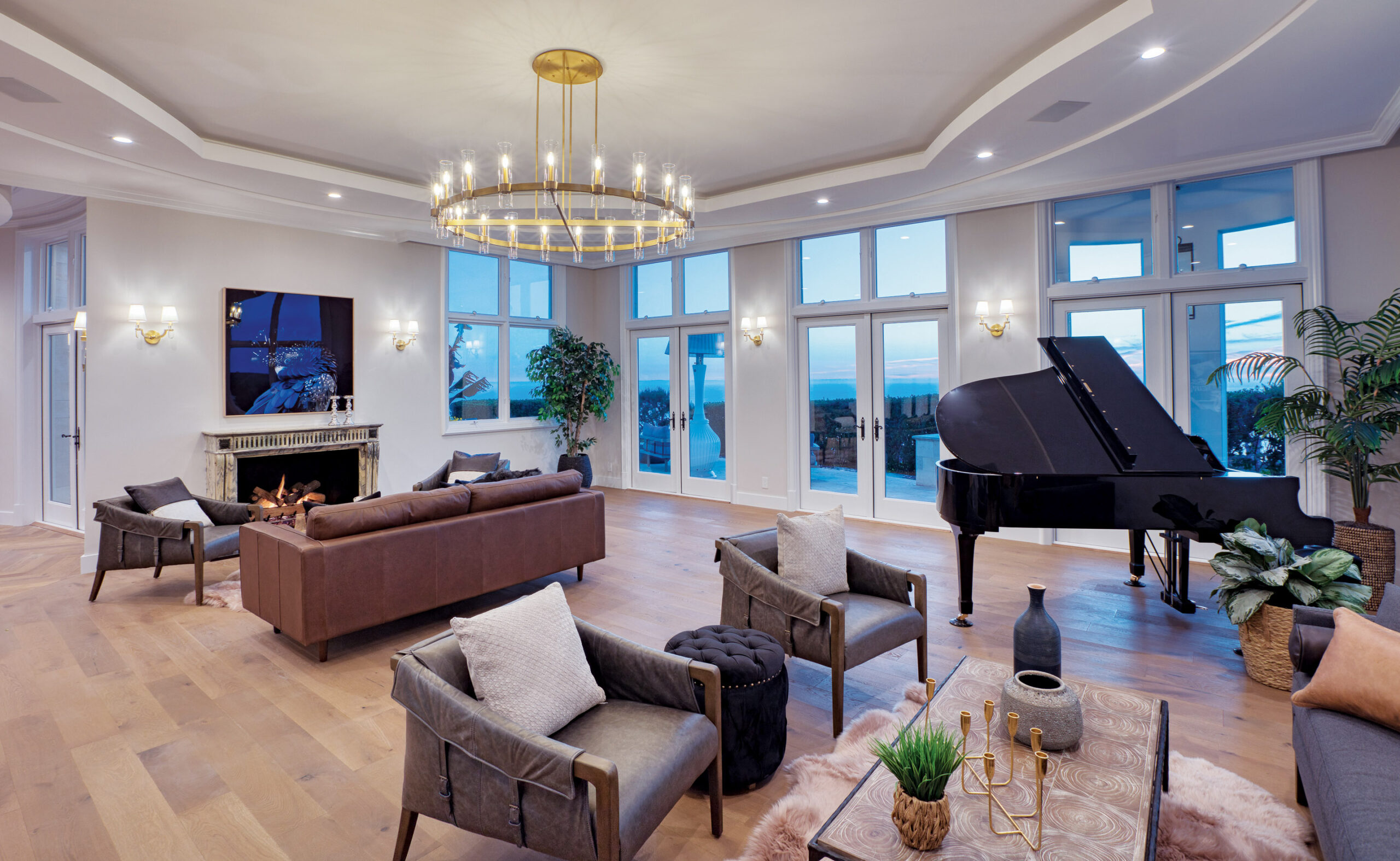 Prime gathering spaces—like the refined salon where flames flicker in the gleaming stone fireplace; or the deep-teal study, where you can enjoy a favorite book beneath the classic, coffered ceiling—are conjoined with the outdoors via doors leading onto a sprawling terrace. Dining spaces are free-flowing and modern, from a formal dining room with seating for dozens, neatly adjoining the bright, welcoming kitchen decked in gleaming appliances.
As smoothly as the home flows for everyday family life, it also neatly shape-shifts into a versatile entertaining residence. There's a near-endless selection of spaces—from spacious, formally elegant configurations where one can host a fresh-air fête for hundreds, to kid-friendly and contemporary areas, like the tech-savvy theater or the plush arcade that's stocked with classic video games. Not to miss is the tranquil cedar sauna or the wine cellar, its ample storage and sophisticated design reflecting that the previous homeowners were proprietors of a vineyard.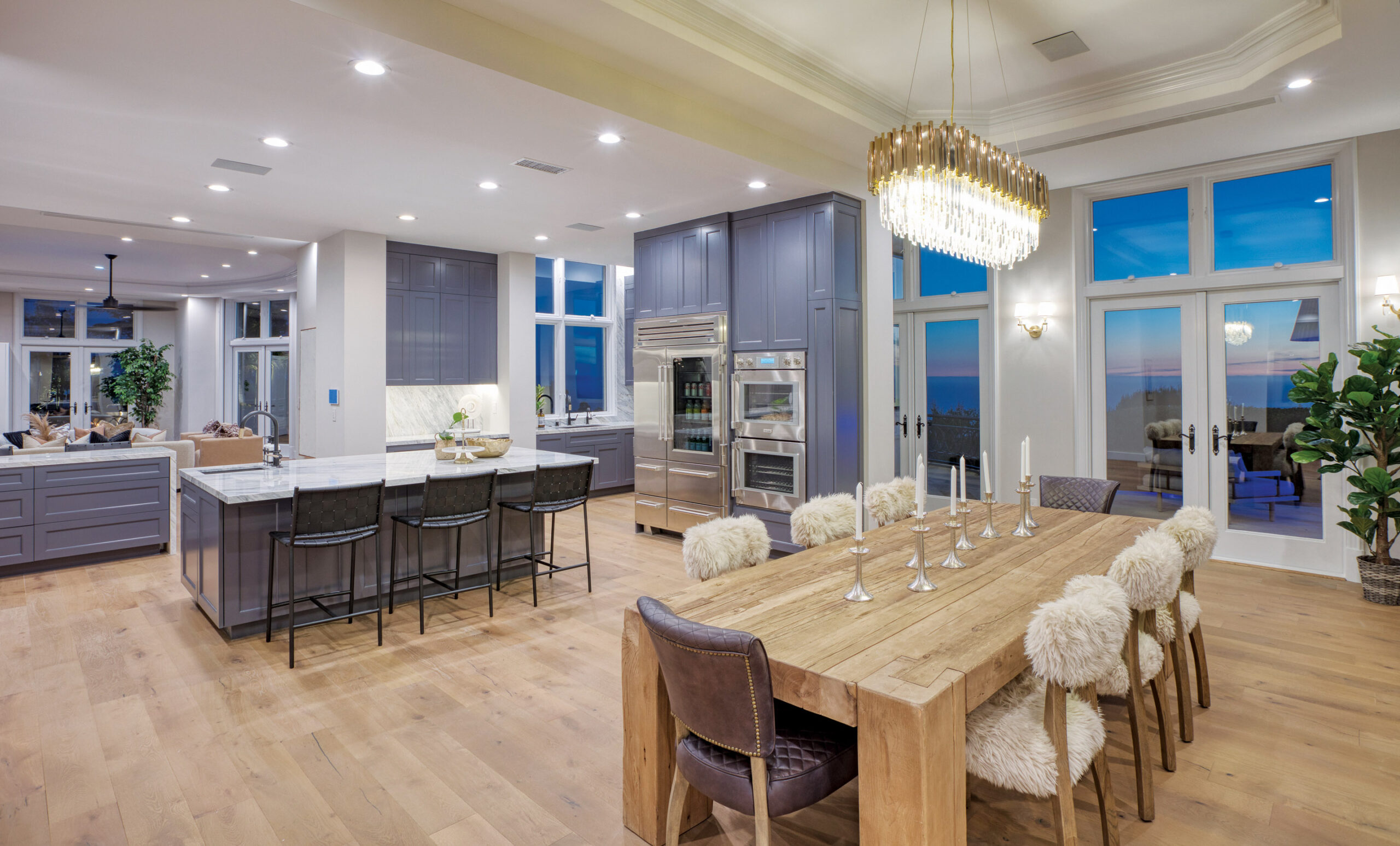 Brett Zebrowski's overhaul of the property was extensive, down to whole-estate automation by luxe-home programmers Creston.
"You can control every feature, whether it's lights and music or security and temperature, from your phone or the panel," he remarks.
"It's very tech-forward."
While the real estate specialist, who has been re-imagining upmarket coastal homes for the last decade, initially intended just a few tweaks to the property, as time passed he envisioned it as a brighter, more contemporary coastal retreat.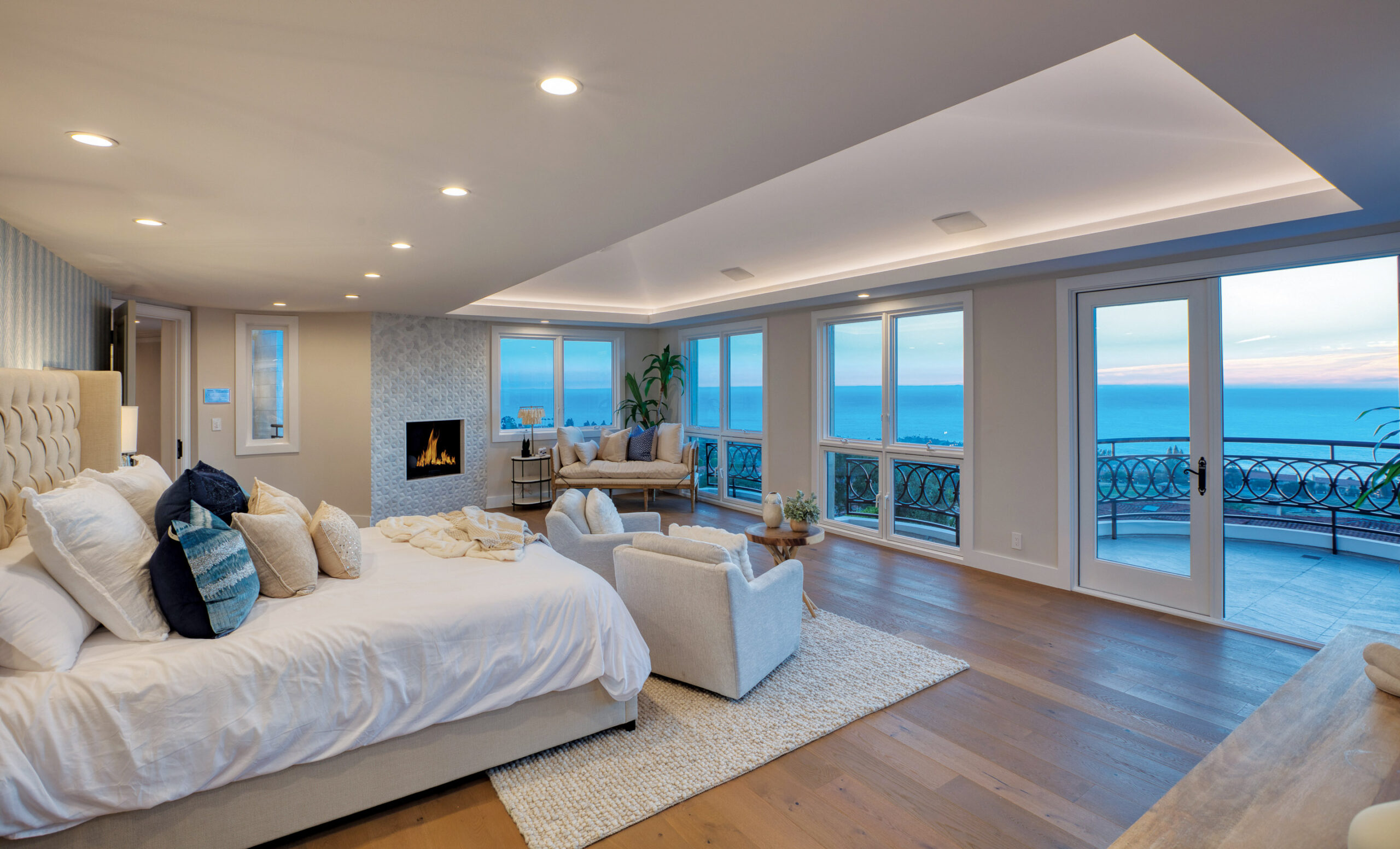 "One of my passions is restoring older homes to their former beauty," explains Brett Zebrowski. "Modernizing them, but keeping their original charm."
This estate, with its strong architectural profile and craftsmanship, provided the perfect canvas for his pursuit, which after two years is finally complete.
"The more time I spent here, the more I fell in love with it," he says of the property, adding with a chuckle: "But not nearly as much as I do now."
Brett Zebrowski | 310.678.7158 | DRE# 01313739
Palm Realty Boutique
List Price $16,500,000
Photography by Paul Jonason