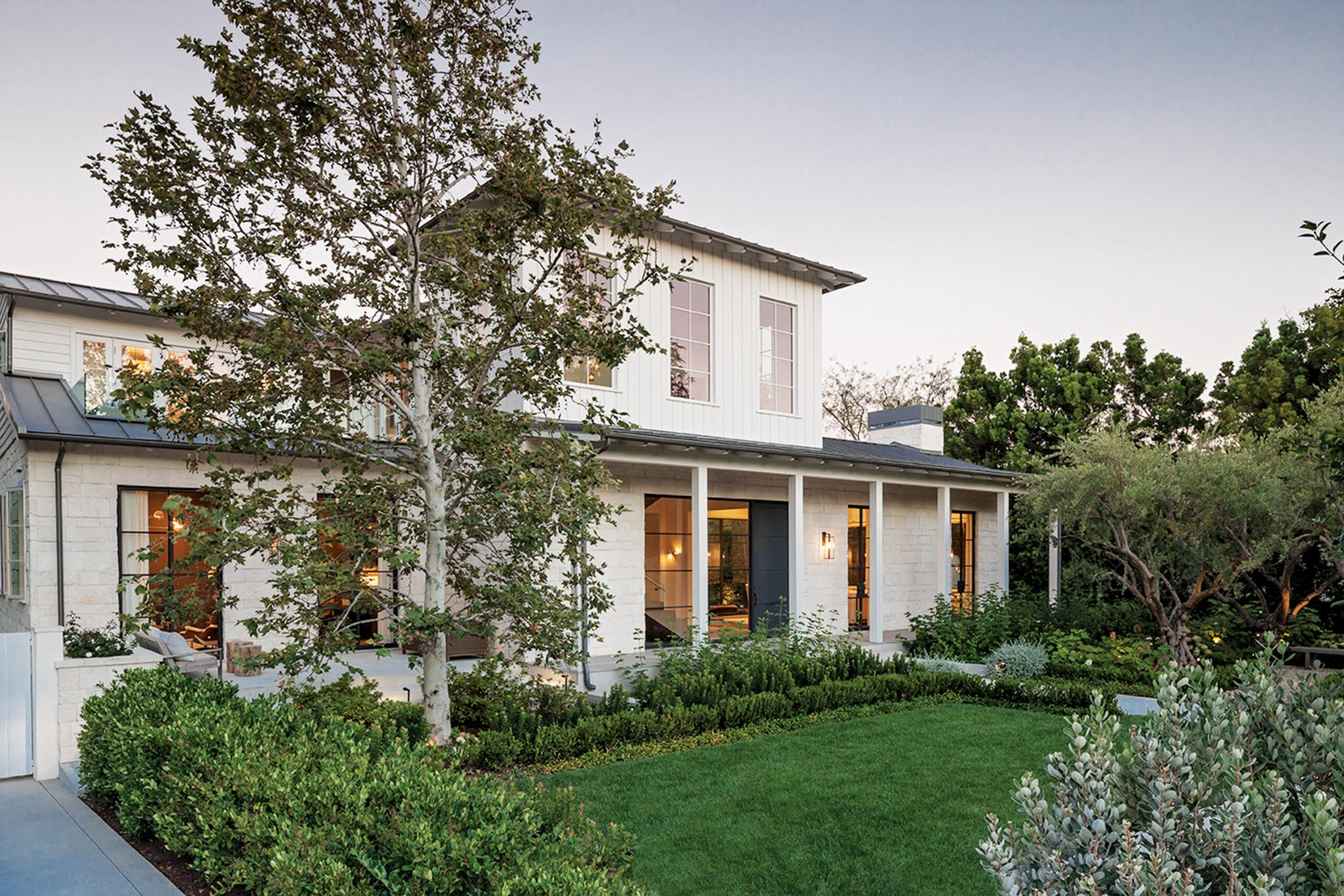 With Architecture by Studio William Hefner, an Elegant Pacific Palisades House in the Modern-traditional Mold Exploits a Bright, Easy-going Connection to the Outdoors
In quiet, coastal Pacific Palisades, a polished white façade with vast exposures to a vibrant green environment captures light and sky. The power behind the holistic design-inclined William Hefner Studio—with offices in Los Angeles and Montecito, and recently San Francisco—William Hefner is an architect of terrific gifts and aesthetic fluency who envisions highly refined and tightly edited spaces of every scale. His designs express an elegant simplicity and often pendulate between styles and periods, refusing full allegiance to either. He is fond of history, but not constrained by it.
In the known hotbed of modernism Trousdale, for example, William Hefner completed a residence featuring Case Study House fundamentals, but with a more elaborate footprint. In the hills of Montecito, he designed a rustic family compound utilizing Santa Barbara limestone found on the property.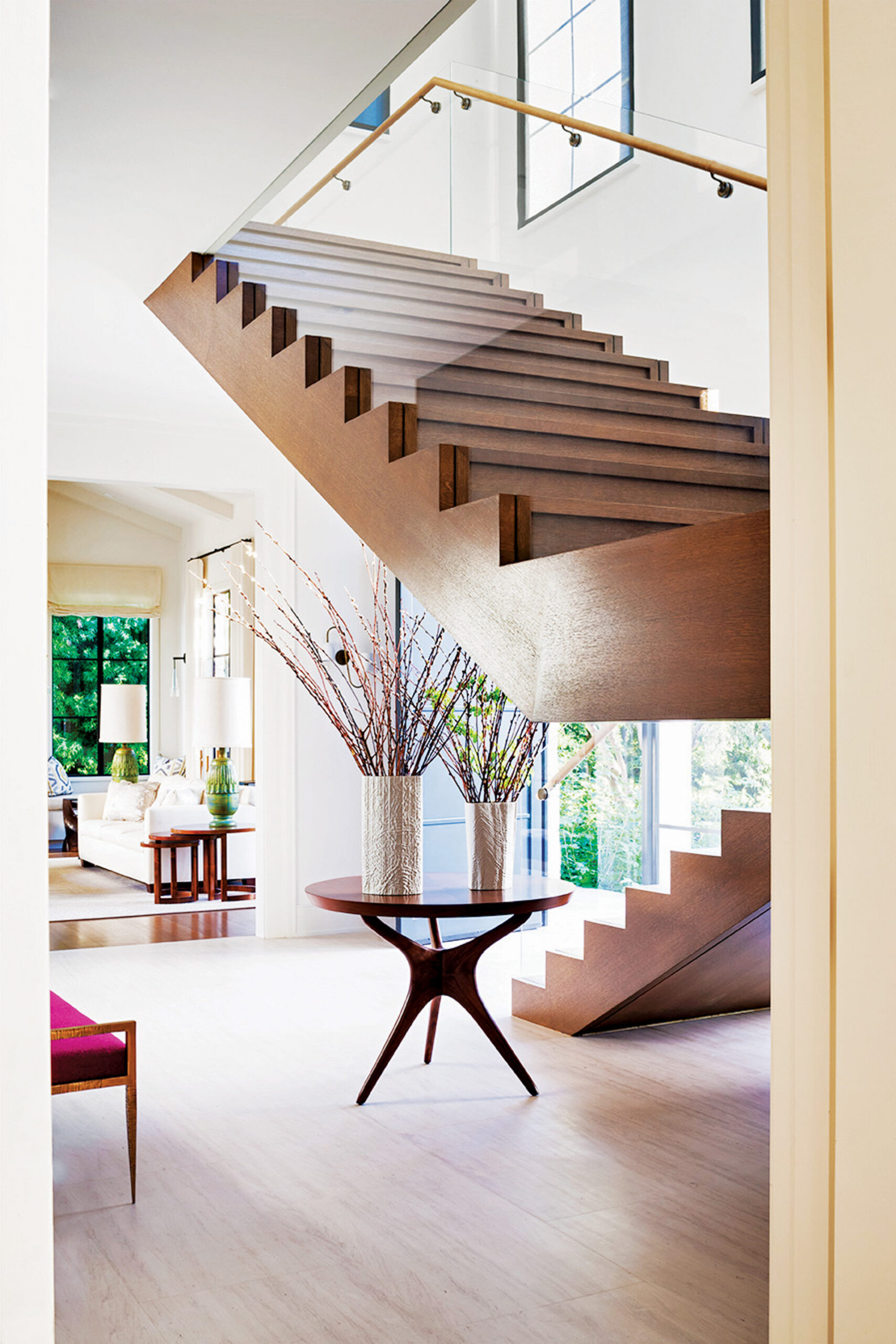 In a canyon in Bel Air, Hefner finished the astonishing Chateau des Fleurs, a magnum opus of French heritage and 21st-century living that, while not the biggest house in Los Angeles, enjoys a larger-than-life reputation in the boldfaced city.
By that standard, Palisades Ranch—based on classic California ranch architecture, amplified with two stories, and laid out in a C shape around an interior courtyard—is a lower-key residential project for William Hefner, but one that highlights the elements of his deft hand and a disciplined eye.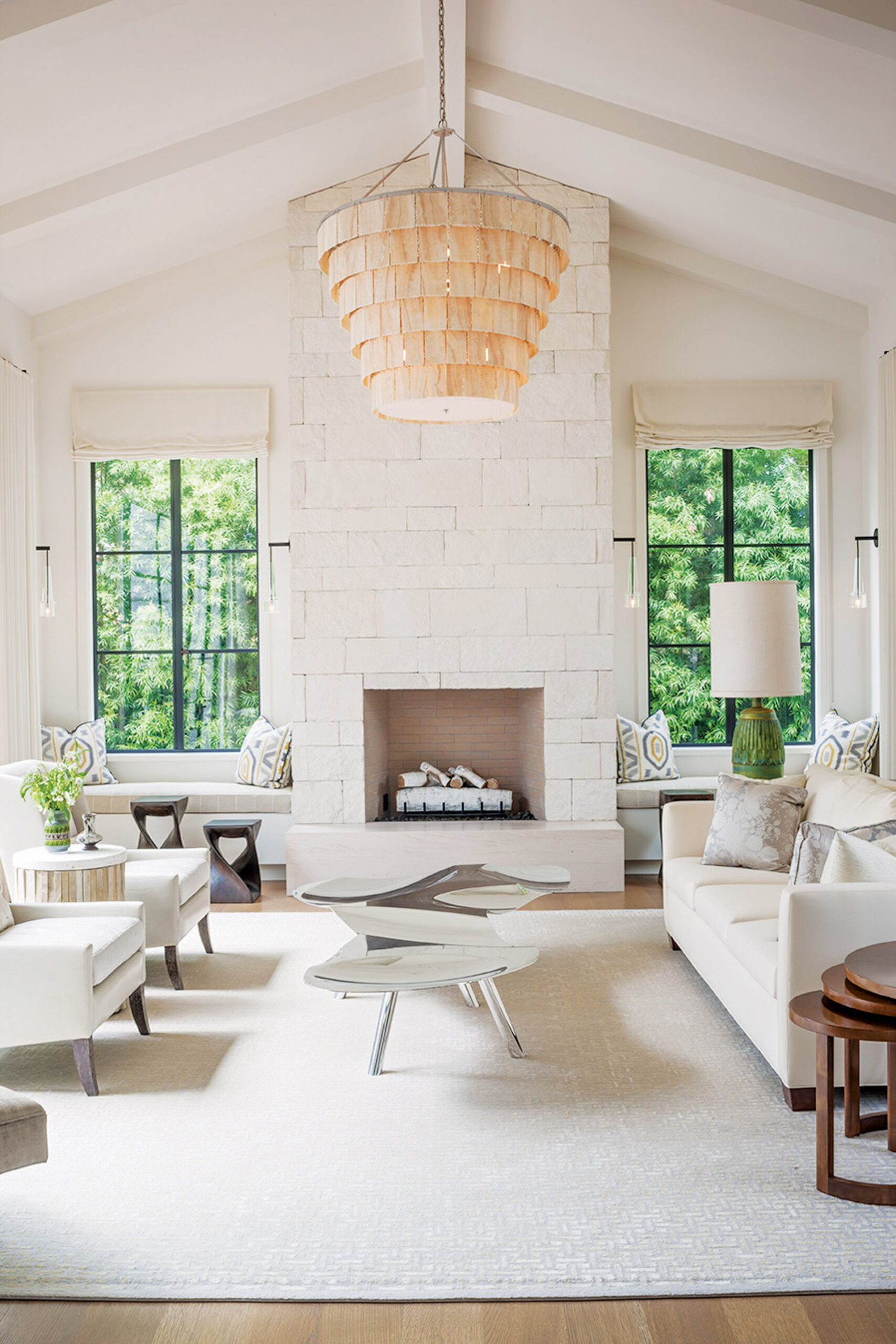 "The client was attracted to our work because of the way we bring light into interior spaces," says William Hefner of a studio signature. "This house represents our core principles of bringing in light, and we always strive to use natural and sometimes rustic materials in an elegant way," he points out. The structure's vertical proportions are, Hefner adds, "unique to our work."
Crafted in a few "recurring, elemental materials," as described in the program notes, the architecture of Palisades Ranch expresses a "simple American honesty." Most prominently seen in William Hefner's use of pale Texas limestone, which "we love because it's so pure, it almost matches the siding," says the architect. "We liked how that would look, and that it wouldn't contrast much. We kept patterns simple and subtle."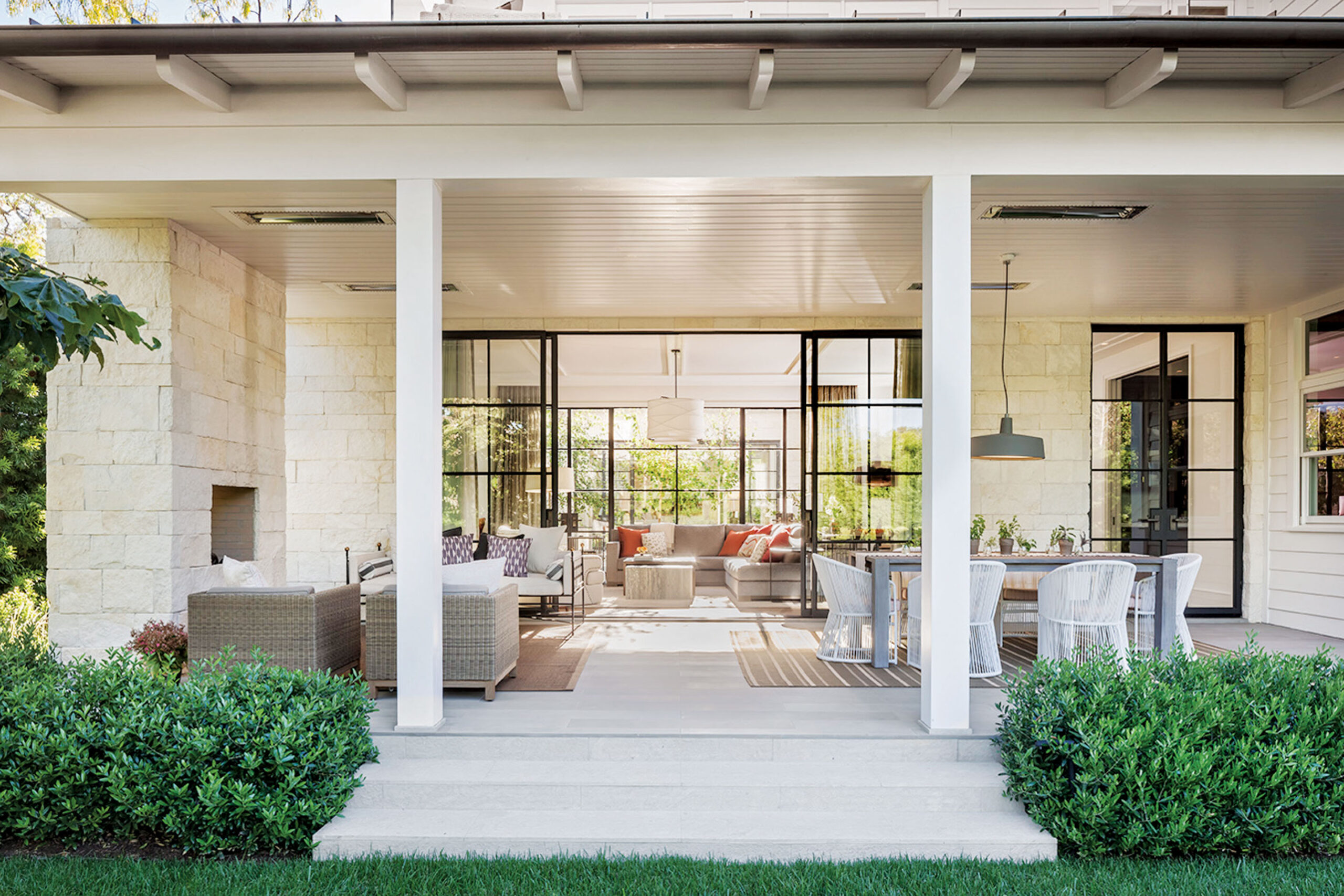 Space-defining aluminum-framed windows accent the architecture and support the sublime sun-lit flow between interior and exterior. 
If less is more, then Palisades Ranch is an architecture that is more interesting, more radiant, more manifestly William Hefner. It is an extremely clean, minimally ornamented canvas for clients with a collection of contemporary art they sought to showcase.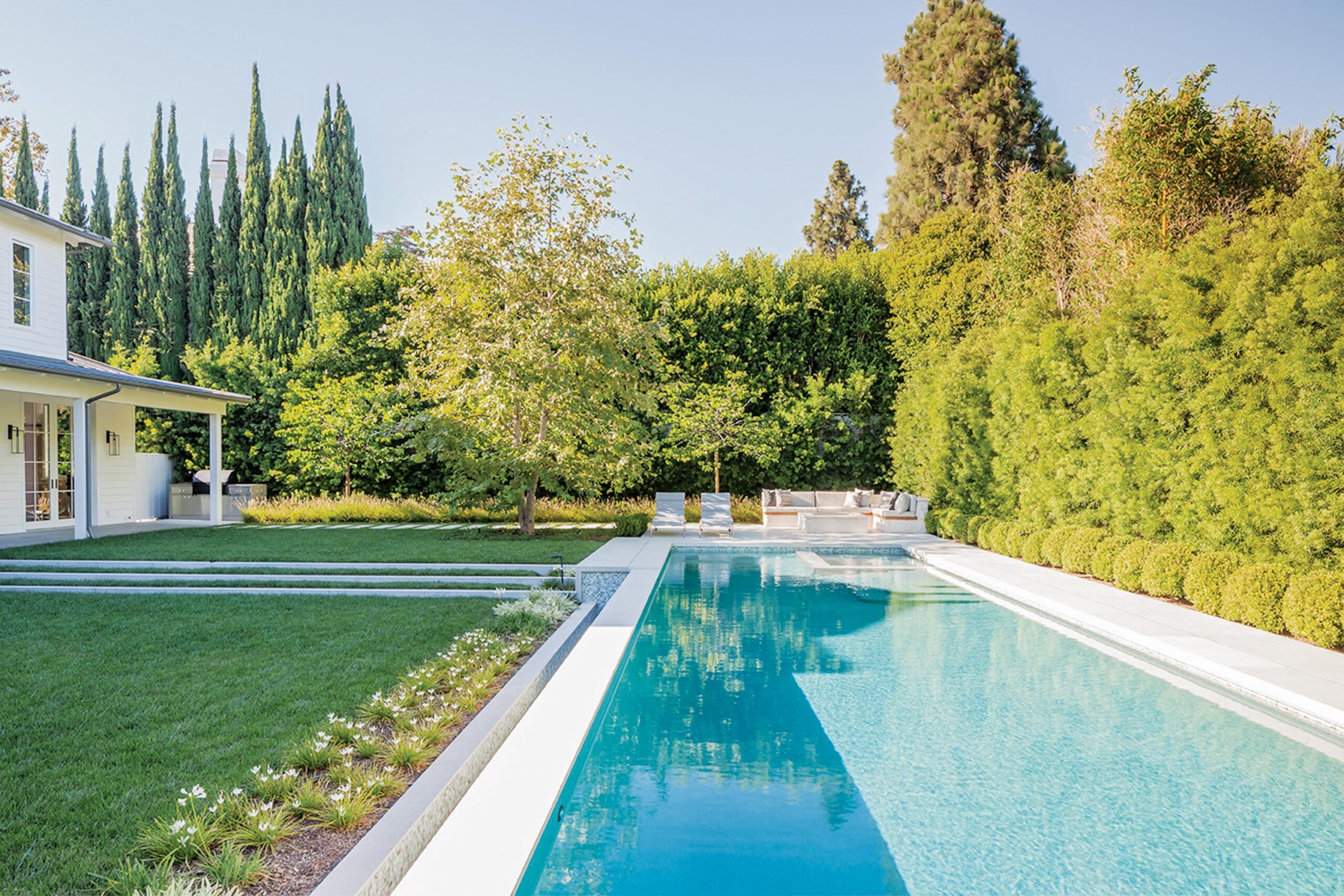 "We really wanted to keep things neutral to place the emphasis on the incredible views of the ocean," explains William Hefner, noting that in response the studio used modernized traditional millwork and minimal surface detail. "This simplicity also allowed the art collection to stand out."
The interior is one of exquisite equilibrium—great depth and yet total lightness. It is a splendidly accessorized space of natural light, neutral hues, and organic textures.
"With fine materials and abundant sunlight, spaces have a tactile richness that is warm rather than austere," notes the studio.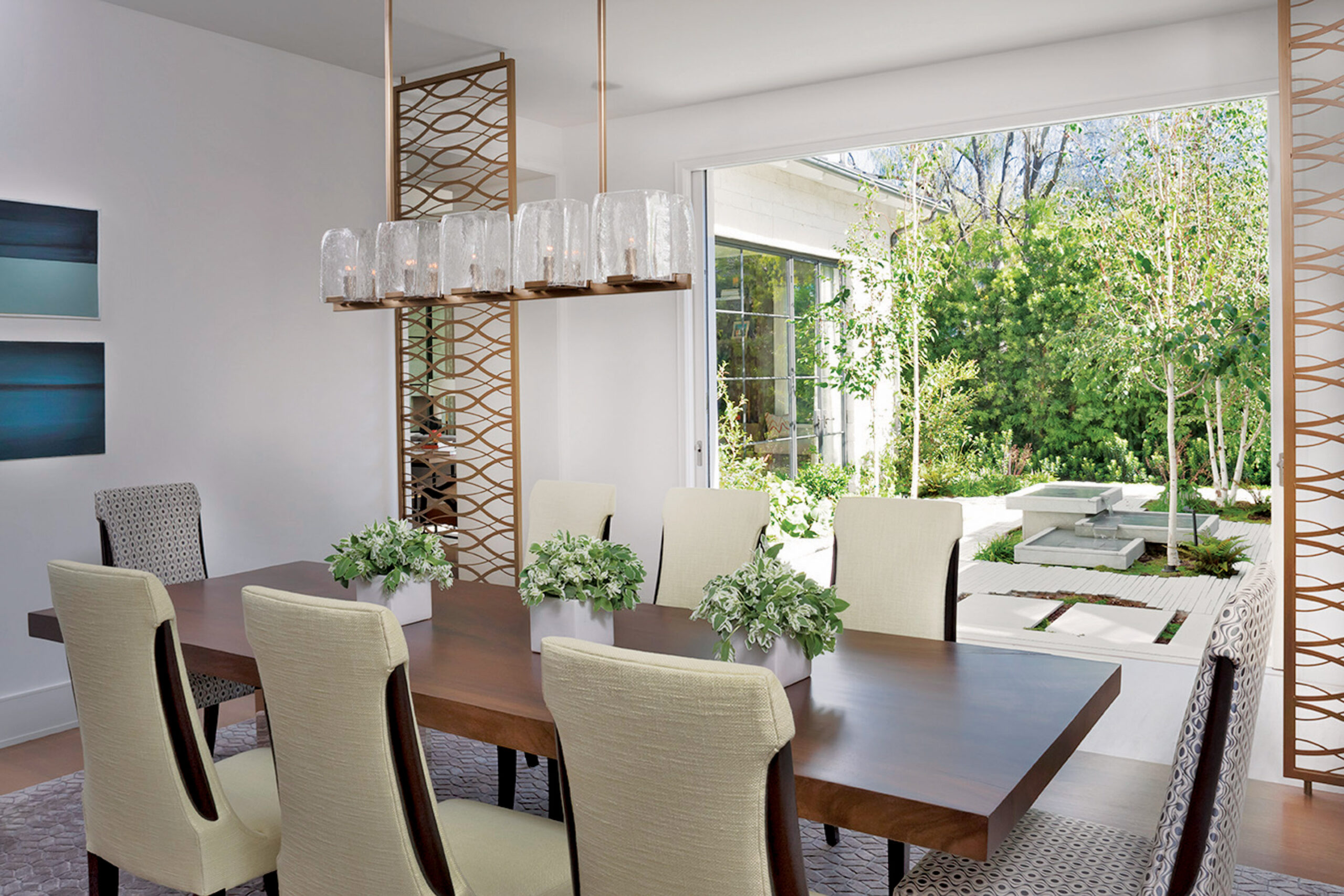 All very understated, and yet, with a few dazzling surprises. The agate chandelier cascades down from cathedral ceilings in the limestone-fireplaced living room. A geometric inlaid floor and floating vanity in the master bath. The sculptural floating staircase in lean, graceful ascension. Every decorative choice conveys a sense of comfort and ease, adding texture but never forcefully, reinforcing the home's freshness and amplifying the views beyond. What a beyond. Outdoor spaces are conspicuously old and new.
"A simple colonnaded porch at the front of the house invokes ranch heritage," the studio notes. "Old growth olive trees," meanwhile, "were brought into the front garden to enhance the impression of age on the property." Limestone on the wings of the house offer "a modern take on rustic stone ranch buildings."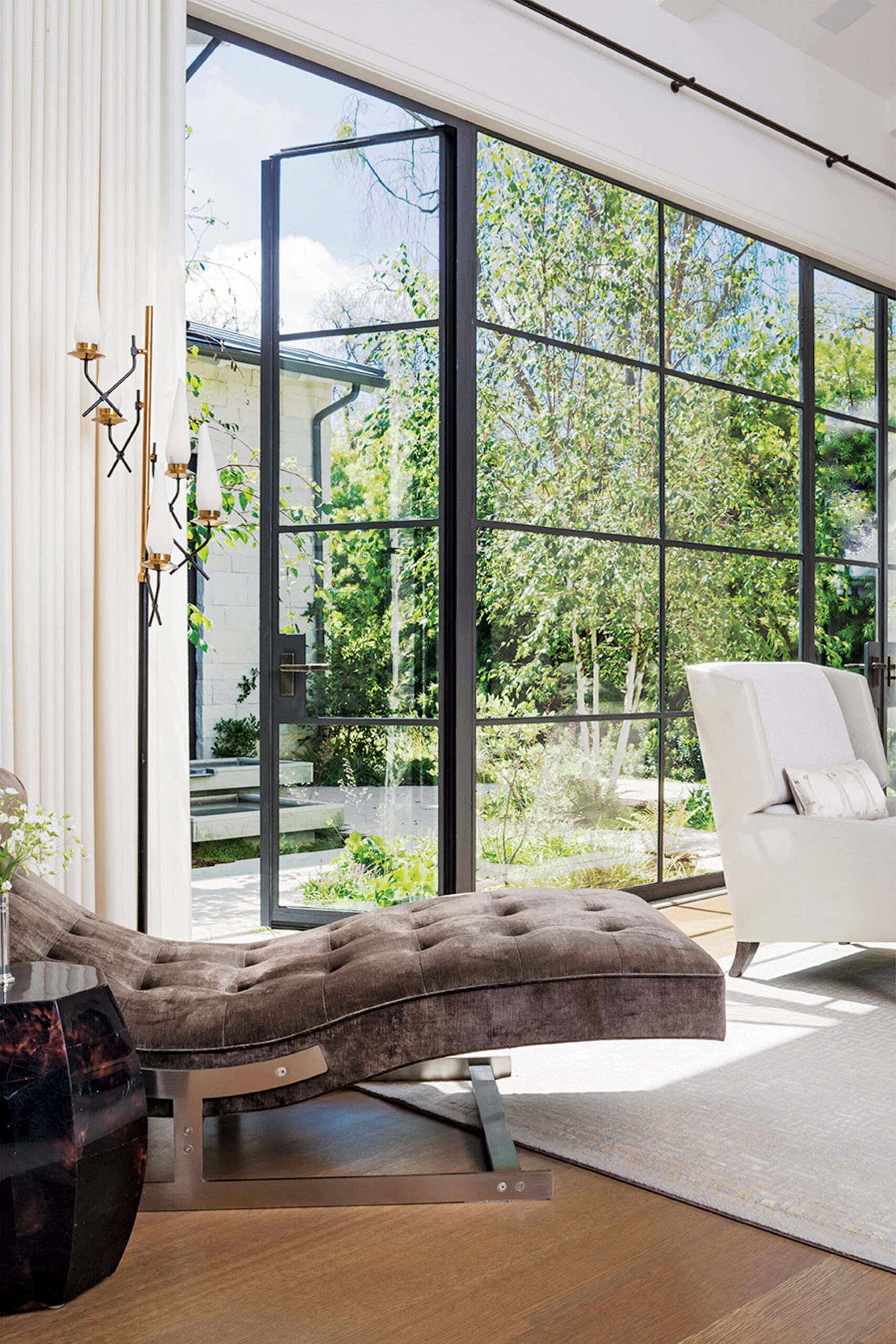 Finally, the rear of the house opens to a congenial covered outdoor room with a fireplace just steps from the backyard.
The landscape, a methodically well-ordered Shangri-la with a strict sense of geometry, engenders the exact opposite feeling—it's lush, sun-kissed, and unhurried. The eye gazes past the trim lawn to the enchanting blue of the elongated pool, its surface still like a reflecting pond, the whole thing backdropped by a wall of privacy-producing shrubs and trees. That the grounds are in constant dialogue with the interior of the house is of no surprise; it is, however, of regional consequence.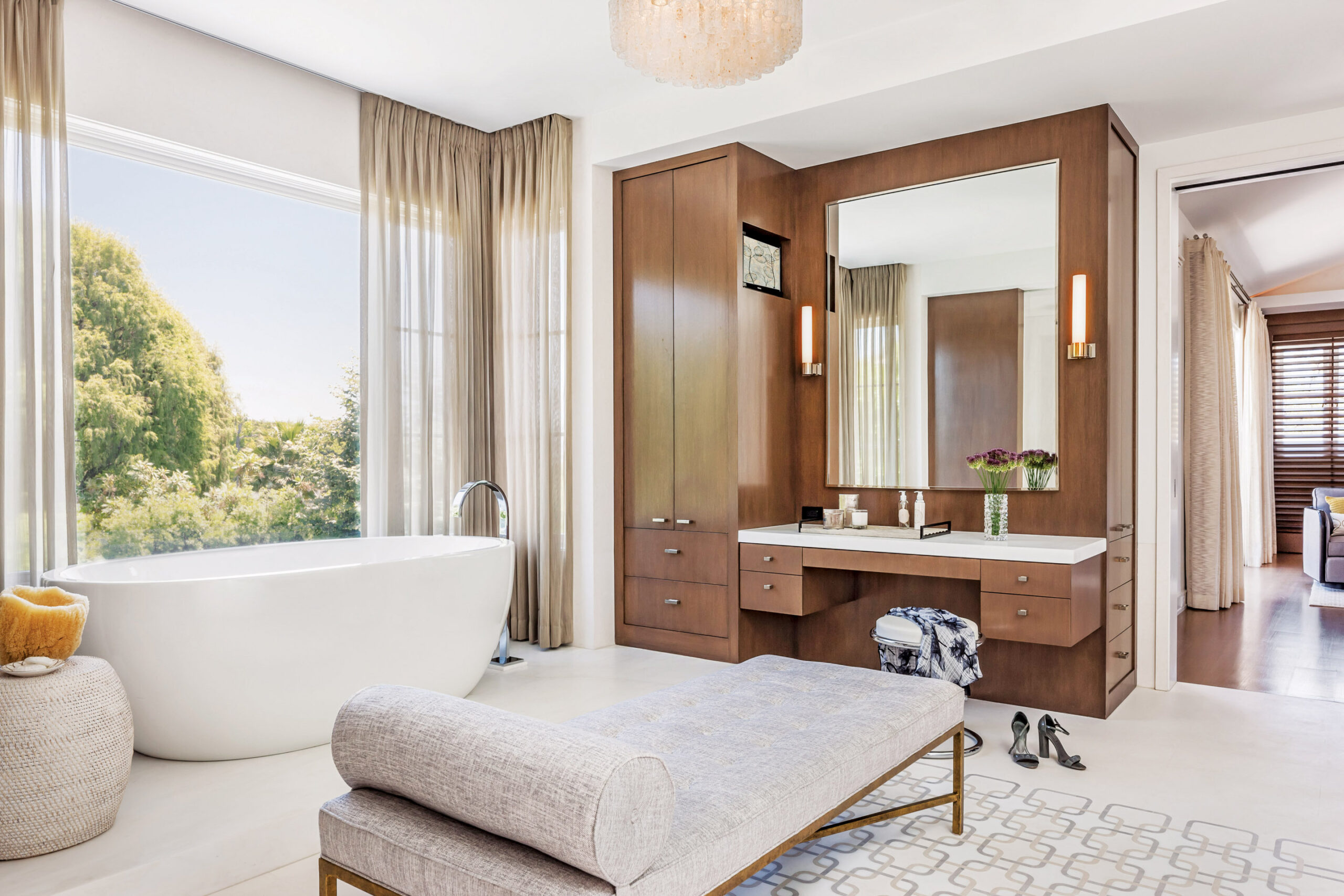 "The lifestyle of Southern California is so much about indoor/outdoor, we sought to make the house where the owners would move easily between the spaces," concedes William Hefner, who has not only written two books about this residential ideal—California Homes and California Homes II—he continues to create it, with Palisades Ranch a protagonist in his ever-impressive pantheon.
William Hefner | williamhefner.com
Photos: Richard Powers and Erhard Pfeiffer