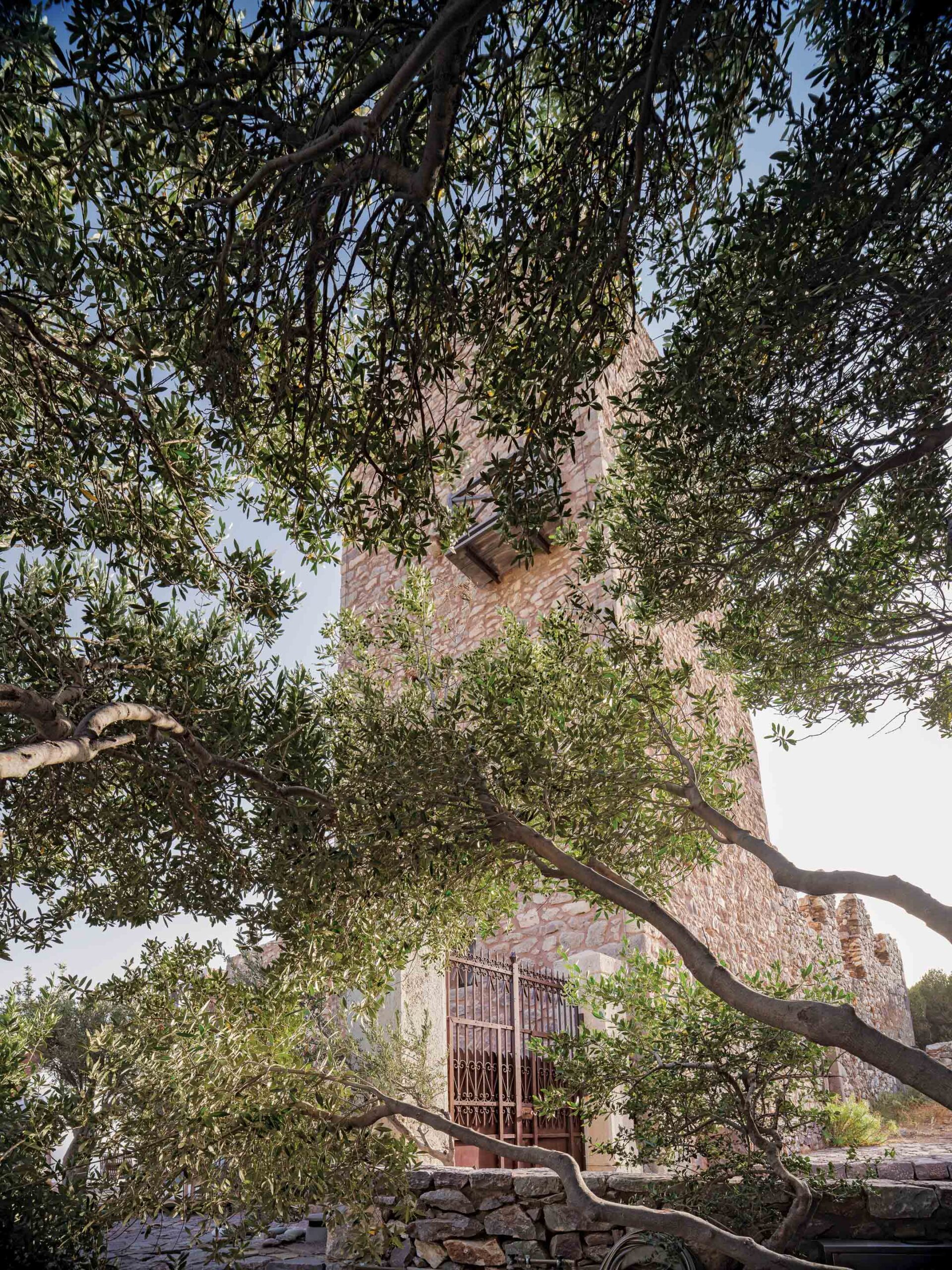 Transformed Into One of the World's Most Unique Boutique Hotels, Tainaron Blue Retreat a Centuries-old Watchtower in a Mythical Greek Landscape Stands Guard Over the Aegean Sea
Cape Tainaron marks the southernmost point of Peloponnese, Greece. Antiquity claims these lands. Greek mythology points to a Tainaron cave as the house of Hades and, therefore, the gateway to the Underworld, and there ruins here are dedicated to the sea god Poseidon who, when he wasn't protecting seafarers, was siding with the Greeks in their war against the Trojans only to later rage at their hero Odysseus, sending the beleaguered Ithacan king wave after wave of storms, sea monsters and treacherous new shores to thwart his journey home. 
Unlike Odysseus, perhaps, one is quite willing to wash up on the shores of Cape Tainaron. While not quite at the end of the world, it is at the end of the Mani Peninsula, which is remote enough to feel that way.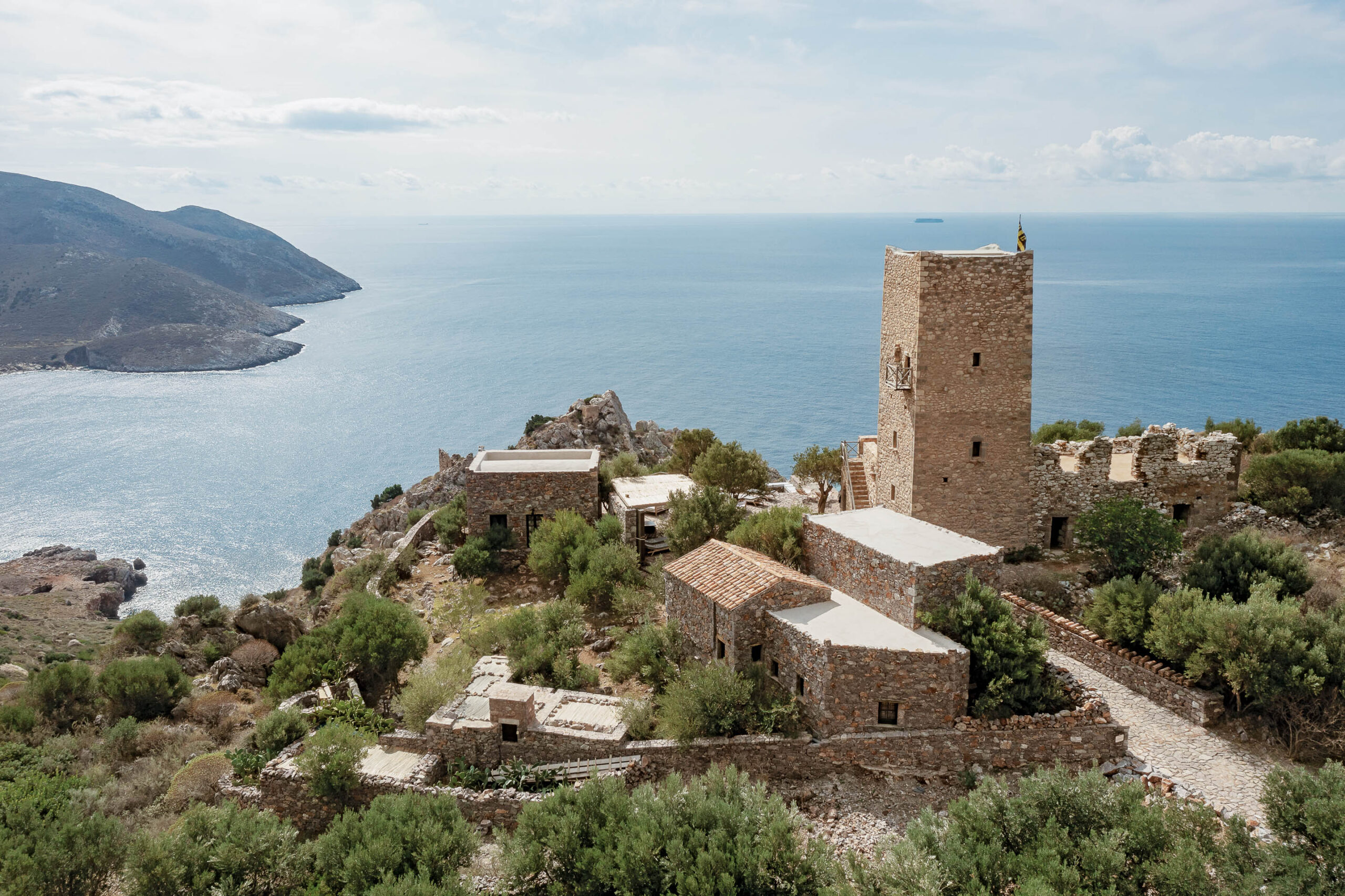 Arid, weathered and strong-featured, it is an immensely beautiful place of dry stone walls, low shrubs, and shallow rock pools, along with winding roads and picturesque villages like Oitylo (so old it is mentioned as Oetylus in "The Iliad") and the 16th-century settlement Vathia. The latter is nearby to a striking watchtower.
An unequivocally Mani construction originally designed to keep intruders at bay, the fortification comes as a bolt from the blue as if it might have descended from the sky itself. Looking out toward the sea, it is proud and assured. It's been here for centuries. You?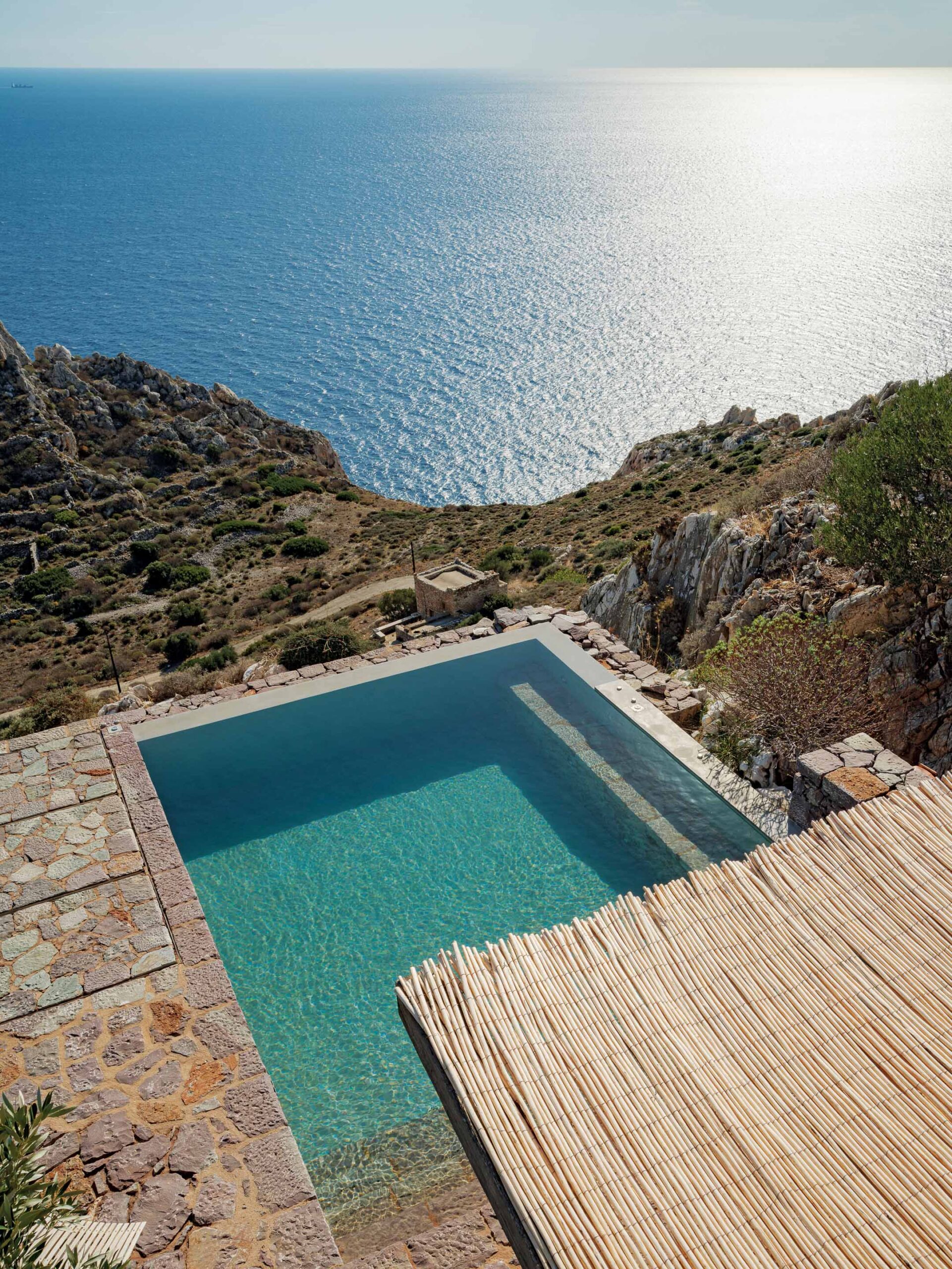 Today this tower is the heart of a boutique hotel named Tainaron Blue Retreat by the architect turned hotelier responsible for its transformation, Kostas Zouvelos. A place to get away from it all? The hotel takes that proposition seriously.
For starters, it is not in one of Greece's more splashier ports of call—glamorous, white-walled Santorini or hard-partying Mykonos. As established, it's rustic, historical, and out there. But with this hotel, Kostas Zouvelos and his wife, who is also an architect, are changing the landscape in Greece, rethinking what hospitality in this part of the world could be.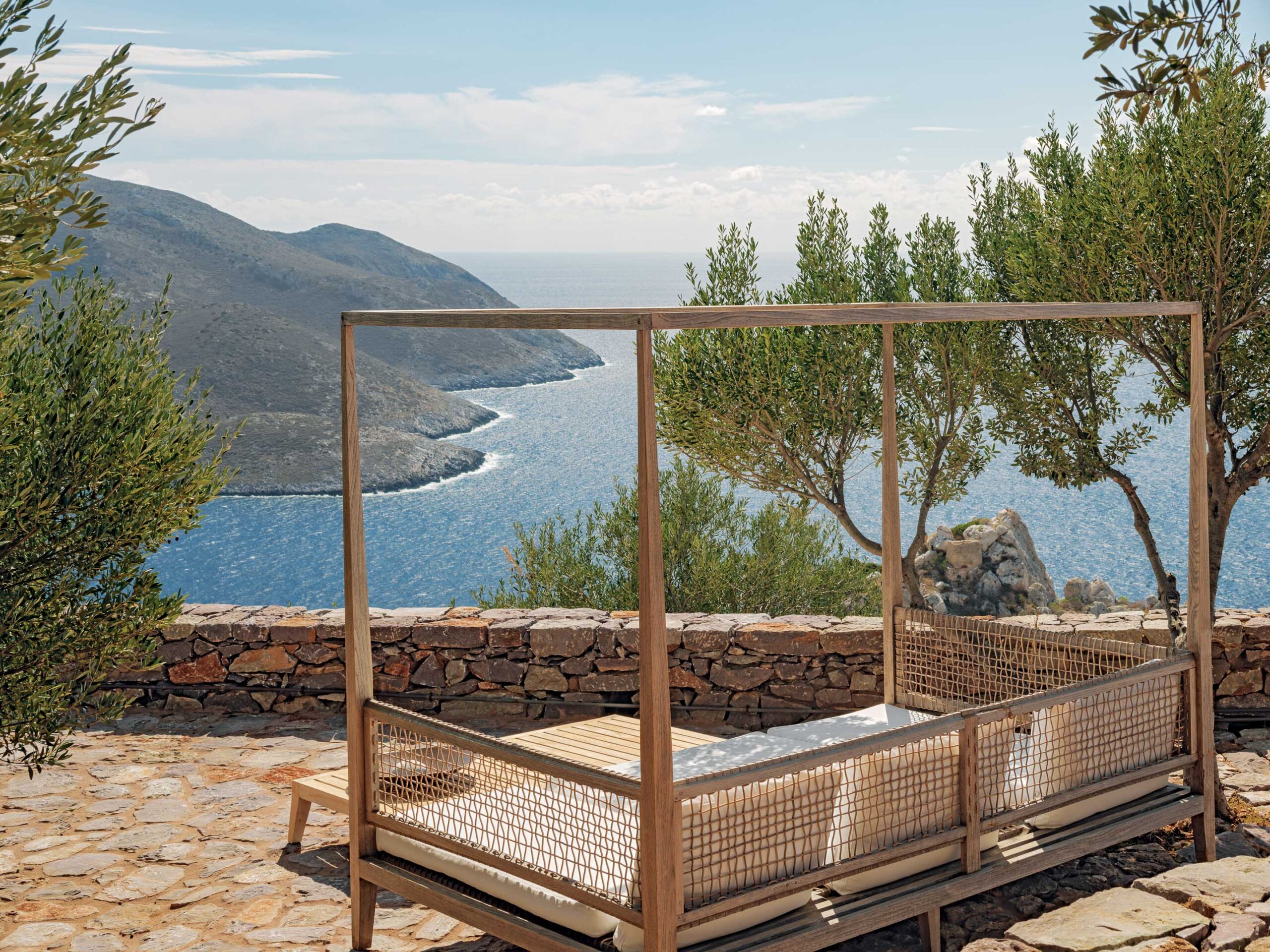 First and foremost, spectacular. The mix of age-old stone and native vegetation against shimmering cerulean seas and blue sky is beguiling. But more importantly, as a destination where amenities, though many and enticing, are almost second to the architecture itself.
A Homeric effort, Kostas Zouvelos spent five years overhauling the tower, utilizing organic local materials of wood, marble, and stone in its transformation. It now houses three guest rooms with the en-suite option encompassing the top two levels of the tower with a loft conversion accessible via a wooden ladder, as well as a shared kitchen, reception, and breakfast space.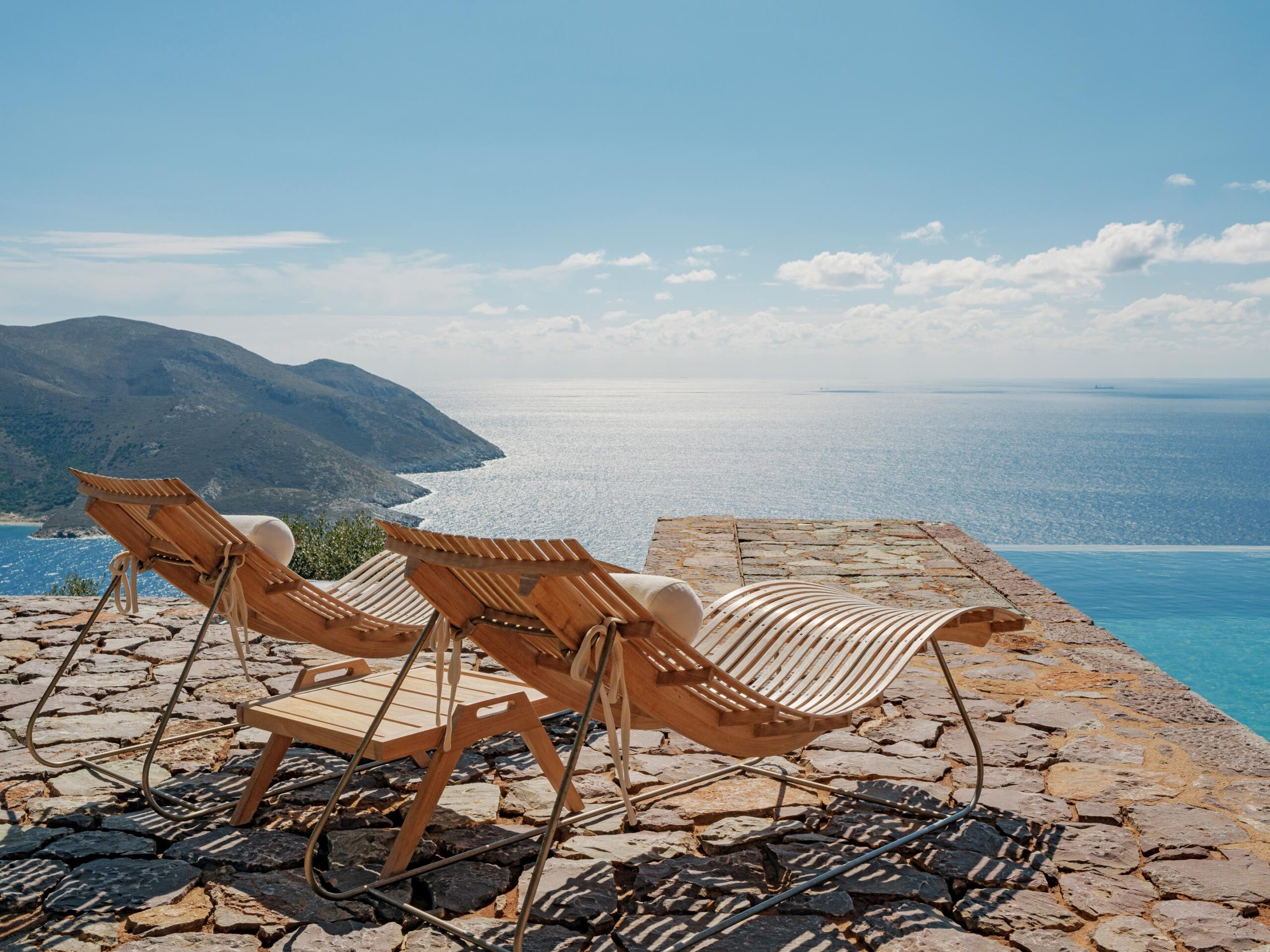 Given the confines, it is a remarkable work of architecture. Vertical with narrow openings, rocks jutting out from the walls, and small picture windows that frame the hotel's scenic enchantments.
Rugged modernism is the defining aesthetic. Under Kostas's watch, the hotel has lost none of its historical character. It's rustic, warm and simple, as if left alone to sleep (presumably to dream of fantastical Mediterranean mysteries). It also functions like a modern-day hotel. Not with every comfort, but more than enough. Space is limited, but the views beyond its walls are expansive. Along with minimal furnishings and vintage finishes are artworks by sculptor Nikos Karalis.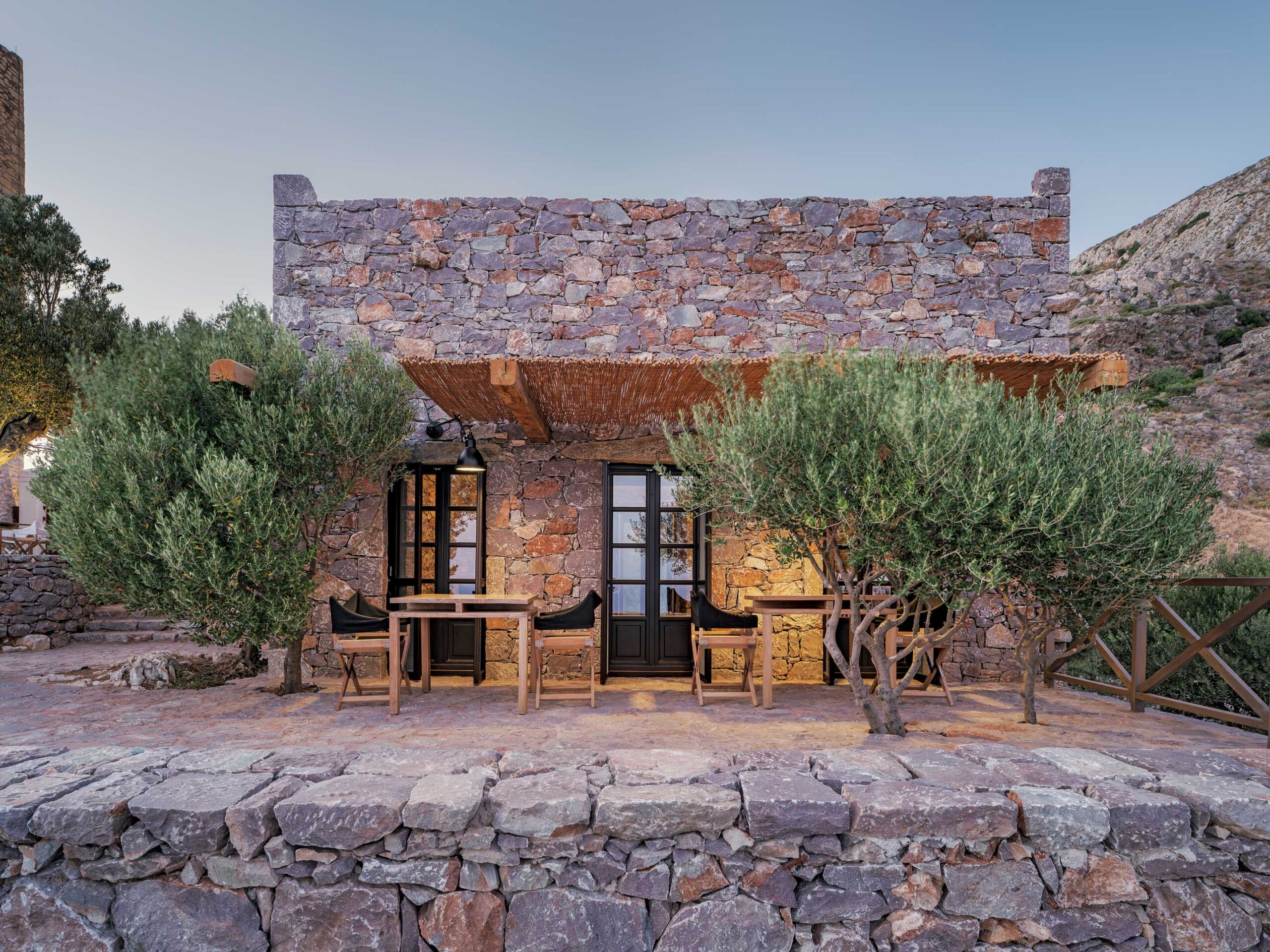 Outside the tower, one is assaulted by natural beauty, which is unspoiled, serene, and informed the materiel choices of the project. The views are tenacious and everywhere, from the laissez-faire outdoor courtyard to the shimmering pool, which stretches out toward the sun-kissed Aegean, nearly one and the same. A private kitchen moonlights for a restaurant and serves delicious Maniot cuisine. The pervading feeling is one of utter nonchalance. It's that type of hotel. Completely untroubled.
One does not experience Tainaron Blue Retreat without considering its surroundings. Many visitors come to the hotel literally to hunker down. There is plenty here to help with that. Those who venture out to explore its outskirts, however, are much rewarded with underground sea caves, archeological interests, and hiking trails. One trail leads to Tainaron lighthouse, the southernmost tip of Europe.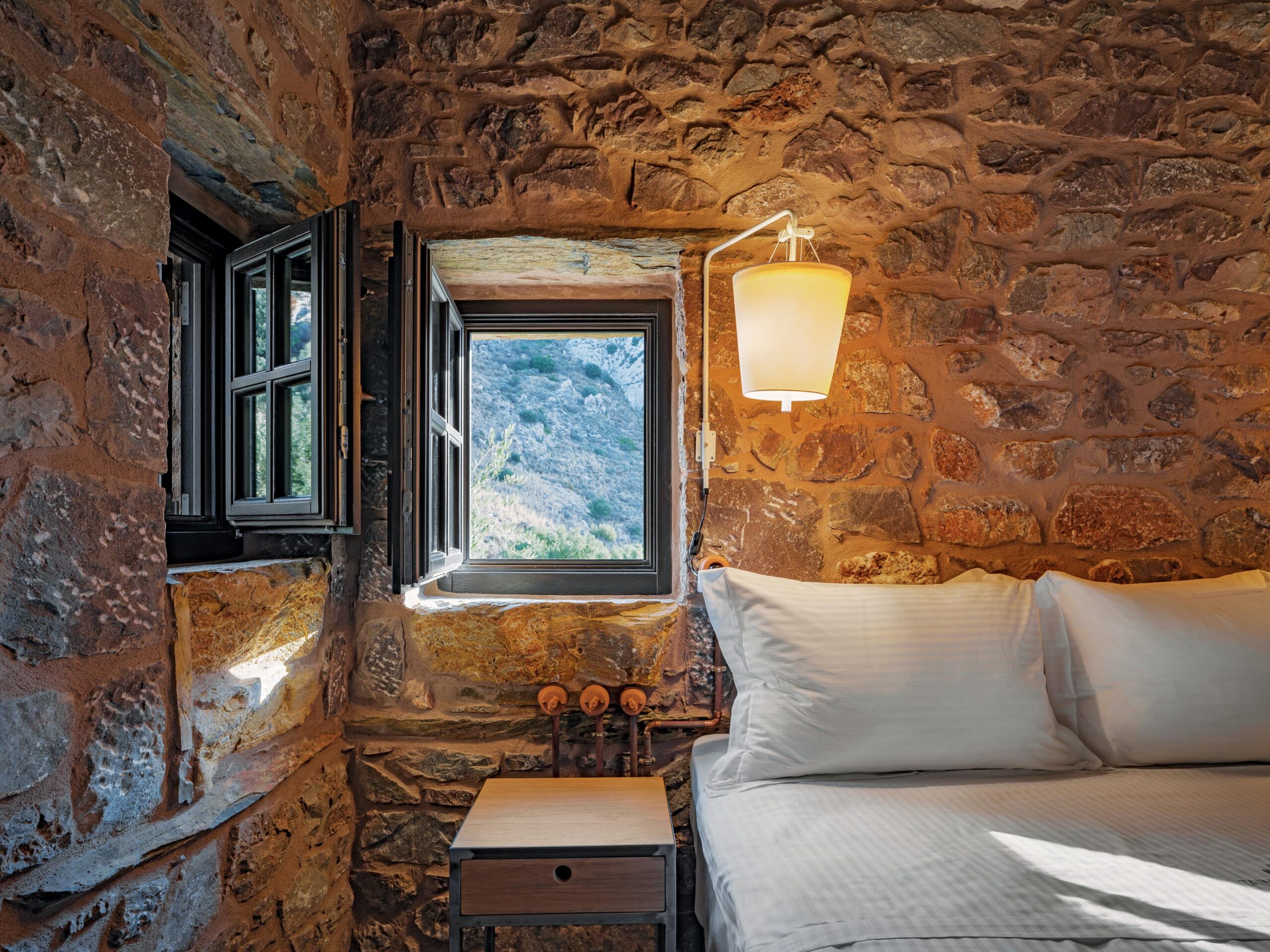 Those who peel themselves away from the pool to swim in crystal turquoise waters along the coast have no regrets but are besieged with all kinds of questions: Why haven't I been here before? When will I be back? 
Something else: with everything speeding around us, the existence of something so old in a land that is far older is consoling. Architecture is often best when a lifeboat. The idea to retrofit a crumbling structure for a new use is not new (it is the responsible thing to do in environmentally fragile times). But Kostas Zouvelos's takeover of the Tainaron tower has ruined us for all others.
Tainaron Blue Retreat | tainaron-blue.com
Photos: George Messaritakis