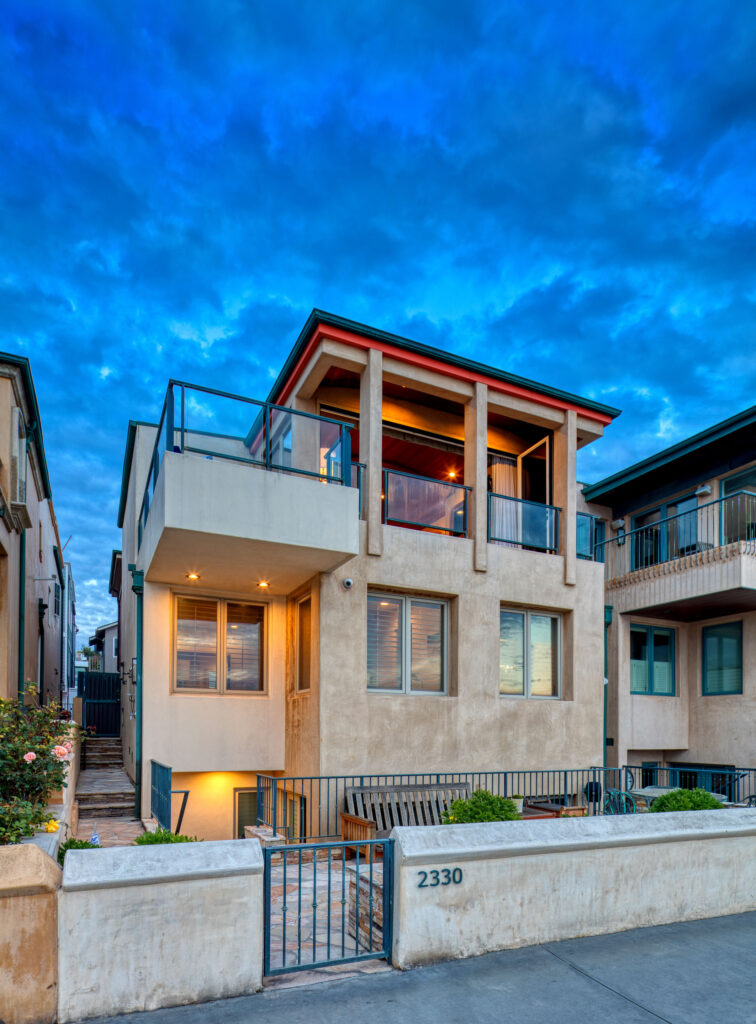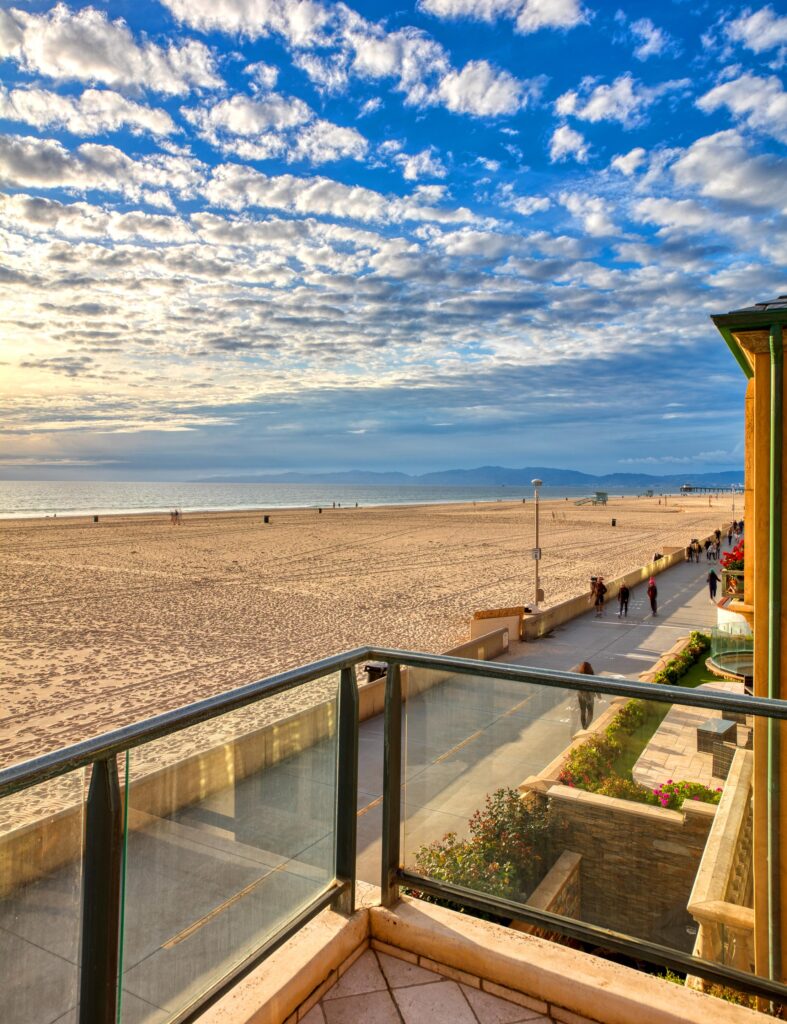 The house itself is really well laid out, especially if you've got kids," says real estate agent Susan Sweeney of a residential design that gives one a sense of everything they might need on the Strand—lots of ocean views and many comfortable spots to gather with family and friends. There's privacy and a quality of construction. In this case, all within an efficient footprint of about 3,330 square feet.
What more, "It's a special house," says Sweeney of the geometric, sandy-hued residence that includes four bedrooms and is located along a plum stretch of the Hermosa Beach Strand. "It's got so much, especially for the price." Chief among them: the incomparable feel of a life lived on the Strand, where a step or two leads to the sunny Pacific beachfront. After an exuberant swim or surf session, one can retreat refreshed to this welcoming place, where sunlight cascades throughout the home's three levels, each offering a distinct atmosphere.
Standing on the top floor, one stands at the edge of the elegant, fireplaced living room. There's a wall of glass stretching from ceiling to floor, reaching across the entire wall, opening and closing with ease. Pleasant beach air circulates through the room and one feels as if they are connected to the vivid seascape, just outside, that's topped with a dreamy view of clouds and pale blue sky. Even better is the fact that one is fairly invisible here since the home's design keeps traffic on the Strand out of sight, and vice versa.
Looking around the uppermost floor reveals details that give the home its inviting feel. There's an eye-catching ceiling of tongue and groove planking—a nautical touch made more interesting by its curved silhouette that bows across the top of the room, not unlike the inverted hull of a sailboat. The gleaming wood planks on the floor matches the ceiling's reddish palette, casting a warm glow across the room that comes alive during sunset hours.
The top floor is made up of discrete gathering spaces—all of them privy to the gorgeous, front-row ocean views afforded by the home's Strand location. The spacious living room is adjacent to a private balcony and a step-up formal dining room. (The three spaces merge nicely for formal entertaining.) "If you've got a party, you could easily put a lot of people in there," says Sweeney of the space. Also located on this floor is the kitchen, smartly raised to create separation from other spaces and offer a theatrical effect that optimizes beach views.
There's a roomy central island in the center of the kitchen, its warm, tiger-eye granite complemented by matching countertops and polished wood cabinetry. "They don't cook," says Sweeney of the homeowners. A glance at the sparkling state of the high-end appliances, including a Viking range with six burners, indicates she's right. "I have a sneaking suspicion the stove has never been used," she adds with a chuckle.
A charming touch, found adjacent to the kitchen, is a comfortable, tucked-away lounge that's ideal as a reading nook or as a gathering spot for morning coffee. Oversized French doors are steps away, leading to another private balcony at the rear of the house, and bringing more of that special beachside sunlight and air into this corner of the house. Nearby the home's elevator is handy for traveling in between floors and transporting dishes to other spaces when entertaining. "It's a nice size," remarks Sweeney. "You can fit three people in it."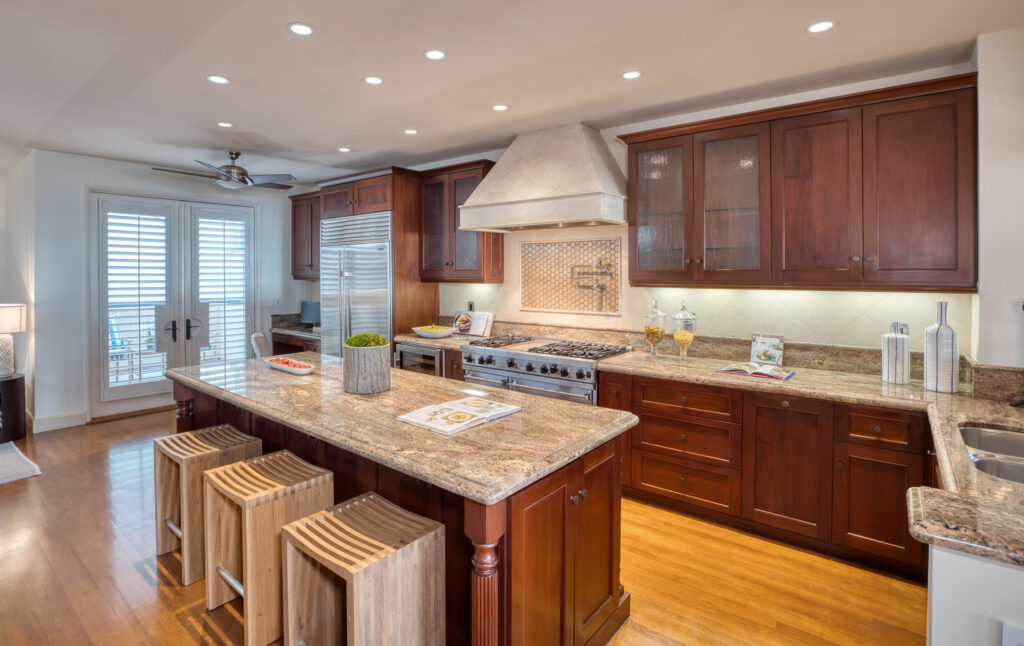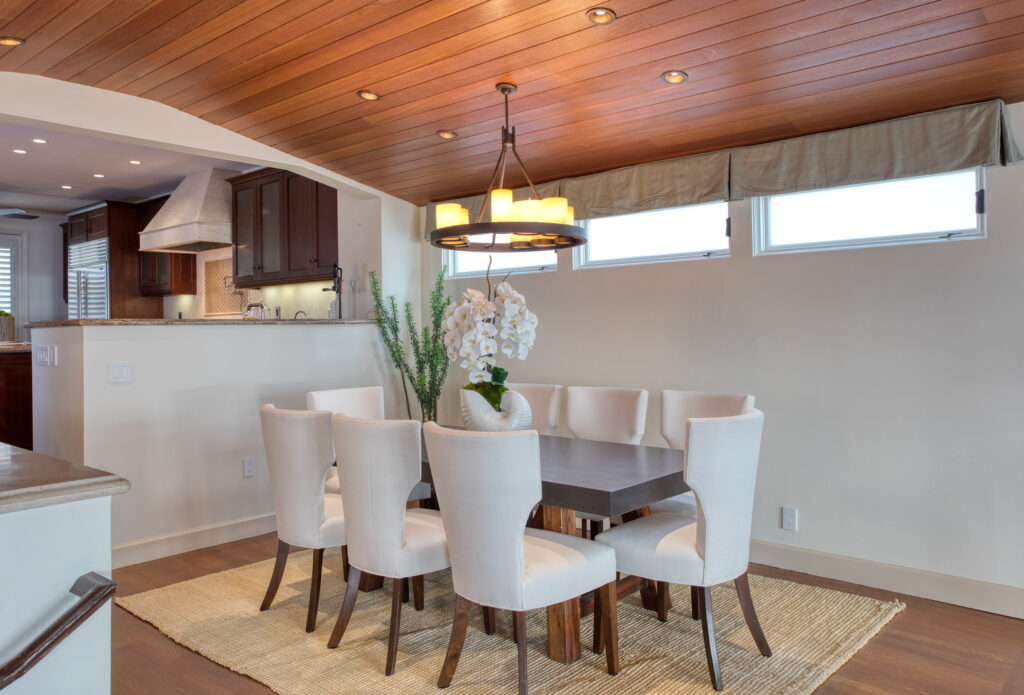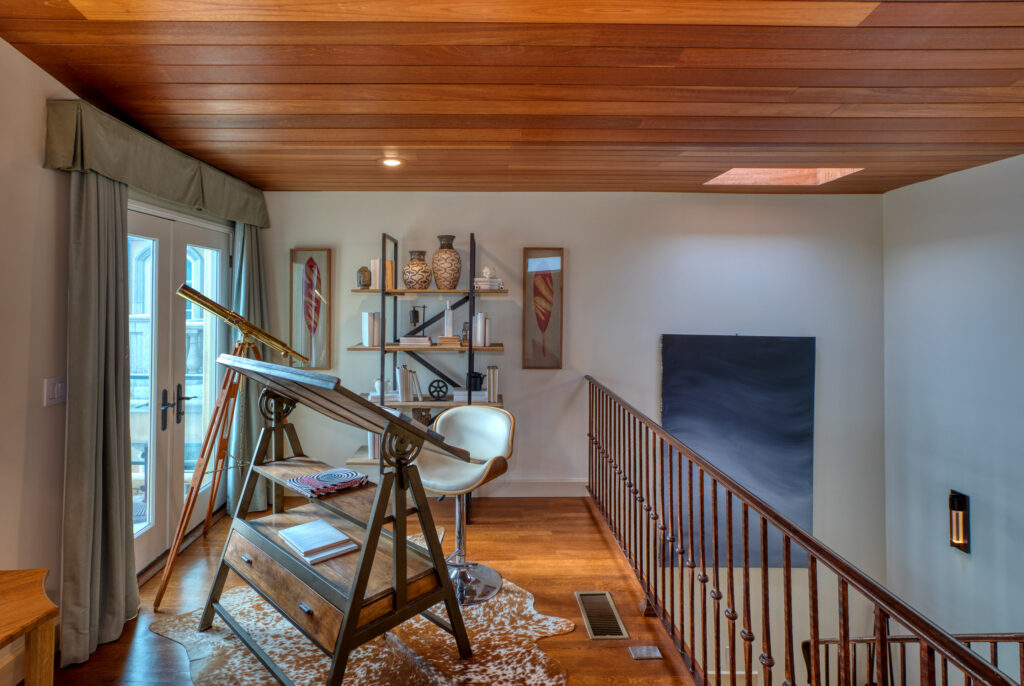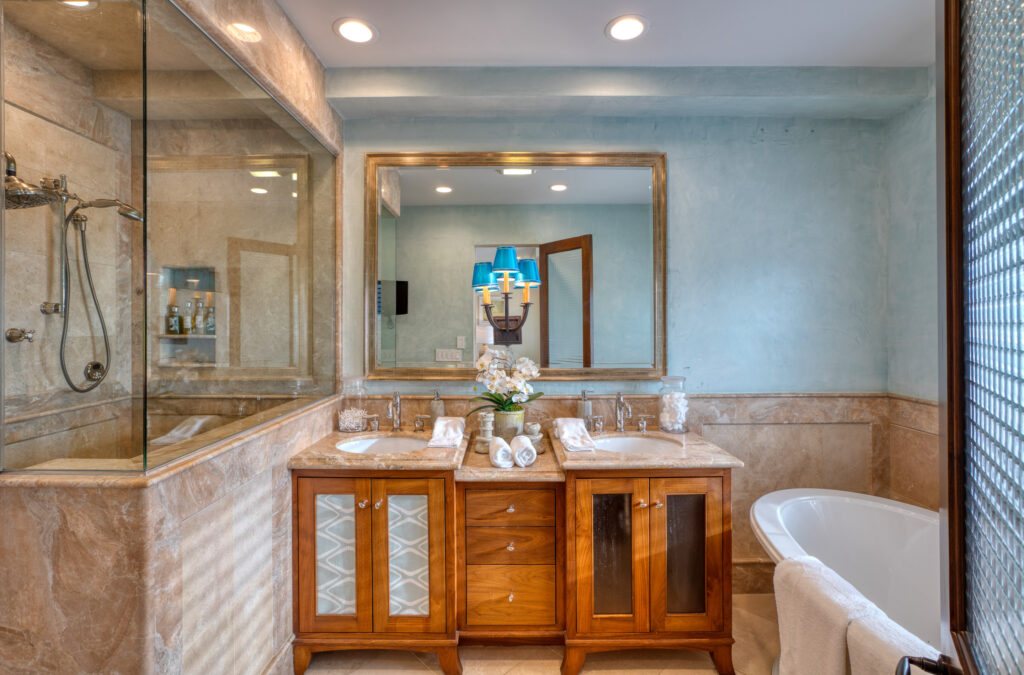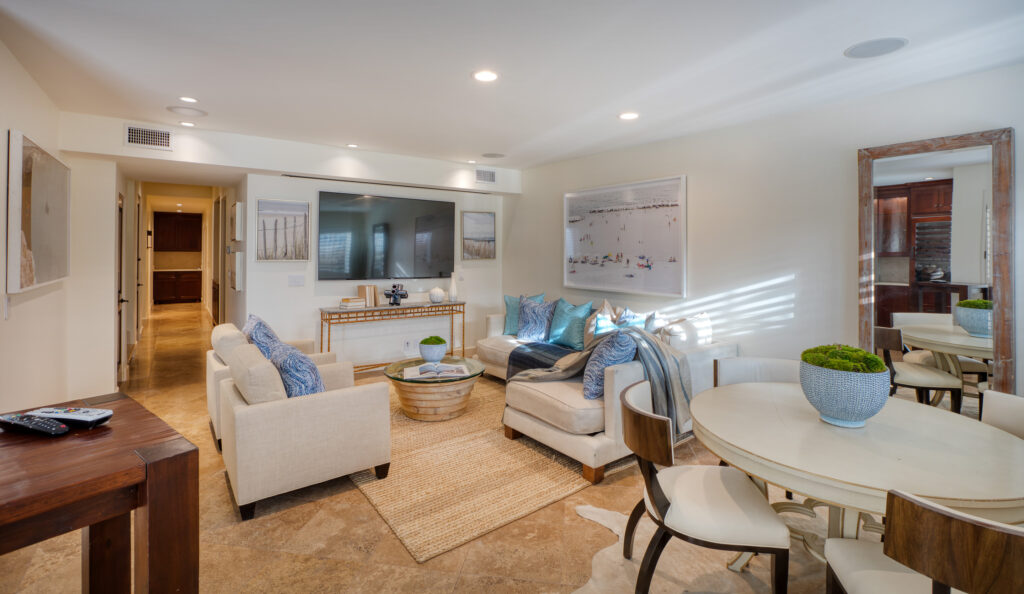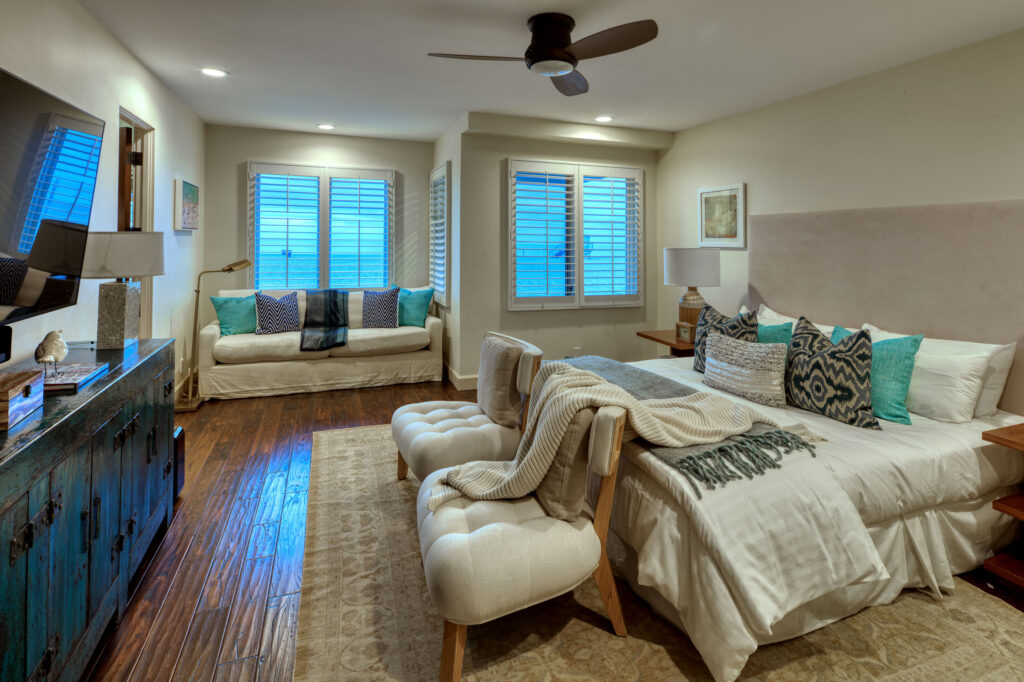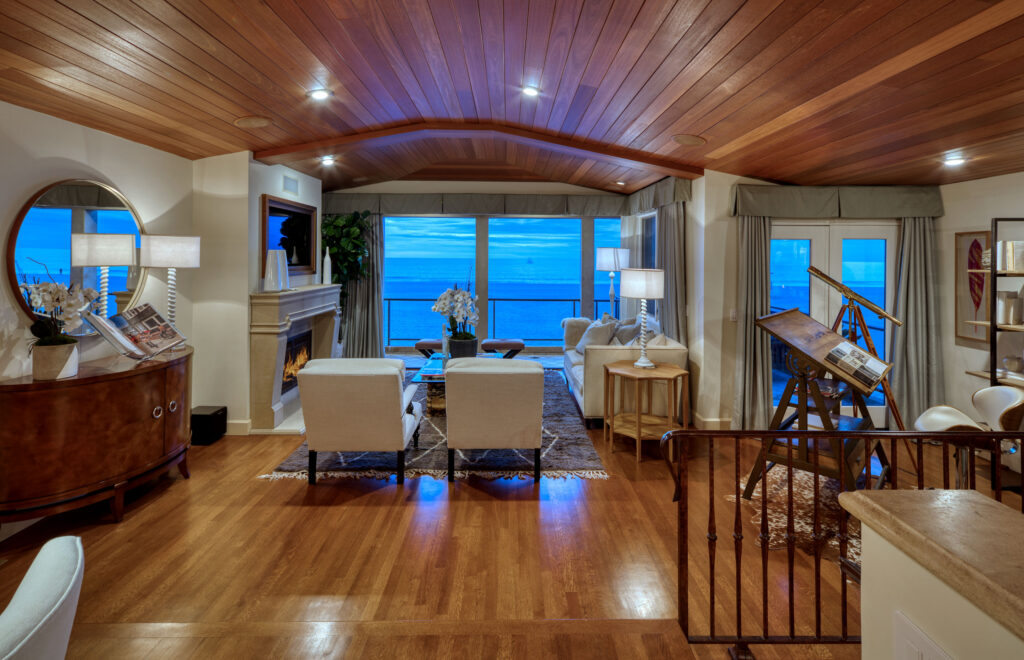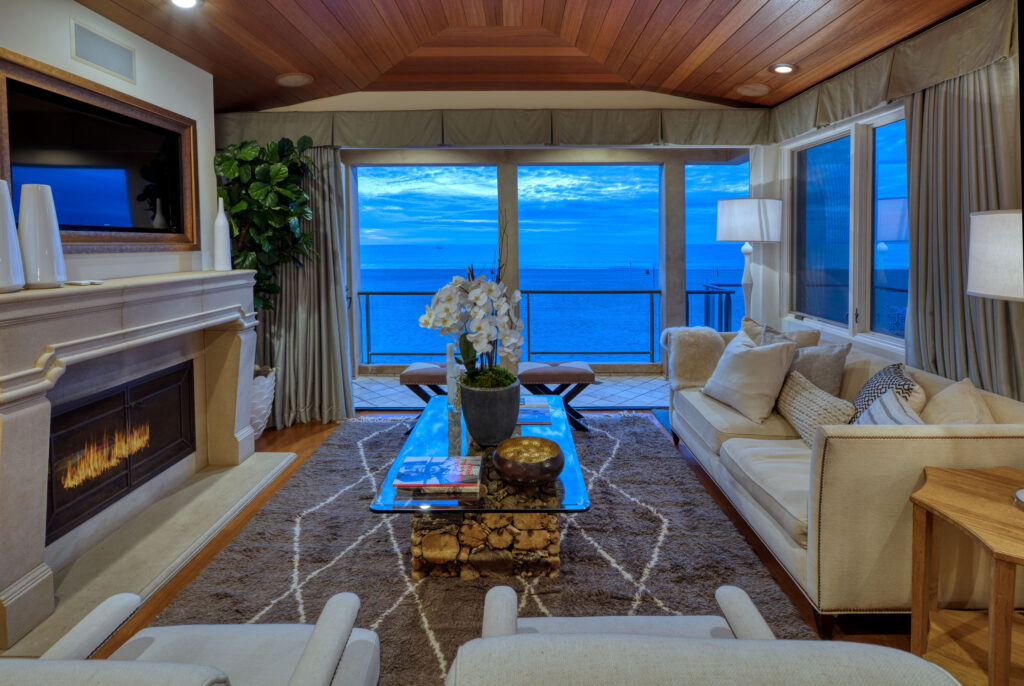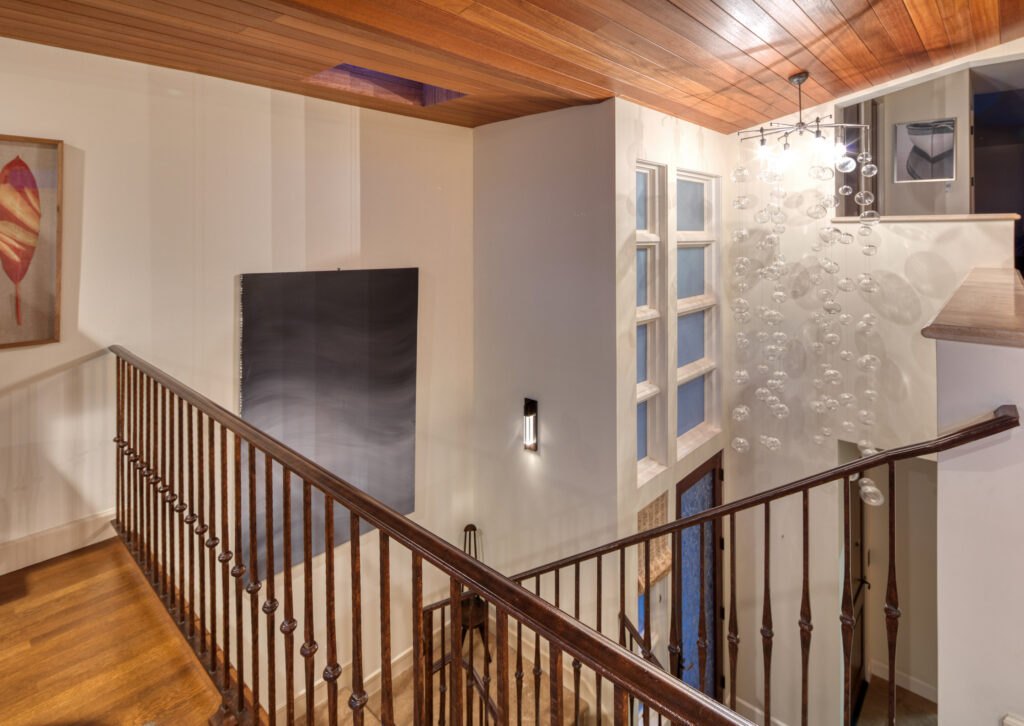 On the home's lower level, one finds a smooth-tiled hallway connecting three bedrooms and a spacious media lounge that can function as an everyday area for TV, gaming, and studying; particularly useful if this floor houses children. Another practical touch is the wet bar area where snacks and drinks can be easily accessed.
Best of all is the floor's design: it's situated about six feet below the level of the Strand, rendering it a private space where one can lounge and dine while shrouded from the views of passersby. "It's really private from the standpoint of people walking by," Sweeney points out. "They can't see in." Steps away are outdoor spaces, which include a stone-floor patio, manicured and airy.
It's worth noting the home's location, along a sweet stretch of the northern section of the Hermosa Strand. Here, one is not far from the start of the Manhattan Beach Strand, about a half-mile away.
The beachfront is wide and typically mellow, and the home feels well-removed from the fray of Pier Avenue, though a three-minute bike cruise accesses the lively restaurants and boutiques that populate the area. If one feels like heading to Manhattan Beach, the scenic Pier is a five-minute bike ride or a 20-minute stroll away. Those fond of living separated from the main drag will like the home's entrance: located on a secluded Hermosa backstreet called Beach Drive, one enters adjacent to Martha's 22nd Street Grill.
The layout affords even more privacy with the structure of the home's middle floor, where the master bedroom is situated on its own level, apart from the home's other bedrooms. A welcome caveat: there's a charming sunlit study on this floor, with hardwood floors and a crystal chandelier that can be transformed into a next-door bedroom or nursery. The master bedroom is a relaxing space where picture windows offer sweeping views of the ocean, complemented by earthy hardwood floors and white walls. The master bathroom is embellished in ornate, veiny stone and features a roomy walk-in shower and an elegant soaking tub where one can bathe amid views of blue sky and ocean.
It's at the entrance where one's first introduced to the welcoming elements that make this Strand residence its own address and a home versus a house. Stepping onto the smooth stone of the sunlit corridor, one finds themselves in an airy space where a chandelier drips glass bubbles from the uppermost floor—a space made more attractive by a peek of wood ceilings and a proliferation of ocean light. Stairs lead to different levels in the well-crafted house, where so much thought has been given to creating a place of ease and privacy in one of Southern California's most desirable spots.
Photographs: Paul Jonason
Susan Sweeney
DRE 00817293
310.780.6429