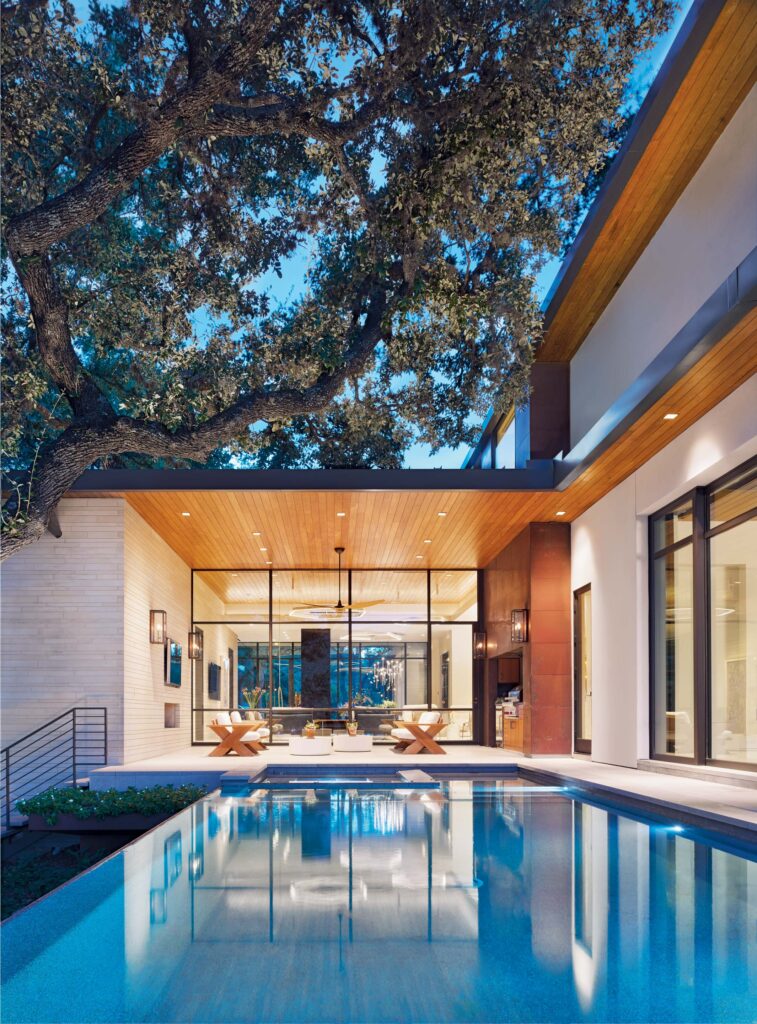 Designed for a Young Family in Austin, This Transparent Home Offering Spectacular Views is Filled With Art and Colorful Accents
Perched on a limestone bluff 75 feet above Lake Austin, this house was designed by LaRue Architects to take advantage of the stunning panorama. Thanks to floor-to-ceiling windows, the young professional couple and their three children enjoy the lake views any time of the day and at every season.
The architects designed a U-shaped layout to preserve the existing vegetation while landscape designer Rick Scheen and landscape architect John Hall from LandWest Design Group created modular steel planter boxes to echo the house's pure lines.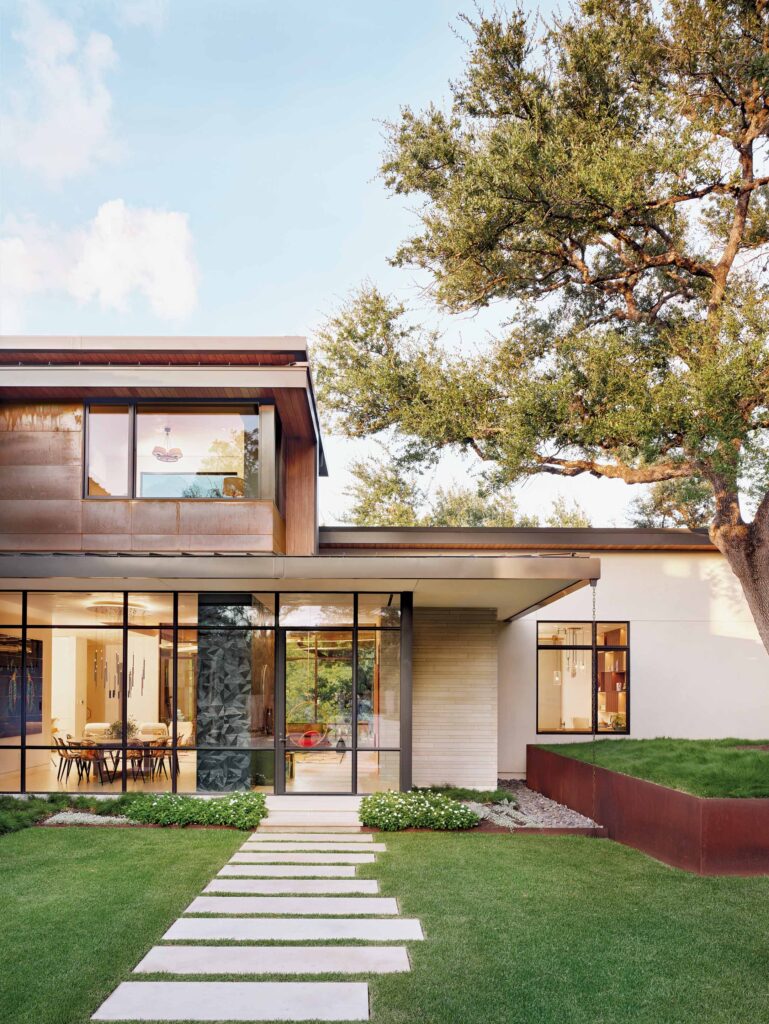 "The main challenge for us architecturally was to place the home in between two huge heritage oak trees," says James LaRue from LaRue Architects. "The trees are so beautiful and really set the tone for the home. The private primary suite and office are located in this quadrant, and the views out of these spaces are framed perfectly."
Natural and local materials were preferred, as reflected through the limestone walls and oak ceilings with touches of copper, to create a connection with the surrounding environment.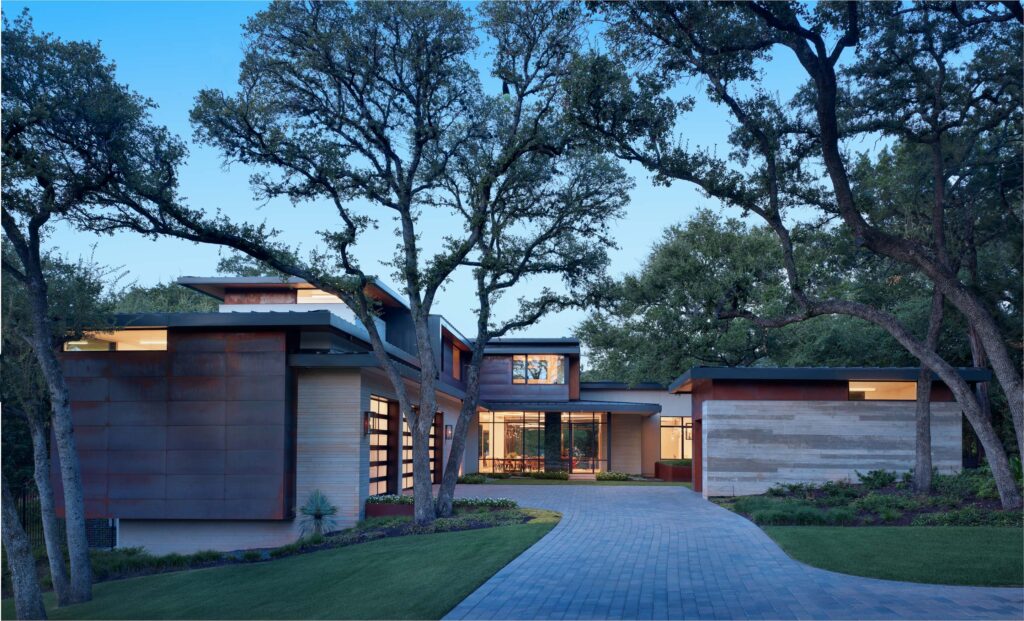 On the exterior, the two-sided negative edge pool is flanked by an outdoor lounge and a path leads to the boat house and private dock.
Created by Fern Santini, the interior spaces are adorned with artworks, including a mesmerizing piece by renowned artist Carlos Cruz-Diez in the entry as a nod to the homeowner's Venezuelan origins. In the breakfast nook, a vintage neon piece by Austin artist Evan Voyles, aka "The Neon Jungle" adds some fun to the space. In the living room, the red Lee Broom hanging chair is another gem.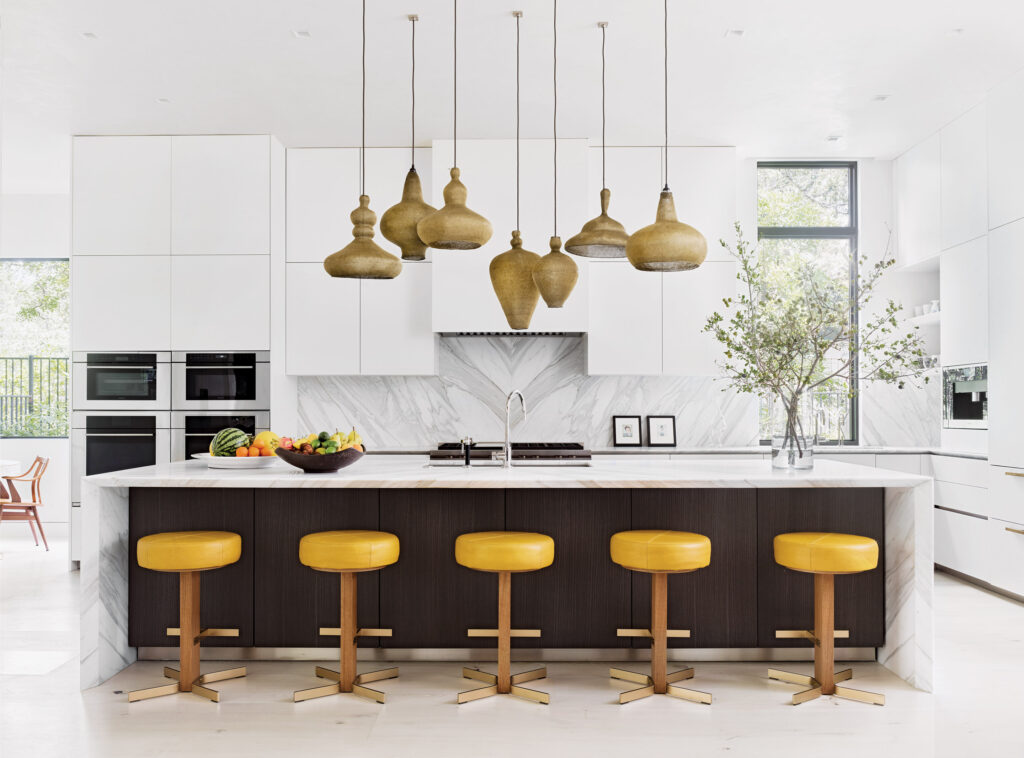 To pay tribute to Steve McQueen's Jaguar, which is one of the homeowner's favorite vintage cars, the game room bar was painted in green. The boys' bedroom also features bright colors with wallpaper that has a retro feel, chosen to continue to suit the children's taste throughout the years.
Combining elegance with playfulness, as well as functionality and aesthetic, this family home offers a visual surprise in every corner, through its architecture, decor and views.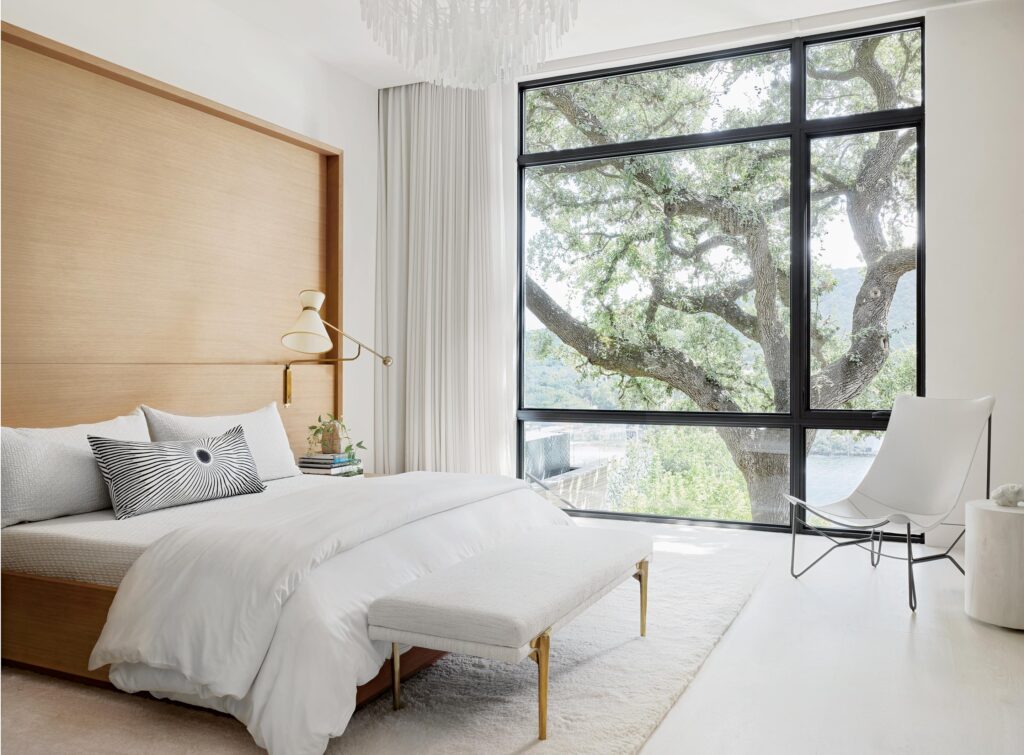 LaRue Architects
larue-architects.com
fernsantini.com
reynoldshomes.com
Photos: Casey Dunn