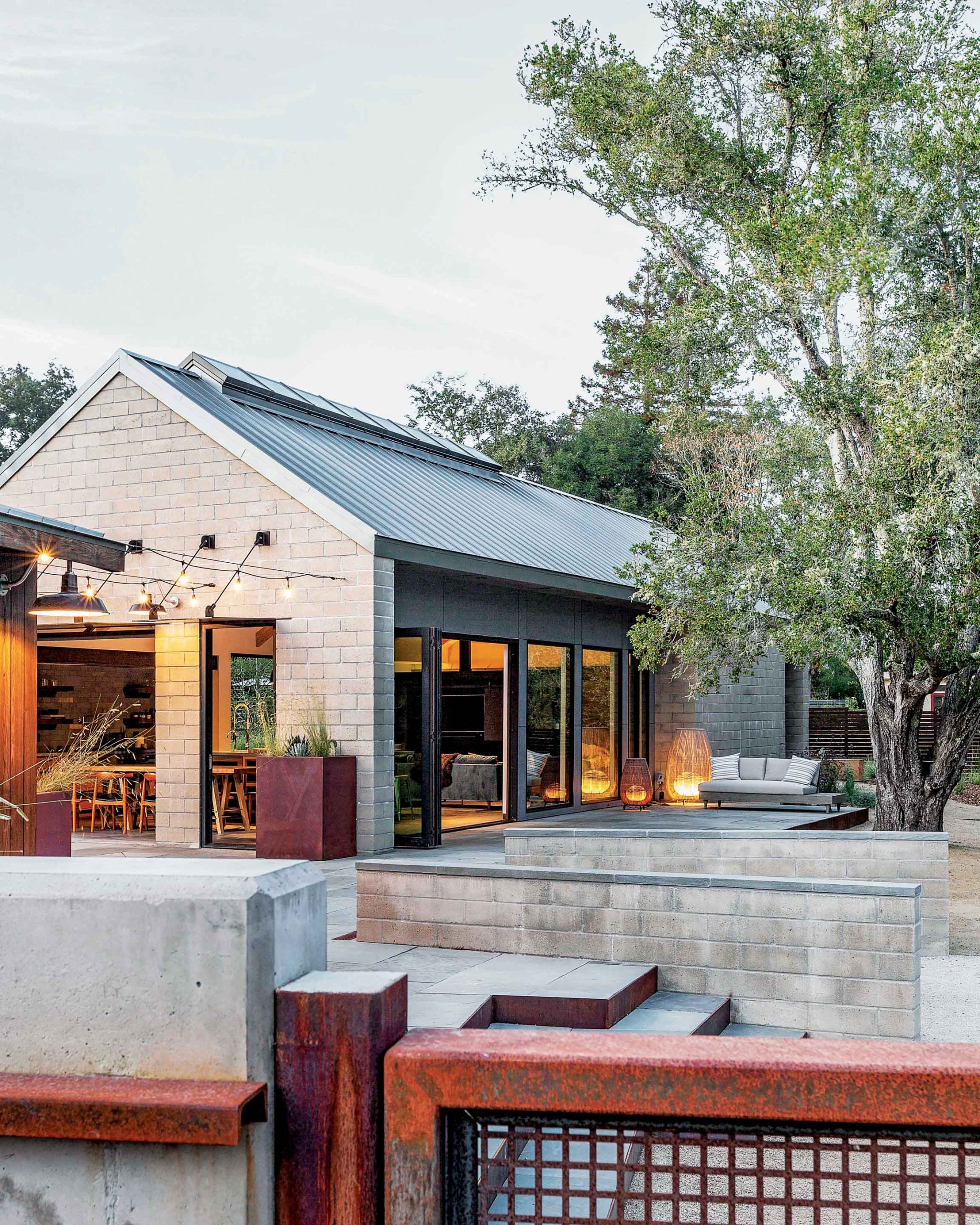 Designed by the SkB Architects for a Former CEO Who Is Also a Bicycling Enthusiast, This Dream Property Acts as Both a Refuge and a Gathering Place for Friends and Family
Lisa Picard, former CEO of EQ Office, is a busy woman. She knows, however, the importance of taking the time to rest and enjoy quality time with family and friends. Her lifestyle led her to create a true refuge with the help of SkB Architects (founded by Shannon Gaffney, Kyle Gaffney, and Brian Collins-Friedrichs). 
Her site choice was not left to chance. Proximity to the small community of Graton, California, and close cycling distance to Sonoma County and the coastline influenced her decision.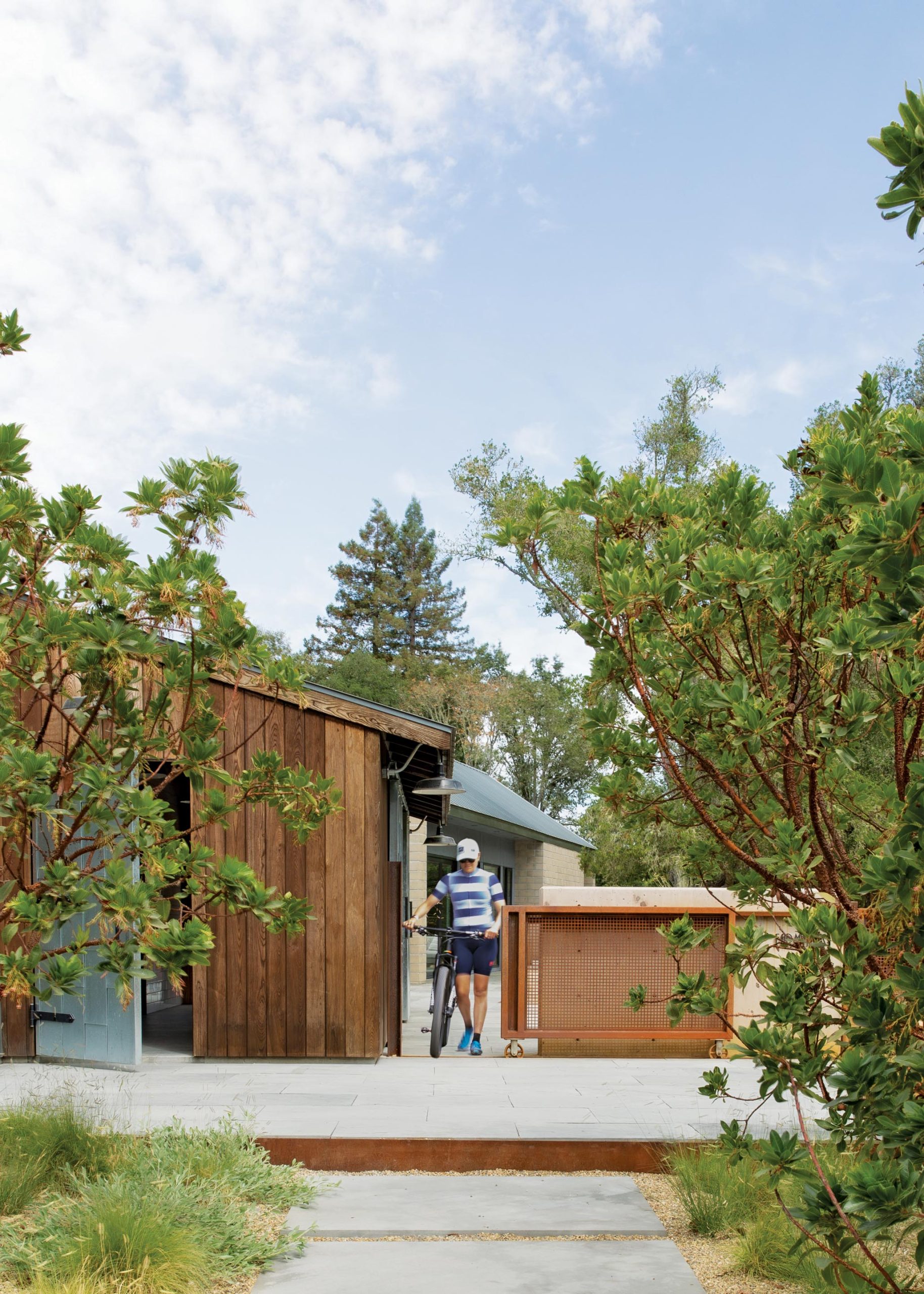 From design to construction, the project took three years to complete. Taking the traditional forms of the farmhouse and the notions of sustenance and community as inspirations, the modern agrarian-style house perfectly honors the owner's need to have a place to recharge with beautiful surroundings. Clad in thermally treated wood, the houses are joined by a central outdoor gathering area with a firepit.
"The design of the house wasn't about big architecture; it was about placing the focus on the human experience," lead designer Kyle Gaffney says.
This sanctuary can suit anywhere from one person alone to 50 people. The unique design emphasizes versatility and adaptability.
"The house doesn't have a front door," notes Kyle Gaffney. Indeed, what guests first discover is an unlocked entry gate followed by a path leading to the central dining terrace — with a community table fabricated from reclaimed redwood. "It creates an atmosphere of welcome; you're already invited in the moment you pass the gate."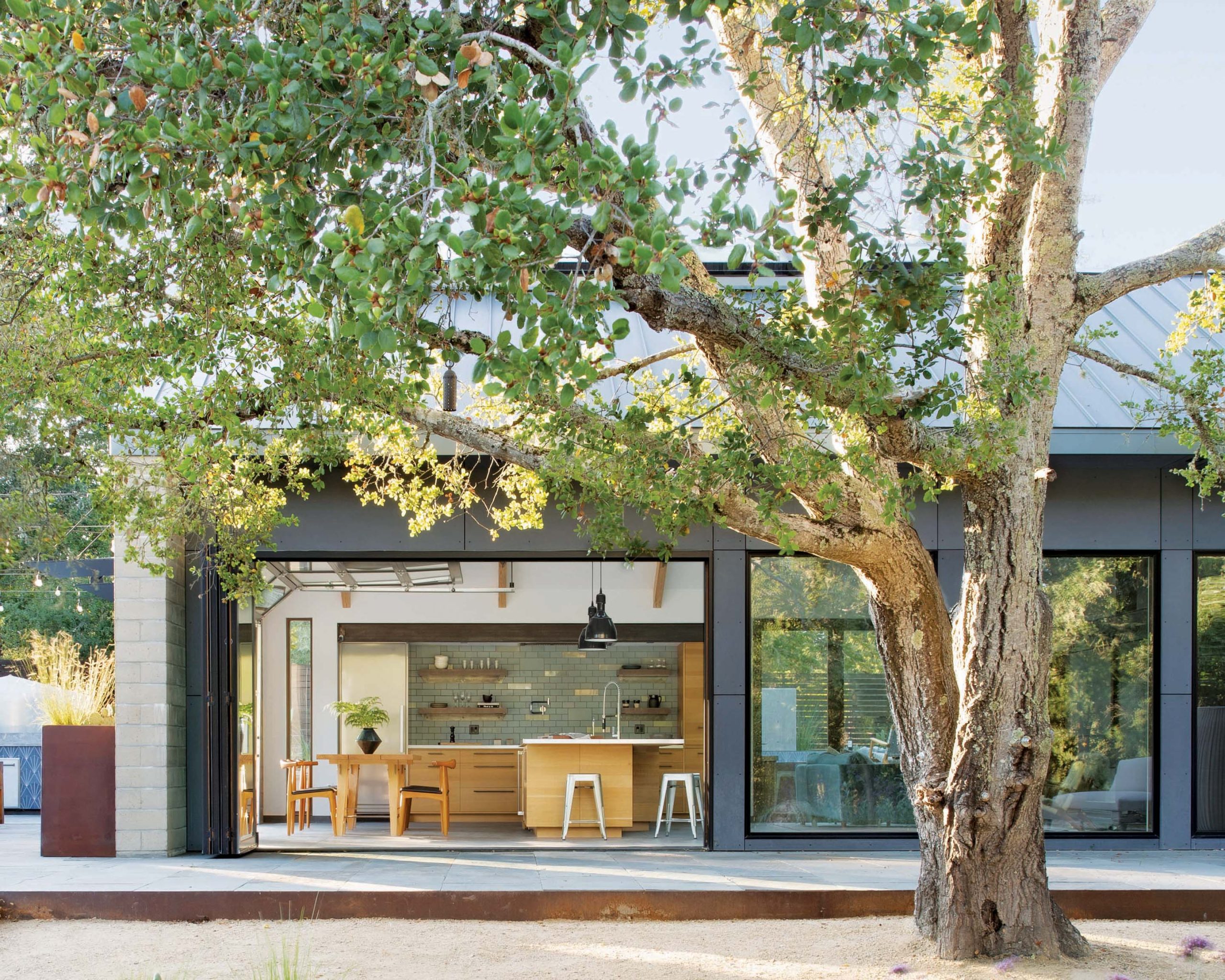 To provide cross ventilation and keep the house cool naturally, the team of SkB decided to install operable walls on either of the long sides while operable doors and the garage door are located on the short ends.
Inside, the double-height living space and primary bedroom bathed in natural light are separated by a double-sided fireplace within a custom wardrobe clad in steel and walnut, providing a high level of functionality. With the primary bath that flows right into the main space, the connection between interior and exterior is highlighted even more thanks to the outdoor shower.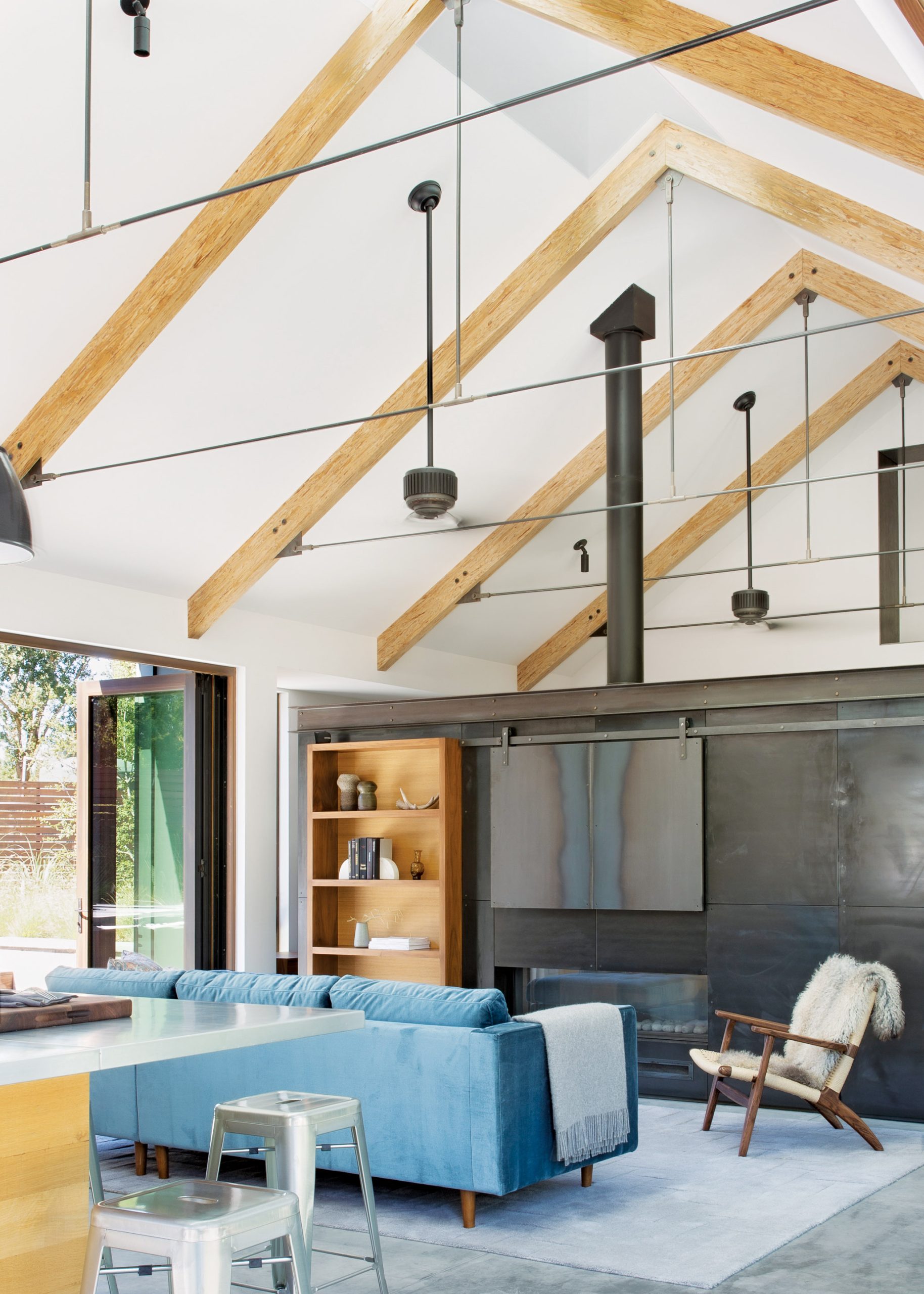 Throughout, the durable and harmonious materials—which are unfinished, an intentional choice for them to patina from their natural state over time—do not compete for attention. "There is no mystery to their makeup, simply a serene and peaceful quality that is inherent as soon as one enters the site," describes the SkB team.
"Solid walls of rammed earth blocks, fabricated from soils excavated from the property, bookend each of the structures and instill a sense of permanence, while abundant glazing ensures maximum flow of light and air."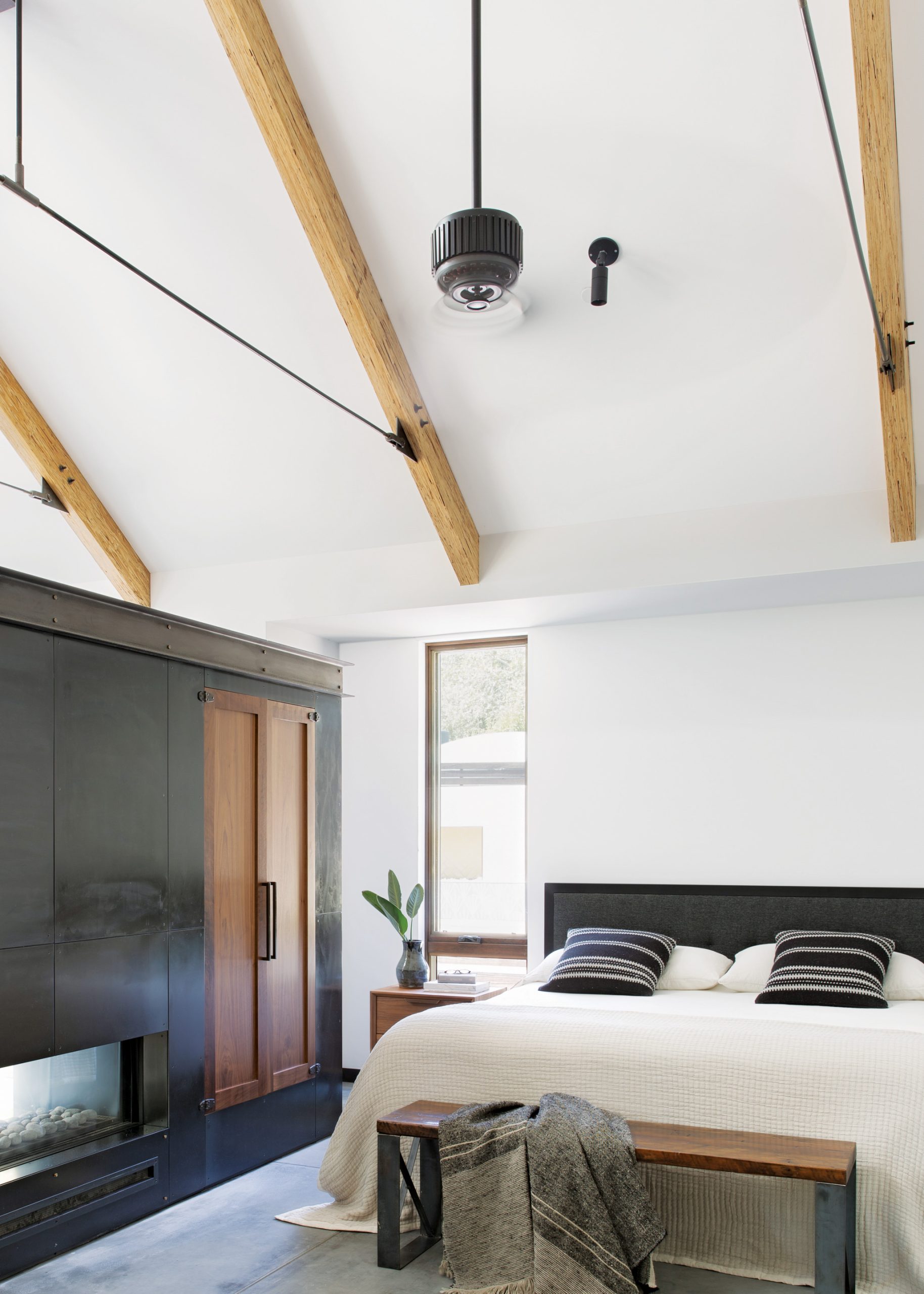 Blending with the site, the colors allow architecture and nature to become visually unified.
"The vision was to create something consciously restrained and one with the ground on which it stands," remembers Kyle Gaffney. "We mentioned to our client that the house would not be complete until the landscaping grows in. After about a year, Lisa agreed and said the place is now 'magical.'"
SkB Architects | skbarchitects.com
Images: Suzanna Scott and Hannah Rankin