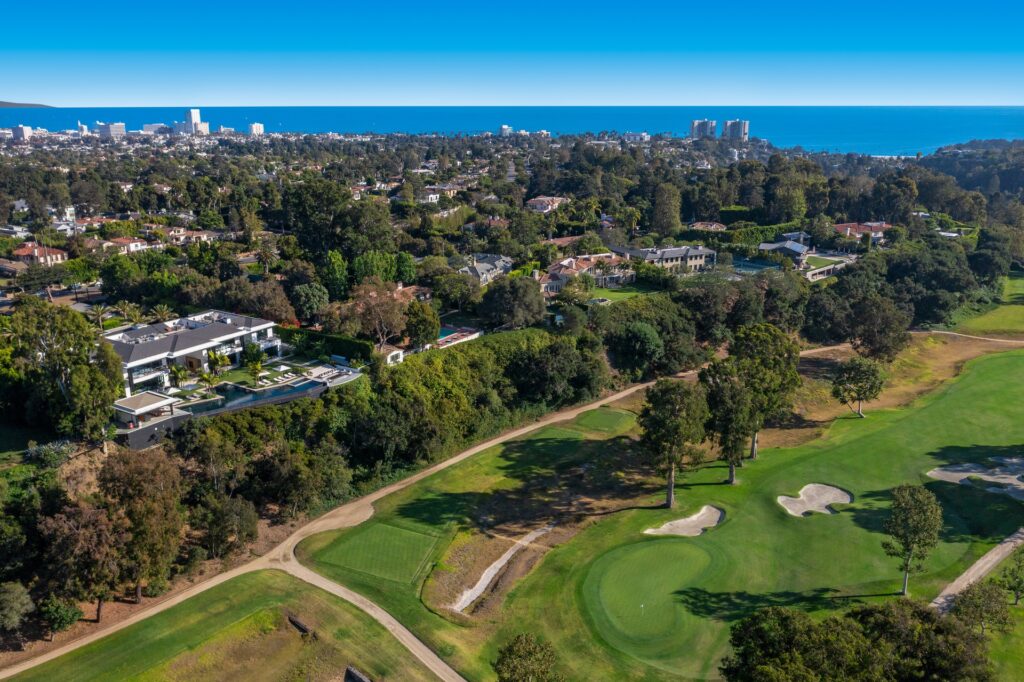 At This Palatial Westside Property, a Sleekly Hyper-luxe Aesthetic Mixes With Sweeping Front-row Views of Golf Course and Mountains
In 2019 the hyper-luxe destination firm Molori Design finished re-casting this already grand property into something other-worldly. Described by The Agency's Santiago Arana as "one of the best homes west of the 405," the residence starts with the lucky distinction of being situated at one of the best locations on the Westside.
"Over 1.6 flat acres overlooking one of the most prestigious golf courses in the world," Santiago Arana points out, "with 200 feet of frontage over the course is not a common thing to find."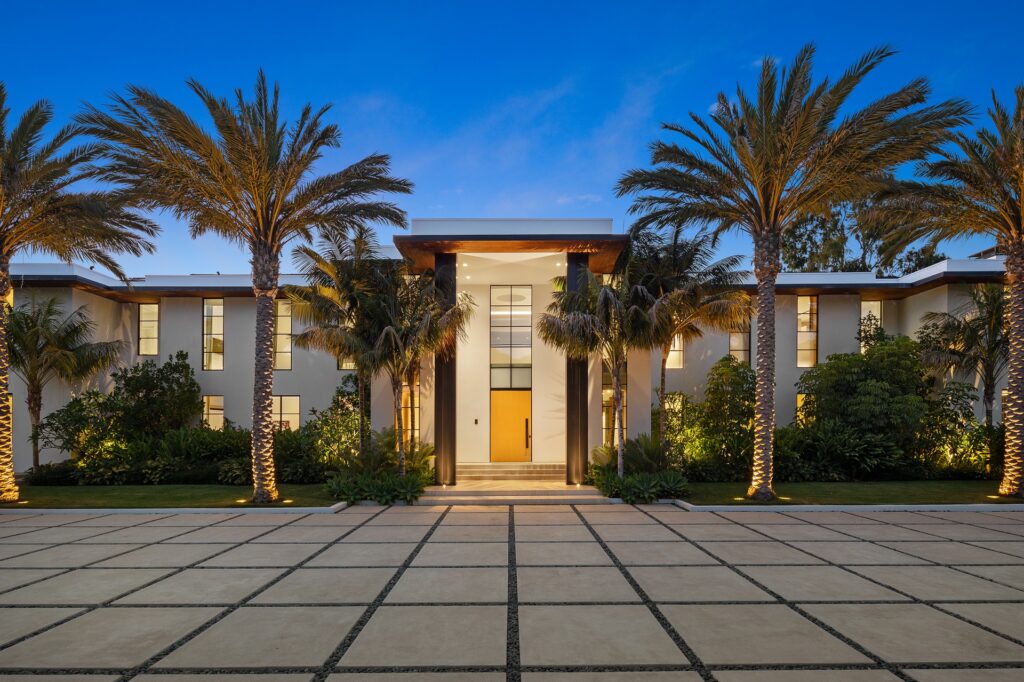 With this vivid natural landscape as its canvas, the address was then optimized by Molori's contemporary design hand. It starts at the curb of 1525 San Vicente Boulevard in Santa Monica, where stark white doors shut behind you and the journey begins—traveling along a slender runway of a driveway lit with glowing lights, and cocooned neatly behind a wall of manicured green hedges reaching high above you. The entrance is an apt introduction to the 22,640-square-foot home itself. 
Then there's a sprawling motor court, where a fleet of busy valets would be a natural sight, with room for 30 vehicles to park atop oversized suede-hued pavers. Ambiance-building features include a gushing water feature and a legion of sky-high palm trees—and then there's the 7-bedroom, 13-bathroom residence: a clean-cut, symmetrical Modernist structure with a pleasingly vertical orientation that's neatly accentuated by tall windows and overhanging eaves trimmed in exotic wood.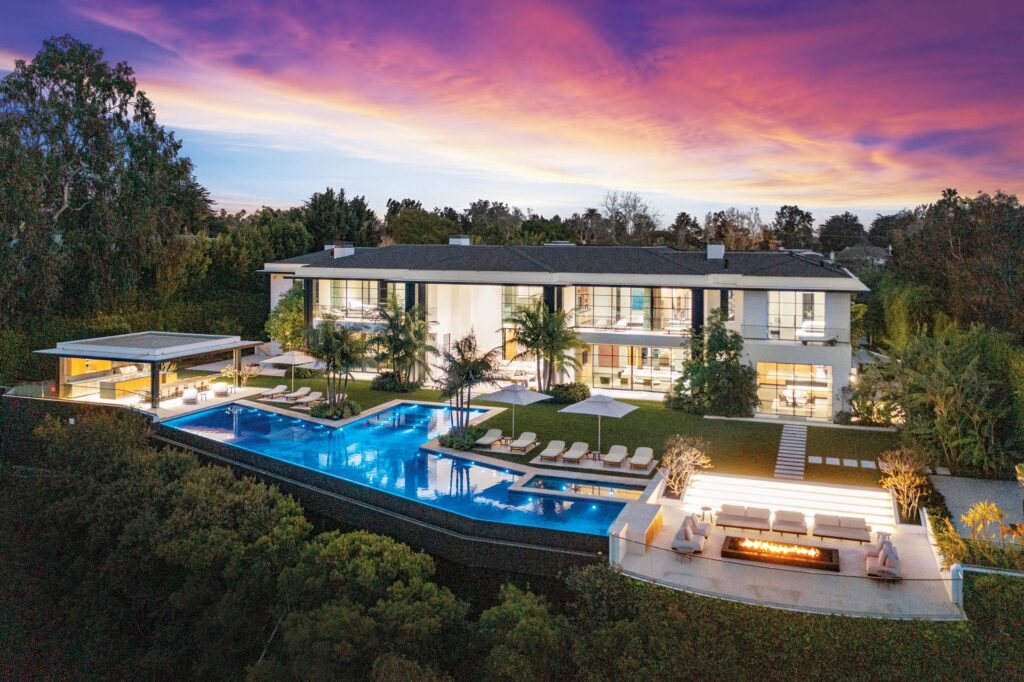 The overarching theme of the property is larger-than-life diversion, created by Molori's well-studied design imprint that feels very much like a glossy getaway resort of the globe-trotting variety.
"Attention to detail in this home is another level," says Santiago Arana. "It feels like a luxury yacht."
The hub of 1525 San Vicente Boulevard is its sunlit central lounge, soaring two stories high, where you gaze out at a paradise expanse of palm trees and brush-stroke mountain ranges. Amplifying the scene is an infinity spa and pool, appropriately scaled at over 125 feet, that appears to merge as one with the manicured green of the private Riviera Country Club course below. 
In keeping with its resort-like profile, the home contains a starry collection of features consistent with its bold scale and atmosphere. Like an indoor basketball court with spectator viewing, and a professional spa complete with a private treatment area and a king-size sauna.
A dedicated karaoke room and a plush screening room are among the entertainment amenities, and there's an elevator to transport you between floors to the home's many gathering spaces, all strategically designed to keep you connected with the hospitable Southern California climate.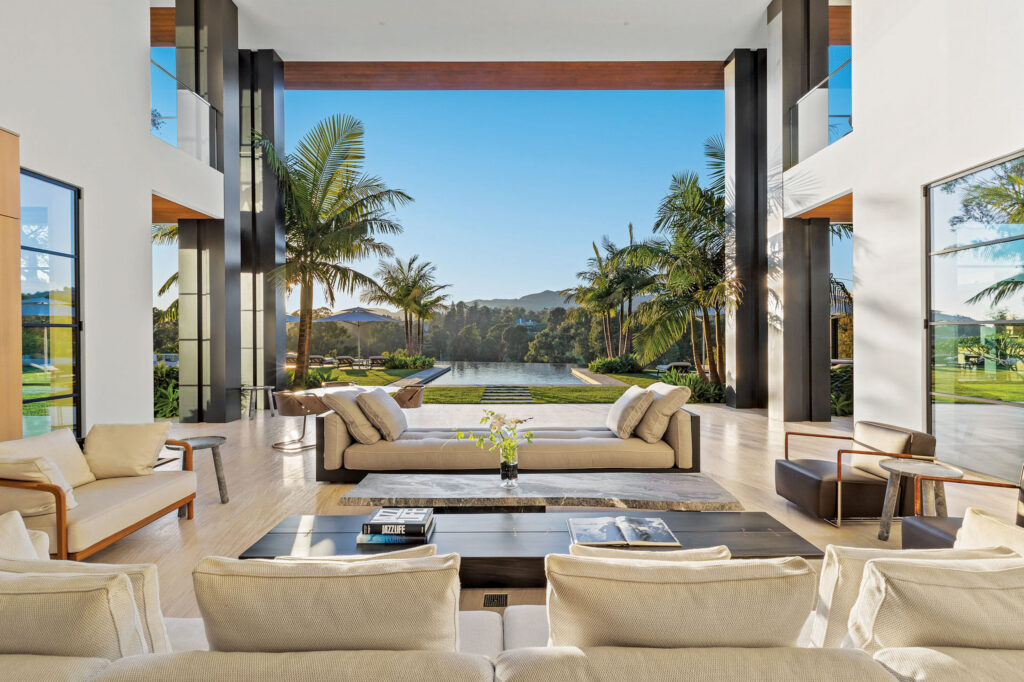 Nicely adjacent to 1525 San Vicente's central lounge, for instance, is a boardroom-like dining room with seating for 25 guests, where breezes stream indoors via a wall of glass that gives way to glowing scenes of the resort-like grounds, expertly lit after dark.
"Every corner has something to make living at this home easy," notes Santiago Arana.
Bottles can be replenished at the walk-in wine room, a dramatic space with black cabinetry and showcase lighting. Not too far away is an elegant black-on-white catering kitchen and a sleek everyday kitchen where professional-grade appliances are neatly tucked behind minimalist wood cabinetry. The cabinetry is Italian, designed by Molori, and is among a collection of one-off features created specifically for the property in collaboration with global luxury brands, Fendi and Bentley among them.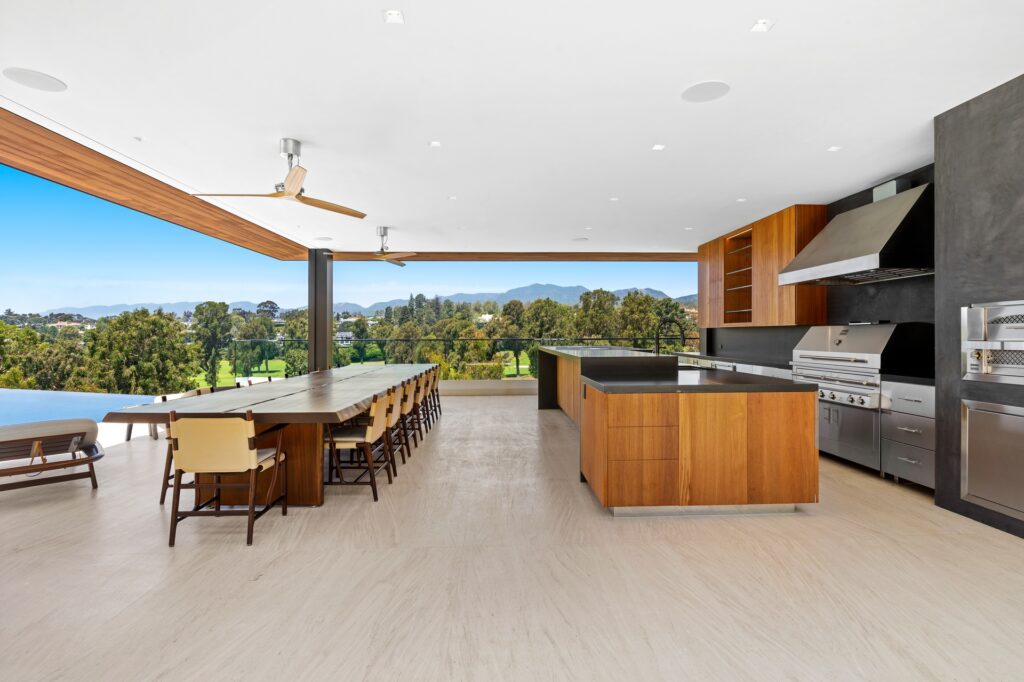 Ascend the central curved staircase to the main sleeping spaces upstairs, which include a primary suite that lives like a home unto itself. At 2,500 square feet, the size of an average American home, it's comprehensive: You can lounge in the fireplaced sitting area, pondering a peaceful green expanse with old-growth trees and blue sky, or step onto the balcony to survey the pool and cabana scenes below.
There are dual marble bathrooms and individual walk-in closets—each varied in style and, with their considerable scale and polish, akin to private getaways. Likewise, other bedrooms are designed as luxury hospitality suites, each featuring a different motif and equipped with niceties like heated floors and blackout curtains.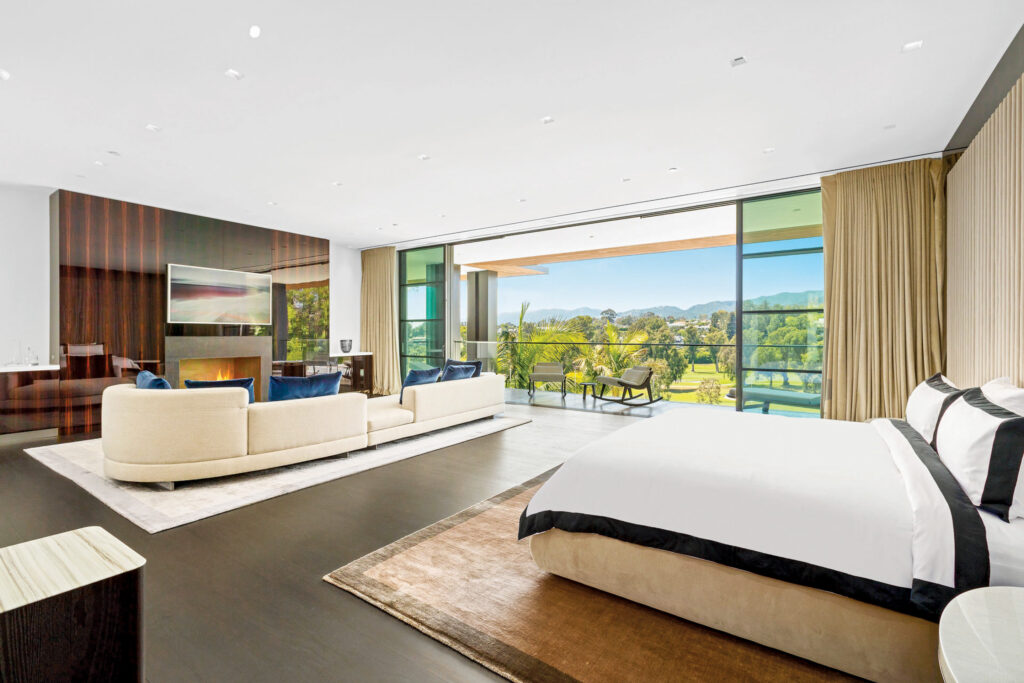 As richly suave and wants-for-nothing as the interior, the exterior has been designed to be its equal partner. The grounds are free-flowing and open, yet carefully shrouded from the neighbors.
"The privacy is amazing and the home itself is unassuming from the street," says Santiago Arana. "It also has great security."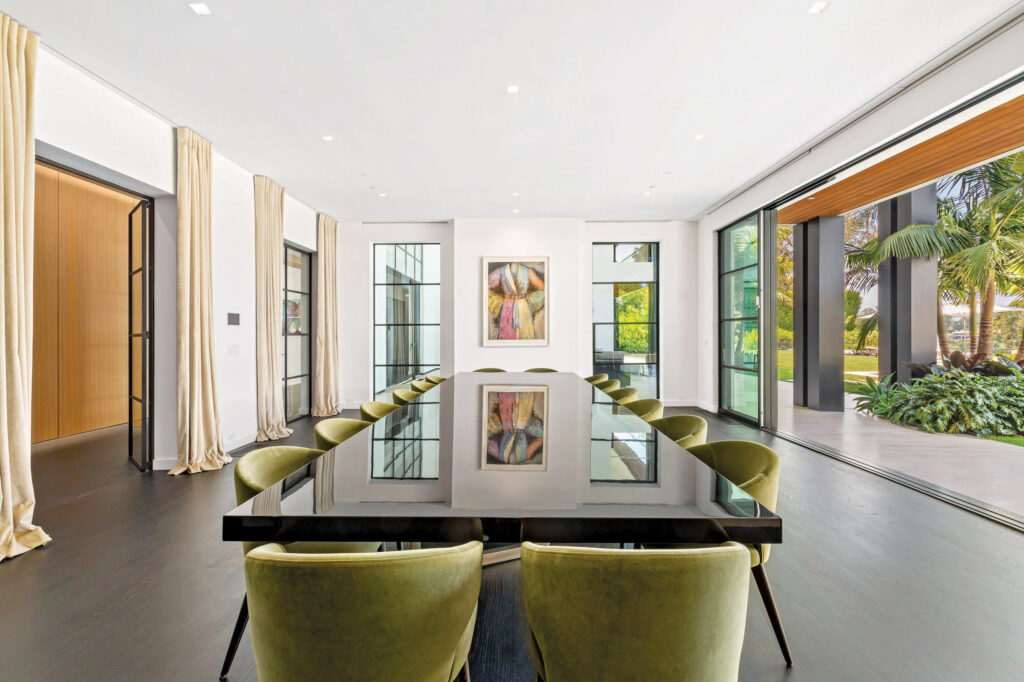 The covered, airy cabana is an inviting heart of the exterior. Here you can gather with friends on sunny pool days, and set out fresh specialties from the pizza oven or the double Korean barbecue along the generously sized island. The cabana's kitchen is elegant and all-inclusive, down to multiple refrigerators and an enormous gleaming grill, and gives needed flexibility to your hospitality, which can range from casual family meals and big al fresco lawn fiestas to a formal dinner party at the graceful wood table with seating for 16.
Notable is the property's central location, which is convenient to reach main destination points on the Westside. Brentwood Country Mart, for instance, is less than 5 minutes away by car; so is Pacific Coast Highway. You can cruise to Palisades Village in downtown Pacific Palisades in 10 minutes, and reach Santa Monica Airport in 15 minutes.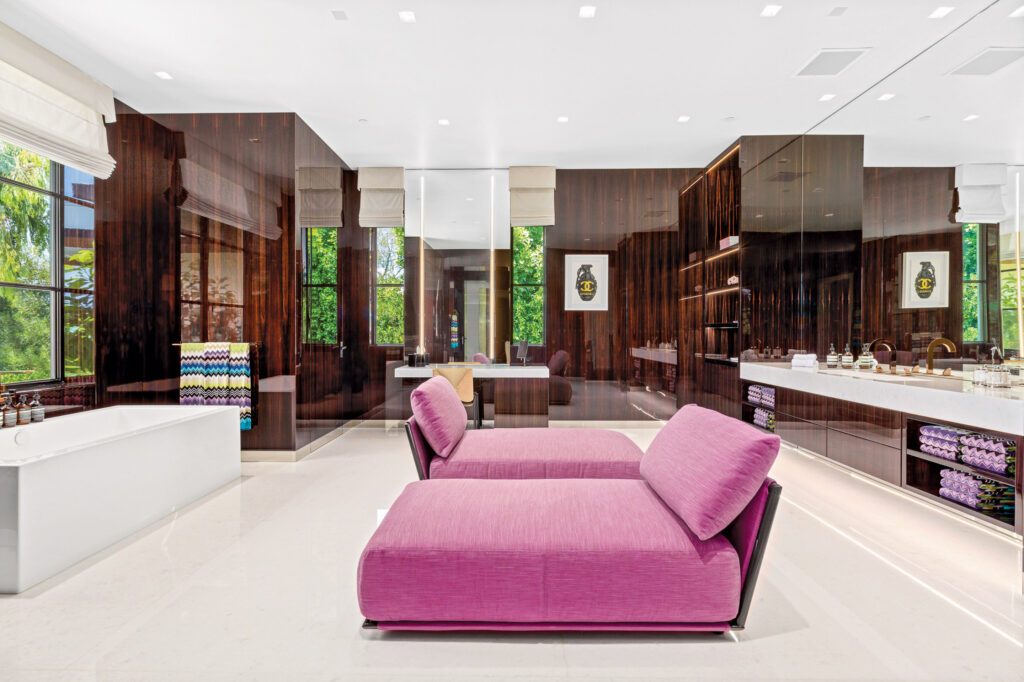 Back at 1525 San Vicente, after the sun has set over the sweeping canyon landscape, the grounds are transformed by music and lighting, amplifying this glamorous, only-in-California scene: Orange flames flicker in the firepit, the breeze rustles the green palm fronds along the edge of the serene pool and night stars twinkle above in the sky. You are indeed transported.
Santiago Arana | 310.926.9808 | DRE# 01492489
The Agency
List Price: $69,000,000
Photography Courtesy of The Agency