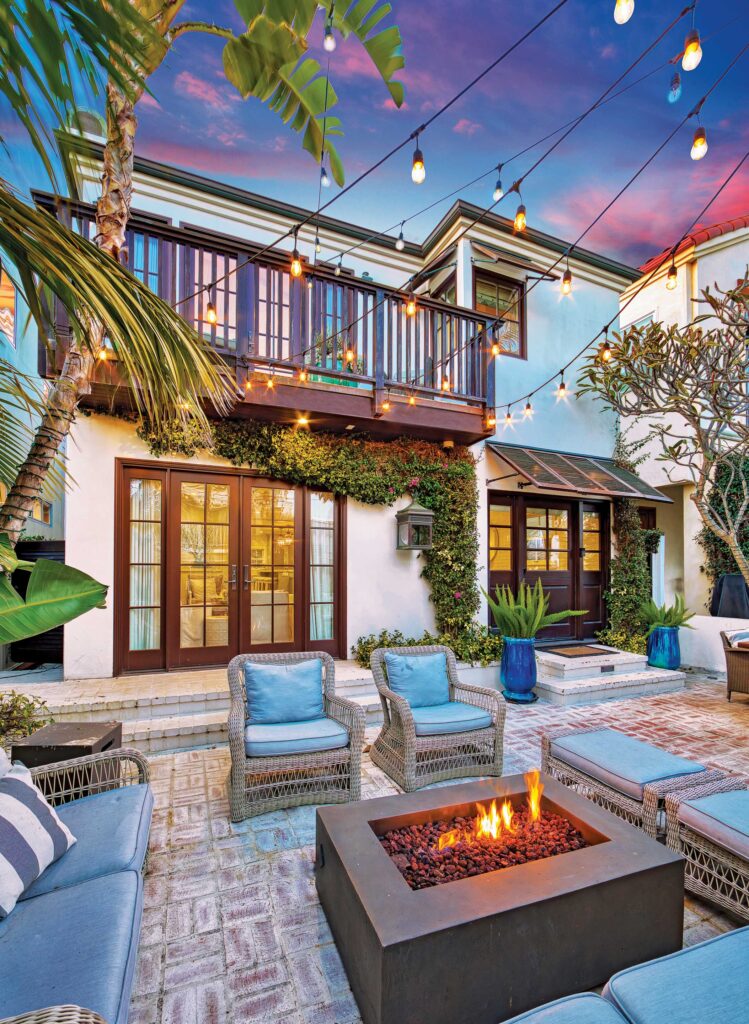 Manhattan Beach walk streets are charming places to live—neighborly and unique to the area, with Mediterranean landscaping and blue Pacific Ocean views nearly always in sight. On 9th Street, just a 5-minute stroll from the sand and tucked between Crest and the Valley-Ardmore green belt, the scene is particularly inviting. The walkway is wide and even, with a charming mix of new and vintage coastal homes, and gated yards buzzing with life.
"People love living here for the social dynamic of the street," says real estate agent Alexandra Gauss of the Ozar & Gauss Real Estate Group at Strand Hill, who herself previously lived on the block, describing get-togethers ranging from annual chili cook-offs to holiday parties and off-the-cuff gatherings happening any night of the week.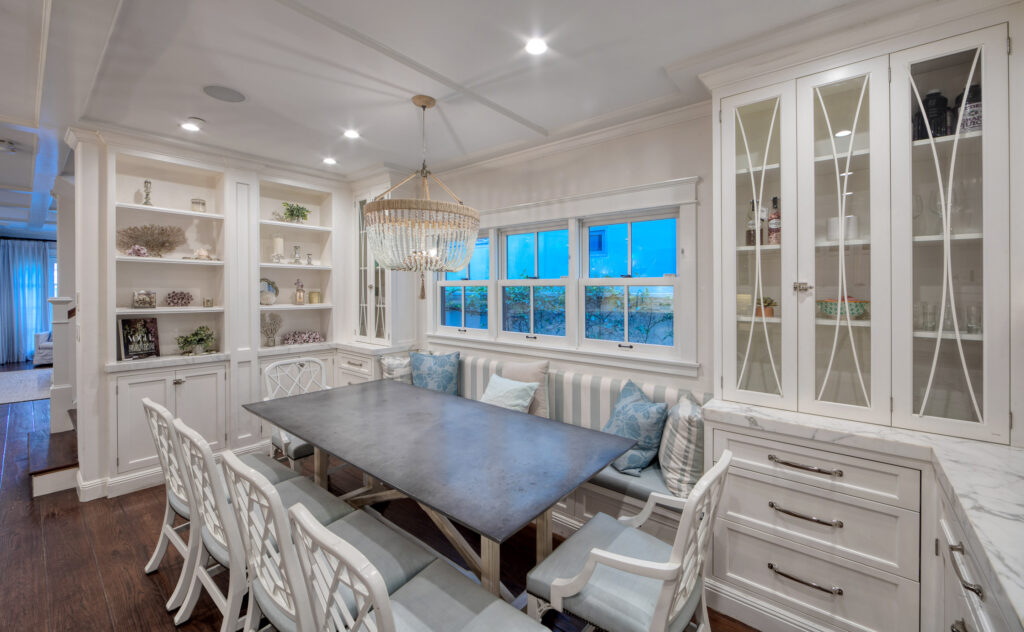 "With close to 40 kids living here, it feels like a big family, and is a lot of fun."
The large, relaxed coastal residence at 413 9th Street is an ideal match-up for this welcoming hub. Originally built decades ago, the home was taken down to the studs a dozen years ago and re-cast as a bright coastal home—beach-elegant and remarkably user-friendly—that spans three levels and is approximately 3,800 square feet, with a smartly engineered 6-bedroom, 5-bathroom floorplan.
413 9th Street was completed by Waterleaf Interiors, whose offices are within walking distance of the home. The 9th Street designers, known for their clean-cut coastal aesthetic, deftly wove elements of the original home into the new one—resulting in a freshly elegant atmosphere with a well-seasoned soul.
"A lot of the charm from the existing structure was incorporated into the new home," Alexandra Gauss points out.
Brick walls were painted white, vintage molding was refreshed and richly grained wood floors were re-finished; the latter casting a rich glow throughout the home as beach light funnels in through windows and French doors.
The front entrance is a wide Dutch door, divided so the bottom half stays shut while the top is open, and keeps the interior connected to the peaceful courtyard. This is the fresh-air heart of the home—with spacious dining and lounge areas that are very much meant for everyday use. Bordering the courtyard is a lush shroud of old and new-growth trees and shrubs that are aesthetically pleasing while serving as a moat of sorts between the home and the walk street.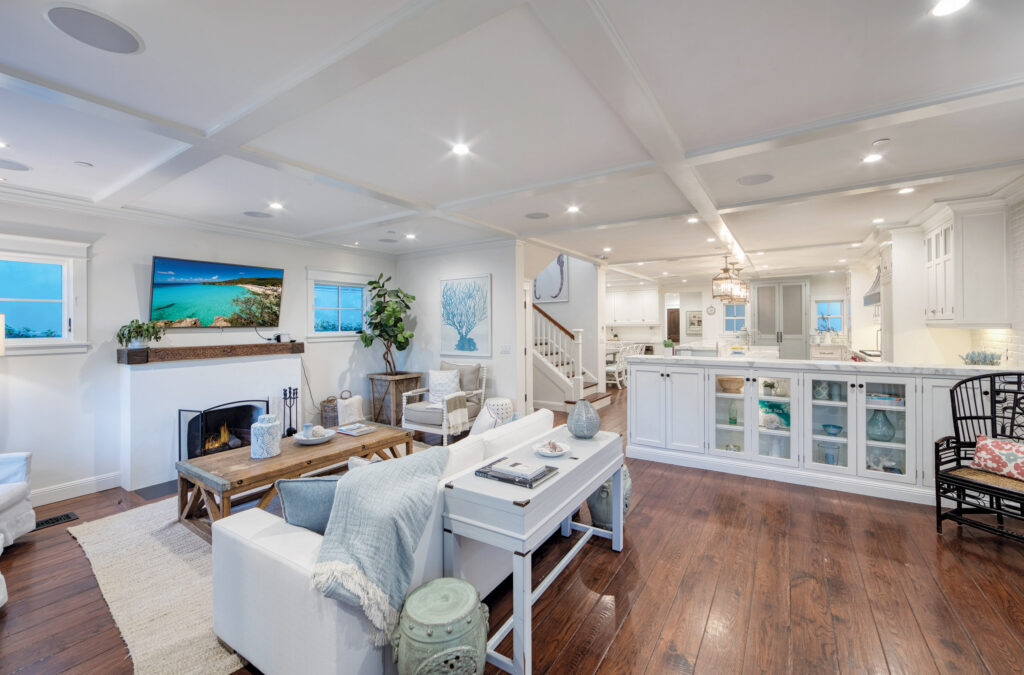 "It's a great entertaining space with an easy flow from the house to the street," remarks Alexandra Gauss. "You can get the best of both worlds if you want privacy, but also want to open up to the street."
In true Beach Cities fashion, entertaining is an indoor-outdoor affair served by having public gathering spaces situated on the ground floor. You can step through open French doors into the elegant living room—white-on-white with coffered ceilings and a glowing fireplace—that flows into the spacious marble kitchen, where a gold-edged trio of custom Paul Ferrante mini-chandeliers hangs over an island topped in veiny Calacatta Gold. A Sub-Zero refrigerator and a commercial-grade Wolf range with 6 dual-stacked burners are among the conveniences in this central space, anticipated as a popular gathering space.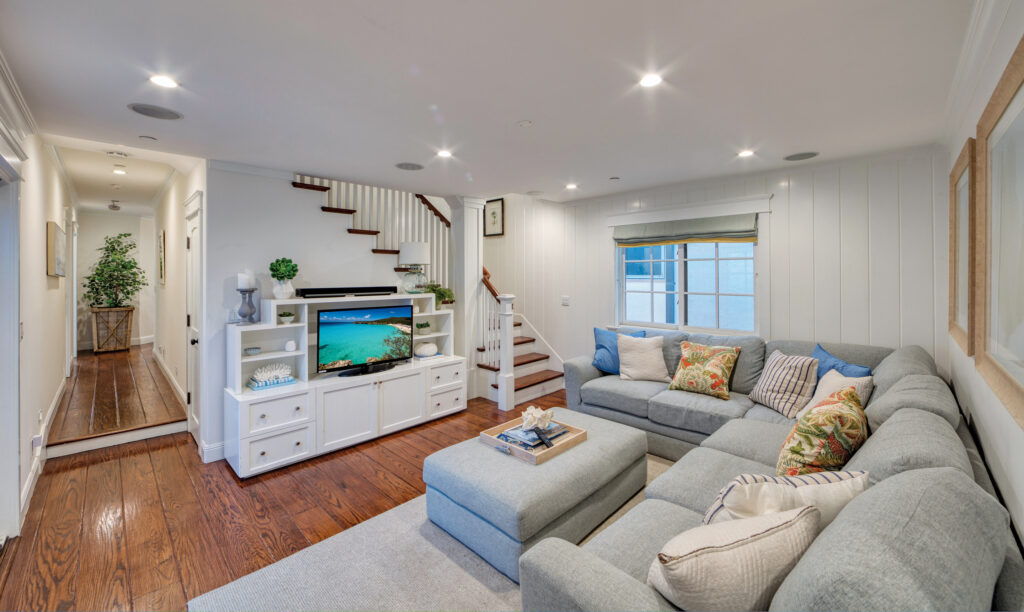 "It's really easy to welcome guests as they come in," points out Alexandra Gauss, "because they step right into the entertainment area and kitchen."
Stroll further and one finds a sunny alcove study nook and a French door leading to a private side patio with built-in seating, an outdoor TV and a gleaming barbecue area: two thoughtful, unexpected features, among many others that are found in this house.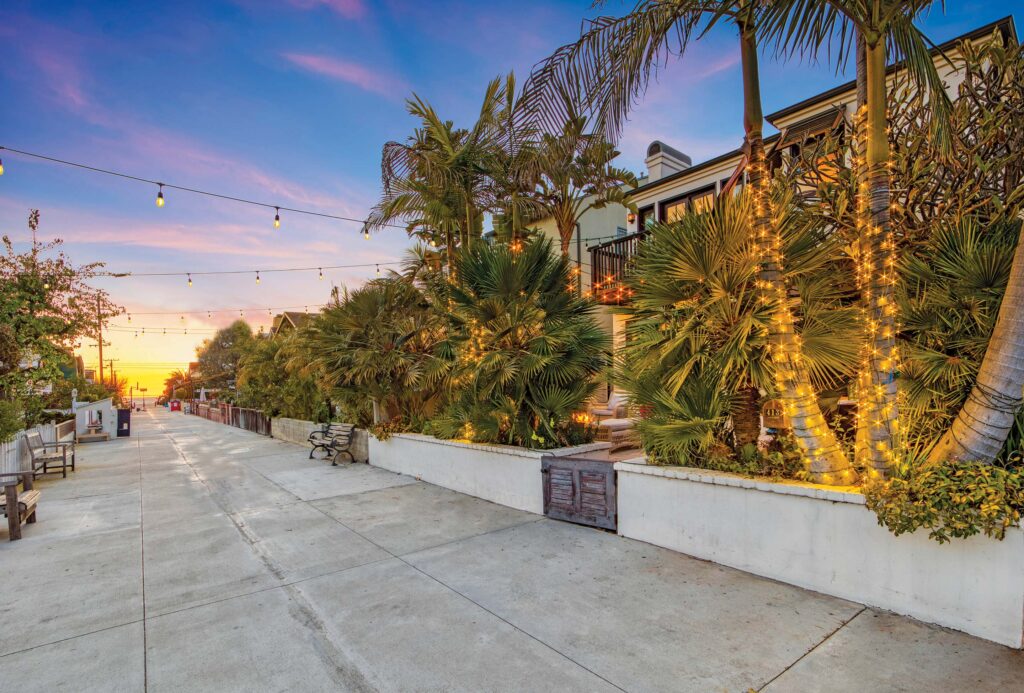 For starters is the well-spaced ease in which a half-dozen bedrooms are organized among the top two floors—two on the top floor; and on the middle floor, three bedrooms, plus an airy primary suite with a vivid turquoise tiled bathroom and a quaintly tiled balcony where you overlook the action on the courtyard and walk street below.
On each floor, sleeping spaces are distinguished by distinct design themes and neatly obscured practical details, from tucked-away storage spaces to a chilled refreshment station hidden in hallway cabinetry. And each level features pauses—comfortable gathering spaces and open-air balconies where people can spread out or meet up as they wish—that give 413 9th Street its uncrowded flow.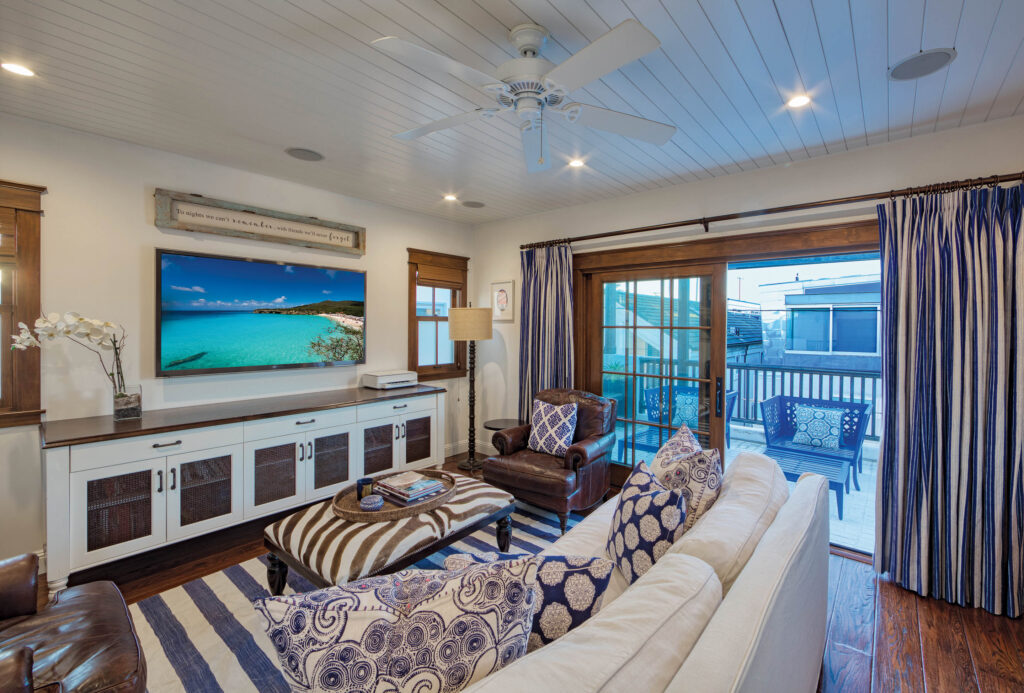 "It's rare to find this many bedrooms in a Sand Section lot," explains Alexandra Gauss, "and in this home, none of them feel tight."
User-friendly too is the home's location, tucked in a relaxed yet central swath of downtown Manhattan Beach. You can stroll or bike to boutiques and fine dining within a minute or two; pick up groceries at the local Vons, or cruise to other points in the Beach Cities via the greenbelt located at the end of the street. Back on 9th Street, you can tuck into your own private world, elegant and sunlit, and filled with myriad spaces to think, dream or gather with others.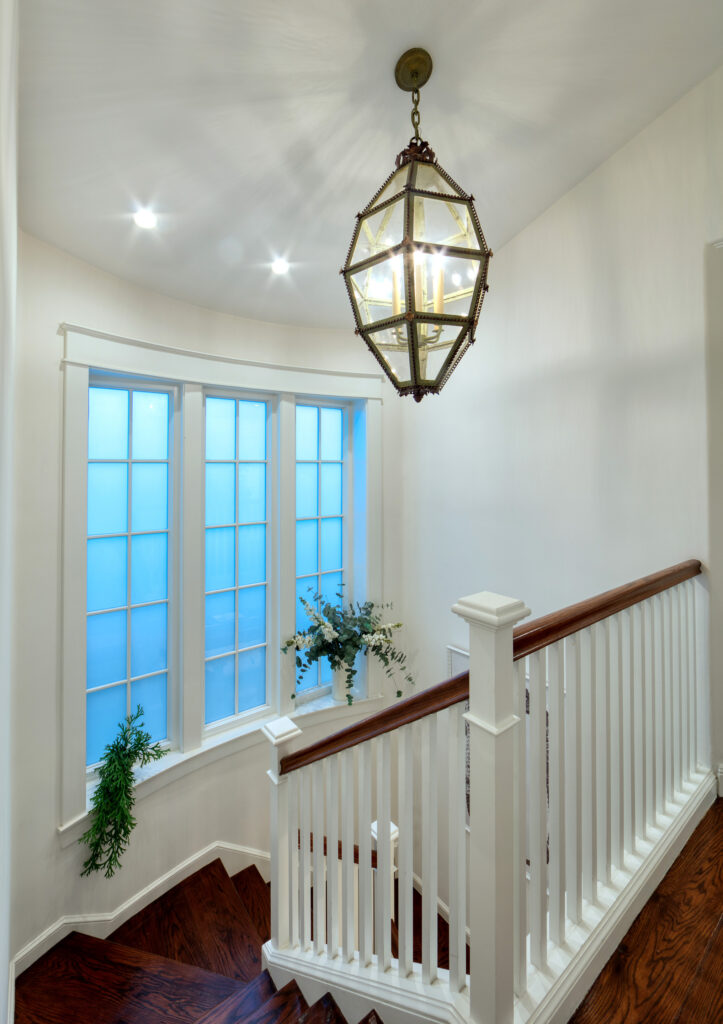 "Every inch was meticulously designed, striking the perfect balance between function and fun," says Alexandra Gauss of 413 9th Street. "It's a great place for families with young or older kids, or those with extended family. And those who like to entertain."
A home, in other words, designed for all.
Alexandra Gauss | 310.418.0869 | DRE# 01426014
Jennifer Ozar | 310.966.0154 | DRE# 01912309
Ozar & Gauss Real Estate Group | Strand Hill
List Price: $6,695,000
Photography by Paul Jonason