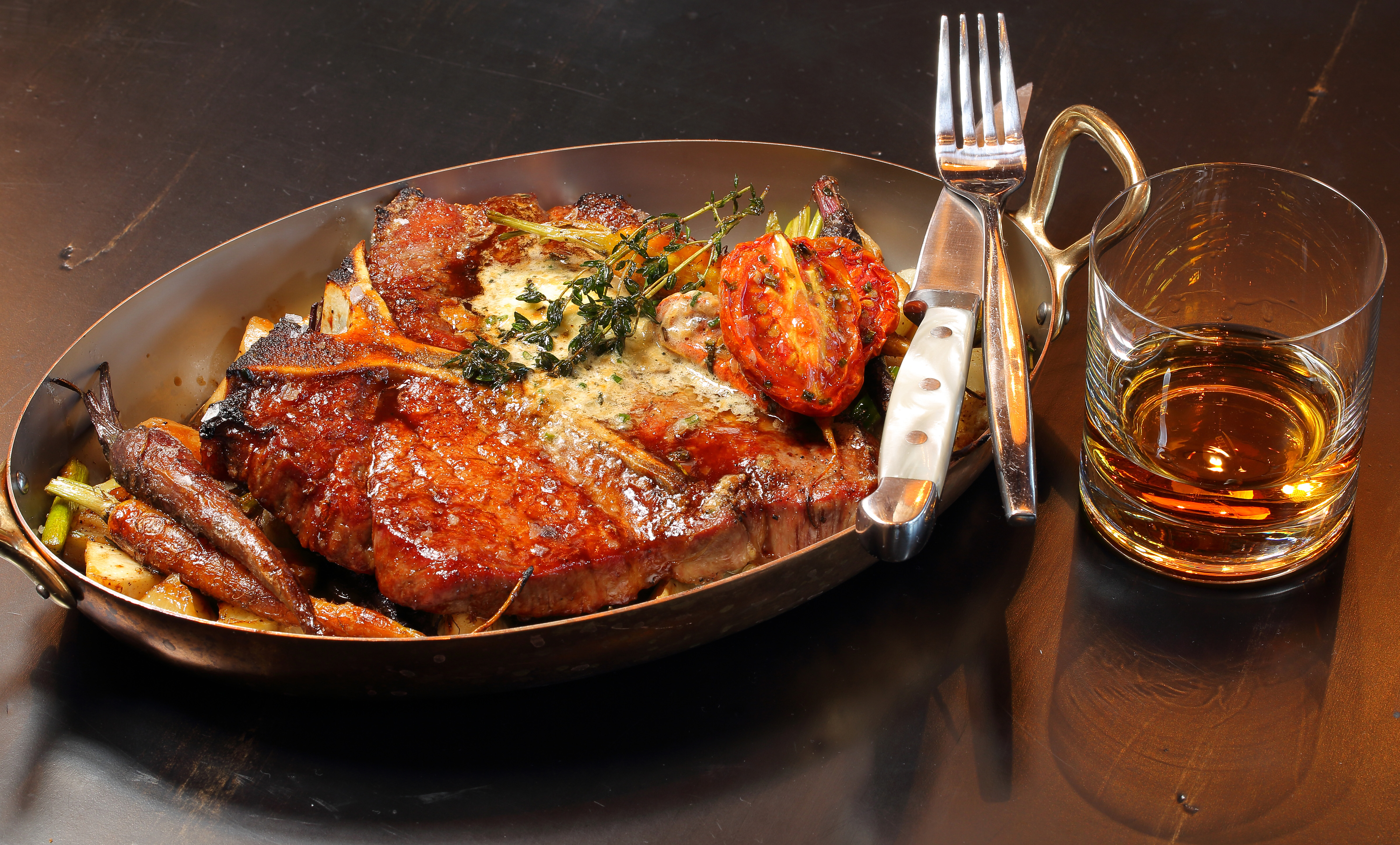 Steakhouse Revival
Steak & Whisky raises the stakes in Hermosa Beach
WRITTEN BY JENNY PETERS
When restauranteur Jed Sanford and his partner, chef Tin Vuong, considered opening a steakhouse in Hermosa Beach, they knew they'd surprise many. For a traditional place like Steak & Whisky isn't exactly the type of fare that had been topping the duo's South Bay dining docket for the last three years. The pair, whose company Blackhouse Hospitality Management is known for such South Bay spots as Abigaile, Little Sister, Dia de Campo, Wildcraft and Ocean Bar & Lounge, is usually associated with edgier concepts.
"My first place was Abigaile, where all the punk bands used to live," says Sanford, sitting ensconced in a comfortable leather-upholstered booth at Steak & Whisky while sipping a glass of classic Napa Cabernet. "This is kind of doing the opposite, something really high-end … People love the crazier things we've done, but sometimes doing clean, classic food is important too."
Once the partners acquired the space on Pier Avenue formerly occupied by Hibachi, it took a year to re-imagine it as Steak & Whisky. "We wanted to cover something that was super traditional. Something that's comfortable for people … Just really stripped down, back to simple, classic cooking," Sanford explains. "We wanted to kind of go back to an older period, " he continues, referencing the early decades of the 20th century—that "Central Coast of California cattle ranch meets the ocean" era. This, Sanford adds, along with Nucky Thompson's place in Boardwalk Empire, a show he loves, inspired the concept. "Something about old-soul places resonates with me, and Tin, a lot."
And with Steak & Whisky's soft lighting, exposed brick walls, dark wooden bar, leather seats and plush booths, Sanford has succeeded admirably in creating that precise feel. The food is a success too, as Vuong has joined forces with former Tavern on the Green chef John Shaw, offering luscious 30-day dry-aged prime beef (the porterhouse is a thing of true beauty), Japanese Wagyu ribeye, Duroc pork chops and more, all accompanied with classic sauces like béarnaise or peppercorn.
Plus, the culinary duo is also cooking up a few less traditional items. Sanford says, "We're doing certain things a little differently … Like the Ham Hock Ravioli is a little different than what people normally see; the way we do the Lamb Pot Pie is unique, and we have things like sweetbreads on our menu. The idea is to give diners some interesting dishes, and some classics as well. It's not about showing off, it's about just being good."
The whisky element shows off some with a massive bar stretching to the ceiling, stocked with top-shelf whiskys from around the world. With styles ranging from traditional Scottish, American and Canadian single malts to the latest from Japan, Sanford proudly states, "We have some wonderful whiskys from some very interesting places." Look above the bar to see ten whisky lockers, where regular patrons can store their own special bottles. The restaurant also has an extensive wine list, including a selection of rare finds, perfect for a steak pairing.
Go There
Steak & Whisky
117 Pier Avenue
Hermosa Beach, CA 90254
310-318-5555
SteakandWhisky.com
Related Post
A food truck with royal roots rolls into Los Angeles with fresh handmade pasta Written by Joclene Davey | Photography Court...
A purveyor of fine cheese parlays his passion into a new shop Written by Joclene Davey | Photographs: Tom Cocking Courtesy ...
Captain Kidd's keeps its decades-long reputation for the freshest seafood in town, served in a down-home harbor atmosphere Written by Cons...