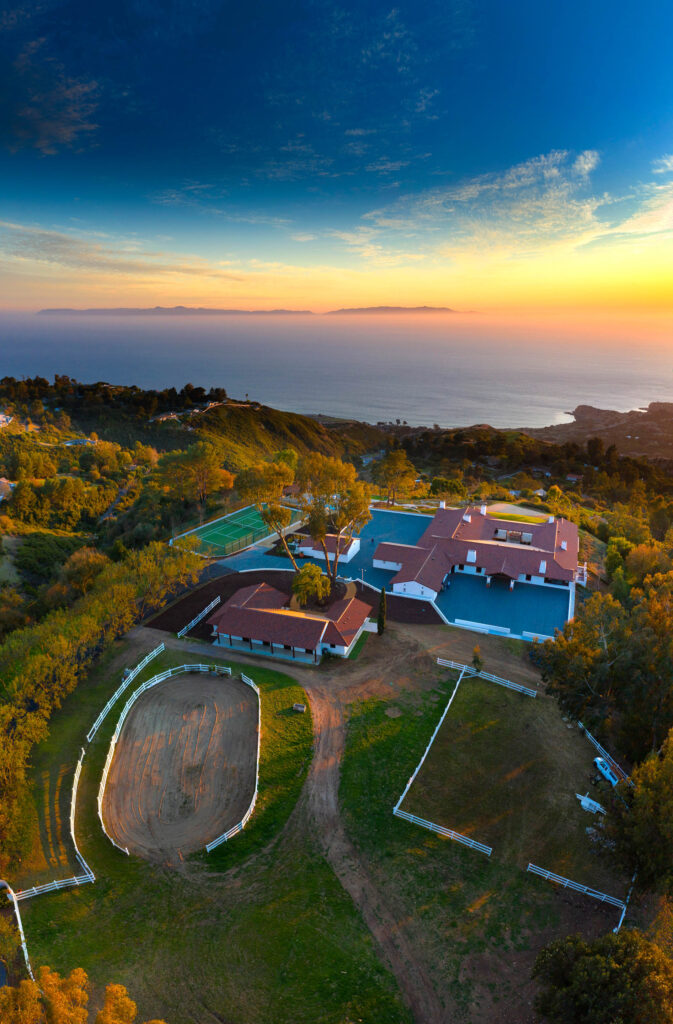 Southern California and the Spanish Colonial Revival estate fit hand in glove. With deep roots in this region's history, the architectural style is loaded with design features that create a wonderful unison between its stylized interior and an uplifting exterior landscape. These homes create a familiar and romantic sight when encountered, particularly in coastal communities.
Head to Rolling Hills, the gated private community atop the Palos Verdes Peninsula, and one meets a rare find: a bona fide equestrian estate, spanning over 10 acres and built in the authentic Spanish Colonial Revival style, as well as brand-new construction, with a luxurious interior that offers well-crafted design spins on a classic genre.
"It's one of the most premier lots in all of Rolling Hills," real estate agent Neil Chhabria says of the property. "It's located on Crest and surrounded by other comparably-sized properties."
The property's introduction first happens along its meandering driveway where one is flanked by lush green trees while majestic ocean views rise in the background. Then the grandeur of the crisp-white, clay tile roof estate comes into focus, complete with a spacious five-stall barn, a tack room, a feed room, and a riding arena with two paddocks.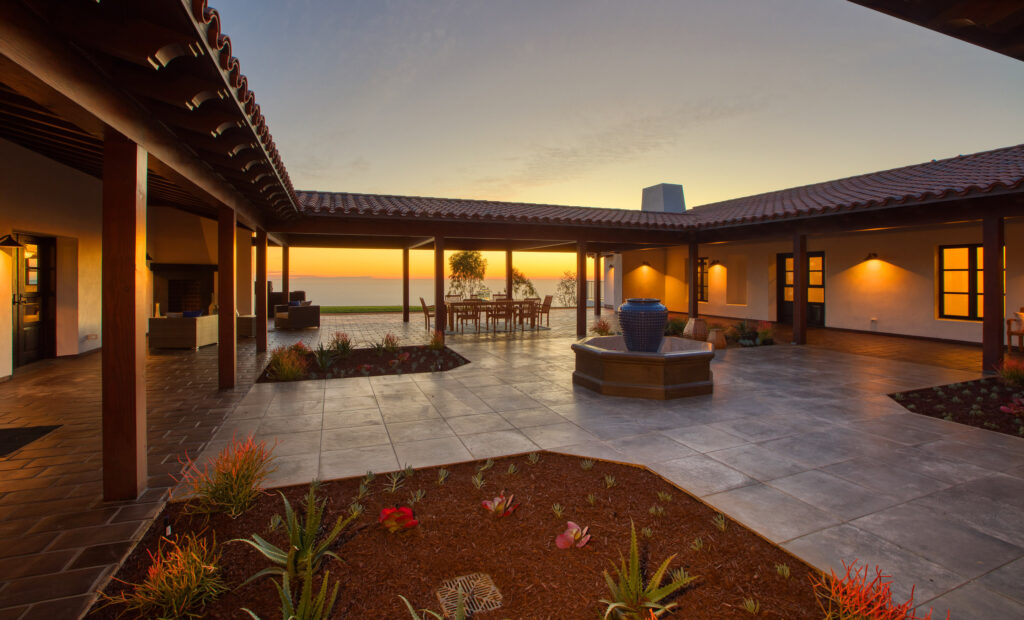 Wander along the property, delightfully even in slope and therefore a pleasure to navigate, and one finds other luxuries, like an alfresco sunning deck, an oval swimming pool, and a tennis court. One imagines evenings spent lounging under the pergola with the company of friends and a crackling fire nearby. The otherworldly atmosphere of this sunny, top-of-the-world spread heightens everything here.
"It feels like you're somewhere else in the world," Chhabria says of the property. "It's a classic ranch estate—but with ocean views."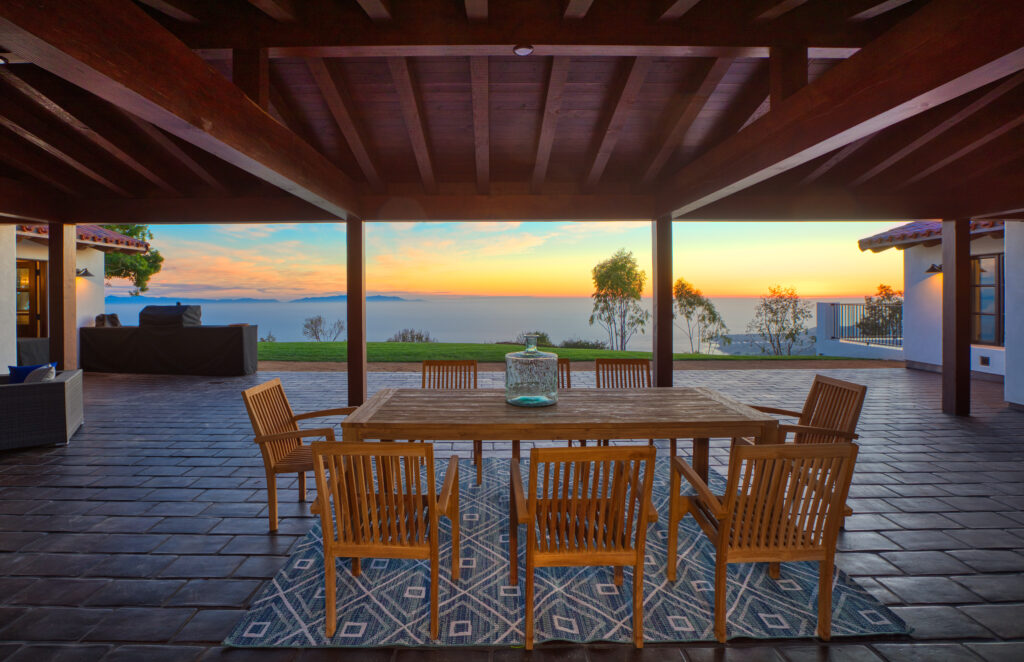 To create 17 Crest Road East, which is approximately 8,900 square feet in size, the owners enlisted the preeminent designer of Spanish Colonial Revival homes, architect Michael Burch. Among the many accolades of his firm are three Palladio awards, a prestigious U.S. prize given annually for excellence in classical design. Two elements were central to the design of the home: the view, and the interior courtyard. For the first, sweeping views were optimized by orienting the home and its main spaces around a three-pronged bounty of perspectives; miles of dramatic California coastline, Catalina Island, and swaths of the Pacific Ocean so vast one might forget they're living on the mainland.
17 Crest Road East's interior courtyard, or gallery, provides a protected place to experience the wide-perspective ocean view, Burch's firm points out. The house, which spans five bedrooms and 9 bathrooms, is designed around it and links together rooms via its long, covered corridors. In classic Spanish homes, this feature (courtyard and corridor) served to provide fresh-air ventilation throughout the home. Opening onto the sunny, manicured courtyard, the corridors function as sheltered passageways and, in this home, have been designed as elegant, contemplative spaces.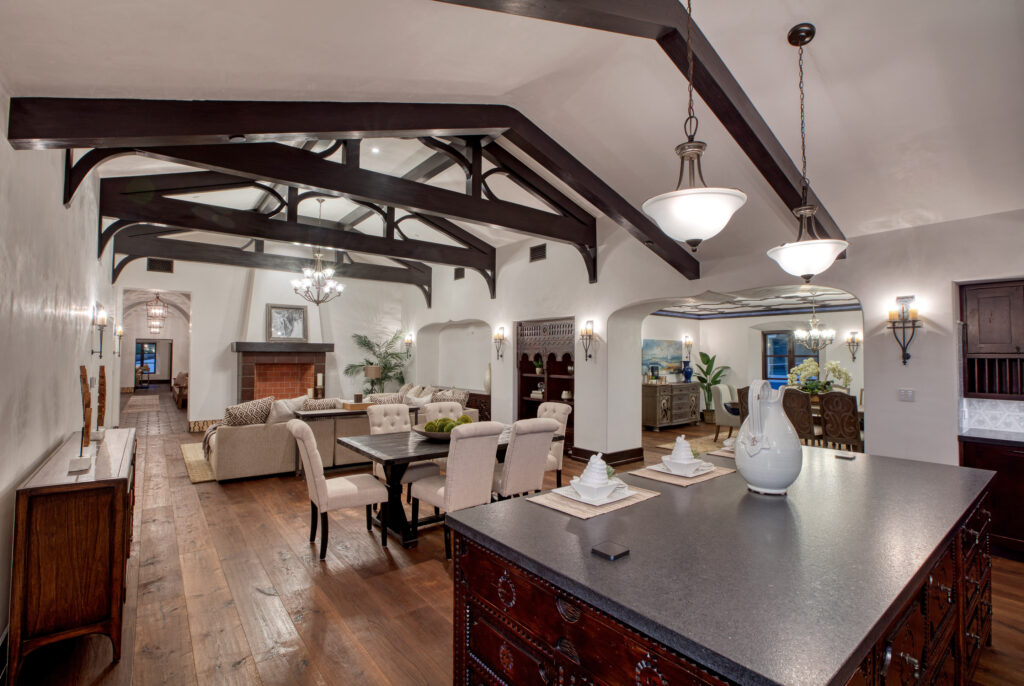 "You could have a grand feast in there and seat 30-plus people," Chhabria notes. "It's west-facing, too, so you see the ocean."
With au courant living in mind, 17 Crest Road East's public spaces include an open-plan great room housing a family room with a fireplace, a dining area, and a gourmet kitchen. It's an earthy yet sophisticated atmosphere where sunlight bathes wood-plank floors and white vaulted ceilings play against nogal Frances oscuro (dark brown) beam work. Noteworthy in the kitchen is a central island studded with saddle detailing and a mammoth French range (part of The Château Series by La Cornue, and made outside of Paris).
A thing of beauty, the 5-foot range is jet black with gleaming gold details, and above it hangs a matching hood in polished black and steel. Granite countertops in deep gray add to the room's commanding sophistication, which is softened by flowery geometric tile work in soft country blue along the backsplash and walls.
Walking about the house one can't help but notice the exquisite, interior hallway where espresso tile floors and base molding of inlaid Spanish tile create poetic contrast against elaborate archways and a series of curved, groin-vaulted ceilings, all in white. The grand scale and beauty of this space, like the courtyard, are sources of elegance that further frame 17 Crest Road East as a true estate.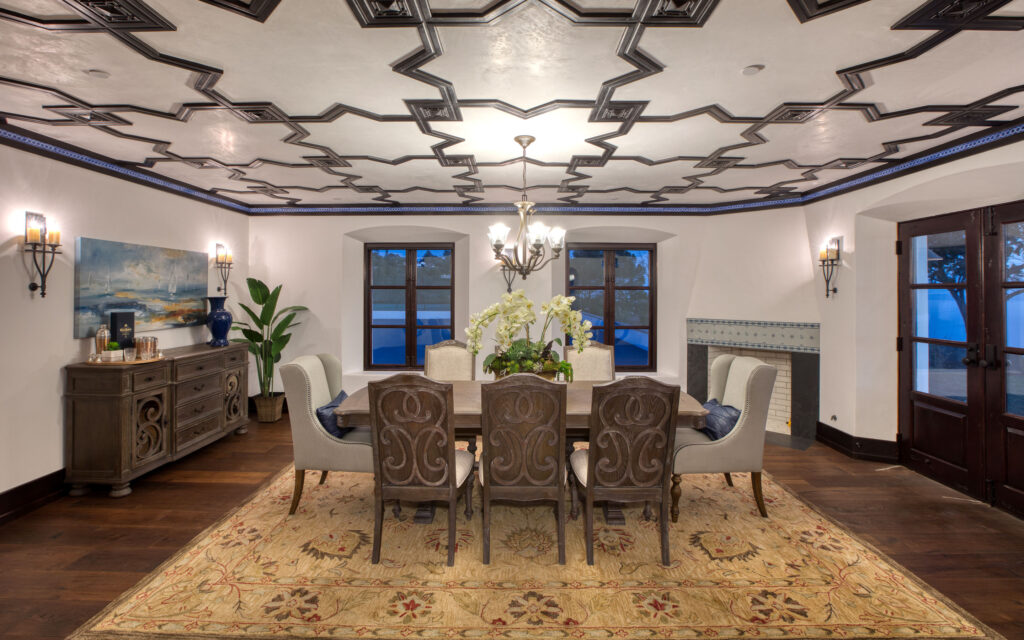 A ranch of such beauty, and one located in such a treasured spot, demands that a certain amount of entertaining take place. Features that facilitate this include two enormous motor courts for parking, and a lower level of 17 Crest Road East, approximately 1000 square feet of additional space that can be transformed into a movie theater or other gathering place. The courtyard, too, can be quickly converted into a festive party zone, complete with fresh-air cooking delights like a grand barbecue grill and a pizza oven.
"Its details are very impressive, and the setting and location set it apart from other properties."
Another spot that's been carefully planned for formal dinner parties is an airy, formal dining room where the ceiling is framed in aqua tile and custom studded in Western details; directly adjacent, a completely stocked second kitchen adds to the ease of preparing and serving food.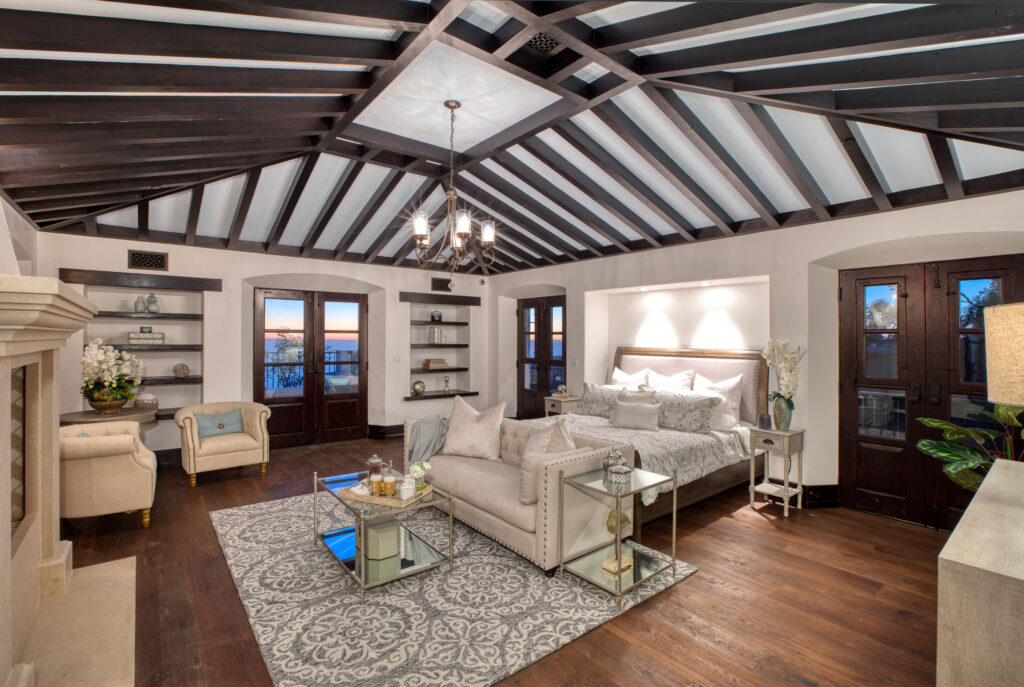 When it comes time to retreat into one's private space, there's a master wing where one finds, tucked behind carved doors, a sunny, earthen retreat. The master bath is a glass and tile vision where a white soaking tub, poised beneath a window, is where one might lose themselves in the birdsong and rustle of the trees just outside.
The custom walk-in closet has the feel of a bespoke tailor's studio. The bedroom is thoughtfully elegant, with a tile-inlaid fireplace, vaulted ceilings, and French doors that open onto roomy balconies where one can pass the time contemplating the ocean or the pastoral green of the landscape.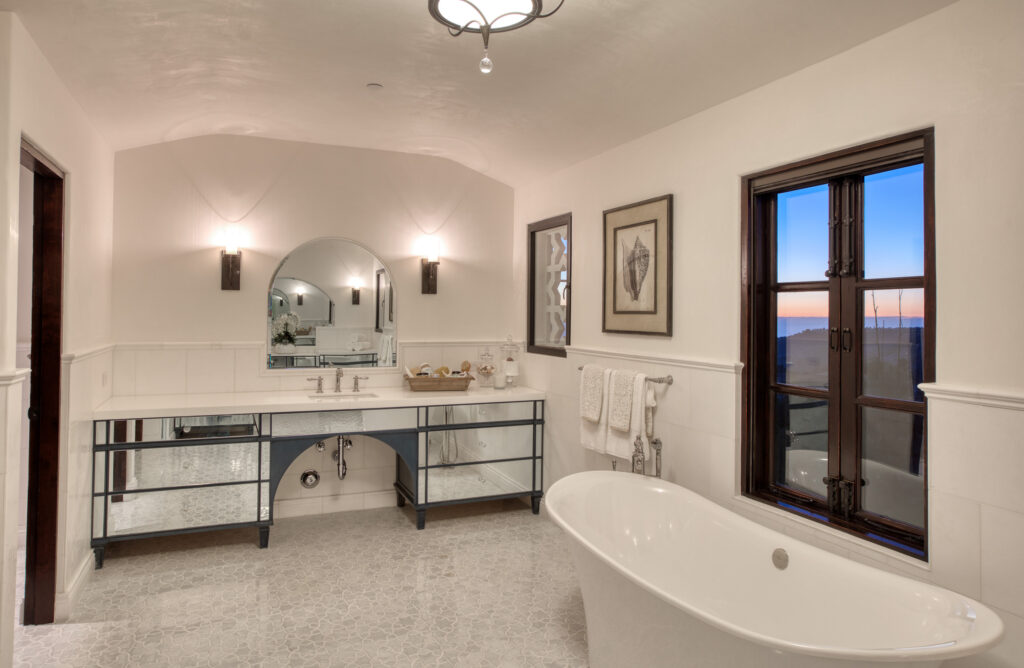 "It's subtle elegance," concludes Chhabria.
It's a rare combination to find: an architectural home with distinguished features woven through it, set against acres of gently rolling green hillside, and with ocean views, no less—a refined slice of paradise here on Earth.
Raju Chhabria & Neil Chhabria
Chhabria Real Estate Company
Address: 17 Crest Road East, Rolling Hills 90274
List Price: $18,999,000