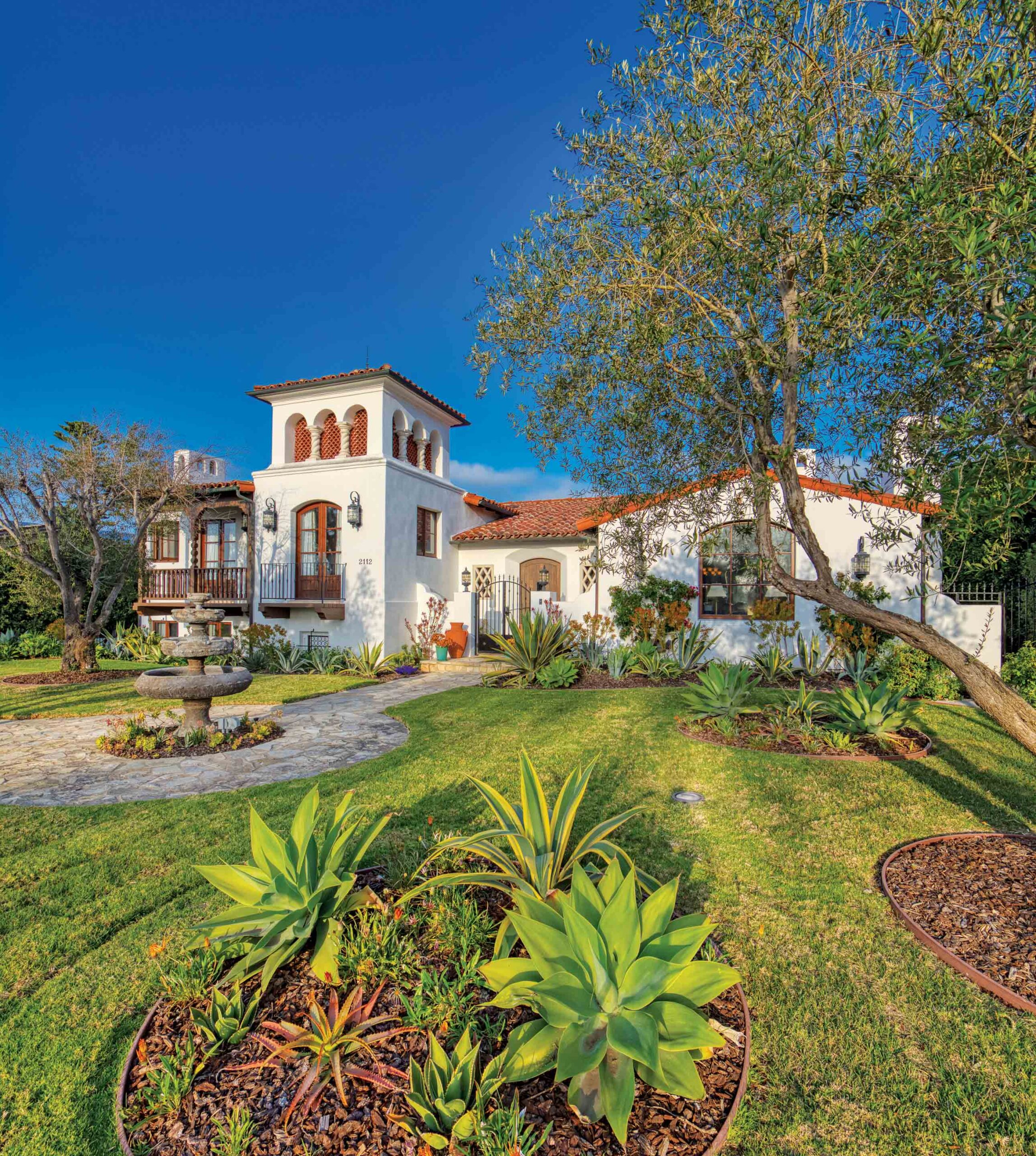 A Refined Palos Verdes Estates Home With Lushly Sculpted Grounds Offers a Sublime Oceanside Retreat Along One of the Nation's Most Beautiful Streets
A pleasant feeling overcomes you when traveling down the broad, tranquil streets of Paseo Del Mar. This is the home of grand residences and towering palm trees, along with vivid scenes of endless clear skies and blue ocean.
One of these homes, 2112 Paseo Del Mar in Palos Verdes Estates is a study in classic coastal design, expressed with charming features of Spanish architecture—like a crisp white exterior contrasting against a red tile roof, an embellished bell tower, and a graceful front balcony.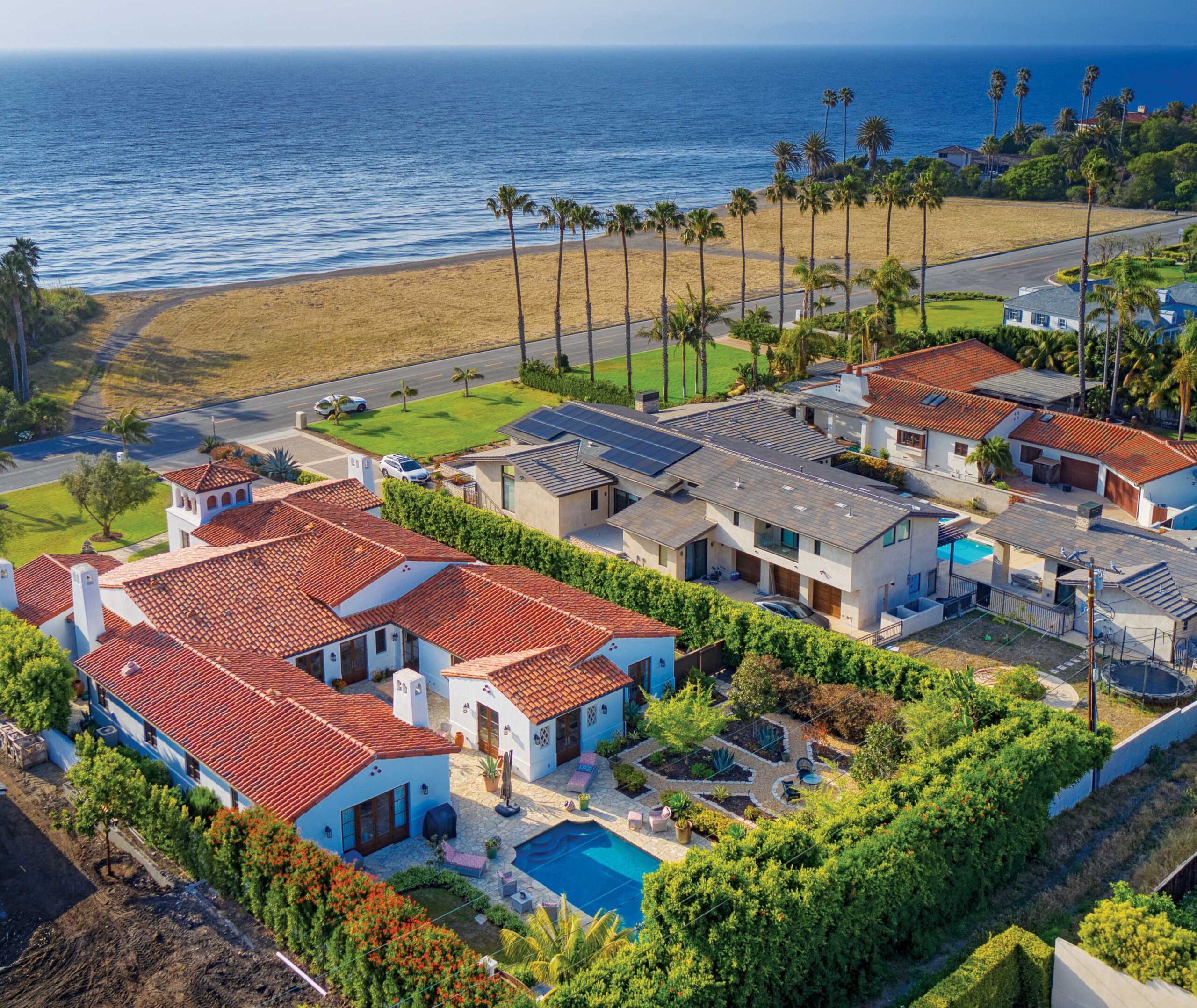 Notable for designing lavish estates, towers and hotels around the globe, Tony Ashai designed the residence's living spaces to twine neatly against its resort-sculpted outdoors, so you feel close to nature, and always at home in this private oceanside villa.
The home's site is grand, located directly across from an open expanse of green space where bluff-top trails offer soaring views of sea birds and dolphins, and white-capped waters crashing against sea-sculpted cliffs.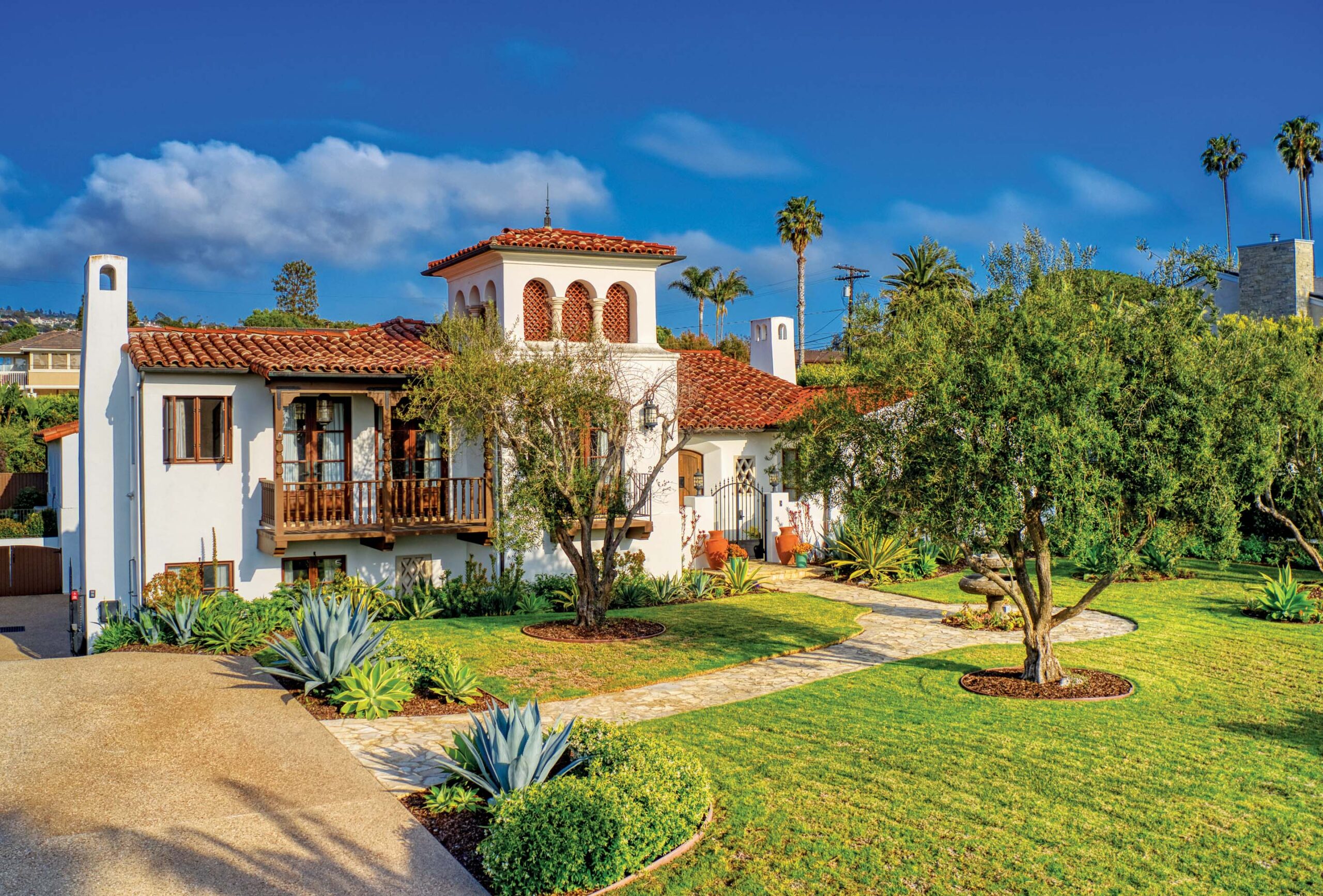 "It's premium Paseo Del Mar," explains Teri Hawkins of RE/MAX Estate Properties, a Palos Verdes native who has been selling real estate in the community for more than 20 years.
"It's located further down the street, near Rocky Point Road and directly across the street from a lot that's protected by the Palos Verdes Land Conservancy, and can never be built on."
The home's location translates to special views, too.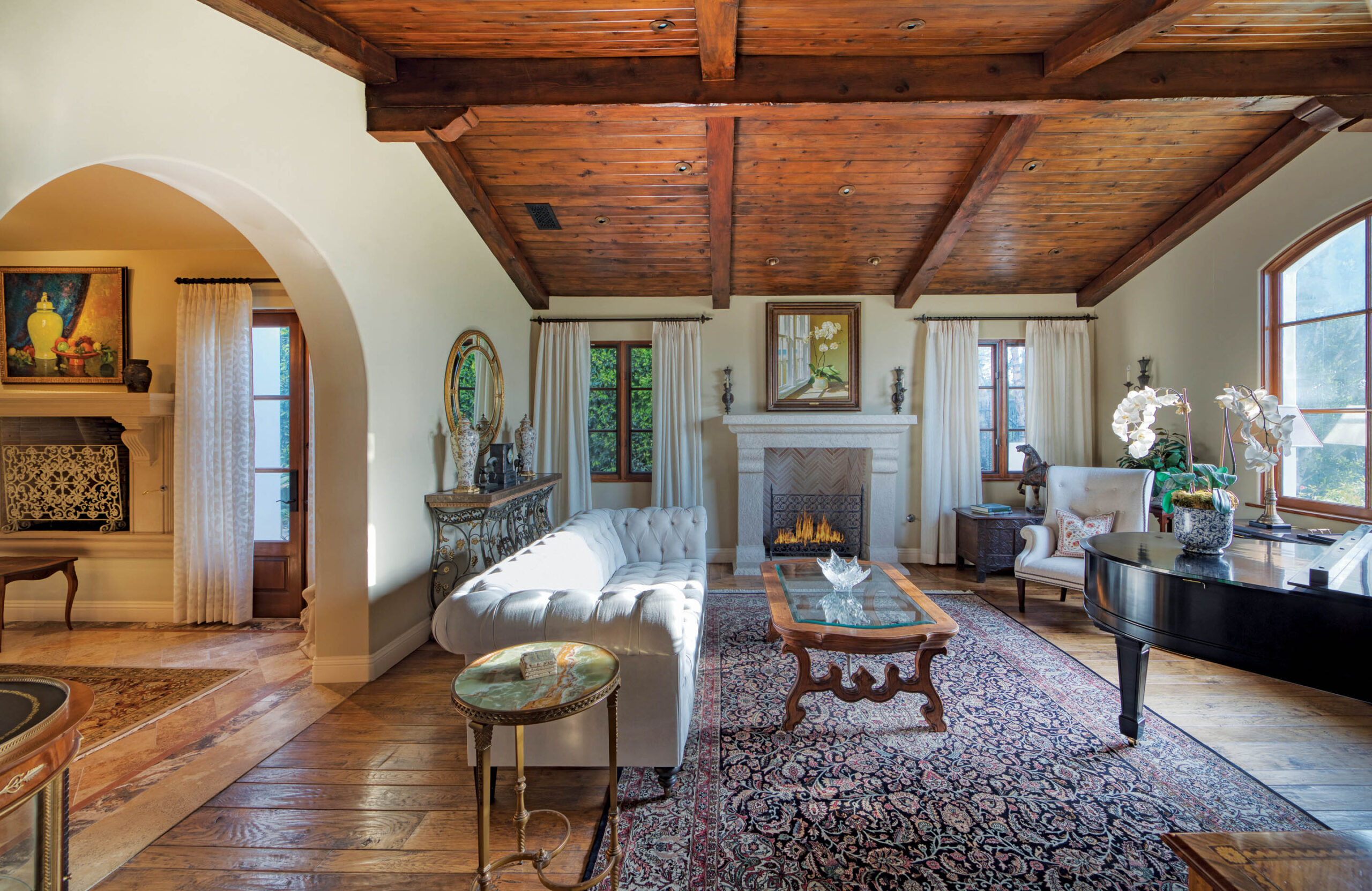 "There are gorgeous ocean views, along with those of Santa Monica and Malibu," remarks Teri Hawkins. "At night, there are sparkling city lights."
Privacy is also a keyword at this property. The driveway is gated and the security system is comprehensive, down to cameras placed strategically throughout the property. Indoors, a series of glass-panel doors lead onto a sun-splashed interior courtyard. Here, you can dine al fresco during vivid sunset hours, or stargaze after dark from a quiet corner nook. Steps away is a stone-clad pool deck, where the spa bubbles and elegant fountains spout water across the pool.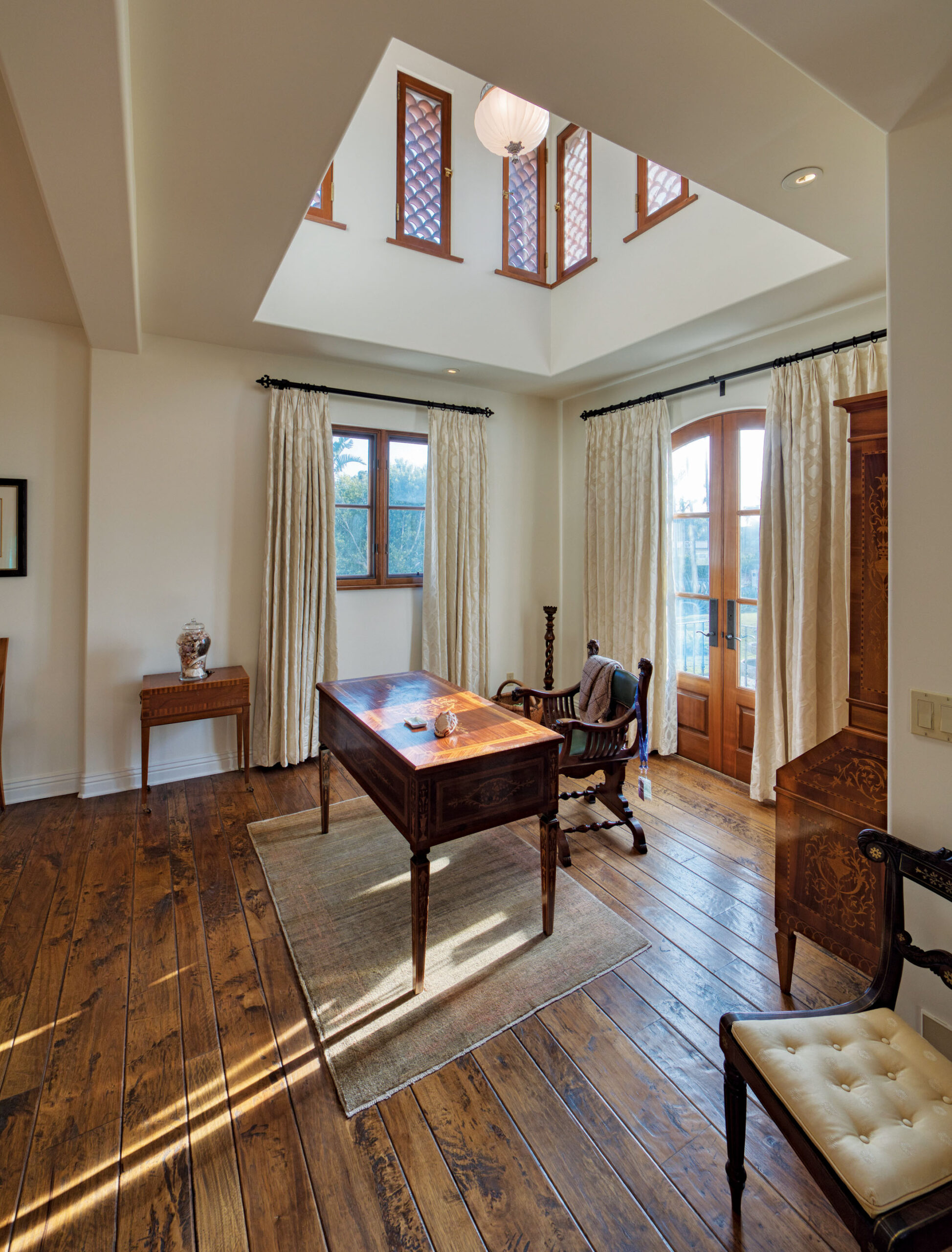 This is where you can lounge and soak comfortably in seclusion since the area is shrouded by tall green hedges. The home's grounds—nearly one-half acre in size and pleasingly flat—are all deftly manicured with a mix of old-growth trees and lush palms, offering a peaceful playground where you can play lawn games and host parties, mindful of the fresh ocean air and expansive blue sky that serves as a backdrop wherever you turn.
"The back yard," describes Teri Hawkins, "feels like you're in Provence or Tuscany."
These blissful outdoor spaces are neatly linked with the airy, well-crafted interior via a plentiful stock of doors and windows placed throughout the home.
"The home has a very Montecito feel, with seventeen sets of French doors leading to courtyards and the backyard," explains Teri Hawkins.
You can step indoors to gather in the formal living room, a refined space where flames flicker in the carved fireplace, or host gatherings under the vaulted wood-beam ceiling in the spacious family room, which merges neatly with the green lawn. In the fine dining room, also adjoined to the outdoors, the elevated plank ceiling plays poetically against the fireplace, which features a classically sculpted mantle that's cleverly raised so it casts a warm glow on guests at the table.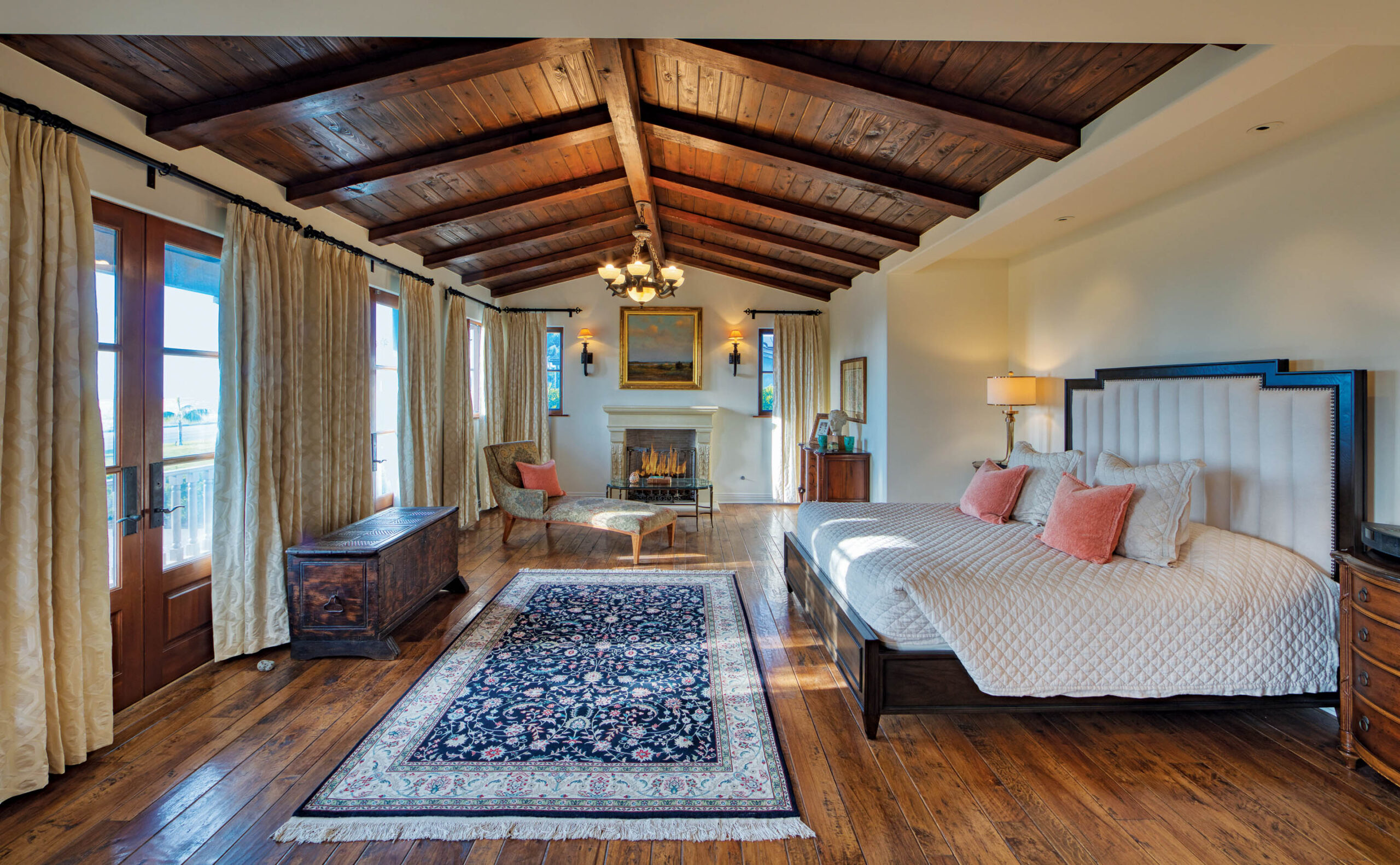 Notable is the airy scale of the elegant residence: ceilings are soaring, often featuring exposed wood beams, and floors consist of rich-hued hardwood or gleaming inlaid stone. The kitchen, for instance, is a hub of the home—a sprawling, sunny space where you can dine at the large, central island or prepare meals with the help of two ovens and a gleaming, six-burner range. Not to miss is the plethora of custom millwork throughout the home, ranging from handcrafted fireplace mantles to built-in cabinetry, and adding just the right dose of rich, classic detail to this home.
There are arched, mahogany doors that lead to the dedicated wine cellar, for one, where you can select a favorite vintage from the inlaid custom cabinets—or pull hundreds of bottles for a party. It's a place of remarkable duality, just like the home itself, which functions beautifully as an intimate villa for everyday living, while also serving as a superb entertaining site, capable of accommodating hundreds of people amid its polished interior and grounds. Overnight guests are welcome as well, particularly in the dedicated guest wing. However, all bedrooms are all en-suite and characterized by gleaming wood floors and easy access to the outdoors.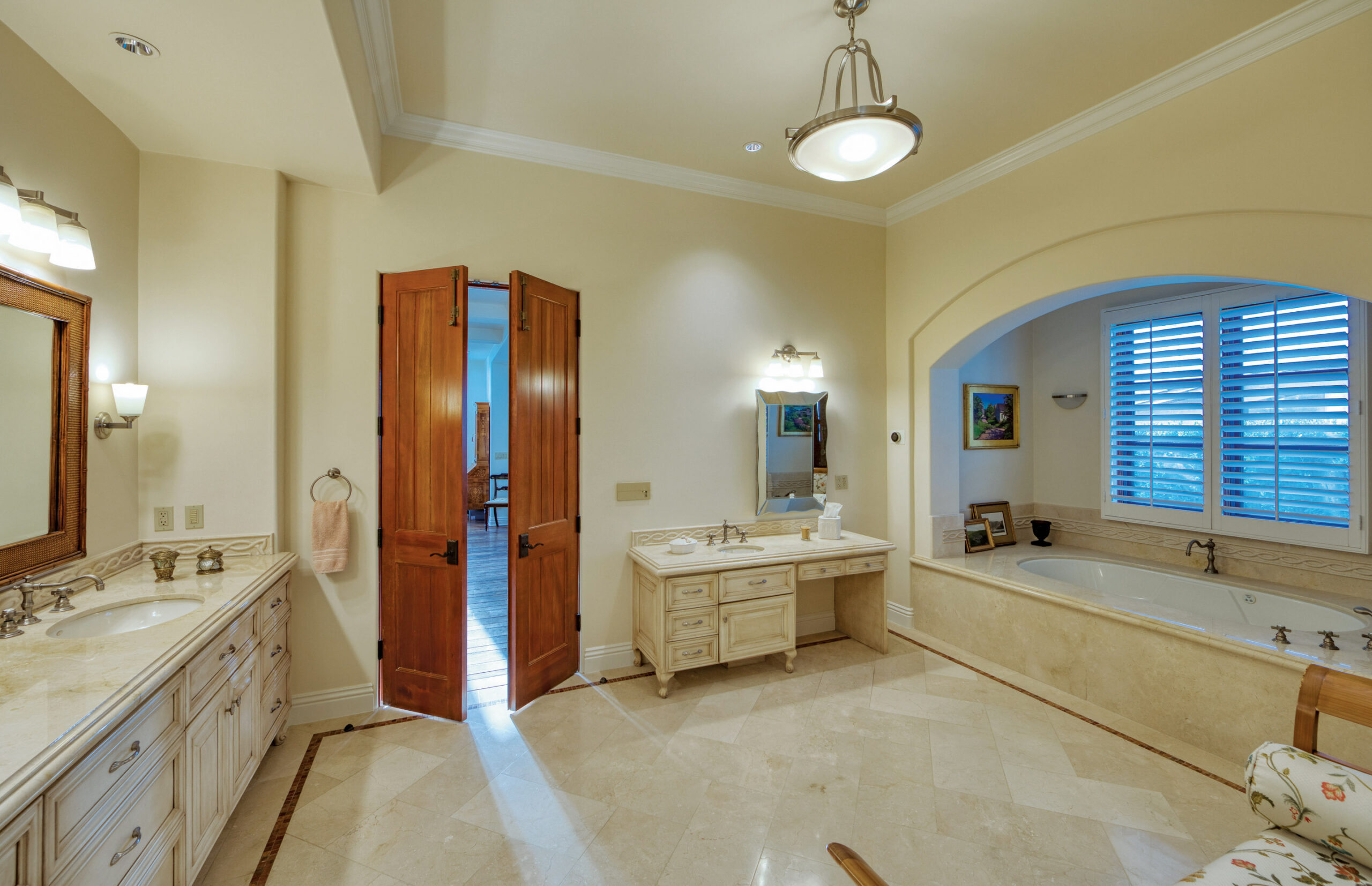 The oceanview primary suite lives like a dreamy villa unto its own—you awaken to sea views and breezes, and relax on the balcony after dark while flames flicker in the fireplace. The quiet of the location is another bonus.
This is a neighborly location where a 10-minute stroll along wide, peaceful streets brings you to the Lunada Bay market, a restaurant or a sunny sidewalk cafe. Given the haven-like feel of this home, however, it's not likely you'll want to leave. This is a place where you can live, work and entertain in your own peaceful bubble, enhanced by its prized location and abundance of nature, which offers up a daily kaleidoscope of striking coastal scenes that never fail to stir your imagination.
Teri Hawkins | 310.251.3850 | DRE# 1195117
RE/MAX Estate Properties
List Price $7,250,000
Photography by Paul Jonason