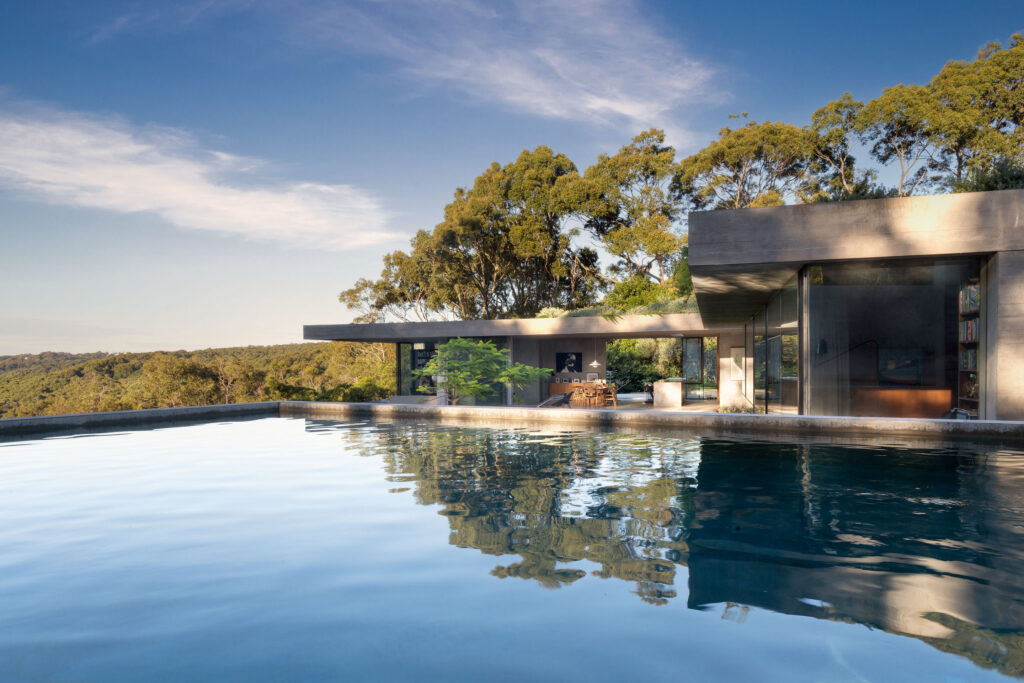 On a Coastal Site in Newcastle, Australia, a Robust Modern Residence by Architect James Stockwell Exploits a Rock-solid Connection to Nature and Family Alike
Embedded into a rock edge on a sloped site in Newcastle, Australia, the residential wonder Bunkeren, by Sydney-based architect James Stockwell, takes shape as a kind of hanging garden, with its sequence of concrete volumes descending methodically down the drop until the whole miraculous project comes to rest, suspended over the edge.
However precariously placed the house appears, however, it is one of solidity and permanence, bound to the earth and shrouded in flourishing rooftop gardens that make the architecture almost indistinguishable from the broader landscape, as if one day, perhaps, the place might be completely overrun by nature—returned to the cradle from which it came.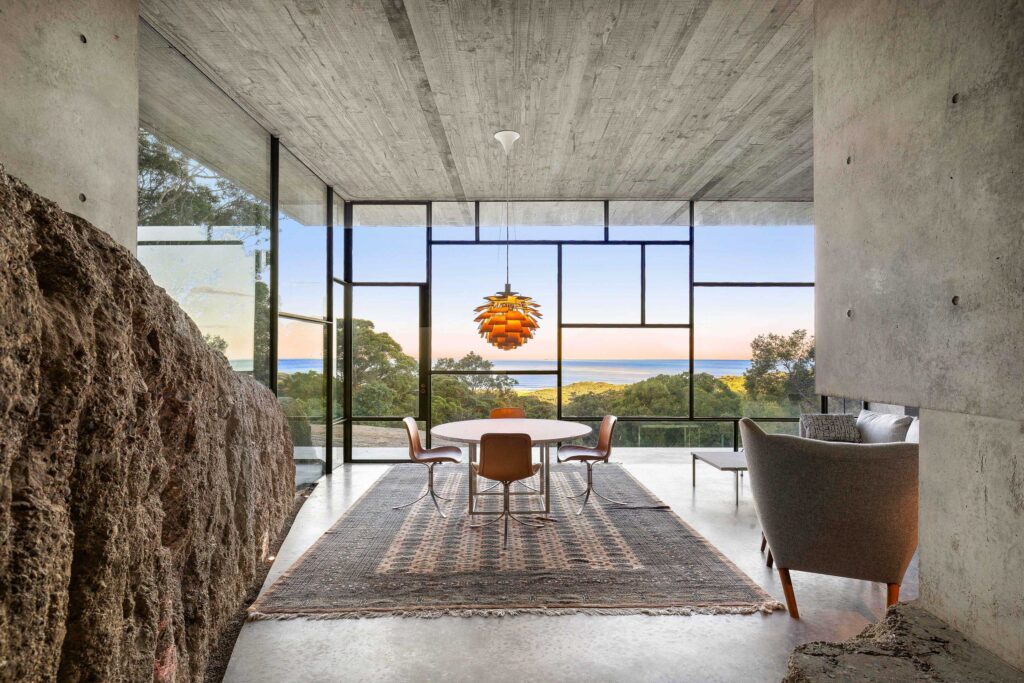 That the concrete volumes are not meant to be the first thing one sees on the approach of the house is a byproduct of the inspiration for the project: the architect's and the client's mutual interest in the coastal concrete bunkers of Denmark and Australia.
"You can't really suggest to someone to do a house like a bunker, but we both realized—and it was a bit of a watershed moment—that we really loved them and all thought it was a great idea," says James Stockwell of the concept.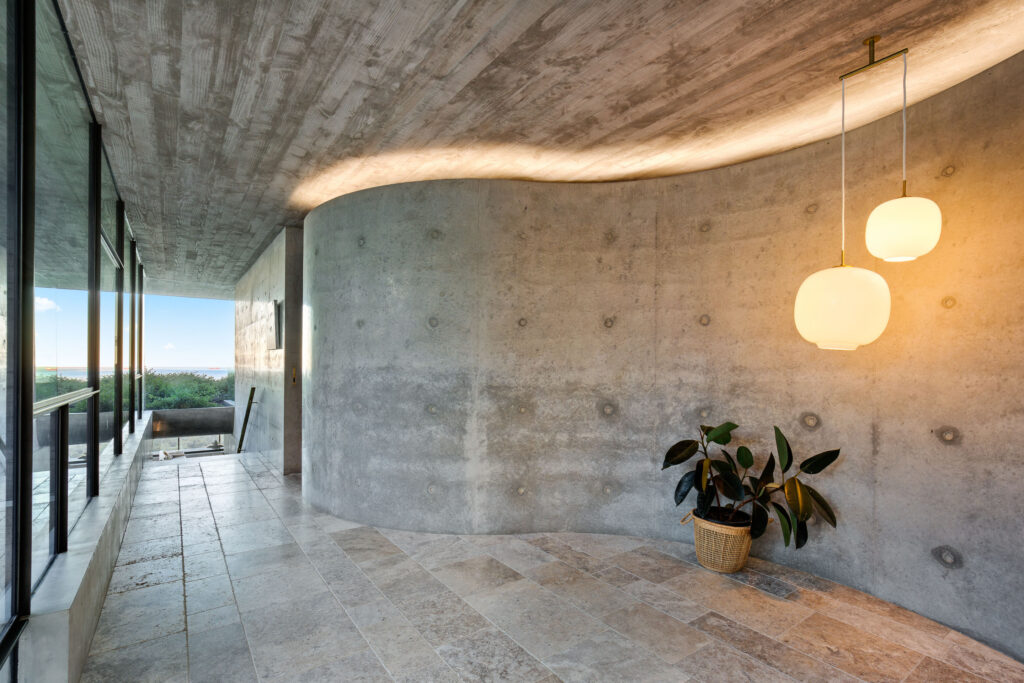 If these stout military fortresses helped safeguard against bombs and attack, then an earth-integrated solution would, he reasoned, protect the architecture from the area's severe rainstorms and bushfires while simultaneously helping to preserve the landscape and enhance biodiversity.
Moreover, a residential shelter half-buried into the hillside minimizes its exposure to fluctuations in temperature. All were factors in a plan that emphasized function, natural light, good cross ventilation and what James Stockwell describes as "an uplifting quality of openness."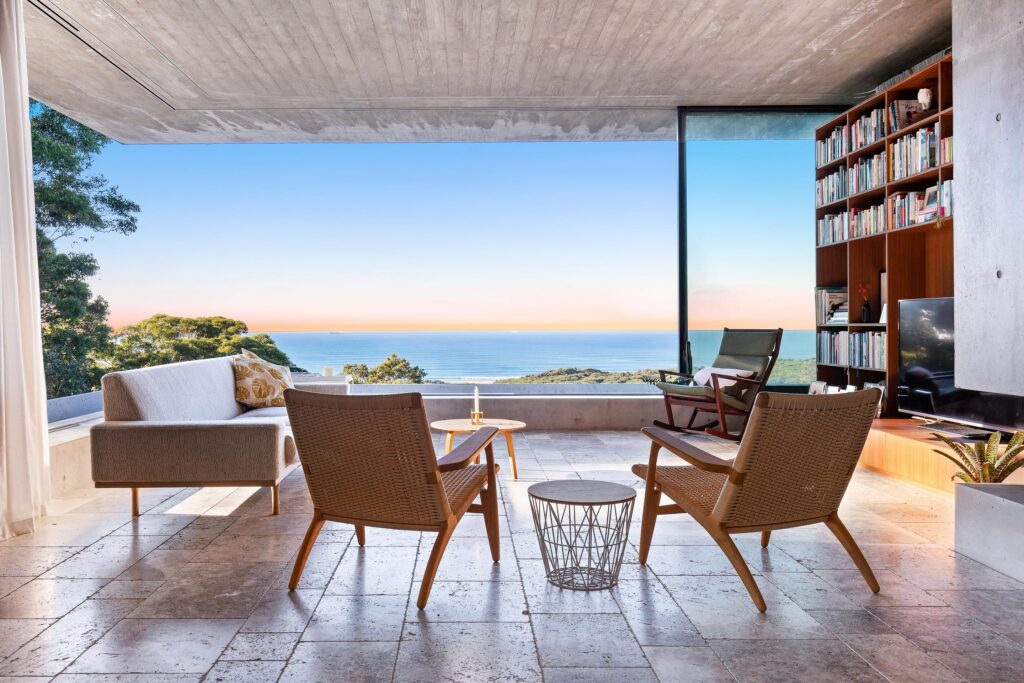 The Danes call this hygge, a defining characteristic of Danish life that centers comfort, conviviality and well-being, in which houses need to be, as James Stockwell puts it, "more than roof, floor and walls," to enable inhabitants to find quality in things that are important.
Chiefly, in this instance, the clients' growing family, as well an appreciation for being in nature, for local artists, and for the cache of original Danish furniture they inherited. The process was not about building a magnificent house, with everything secondary to that, but in making a home that supported and fostered the clients' priorities.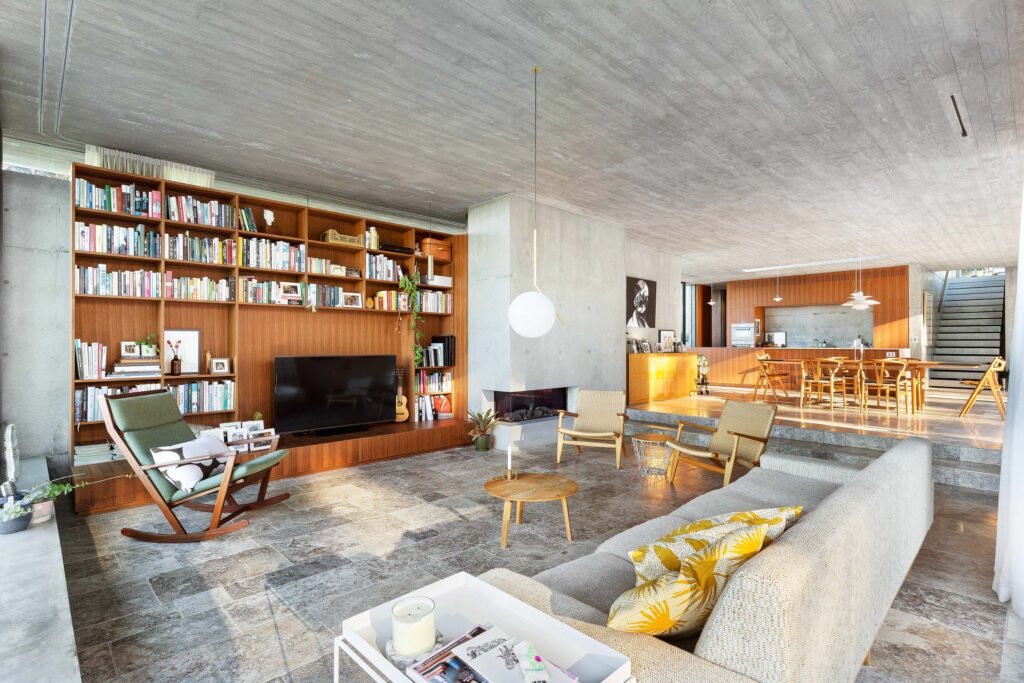 Where design is for most people something to do, "Design 'just is' for the Danes," James Stockwell explains. "It's a given," affecting "all aspects of life."
Life at Bunkeren is magnanimous. Despite its mass, it feels light, with great swaths of flowing interior space divided into private and communal areas, including the kitchen, dining and living areas, as well as five bedrooms, bathrooms and a studio. The reveals come slowly, in a progression that makes its way ever lower on the slope, with floors both above and below ground. Each space, no matter its scale, is an expression of hygge, highlighting beautifully crafted concrete walls, warm wood and vast glass openings.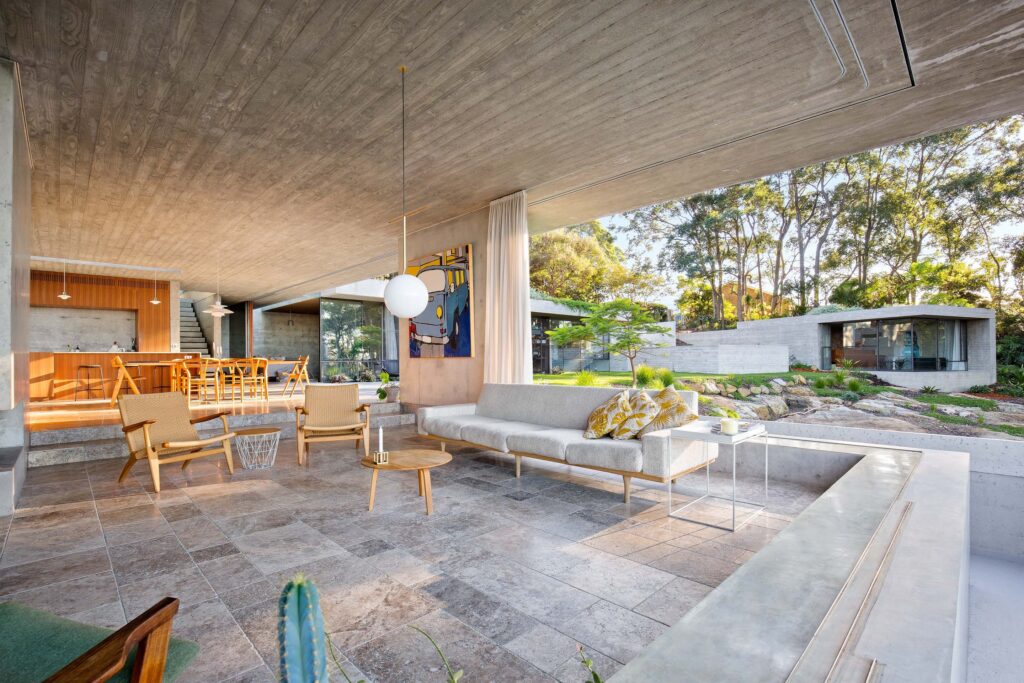 There is no "showstopper" in a house of this magnitude—the whole thing classifies as such. Nevertheless, tucked away on the lowest floor is an especially clandestine space for the family. This "entanglement with the earth," as described in the program, is the definition of living harmoniously with nature (in this case, the stone itself).
"We observed on the site early on that the conglomerate rock, which is almost like concrete in itself, had a certain kind of shape to it and that if we could carve into the rock a bit, we could make a cellar and a room that was half-rock, half-architecture, part-landscape and part-building," says James Stockwell.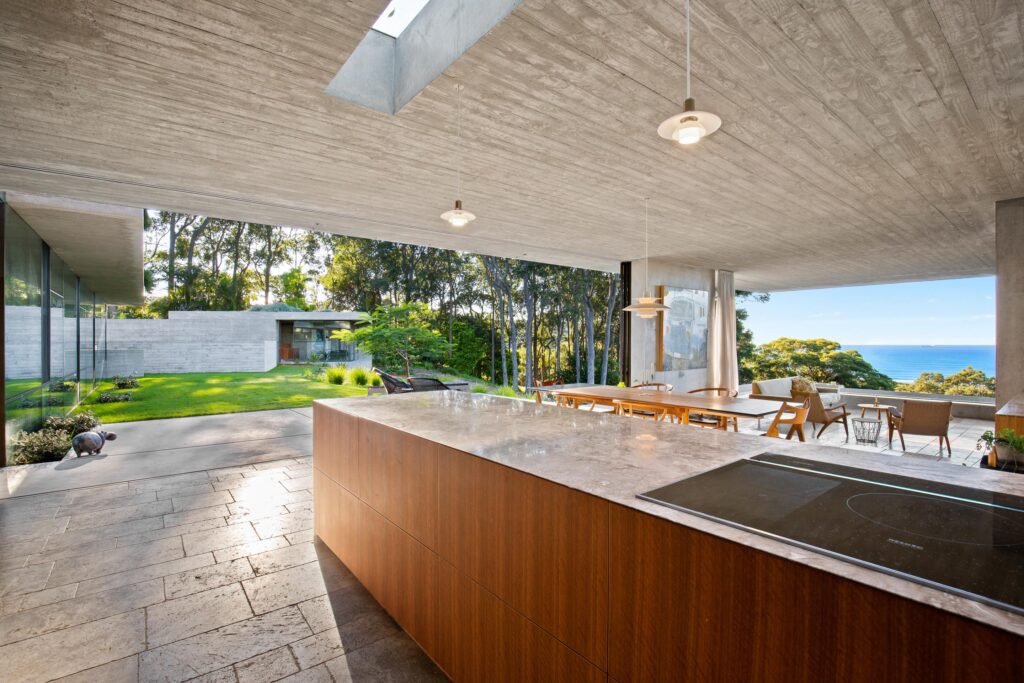 Warmed with timber and furniture, including a piece of Danish lighting, the space has a sparing quality that Danes bring to their domestic spaces. James Stockwell is particularly partial to this space.
"It's just a nice reminder that we share this place with nature, and we don't control it all," he told The Local Project. "We're only part of the equation and there's a lot to enjoy in the longevity of it."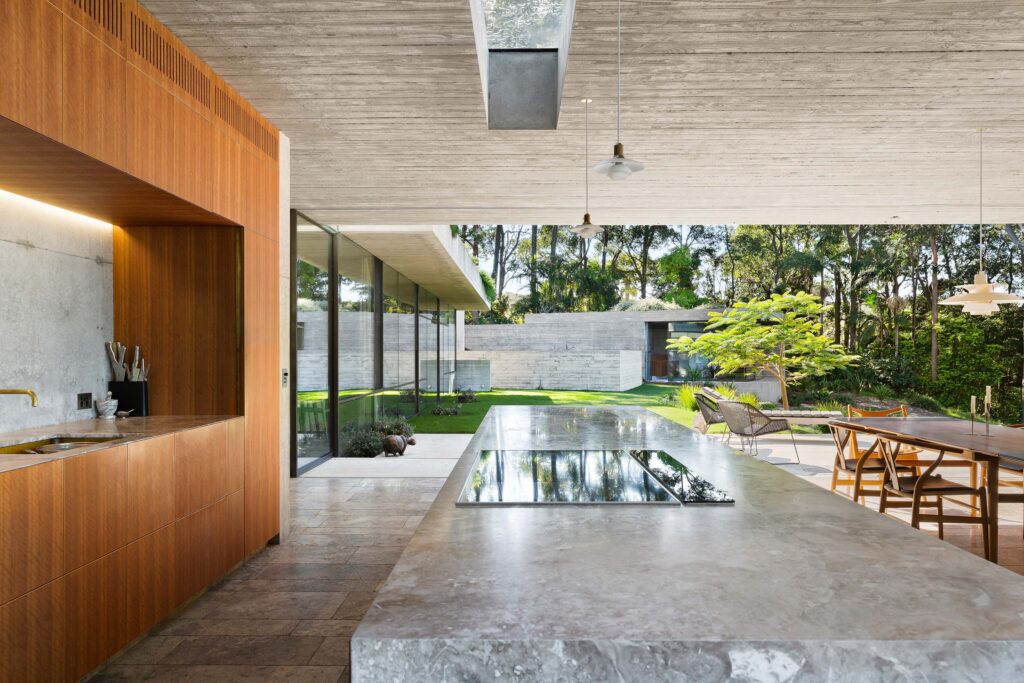 Due to the similarity in external and internal materiality, when the glass gives a glorious way to openness, one cannot always be sure where the building starts and where it ends—it is one continuous thing. Like water, but belonging, in edifice and in essence, to the land. In a decade, Bunkeren might well be camouflaged in flora and fauna, reclaimed by an environ that in the 19th century was a thriving botanical garden. In seeing past the site's coastal vulnerabilities, James Stockwell saw something far more crucial: opportunity. To extend the existing ecosystem over the concrete structure and, in so doing, to cultivate life within, as well.
"I really like the idea of making the ground plane ambiguous," he says, "so you're sort of half in the land and half on it and, in time, that becomes even more ambiguous and more blurred."
An architecture indistinguishable from the landscape itself, leaving one family, rooted to place.
James Stockwell | stockwelldesign.com.au
Photos: Tony Marshall