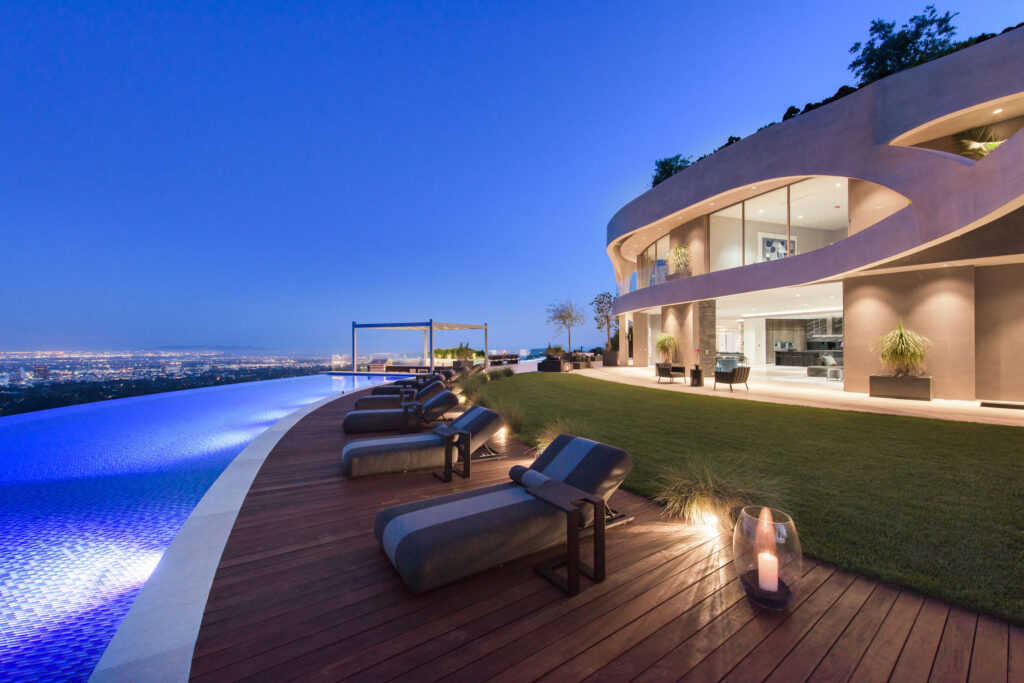 Contentment Personified—Thoughtfully Designed With an Eye Toward Wellness, 12255 Sky Lane a Newly Built Brentwood Estate Offers High-end Environs Where Mind and Body Can Thrive
The result? This ultra-modern architectural gem boasting cutting-edge, high-tech systems that not only improve air quality, but also regulate energy levels, hormonal balance, appetite, productivity, and sleep quality, as well as artwork to foster a sense of inner calm, and a living vertical garden that doubles as a natural air-filtration system.
This ultra-modern architectural home features a curving façade reminiscent of ocean waves, wind and clouds, while its spatially fluid interiors are designed to foster a feeling of physical openness and emotional peace.
A bonus: It's also appealing to the eye—with a curving façade reminiscent of ocean waves, wind and clouds, and spatially fluid interiors fostering a feeling of physical openness and emotional peace—not to mention jetliner vistas from Downtown Los Angeles to the Pacific Ocean from its prime locale above the Getty.
"My approach is to create spaces that generate motion," says Sanam de Loren of the architectural design firm de Loren & Associates, who is listing the property at 12255 Sky Lane in Brentwood with Santiago Arana and Mauricio Umansky of The Agency for $42 million.
"I want my homes to reflect that notion of soft movement that appeases the mind, allows the mind to wander, allows the mind to think, and allows the mind to be at peace and never be limited by a space."
"The feeling of openness, of infinity, is always present in my spaces. Therefore, wellness, for me, means a house that conforms to specific physiological, emotional, as well as aero-dynamical spatial principals, which ultimately create a healthy structure where people can thrive."
A structure quite like this one.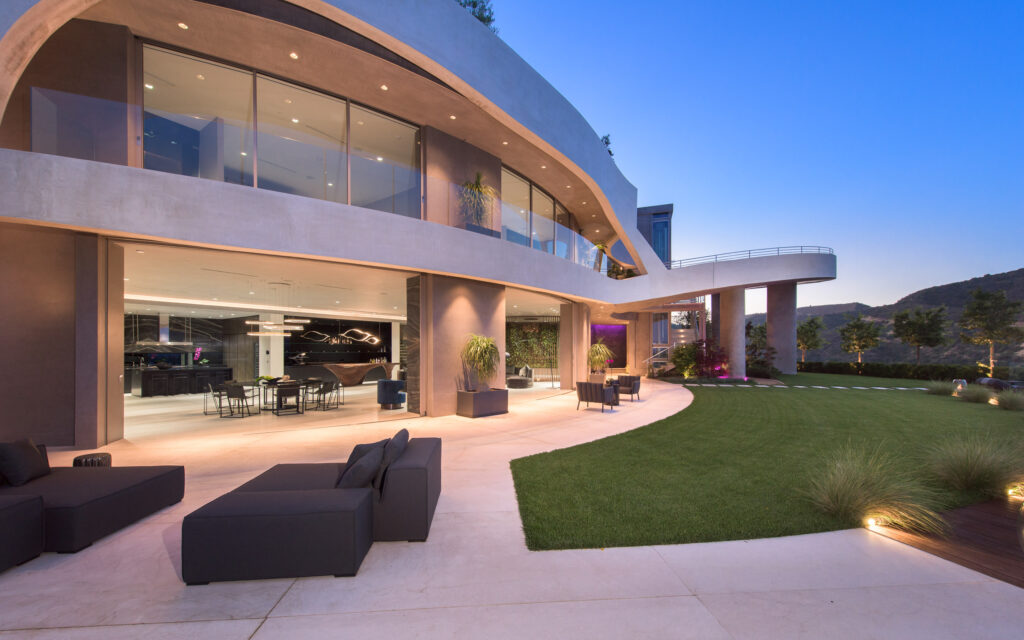 Built by Barry Simzar's Channel Development, the seven-bedroom, 11-bath home offers 16,7000 square feet of living space on three levels. Among the first-class wellness features: a Darwin Home Wellness Intelligence Network by Delos with built-in sensors to detect deteriorating indoor air quality and clean the air accordingly, and circadian lighting that mimics the patterns of natural sunlight.
Sanam de Loren also commissioned three one-of-a-kind sculptures for the house—all geared toward generating internal calm—including a walnut wood piece in the main entry foyer created by Japanese master craftsman Toshi Kawabata. An adjacent indoor vertical garden, meanwhile, doubles as a 3-D, living piece of artwork and natural air-filtration system.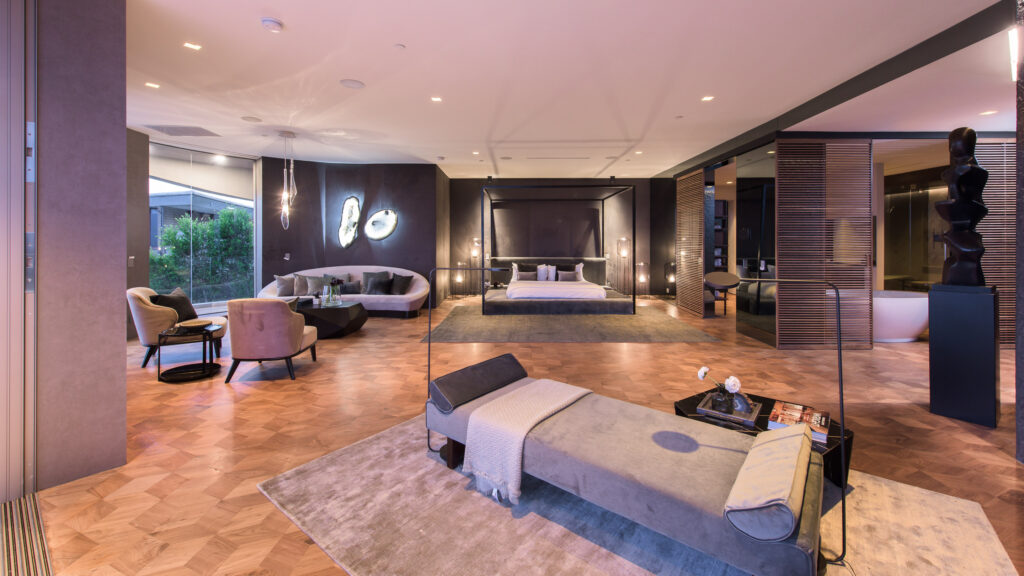 Creature comforts also are front and center in the state-of-the-art structure. Think of an Italian marble driveway that provides access via a glass-walled elevator to a rooftop garden that also serves as an auto gallery for more than 20 vehicles; a 650-bottle wine cellar, 13-seat movie theater, gym, sauna, and a lower-level entertainment area with a full bar and pool table.
Outside, the 10,000-square-foot backyard holds a 75-foot, glass-tiled infinity-edge pool with an underwater sound system, Jacuzzi, 400-square-foot Japanese Zen-style garden, stunning water wall designed by artist Mario Romano, and a 300-tree fruit orchard.
Santiago Arana | DRE 01492489
Mauricio Umansky | DRE 1222825
The Agency | 424.231.2399
List Price: $42 million
Photograph: Courtesy of the Agency