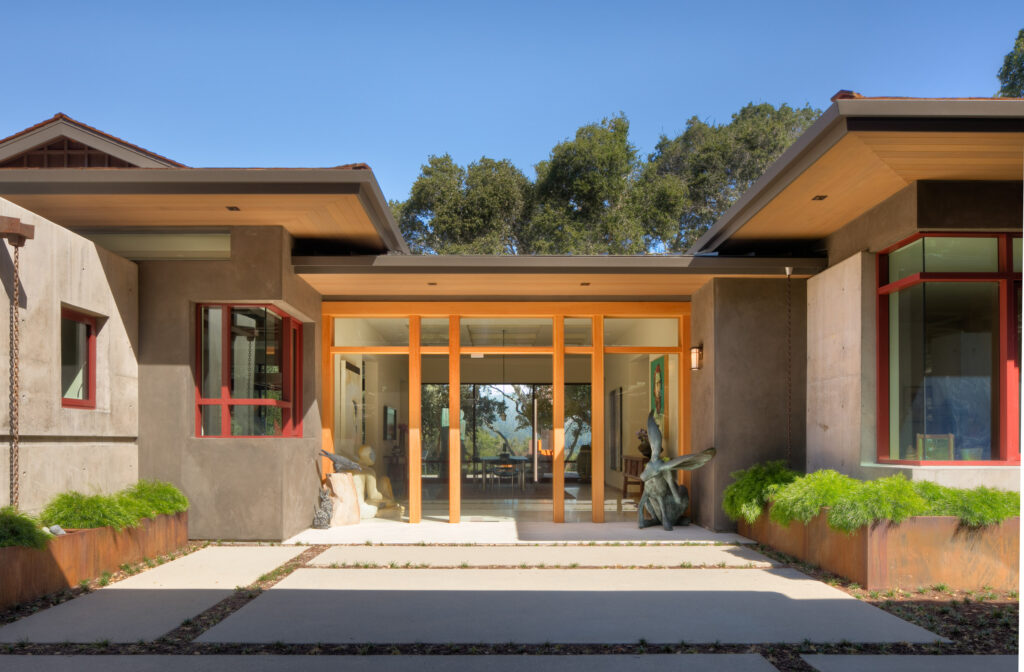 A Classic Car Collection Drives the Design of Quail's Meadow, a Contemporary California House With Art Leanings and an Asian Influence by Sterling | Huddleson Architecture
Located on a naturally beautiful plot of land with century-old oaks and native grasses on the scenic periphery of Carmel, contemporary residence Quail's Meadow—designed and completed by California firm Sterling | Huddleson Architecture—is fueled with the passion known only to a true collector.
In this case, one with a cache of ravishing classic cars who has the dual privilege of also owning the house where this meticulous fleet beams from inside a glass-walled auto gallery and, when parked on the proud porte-cochère, makes for a particularly swashbuckling sight.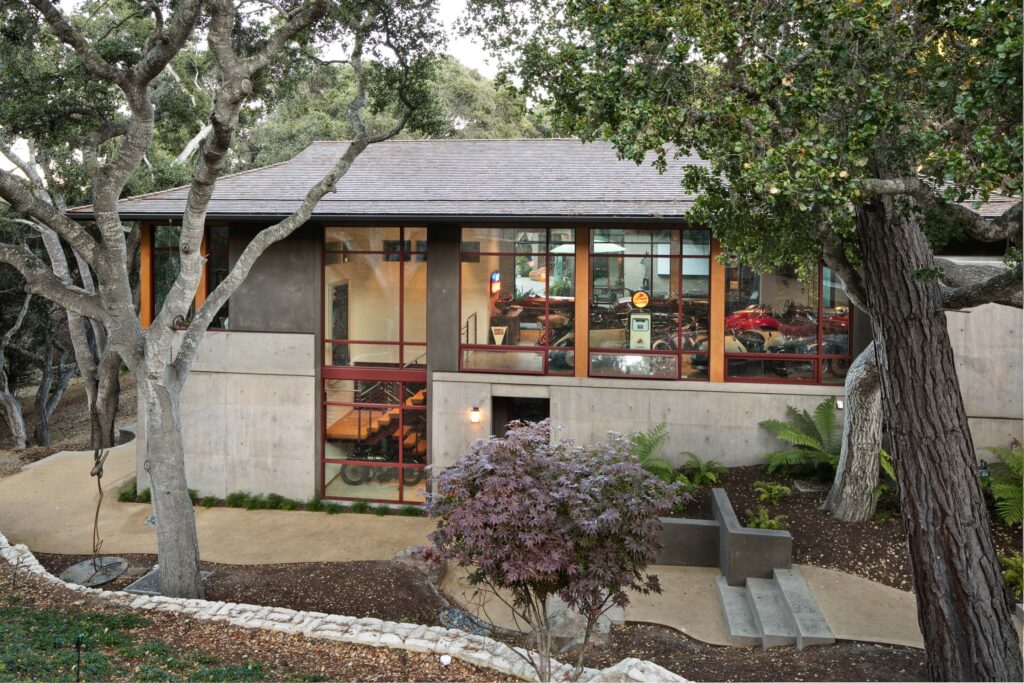 With the client an avid car collector, "room for a combination of 20-plus collector and daily drivers was the first order of business," says architect Braden Sterling of Sterling | Huddleson, the master hand behind the design and, as it happens, something of a co-conspirator.
"He had dabbled in architectural design and enjoys painting and sculpture, so his program suggested he take part in the process as a design team member, which I always encourage, especially since our creative interests were perfectly aligned and, as a vintage car collector myself, we instantly spoke the same language."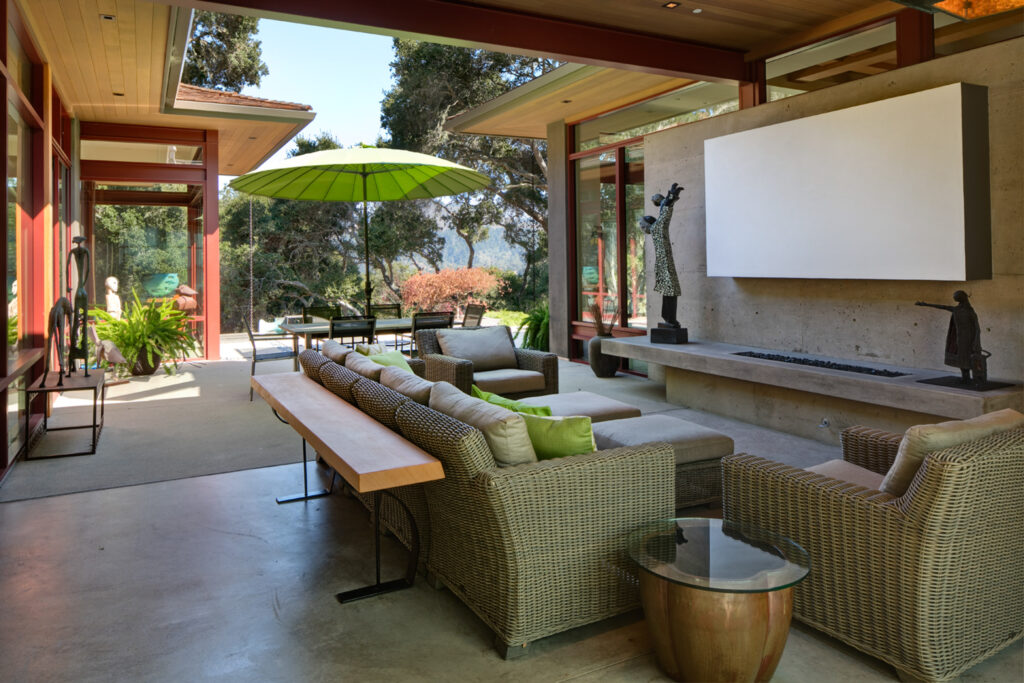 As the conversation turned to the structure itself, a vision born of mutual interests and aesthetic sympathies emerged: that of a 7,500-square-foot, low-slung showcase around which all else would be arranged. Cars, art, life. In steering clear of design trends, Sterling | Huddleson created uniquely curated spaces hyperspecific to the needs and lifestyle of the owner.
"Living amongst the automobiles and fine art was essential," Braden Sterling insists.
To that end is a floor plan that blurred the lines between auto gallery and living space. With the inspiration of the house settled, its design considered an array of sources, including an unambiguous Asian influence with everything rooted in skilled craftsmanship and artistry—architecture as virtue.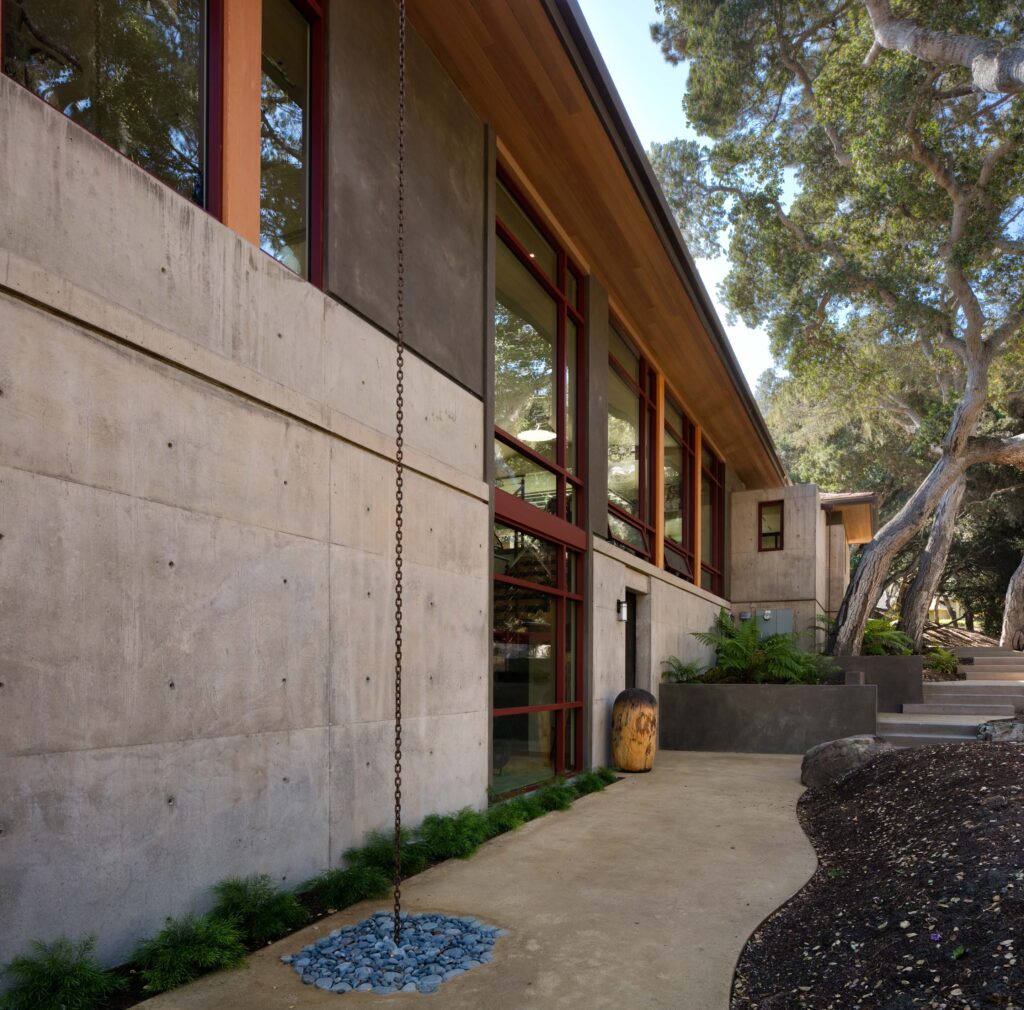 "Charles Greene and Bernard Maybeck were often referenced," says Braden Sterling of the august American architects whose sway from the early 20th century period is seen throughout the project, in both traditional post and beam detailing and in a reinterpreted, modern approach of exposed steel I-beams and columns.
"These details paired well with the client's interest in Kominka"—a traditional Japanese farmhouse vernacular—"and the mastery seen in contemporary Japanese architect Tadao Ando's board-formed concrete," says Braden Sterling, noting that the traditional cedar shake roof reinforces Japanese farmhouse design while also softening the rigid lines of the concrete and steel structure.
In keeping with Sterling | Huddleson's pared-back approach to exterior material across all its projects, a minimal palette of masonry, wood, steel, and board-formed concrete was used for Quail's Meadow.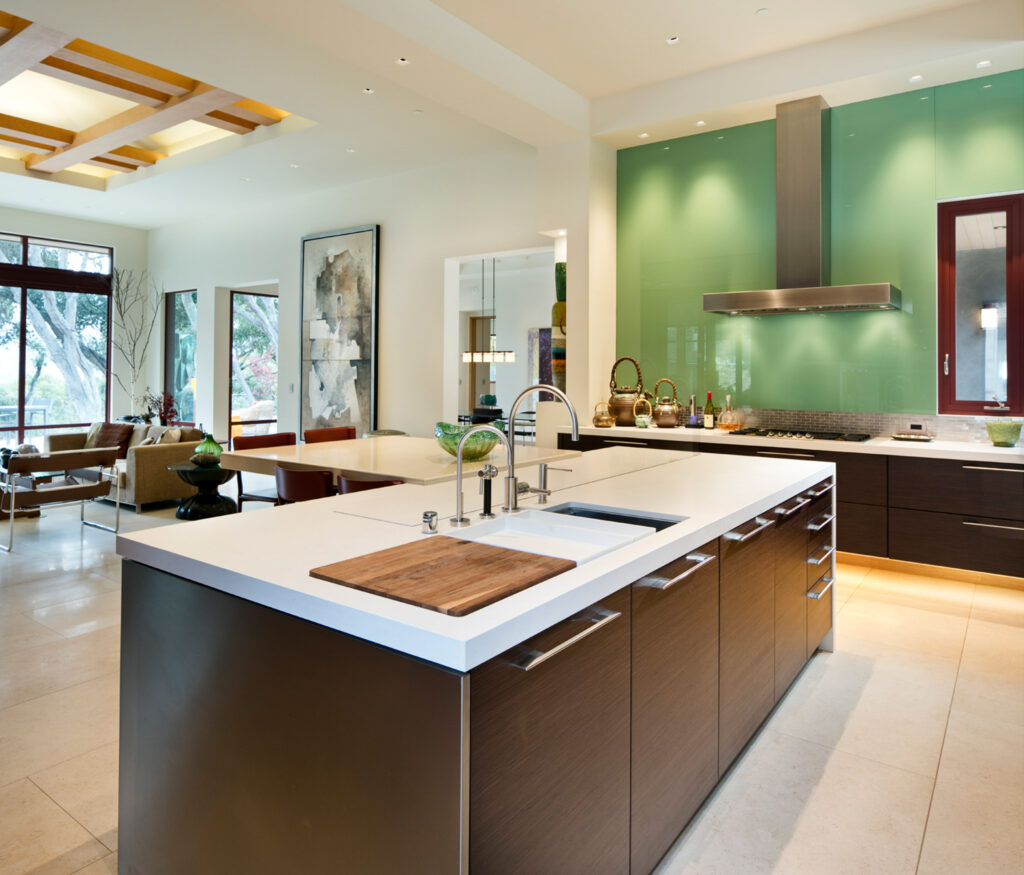 "The owner appreciated this simplified approach, acknowledging the unfortunate tendency in the industry to add what they described as 'too many sequins to the dress,'" says Braden Sterling.
Because material choices should always consider the environment in which they are being proposed, he adds, "timeless, low maintenance materials that develop a natural patina are always our first choice."
The use of board-formed concrete, he notes, "anchors the home visually to the site while cedar wood roof shingles soften the masonry forms and add a traditional element" with a steel painted in custom red lending "a refined, tailored look in contrast to the natural wood and concrete."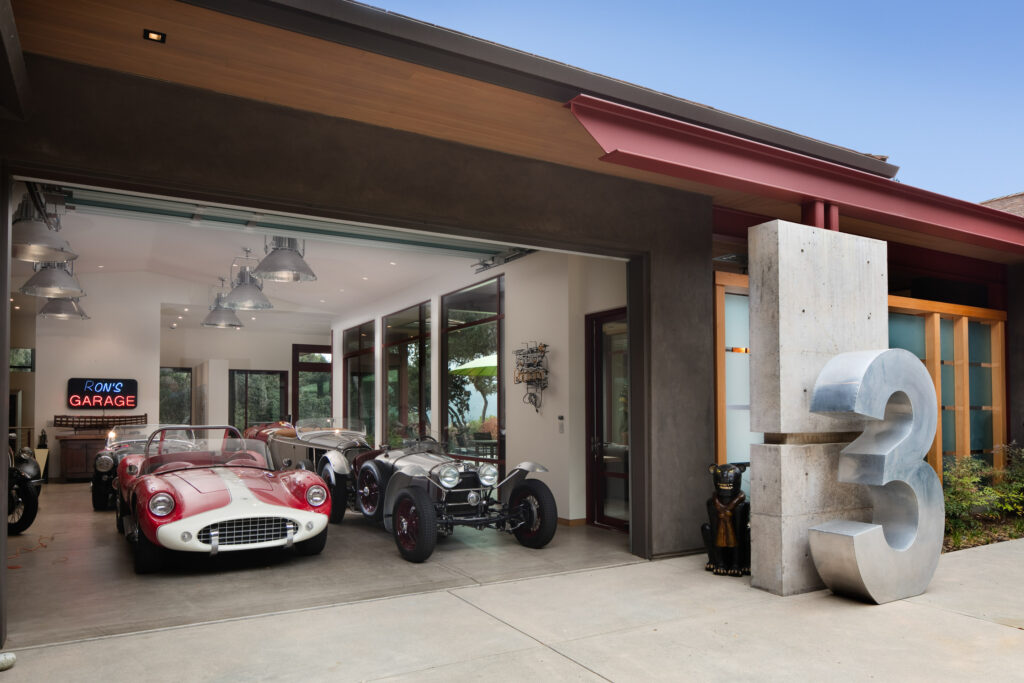 The glass, too, is grand, used lavishly and framed by rich wood trimming, in possible homage to the aforementioned Arts & Crafts luminary, Charles Greene. Large glass apertures throughout reveal a beautifully toned interior swathed in a lovely and expansive light, amplifying the interior's clean finishes, strong lines, custom work and the owner's eclectic art pieces.
The mix is vibrant, the mood buoyant. While striking, never does the decoration get ahead of itself—it is disciplined, focused, and attuned. Art, not artifice. The outdoor landscape exhibits a similar balance of interest and restraint, with various sculptures placed strategically to create sculpture gardens that call attention to the uniqueness of the architecture.
Quail's Meadow is, in the final appraisal of the project, an unapologetically personal work of residential architecture as it is one of strong association: between the natural and built environments, a collector and his acquisitions, client and architect.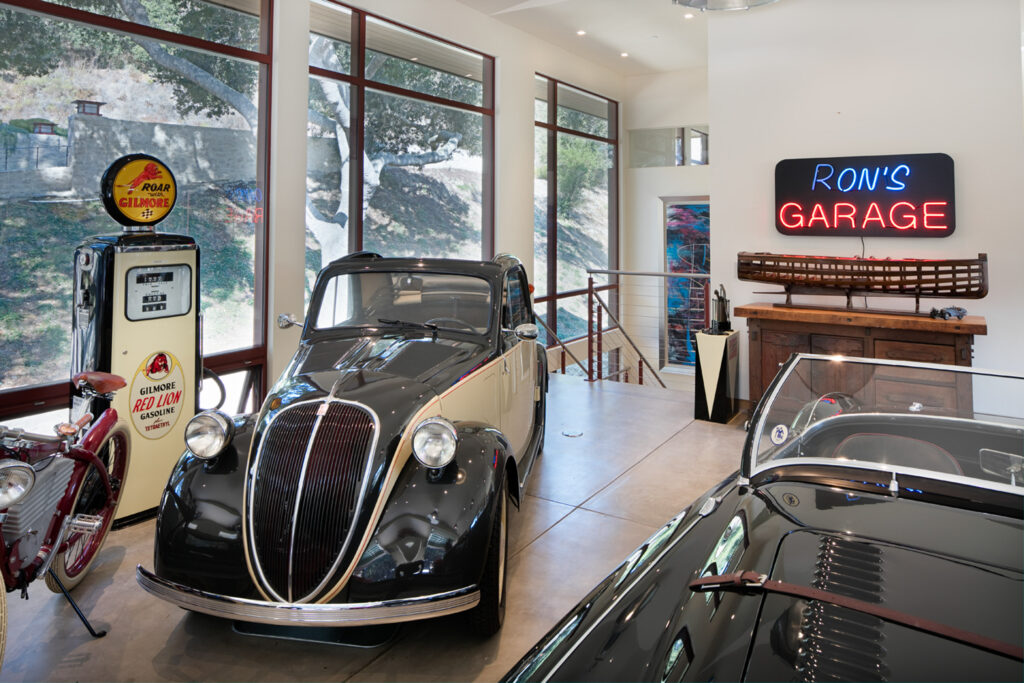 A shared love of vintage cars, an appreciation for the arts—it is the marriage of all these components, Braden Sterling observes, along with the livability of a one-of-a-kind residence, that most excites him about the project. He might also include amity.
"The owner and I have become friends, so I have the pleasure of experiencing the home socially," he confesses. "Afternoon lunches and dinner parties, car events and our regular Sunday drive meets at the house to pick a car from the collection before we all head south for a coastal drive down Highway 1 to Big Sur."
Top-down, hair whipping in the wind, one would hope. 
Sterling | Huddleson Architecture | sterlinghuddleson.com
Photography by Rick Pharaoh