Guests of the Beverly Hills outpost of Fogo de Chão now can enjoy the restaurant's authentic churrasco dining experience in a newly revamped atmosphere
Written by Wendy Bowman | Photography Courtesy of Fogo de Chão
The Beverly Hills site of Brazilian-themed restaurant Fogo de Chão has been around for 12 years, complete with gaucho-clad chefs moving from table to table to tempt guests with giant skewers of savory, fire-roasted meats like the house specialty, Picanha—a tender, juicy cut of top sirloin. Now there's even more reason to visit the La Cienega landmark, thanks to a recent remodel thoughtfully designed to pay homage to Fogo's Southern Brazilian roots.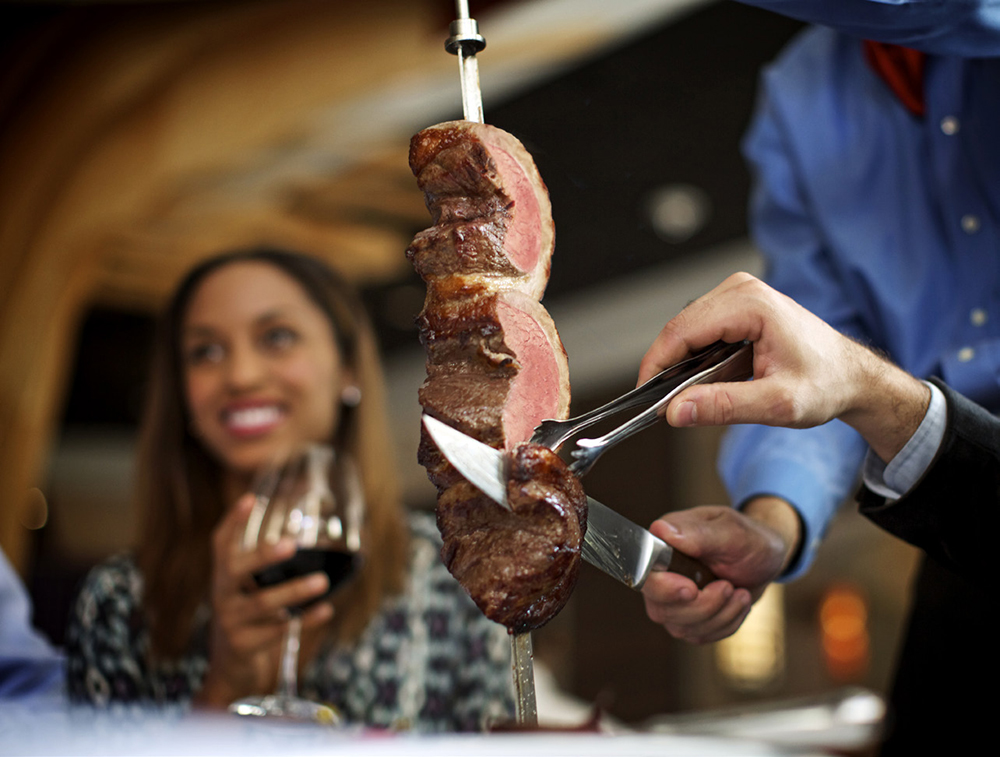 "We offer guests a fun, energetic and engaging atmosphere with a unique, Southern Brazilian [flair] that, while modern and contemporary, still maintains the roots and tradition of our very first restaurant in Brazil," says Larry Johnson, CEO of Fogo de Chão. "The new design boasts an atmosphere that is warm, contemporary and timeless to really enhance the guest experience."
The redesigned restaurant, located at 133 N. La Cienega Blvd.— just north of Wilshire Boulevard, near Matsuhisa, Lawry's the Prime Rib, SLS Hotel and Beverly Center—was completed by George Kelly of L.A.-based Kelly Architects. Among the highlights: a 16-foot, bas-relief rendition of "O Laçador"—a nod to the original gaucho monument erected in 1958 in Porto Alegre, Brazil, the home of the original Fogo de Chão—along with an outdoor patio sporting a living greenery wall.
Adding to the experience is an expanded Bar Fogo menu, offering a more casual dining option, featuring new small plates, cocktails and menu items starting at just $4 during weekday happy hour. Some of the most popular selections range from braised beef rib sliders to Brazilian empanadas and grilled beef tenderloin skewers, along with other seasonal options, including a refreshing lentil quinoa salad, blackberry arugula salad and carrot ginger soup, as well as the mango ginger martini.
"The new Bar Fogo menu is our largest bar menu innovation since arriving in the United States 20 years ago," says Johnson. "Similar to our lunch and weekend Brazilian Brunch offerings, the Bar Fogo platform is designed [to] give guests more opportunities to enjoy Fogo at a variety of price points with compelling value." Tie on those bibs, and get ready to enjoy the feast!
FOGO DE CHÃO
BRAZILIAN STEAKHOUSE
133 NORTH LA CIENEGA BLVD.
BEVERLY HILLS, CA 90211
310.289.7755
FOGODECHAO.COM