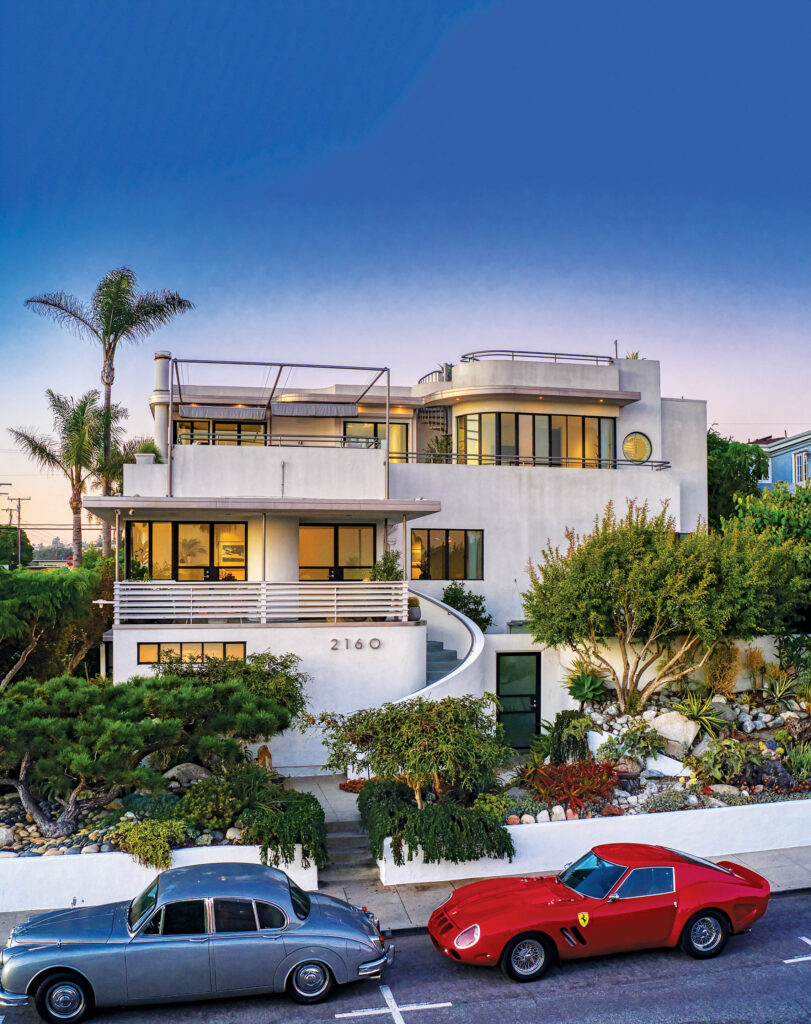 With Ornately Landscaped Gardens & Blockbuster Pacific Ocean Views, 2160 Monterey Blvd is a Prime Example of International Style Architecture that Sits Aloft in One of the Best Locations in the Beach Cities
"It's a personal Zen-like resort," says Geoff Yarema, describing his family's clean-cut white Hermosa Beach residence poised on an elevated and oversized wedge above the corner of Monterey Boulevard and Park Avenue: "I have not seen another home quite like it."
True for this historic four-level architectural property that's flush with lush landscaping, panoramic ocean views and, by luck of its location, is ideal for someone who's keen to toggle between the beach and cafe lifestyle of downtown, less than a 5-minute stroll away—and the peaceful world you enter when stepping into its scenic grounds, filled with fragrant native plants and old-growth trees.
"You've got to get behind the walls to appreciate it," says Geoff Yarema.
But there's also plenty to appreciate from the sidewalk. The silhouette is pleasingly geometric, with juxtaposed angles, curves and terraces native to its pedigree—as a carefully preserved example of International Style architecture. A design mode that, in the States, took hold in the 1920s and 1930s, International Style has roots in the German Bauhaus School and Frank Lloyd Wright, among others, and its expression is reflected in principles such as Less is more and Form follows function.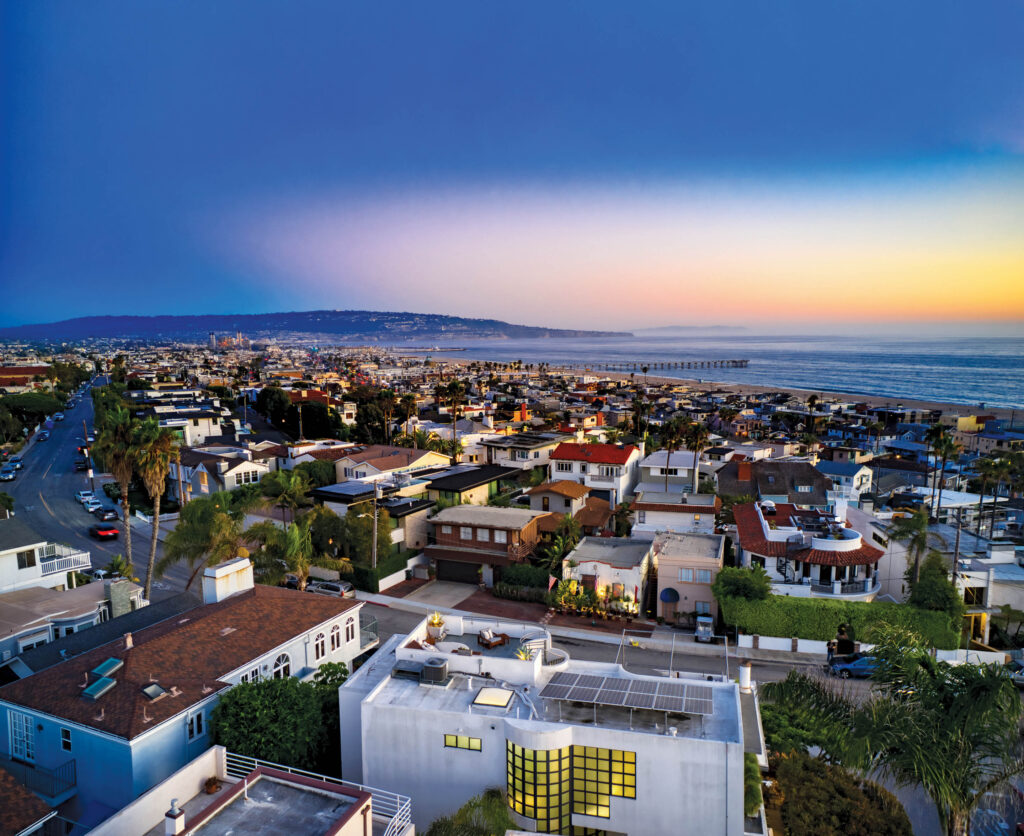 With a sunlit open floorplan and the seamless presentation of indoor/outdoor spaces, the 4-bedroom, 5-bathroom home was born in 1938 with the design of notable West Coast architect Earl Heitschmidt, whose works include the 24-room Wrigley Mansion in Phoenix, as well as Los Angeles' Biltmore Hotel and CBS Studios in Hollywood.
Yet so freshly au courant is the look of 2160 Monterey Blvd, nearly 4,000 square feet, and so tangible is its atmosphere of light-filled sophistication and oceanside ease—it's hard to fathom that it's been in existence for 85 years. Contributing to its contemporary feel and longevity is the influence of large-scale commercial works: Heitschmidt often worked on such projects, and similarly equipped this home with an industrial-grade strength that Geoff Yarema would subsequently build upon.
"So many different attributes coming together on the same property is rare," points out real estate agent Ed Kaminsky of eXp Realty. "There's its historic architectural aspect. Also, it's in the Sand Section—yet it has a yard. And, the lot is on a unique corner angle with southwest-facing views."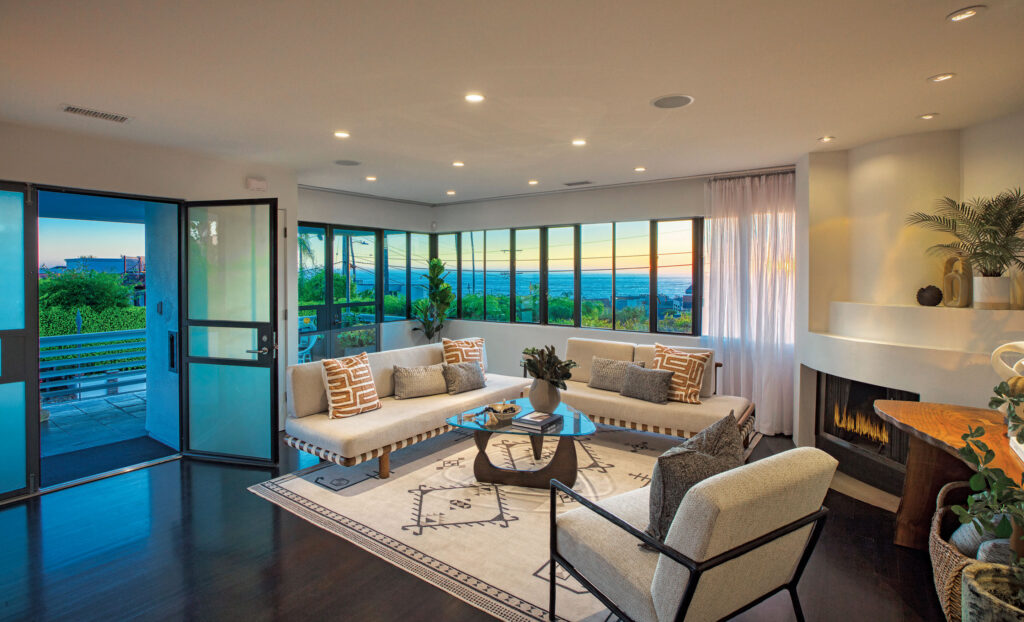 Due to its grandfathered status, which protects its lofty height and far-flung views, 2160 Monterey Blvd's would be impossible to replicate under current codes.
"The whole combination makes it quite special," says the agent.
Soon after purchasing the home in 1987, Geoff Yarema commissioned local architect William Burch to refresh and expand the property while staying true to Heitschmidt's design. The landscape, viewed by Yarema as integral to the property, was attended to by Ben Oki, founding curator of the bonsai collection at The Huntington, who designed the home's free-flowing map of shapely mature trees, while the award-winning San Diego firm of Deeter Buckner Design wove a tapestry of drought-tolerant native plants, aromatic flowers and a range of succulent fruit; from guava, and tangerine to banana, blueberry and pomegranate.
"The succulent garden in the front yard," Geoff Yarema points out, "was designed to resemble an underwater reef, an homage to its Pacific Ocean connection."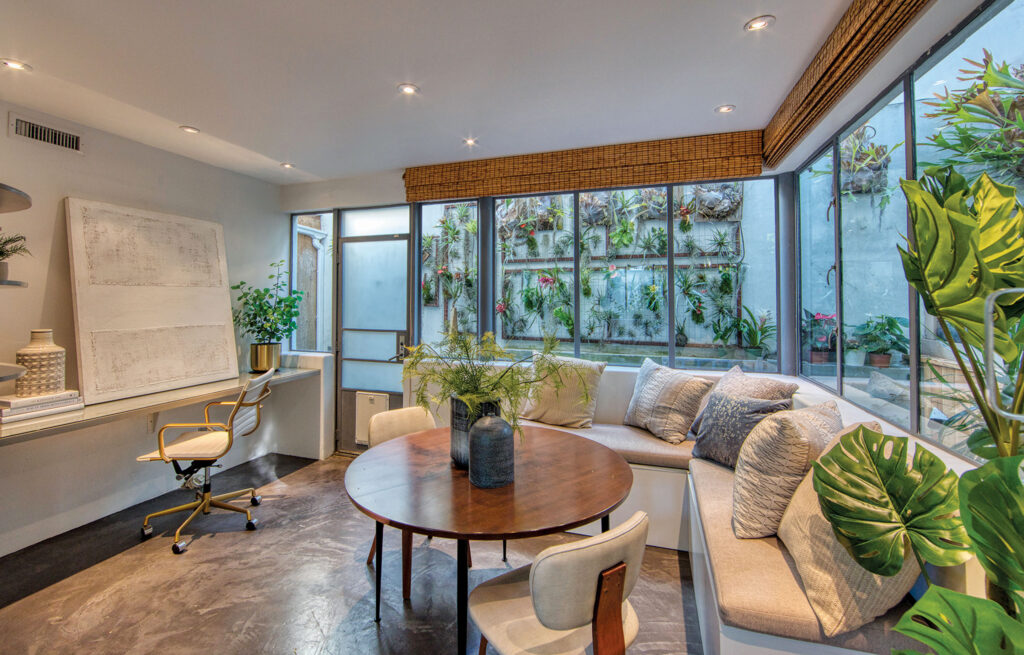 Meanwhile, the backyard is a private oasis that wraps around the mostly glass, first level of 2160 Monterey Blvd. It's here where you can enjoy an al fresco dinner prepared on the barbecue, followed by a relaxing soak in the Japanese-style hot tub. Built-in seating is where guests can converge, warmed by the cedar fire pit on chilly evenings. There's an outdoor shower to rinse off after coming back from the beach, just a 3-minute stroll from the house; and even pets enjoy their own space via the gated dog run. Having a backyard in the Sand Section is a rare thing; even more so is having one effectively cloistered from the rest of the world.
"Our neighbors are great, and are one of the best reasons to live here," says Geoff Yarema. "But behind the walls, we don't see or hear them."
Glass doors link the Zen garden with the interior: You can lounge in the bright family room, amid tropical privacy and listening to the meditative flow of water in the sculptural fountain. Also on this floor is a game room and wine cellar, as well as a bar and a relaxing sauna, lined with wood.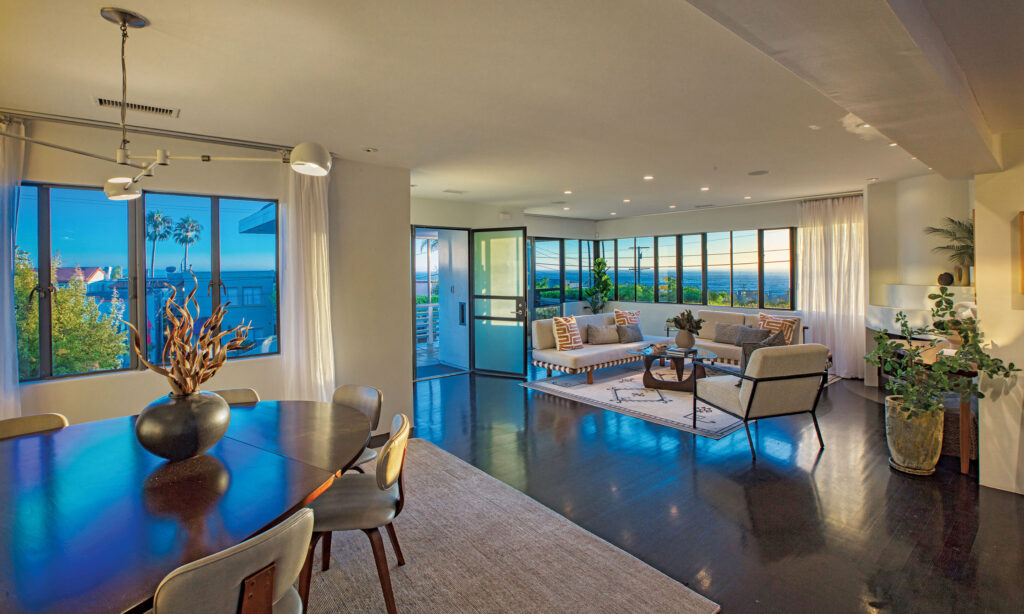 Steps away are standalone living quarters with a full kitchen that can neatly be integrated with the floorplan, or set apart via a cleverly designed locking-moving wall. The kitchen is a particularly handy amenity because it can double as a service kitchen when hosting garden parties. Speaking of, 2160 Monterey Blvd lives much larger than its stated square footage, and can easily transform into an entertaining hub for more than a hundred guests, as Geoff Yarema notes it has on many occasions during large family and community events.
The genius of the design lies in its deft utilization of space, and its ability to transport you along different scenes, spaces and moods—notably shifting from the tranquil retreat of the first level to the scene-stealing ocean views on the second, third and fourth.
"There are views, then there are views," remarks Geoff Yarema. "The interplay among the sun, sky, moon and ocean has always reminded me of a constantly changing Impressionist painting. Always different, always breathtaking."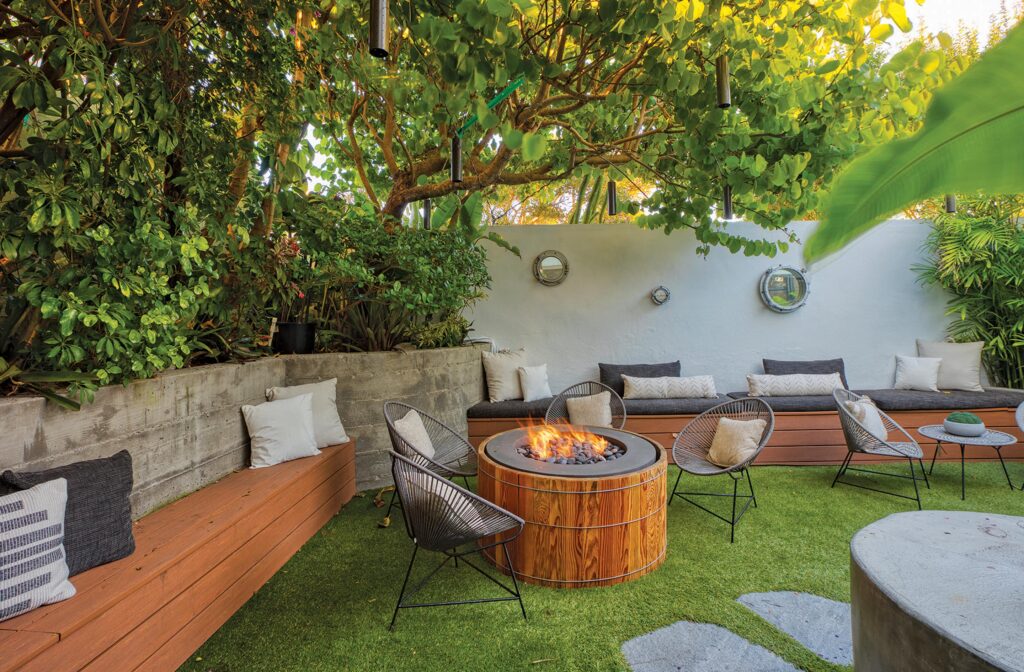 At 2160 Monterey such vistas are due to 2160 Monterey Blvd's unique geographical position. It's perched atop of the hill, the homeowner explains, at the axis where Monterrey Boulevard, running east to west, makes a sweeping turn, switching to north by south. Coupled with the distinctive, quasi-square shape of what's effectively a double lot, the result is panoramic views from the top three levels, which include an uber-private rooftop deck with 360-degree views.
"And those views are intrinsic to almost every room in the house," Geoff Yarema describes. "If you're not looking at the ocean, then you're looking at the Zen garden."
Bird's eye ocean vistas pour into the fireplaced living room and dining room on the middle floor. Ditto on the third floor, which is home to the primary bedroom suite and a spacious office that leads to a grand, fresh-air living space.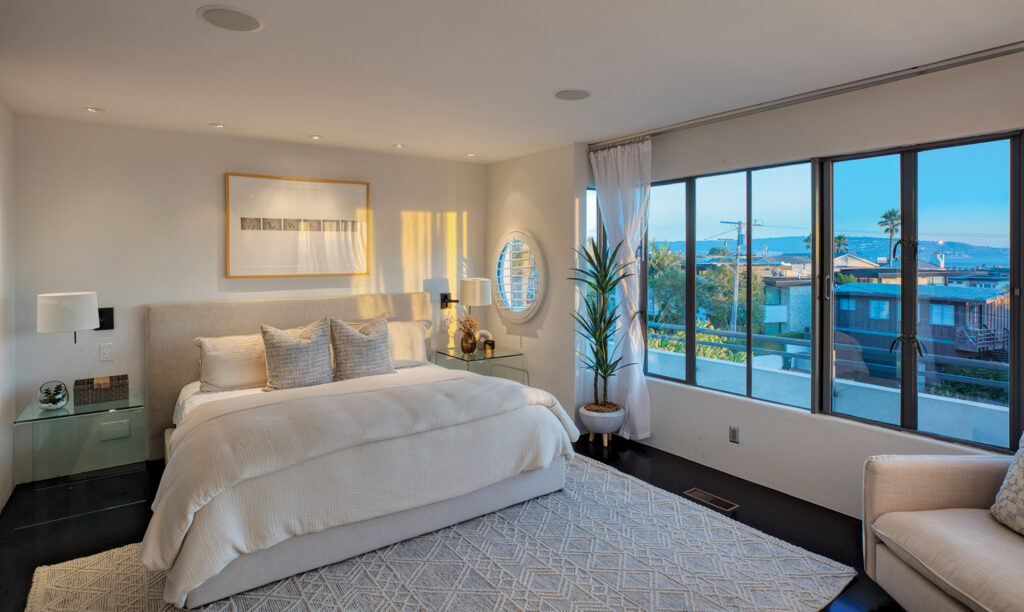 "It's a huge indoor-outdoor space that handles 40 or 50 people—and has many times," Geoff Yarema says of the sun-splashed lounge where you recline on built-in furniture to witness the vivid hues of sunset and ponder the glowing flames of the fire feature after dark.
Motorized awnings extend over the whole of the space, sheltering it from sun and rain. Steward might be a more appropriate designation for Geoff Yarema, who has faithfully attended to the home for the last 36 years, down to the rows of slender vertical windows that cast golden beach light throughout the floors.
"We found the same company that made the original steel casement windows," he recounts and purchased more when he commissioned architect Burch to add to 2160 Monterey Blvd.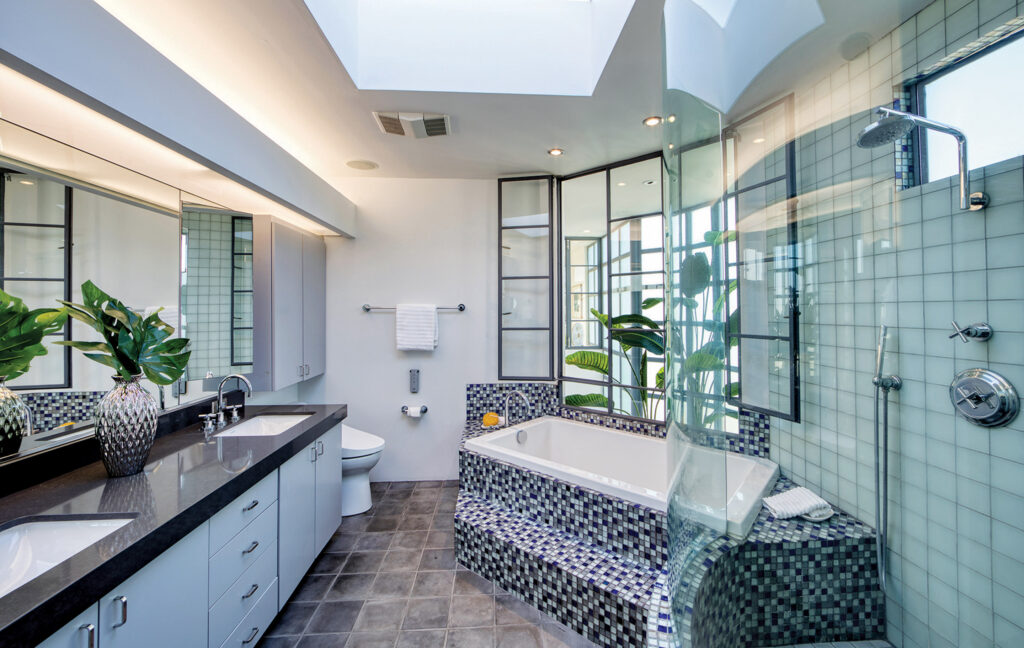 In turn, the residence has rewarded the homeowner and his family with years spent amid its singular beauty, with days enhanced by the ocean's bold nature, amplified and experienced from the comfort of this finely crafted hilltop perch.
"It's the ultimate combination of near-oceanfront living, the joys of Hermosa Beach and a small, private resort," says Geoff Yarema. "When I go away and come back it's always an emotional experience, and I ask myself, 'Is this really home?'"
Ed Kaminsky | 310.427.2414 | DRE #00958114
Kaminsky Real Estate Group | itzsold.com
eXp Realty Luxury
List Price: $8,250,000
Photography by Paul Jonason