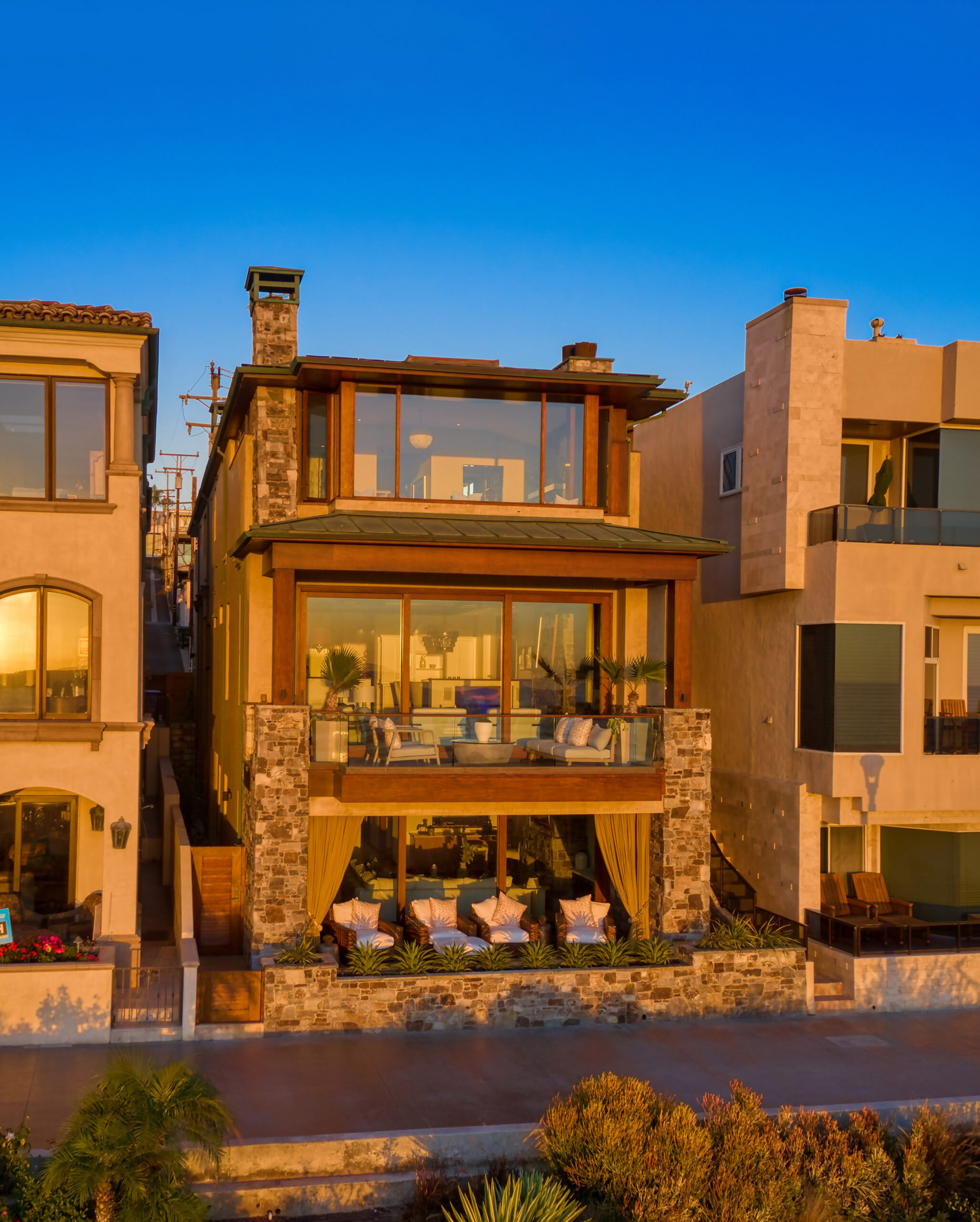 Step Inside 1408 The Strand, a Timeless Beachfront Home Located on a Particularly View-friendly Slice of the Manhattan Beach Strand
"The ocean view is very dynamic," describes real estate agent Dennis Moloney of Strand Hill | Christie's International Real Estate. "The water color can range from blues to translucent green, and the surface can vary between flat as a lake to beautiful lines of waves. The sky ranges between bright blue to cloud-streaked, and of course, there are the ever-changing sunsets."
He's discussing 1408 The Strand, an approximately 4600-square-foot home positioned on an elevated stretch of this charming swath of Pacific Ocean coastline. Due to the raised elevation at this point of the Manhattan Beach Strand, about 20 feet or more above the beach, the property is privy to enhanced 180-degree views of the coast, stretching from Malibu to Catalina Island.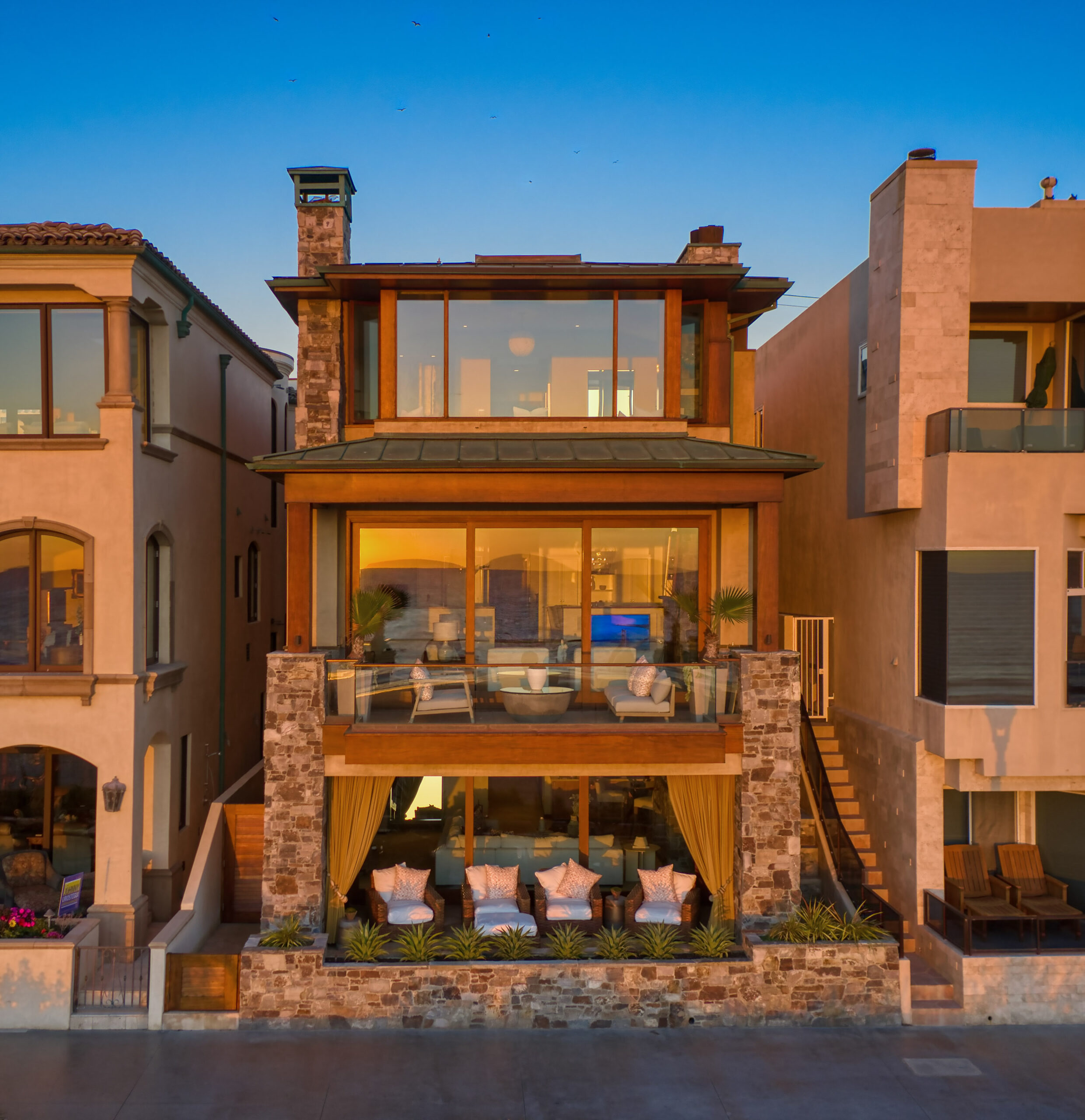 "On this north plateau," explains Dennis Moloney, which includes only those Strand homes north of Manhattan Beach Pier, "you see the whitewater and the tide washing the sand from even the lowest level of the house."
Views that have been played up in 1408 The Strand, a bespoke beach home designed by notable coastal architect Louie Tomaro, and constructed by a local builder-developer as his personal family residence.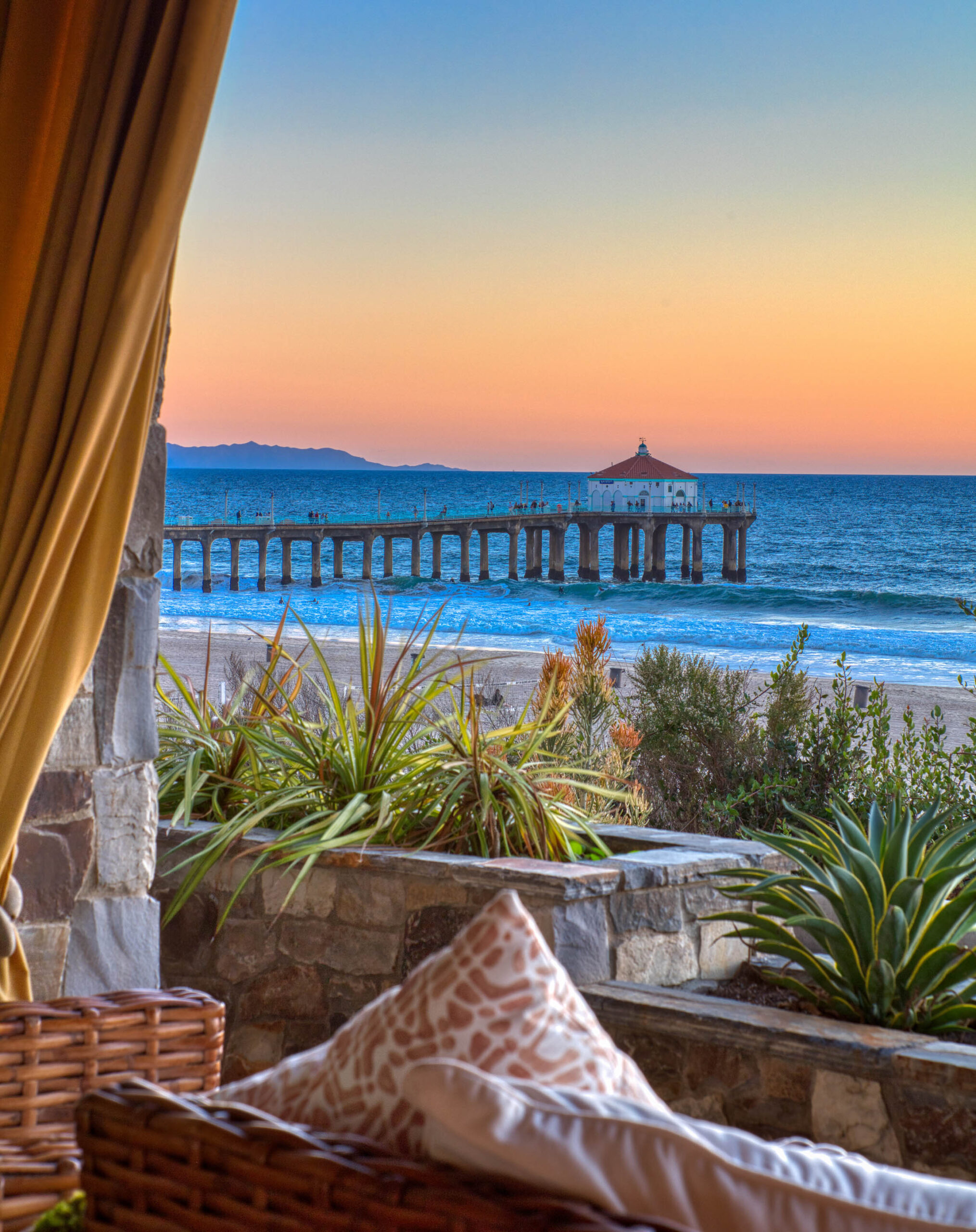 "It was patterned after the Four Seasons Hualalai Resort in Kona," says Dennis Moloˇney of the three-level home, which features a mix of durable, timeless materials including specimen Honduran Mahogany, stone sourced from Montana and a standing-seam copper roof.
It's an apt introduction to the warmly sophisticated atmosphere inside the 4-bedroom, 4.5-bathroom residence, where gleaming Burmese Teak floors play against creamy white walls, and rooms clad in natural stone bring mellow texture to sand-hued limestone slabs.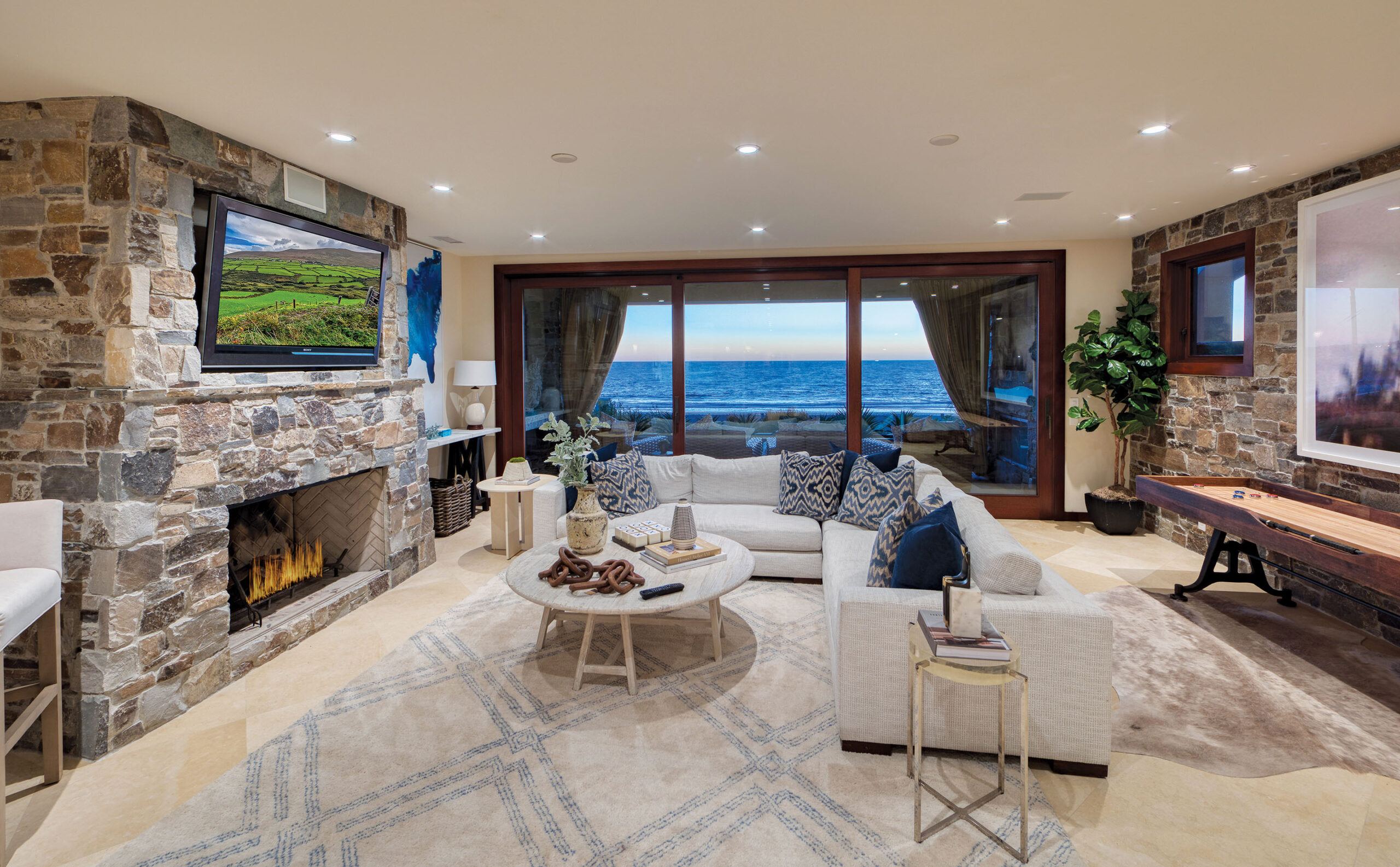 The fireplaced living room features a recessed ceiling inlaid with bamboo; the sunlit white kitchen is where you can dine over ocean views on a seagrass limestone center island, and an elevator can whisk you downstairs for a private soak in the oversized Jacuzzi, while water peacefully cascades along its stone enclosure. Such are the fine-grade materials chosen for their elegant, earthy aesthetic and longevity that, over time at this oceanfront setting, have produced an even warmer patina and glow.
The fresh atmosphere and au courant user-friendliness of the home belies the vintage of the home, which has been maintained in peak condition since its completion over a dozen years ago. A mid-2022 overhaul included the installation of new lighting and surfaces, from floors to counters, and refreshed landscaping and plumbing.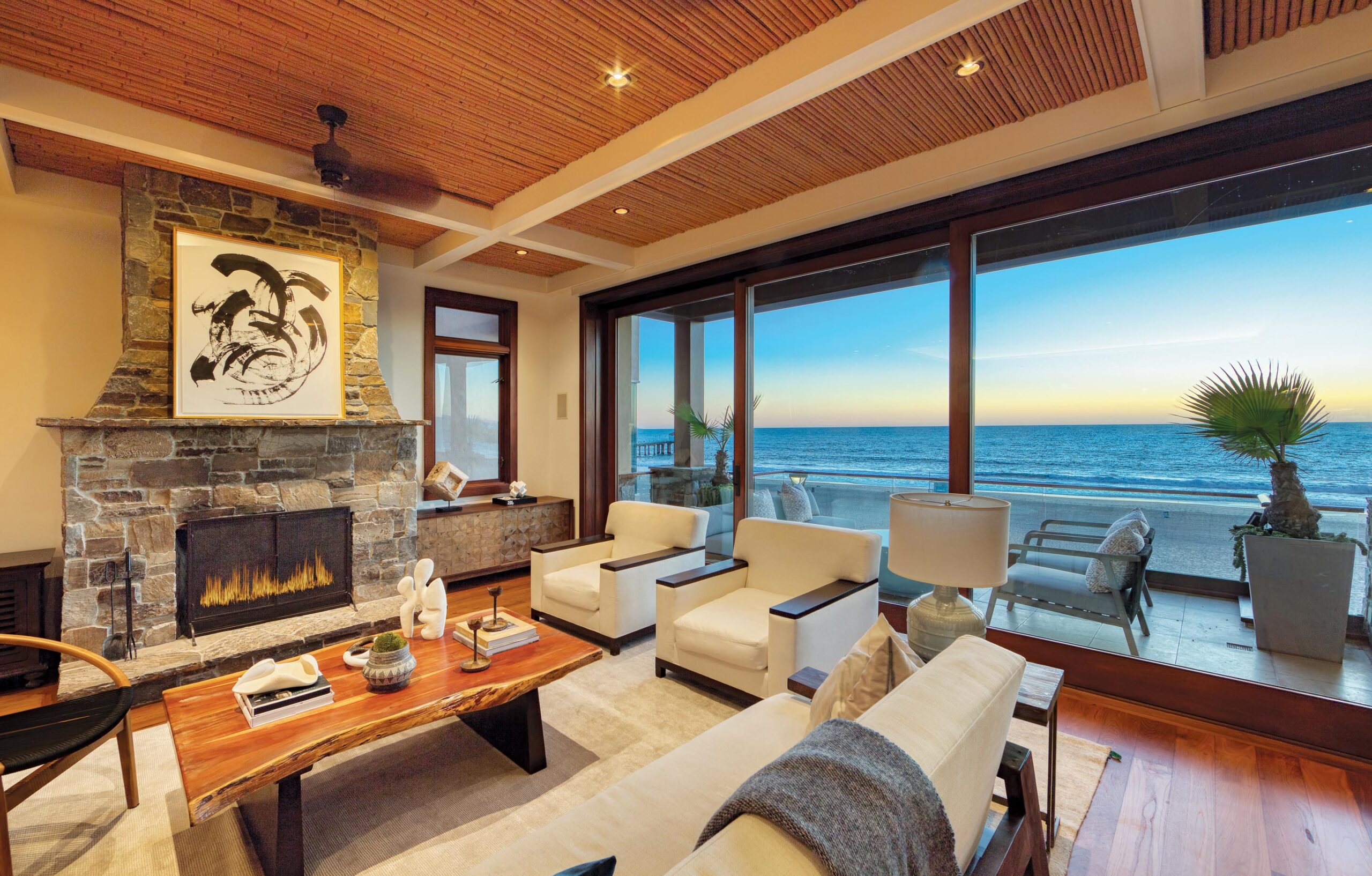 The idea of selecting such a turnkey luxury residence on the Strand has become increasingly compelling, points out Dennis Moloney, given that building a new Strand home from scratch is such a time-intensive proposition.
"'Lot value' properties have become increasingly more scarce on the Strand," he explains, "and Coastal Commission approval and construction are now pushing a four-year commitment, so perhaps one of the most compelling features of this property is that you could be living there for the annual fireworks show off the Manhattan Beach Pier next month."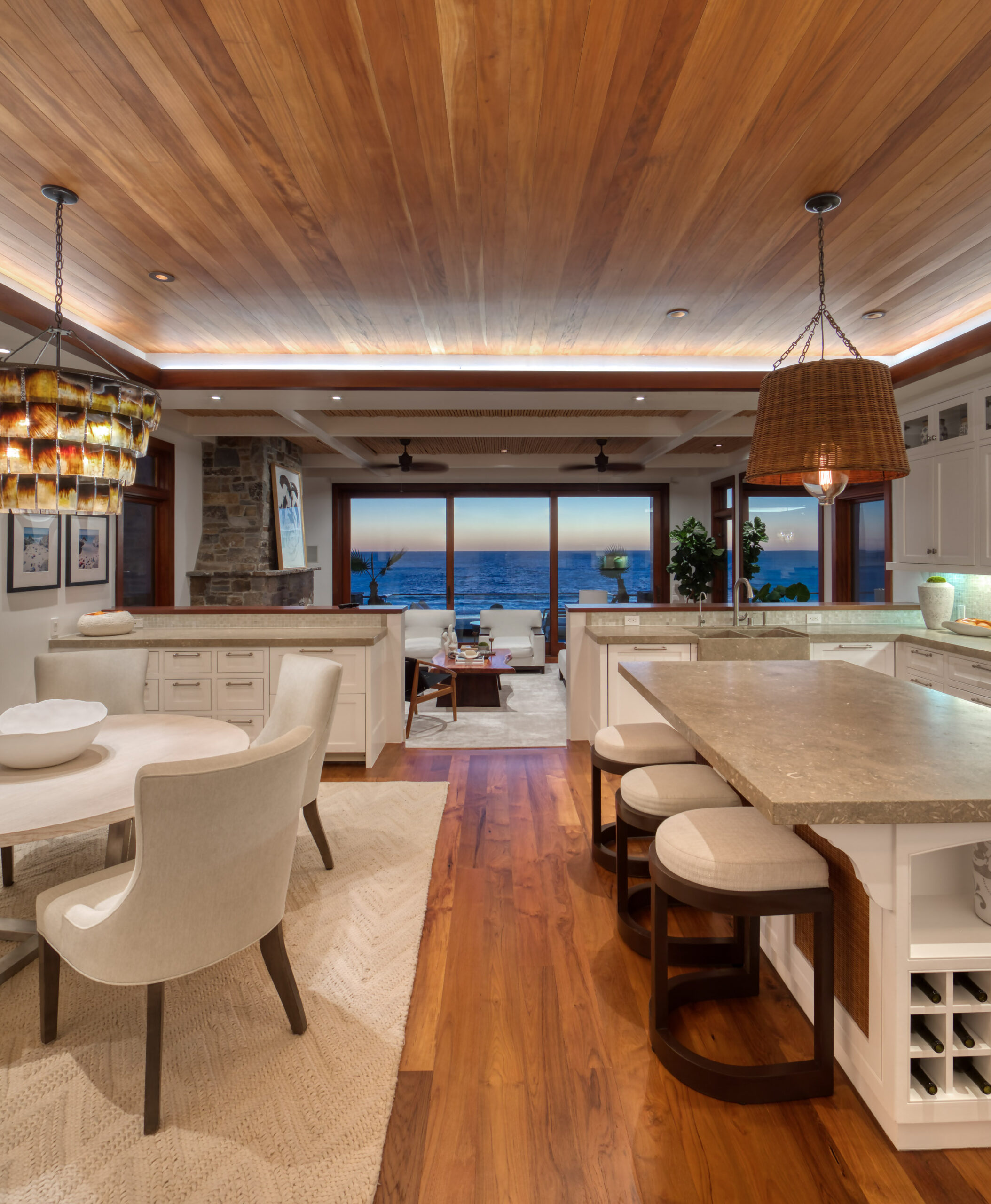 The main living spaces—kitchen, dining and living room—are located on the middle level, which also houses a three-car garage, making for a more centralized living experience.
"The nice thing is that the house lives very horizontal," explains Dennis Moloney. "You live on the middle floor, then it's just one floor upstairs to the bedrooms, and one floor to the ground floor, where all the fun stuff is."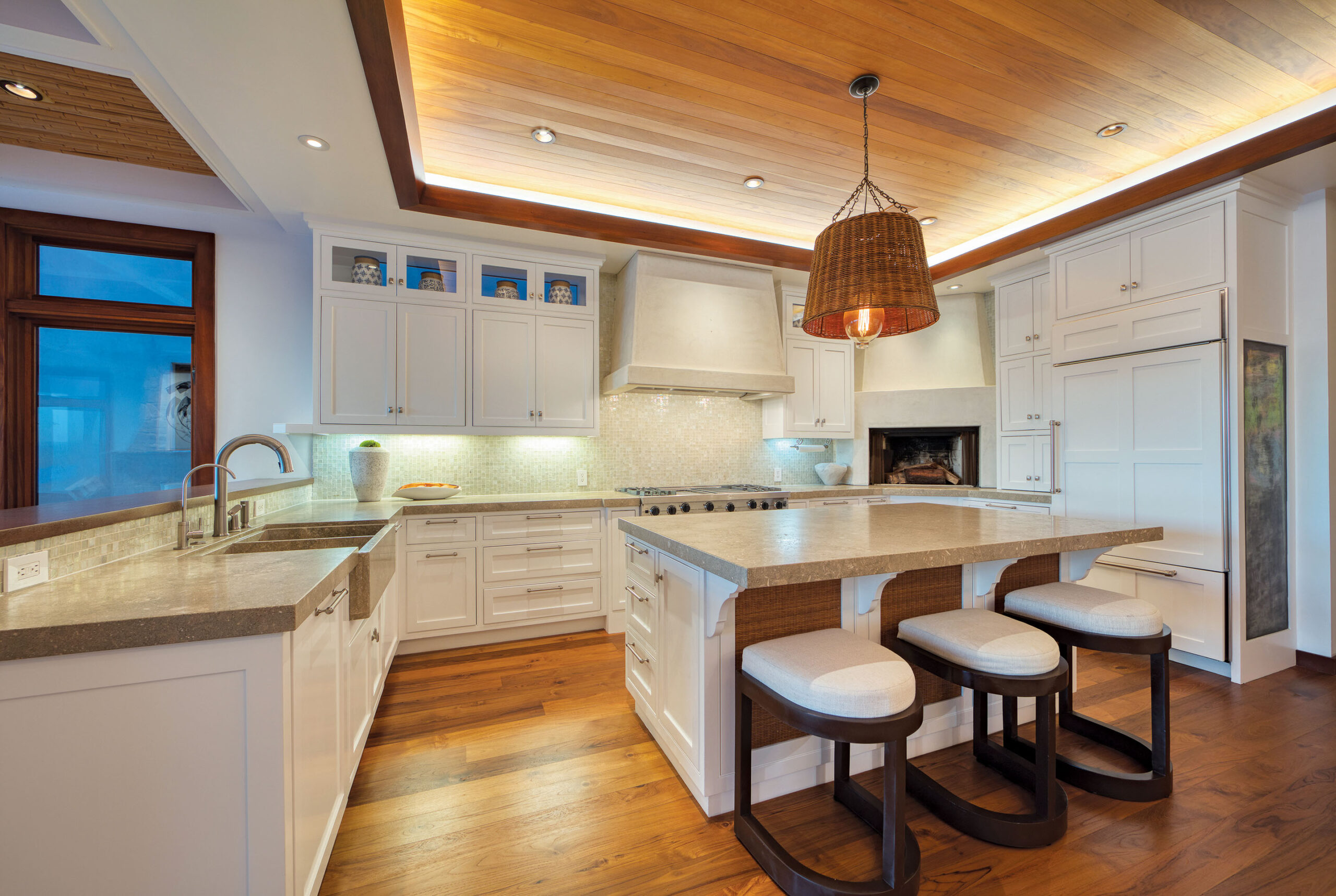 You can host movie nights in the plush, cocoon-like theater, or watch passersby from the covered patio on this Strand level. There's also a private office with ocean views and a bright gym on this floor, where you can soak in the bubbling spa post-workout.
Floor-to-ceiling glass neatly merges the mellow, fireplaced family room with the neatly landscaped patio, instantly turning it into a spacious beachfront entertaining space. It's a smartly flexible floorplan enabling you to control how connected, or remote, you wish to be vis-à-vis the activity on the Strand and beach.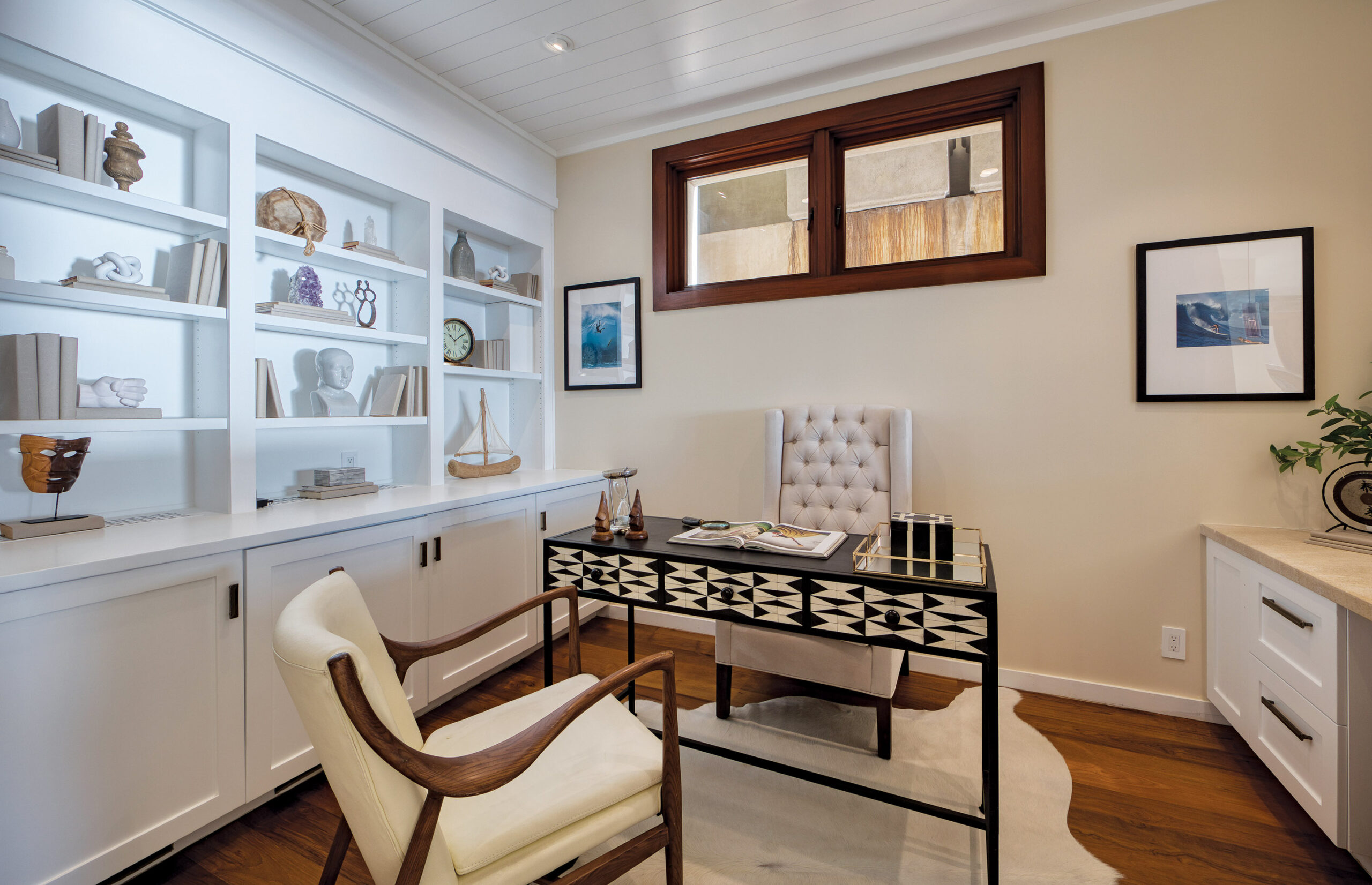 The home's second, or main, floor is also neatly separated by a covered oceanview balcony: You can watch vivid sunsets privately, or stand along the balcony's glass railing and tune into the action as you wish.
"Arguably, this is the best part of the Manhattan Beach Strand," points out Dennis Moloney. "It's just far enough north of Downtown and the Pier that you avoid any crowds. Still, it's within a don't-think-twice walking distance of downtown amenities like shops, nightlife and restaurants."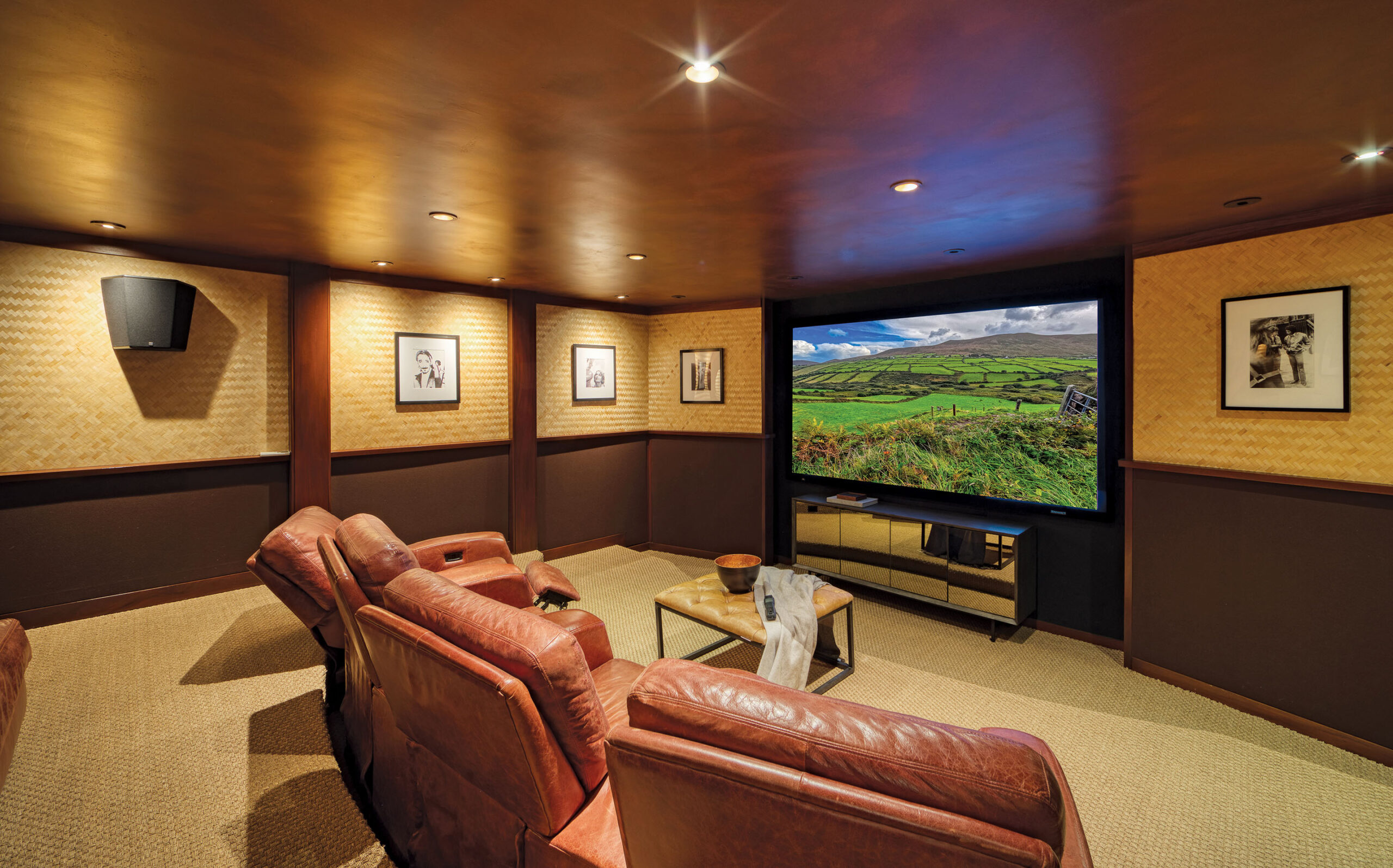 Back home, you can take the elevator to the uppermost floor and luxuriate in the primary suite—a calm retreat where you can rise to white-capped waves and fall asleep watching the twinkling ocean sky mix with the glow of flames in the fireplace.
The primary bathroom features an outdoor walk-in spa shower where you can rest, rinse or apply spa treatments under the open air. It's a standout luxury of the home, being able to look up at the sky while bathing, and transforms this daily ritual. Then again, this is a home that was built to make everyday existence a bit more special.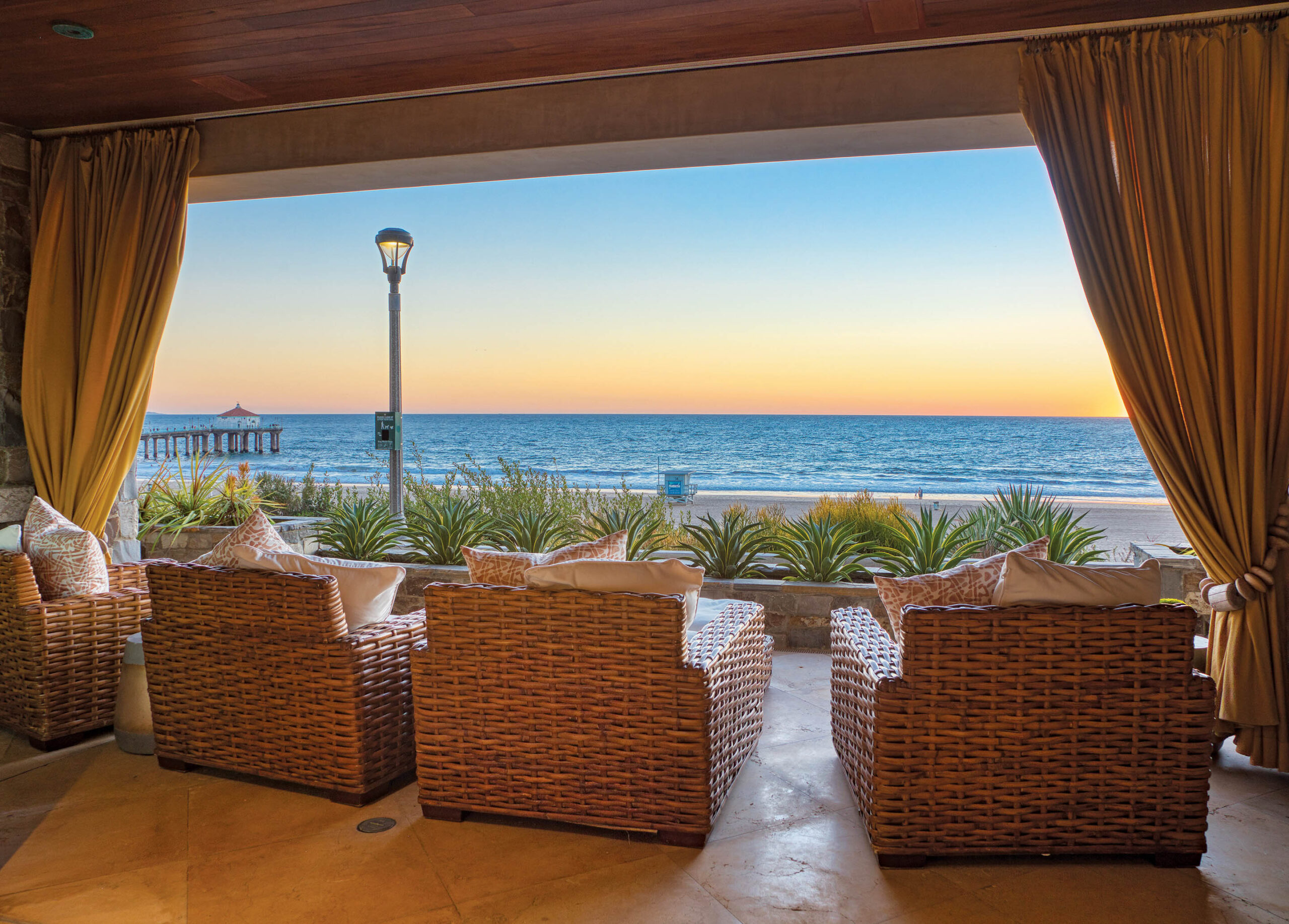 "It's like being on vacation," Dennis Moloney says of life at this Strand address, where wide-screen ocean views have been carefully joined with a user-friendly floorplan and exceptional materials—all meant for a comfortable life in one of the world's most naturally beautiful places.
Dennis Moloney | 310.480.8854 | DRE 00808394
Strand Hill | Christie's International Real Estate
List Price: $18,250,000
Photography by Paul Jonason