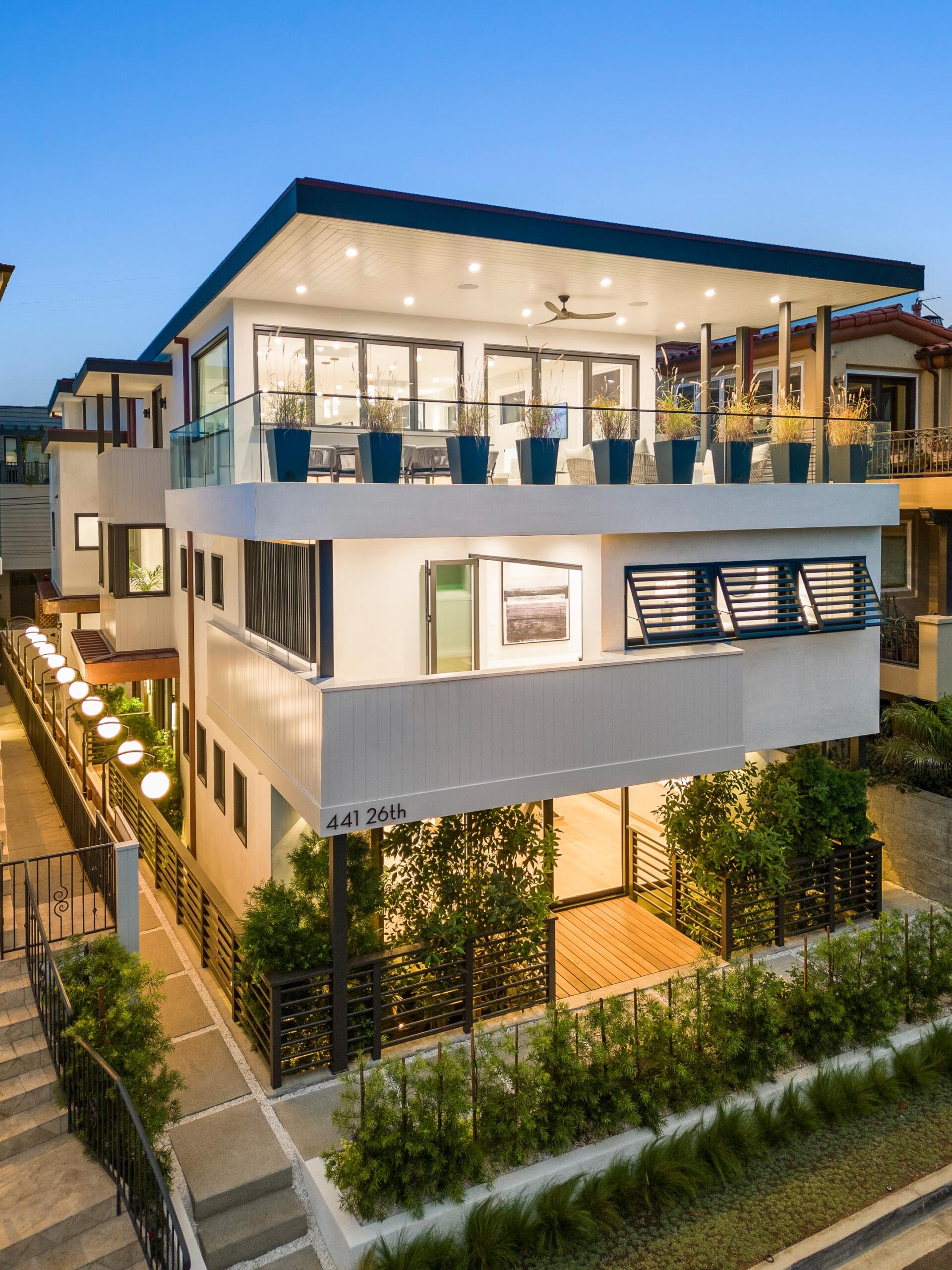 A Sprawling New Designer Home With Unfettered Ocean Views Adds Up to an Exceptional Manhattan Beach Address
The striking new residence along 26th Street in Manhattan Beach is often described as "the house with the moat around it." Stepping across the inviting wood bridge flocked with lush greenery delivers you into a world of its own—contemporary and conspicuously roomy, with approximately 6,000 square feet of living space.
"It's one of the largest homes ever built in the Sand Section," notes real estate agent, Ed Kaminsky, pointing out that the lot is larger than most, with a width of 42 feet at points, in contrast to the standard lot, which is 30-feet wide.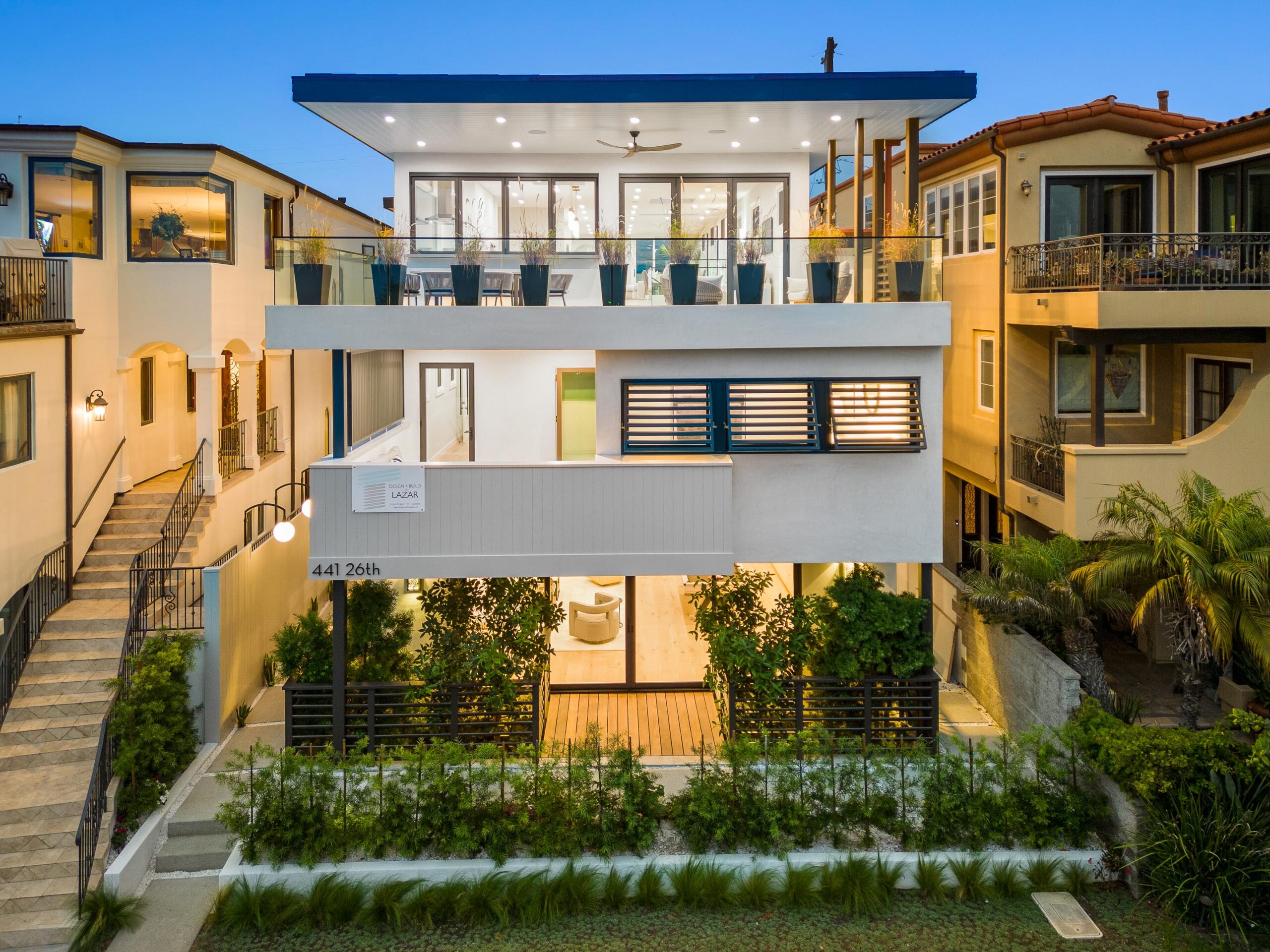 The result is 441 26th Street, a 6-bedroom and 7-bathroom home with four sunlit levels—from a spacious basement with abundant natural light, to a sophisticated uppermost level with exhilarating 180-degree hilltop views. The overall style references a California beach house, with a mix of clean lines and traditional features.
However, points out builder Steve Lazar, "It's very transitional."
Steve Lazar, of Design + Build by Lazar, who has been building notable custom homes in the Beach Cities for three decades, crafted the look of the home in collaboration with homeowner Pavlina Solo, a writer-director whose well-traveled European aesthetics can be found throughout the residence.
Though initially conceived as Pavlina's personal abode, the new home has never been lived in and features a quadrant-organized floorplan and a shape-shifting palette focused on versatility—welcoming new owners to imprint on it their own sensibilities.
"The color palette is very accommodating, and doesn't dictate anything with respect to how you might furnish or decorate it," describes Steve Lazar.
Minimalist white spaces dominate, warmed with natural elements like copper, character-rich wood and finely crafted Italian and Spanish tiles.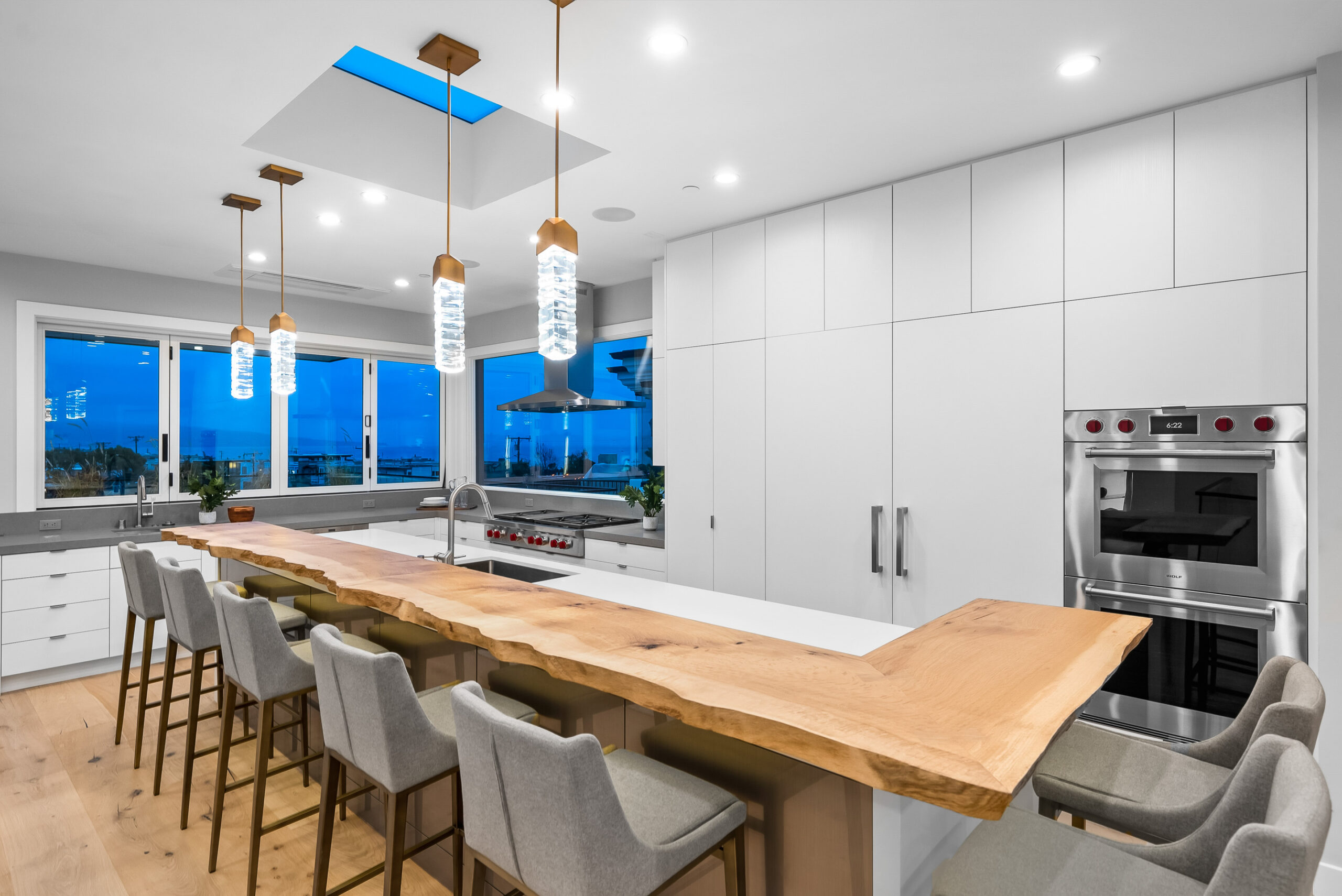 "There's also a little theme of silver, gold and crystal brought together, but in an organic way," explains Pavlina, who hails from the Czech Republic. "Crystal is a Czech specialty, and it works with the house."
The second floor is home to four bedrooms, including a primary suite with an oceanview balcony, and a cluster of three bedrooms organized in its own quadrant. The latter is an ideal kids' zone, and features at its entrance a pragmatic touch: built-in lockers and laundry hamper drawers for each bedroom. This quadrant is separated from the primary suite by a grand hallway, acting as a buffer between living spaces. Such transitions are found throughout the home and are intentional.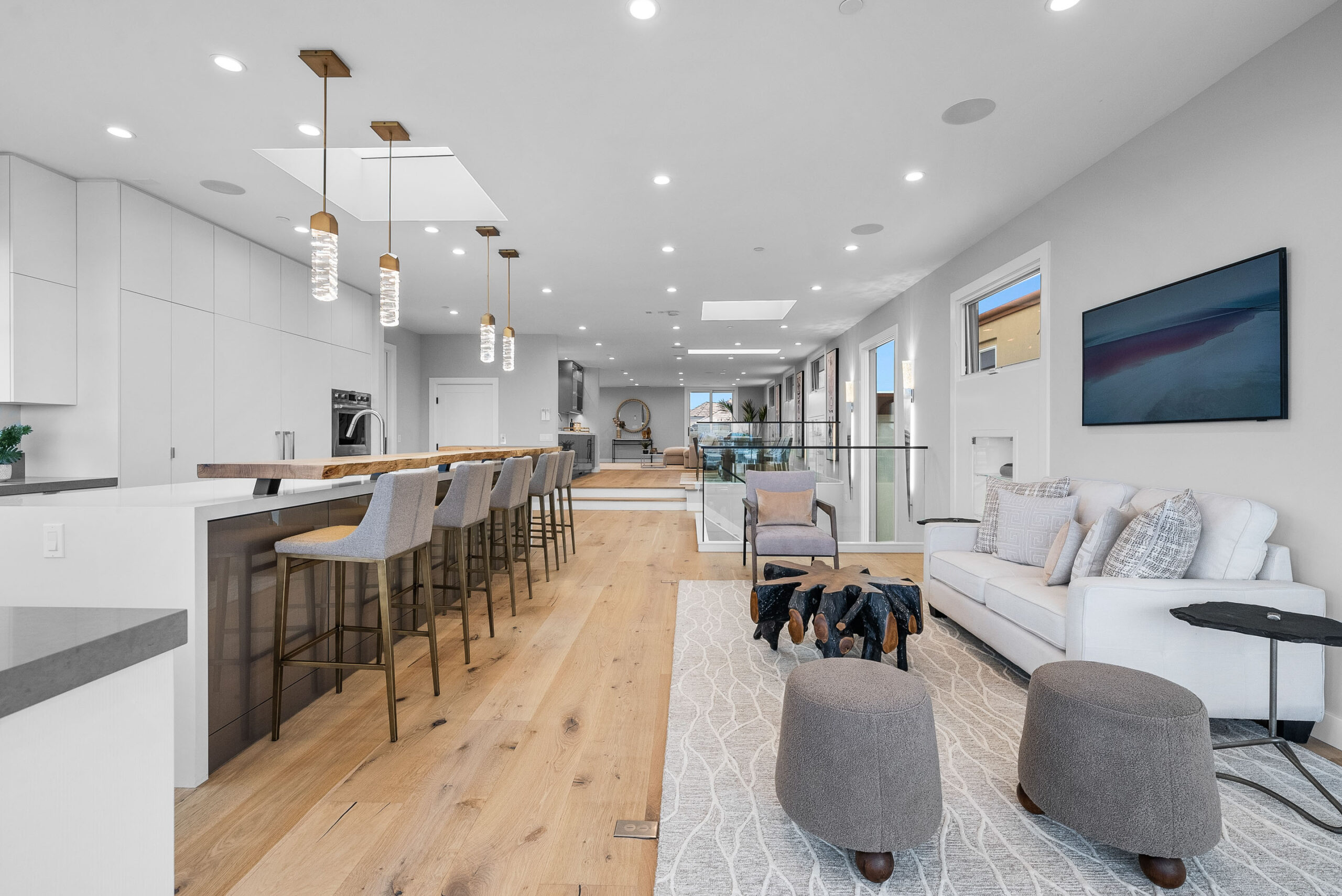 "You have a chance to catch your breath before you go from one part of the home to the next," explains Steve Lazar. "Yet each quadrant is very connected."
Ditto for the home's other zones, strategically spaced across four levels. There's a sprawling beach room on the street level with sun-bleached wood floors and endless sleek counters; a basement that can alternately serve as a gathering space or a two-bedroom suite, complete with a kitchen and two bathrooms.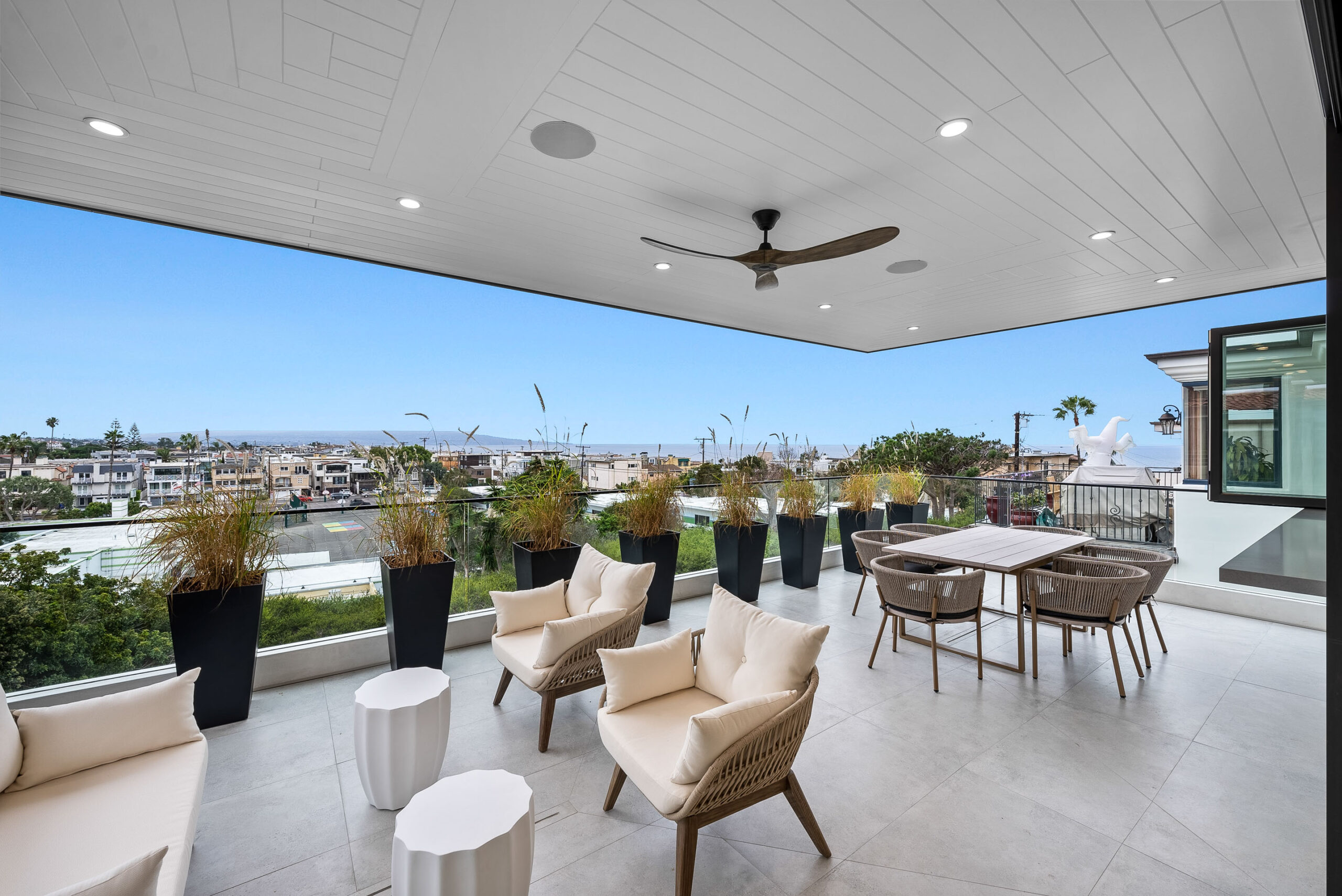 "There's this flexibility about the home where you can interchange some of the rooms, making them a guest suite or office," says Pavlina. "Or you can easily have a family with many children living there."
The kitchen, which the homeowner envisioned as the most frequent gathering spot for family and friends, is on the uppermost floor.
"I'm a huge entertainer," she says, "so I decided to have an entertaining kitchen where everybody can feel like they're part of the experience."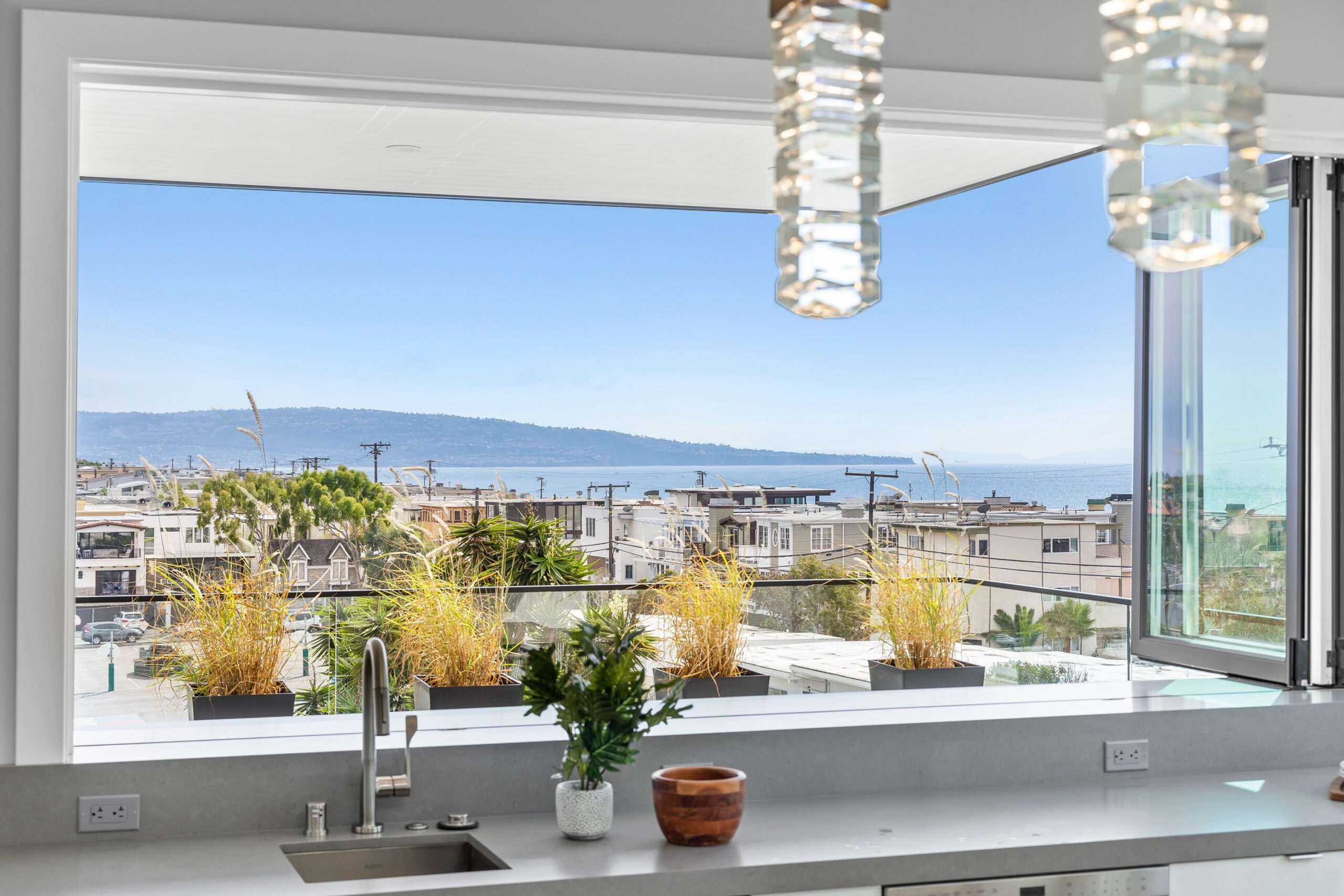 Guests can congregate around the central island with high-altitude views of the Pacific Ocean in their midst. Steps away is a dining room with sea views to Palos Verdes and Catalina Island, followed by a fireplaced living room. Not to miss on this floor is an oversized deck, with an absence of supporting posts offering an unblocked view of water and sky.
"You feel like you're on top of the world," says Pavlina of the vantage point, "and it always gives you this positive feeling."
Though Steve Lazar's homes are one-offs, ranging from the striking Lifeguard Tower Residence in Hermosa Beach to a solarium-inspired Manhattan Beach home with an inverted gable roof—a common theme is the deft twining of indoor and outdoor spaces. In 441 26th Street, this is articulated in a pleasant network of fresh-air walkways and balconies, and a keen fenestration, including a glass floor panel beaming sunlight from the rooftop skylight down to the basement.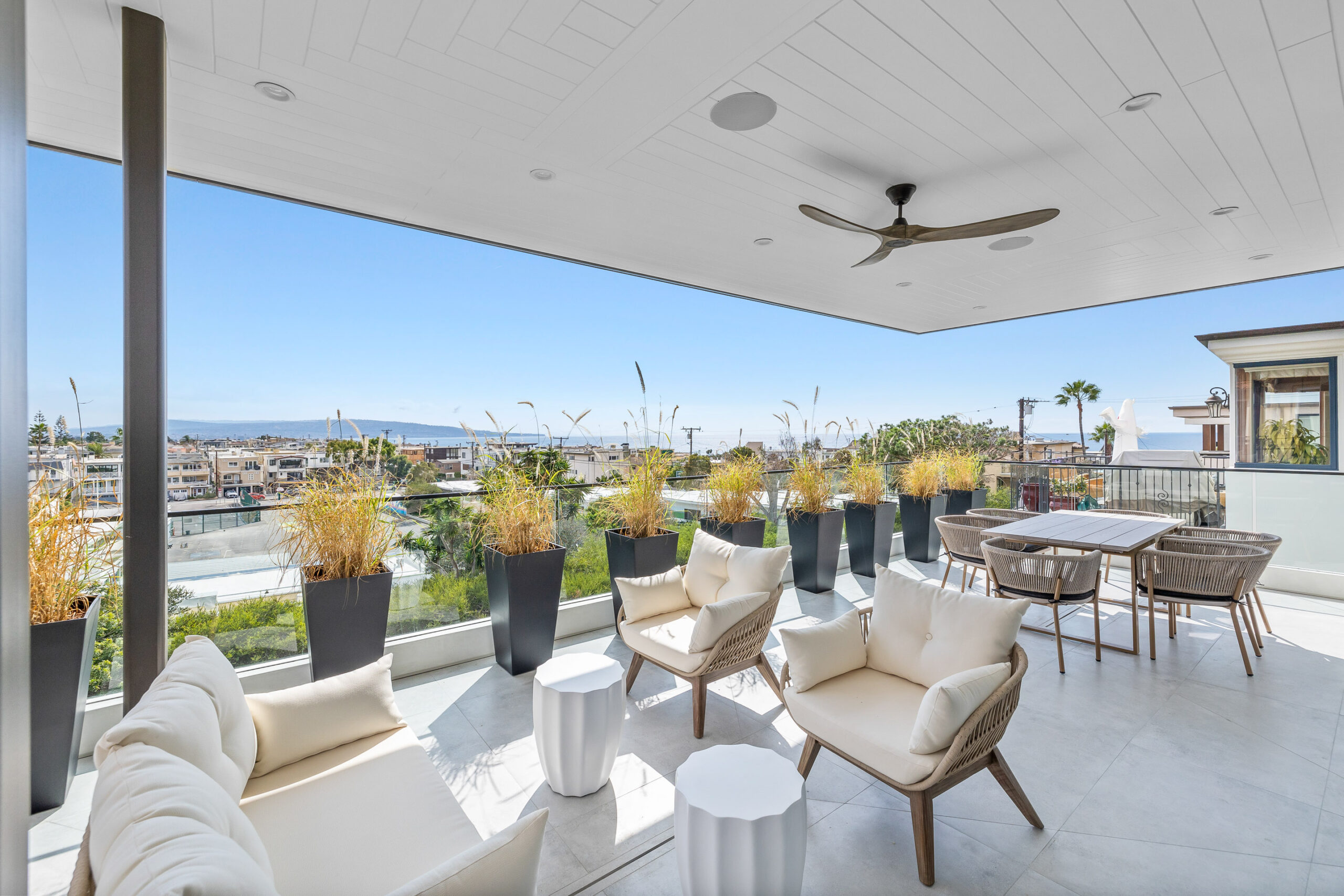 "When you're 11 feet underground," describes Steve Lazar, "there's natural light that comes into the house that's so charming."
Adding to the atmosphere is an abundance of leafy, privacy-assuring landscaping, whether you're sitting indoors or out.
"You feel like you've escaped to Costa Rica when you're in the basement," remarks Ed Kaminsky.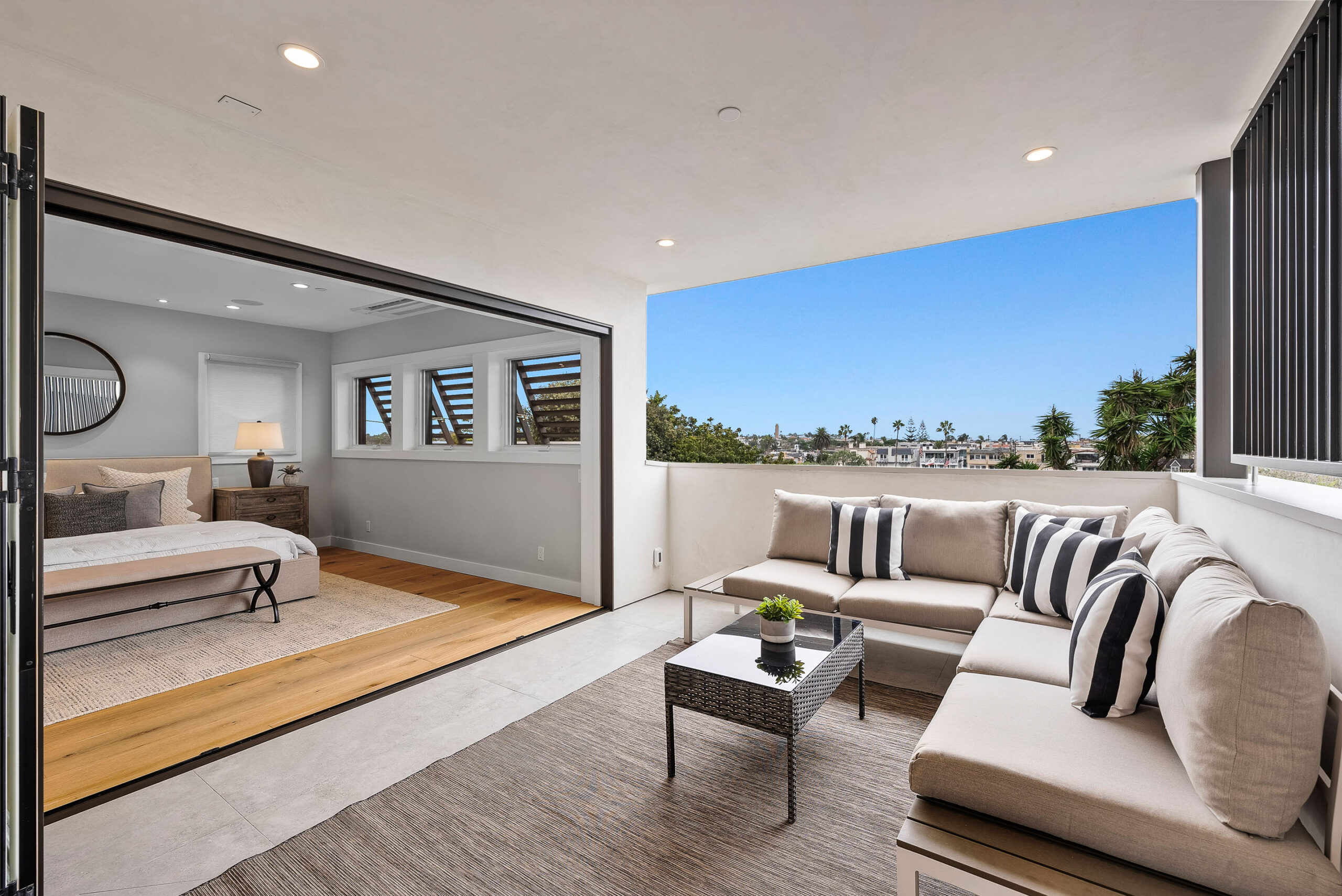 Exterior surfaces, like textured walls, are also replicated inside the home.
"There's a great rhythm to interior and exterior finishes that we used," says Steve Lazar. "There's always a feeling that you're not necessarily in one space or the other."
Though the home's surrounding environment is also an exceedingly nice place to be. The residence is situated on a cul-de-sac, rare in this part of town; there's a peaceful footpath steps from the front door and no neighbors along the southern edge of the property. A 5-minute bike ride brings you to Downtown Manhattan Beach, and it's a pleasant 10-minute walk to the beach for an afternoon of surfing and sunbathing. Back home, you're nicely poised on the peak of a hill with broad ocean vistas and twinkling city views.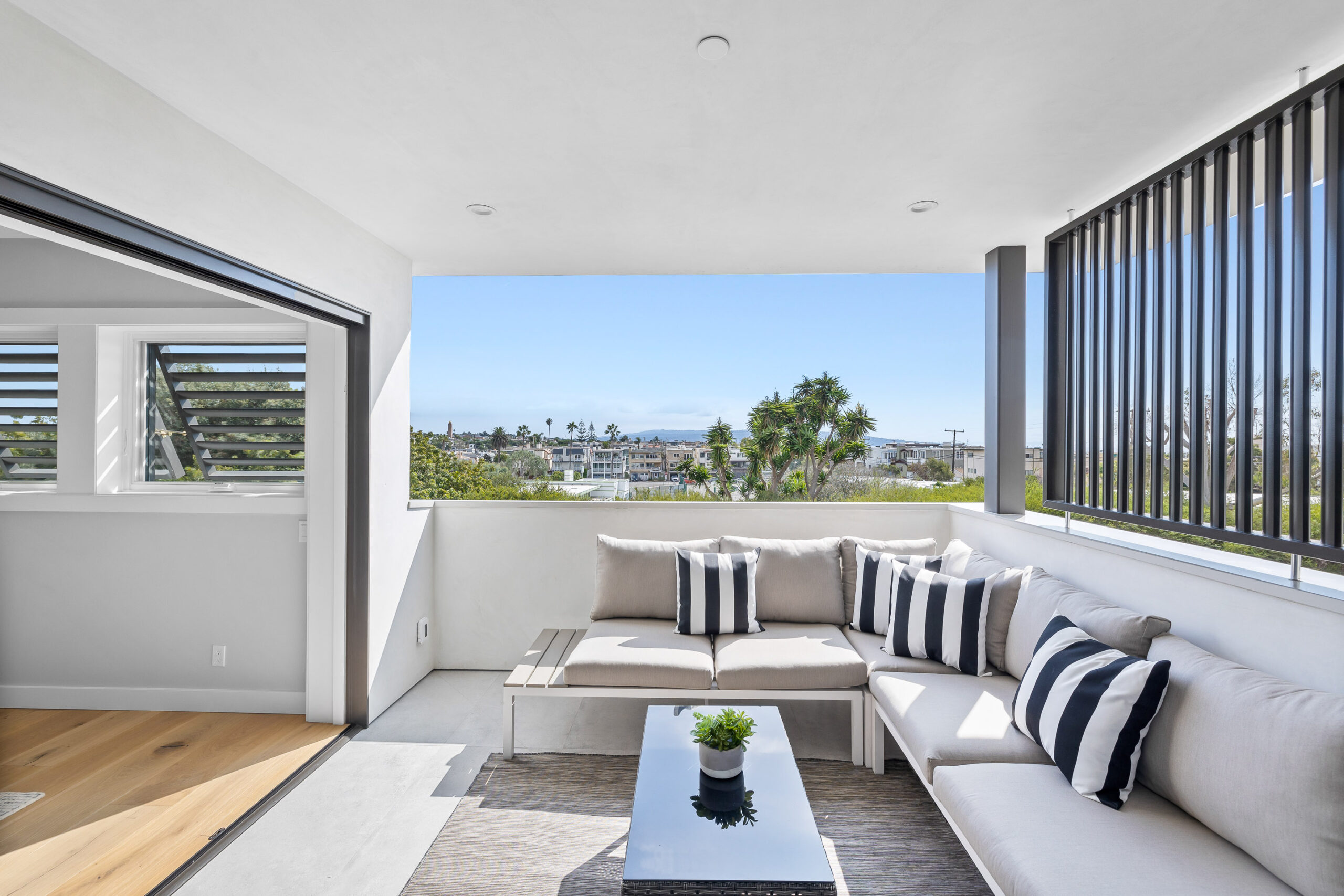 "Having a 6,000-square-foot house in the Sand Section, and with unblockable ocean views," states Ed Kaminsky, "those are rare things that hardly ever come together."
Adding to this exclusivity is the distinctive show of craft in the residence, the product of two seasoned artists whose shared vision was abundantly expressed in every detail and corner of 441 26th Street.
Ed Kaminsky | 310.427.2414 | DRE#00958114
Kaminsky Real Estate Group
List Price: $9,995,000
Photography by Chris Saldivar, Tea Tree Productions