What's Trending
"Home Prices Getting Interesting Since Last Bust – Colorado Prices Now 42% Higher Than Last Peak"
A new report by CoreLogic's principal economist Molly Boesel comparing housing booms and busts reveals some interesting data at a time when home prices are nearly back to where they were when the housing crisis began. After hitting a pricing peak in 2006, the national price level fell for five straight years, finally reaching bottom in March 2011 (although most other sources set the date for the bottom nearly a year earlier, these numbers may indicate they are using inflation adjusted numbers).
From peak to trough, home prices fell 33% nationally, and as of July 2017, CoreLogic data shows that home prices were approximately at 2006 levels. Interestingly, Boesel's report compares these numbers to those of the Teas oil bust in the mid 1980's, which resulted in a 16% decline in home prices over 3.5 years, while the peak to recovery cycle took about nine years. In addition, California's defense and manufacturing job losses in the 1990s led to steep price declines in the state, with prices falling 15% over 5.5 years, and taking about eight years to fully recover.
Comparatively speaking, the U.S. home price decreases that started in 2006 were twice as severe as these two regional declines.
While home prices nationally are close to their peak, the recovery looks very different from state to state. Take Nevada, where prices dropped a record 60%, is still in recovery mode as home prices here are still 27% below its March 2006 peak. Colorado, on the other hand, saw prices fall 14% from its peak in 2007, but today prices have now surpassed that peak by 42%. Overall, 34 stats are now above their pre-crisis home price levels.
In other housing news, a report by the National Association of Home Builders (NAHB) showed that single-family homes started in 2016, the median prices per square foot, excluding improved lot values, ranged from $164 for contractor-built homes in the Pacific division to $81 for speculatively built homes in the East South Central division. At $164 per square foot, new contractor-built single-family homes in the Pacific region are the most expensive to build, exceeding the national average of $101 per square foot by more than 60%. Typically, contractor-built custom homes are more expensive per square foot than spec homes after excluding improved lot values, which indicates that new custom home buyers are willing to pay more for high-end features and materials and wait longer to move into the new home. The NAHB estimates are based on the Survey of Construction (SOC) data.
---
"Is the Mortgage Interest Deduction Going Away?"
The Mortgage Interest Deduction (MID) has traditionally been one of the most sacred cows in the U.S. tax code, and now there appears to be a rift between two very influential lobbying groups – the National Association of Realtors, (NAR) and the National Association of Home Builders, (NAHB.) After 75 years of overwhelming support for the MID, the National Association of Home Builders is abandoning its defensive posture, while NAR is standing tough with its support.
While little is known about the Trump administration and Republican congressional tax reform plans, under the current version, the MID would not go away, but its utility would be reduced considerably. It's estimated that under the proposed tax reform, the mortgage interest deduction would only be applicable to 5% of U.S. homes, according to Zillow. Look for this topic to be hotly debated in the near future, as the proposed tax reform plan is more defined.
---
"Nearly Half of The Nations Largest 50 Markets Are Overvalued," – CoreLogic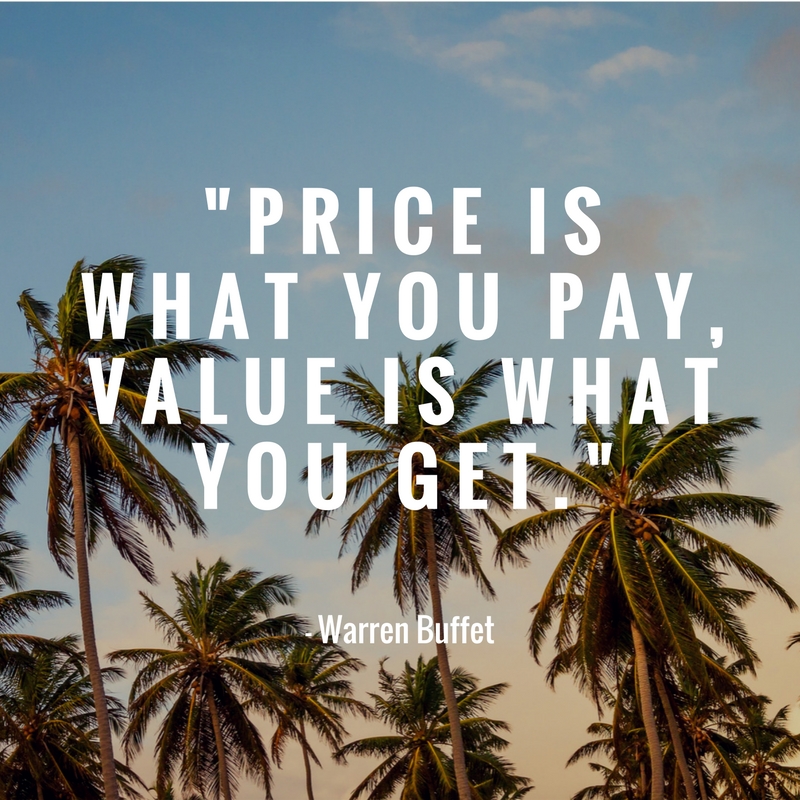 According to its recent Home Price Index report released by CoreLogic, home prices continued to post strong gains in August – moving up 0.9% on a month-over-month basis, the same gain it posted from June to July. On an annual basis, home price appreciation increased from 6.7% in July to 6.9% – the largest year-over-year gain since a 7.1% increase posted in March. The highest rate of appreciation among metropolitan areas was Las Vegas, up 8.4%, and Denver, which rose by 8.3%.
"Nearly half of the nation's largest 50 markets are overvalued," stated Frank Martell, President and CEO of CoreLogic. "The lack of real estate affordability has spread beyond the typically expensive coats into the interior of the nation, hitting cities such as Denver, Nashville, Austin and Dallas." CoreLogic's Chief Economist, Dr. Frank Nothaft, added, "While growth in home sales has stalled due to a lack of inventory during the last few months, the tight inventory has actually helped stabilize price growth. Over the last three years, price growth in the CoreLogic national index has been between 5 percent and 7 percent per year, and CoreLogic expects home prices to increase about 5 percent by this time next year."
In other housing news, construction spending in August came in a bit higher than expected, posting an increase for the first time in three months, according to the U.S. Census Bureau. Total construction spending for August was at a seasonally adjusted annual rate of $1.22 billion, an increase of 0.5% from the revised estimate of $1.21 billion in July and 2.5% ahead of spending in August 2016. Residential spending is 11.6% ahead of August 2016, with single-family construction up 0.3%, which is 11.1% higher that a year earlier.
Finally, a Survey of Construction (SOC) study from the U.S. Census Bureau found that the median lot size of a new single-family detached home sold in 2016 was 8,562 square feet – a new record low. While the nation's lot sizes are getting smaller on average, they differ widely per region. The Pacific division, where densities are high and developed land is scarce, lot sizes are the smallest with half of the lots being under 0.15 acres (compared with New England, which had more than half of the lots exceeding a third of an acre at 0.37 acres).
---
Housing Consumer Optimism Abounds; Homeowners' equity continues to improve
According to the National Association of Realtors (NAR) third quarter Housing Opportunities and Market Experience (HOME) survey, consumers remain confident about the direction of the national economy and about their own finances. With the continued appreciation of home prices, it's no surprise that the share of homeowners that believe now is a good time to sell is moving higher. In fact, 80% (a survey high) of homeowners said this is a good time to list their home for sale, up from a second quarter total of 75%, and 13% above the same response in the third quarter in 2016.
Renters, undeterred by higher home prices, believe that this is a good time to buy a home, rising from 52% of renters last quarter to 62%, which is slightly higher than a year earlier. Overall, 57% of survey respondents believe the economy is improving compared to 54% in the second quarter and 48% a year ago. NAR Chief Economist Lawrence Yun says, "Jobs are plentiful, wage growth is finally showing signs of life, home values are up considerably in the past five years, and the stock market is at record highs. The economy is not perfect, and growth overall is still sluggish, but the financial health of the typical household looks as healthy as it has since the recession."
In other housing news, a new Financial Accounts of the United States report published by the Federal Reserve for the second quarter of 2017 shows an improved balance sheet of U.S. households with real estate holdings. Households' owner-occupied real estate increased to $23.8 trillion in the second quarter of 2017, $1.597 billion more that the same period of 2016. The value of owner's equity, the difference between the value of owner-occupied real estate and home mortgage debt, rose to $13.9 trillion over the second quarter of 2017. In nominal terms, owner's equity has returned to its pre-recession peak level. However, in contrast to the housing boom era, mortgage debt growth remains subdued.
---
L.A. County home prices surge to a new record of $580,000
With Fall fast approaching in Southern California, the real estate market continued to stay hot as median home prices increased 7.5% in August from a year earlier. The recent home price gains continue to stoke the affordability flame in California, as recent polls show widespread concern coupled with a stubborn lack of available homes for sale.
As reported by CoreLogic this week, the median price surged 9.4% in Los Angeles County to a record $580,000 (the previous record was $575,000 set in July). Consequently, it was the best August for home sales since 2006.
Additionally, home prices for the six-county region in August came in just below the all-time high of $505,000 reached in 2007 at the height of the housing bubble. Economists project that home price increases will probably moderate between a range of 3% to 5% annually for the foreseeable future as the current 7% per year increases are unlikely to sustain.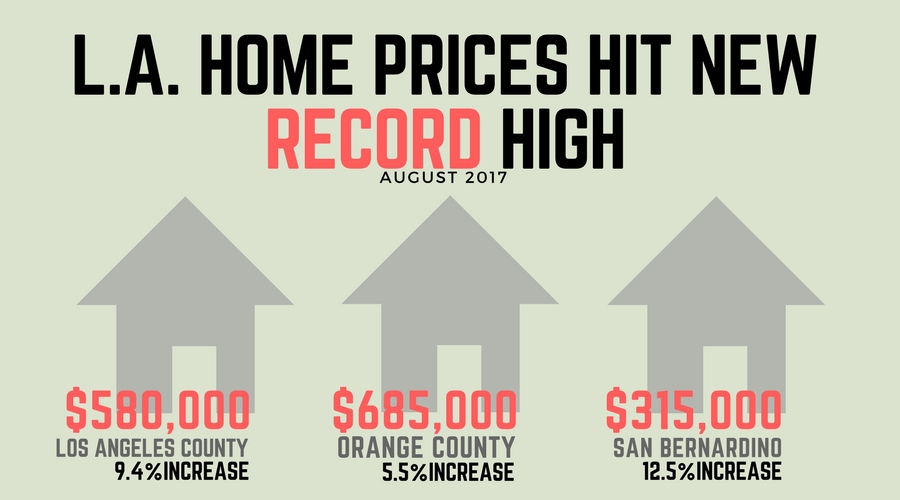 Median Price gains in August 2017:
Los Angeles County $580,000 – 9.4% Increase
San Bernardino County $315,000 – 12.5% Increase
Riverside County $365,000 – 7.7% Increase
San Diego County $535,000 – 7.4% Increase
Ventura County $567,999 – 6.0% Increase
Orange County $685,000 – 5.5% Increase
Finally, consumers are increasingly nervous about the housing market as a new statewide poll by the Institute of Governmental Studies at UC Berkeley found that nearly half of the state's voters (48%) described the housing affordability issue in their area as "extremely serious." In Los Angeles, the figure was 42% and 65% for those in the San Francisco Bay Area. More concerning, 59% of Angelino's voters said they considered moving out of the area because of rising housing costs.
Is the real estate market a new house of cards? Have a comment, join in here
---
Building permits rise: Housing Starts Stall; Investors flipping fewer homes
"I'm taking a lot of freestyle music and flipping it." ~Pitbull
Building Permits on the Rise
According to a recent report released by the U.S. Census Bureau and the Department of Housing and Urban Development, building permits for residential construction are on the rise while housing starts are still struggling. After more than a 4% downturn in July, permits for residential construction were up 5.7% from the previous month, to a seasonally adjusted rate of 1,300,000 units compared to a revised rate of 1,230,000 units. Permitting was strong in the West, up 15.3% from July and 27.0% from the prior August. Overall, building permits are now running 8.3% ahead of their August 2016 rate.
Housing Starts Fall for the Fifth Month!
On the other hand, housing starts declined for the fifth straight month, although the change was a nominal 0.8% compared to July. At the end of August, there were an estimated 1,082,000 housing units under construction, an increase of 1.3% from July and 4.6% from last August. Real estate investors flipped fewer homes during the second quarter as the returns fell for the third consecutive quarter, according to Q2 2017 U.S. Home Flipping report from ATTOM Data Solutions. Home flipping experienced a 5.6% drop for all home sales in the second quarter, or 53,638 single-family homes and condos, down from 6.9% in the first quarter but unchanged from last year.
Flippers Seek Lower-priced Areas
According to the report, a home flip is defined as a property that is sold in an arms-length sale for the second time within a 12-month period, based on publicly recorded sales deed data collected by ATTOM Data Solutions in more than 950 counties accounting for more than 80% of the U.S. population. Not only is home flipping down overall, but the average gross profit from flipping decreased for the third consecutive quarter, falling to $67,516 during the second quarter. This represents a 48.4% return on investment for flippers, down from 49% the previous quarter and 49.6% from the second quarter last year to the lowest level since the third quarter of 2015. Daren Blomquist, ATTOM's Senior Vice President stated, "Many flippers are gravitating toward lower-priced areas where discounted purchases are more readily available, often due to foreclosure or some other type of distress.
Many of those lower-priced areas also have strong rental markets, giving flippers a consistent pipeline of demand from buy-and-hold investors looking for turnkey rentals." Blomquist added, "In markets where distressed discounts have largely dried up, flippers are showing more willingness to leverage financing when acquiring properties, often purchasing closer to full market value and then relying more heavily on price appreciation to fuel their flipping profits."
Current Affordability Bubble?
Finally, a new study from the National Association of Realtors and nonprofit American Student Assistance showed that an overwhelming majority of Millennials with student debt do not own a home, with the debt causing a delay of typically seven years. NAR chief economist Lawrence Yun said, "Sales to first-time buyers have been underwhelming for several years now, and this survey indicates student debt is a big part of the blame. Even a large majority of older Millennials and those with higher incomes say they're being forced to delay homeownership because they can't save for a down payment and don't feel financially secure enough to buy."
Related Post
This new modern luxury apartment complex in one of L.A.'s most sought-after neighborhoods offers residents the keys to the kingdom The dev...
The multitalented musician Beck is selling his Gerard Colcord-designed home in Mandeville Canyon for $3.75 million The Grammy winner purchas...
A Hermosa Hills home built by former Clippers all-star Danny Manning now is on the market for $20.9 million, complete with a duo of wine cel...