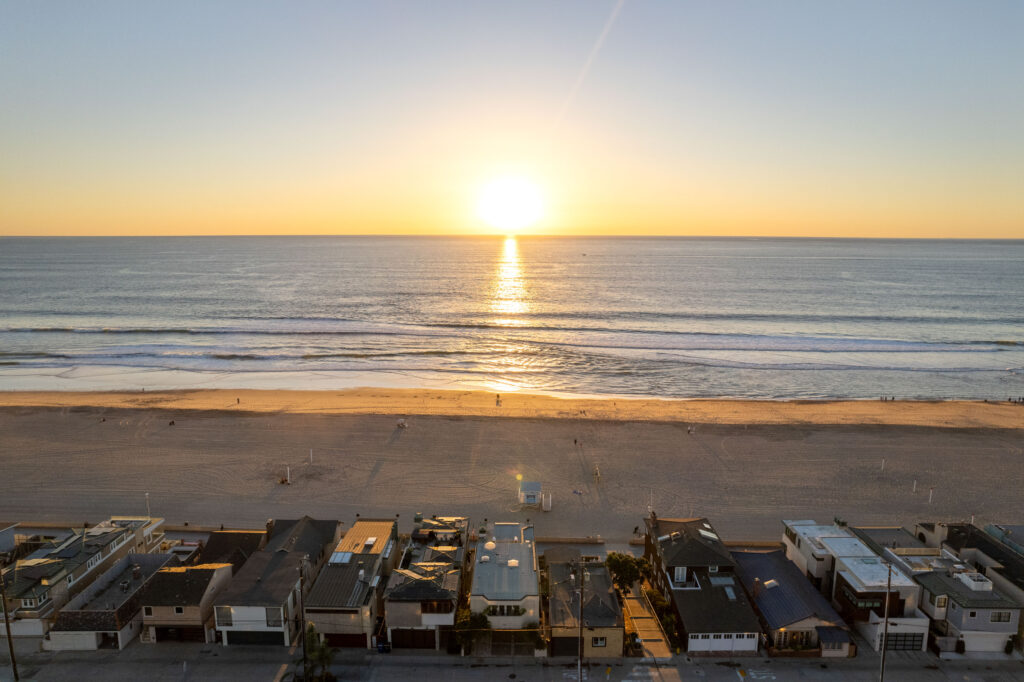 3129 The Strand A Roomy Coastal Home With a Coveted Address on a Rare Stretch of the North Hermosa Strand Makes for an Ideal Beach Cities Retreat
There's a small group of oceanfront homes located just south of the Manhattan Beach–Hermosa Beach border that make up a rare cluster within the already uber-exclusive Strand. It's the Shakespeare Beach Tract, named after a land company formed in 1903 to sell real estate tracts in the area.
Today you travel a pleasantly broad stretch of Hermosa Avenue to reach the mellow pocket neighborhood that's conveniently equidistant to both downtowns—Hermosa and Manhattan Beach—and, with its generous sidewalks and dedicated bike lanes, lives like a cloistered beach community unto its own.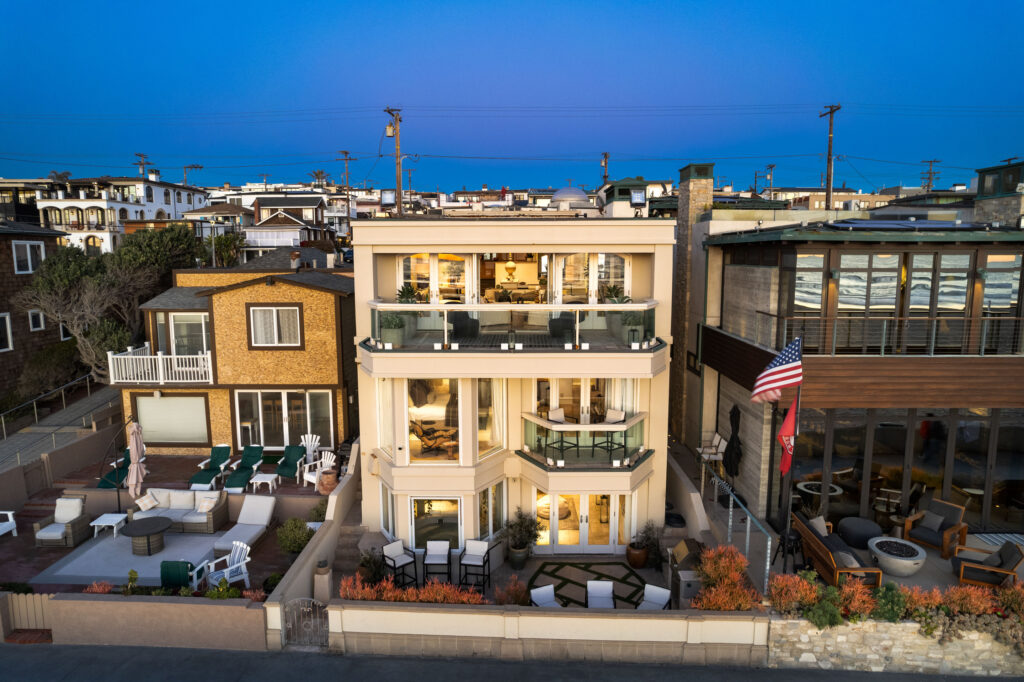 Adding to this golden-ticket location is a generously sized home: 3129 the Strand. The residence spans approximately 3,884 square feet, with an atmosphere of easygoing coastal elegance found throughout its 3 bedroom, 5 bathroom floorplan. There are expanded beach and ocean views too, found on all three of its sun-splashed levels.
"It's very unusual in a North Hermosa Strand home in the 25-foot height zone," explains real estate agent Bryn Stroyke of Stroyke Properties Group. "Most only have two floors of view, with a bottom floor that's subterranean with either no view or the view of a subterranean patio."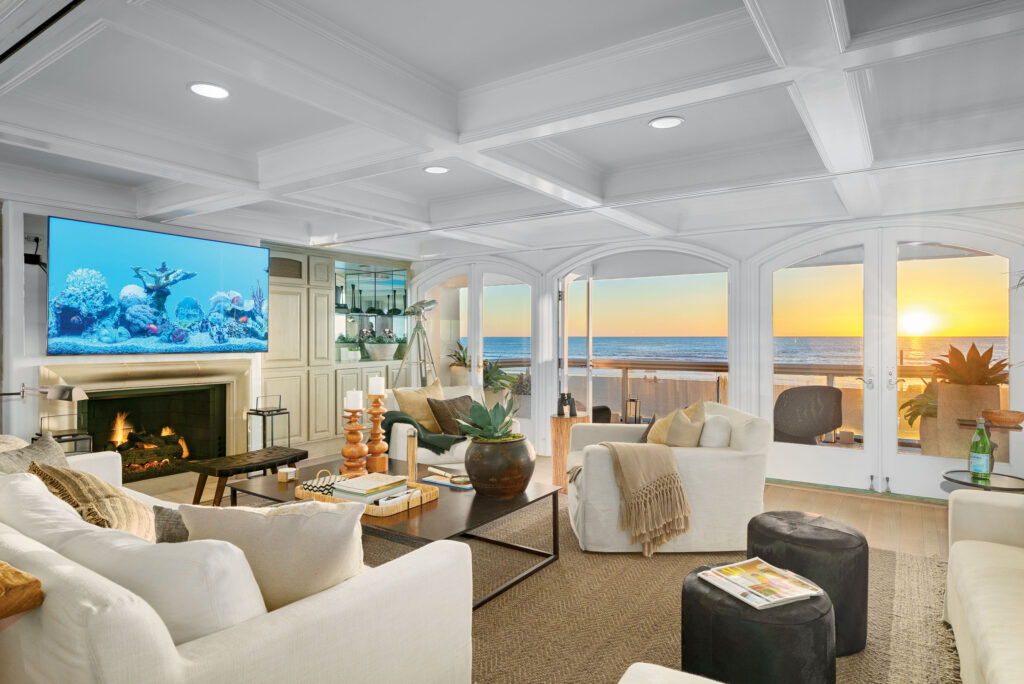 By contrast, he points out, the bottom floor of this home is on grade with the Strand.
"You get fifty percent more view frontage than your typical North Hermosa Strand home," he notes.
So even when sitting in the fireplaced beach lounge on the first floor, or soaking in the bubbly 6-person built-in Jacuzzi, you're treated to scenes of white-capped waters folding into the sand.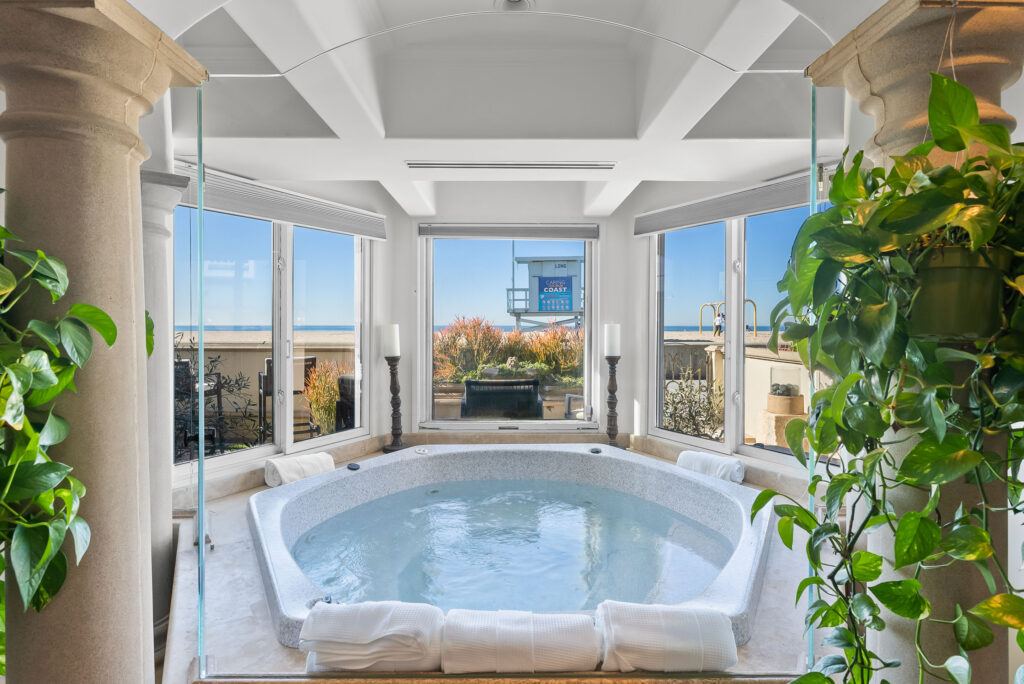 More expansive exists in the property's oversized lot—30×90 feet, versus the standard 30×80 feet. That, and the roomy feel around its exterior: Unlike most Strand homes, at this property, there's no home located directly behind it.
You can cruise from the garage onto Hermosa Avenue with ease, or hop on your bike to pedal to the shops and eateries of Pier Avenue in 5 minutes. Downtown Manhattan Beach is a 10-minute stroll and there are mellow neighborhood destinations, like a corner deli and a casual eatery, located within a block or two from the front door.
The property's origins are architectural, having been designed by the notable firm of Bartoli, Ashai & Obradovich to maximize the good life at the beach. On the first floor, floors are clad in smooth stone and custom cabinetry frames the fireplace, and you can gather with friends around the elegantly crafted bar or ponder the beach from the bubbling waters of the Jacuzzi.
Doors open onto an airy patio, cleanly linking the two spaces so beach parties can turn into after-dark soirees with a gourmet built-in barbecue. Steps away is a wine cellar from where you can re-stock the bar, or send a favorite chilled varietal upstairs via the dumb waiter.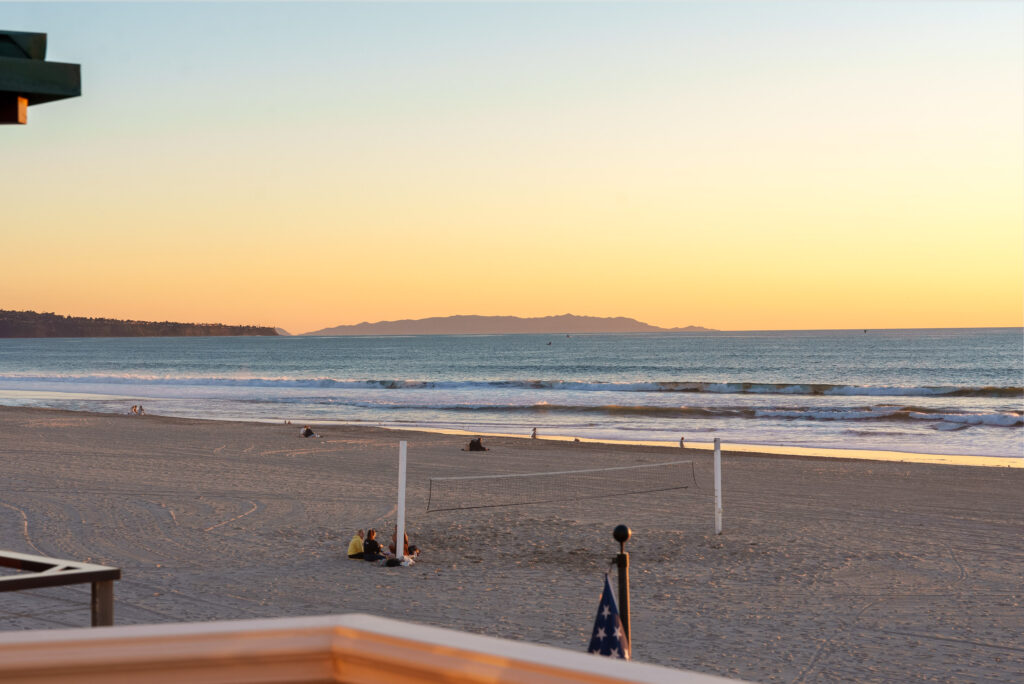 A curved staircase links the home's three levels, leading to an uppermost level that's home to more oceanview gathering spots. The kitchen is a contemporary haven where sunlight streams in from the ceiling skylight: stairs lead up to a space filled with glossy minimalist cabinetry and a central island is where you can cook on a bespoke 6-zone Gaggenau cooktop while watching the ocean. There are more luxury Gaggenau appliances, like a double oven and stacked double dishwasher, plus a hidden Sub-zero refrigerator that sits neatly flush with the wall.
The home's classic coastal aesthetic and neutral palette, consisting of natural stone, white-oak wood and pale walls, creates a timeless feel in the residence, which was built in the late 20th century.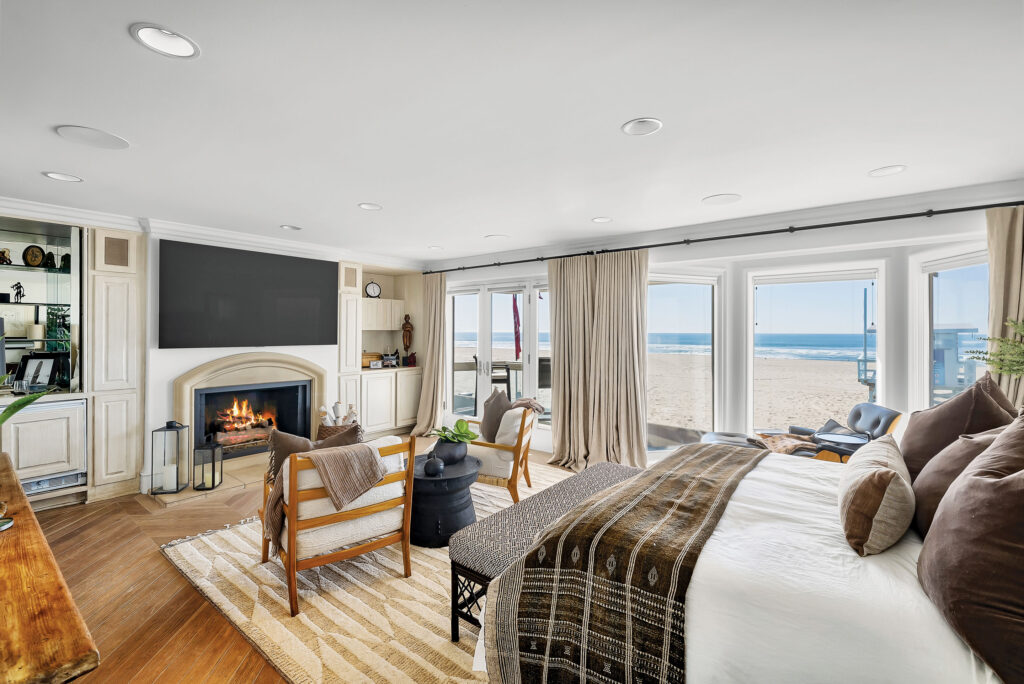 "It's the perfect place to come in and add one's personal stamp," says Bryn Stroyke of the space, which possesses an enduring canvas distinguished by fresh Strand style perennials like floor-to-ceiling glass and earthy, wood-plank floors.
In the sunlit living room, for instance, white coffered ceilings play against the vivid blues of sky and ocean, and sunsets are even more electric when beach air breezes through arched doorways and flames flicker in the fireplace. It's a scene that never gets old. Step onto the roomy balcony, sitting high above—and nicely private—from Strand passersby, and watch surfers gliding through the waves, or listen to waves crashing at night.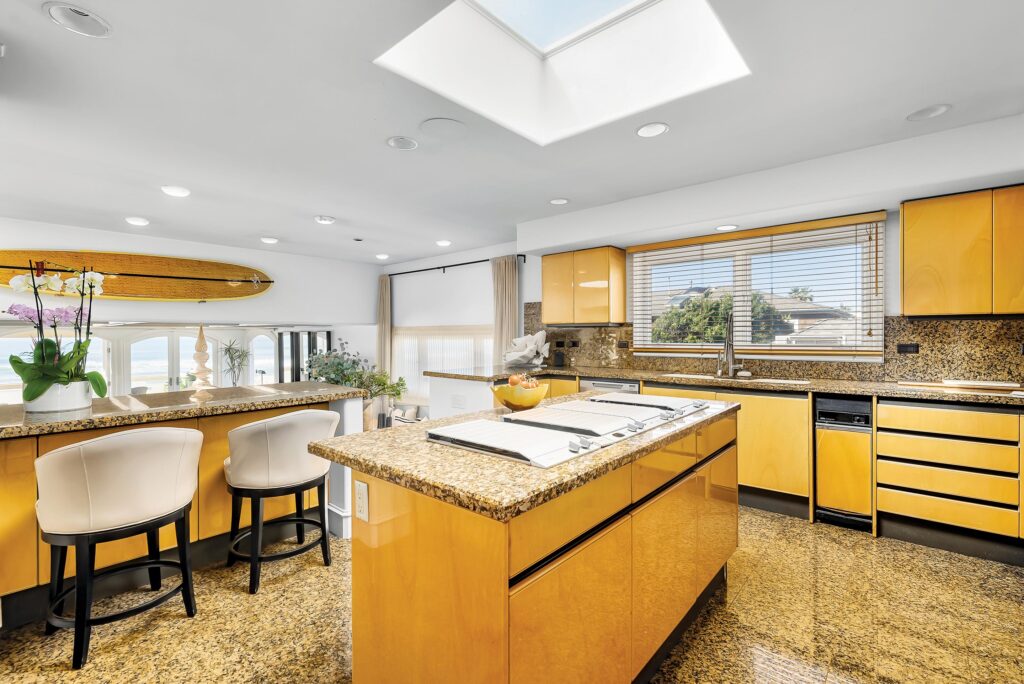 The user-friendly floorplan includes three bedrooms—one bedroom on each floor, and each with a private bathroom. (Architectural plans exist to add a fourth bedroom if desired.) The middle level is home to an oceanview primary suite where you can lounge in a sunlit nook, surrounded by floor-to-ceiling bay windows, or enjoy your coffee on an intimate beachfront balcony. A distinctive feature in the suite is the presence of two full bathrooms, each with a separate entrance, but linked by joint access to the roomy shower and walk-in closet.
"It combines great square footage on an oversized lot," says Bryn Stroyke of the home, "and in a really great location."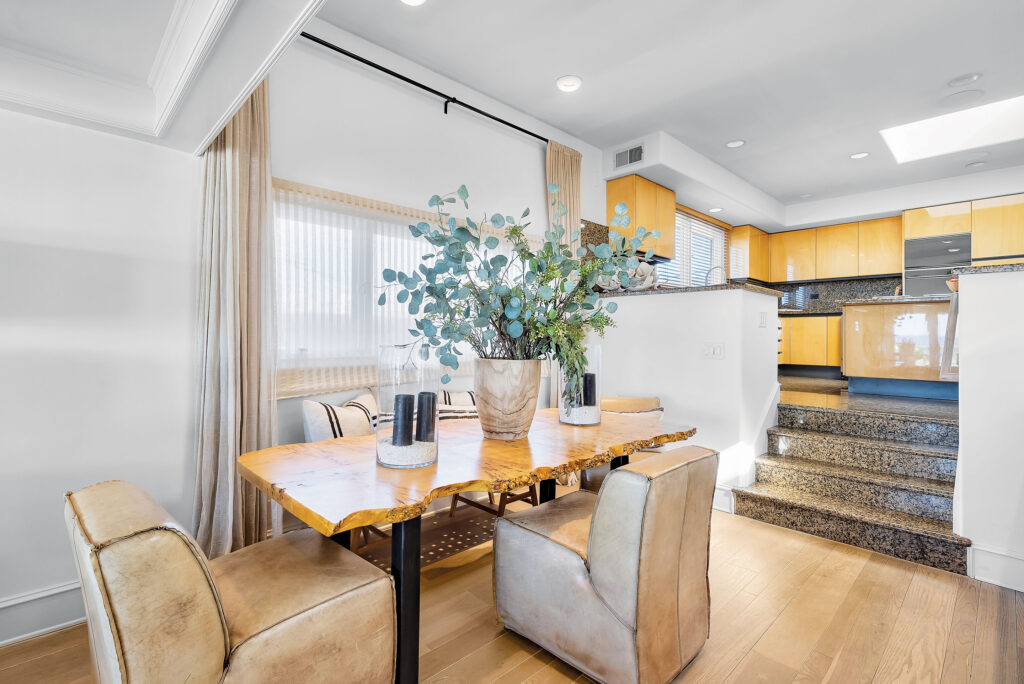 The Pacific Ocean at this address is particularly welcoming: There's a wide beachfront that's flat and easy to navigate, beckoning you outdoors for an early morning swim or jog or an afternoon of beach volleyball.
Indoors, you're in a classic Strand home with a luxurious selection of multi-use gathering spaces, each crafted in elevated materials and able to smoothly morph from traditional elegance to weekend casual—all to suit the different moods of life at the beach.
Bryn Stroyke | 310.880.3436 | DRE# 00855690
Stroyke Properties Group
List Price: $10,500,000
Photography courtesy of Stroyke Properties Group