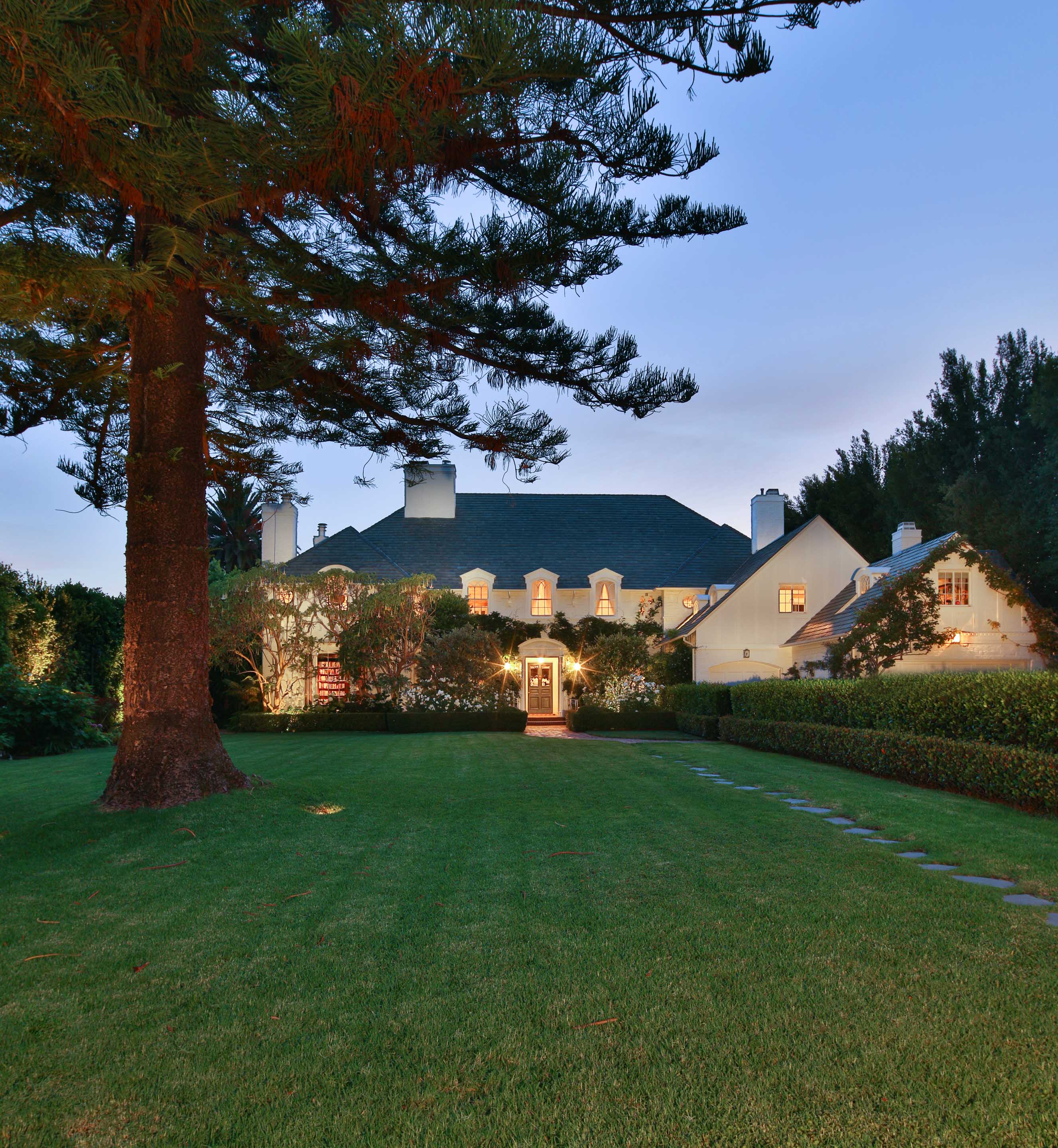 Designed by Renowned Aia Architect Paul R. Williams, This Elegant, Gracious & Glamorously Detailed Home Offers Timeless Beauty and a Pedigreed Past
The first African-American admitted to the AIA, Paul R. Williams came of age as did the city, and created homes for some of its most illustrious citizens, from Frank Sinatra and Cary Grant to Humphrey Bogart and Lauren Bacall.
Designs Synonymous with Hollywood Glamor
Williams' designs became synonymous with Hollywood glamor; his elegantly composed homes boast perfectly proportioned rooms with sumptuous details, including tall ceilings, exquisitely rendered cabinetry, sinuous archways and curving staircases. Equal parts show and substance, their opulence is balanced with restraint, sophistication, and warmth.
This Williams-designed home is a case in point: working as well for the dance of entertaining as it does meeting the demands of daily life—a rare combination, even without the architectural pedigree.
Though many know nothing of Williams, this "architect to the stars" was a master of his craft—a fact that is immediately clear well before one steps inside the house at 241 N. Rockingham, Los Angeles CA 90049.
Located North of Sunset & East of Mandeville Canyon
Situated just north of Sunset and slightly east of Mandeville Canyon, the home that Williams designed for actress Zasu Pitts in 1936 is set back on the property, the sweeping expanse of lawn immediately suggesting luxury and privacy.
Williams was an architect to the stars and a master of his craft.
Surrounded by old growth hedges and punctuated by two tall trees with branches that reach to the sky dappling the lawn with a playful chiaroscuro, the shade and sun elegantly shield the home and its happenings from prying eyes.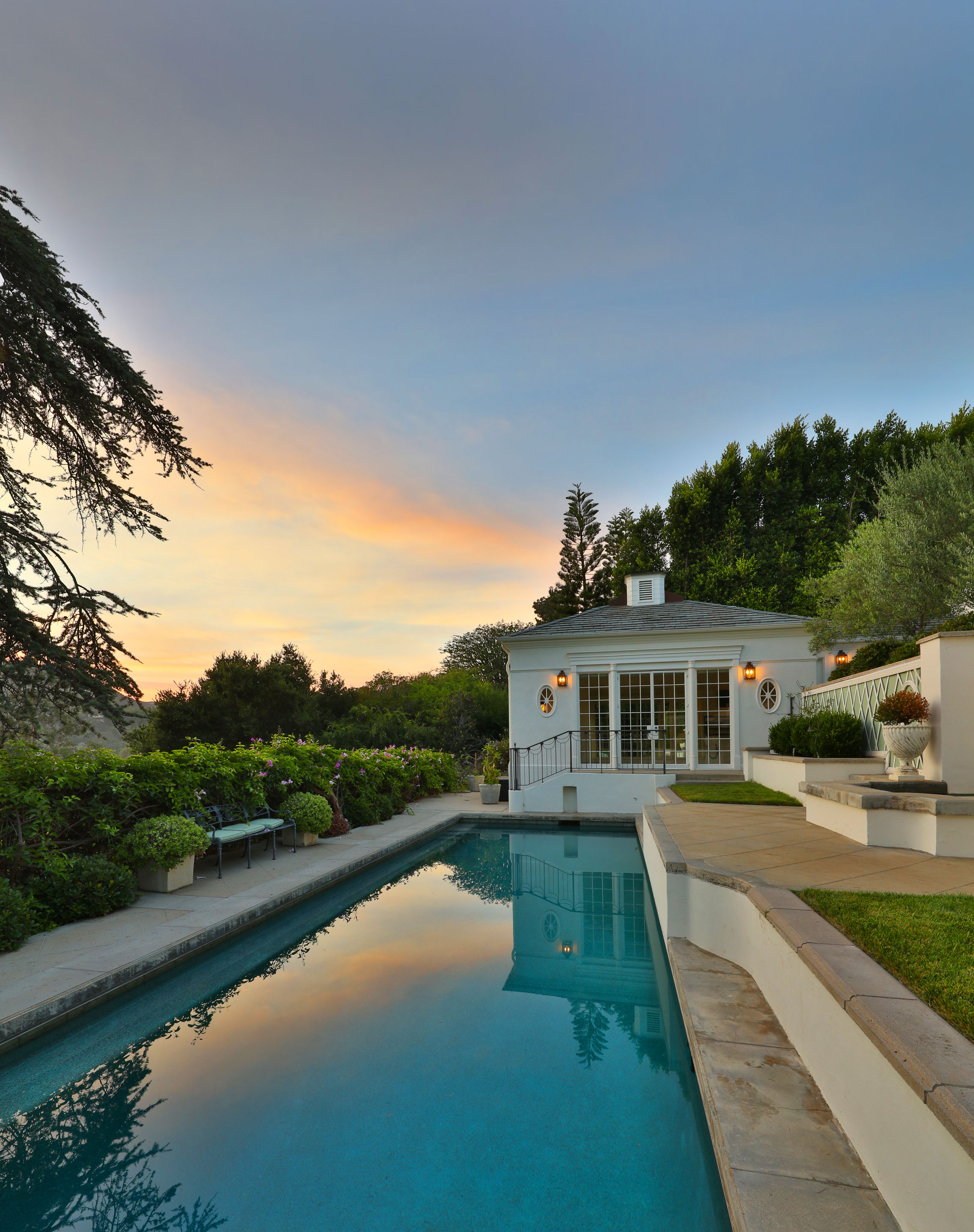 The Setting for an Elegant Lawn Party
Here's the setting for an elegant lawn party, a well-attended charity picnic or a wedding, the length of lawn promising plenty of time for a few hundred guests to get a good look at the bride's intricate gown.
Tucked into one corner of this emerald stretch of grass, a fully outfitted playground puts swings and a jungle gym within steps of the front door, offering children a chance to work off their energy without venturing outside the safety of home.
The parallel long driveway, which leads to the home's attached three-car garage, accommodates a dozen cars.
Of course, cameras underline this feeling of security.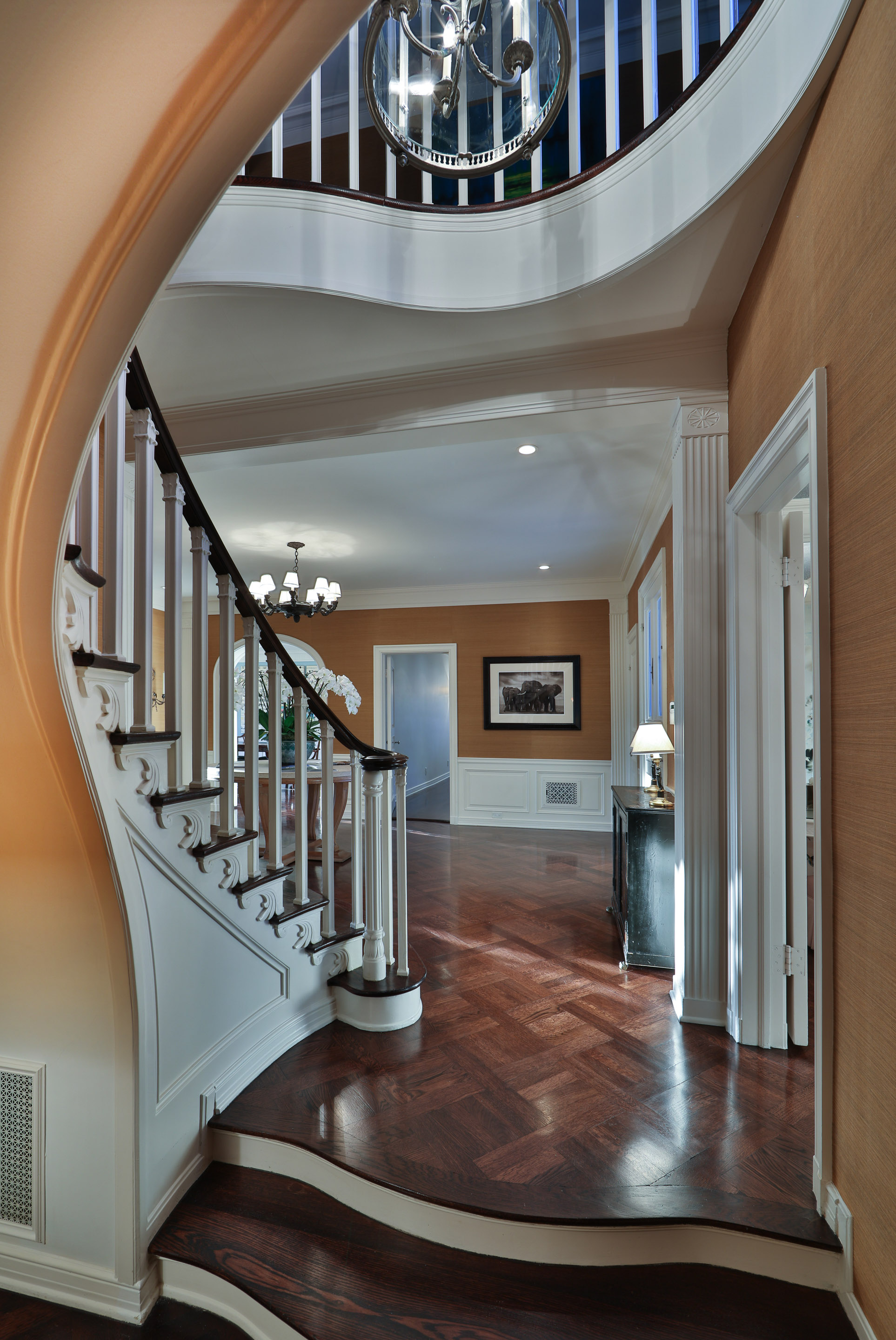 The Initial Impression of the Graceful Georgian Home
Those who make their way along the long slate pathway to the front door can't help but admire the graceful proportions of the Georgian-style home.
The initial impression of the structure, elegance balanced by an unexpected yet instantly inviting warmth, is confirmed the moment one steps inside the formal entryway, its intricate parquet floor as welcoming as a cool breeze.
The curving staircase—a Williams signature—playfully coils towards the second floor.
To the left, the library that looks out over the front lawn channels a dream of a home office as envisioned by a set decorator.
Rich with dark wood bookcases and carved cabinets created by one of Williams' collaborators, renowned woodworker Sam Maloof, it projects an air of studiousness and accomplishment.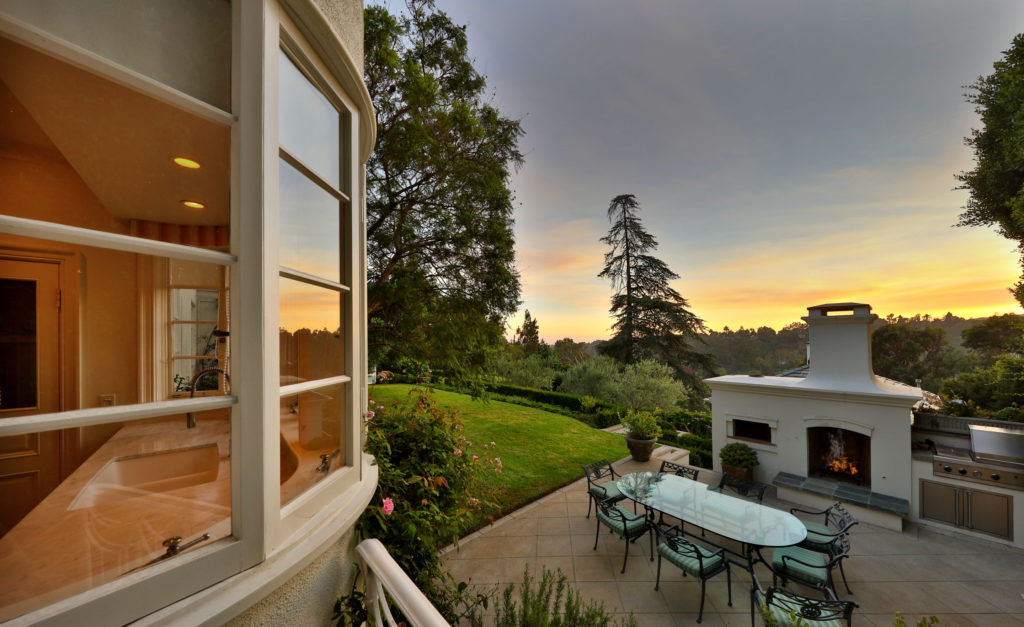 A fireplace reinforces this perception, yet there's whimsy here as well: a secret staircase, tucked behind one panel, leads to the master bedroom, a pathway seemingly made for middle-of-the-night inspiration and productive bouts of creative energy.
Elegant archways form a graceful path throughout the main floor, undulating from the large living room completely, with yet another fireplace and a bowed window (the ideal spot for a window seat), to the intimate morning room and casual family room.
French doors open all of these rooms to the back lawn, which looks out over the treetops of Mandeville Canyon and leads down to the glamorous pool area.
While previous owners of the home have recognized its historical and cultural significance, it has undergone updates that bring it in line with the needs of a modern family.
A Home Relevant to the Times
Williams himself was a fervent believer in renovations to make a home relevant to the time.
Working with an unprecedented sensitivity to the home's design, architects Tichenor and Thorp, in conjunction with interior designer Michael S. Smith (known for his work on the Obama White House), has updated the house with contemporary conveniences and subtle luxuries—like the Zuber wallpaper in the morning room, a pattern that dates back to the 1800s—that layer it with texture.
Other upgrades include the terraced garden that leads down to the home's chicken coops and a grove of fruit trees and Hollywood Regency-style pool house.
A seamless match to the main home, it's the ideal spot for a gym, with floor-to-ceiling mirrors and windows suffusing the space with light.
After a concentrated hour of deep muscle work or a private Vinyasa flow session, one's ultimate reward is a dip in the home's pool, refreshing strokes accompanied by the musical splashing of the fountain.
There's no need to wander back to the house for a shower: a separate bath house including a sauna is here.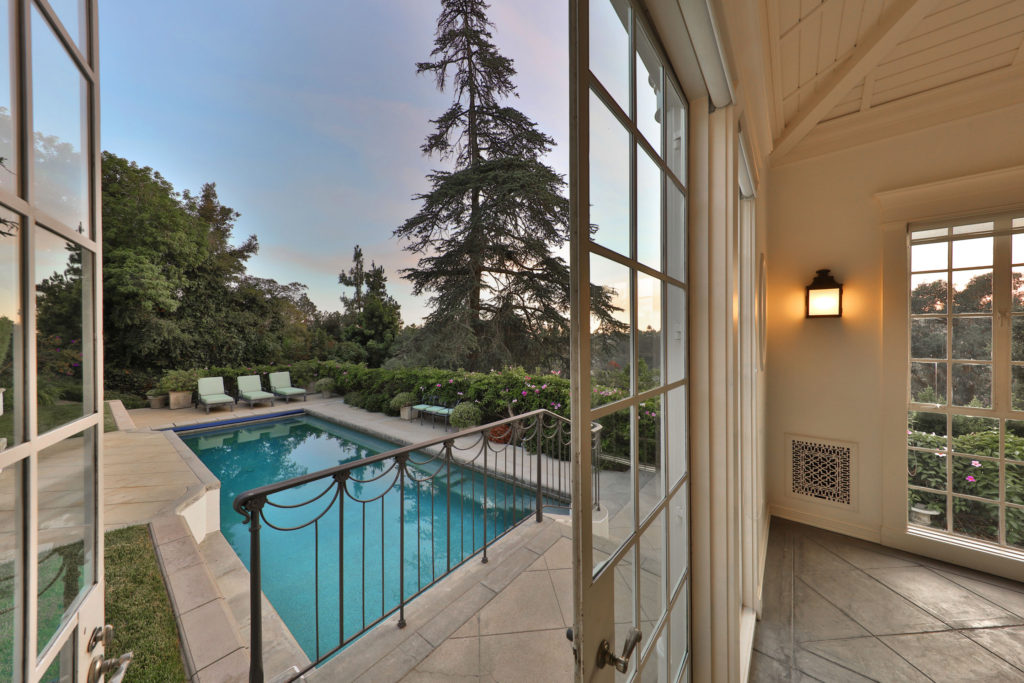 The dressing room above the master suite was another project that found saviors in Tichenor and Thorp Architects and Michael S. Smith.
Inspired by the Oviatt Building
Inspired by the Oviatt Building, the expansive space, accessed by marble stairs that swirl upwards from the behind the master bathroom's glamorous tub, includes room for four seasons worth of clothing for one couple, a wardrobe to be stored and beautifully displayed, as well as space in which to indulge in preparations for a formal occasion.
A backroom, currently being used as a music practice room and extra bedroom, and which can also be reached via a winding staircase rising from behind a door in the hallway, might be easily folded into this sumptuous closet, offering an area in which to house special gowns, jewelry cases or custom footwear.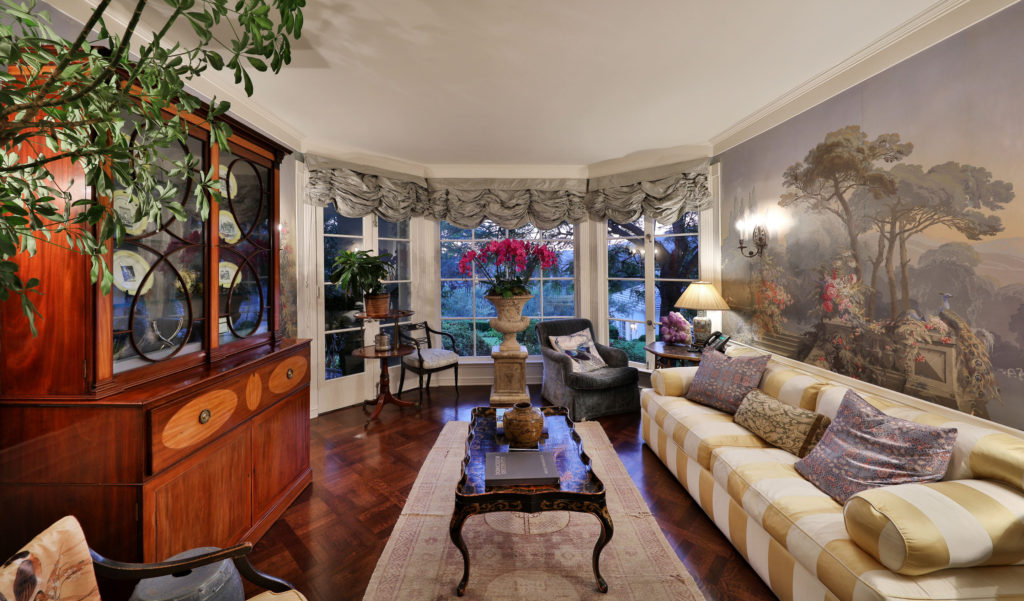 The closet is only one facet of the luxurious master suite. Its opulence extends to the marble bathroom, featuring vaulted ceilings and fireplace.
Windows in the shower and above the double sink capture the home's magnificent treetop views within their panes.
No surprise that there's room here for a chaise lounge. This magnificent setting is a fitting partner to the main room's expansive size.
With its wall of windows, a generous terrace that captures the Palisades Riviera in its sightlines and a sitting area with a fireplace—not to mention its direct access to the office downstairs—this space rivals a five-star retreat.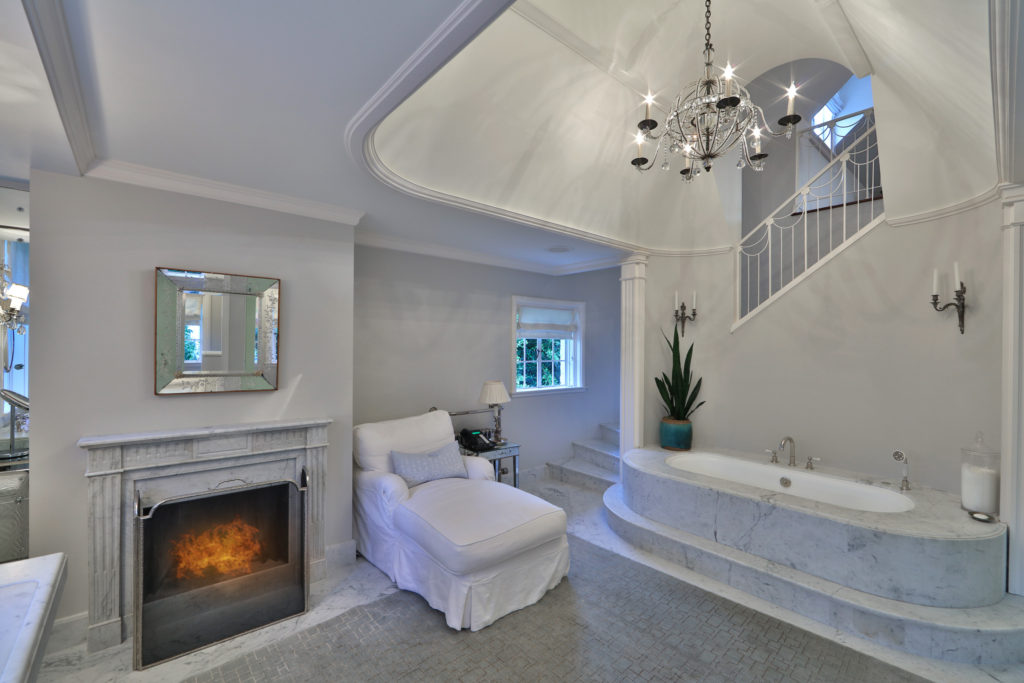 The other en-suite bedrooms on this floor are also plush, their attention to detail manifesting in meticulously designed closets and dressing areas, as well as sumptuous bathrooms that elevate even the simple act of getting dressed.
The light-filled, oversized rooms ensure that every member of the family is well cocooned. In addition, an ample room sprawled over the garage provides space for a family's junior members to entertain friends, enjoy crafting, practice music, or study.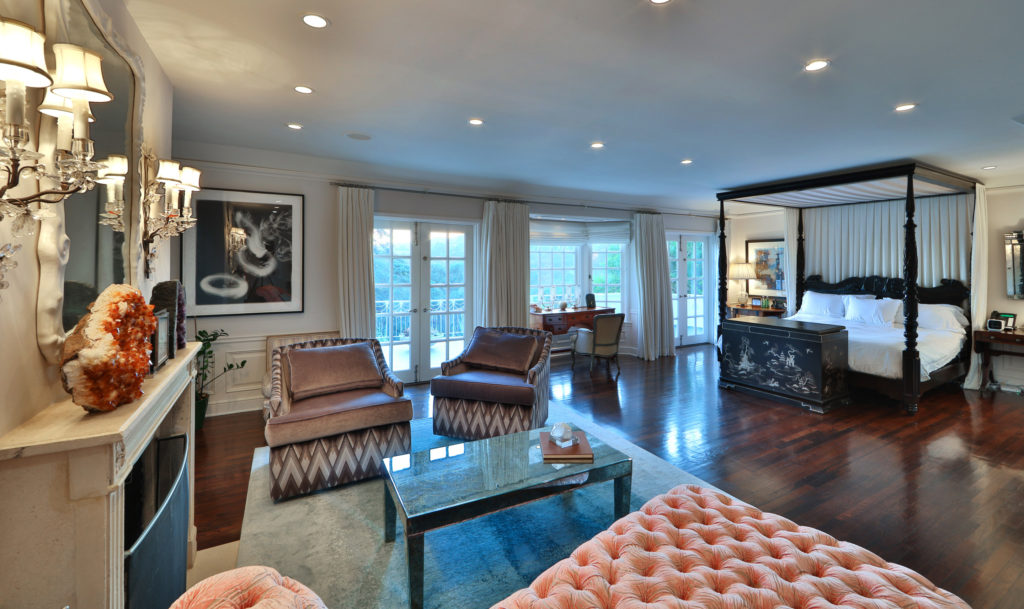 A House Born to Play Host
A house born to play host, its eat-in kitchen is spacious with an opulent pantry and capacious marble counters that cater to the needs of a private chef.
Whether mealtime is a casual affair on a table set up on the back lawn, a subdued business dinner with meticulously plated dishes whisked noiselessly to the formal dining room by a discrete staff, an informal evening cocktail party around the pool, or midnight poker in the game room, all is easily manageable.
A nearby laundry room, tucked behind the family room, maintains party linens and beach towels in pristine condition.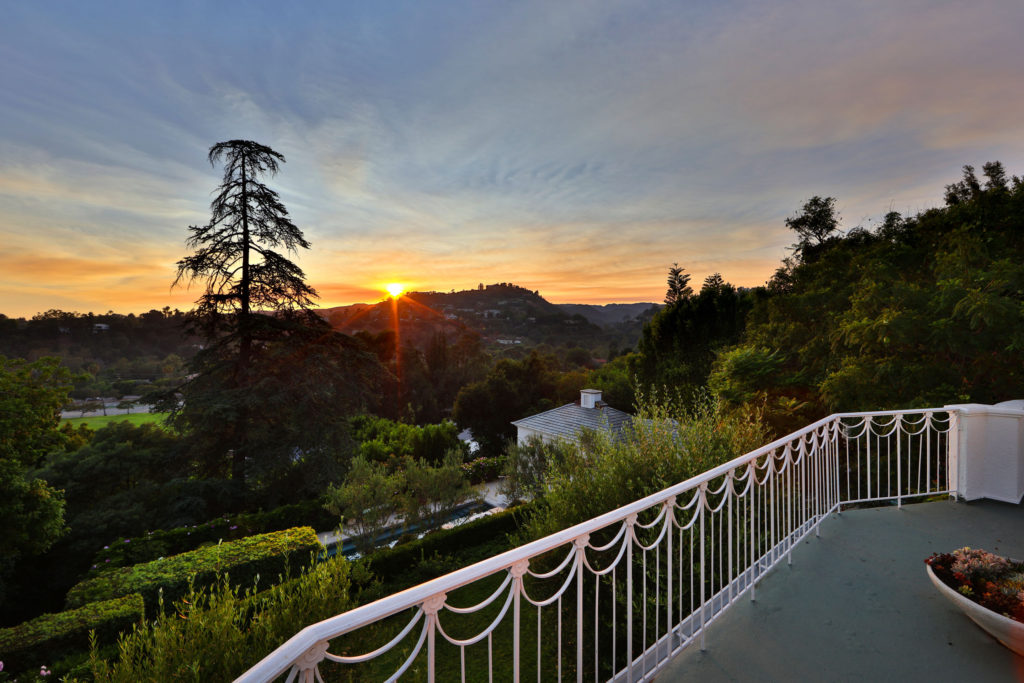 One would expect prospective house guests to quickly RSVP if offered a chance to gather and linger in this setting—indulging the pool, the cocktail hour, the sun's last flash of vibrant color as it sinks into the Pacific.
This is the measure of a true architectural masterpiece: a beautiful view, guests reluctant to leave, picturing life here.
It's even better than imagined.
Presented by:
Jody Fine of Berkshire Hathaway HomeServices | 310.230.3770
& Monica Antola of Berkshire Hathaway HomeServices | 310.230.3755
241nRockingham.com | Offered at $16,250,000