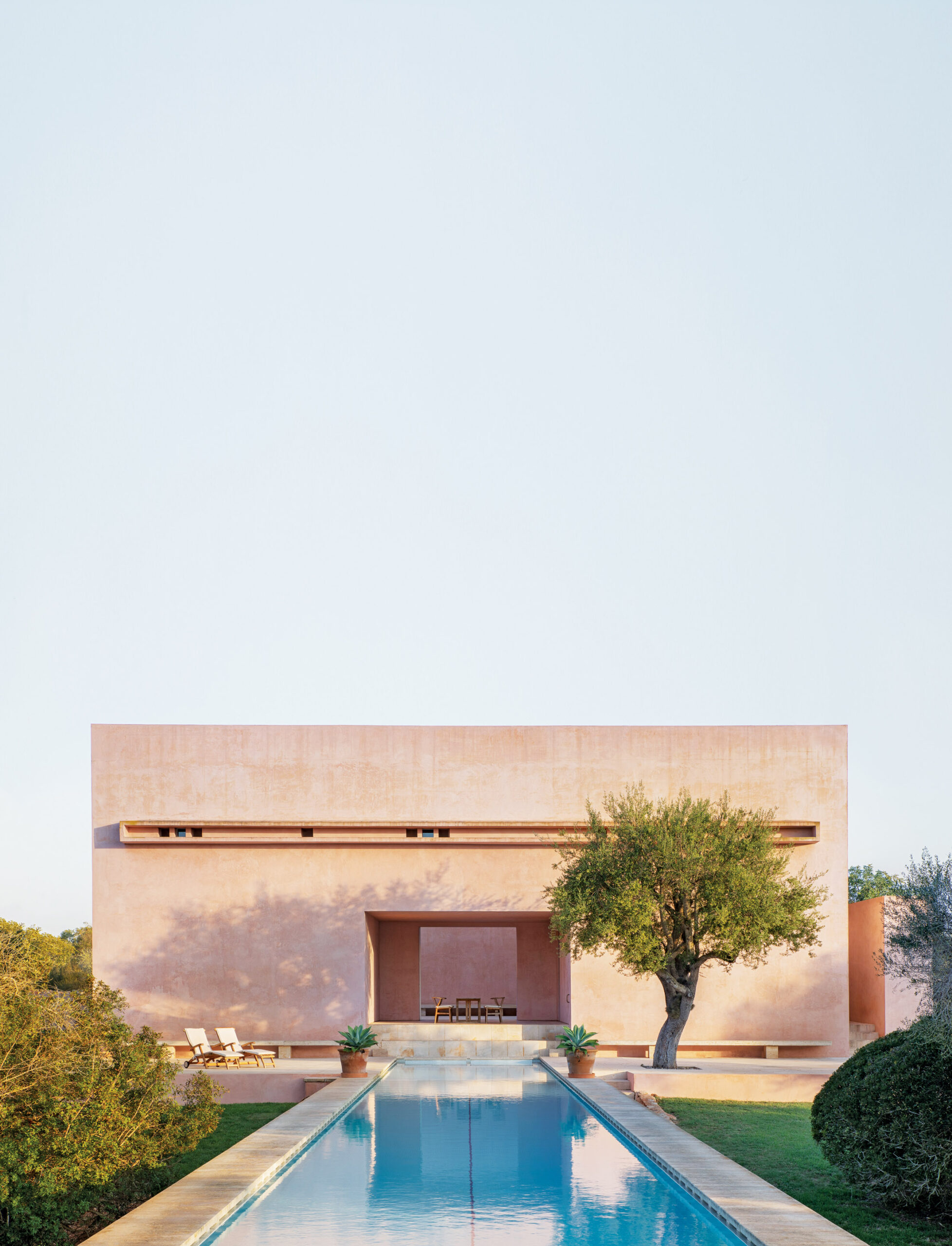 An Early Work of Architecture by John Pawson and Claudio Silverstrin is Enjoying a Renaissance as a High-walled Holiday House in Majorca, Spain
Set in an almond and olive grove in southern Majorca, Spain, Neuendorf House is an austere construction at first sight. Lean, angled, strict. "But it can be so tender," says owner Caroline Neuendorf.
"If you are not scared of quietness, if you want to experience unspoiled nature, if you are delighted by simple luxury and simple pleasures like an enchanted early morning in the endless pool listening to birdsong, or watching the full moon in July hanging almost tangible over the pool, then this is the place to be."
One does not need convincing—the house is a fascination. Interested in the concept of minimalism, as represented by the former architecture partners, Caroline and her husband Hans commissioned them to design a holiday house for their family. They wanted a pool and asked for a tennis court.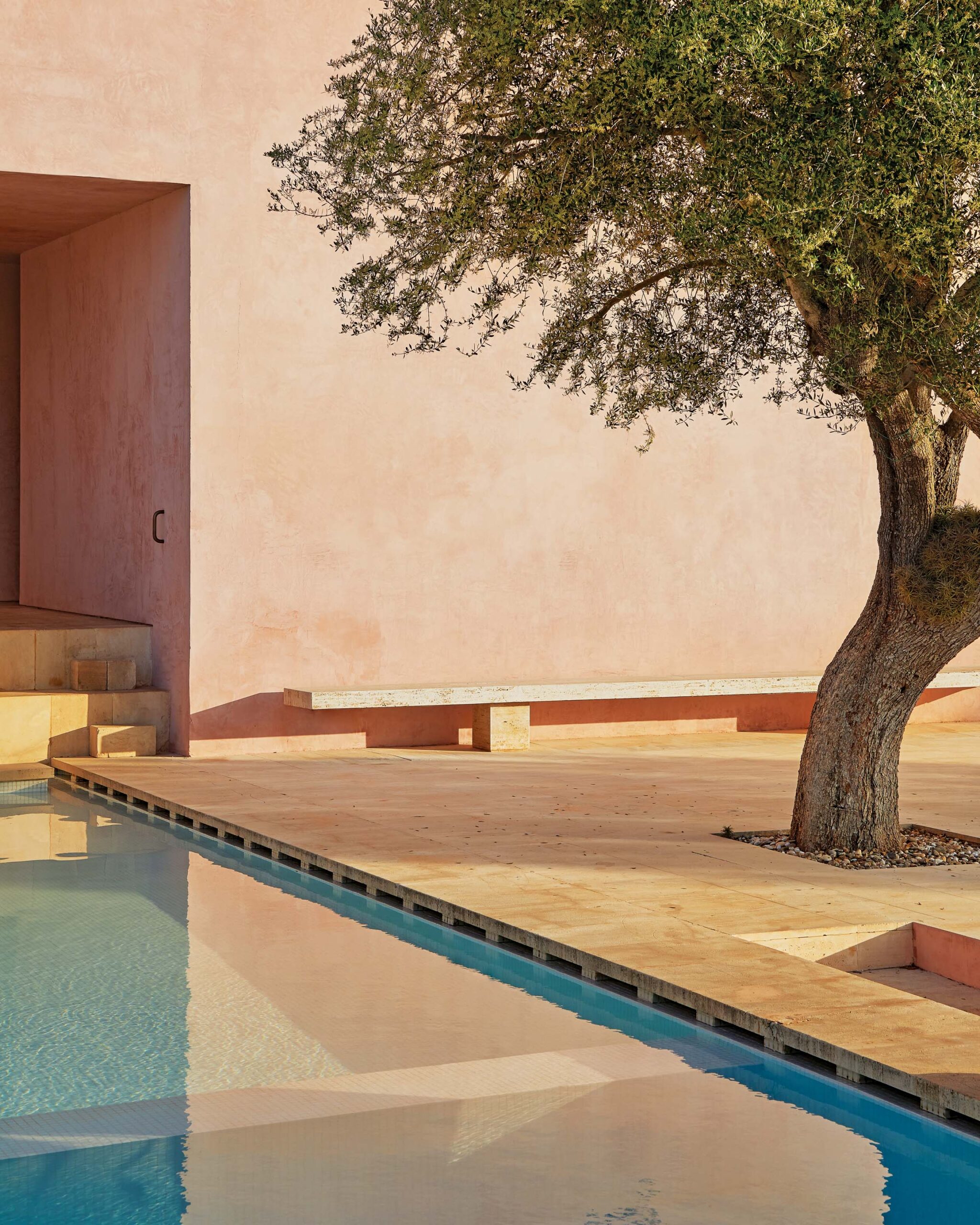 Other than that, Caroline Neuendorf confesses, "We more or less gave them carte blanche."
Let that serve as a reminder: Keep faith with a good architect. Or, two of the very best. Left to their own imaginative devices, the British Pawson and the Italian Silvestrin—both masters of contemporary of minimalism—created a starkly modern form with two-story walls in an ancient landscape, its reddish, sun-worn edifice suggesting it rose straight from the Majorca earth. While the concept of high walls surrounding a courtyard and inner living quarters is not new, it is notably harmonious here. Caroline Neuendorf points to proportion.
"Height plays such an important role," she says.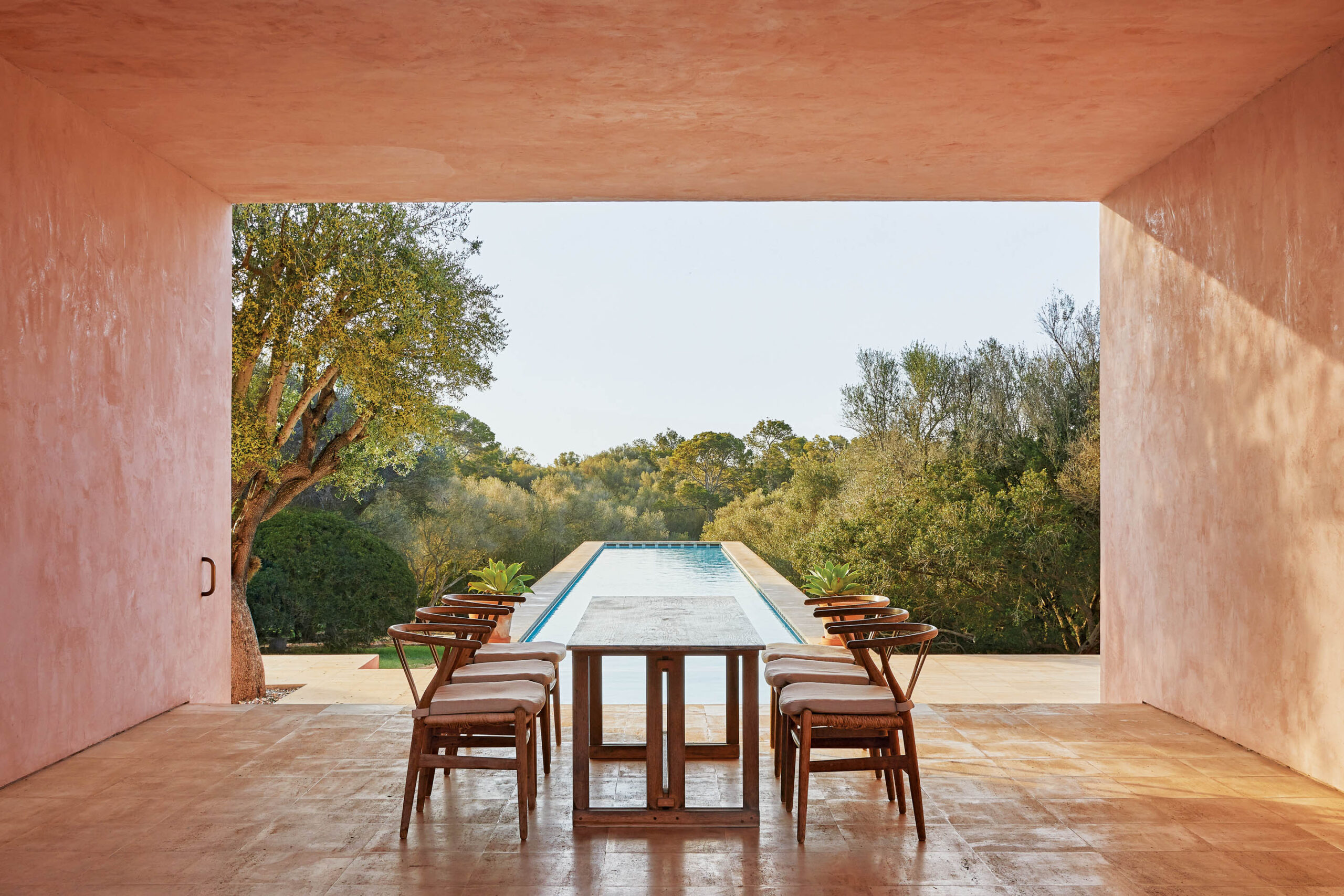 "And in this house proportion is everything. After all these years I am still fascinated by the length and size of the bench in the courtyard relating to the height of the wall. You feel protected but not closed in. There is a lot of liberty in this house, of thought and feeling, a meditative quality."
That it is not easy to separate the house from one's gradually intense experience of it is itself a holiday—an escape that is explicitly part of its place, from light to landscape.
"The sun plays with the architecture in a dance of shadow and light that continues throughout the whole day," Caroline Neuendorf describes. "If you wish, you can set the clock to it, as in ancient cultures."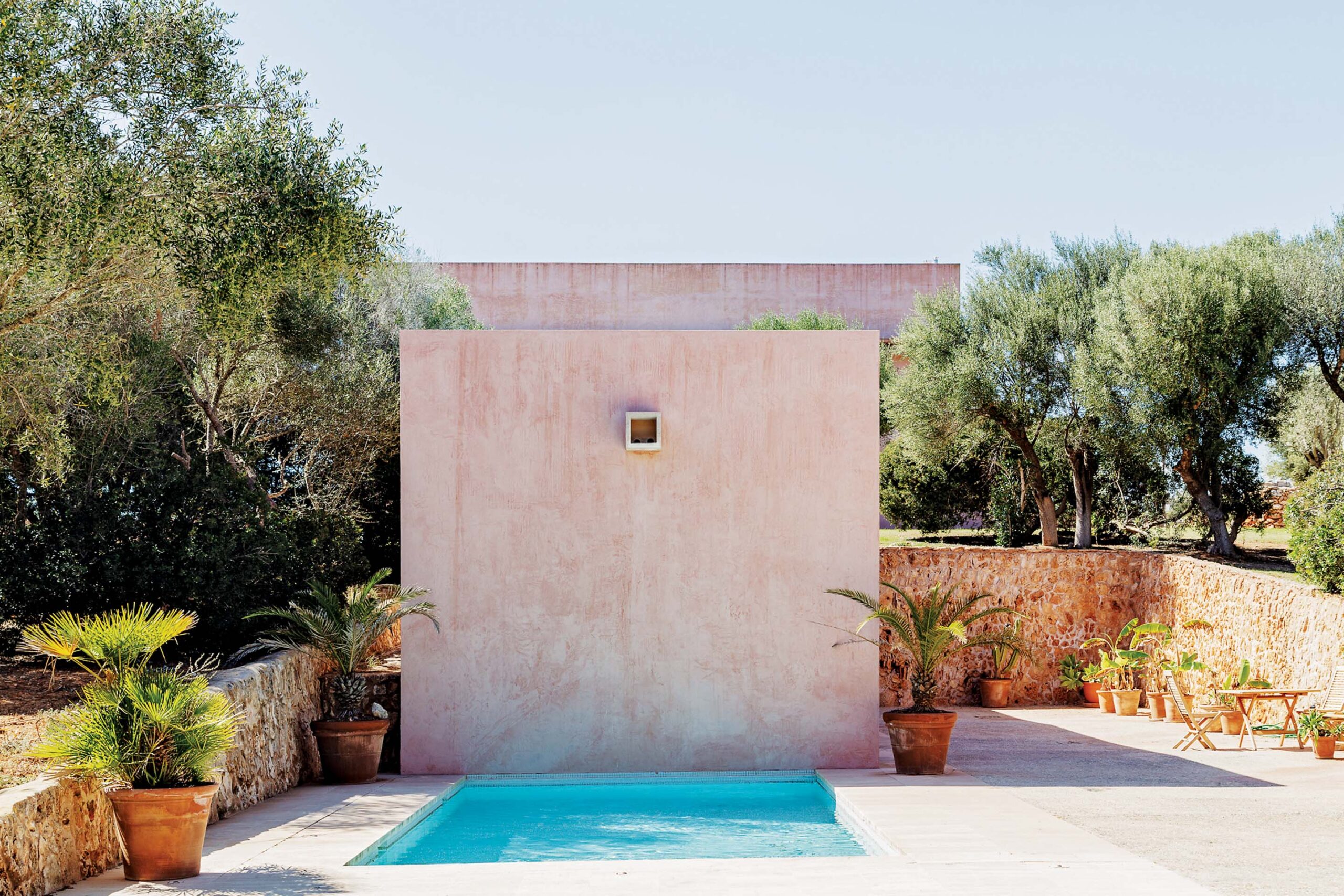 Why try? Neuendorf House is precisely where one comes to lose oneself. At the same time, "You experience a calmness, a sense of belonging, and a sense of yourself," Caroline Neuendorf adds. "And at night, the stars!"
On approach of the house, one enters the courtyard via an architectural incision that gives way to a view of a 40-meter pool protruding into the landscape.
"It takes your breath away," says Caroline Neuendorf.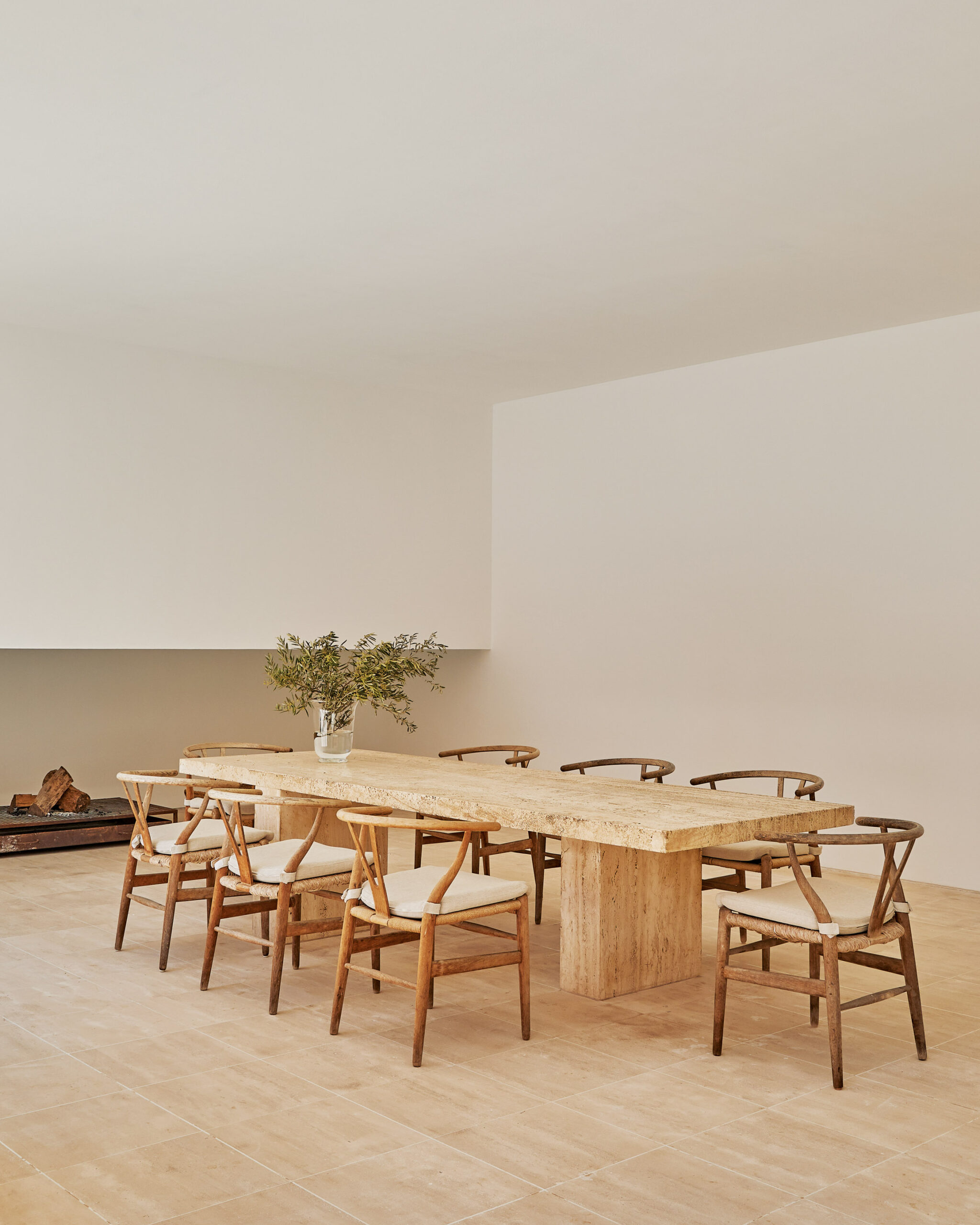 With five bedrooms, four bathrooms, the spacious, almost monastically appointed interior features airy living spaces with an ethereal, cathedral-like light. All that's left is transcendence. Except: the rooftop terrace with sea view, the two salt-water pools (the smaller one heatable with Jacuzzi), the clay tennis court, and the organic vegetable garden. With seamless flow between spaces and many exposures to the outdoors, the house is as composed as its architecture is fastidious.
The Neuendorfs did not need persuading to know that their home is a sublime place to visit. As the family started to scatter, they began hosting friends, then strangers. Even Pawson and Silvestrin still visit, which speaks volumes about the architects' affection for one of their early works.
"I don't think it is good to leave a house uninhabited," Caroline Neuendorf explains. "It becomes a lonely and sad place."
Neuendorf House is not that. Now in a kind of heyday, the property is enthusiastically booked, particularly by those with an appreciation if its architecture and the figures responsible. Pawson and Silvestrin were far less known in 1989, having done a few London flats.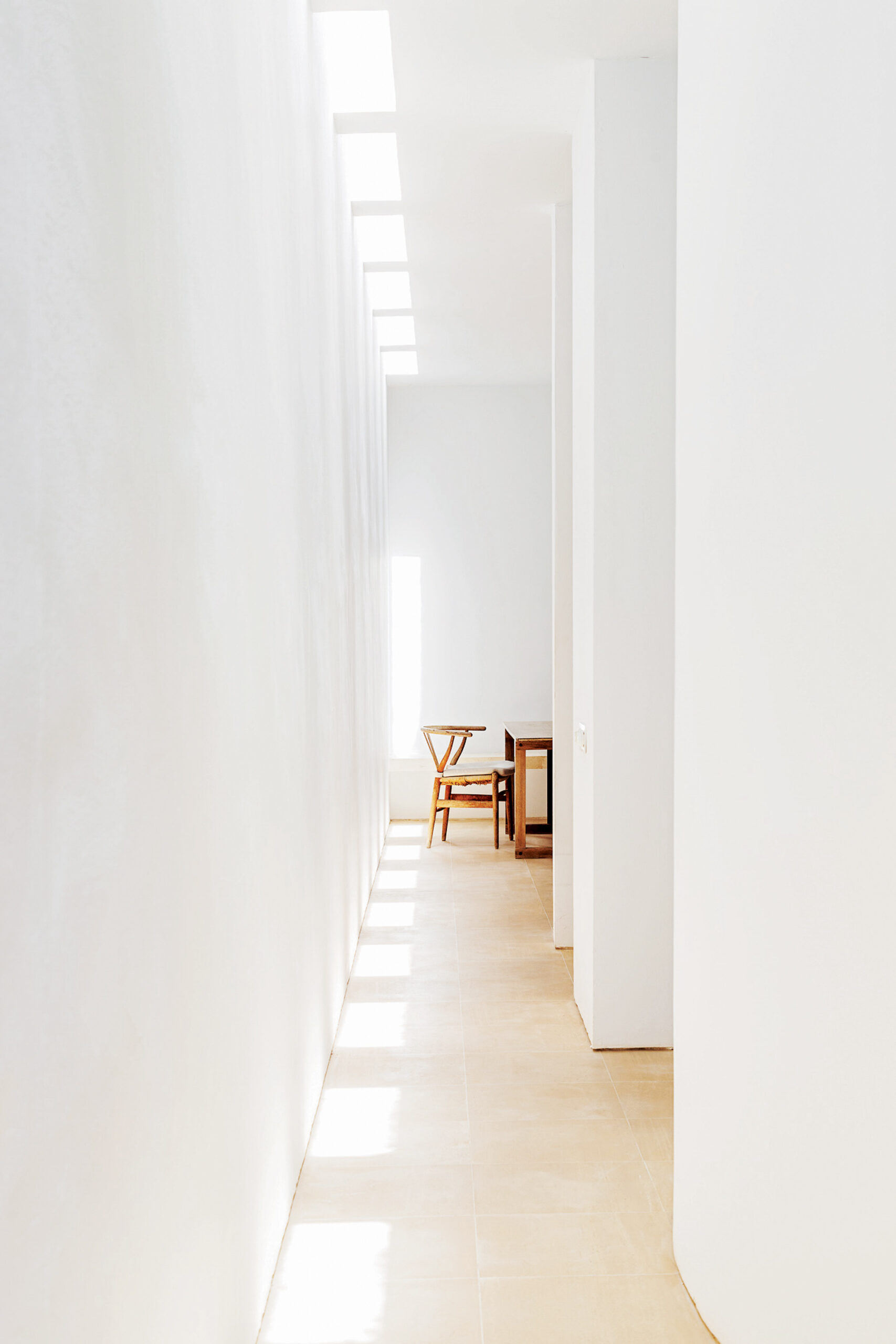 "It was their first freestanding house, and a first for us too," says Caroline Neuendorf. As art dealers, "We did not know that one day this house would almost become an architectural icon. We just loved the idea of living in such a space."
She candidly admits that at the time the house was built, most people did not understand it.
"We were made fun of a lot. Not that we cared."
Staying true to that laissez-faire instinct gave the Neuendorfs decades of family joy; in opening up their house to others, they have given the world, and Spain especially, one of its most interesting and provocative buildings.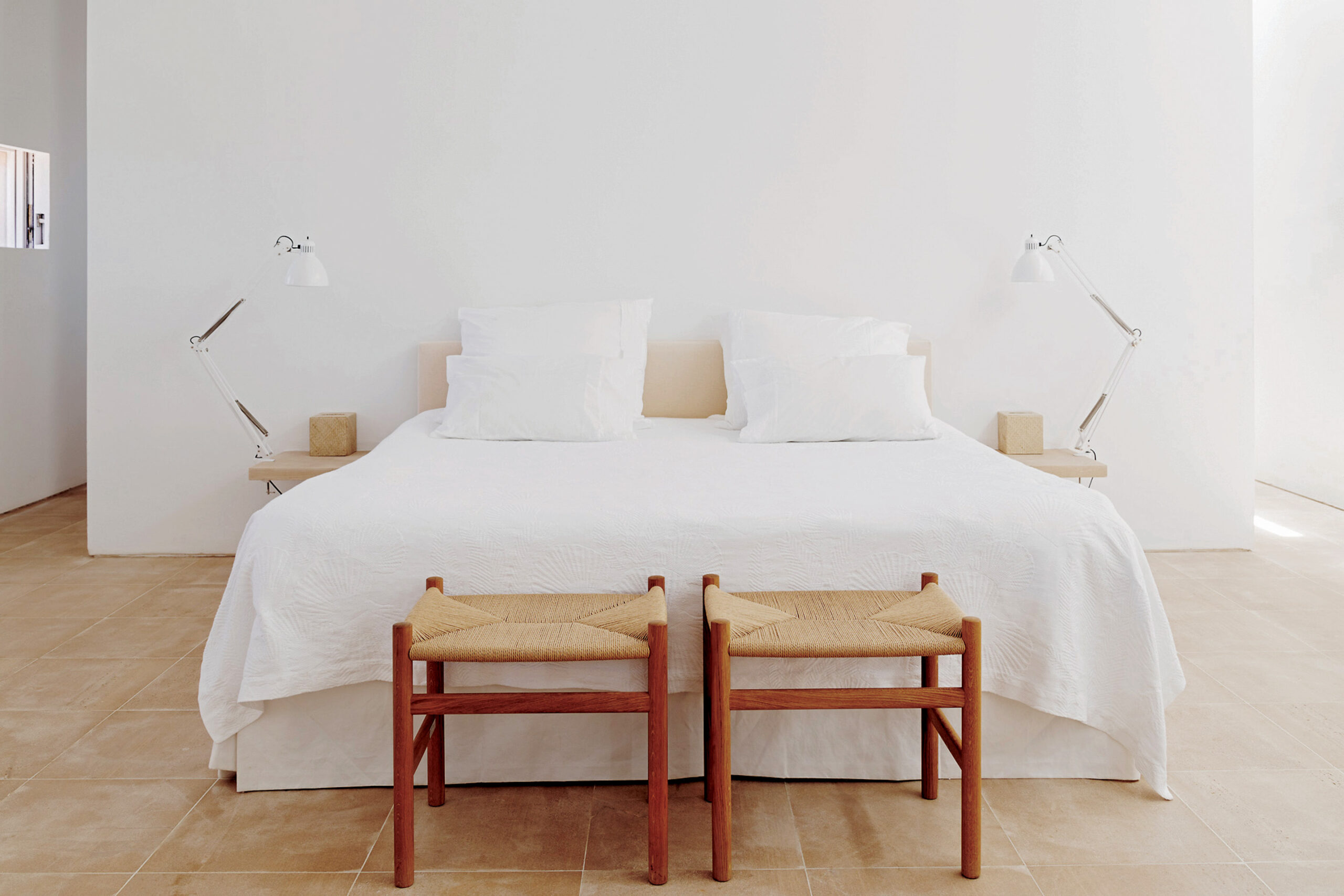 "It was obviously courageous for all of us, architects and client, to build it," says Caroline Neuendorf.
"It started as a vision, became a family holiday house and turned into something that people admire after so many years, which is very rewarding. It is a beautiful never-ending story!"
Neuendorf House | neuendorfhouse.com
Photo by Renee Kemps