Standing Room Only
A buzzy burger joint turns fun foodie spot in Hermosa Beach
Written by Joclene Davey
Known for its burgers and live music hall, The Standing Room in Hermosa Beach is gaining a bar food meets foodie reputation via its updated menu. The restaurant's unique twist on simple menu items and vast assortment of whisky make for a lively spot to indulge unique fare and entertainment.
Owner and chef, Lowell Bakke launched The Standing Room in Redondo Beach from the Catalina Liquor Store as a take-out location. The spot quickly became a success due to its famously oversized burgers and Asian-American influence. The good fortune of the first location convinced Bakke to launch a second outpost with additional menu items, live music, and a full-service bar.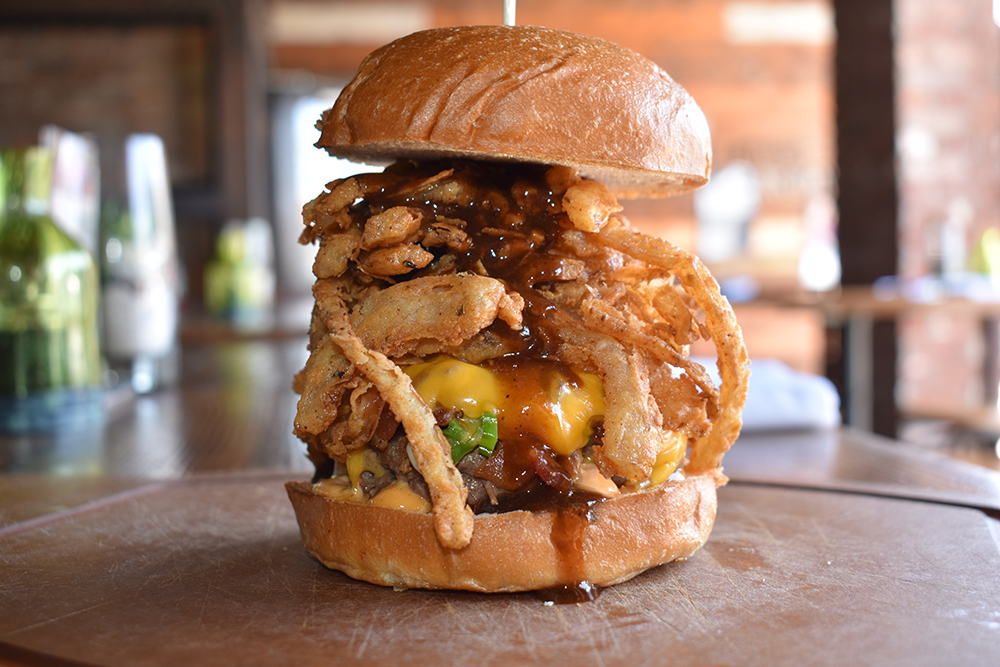 Expect a step-up in the burger category with a variety of options like the Dressed Burger, with arugula, caramelized onion, bacon, smoked Gouda cheese, blue cheese, Korean aioli, tomato jam and a fried egg. Another standing favorite is the Cash Burger, with Japanese Shishito peppers and crispy onions.
The menu, however, has more of a Gastropub feel, especially once Bakke brought on chef Matt Webb. Starters received a unique spin like togarashi spiced pork rinds and soft shell crab sliders on black steam buns. The eatery also began adding plated options, a promising future for foodies looking for new locales with fare to sink their teeth into. A perfect example is the Short Rib Bibimbap, a typical Korean dish, made with a succulent chunk of short rib meat served with sticky rice, Korean pickles, assorted vegetables and a runny egg.
Scattered throughout the menu one finds interesting ingredients like poignant Korean kimchi as well as seasonal items found in the Summer Peach Salad or Watermelon Kale Salad. "My mother is Korean and that definitely has influenced my cooking, along with being raised in Hawaii, which is a melting pot of Asian influenced food," shares Bakke.
Restaurant by day and local hang out by night, The Standing Room features live music Thursday through Saturday each week. From local bands to jam night, the atmosphere is relaxed and rock-n-roll. Happy hour throughout the week offers great drink and food specials at unheard of prices, like all you can eat Taco Tuesday, including a draft beer, for $15.
One of Standing Room's latest drinks, the Bloody Bull (a Bloody Mary with beef broth, homemade beef jerky and blue cheese-stuffed olives) alongside a hearty brunch on Saturday and Sunday might just be the cure one needs after a jam session the previous night. Hawaiian French Toast with Nutella, bananas and coconut will certainly satisfy any sweet tooth, while the Kimchi Fried Rice with Portuguese Sausage will appease even the most ferocious appetite.
Bakke is one to keep an eye on, with his growth mindset and creative spirit. He states, "We are always exploring opportunities for new locations, and pushing for new concepts and something fresh, but we won't rush it." Some things are worth waiting for.
THE STANDING ROOM
1320 HERMOSA AVE., HERMOSA BEACH
144 N. CATALINA AVE., REDONDO BEACH
Related Post
Toscana Restaurant Group brings a touch of the Amalfi Coast to L.A. with Nerano "The setting is stylish yet casual, and the service is imp...
Come one, Come all to Catalina Coffee Company In 1999, Jeff Sallee and his mother, Ellen Brown, set up their coffee shop in a building along...
South-of-the-border style and tastes to savor comes to Santa Monica with Tallula's A favorite childhood haunt in Santa Monica's Rustic C...