Touted

tastemaker Schuyler Samperton

puts her stamp on the

design world

—and an

exuberant textile line

L.A.-based interior designer Schuyler Samperton never had a master plan, but always followed her instincts.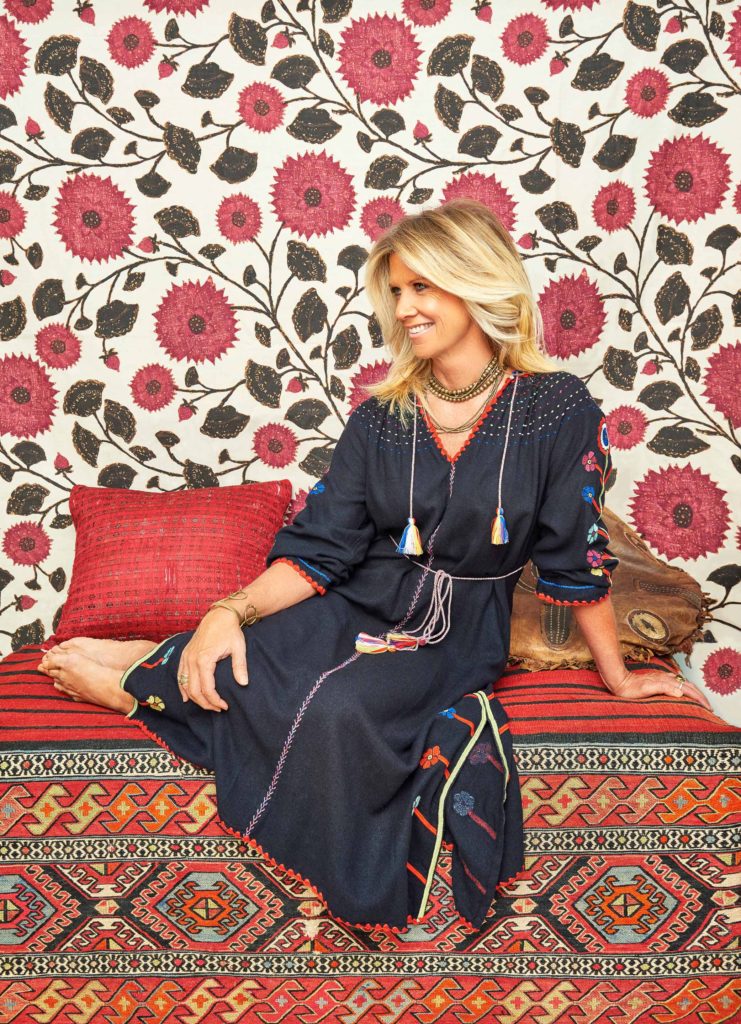 "When I was little," says Schuyler Samperton, the lilt in her voice as lovely as the story she tells, "I would play decorator with samples that my father, an architect, brought home from his office." Design has always been part of my life."
Cut from the same cloth as her father, Samperton studied art history with thoughts of a career at Christie's or Sotheby's before segueing into the music business and working as a publicist for Fox. Then she met designer Michael S. Smith and he offered her a job.
Two weeks later, she inherited design projects; four years after that, Schuyler Samperton (by then a design manager at the firm) left to start her own company with a co-worker. In 2007, she went solo, and her work has been splashed in the pages of Vogue Living, Elle Décor, Architectural Digest and more.
Celebrated for the elegant, easy aesthetic she employs to transform high-end residential and commercial spaces from coast to coast, Samperton's comfort zone exists somewhere between these geographies.
Originally from Washington DC, she maintains a house on an island in Maine, a tiny apartment in Miami, and heads her firm in Los Angeles; she designs in all vernaculars and brings a heightened sense of multidimensionality to her work, allowing a project's specific environment to dictate its character.
Samperton has never fully shed her East Coast side; in fact she rather flaunts it, a Sister Parish for the modern day, with the grand dame's sensibility for curated flourish.
"I love wallpaper. I love worn rugs. I love pattern on pattern and creating a mood with beautiful lighting—that's what really feeds my soul," says Schuyler Samperton.
"I love spaces like that," particularly if the space is a cozy library. "Oh, that's sort of my favorite little spot," she adds, drawing a picture in words. "Wallpaper, a nice fireplace, a pretty rug, tons of art on the walls, a bunch of pillows—that to me is like heaven."
A version of heaven is exactly what Samperton creates for her sophisticated clientele. "I went through a point where I had a lot of single men as clients," she laughs. "It was quite an adventurous bunch for a while, which was really fun because they sort of let me do whatever I wanted. I remember saying to one, 'I'm just feeling a total Big Sur moment, and he said, 'I love it, just do it.'"
In 2017, the designer launched Schuyler Samperton Textiles with eight patterns in rapturous colorways. Her mother's scarves inspired some motifs; one is named for the street of her childhood home. Not one to be in a holding pattern, Samperton is currently at work on a 1920's remodel in Los Feliz, a place for a prominent TV show actress, an apartment for the screenwriters of American Graffiti and Indiana Jones and the Temple of Doom, and a jewelry store showroom. It's a lot, she concedes, but like the spaces she designs, "always something different." samperton.com