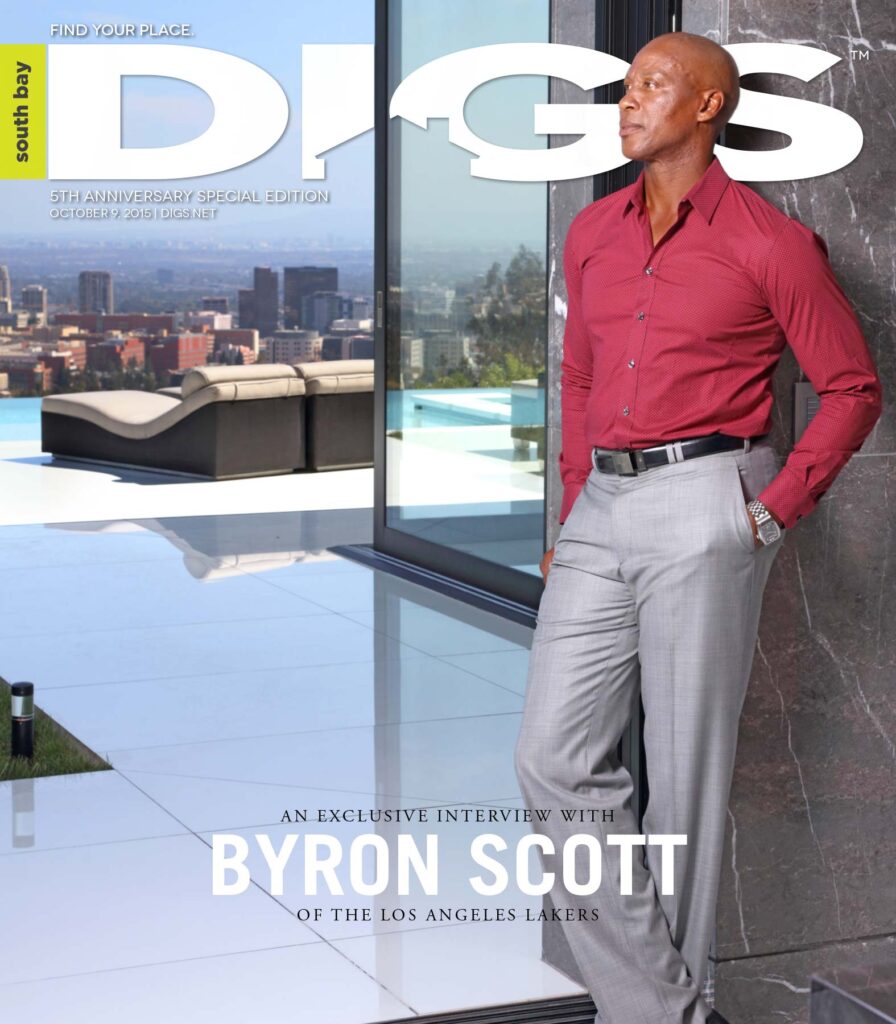 Read this Issue Now!

What's inside?
Featured Articles in This Edition
SOUTH BAY DIGS' 5th Anniversary
When we launched DIGS back in October 2010, the local real estate market wasn't the best, (to put it mildly!) It was our hope back then, as it remains today, that if we stay focused on adding value to the local community and our marketing partners, we would FIND OUR PLACE. Our mission to create an indispensible resource for both local real estate consumers and real estate professionals is one we take seriously.
With the launch of Westside DIGS earlier this year, we now have a combined $1 Billion in market inventory advertised in each edition—local real estate truly happens here.
Exclusive Interview & Feature Article
Lakers Coach Byron Scott
To celebrate our special 5th Anniversary, we decided to change things up a bit when we had the opportunity to sit down for an exclusive interview with NBA legend and LAKERS coach Byron Scott, who recently purchased a home in Hermosa Beach. Our cover photo shoot took place at a modern masterpiece in Bel-Air designed by renowned architect Paul McClean, which is currently listed for sale at $49,995,000 by Michael LaMontaga & Branden Williams, Hilton & Hyland. For more information on this one-of-a-kind estate visit 864Stradella.com.
Announcing…DIGStv
Video has always been an integral part of our "next gen" media platform. In fact, the DIGS YouTube channel has had over 250,000 video views with over 500,000 video minutes watched. With the recent expansion of our in-house video production facility, we're happy to announce the long-awaited arrival of DIGStv.
DIGStv is our new weekly video series that celebrates luxury real estate, the good life and living the Southern California dream. Look for a new episode every Thursday on our YouTube Channel and don't miss our extended interview with Byron Scott in the current episode.
Thank You, South Bay.
It's both an honor and privilege to serve the South Bay community as the authoritative voice of local real estate.
We want to sincerely thank the South Bay community—we're deeply honored and blessed to be able to continue to earn your engagement.
Last but not least, a SPECIAL THANKS to our marketing partners for your much-valued support over the last five years—we would not exist without you! We're committed to keep innovating and adding value to our partnership.