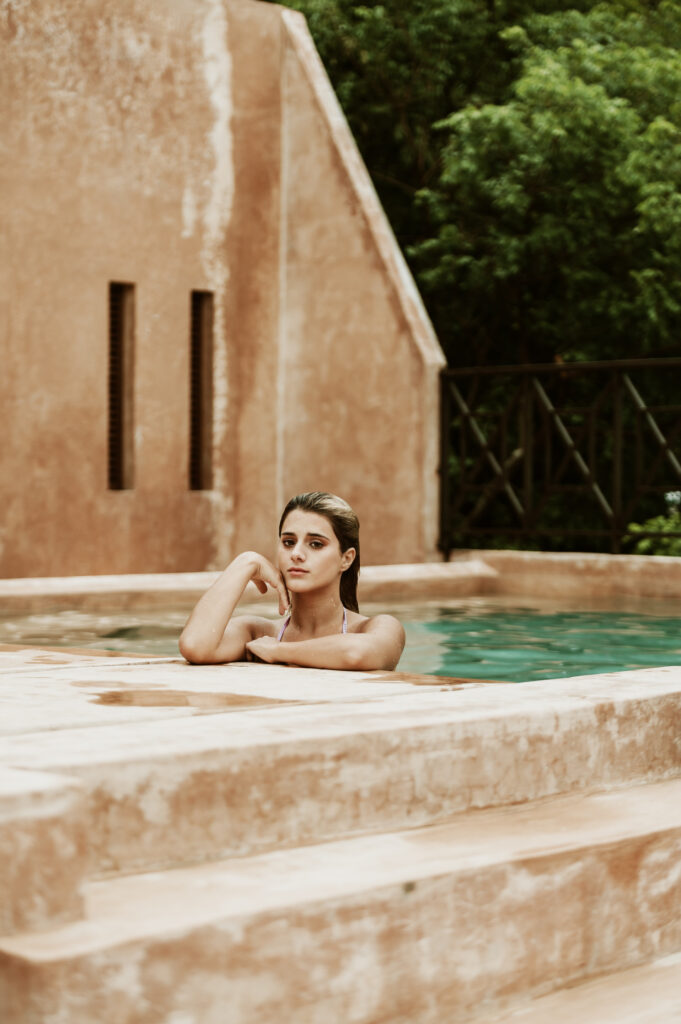 Intriguingly Then and Now, With Both Provincial and Urban Appeals, the City of Mérida Makes Way for the Remake of a Grand-dame Mansion Into the Radiant Cigno Hotel
In the Mexican state of Yucatán, Mérida is a melting pot of cultural inheritances, predominantly Mayan and Hispanic, with Lebanese, French and Eastern influences that permeate "the entire character and atmosphere of the city," says by architect Roger González.
"The old city, built on top of an abandoned Mayan city," he notes, "is laid out in a grid pattern, much in the Renaissance style, and over nearly 500 years, Mérida has expanded in all directions."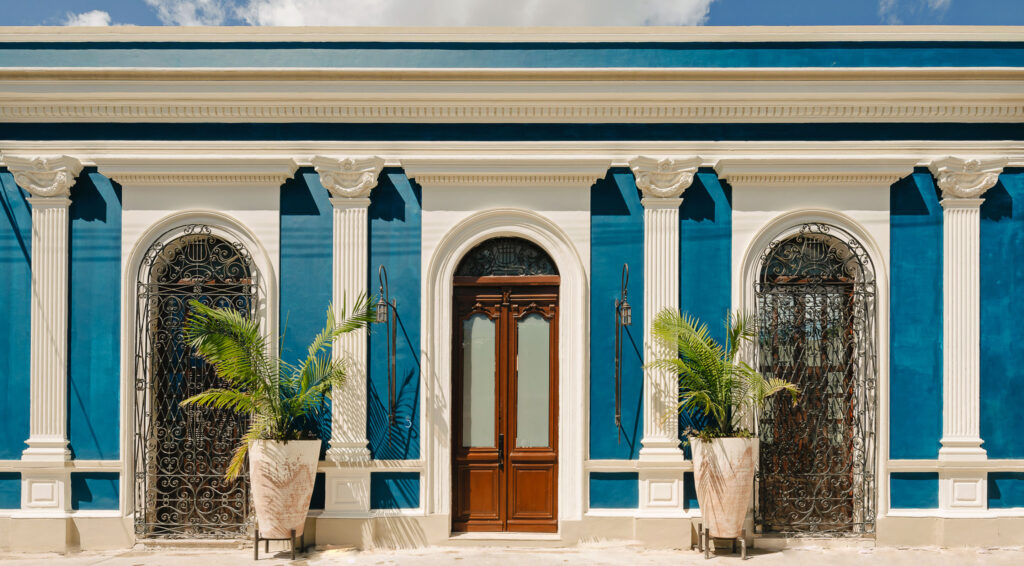 But it is the city's historic center—its vibrant, pulsating heart—that occupied Roger González as he completed a head-turning transformation of a 19th-century mansion for use as a contemporary boutique hotel.
Lavished in architectural detail ranging from stately columned walls to ornate iron gates, the recently arrived Cigno Hotel is, like Mérida itself, much shaped by its cultural milieu, with one foot in the provincial past and the other in the electrifyingly present. Little is known about this grand-dame's past as a private house, only that the structure was modified many times, with one room was fully preserved (its original shape and central yard were rescued and remade).
The present, on the other hand, is vivid and tangible, a warm, rustic and considered reimagining by Roger González deserving of its gallant surround, characterized by colorful streets, broad plazas, and columned, colonial casas that open to beautiful patios and tropical vegetation.
It is all very cinematic, and this particular house-turned-hotel a set piece with a decidedly local tone "reinforced with regional materials that showcase the multicultural character that defines Mérida," says the architect.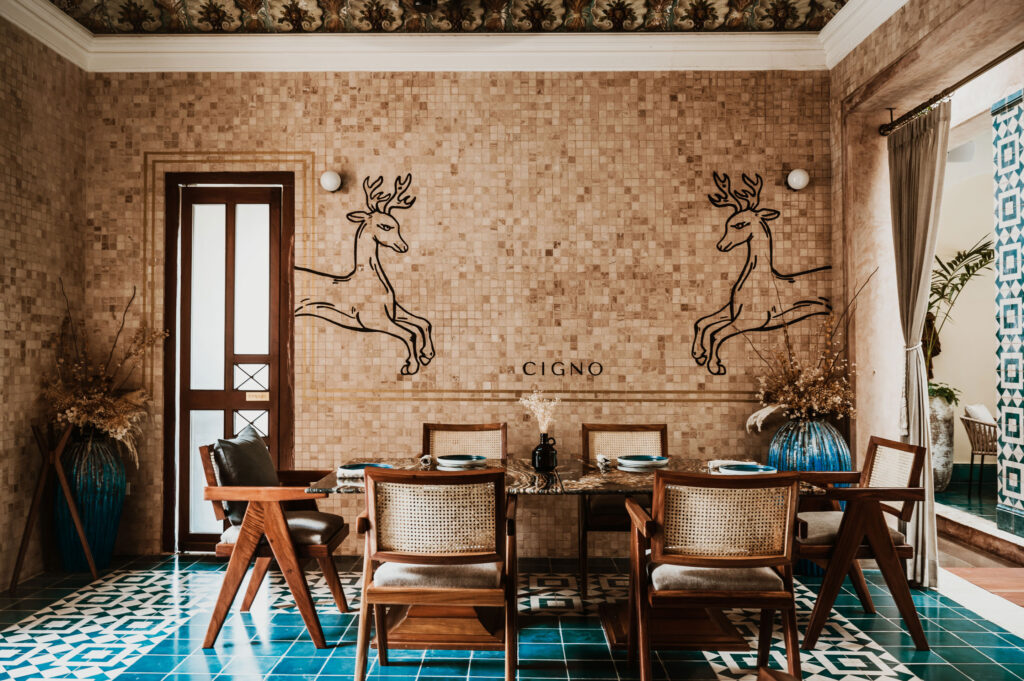 That "Cigno is a hotel with a unique soul," as described by Raúl Sánchez, CEO of Cigno Hotels, is a fate that was sealed from the start. From the moment this project was conceived, Sánchez notes, every effort was made to preserve the historical details of the century-old structure, and in turn, its palpable sense of place, beautifully realized in details that reflect Yucatecan culture.
This includes many component elements that were handcrafted by local artisans exclusively for this project, Raúl Sánchez points out. Pasta floors are replicated with the original design of the house. A characteristic color palette evoking the water element vital to this area of Mexico. Wall coverings made with local materials with ancestral construction techniques still used today. Poetic, warm, the hotel is a love letter to traditional Yucatecan heritage, combined with the conveniences of the current era—something the culture is also good at producing.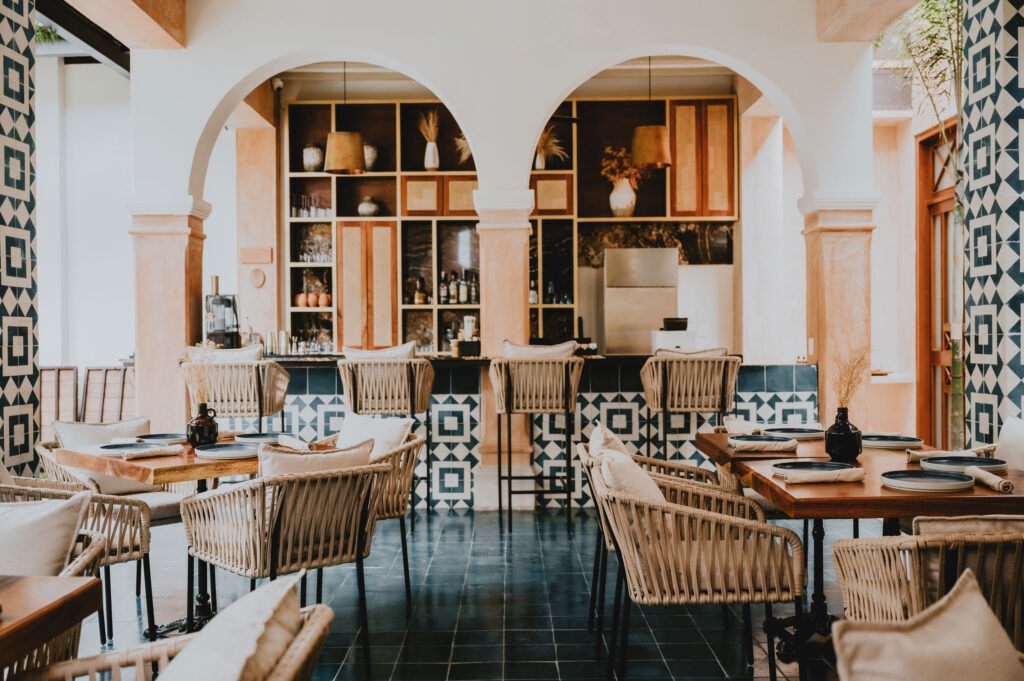 Charged with leading the restoration of the building, Roger González utilized "painstaking processes to enhance the original and most emblematic features of the structure, such as the high ceilings, cornices, Corinthian-style columns, richly ornamented capitals, ceiling moldings, and cement tile floors," says Raúl Sánchez. "The symmetry of the façade, with its three arches, was maintained, although only the central one functions as an entrance for guests and visitors. The ironwork and joinery of the doors and windows was also retained and restored to an impeccable finish that contrasts with the steel-blue tone that dominates the property's exterior."
The most conspicuous consideration of local culture in the project is the use of chukum, an ancient technique for working with stucco used in Mayan pyramids, and deployed here for organic honesty to blends in with the structure's original friezes and moldings. Among these is a mural from La Ermita de Santa Isabel , or the Church of Our Lady of Safe Travels.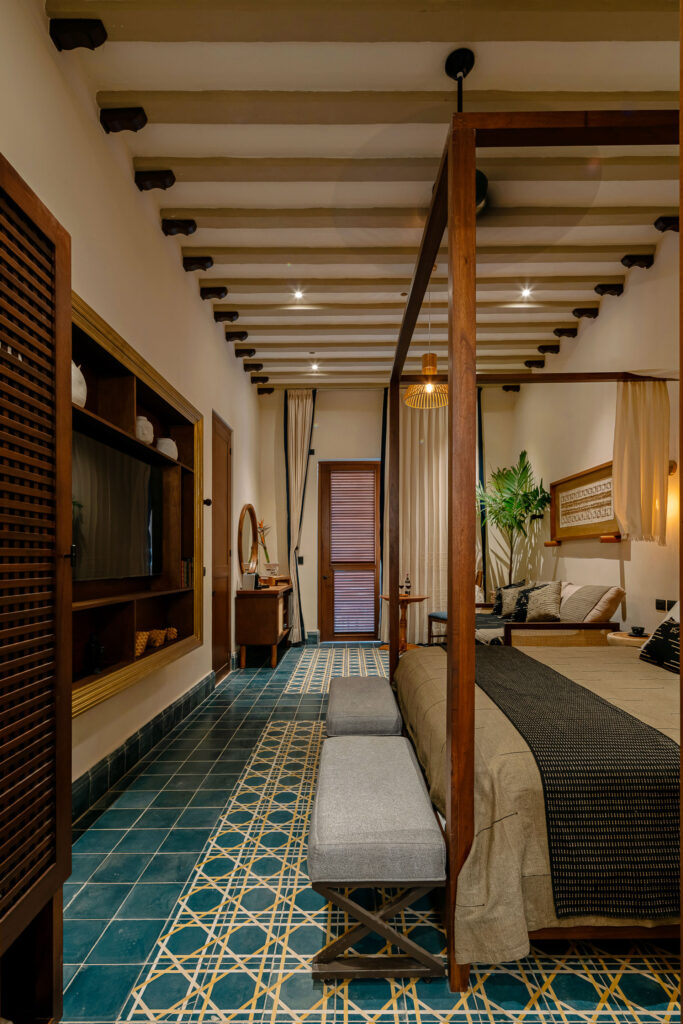 Straddling both New and Old Worlds in exquisitely finished ease, the interior of the hotel presents as if it came from the tip of an artist's brush. It's a painterly scene, rich in aesthetic detail, with an invigorating palette of blue and terracotta tones and lush, wall-climbing exotica that, combined, both calm and excite the senses.
Lustrous wood, natural textures, hand-honed pieces, exclusive to the hotel, and a  textured tapestry of motifs and tile make for an intoxicating cocktail of elements that convey the history of the architecture and its close and enduring connection with the popular La Ermita neighborhood just beyond its cool-blue, amply columned exterior walls.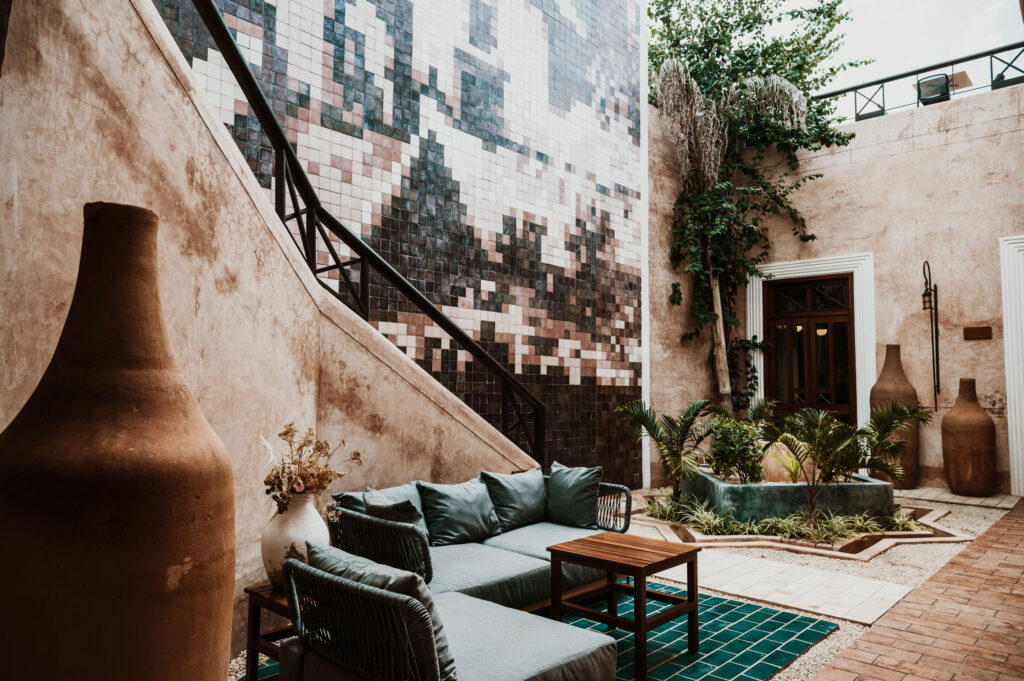 It would be a shame to go all the way to a city as cosmopolitan Mérida and stay inside your hotel. And yet, no one would scoff at that notion here. Cigno Hotel is exactly that type of refuge, with fresh, beautifully edited 10 rooms and suites, a lush courtyard and upper terrace pool evoking Mexico cenotes, a serene library and Cocina restaurant serving local flavors. A traditional cistern discovered during the restoration process, meanwhile, was reimagined as a two-room wine cellar.
All makes for a hotel that feels like a secret world. It is certainly the best-kept secret in Mérida. Soon, everyone will be talking.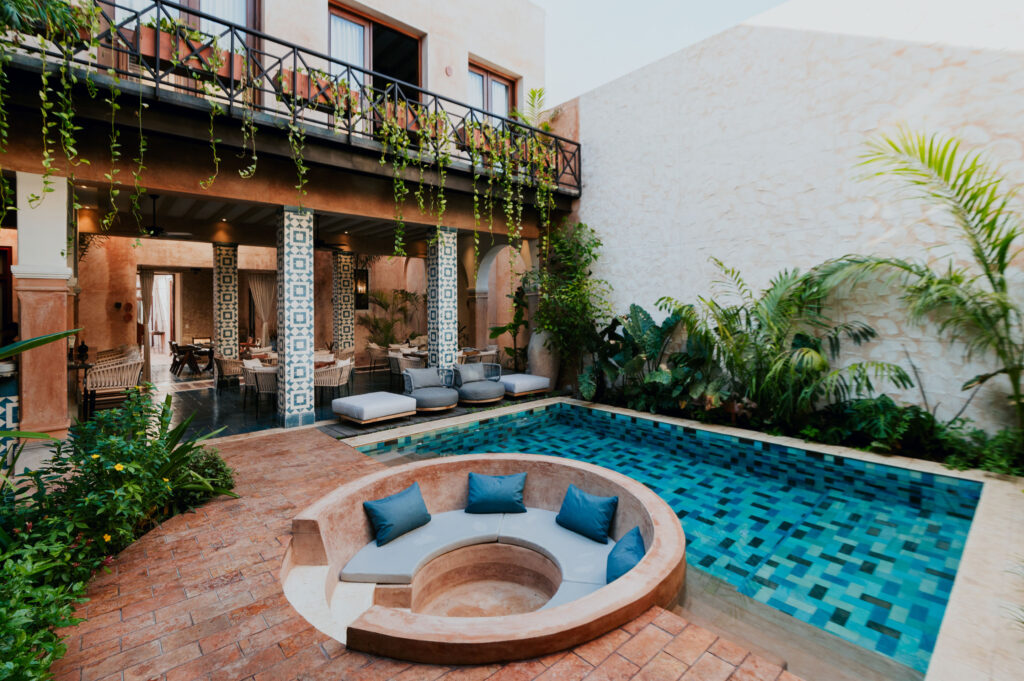 Cigno Hotel | cignohotel.com
Photos courtesy of Hotel Cigno