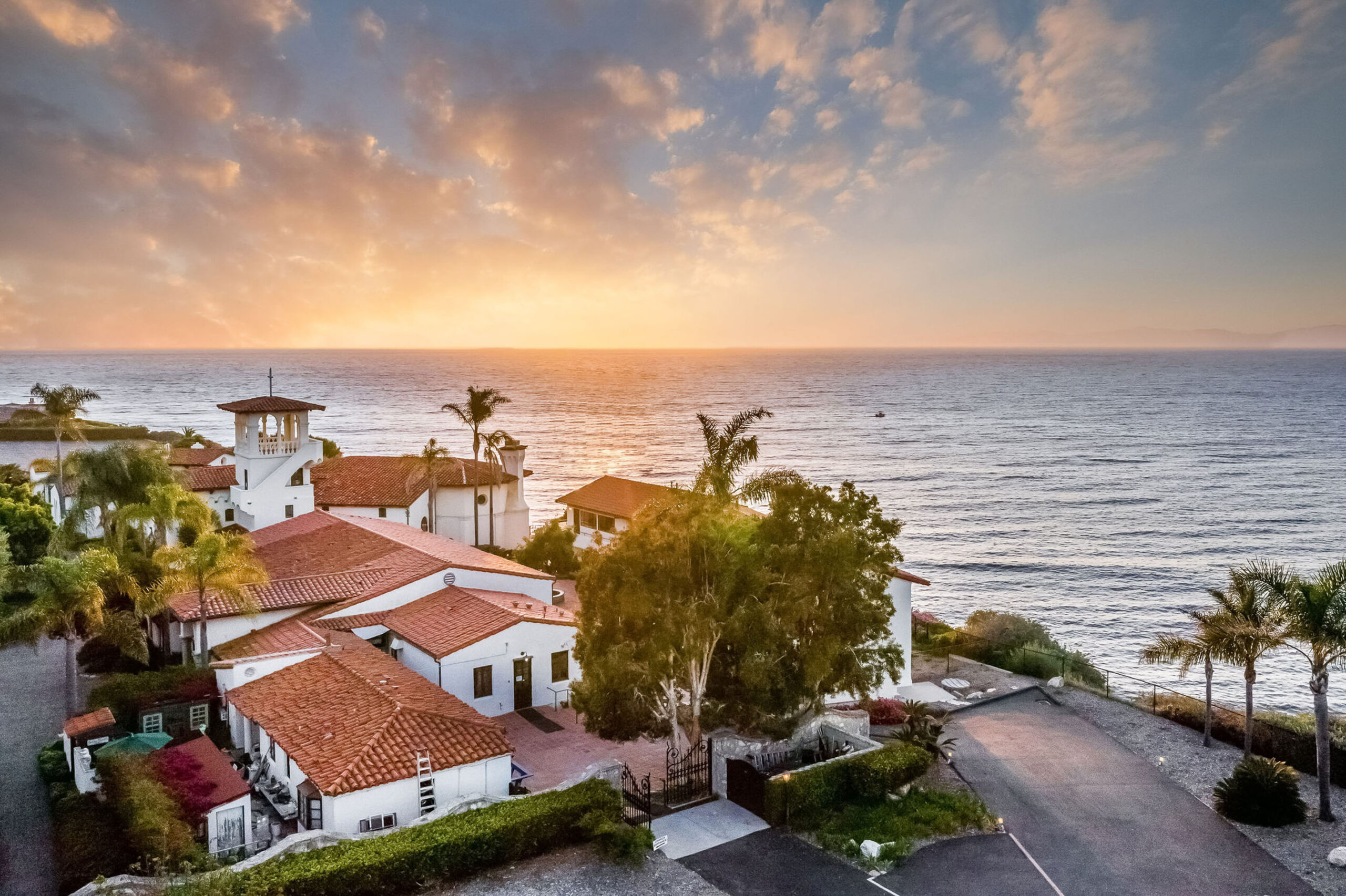 It's hard to imagine a more welcome introduction to the sprawling, sunlit lifestyle of Palos Verdes than the scene that greets when pulling into the smoothly paved, curved driveway of this oceanfront Malaga Cove home. Old-growth trees and native shrubs bloom in shades of white, green and vivid red; a manicured green lawn and boundless blue sky are inviting partners to the creamy white exterior and contrasting russet clay tile roof.
Past wooden entrance doors, the home's dreamy promise continues throughout its five-bedroom, four-bathroom floor plan.
"It's 4,000 square feet that's used really, really well," real estate agent Justin Miller of Beach City Brokers points out. "The floor plan is unique."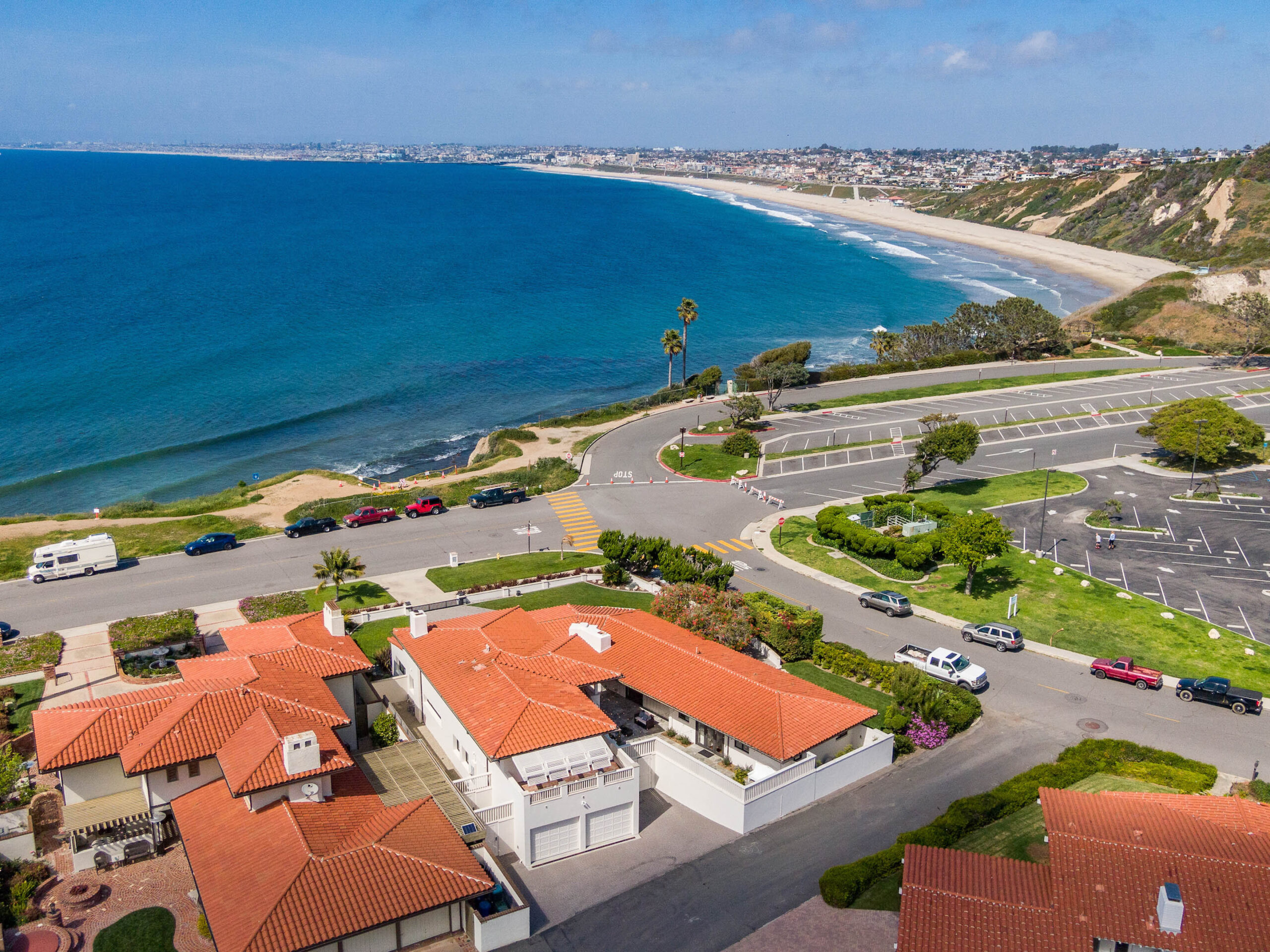 Designed for maximum ease of use, and graceful access to its enchanted outdoors, the home is neatly organized around a staple of Spanish-style homes: the central courtyard.
What's more, the home claims a coveted, corner-lot location—complete with unblocked ocean views—on what is arguably one of the most beautiful streets along the West Coast, Paseo del Mar.
"It feels like another world," says Justin Miller of the site. "Palos Verdes has this really awesome landscape and feel."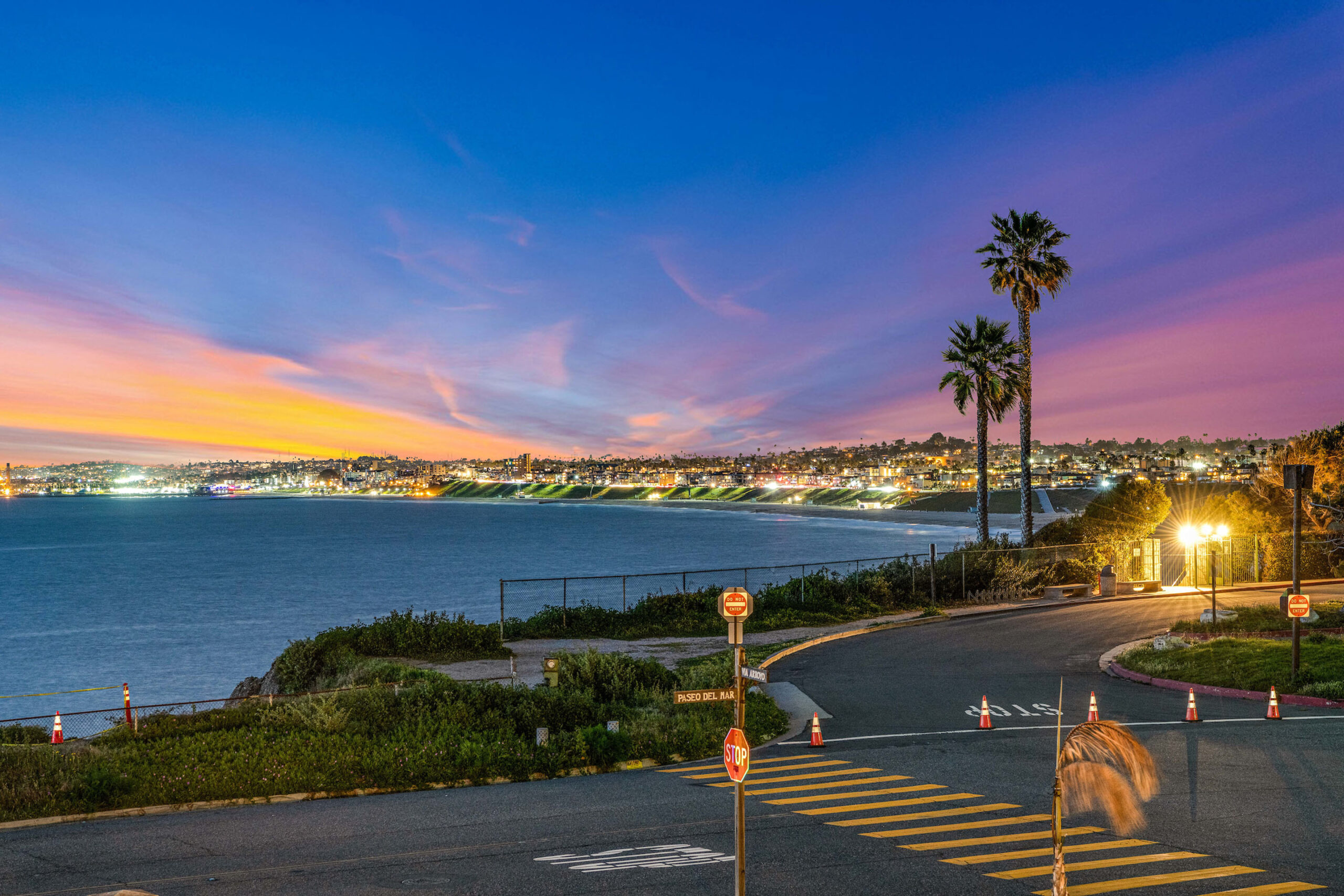 Particularly at this Malaga Cove address, where one sits across the street from picture-perfect ocean bluffs. From here one can head to famed surf spot Haggerty's or stroll to the soft sands of RAT Beach. A wish list of local conveniences, from a quiet cafe and corner store to a post office and historic library, are within 5 or 10 minutes on foot or by bicycle.
And yet, adds Justin Miller, "You can still get to the Beach Cities and Downtown L.A."
Plum destinations lie all around, but it would be just as tempting to spend one's time at home, instead, basking in the mellow elegance of the interior, which was recently overhauled by seasoned designer Barry Goldstein of Barry's Designs. Included in the work were new bathrooms and a kitchen, along with a re-visioned exterior and courtyard.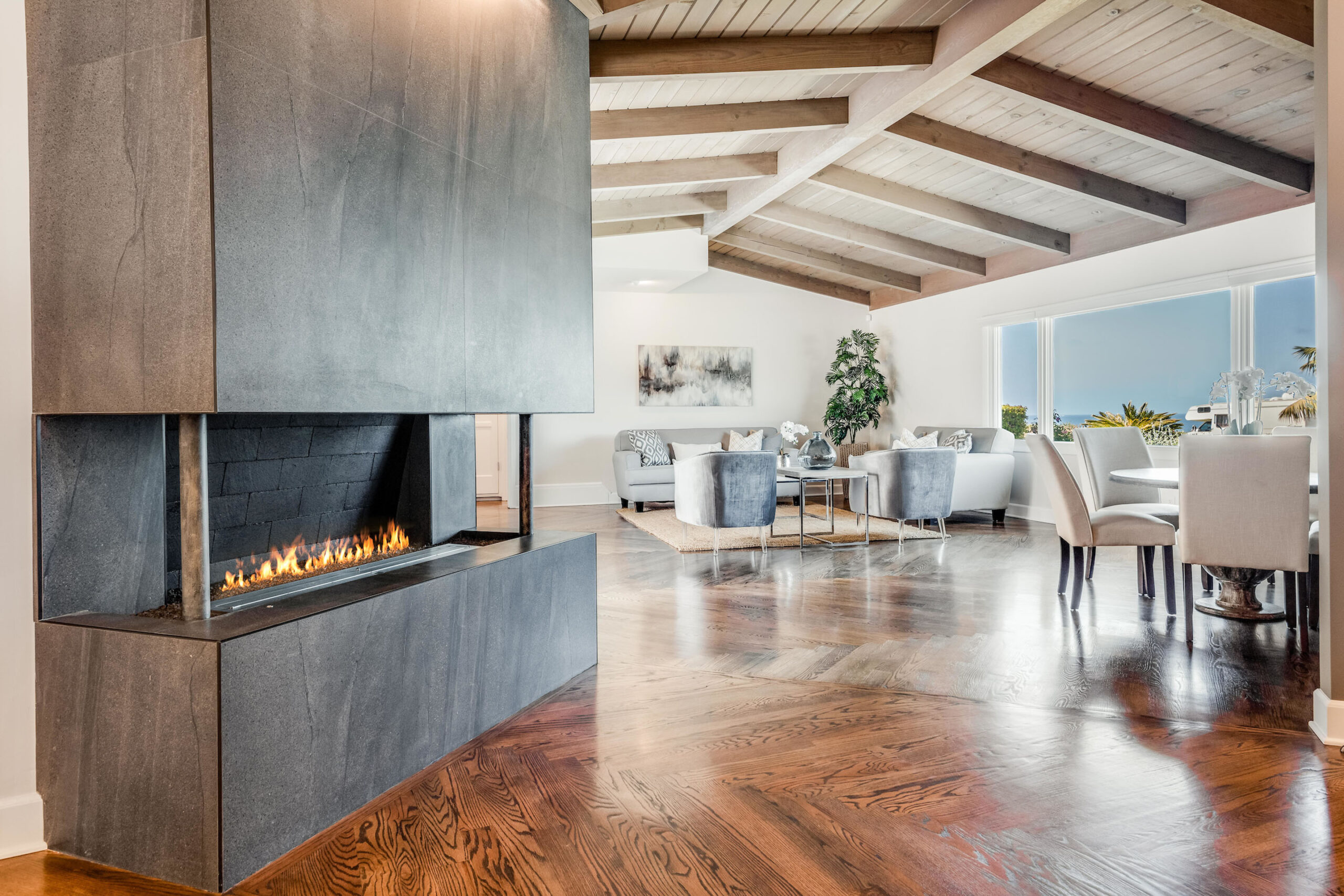 "My clients purchased it in the original condition—then they went to town," explains Justin Miller.
"They wanted to keep that original feel and classic look, but really update things." The result is a fresh, current-day atmosphere that blends nicely with the warm, earthy notes referencing its traditional Spanish and ranch roots.
The contrast is seen at the entrance, where a grand fireplace, framed in gray porcelain and stretching from floor to ceiling, strikes a contemporary note amongst the home's exposed wood ceilings and glossy floors of solid oak, which have been neatly cast in a herringbone configuration. To the left of the entrance is a kitchen of pure white, where the counters and central island have been topped with gleaming quartz.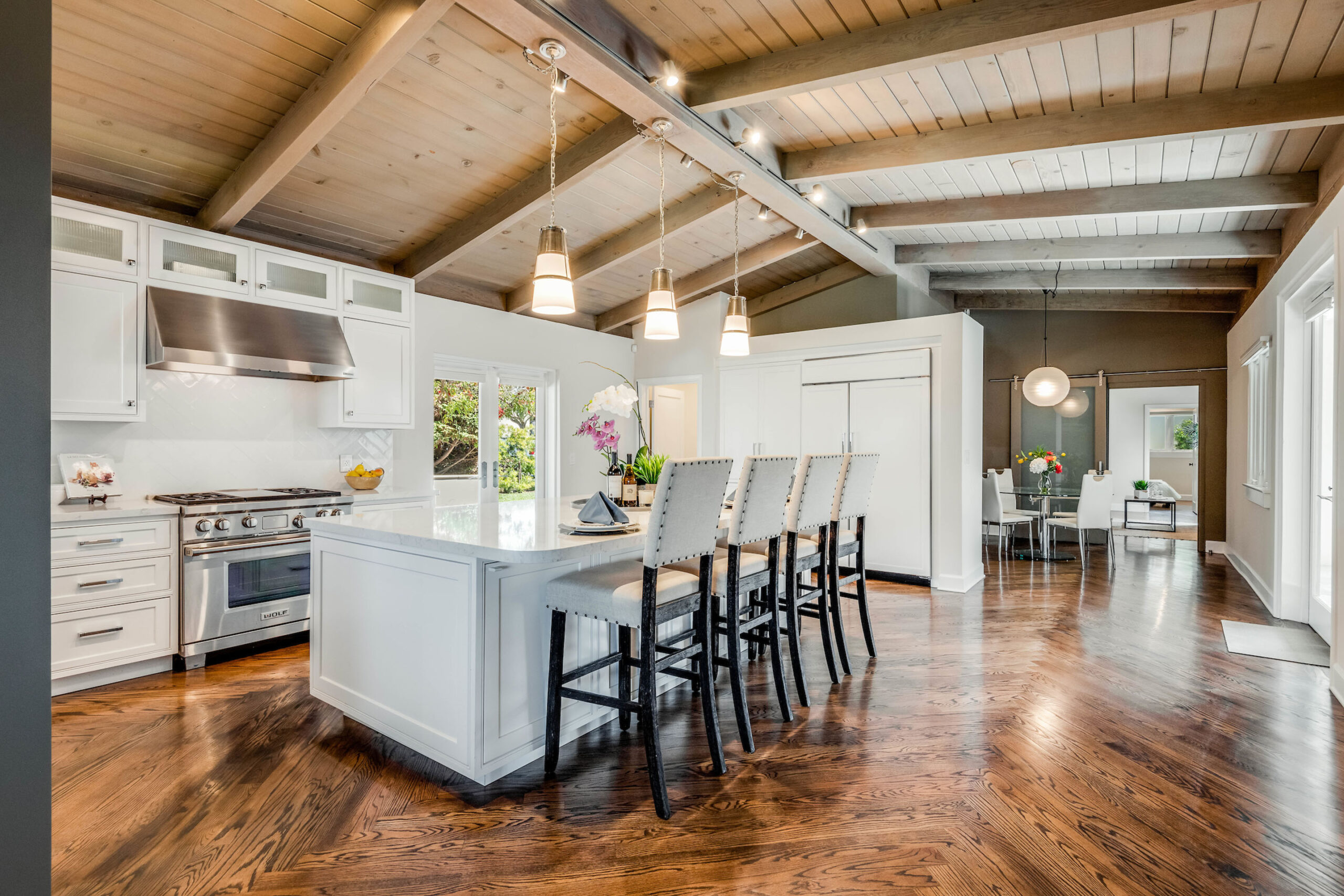 It's a refined, relaxing space made even more inviting by two sets of French doors: one leads to a shaded side yard while the other links the space to the courtyard, which is paved with a gracious slate-hued mosaic of natural stone. To the right is a formal living room where oversized windows display a vibrant scene of green palms and bluff grass, along with blue skies and the Pacific Ocean.
"Those are forever views," states Justin Miller, explaining that the bluffs across the street are exempt from construction.
The home's free-flowing atmosphere is due to its smart arrangement of living spaces, which are set in a U-type arrangement on the main floor. The east side of the property is home to a cozy family room, along with two bedrooms and a bathroom—ideal for hosting guests or dedicating to kids. The west side of the floor plan is where one finds an en-suite bedroom with energizing garden, ocean, and coastline views.
Venture further into this wing to enter the master bedroom suite, where a fireplace and French doors lead to the courtyard, accentuating the feel of open-air elegance. There's more access to the courtyard via French doors in the master bathroom, a sleek space of quartz countertops, and clean lines that are just a few steps away from dual walk-in closets.
Linking these distinct living areas is the courtyard: Nearly every segment of the interior can be connected to this bounty of extra living space or cordoned off as living arrangements, privacy, and weather suits. Stylistically, the courtyard enhances the home's Mediterranean charm by way of native landscaping, a tranquil water feature and views of the second-floor porch, romantic with its neat white balustrades and overhanging, exposed-beam roof.
Also on the second level is an unexpected and unique part of the home; crisply designed and soaked in ocean views. Notable are its spacious balconies and two staircases that enable access from either the exterior or within the residence itself.
"The previous homeowner had a home office on the second floor," remarks Justin Miller, "so people could come in through the back and go up the stairs."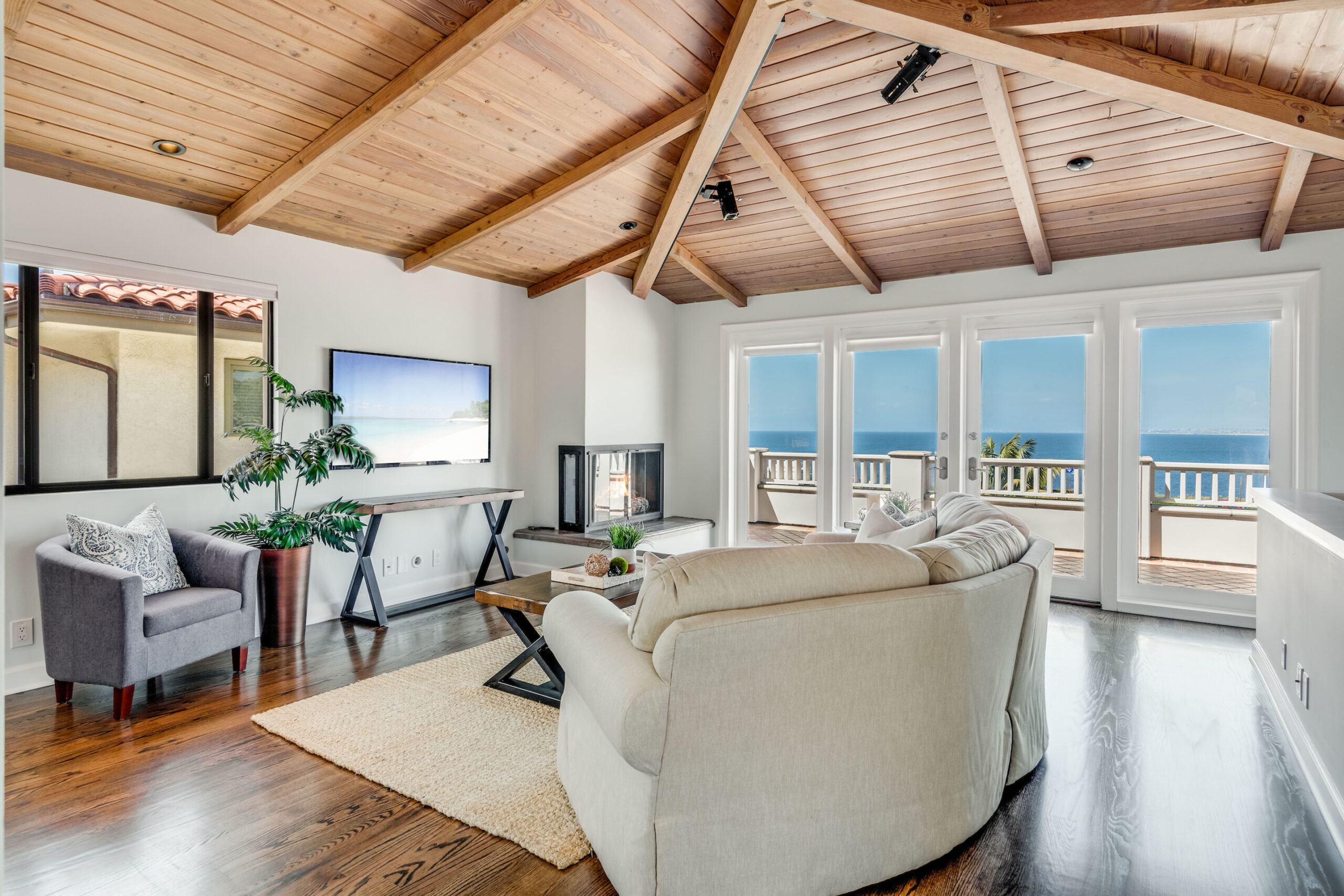 This floor is also home to an en-suite bedroom with airy, elevated ceilings and a sunlit living room with a sleek butler's kitchen. With the fireplace lit and French doors open, it's an ideal spot to take in the unique sparkle of the Queen's Necklace, as the glow of the nighttime coast is called.
"To live, live by the sea," was the business tagline of Justin Miller's great uncle, Al Snyder, who founded a local real estate office on Pacific Coast Highway back in the 1940s.
The Mediterranean-inspired paradise that drew people to the area in Snyder's day continues to do so today, with this home a fitting example of how to live in an atmosphere of sun-splashed luxe while surrounded by a bevy of outstanding natural beauty, and convenience too.
"You can be steps to everything you want," Justin Miller describes.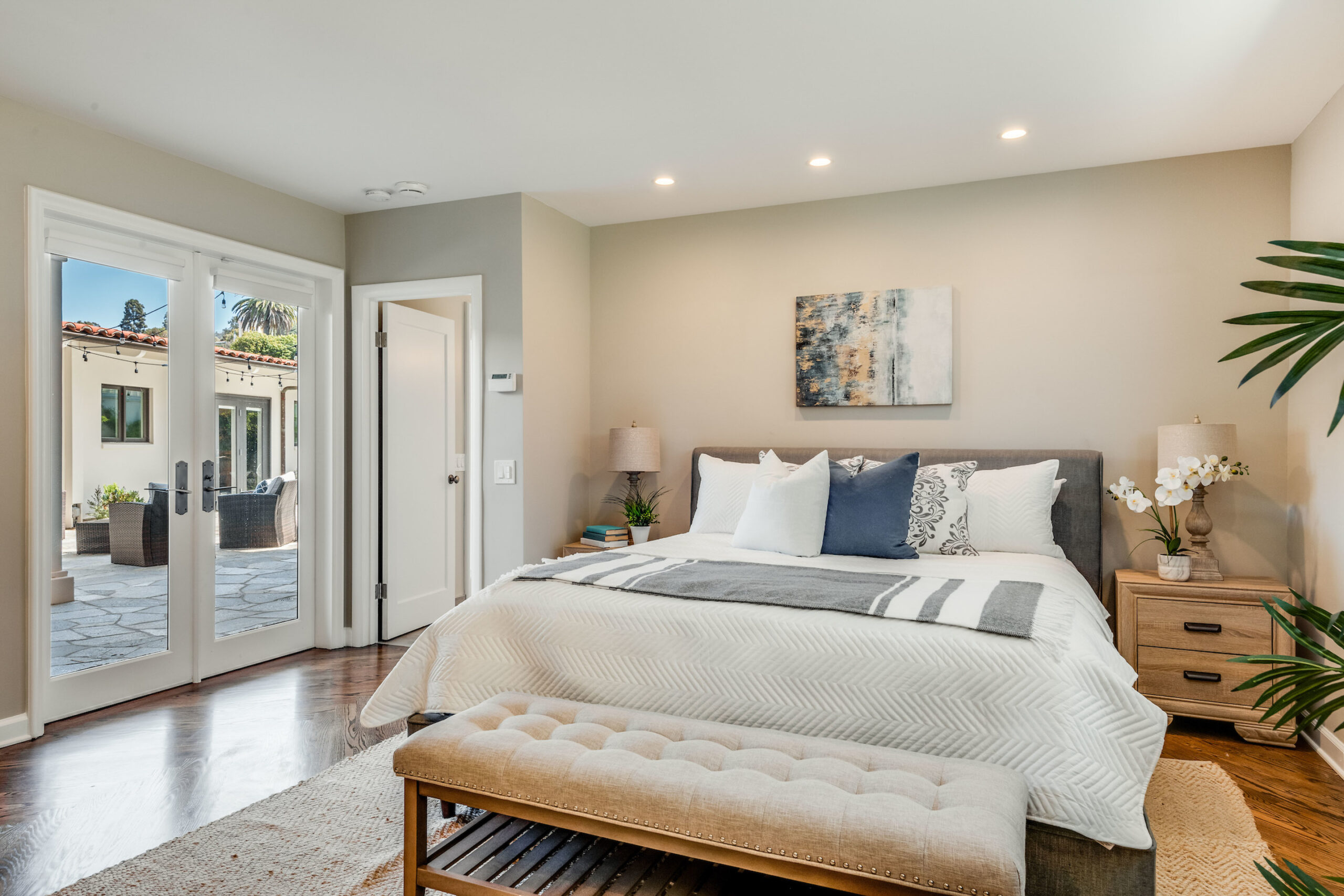 "A historic neighborhood church and an athletic club. There's the beach, hiking, surfing, shopping—everything in this amazing home overlooking all of L.A. This is a special place."
400 Paseo Del Mar, Palos Verdes Estates, CA
5 Bed • 4 Bath • 4,054 SF • $5.299 Million
BCB Premier Estates | Beach City Brokers • Justin Miller
Photographs courtesy of Jeremy Blair/the luxury level and Peter McMenamin/California Realty Sites