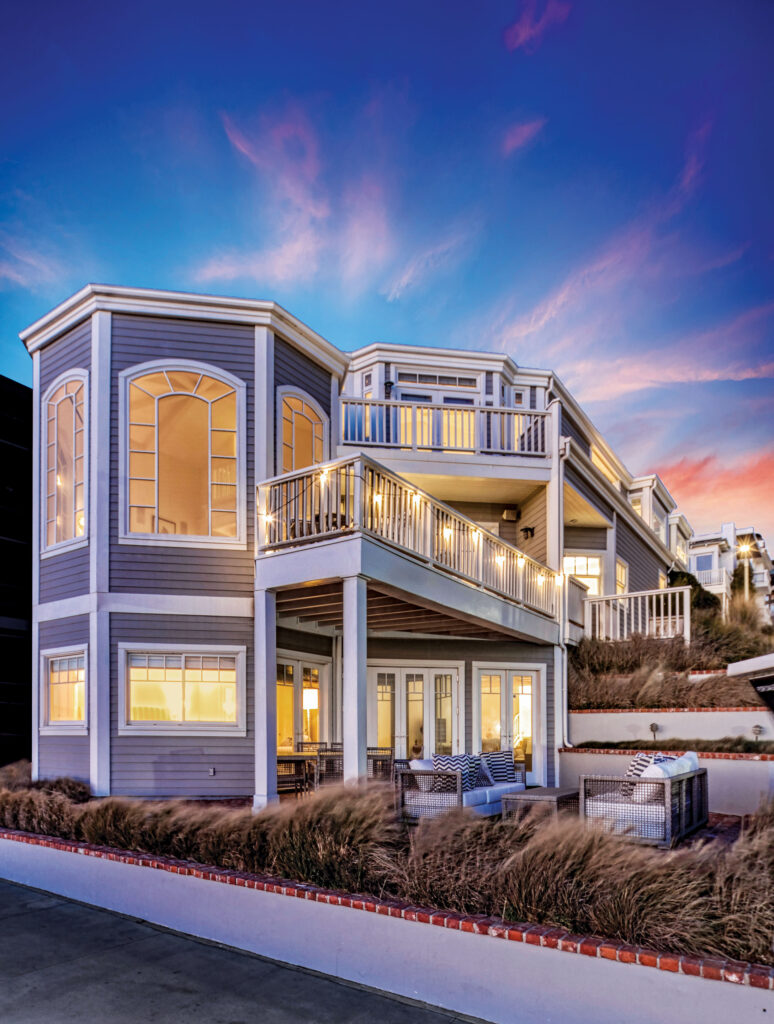 3000 The Strand A Peaceful Corner-lot Strand Home, Crafted by an Architect as Her Personal Residence, Features Elegant Oceanfront Living Amid Commanding Pacific Ocean Views
From a distance, this traditional coastal home resembles a glowing port in the storm, with its curved silhouette clad in crisp grey clapboard, peaking above the windswept seagrass. It's a welcoming scene created by careful design and fulfilled throughout this property situated on a coveted location—on the corner of the 30th walk street and the Strand in Manhattan Beach. 
"It's one of the very few south-facing Strand corners that will ever become available," points out real estate agent Lauren Forbes of the Lauren Forbes Group at Compass, explaining how this position enables a home to be designed with unobstructed ocean views from nearly every room.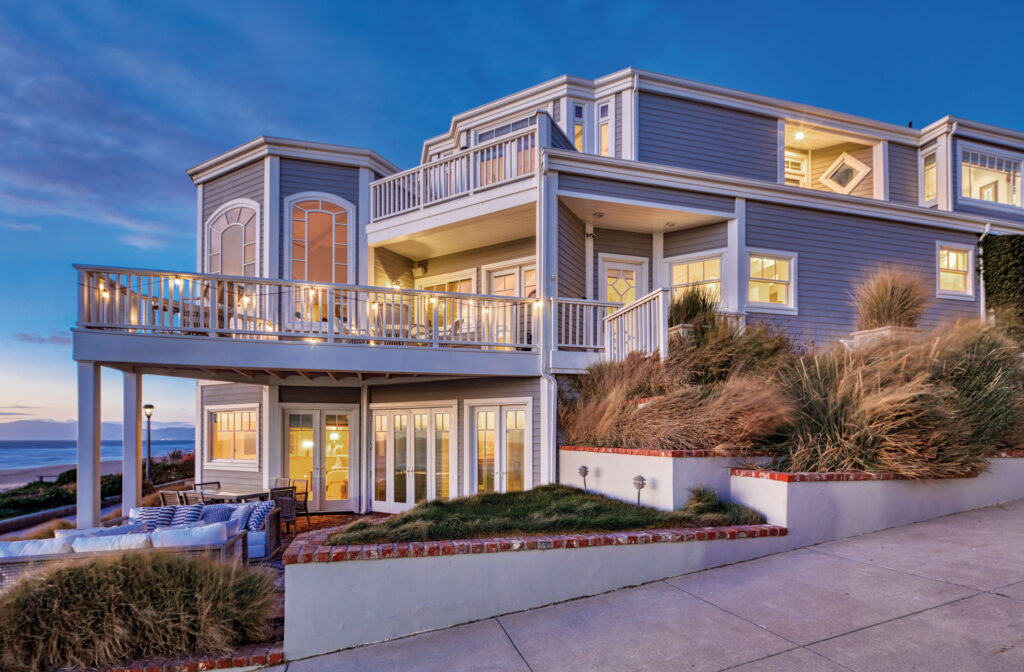 And how recently, a number of these lots have had custom homes built on them, further dwindling the prospect of more south-facing corner addresses coming up for sale on the Strand. 
Speaking of views, these have been optimized by this home's floorplan of approximately 3,949 square feet, created by an architect as her personal family dwelling. Walking through the spacious open rooms, all illuminated by soft beach light, words like fresh, elegant and inviting come to mind.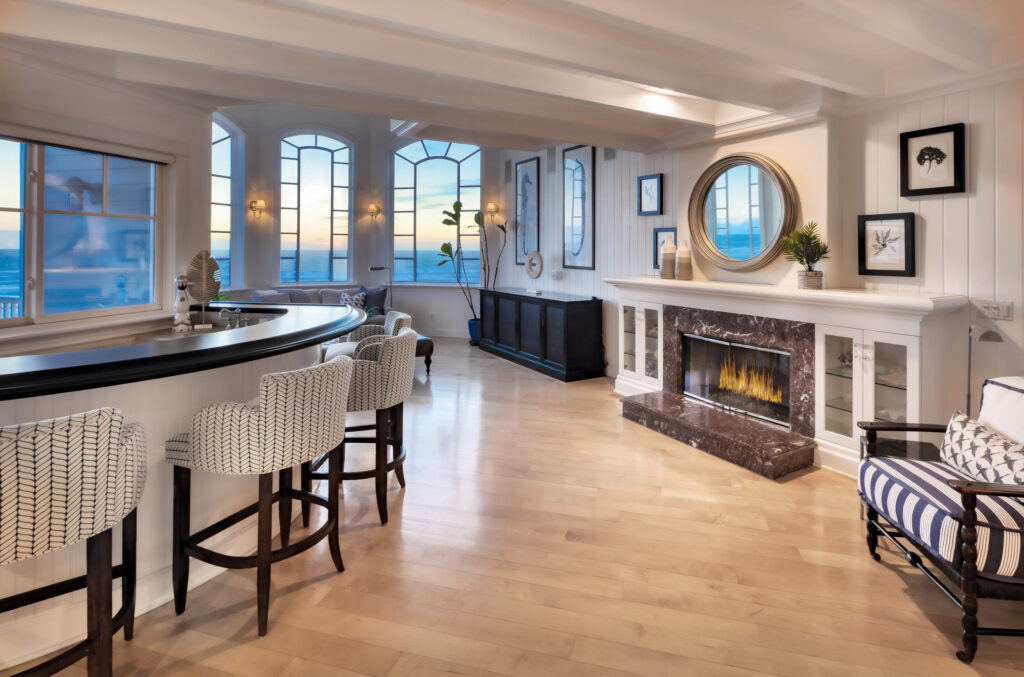 So does the feeling of being cloistered in your own world, despite being directly linked to the beach and Strand. Walkability is another plus of the location: You can stroll to the boutiques and sidewalk cafes of Manhattan Beach's North End in 5 minutes, or hop on your beach cruiser to reach the shops and award-winning dining of Downtown in even less time.    
Decks, balconies and verandas set the stage for the beachfront living experience. At every point in your journey, there's an opportunity to step outside and breathe in the fresh sea air or take in the splendor of the landscape. The main living spaces—kitchen, living, dining—are spread out among the middle floor with easy access to the outdoors. Each, too, is made distinct by an elegant separation of space and custom vaulted ceilings.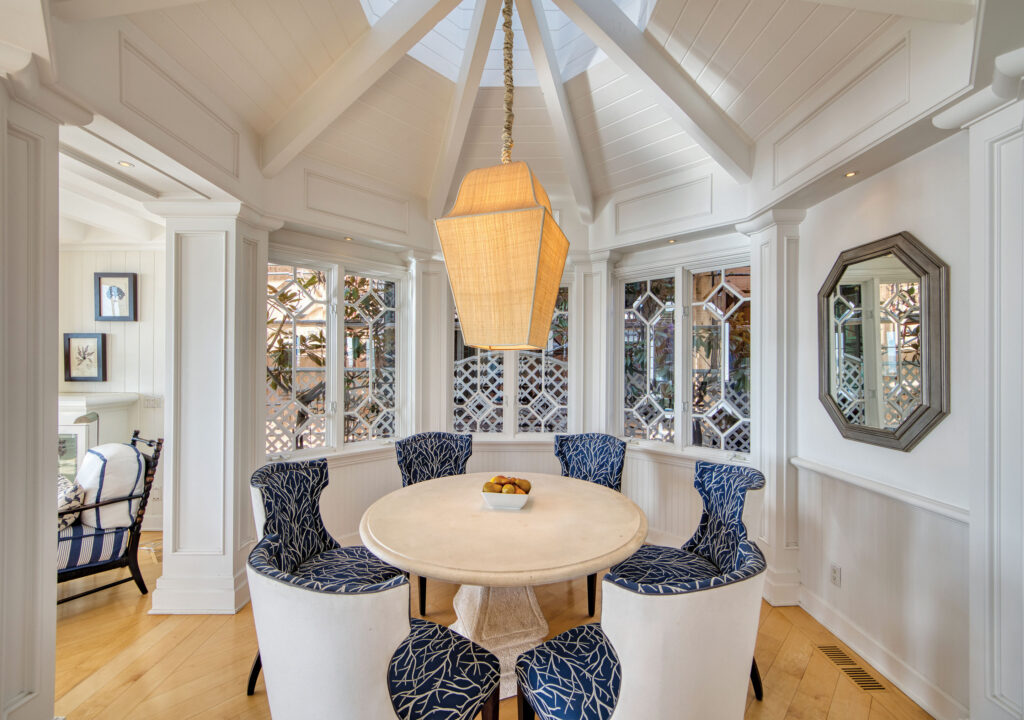 Floor-to-ceiling columns, for instance, set apart the formal dining area with an octagonal cathedral ceiling. Exposed beam ceilings and a marble fireplace amplify the mood around the elegant wood bar where friends converse over sunset cocktails. And a grand, double-height ceiling of more than 20 feet ushers you into the main living room, where grand windows offer up a sky-high canvas of blue vistas against tumbling ocean waves.
It's an epic scene—one you can even enjoy while washing dishes in the kitchen, a bright and mellow space featuring a neutral palette of glossy stone against white wood. From any of the main living areas you can step onto the sizable wood deck overlooking the beachfront and ocean, an ideal perch to kick back or enjoy dinner grilled on the built-in barbecue.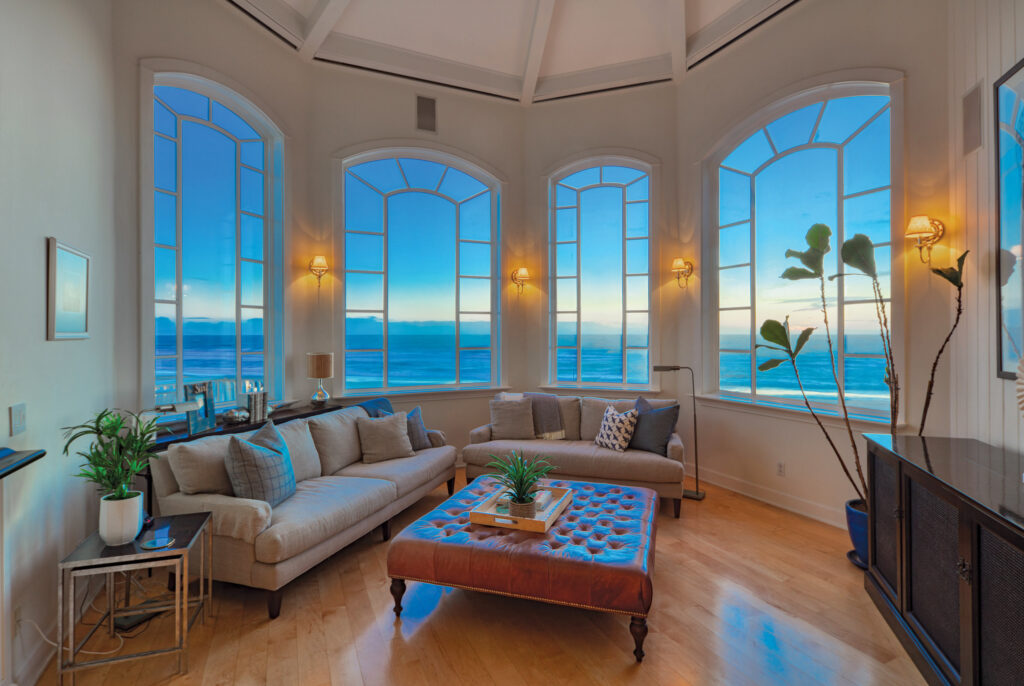 This middle floor is fluid, serving as a place of everyday living against a backdrop of ocean views; and flexible entertaining. Smaller get-togethers can be focused in localized areas, while large events can take place across the spacious open-plan floor as a whole. 
Head to the uppermost floor—which is reserved for the primary suite, which lives like a grand penthouse unto its own. Two separate balconies offer different high-altitude takes on the seascape below; there are two walk-in closets and two classic spa bathrooms, both featuring gleaming porcelain and marble. A separate space, suitable as an office or sitting room, is also part of the primary suite; a sunlit cozy haven with an interior balcony that looks over the living room below.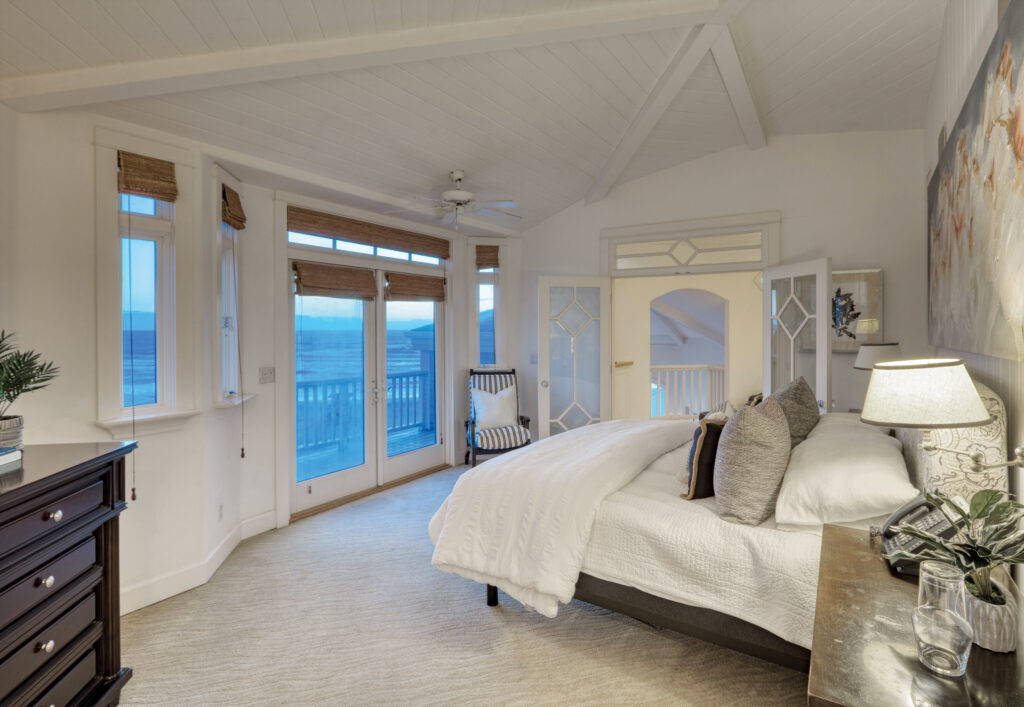 By contrast, head down to the first, or Strand level, for beach-day gatherings: Vertical batten-board walls and exposed-beam ceilings continue the traditional vernacular of 3000 The Strand, while a wall of doors opens onto a sprawling red-brick terrace where you can entertain large groups, or host intimate cocktail parties and candlelight dinners. Step inside to mix drinks at the bar, or fetch a chilled bottle from the refrigerator in the wine room.  
Back outside, the skill of the designer is fully on display—you feel completely immersed in the beachfront environment, yet are buffered from the Strand and walk street by neat rows of tall grass and elevated, landscaped tiers. Likewise for the charming veranda that runs along the side of the home on an upper level.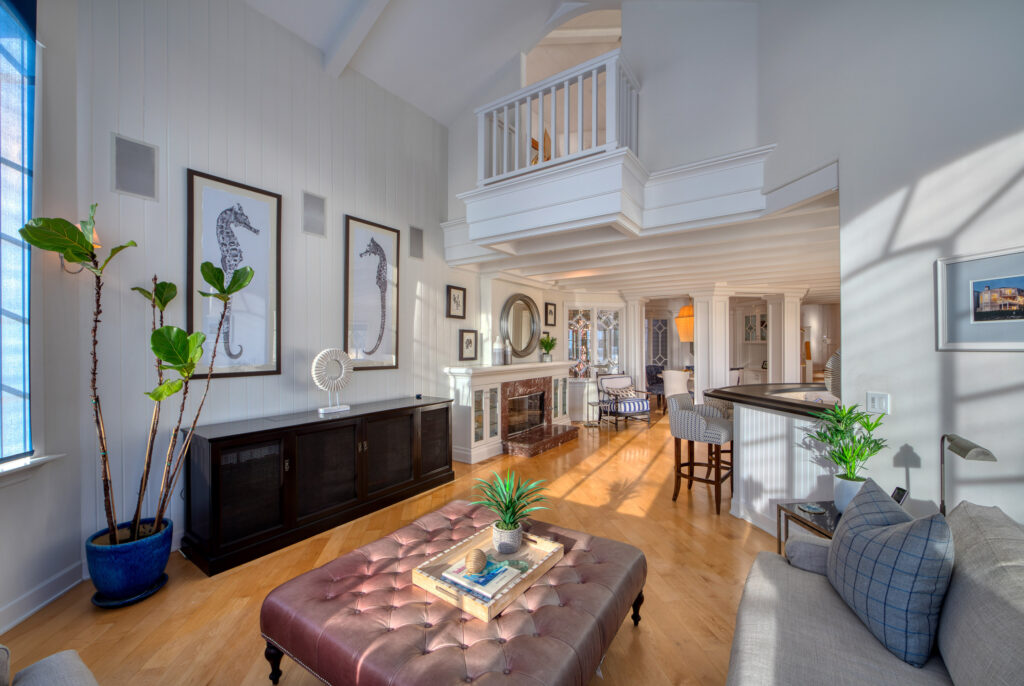 "It's been so incredibly well cared for and updated over the years," says Lauren Forbes of 3000 The Strand, which was completed in 1996.
The ground level boasts a particularly well-executed floorplan: A hallway leads to a bright, beachfront bedroom suite made more luxurious with its private access to the terrace, large guest closet and a bathroom with marble walk-in shower and vanity. There's another bedroom on this floor, which can easily transform into a cozy den; and extra niceties like a bubbling indoor-outdoor spa and a wood-crafted sauna with room for six.
"You can almost have a personal spa here," says Lauren Forbes. Notable also is the oversized garage, with parking for five cars ("If you have smaller cars you can fit seven in there," Forbes remarks), and room for up to three more vehicles right outdoors.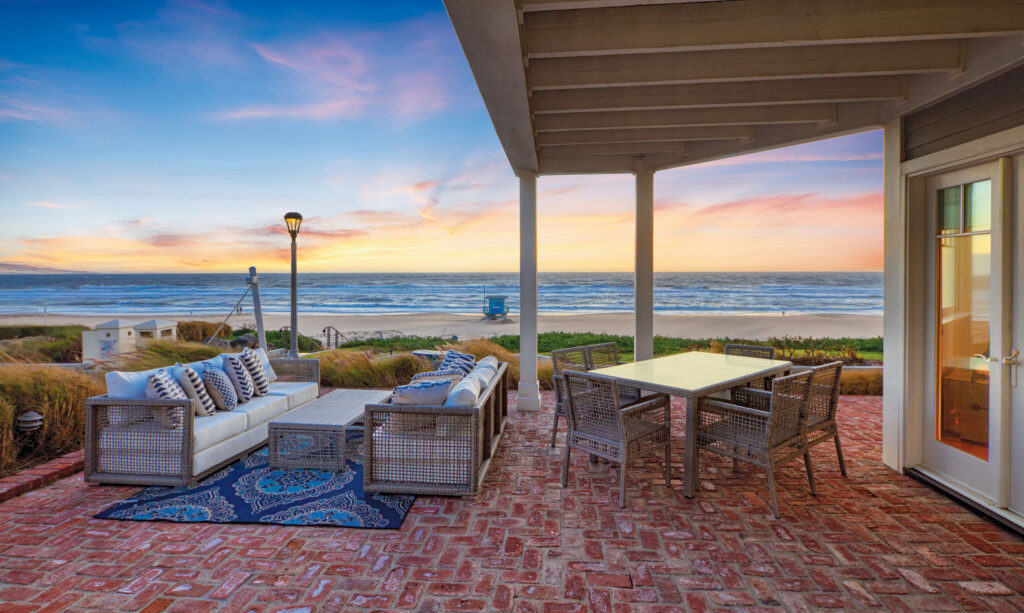 At this property, the generous scenes of sand, sea and sky are always fresh—seen from different perspectives, and engaged by the windows and outdoor living spaces, all designed to savor this special point on the Strand. Views reach from Palos Verdes to Santa Monica, and at night, a pale glow of lights shimmer along the coast. And here, at one of the Strand's best points, is an elegant house with the comfortable ease of a home.
Lauren Forbes | 310.901.8512 | DRE# 01295248
Lauren Forbes Group at Compass
List Price: $13,499,000
Photography by Paul Jonason