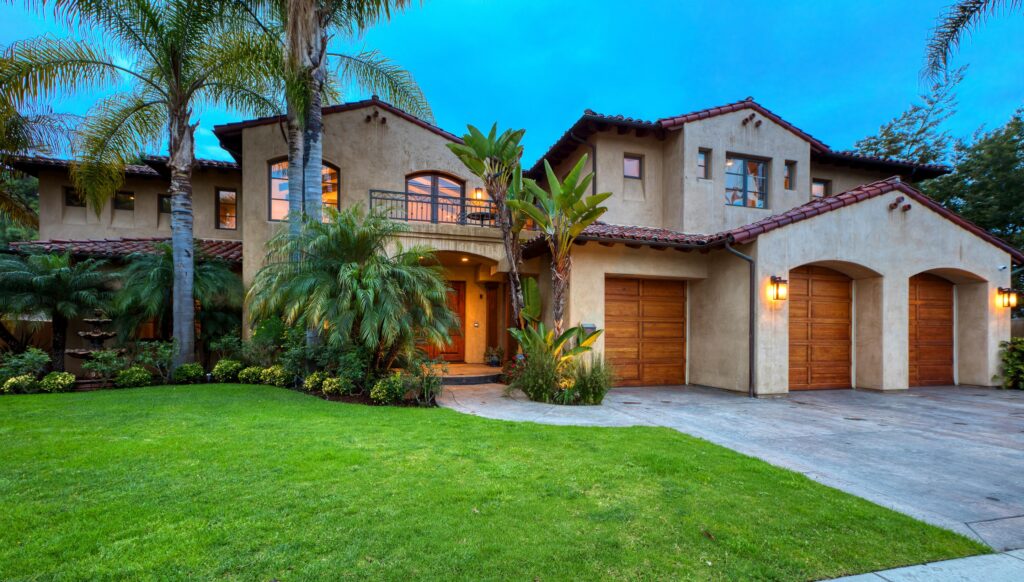 At first glance the property looks lifted from a show about the Southern California good life: bushy palm fronds framing a picture-perfect Mediterranean-style home, golden sand in hue and delightfully spacious. The main residence, spanning six bedrooms, plus a one-bedroom guesthouse, provides approximately 7,000 square feet of living space. Not far, about five minutes by bike, is a wide stretch of sandy Pacific Ocean beachfront that beckons surfing and frolicking. When one walks through the hearty wood front doors of the home and into its interior, there's an immediate tranquil feel—the kind that comes from life in such grand spaces, which, in this case, are notably graceful and sunlit.
Beyond the home's proliferation of glass windows and doors is a hint of something more: lush green foliage—including 35 mature palm trees—and water streaming across stones and rocks—a scene of nature realized by deft design. The property's lot is a bit over half an acre, generously sized for this area, and offers a case study of what's possible in Southern California landscaping. "It's one of the largest lots in town," says luxury real estate agent Lauren Forbes, pointing out that it's also one of only three properties in Hermosa Beach of its acreage. "The way it's set up creates even more exclusivity."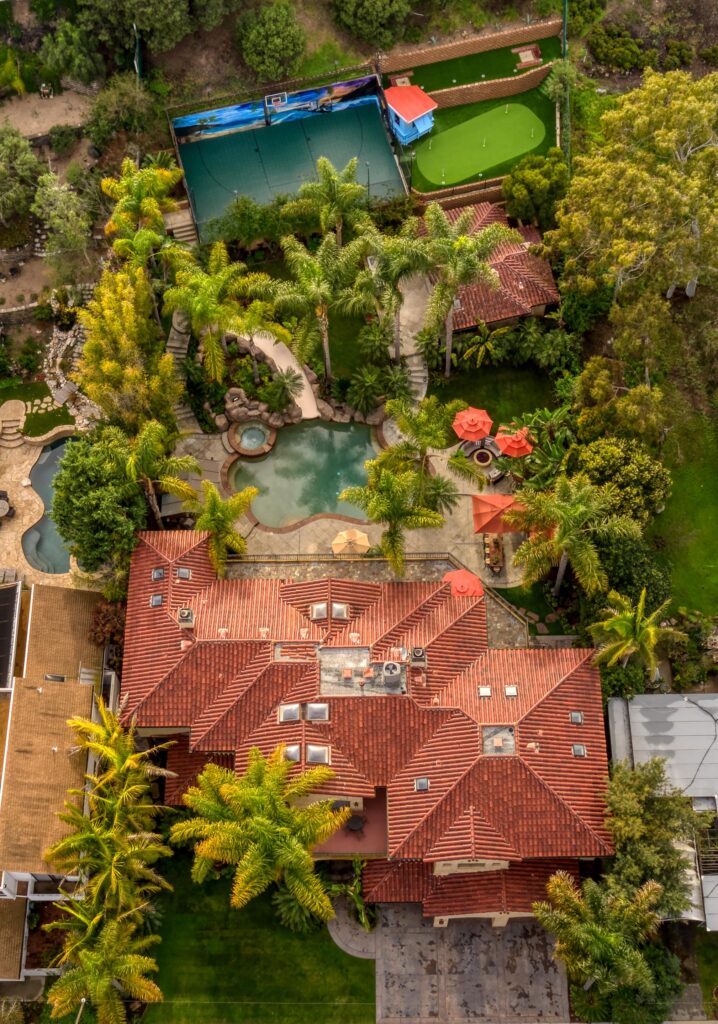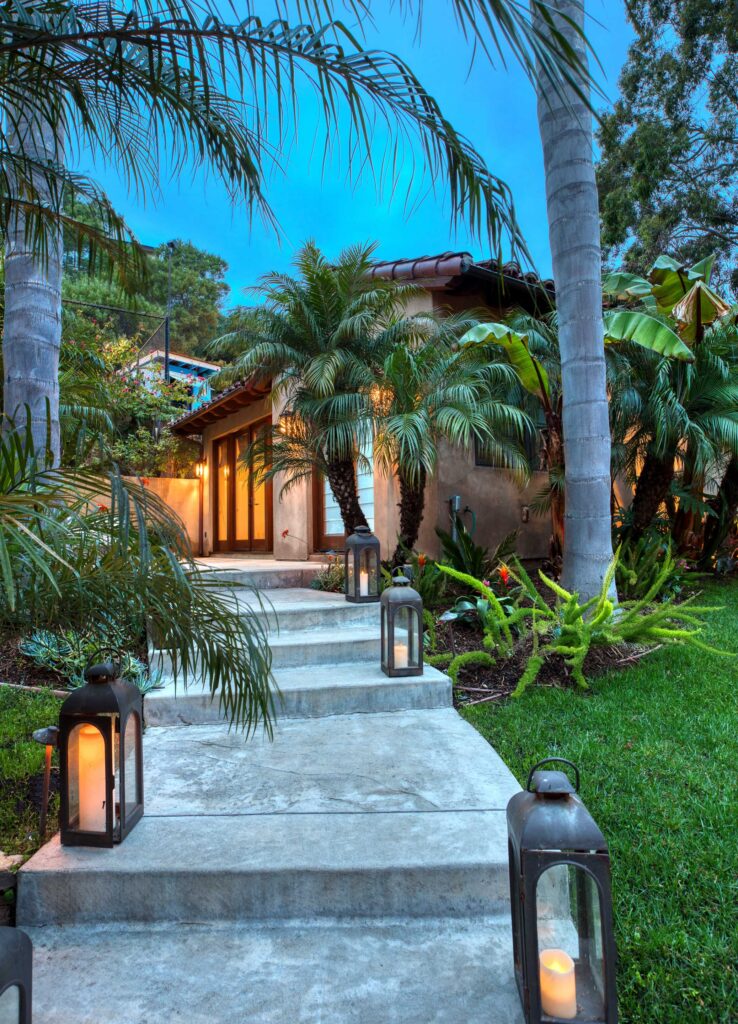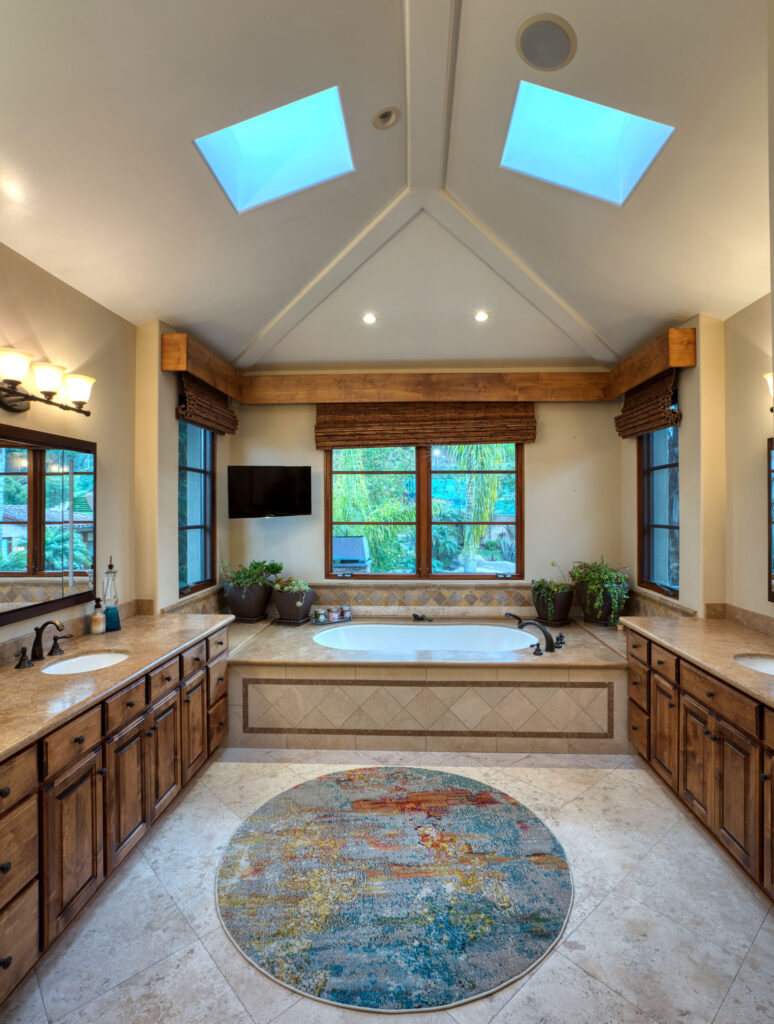 Notable in this private, landscaped retreat is a regulation-sized sports court, a walk-up beach bar, and a lagoon-style saltwater pool and spa. It's a place that's packed with things to do, and optimized for day-to-night versatility. One imagines sunny get-togethers where kids try out the zip line and whoosh down the waterslide; guests play horseshoes or practice their putt on the manicured green. There are endless gathering spots and seating configurations, from a sun-shaded banquette to an alfresco barbecue kitchen. The outdoor shower is a handy touch, as is the oversized gazebo where one can watch TV under cooling fans and, at night, gather around the stone fireplace—one of the focal points in this designer oasis. When night falls the place is transformed by lighting that sets the tropical scene aglow, transforming it into a magical setting for gatherings ranging from intimate poolside dinner parties to starlit bashes that end over nightcaps around the fire pit.
Also home to this scene is an elegant one-bedroom guest house that serves as a convenient getaway in the form of a studio or office, or as private lodging for visitors. Hardwood floors and glass doors lead onto a spacious patio—all created with the detailed level of care and customization that were lavished on the home, which was designed by local architect and longtime Hermosa Beach resident Larry Peha. (Peha's Hermosa Beach firm focuses on lifestyle-driven residential design.)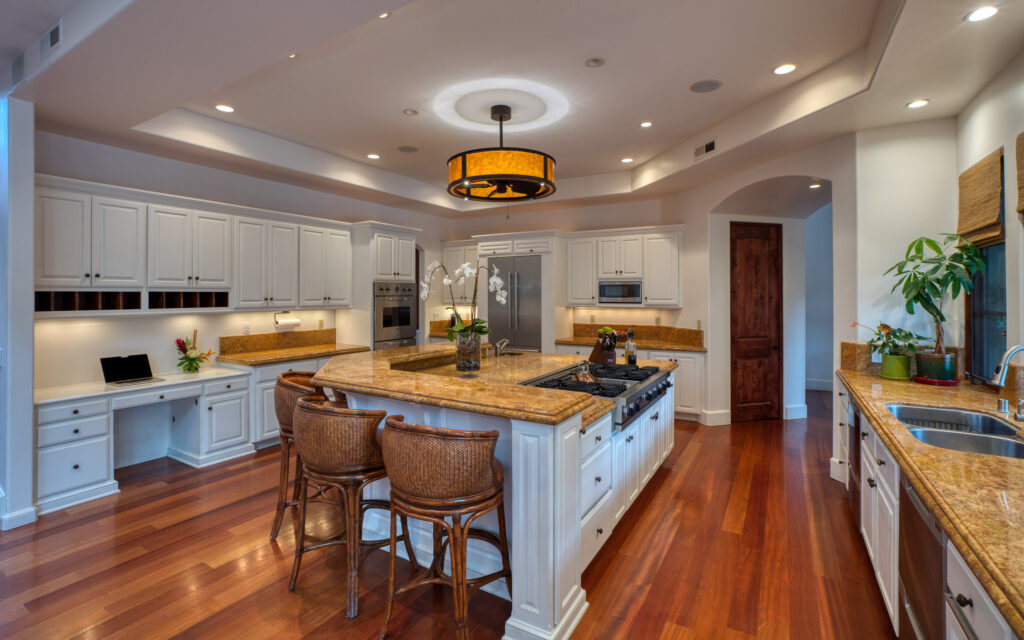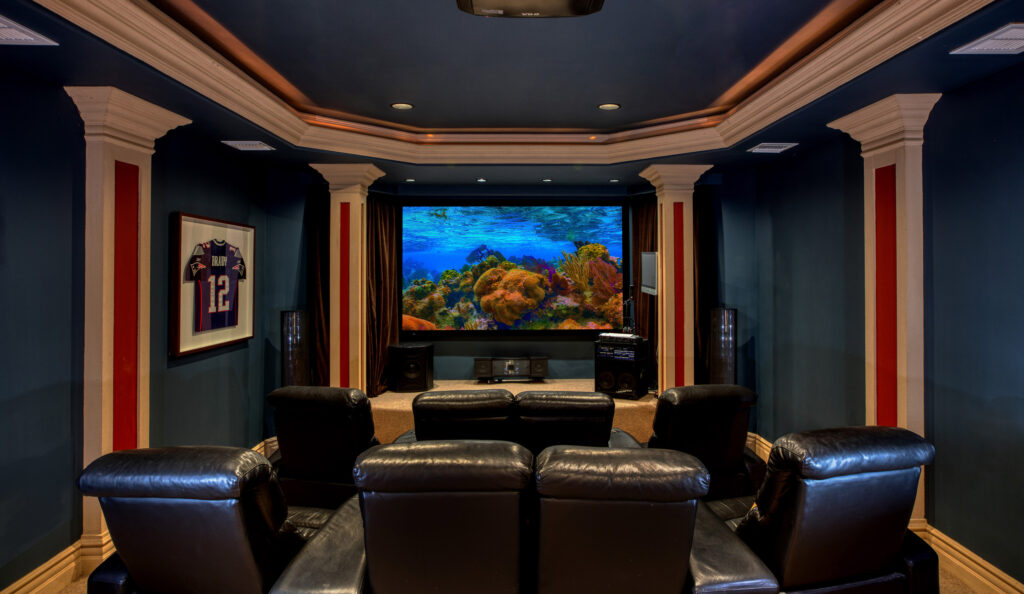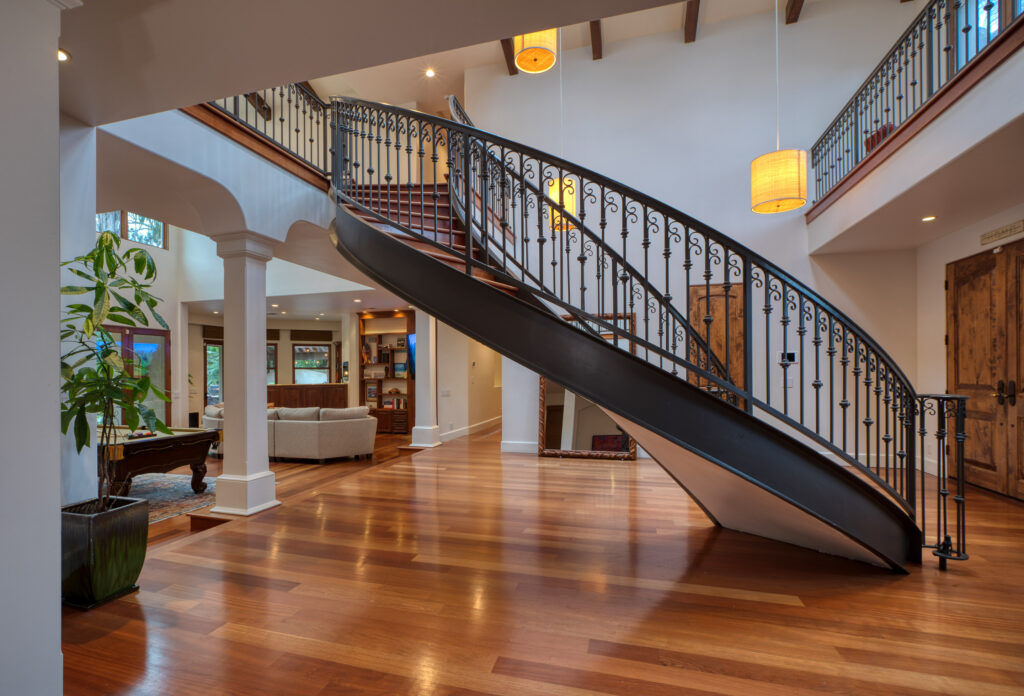 Distinguishing the main home is its generous and open scale. The main floor hosts the everyday gatherings spaces, including a fireplaced family room, a sunken dining room and a cheerful kitchen adjacent to a sunny breakfast room. Ceilings often reach to double-height, 25 feet, which establishes a luxurious feel in the home while also allowing substantial amounts of glowing beachside light to cascade from the upper floor. Throughout the space are glossy floors of Brazilian cherry; the exotic hardwood's toasty color palette offering warmth and an elegant contrast against the wall's bright-white hue. The home's details are restrained and tasteful: there are Romanesque columns and raised ceilings; custom cabinets and exposed beams set along the upper floor's vaulted ceiling.
It adds up to a luxurious space, and also an adaptable one. "It has total versatility," says Forbes of the home. Via one's choice of furnishings and artwork, she points out: "You could turn it into an extremely formal Mediterranean home, or you can turn it into a very casual Spanish beach home. It's open to both types of styles."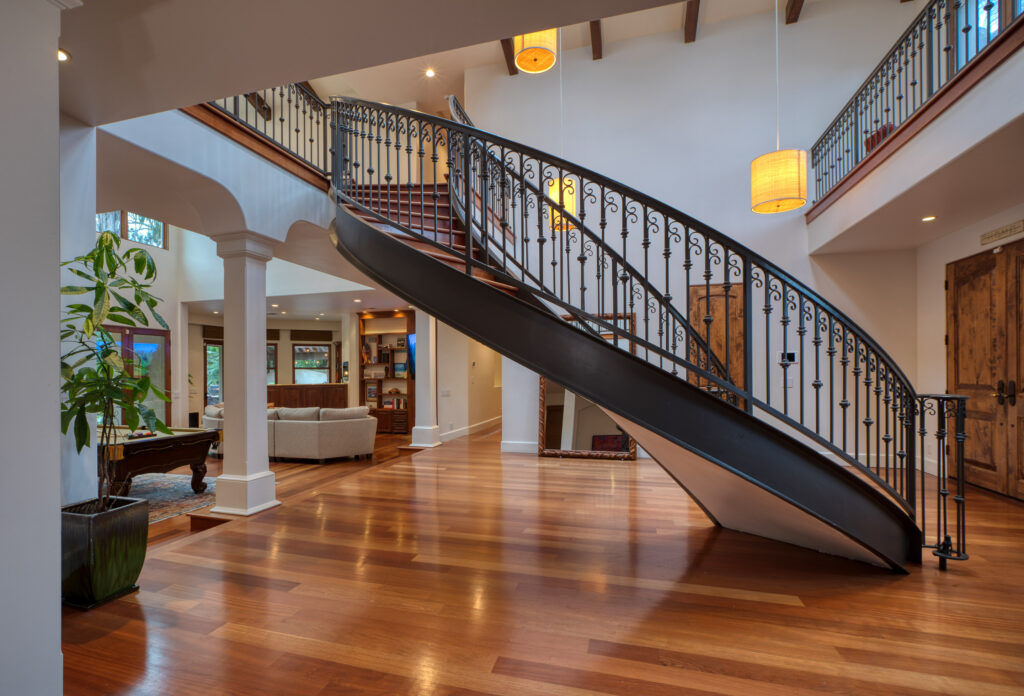 A central feature of the home is a curved staircase that floats to the second floor. "It's a beautiful architectural feature of the house," says Forbes. Upstairs one finds another roomy, sunlit level where one can stroll along the central catwalk that overlooks the space below, and links together different quadrants of the home. Five of the home's six bedrooms are on this floor; nearly all of them suites with doors leading out to a balcony or the spacious terrace, about 850 square feet, where one has instant access to the tropical setting below. "Pretty much every room in the house gives you a sense of the indoor-outdoor lifestyle," notes Forbes.
"There are picture windows everywhere and French doors looking out at the lush, mature landscape." The master suite, located across the way from the other bedrooms, is a private retreat with a stone-clad fireplace and cathedral ceiling. French doors open the space to the terrace, and even the walk-in closet has sunlight and views. The master bath is oversized, with a walk-in shower and an oval-shaped soaking tub where one can gaze out at the garden scene below.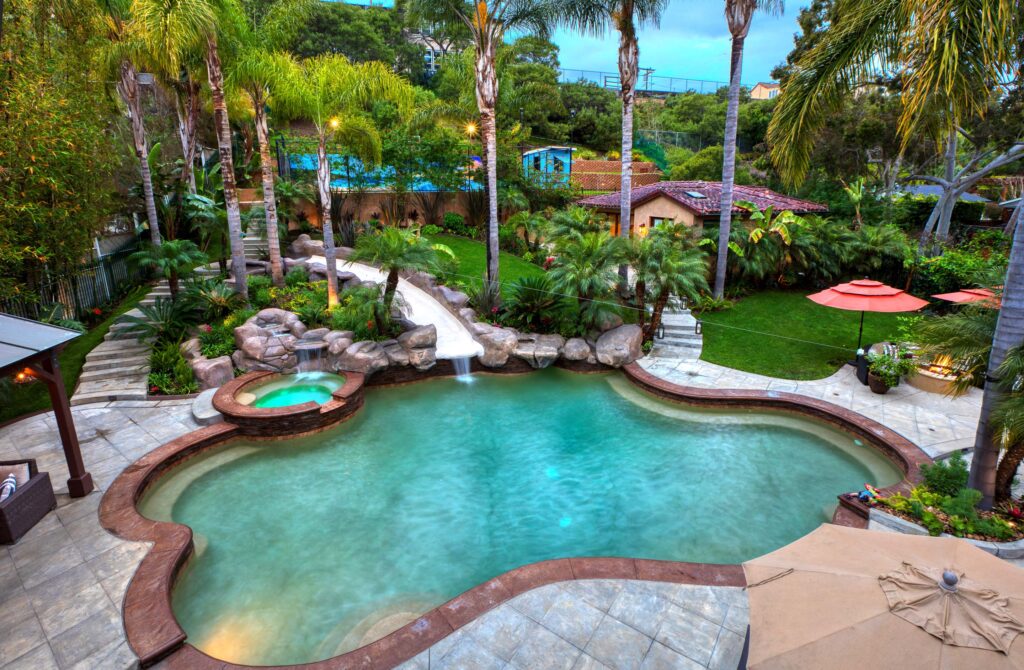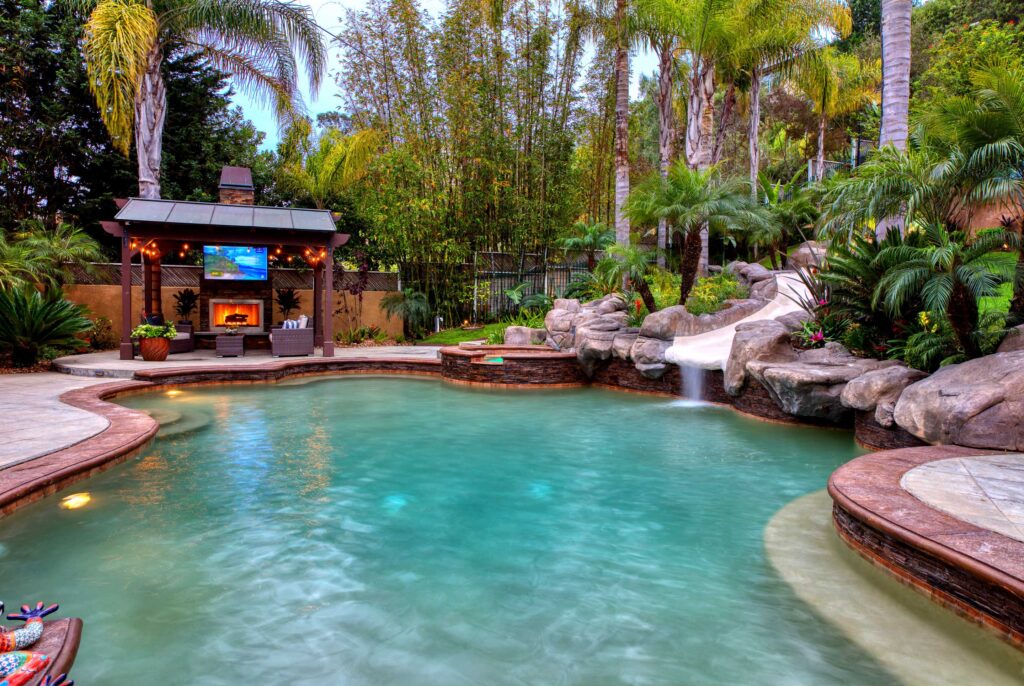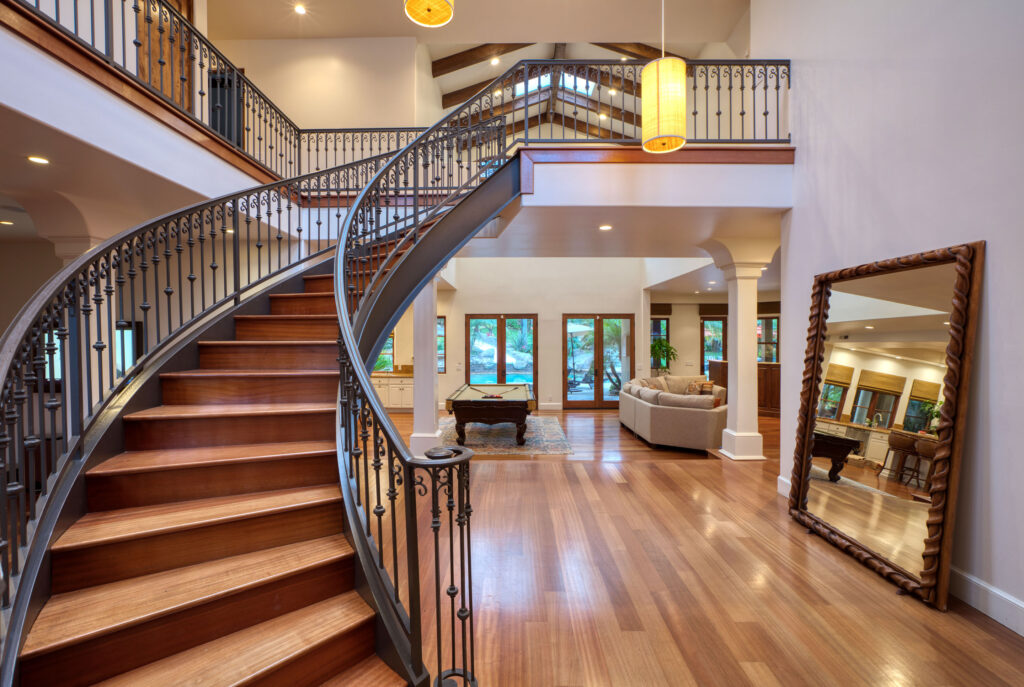 Located a block west of the Valley Ardmore greenbelt, the home occupies a best-of-both-worlds location—less than 10 minutes on foot from the shops and dining on Pier Avenue, yet situated on a peaceful cul-de-sac with sidewalks and ample parking. Should one need a lot of the latter, the home is outfitted with a roomy two-and-a-half car garage revamped with custom storage, a unique epoxy floor and a Tesla charging station signed by Elon Musk.
This classically California styled home is a tech-friendly one: recent additions include a comprehensive home automation system to control everything from the lights and security to the TVs, music and more. "It has complete Alexa capabilities," Forbes describes. "You can say 'Alexa, turn the kitchen lights to 80 percent.'" Another notable comfort is a built-in home theater with cushy seating for eight, where a karaoke station and a gaming system add versatility beyond movie nights.
"It's one of a kind," says Forbes of the home. One imagines such a spacious and elegant coastal property, near to both beach and town, tucked away from the fray on a quiet street in Hermosa Beach. Already it's a tall order. Add spacious grounds that are decked out in the style of a warm-weather luxury resort, and the home becomes that much more special. "If someone is looking for all of this, it's really the only house they'll find," Forbes assures.
Photographs By Paul Jonason
Lauren Forbes
and John Corrales
of  Forbes Corrales
and Marc Hernandez
of Compass
All Access Pass to LA's Hottest Homes
Get an inside scoop on celebrity homes, exclusive real estate, mansions & more.