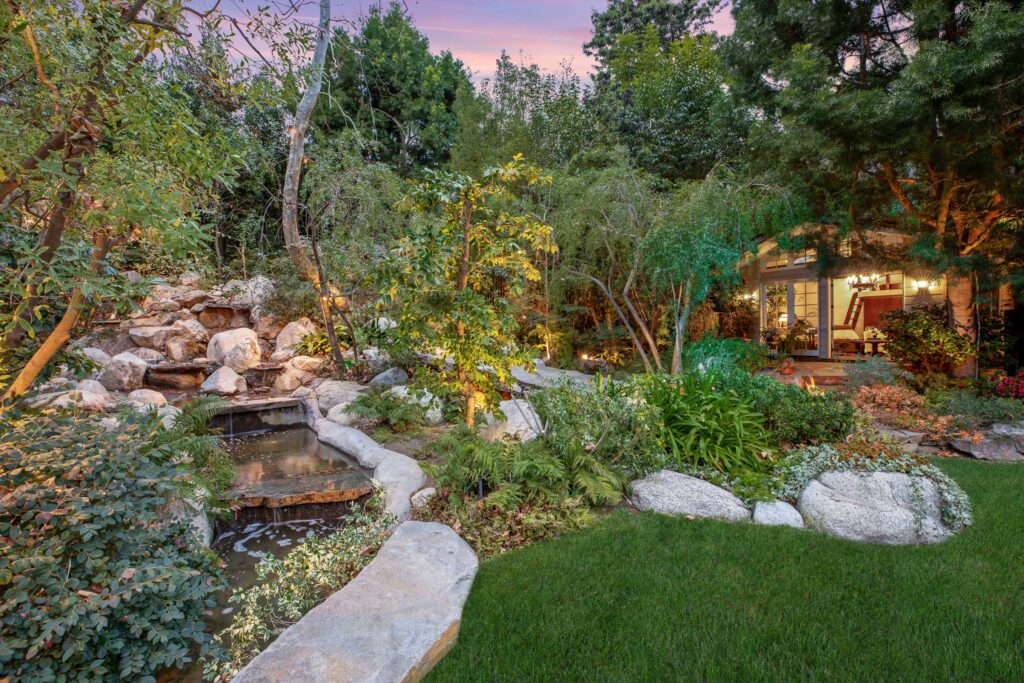 With land values in L.A. fetching record-breaking prices—the rare 9.4-acre property in Beverly Hills with a 13,600-square-foot home that recently exchanged hands between its owner, media mogul David Geffen, and Amazon chief executive Jeff Bezos for $165 million a case in point—it stands to reason that this coveted parcel of land in Brentwood's Lower Mandeville Canyon would be no exception. Known as Sycamore Ranch, and priced at $35 million, it comes with three adjoined lots totaling 1.6 acres, where fashion designer and current homeowner Allen Schwartz has spent years creating the ideal compound for relaxing and entertaining alike.
Think a main single-level, four-bedroom home featuring approximately 3,600 square feet of living space, along with a duo of guesthouses (each with its own bath and personal entrance), two pools, an outdoor barbecue with a stone wood-burning fireplace, and picturesque waterfalls and stone pathways. All that and more in a private locale surrounded by expansive lots boasting multimillion-dollar homes and equestrian estates, yet easily accessible to some of the best shopping and dining in Brentwood, Pacific Palisades, and Santa Monica.
"The property exudes charm from every angle," says Cindy Ambuehl, who is co-listing 2383 Mandeville Canyon with Nikki Magliarditi, both of Compass. "The privacy, mature landscaping and abundance of land make it truly a one-of-a-kind property in Brentwood." Only adding to the appeal of the land, which was originally developed in 1951, is its storied history. Actors Gregory Peck, Robert Taylor, Henry Morgan, and Karl Malden at one time not only kept horses in a stable there and met up for trail rides to Malibu, but celebs such as John McEnroe and David Duchovny also have been known to visit and play on what is recognized as one of L.A.'s first clay tennis courts.
"You don't realize until you turn the corner, the overwhelming expansive park-like nature of the property," says Ambuehl. "There is a great amount of unbridled potential. You're not just buying a finished property with a capped end value; this is a property primed for someone to take it to the next level. The possibilities on a property this large and secluded are endless.
"We have yet to see another Brentwood property with this much flat, meticulously landscaped land," she adds. "Land is hard to come by, and with all the building restrictions, a property of this size has built-in value, and affords the owner a rare and sought-after lifestyle. It is perfect for the buyer who wants what nobody else can have."
Photographs: Anthony Barcelo
PRESENTED BY
Cindy Ambuehl and
Nikki Magliarditi of  Compass
List Price $35 million
thesycamoreranch.com
All Access Pass to LA's Hottest Homes
Get an inside scoop on celebrity homes, exclusive real estate, mansions & more.