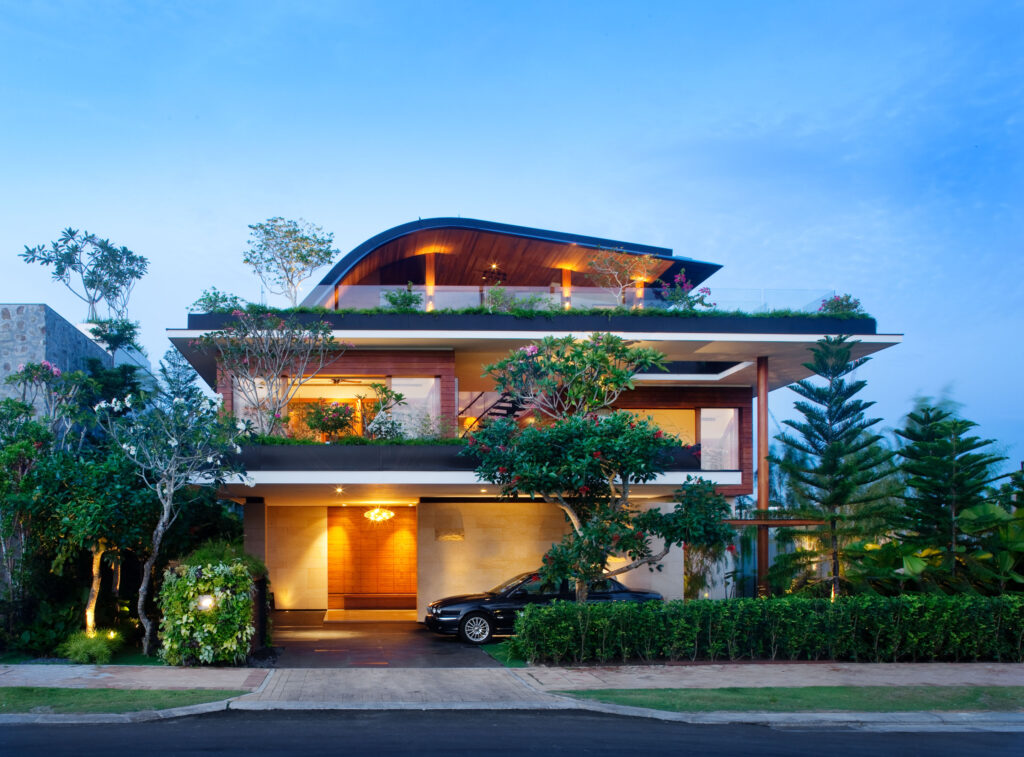 Meera Sky Garden House in Singapore's Immaculate Concrete Jungle is Tropical Design Done Right by Award-winning Practice Guz Architects
In Singapore, where the tendency is to build enormously, British-born architect Guz Wilkinson strives to bring balance to the urban landscape with designs that recognize the essentiality of the landscape itself.
Nurtured by nature, Guz Wilkinson grew up in an old stone house on a farm in the lush English countryside—a place that he recently managed to acquire, fashioning it his "climate change bolthole"—but it was a sailing mishap that first brought him to Singapore in the 1980s.
Guz Wilkinson managed to fix his vessel, only to see it struck by lightning. So, he stayed, and in the decades since has designed a series of remarkable residential spaces.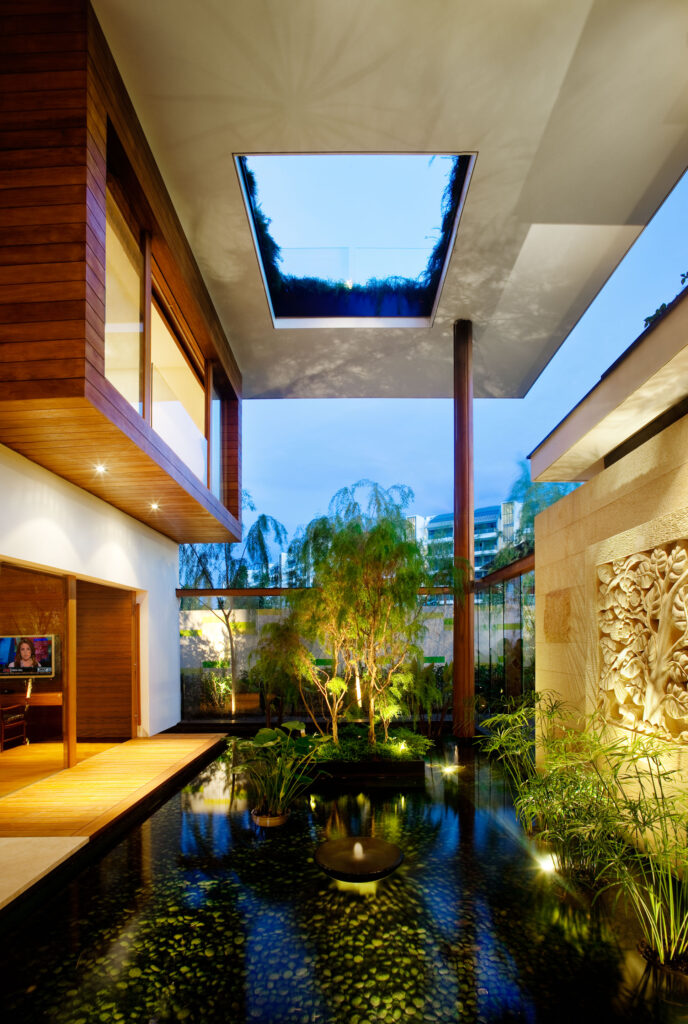 Among these works, Meera Sky Garden House—a private residence on the resort island of Sentosa, just off the south coast of Singapore—is a project of some drama but one with a broader recognition of nature.
Meera Sky Garden House does more than "blur the lines" between indoors and out; it blunts one's ability to see where the actual construction stops and nature begins. As a response to life in the tropics, which is a hot, sultry affair, prone to bursts of rain followed by steaming heat, the project prioritizes cross-ventilation, water, and green spaces to help cool and conceal the structure.
Keeping anything under wraps in Singapore is a tall order. This is not a city in retreat. It is future-facing and vigorously embraces its reputation as one of the world's most dynamic places, marked by glitzy malls, gleaming, glass-walled high rises, and other stupefying spectacles. Of the newly constructed private residences on the island, most verge on phenomenal.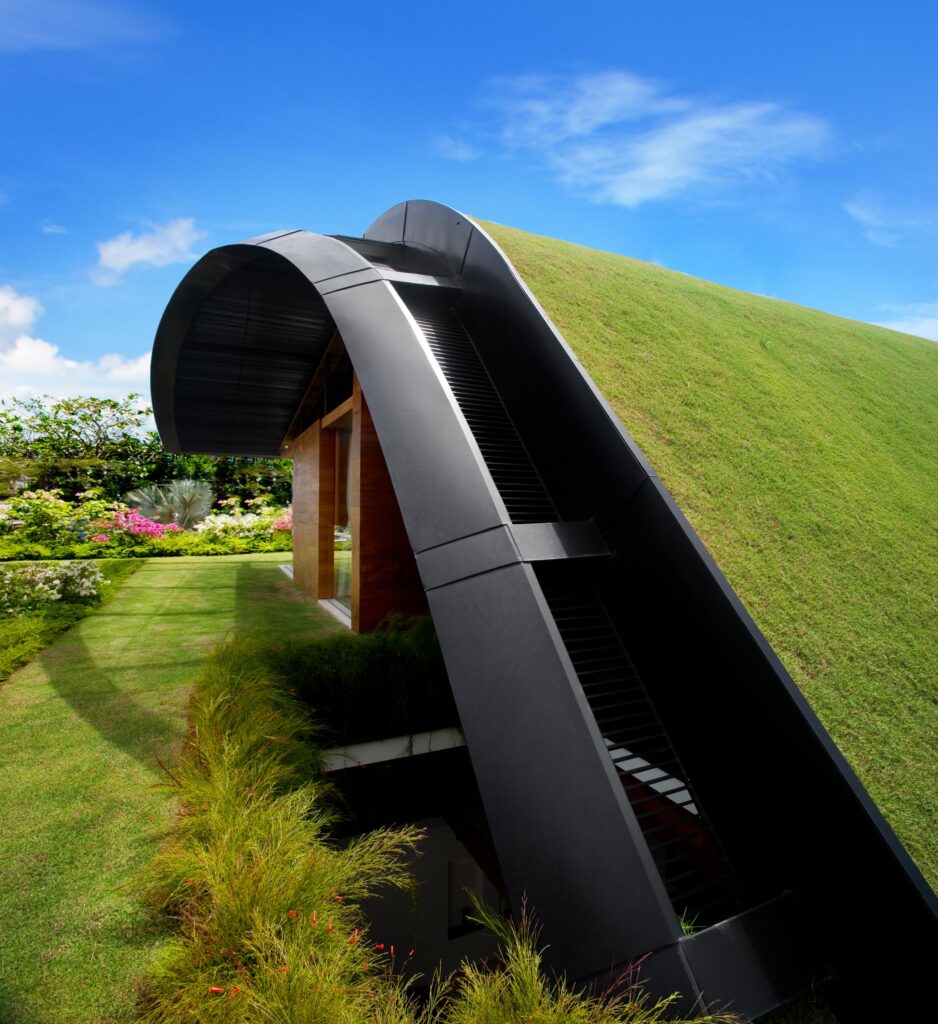 Meera Sky Garden is something of an exhibition, as well, with a substantial 8,000 square feet, four stories, green-gardened terraces, and a soaring central core. But in comparison to many abodes in its uber-exclusive enclave, this multilayered, modern contemporary is considered somewhat accessible with a more modest offering of four bedrooms and five baths.
In the words of Guz Architects, Meera Sky Garden House "tries its best to break down the volume into human scale spaces with interaction with gardens and greenery at all levels."
Keyword: tries. With its rainforested façade, vast interior space and defining roofline—a curvaceous exclamation point on the place—Meera Sky Garden House does not exactly fly under the radar.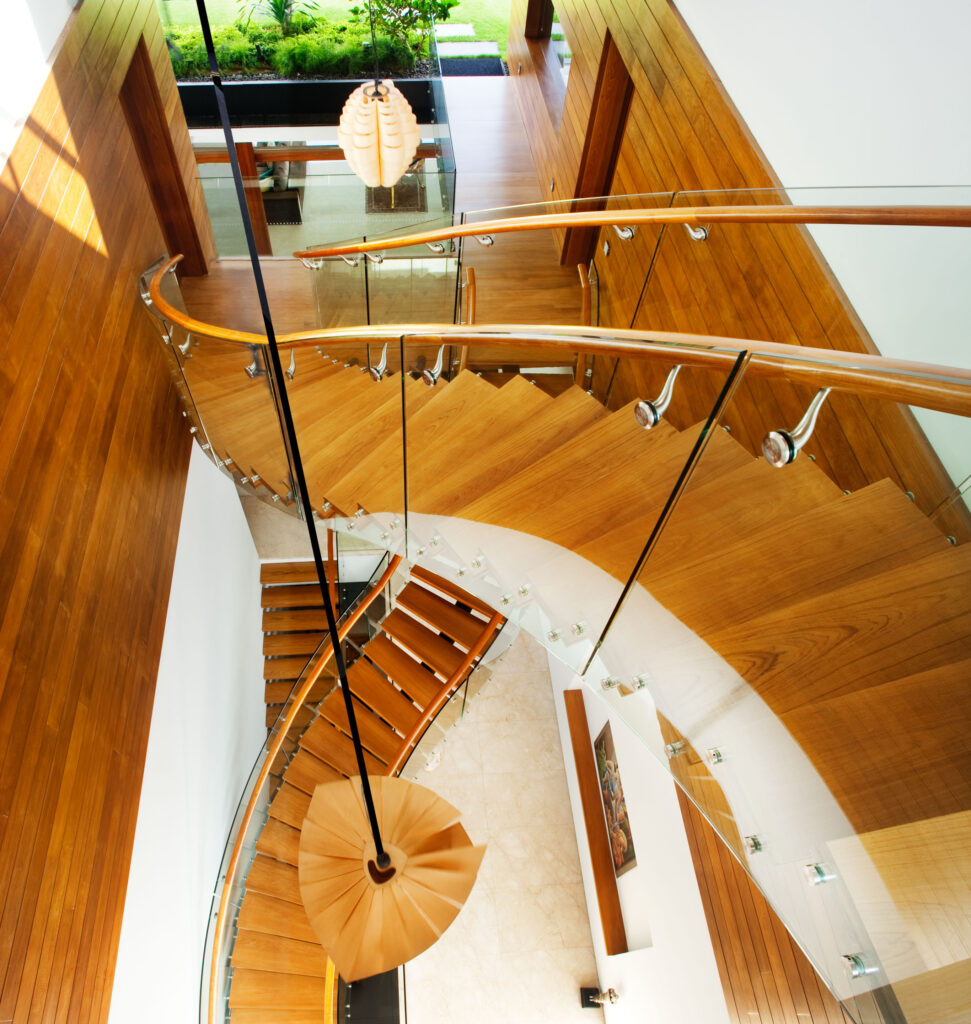 Guz Wilkinson was aesthetically sure about the roof but does confess to feeling surprised when the client agreed to it, knowing that grass cutters would need to employ a rope and pulley to maintain it. But as a gardener himself, green features and spaces are a hallmark of Guz Architects' work.
"I love gardening," Guz Wilkinson says, "so that's why we get heavily involved in the landscaping."
While his eponymous practice leaves the installation of the gardens to a local outfit, "We give them a pretty good idea of what we want," he adds.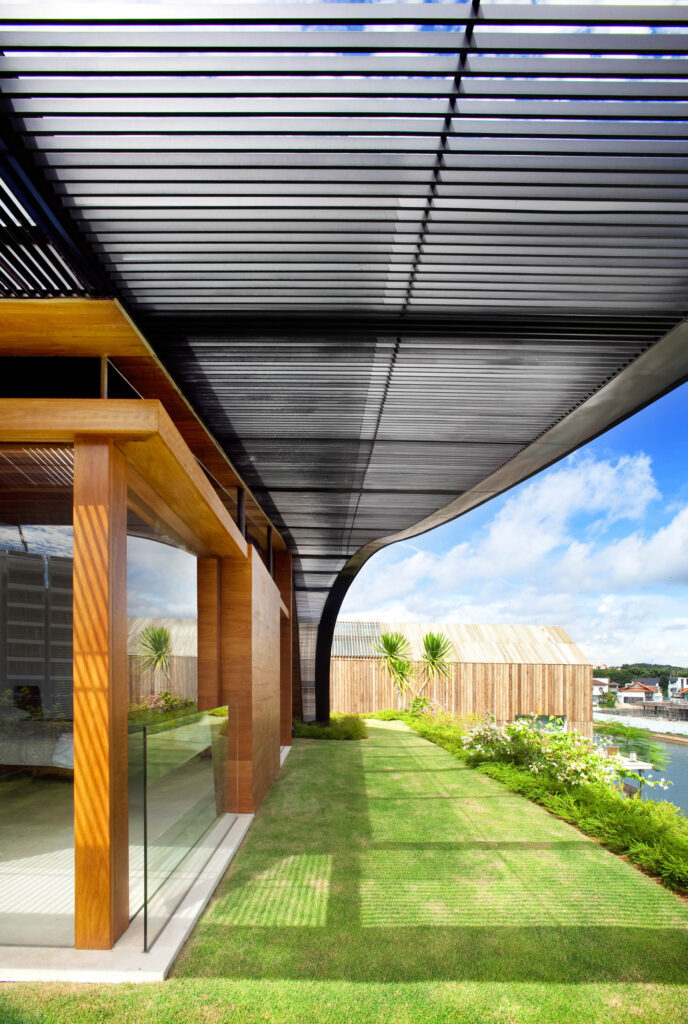 Meera Sky Garden is emblematic of Guz Wilkinson combining nature landscapes and soothing water elements to create a harmonious environment. To that end is not only the home's verdant terraces but also its astonishing swimming pool. Deep and intriguing, with an acrylic window that adds interest and steps that make it sculptural, this glistening Atlantis is particularly on brand for Singapore.
Because of the depth of the pool, however, "We reflected light into the basement so it's not just a black concrete hole," Guz Wilkinson explains.
Materially, Meera Sky Garden House rhymes with its region in all ways. Expansive overhangs protect the facade from deteriorating rains (a fate that befalls many overzealously constructed local homes). The central staircase is a warm, lustrous teak. Pool tiles are from Indonesia.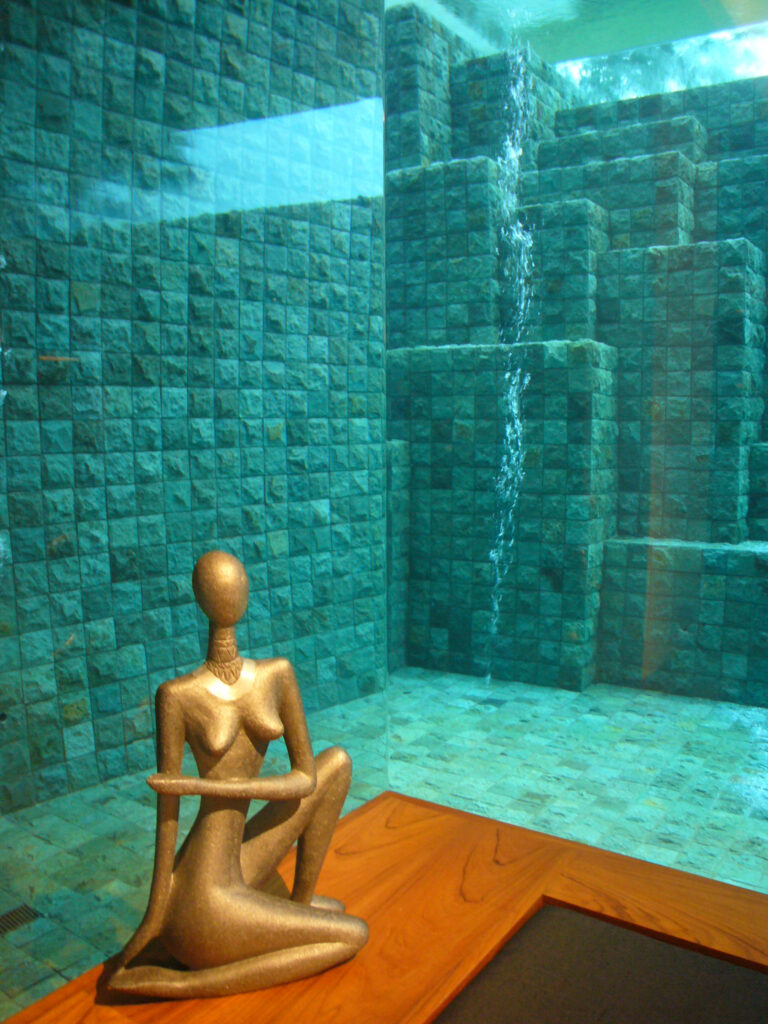 "We try to source local materials from the region," Guz Wilkinson says. "Not every client wants Italian marble."
Even the smallest bit of restraint sets Guz Wilkinson apart. Yes, he designs big staggering houses for clients with very deep pockets. But the architect also turns down work he sees as too irresponsible to consider, even in Singapore. (This sets him apart too.) The impacts on the planet visibly alarm him.
"To ease our conscience as a company," he says, "we plant a lot of trees to help offset the carbon footprint of the houses."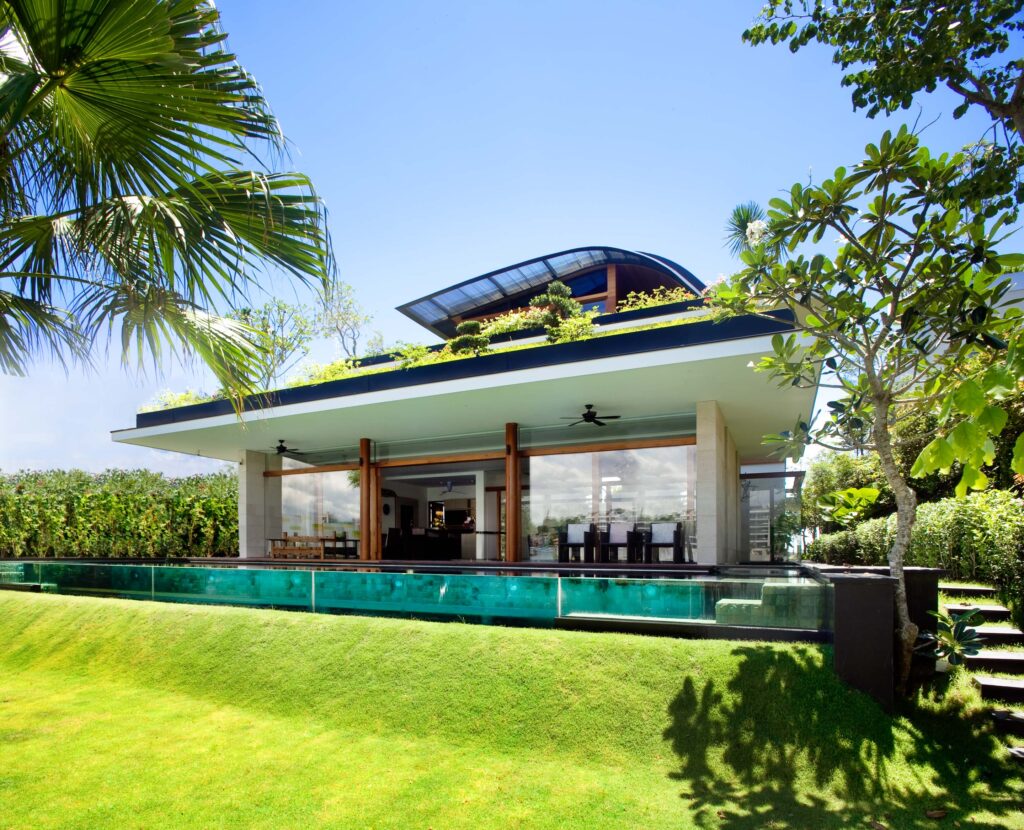 While acknowledging that this effort is not nearly enough to help the world reverse course, Guz Wilkinson nonetheless has purchased 18 acres of land in the UK and planted about 7,000 trees there. He also bought lots of land in New Zealand and planted some 500 trees. 
As for the cultivation of Meera Sky Garden, "It wasn't a big site, and the brief was for a relatively big building," Guz Wilkinson says of the project. "I think considering that, we did our best for a building that would grow over the years and look better as the gardens grew. When I go back there now, it really is a green park sitting amongst all these other houses."
A thriving garden oasis.
Guz Architects | guzarchitects.com
Photos: Patrick Bingham-Hall