Designer Donuts
Blue Star Donuts opens in Manhattan Beach with meticulously crafted decadence
Written by Joclene Davey | Photos Courtesy of Blue Star Donuts

Portland-based Blue Star Donuts has found a new home in Manhattan Beach's Metlox center. The purveyor of meticulously crafted donuts famous for its unique flavors, like Mexican Hot Chocolate, Blueberry Bourbon Basil and Apple Cider Fritter, has rightly been coined "donuts for grown-ups." Given the steady flow of patrons, the eatery services a niche market pleasing for South Bay's upscale palate.
Blue Star is about giving the donut a fresh twist, which owner Katie Poppe calls the "third heat." Be this a dash of Bourbon or a dusting of Habanero, Blue Star's donuts stand far apart from mainstream rivals. "We set out to reinvent American classics in our chain of various restaurants," shares Poppe, who, along with her business partner Micah Camden, started a handful of other culinary ventures, like Little Big Burger, Boxer Ramen, Boxer Sushi, Son of a Biscuit, Hop Dog and Camden's Catsup.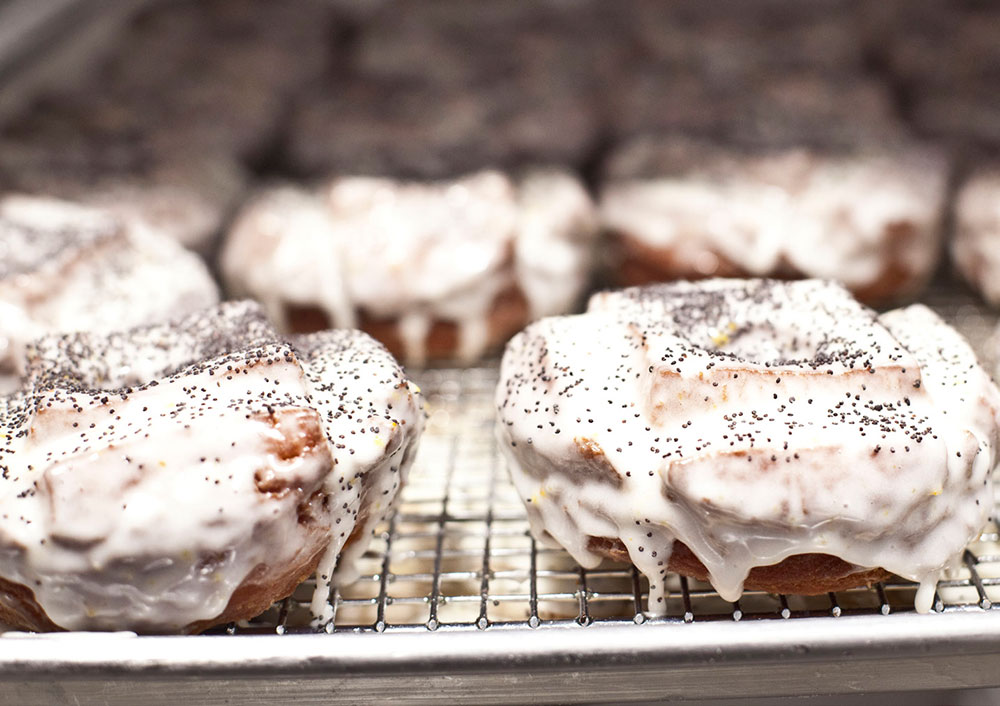 The inspiration for Blue Star comes from elegantly designed European patisseries stocked with swoon-worthy pastries and breads and, above all, the craft they showcase. "Pastry-making in Europe is an art passed down from generation to generation," Poppe says. "We fell in love with the classic brioche recipe particular to the [S]outh of France." Made daily from dough that takes 18 hours to create using the highest quality products (cage-free eggs, hormone-free milk and European-style butter), these decadent delights are quite possibly the healthiest donut one can devour due not only to the aforementioned natural ingredients, but also by containing very little sugar. What's more, they are made with a lighter cooking method, an approach perfect for an athletic and health-crazed beach community.
The secret to Blue Star's heavenly balance of soft cake and crunch, meanwhile, is partially attributed to the fact that the donuts are cooked in rice oil. Although "more expensive to cook with" rice oil is "much less absorbent than other oils" which "also keeps the donut light and free from the heavy coating typically found in other donuts," explains Poppe.
This April, each Blue Star location will unveil exclusive flavors. Look for a handful of new flavors to debut, including Tequila Sunrise Blood Orange Mezcal Candy Ginger, Honey Lavender Pear Fritter and Chocolate Peanut Butter.
"Our goal was to get people excited about tasting different flavors, and offering a gourmet experience for the typical donut," notes Poppe. One thing's for sure, Blue Star has certainly thought outside the bakery box with its rounds—the ultimate in sweet savoir-faire.
451 MANHATTAN BEACH BLVD., MANHATTAN BEACH, CA
Related Post
A food truck with royal roots rolls into Los Angeles with fresh handmade pasta Written by Joclene Davey | Photography Court...
A purveyor of fine cheese parlays his passion into a new shop Written by Joclene Davey | Photographs: Tom Cocking Courtesy ...
Captain Kidd's keeps its decades-long reputation for the freshest seafood in town, served in a down-home harbor atmosphere Written by Cons...