The Catalina Casino, standing at approximately twelve stories tall, continues to beckon tourists and remind locals of Catalina Island's rich history.
For over 80 years, a picturesque landmark has welcomed visitors as their ship slowly pulls into Avalon Harbor. The first casino, Sugarloaf Casino, was built by William Wrigley, Jr., to serve both as a ballroom and as Avalon's first high school. This casino was demolished, however, in 1928 in order to make room for a larger venue due to Catalina's growing population. Sugarloaf Rock was subsequently blasted away so that the ocean view could be enhanced for this new project.
On May 29, 1929, the current casino was completed at a cost of 2 million dollars. This decorated, 12-story building was known at the time as the tallest structure in Los Angeles County, and featured spectacular ocean views from three sides. With a design that's considered Art Deco and Mediterranean Revival, the casino includes a movie theatre and museum on the first level, and a circular dance hall on the top level. Famous musicians from the Big Band era played at the Casino Ballroom, occasionally for four to six week engagements. During the summer season, the ballroom was reportedly full every night.
Historic Theatre
The Avalon Theatre was the first to be designed specifically for movies with sound, and continues to show first-run movies nightly. Walnut wood paneling adorns the lobby and French doors decorate the room. The theatre is reportedly so well-insulated that attendees are unable to hear any sounds coming from the upstairs ballroom. The original pipe organ, built by Page Pipe Organ Company of Lima, Ohio, is still played live on Friday and Saturday nights before performances. Organs were typically used as accompaniment to silent films until motion picture sound became more common, and also used for concerts given prior to film screenings. Today, the Avalon Theatre organ is one of only four working Page Organs in the world.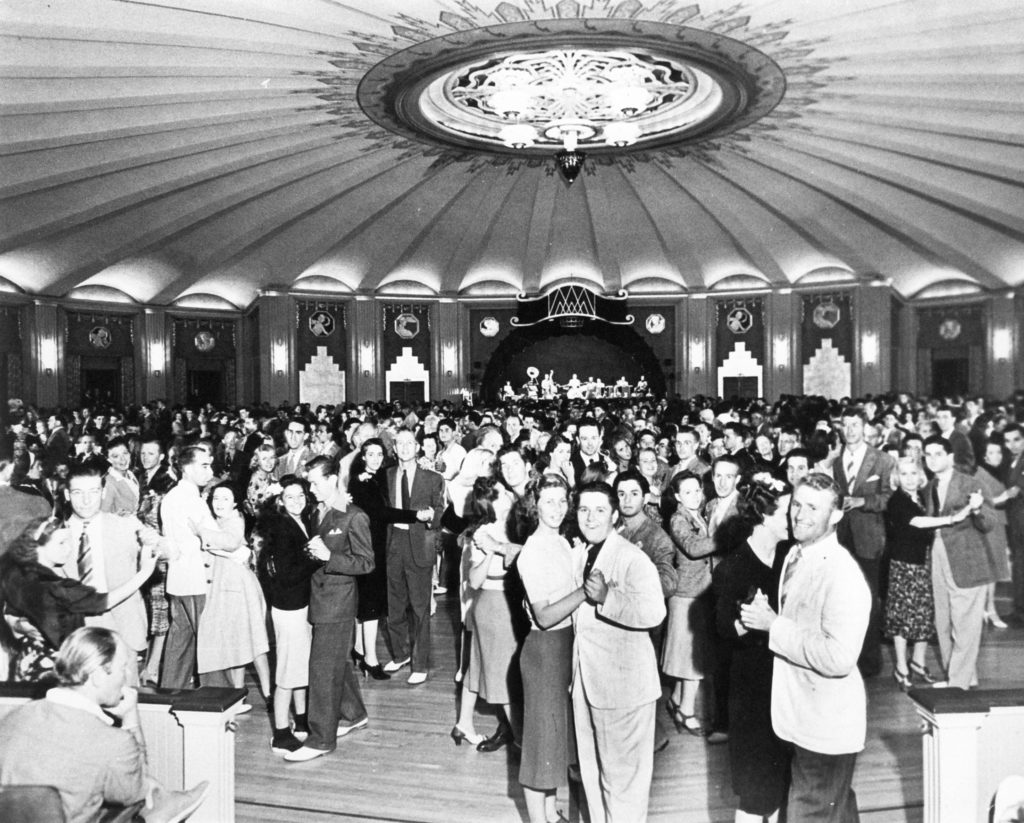 Romantic Ballroom
Although the ballroom was completely restored a few years ago, there are plenty of details reminding visitors of its romantic heritage and history. With a fifty-foot ceiling featuring elaborate Tiffany chandeliers and an elevated stage with raised seating areas, it's easy to imagine the big band orchestras that once graced this stage. Constructed of maple, white oak, and rosewood, the elaborately-designed dance floor reportedly sits "on a layer of felt and acoustical paper which were installed over a sub floor of pine that floats above support beams on strips of cork." These numerous layers ensure a smooth dancing experience for the ballroom's many visitors.
"Hollywood stars, movie premieres, big bands, dancing and much more – the world famous casino building has been host to them all," said John Boraggina, curator for the Catalina Museum. "The Casino has been Catalina's most preeminent landmark and has served as the island's center of entertainment for visitors and residents alike."
The Catalina Casino remains a stunning reminder of Catalina's glorious past and continues as an example of the romance of the island.
For more information on the history of the Catalina Casino, visit the Catalina Island Museum, located in the Casino Building. Daily tours of the casino are also available.

For more information, go to: w

ww.visitcatalinaisland.com/avalon/tour_casino.php

.
Casino Facts:
The upper level features the world's largest circular ballroom with a 180-foot diameter dance floor. It has a capacity for over 6,000 dancers.

The Avalon Theatre can hold up to 1,154 moviegoers.

In 1993 the theater was photographed by Hiroshi Sugimoto for his series entitled, "Theaters."

In September 2008, the Casino hosted its first musical production on its stage:

Grease!

The Casino hosts an annual New Year's Eve party, and the Catalina Island Jazz Festival.
Written by: Denise Kano
Photographs: Courtesy of the Catalina Island Museum