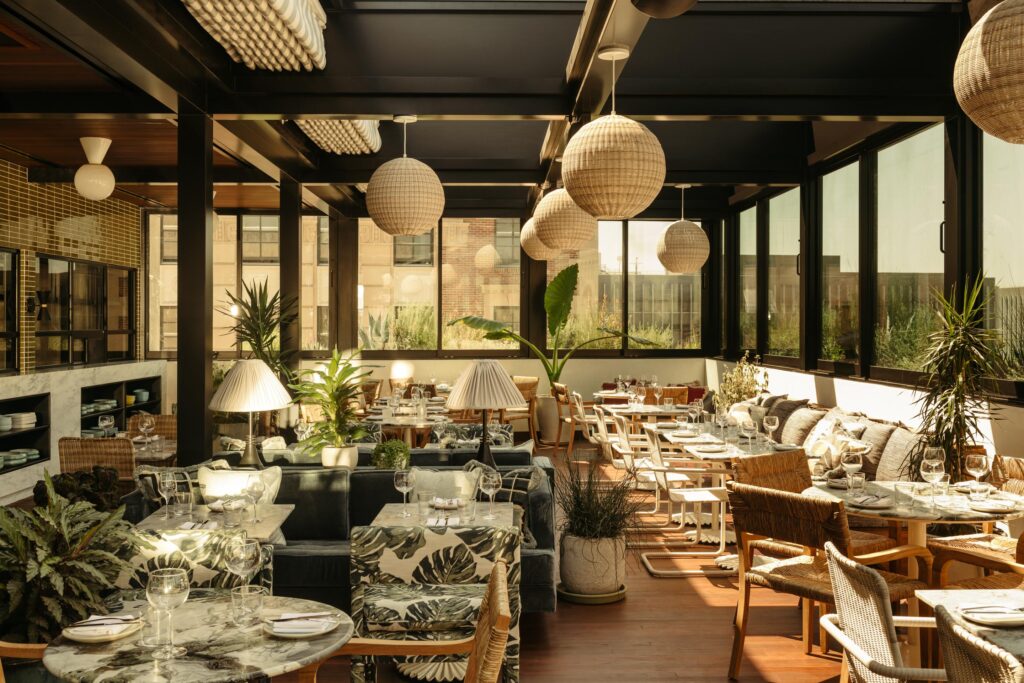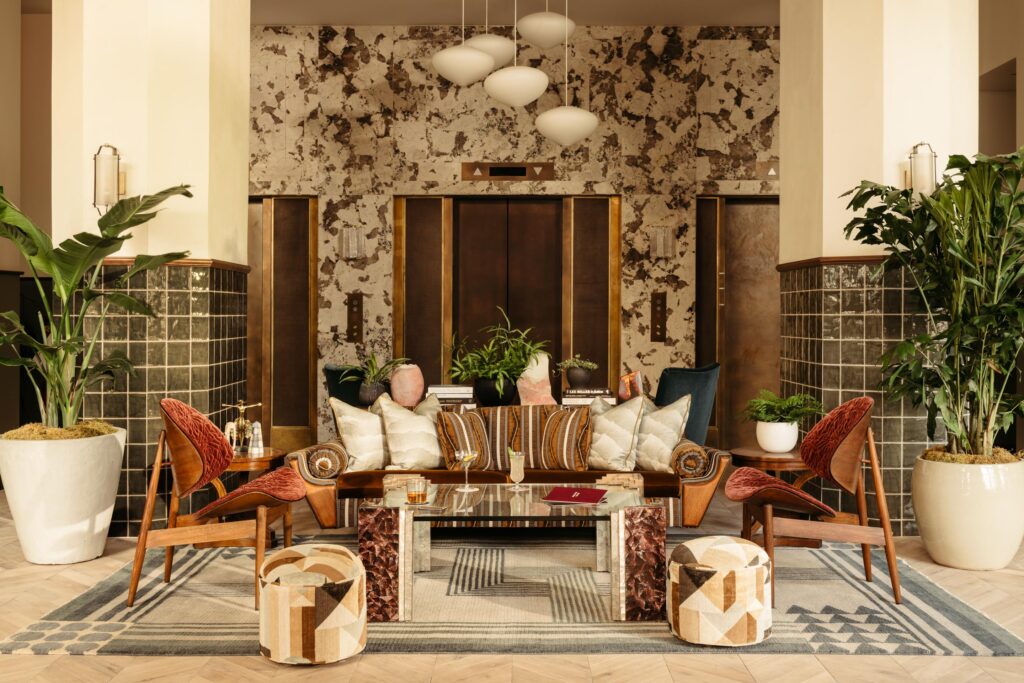 Opened last October, The Hoxton, Downtown LA is an invitation to live like a local in a historic building with interiors by Ennismore Design Studio. 
Located in a Beaux-Arts structure originally built in 1922, The Hoxton, Downtown LA occupies what was once the headquarters of the Los Angeles Railway Authority, and later a garment manufacturer and a candy shop, among other establishments. Spread over 10 floors, the hotel is home to 174 rooms, two restaurants, and cozy public areas.
With Ennismore Design Studio at the helm, the rooms were inspired by the architecture of the building and its urban surroundings. French visual elements are reflected through the wall paneling and chevron flooring while Mexican-inspired details are visible in the rug patterns and handmade bathroom tile.
Artwork created by local artists, vintage telephones, Marshall radios, artisan ceramics from London and a selection of books by locals ("Hox Friends") from a variety of industries—who also give written recommendations of what to enjoy in the neighborhood—lend character and personality to the project. In communal spaces, including the restaurants and bars, shaped by Ennismore in collaboration with Soho House, the Art Deco and Bauhaus styles meet through the furniture shapes. Bright color, rich materials, and geometric and palm motifs contribute to the laid-back atmosphere in this hotel where the rooftop hosts the open-air restaurant Pilot, and a swimming pool offering sweeping views of the Los Angeles skyline. 
Finally, created with The Hoxton's favorite local brands and makers, the Best of LA collection—available at the hotel—comprises one-of-a-kind, limited-edition items by glass artist Debbie Bean, designer Melody Ehsani, fragrance brand DedCool and men's accessory brand Pocket Square Clothing, to name a few. thehoxton.com
Photographs : Courtesy Of The Hoxton, Downtown La
Walker Hotels, Tribeca NYC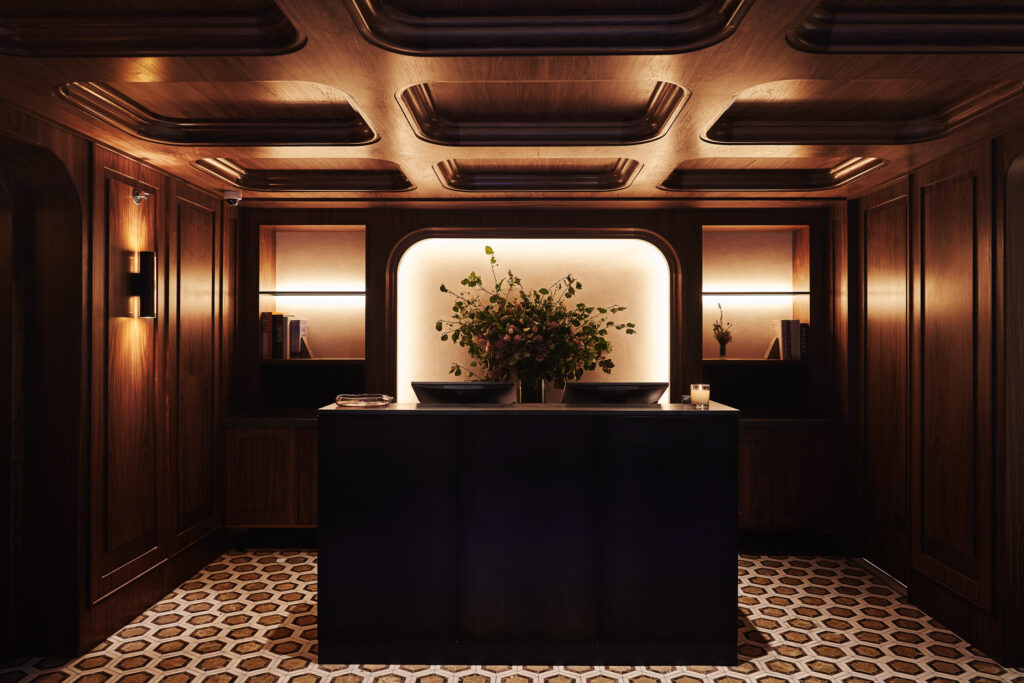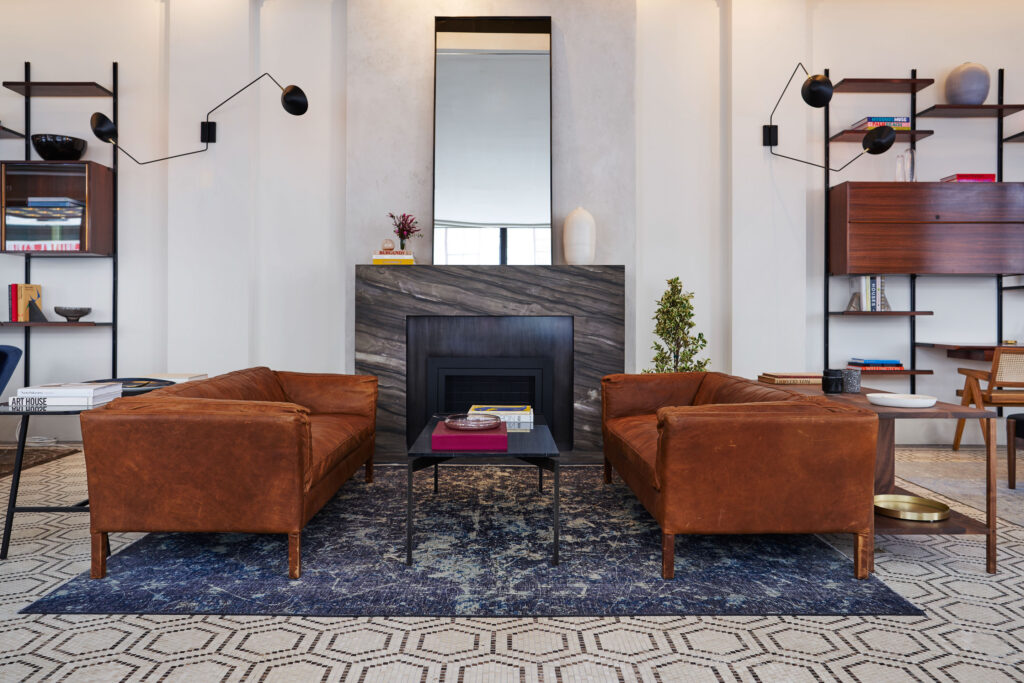 Drawing inspiration from the character and history of its neighborhood, Walker Hotel Tribeca features an eclectic modernist look.
Behind the iron and limestone façade of the Renaissance Revival-style, 10-story building the Walker Hotel Tribeca (owned and operated by hospitality firm Bridgeton Holdings) reveals its charming interior spaces. Dating to 1899, the structure was built by architect William H. Birkmire and was once a button and ribbon factory. New York City's vibrant energy and the spirit of its golden age are reflected through the property's design elements.
Mid-century and classic furniture paired with contemporary light fixtures adorns the open spaces with high ceilings and large windows, reminiscent of an industrial past. To preserve the character and honor the history of the place, several elements were restored and replicated in a traditional way, such as the plaster, metalwork, and stair detailing, and the moldings.
In the lobby, a marble bar and marble fireplace—flanked by rosewood Osvaldo Borsani shelving with art books from Assouline and vases of wildflowers—are complemented by pieces from design masters such as Børge Mogensen sofas, Pierre Jeanneret loungers, Philippe Bestenheider Lui 5 chairs (all upholstered with Schumacher velvets, ikats, and linen), a velvet and midnight-blue Milo Baughman sectional, Saarinen Tulip table and Roland Rainer chairs.
In the 171 guest rooms, the visual story continues with tobacco leather professor chairs and herringbone wood floors with Carrara marble subway tiles and walk-in rain showers in the bathrooms.
Timeless with a modern twist, the interior design of Walker Hotel Tribeca subtly intertwines references to the neighborhood's industrial past, the eclectic community in the present time, and its future evolution. walkerhotels.com
Photographs: Courtesy Of Adrian Gaut And Read Mckendree
Dream Hotels, Music City Nashville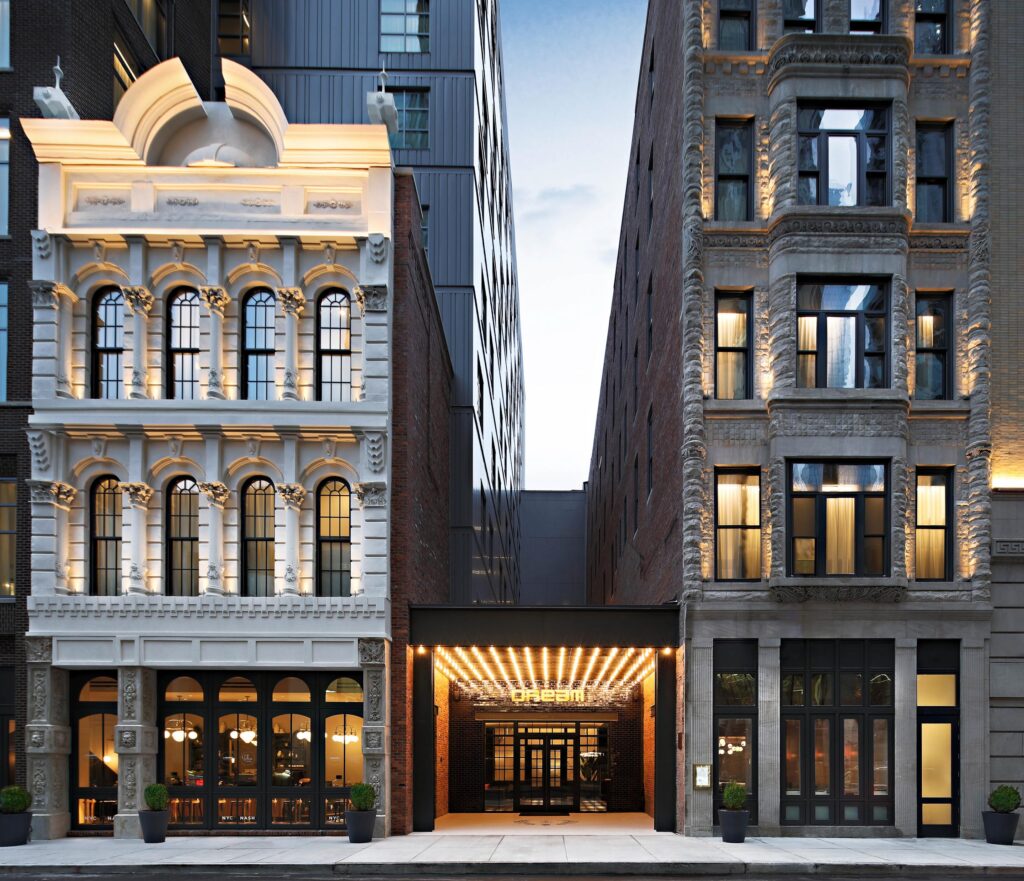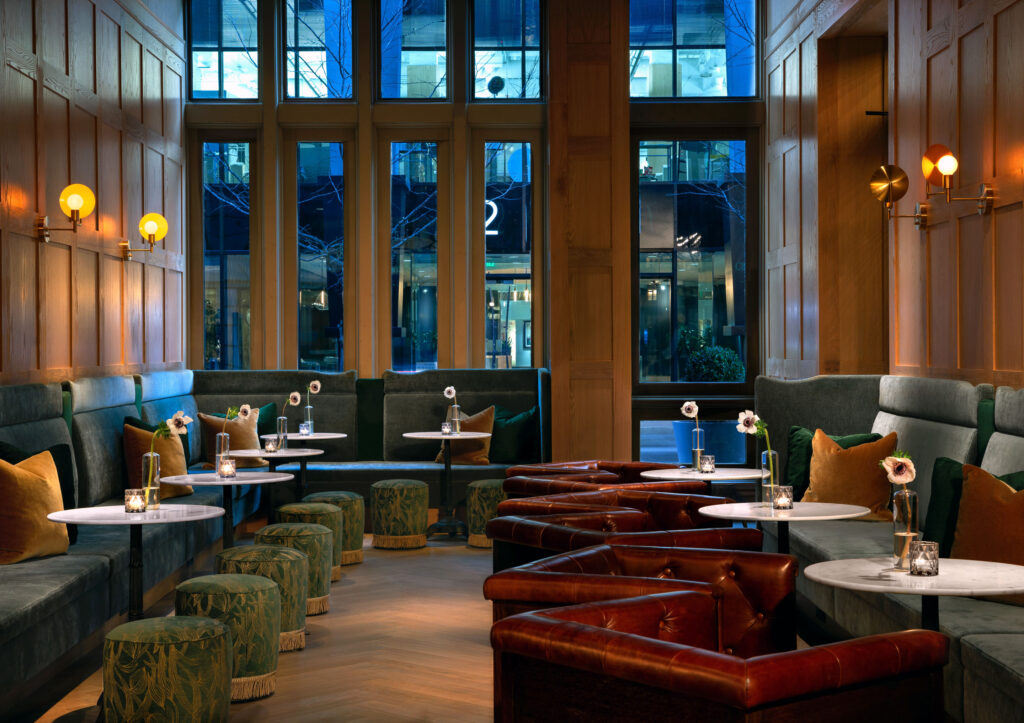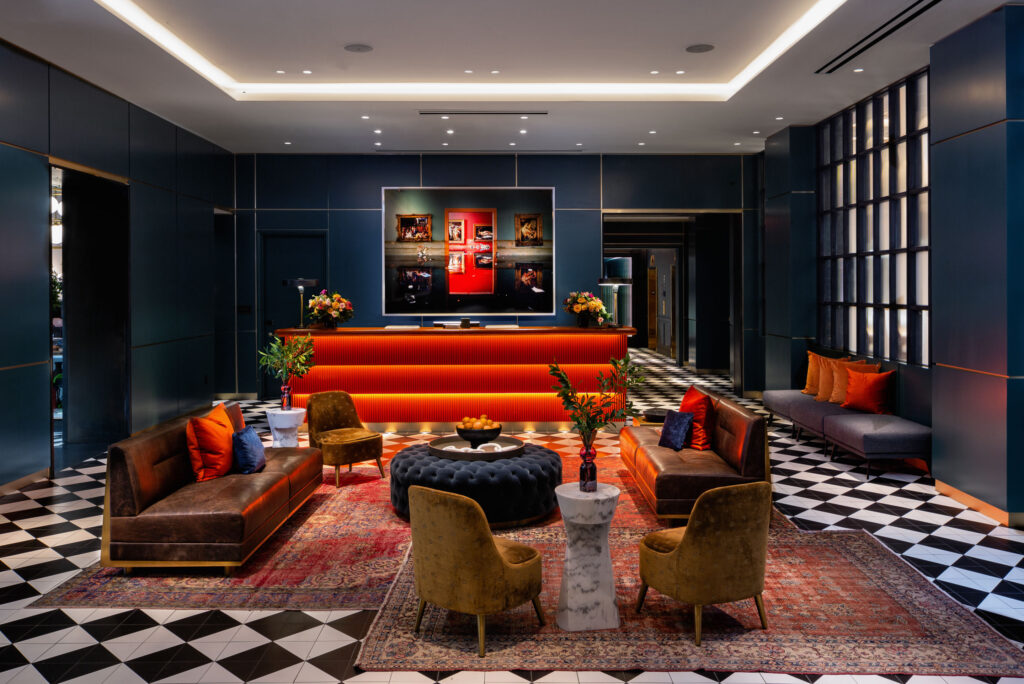 Created by Meyer Davis and located in Music City, USA, Dream Nashville is experiencing a revival.
At the beginning of the 20th century, the famous Printer's Alley, in Nashville, Tennessee, was home to two prestigious newspapers, 10 print shops, and 13 publishers. During Prohibition, people flocked to the area to drink alcohol illegally while listening to music. Printer's Alley then became a nightclub and entertainment district, especially in the 1940s.
Today, all these historic and social references are reflected—with modern influences—through the interior design of one of Music City's newest hotel, Dream Nashville. The property, which is nestled in two old buildings that were previously separated but are now connected through the lobby (one of which housed the city's first boutique hotel, Utopia, at the end of the 19th century), certainly lives up to its name.
Designed by New York City-based studio Meyer Davis, interior spaces blend traditional and contemporary references through architectural elements, furniture, and materials. Neon lighting, marble, tile, mirrors, textiles, wallpaper, and bright colorful accents characterize the sophisticated atmosphere. In all of the 168 Art Deco-inspired rooms (including 21 suites), lofty ceilings offer a feeling of airiness.
Spread over 1,400 square feet, the Guest House suite—the hotel's biggest room—includes a mahogany poker table and a custom craft beer, Dream Brew, on tap. A collection of photographs adorns areas of the hotel. Behind the reception desk, artwork by David LaChapelle was chosen to match the area's color palette of yellow, orange and red. Offering visual surprises in every corner, Dream Nashville is an ode to the city's past and present infused with the energy of Music City. dreamhotels.com
Photographs: Courtesy Of Dream Nashville
All Access Pass to LA's Hottest Homes
Get an inside scoop on celebrity homes, exclusive real estate, mansions & more.