Between the North End of Manhattan Beach and its bustling downtown is a mellow and convenient midtown, a place where friendly residential neighborhoods converge around beach life, and where one can stroll or bike along The Strand to reach the town's chic eateries and sunny boutiques in minutes.
A few blocks from the sand, in the heart of the Sand Section, a stark, geometric structure rises over the rooftops—its clean angles warmed by the glow of light cascading from its mostly glass exterior. Notable is a slender, flat roof that ascends like a canopy, facing due west. "I liked the idea of expansiveness and protection," the home's designer Ryan Singer says of the distinctive silhouette. "The point creates something iconic."
Contemporary in style, the inviting home settles into its beachside setting organically—another example of how the design genre functions as evergreen in this Southern California setting. "The home was built in 2006 but it feels like it's timeless," says real estate agent Rachel Ezra of the three-bedroom, three-bathroom property.
Spanning three levels, and measuring about 1,940 square feet total, the home is a stylish machine for living, characterized by a careful selection of high-end natural materials and an abundance of glass, which allows big-prospect views of the California coastline in its most important spaces. What's more, "It's located on a corner lot so some of the views will never go away, which is amazing," notes Ezra. "It's the perfect house to see 365 different sunsets a year."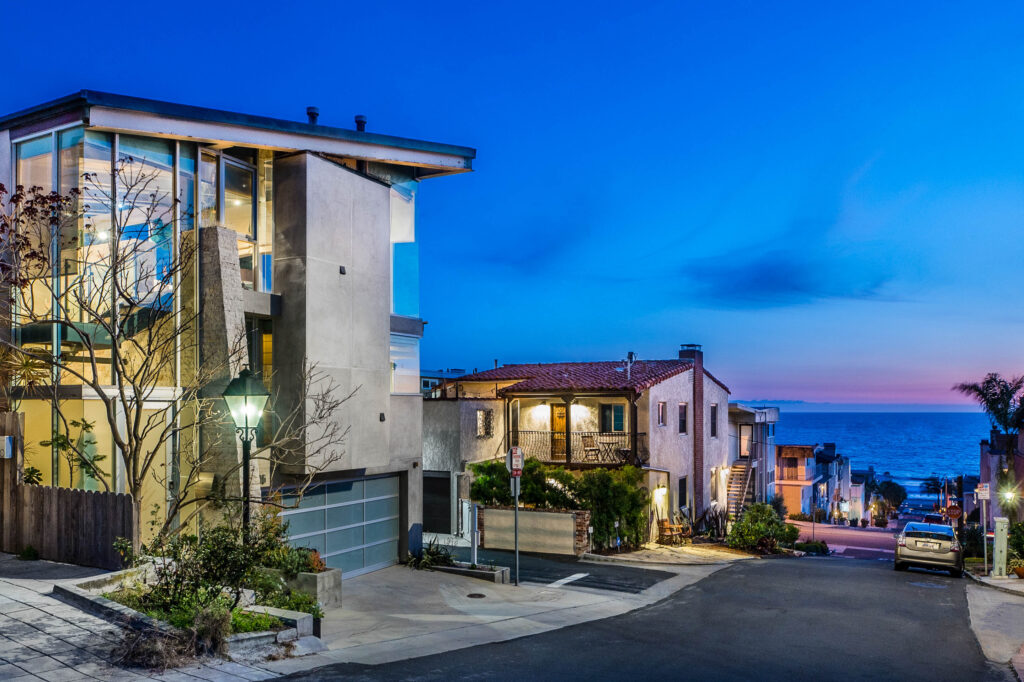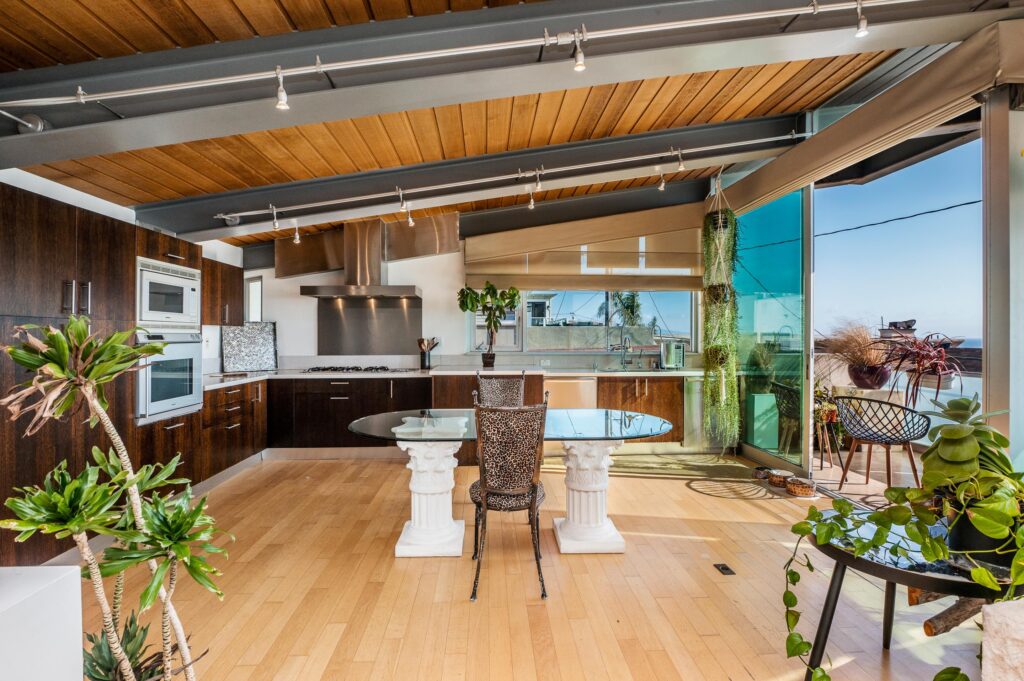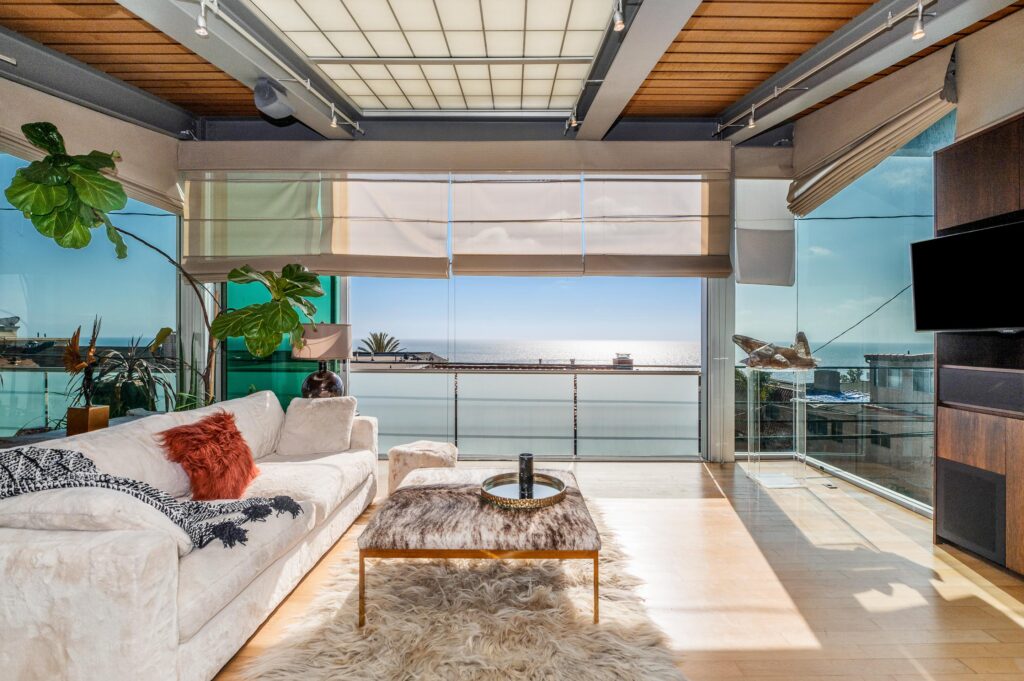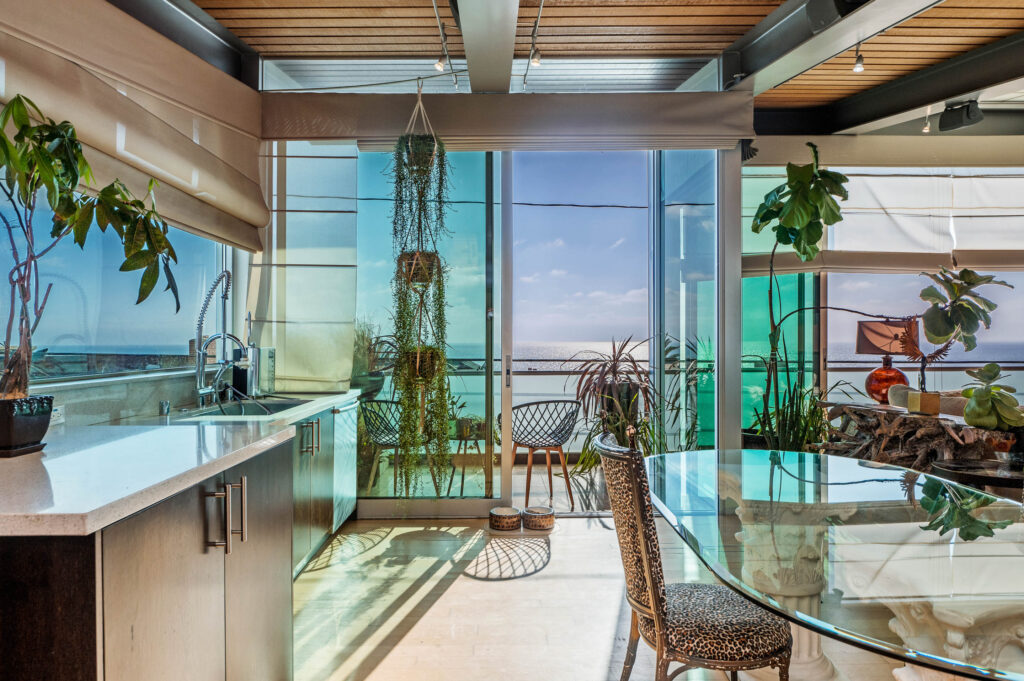 The home's entrance is an airy, sunlit space where Portuguese limestone floors and hearty walls of split face Turkish limestone offer an elegant welcome. It's a smart atmosphere that's heightened by structural steel and a floating staircase populated by hearty wood planks.
"Natural materials," Singer points out. "That's where all my intention is, on nature, and getting colors from the site." Stones, trees, and other natural phenomena says the designer, are key to informing a home's color palette and surfaces. "The designer and the builder [Michael Perryman] did a great job of integrating materials with wood and stone to make it warmer," Ezra says of the home. "It's very inviting."
One climbs to the uppermost floor and is greeted by a show-stopping panorama of sun-glinted ocean and endless sky exposed by endless glass walls. The glass retracts fully and extends from mellow oak floors all the way to raised ceilings outfitted in planks of Alaskan cedar, which extend to the exterior and were chosen for their durable beauty. "When you walk upstairs you have that wow factor," remarks Ezra.
"You see the ocean and you see the open floor plan." Exposed steel beams and an industrial-styled skylight—which spans the entire ceiling and brings additional, diffused sunlight into the home—add sophisticated texture to the clean-cut space, which is beautiful by virtue of the designer's embrace of ungilded simplicity and the local climate. "If someone wants to live with their doors open all the time, they can," says Singer.
This is also the home's main living space and includes a fireplaced living room, along with a free-flowing dining area and a kitchen sporting a sleek mashup of custom cabinetry and gleaming appliances, including Gaggenau ovens, a duo of Bosch dishwashers and a strapping Sub-Zero refrigerator.
A nearby balcony is ideal for al fresco lounging and further opens the space to beach air and light, while features like aqua-tinted glass and French window coverings, which are controlled by a motorized twin shade system, give one instant discretion and the ability to temper natural light. "It's almost a glasshouse," says Ezra of the design. "You can see everything. And if you want privacy, you have electronic shades."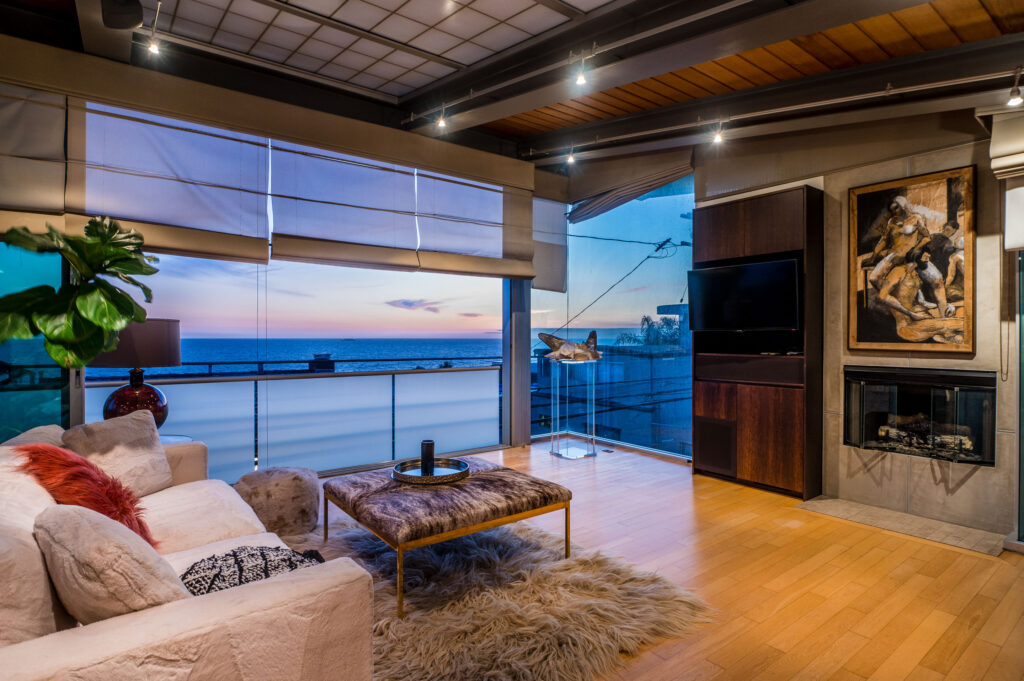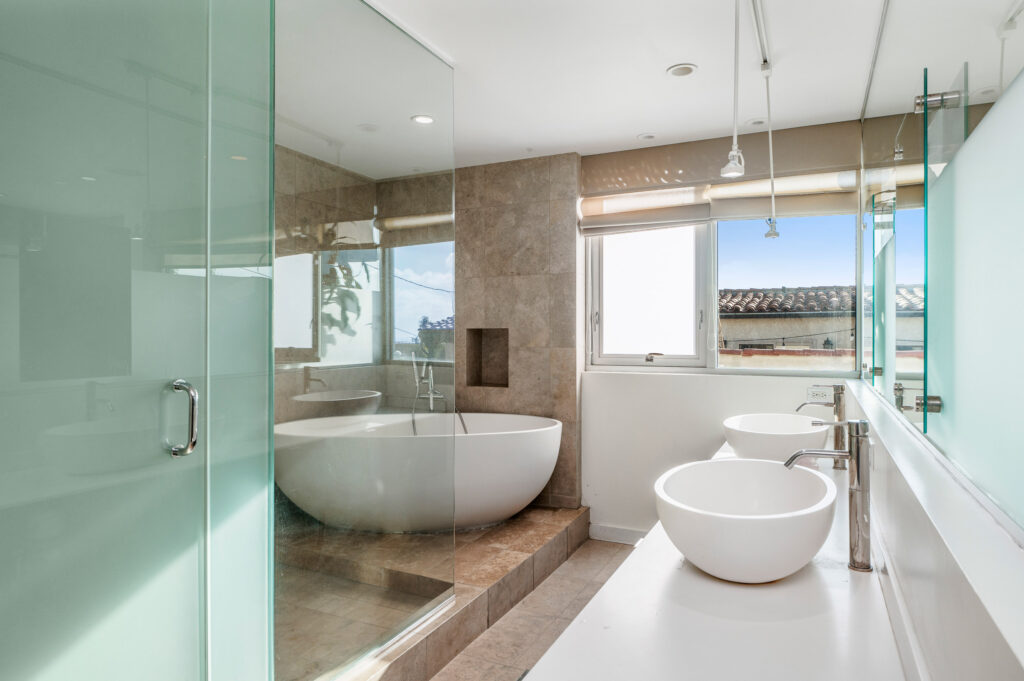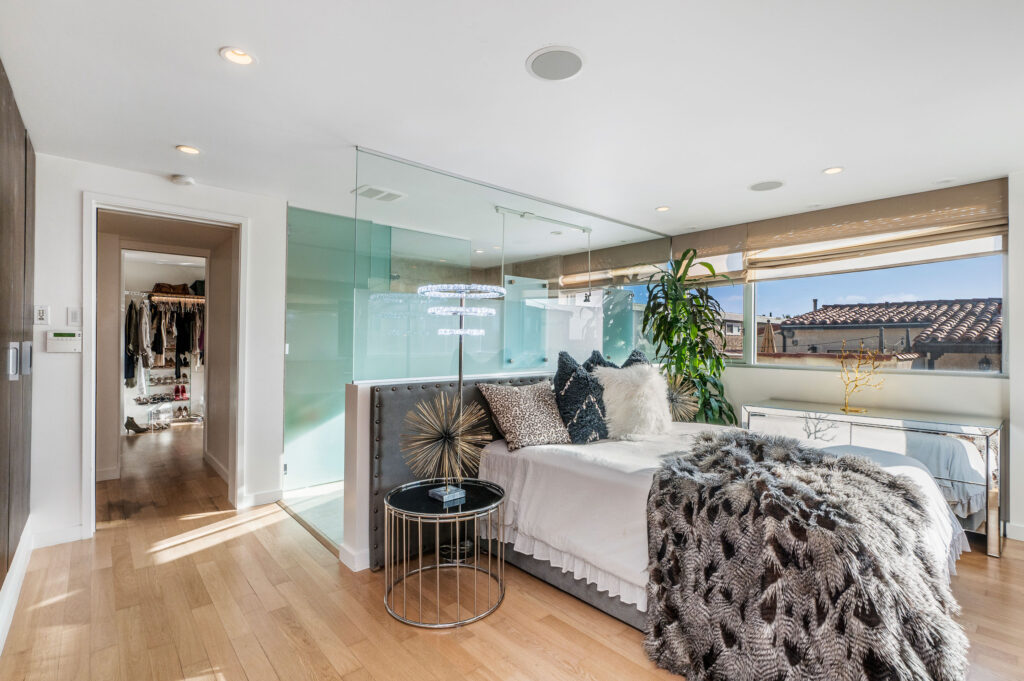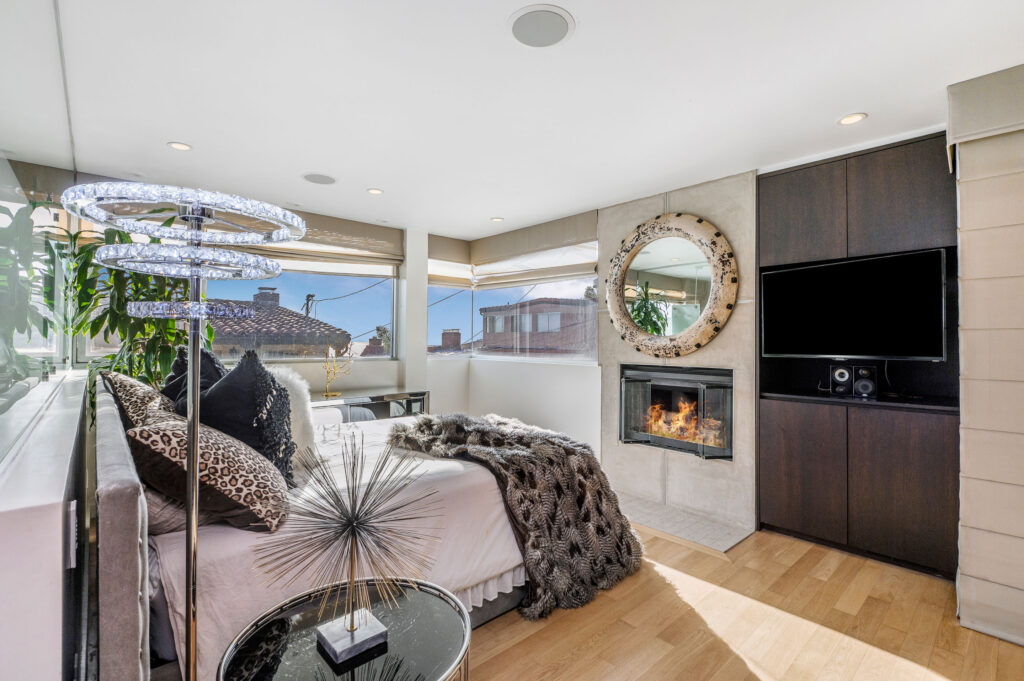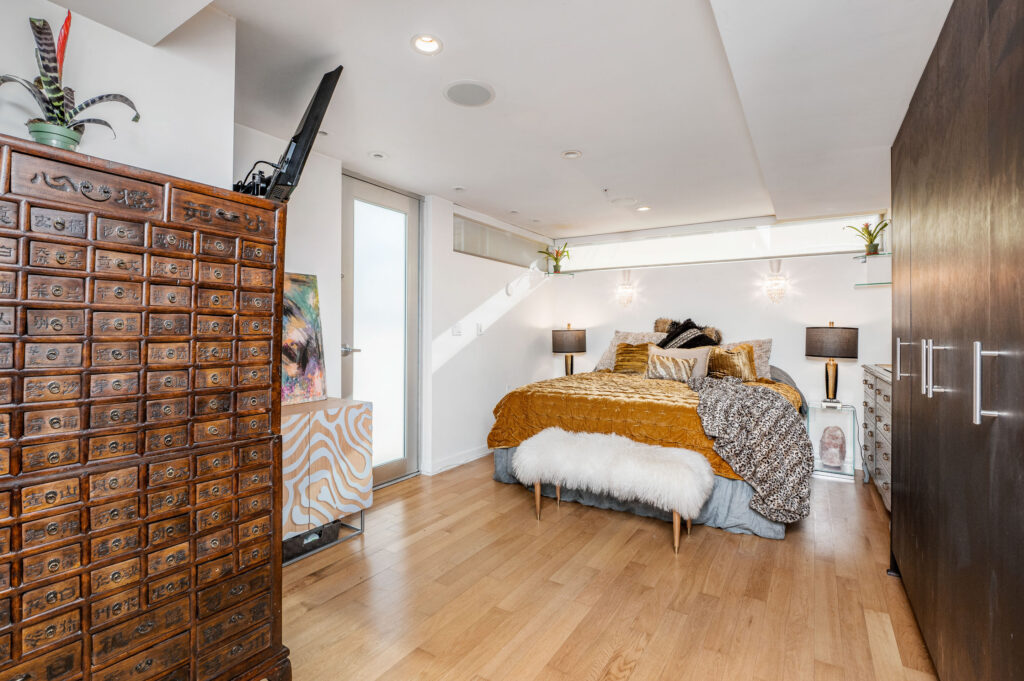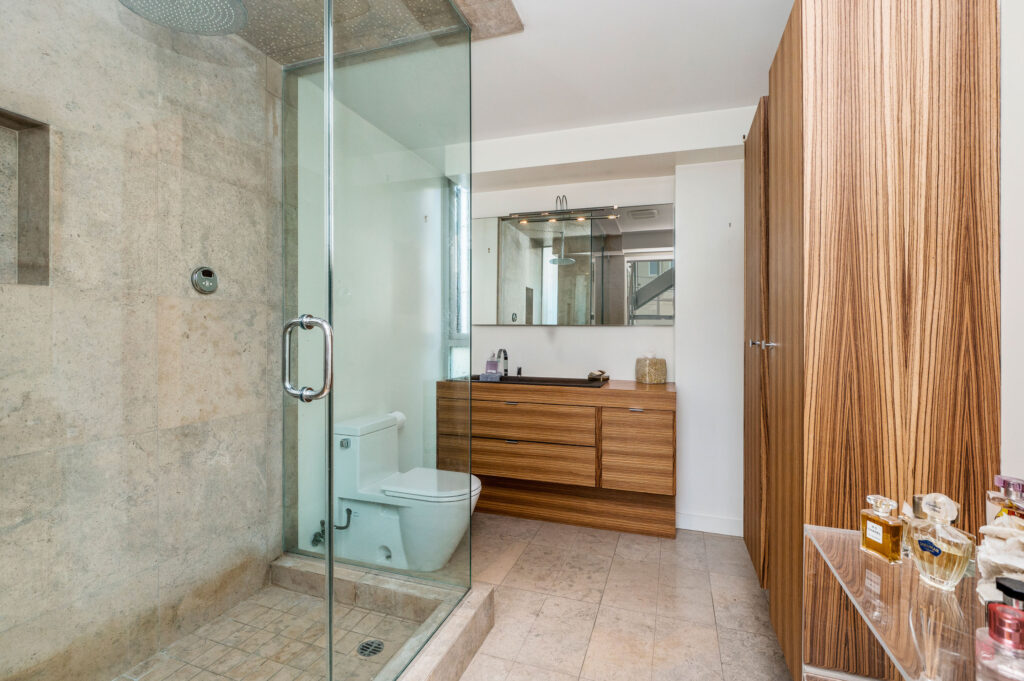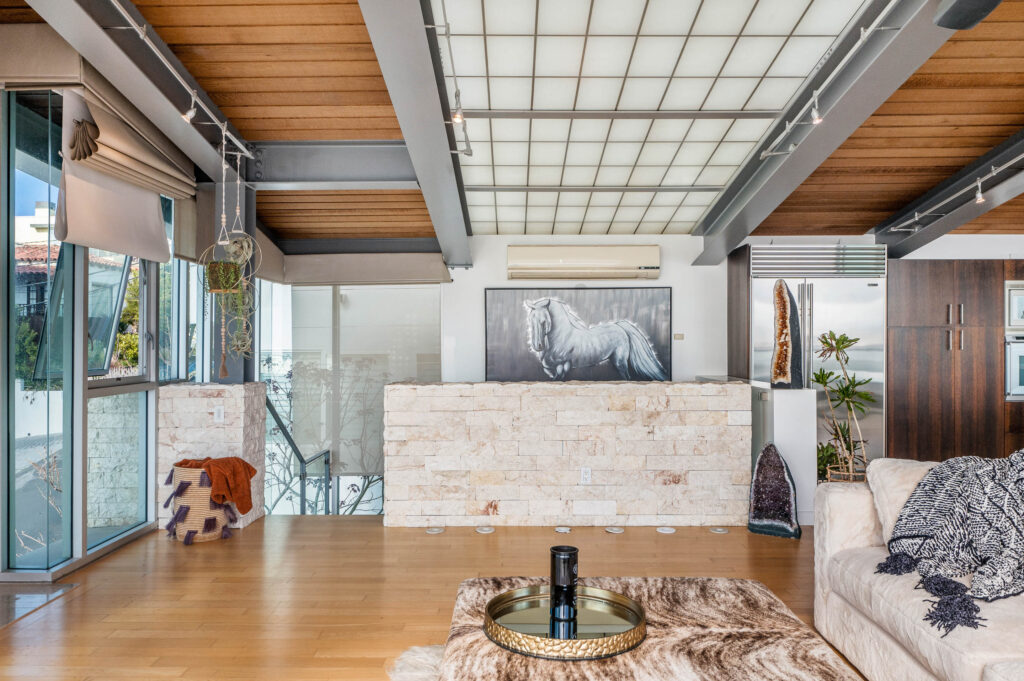 The home's footprint is modest, but its efficient design allows for flexible living spaces spread over its three floors. The middle level is where one finds the master bedroom, a place where one can lounge in bed while warmed by a sleek fireplace, and uplifting ocean views. Steps away, shrouded by glass, is a bathroom with dual sinks and an oval soaking tub, perched on a stone pedestal, and neatly adjacent to the walk-in shower.
There's another sunny bedroom, also with ocean views, on the same floor, along with a bathroom that's neatly decked in custom, walnut woodwork. "If you need an office or a workout room," Ezra points out, "that can be separated on the lower floor." It's on this lower level where one finds another bathroom and a bedroom, nicely appointed with a Sub-Zero wine closet and with the versatility to morph into other types of use.
While moving through the home, surrounded by the outdoor environment, it feels as if one's living in tandem with its constantly inspiring scenes of sunset, sky, and ocean. It's the very reason one comes to live at the beach, and the reason this contemporary home, completed well over a decade ago, feels infinitely fresh. "This design is sustainable into the future," says Singer, who gives credit to his father, award-winning AIA architect Mark Singer, for forming his look-ahead vision: "He told me, 'You have to play through the whole experience of the home, backward and forwards, in your mind.' "
Photographs by Luxury Level/Joel Danto
3 Bed • 3 Bath • 1,940 SF
$2.85 Million
Vista Sotheby's • Rachel Ezra
Type: SFR
Price: $2.85 M
Brokerage: Vista Sotheby's

Architect: Mark Singer

Designer: Michael Perryman

All Access Pass to LA's Hottest Homes
Get an inside scoop on celebrity homes, exclusive real estate, mansions & more.