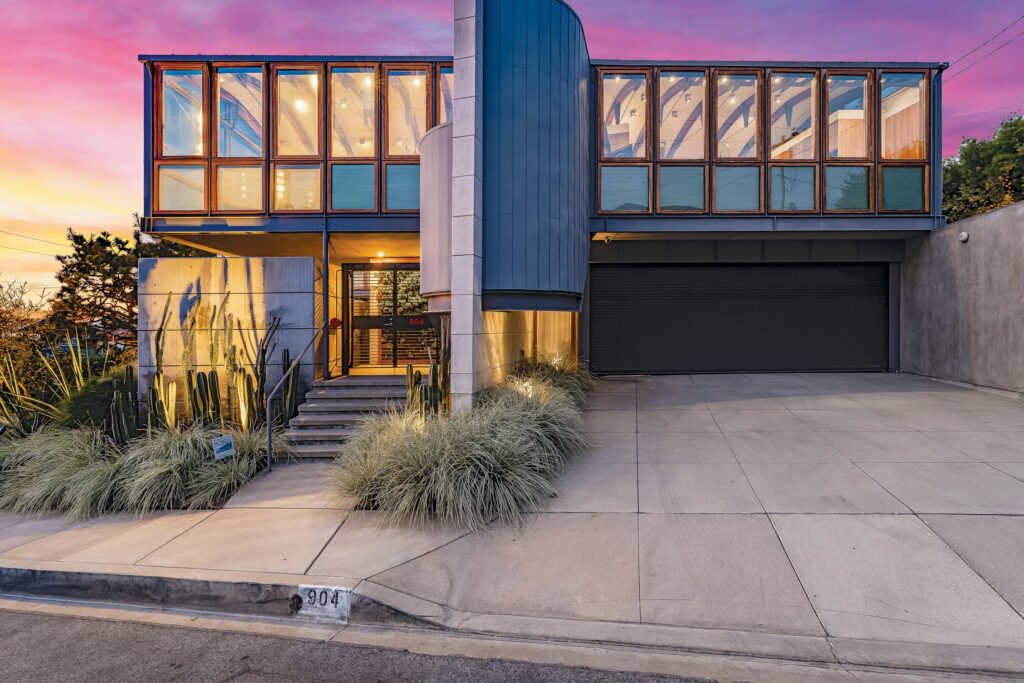 Dramatic Ocean Views Drive the Striking Design of 904 Highview Avenue a Manhattan Beach Landmark, Created by National Award-winning AIA Fellow Gerald Horn
Born in Southern California, architect Gerald Horn made his way to Chicago in 1966. Gerald Horn, a modernist whose bona fides were shaped by his time spent working at the LA firm of Craig Ellwood, an influential mid-century residential designer responsible for several Case Study houses, would go on to join the ranks of prominent Chicago architects of the day, producing notable works like the Northwestern Law School Building and the Illinois Bell Telephone Co., the latter winning Horn a national American Institute of Architects (AIA) design award in 1974.
In the late-1990s Gerald Horn came home to the South Bay (he was born in Inglewood) for a Manhattan Beach commission. His clients were looking to maximize the otherworldly Pacific Ocean views of their vantage corner lot at 9th Street and Highview Avenue. The AIA Fellow did just that, creating a glass-and-steel home distinguished by two striking, custom steel-truss wings, encased in glass and jutting over the coastal landscape.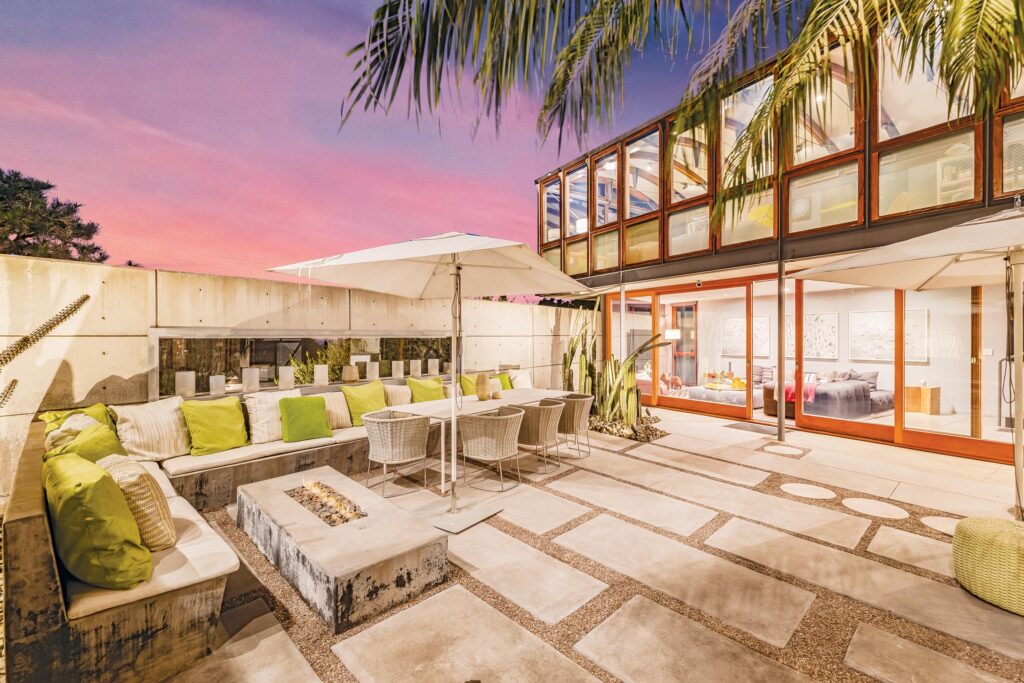 With an open floorplan and compartmentalized living areas neatly conjoined with the property's coastal setting, the approximately 3,643 square foot residence with 3 bedrooms and 3 bathrooms was named Sharon's California House II, and received a Residential Architect Design Award in 2000.
904 Highview Avenue was a showcase of Gerald Horn's design talent, particularly when it came to realizing exacting structure and details. It was also a perfect complement to the majestic Hill Section site that today, real estate agent Lauren Forbes of Compass points out, is less than a block from the current highest-on-record home sale in Manhattan Beach.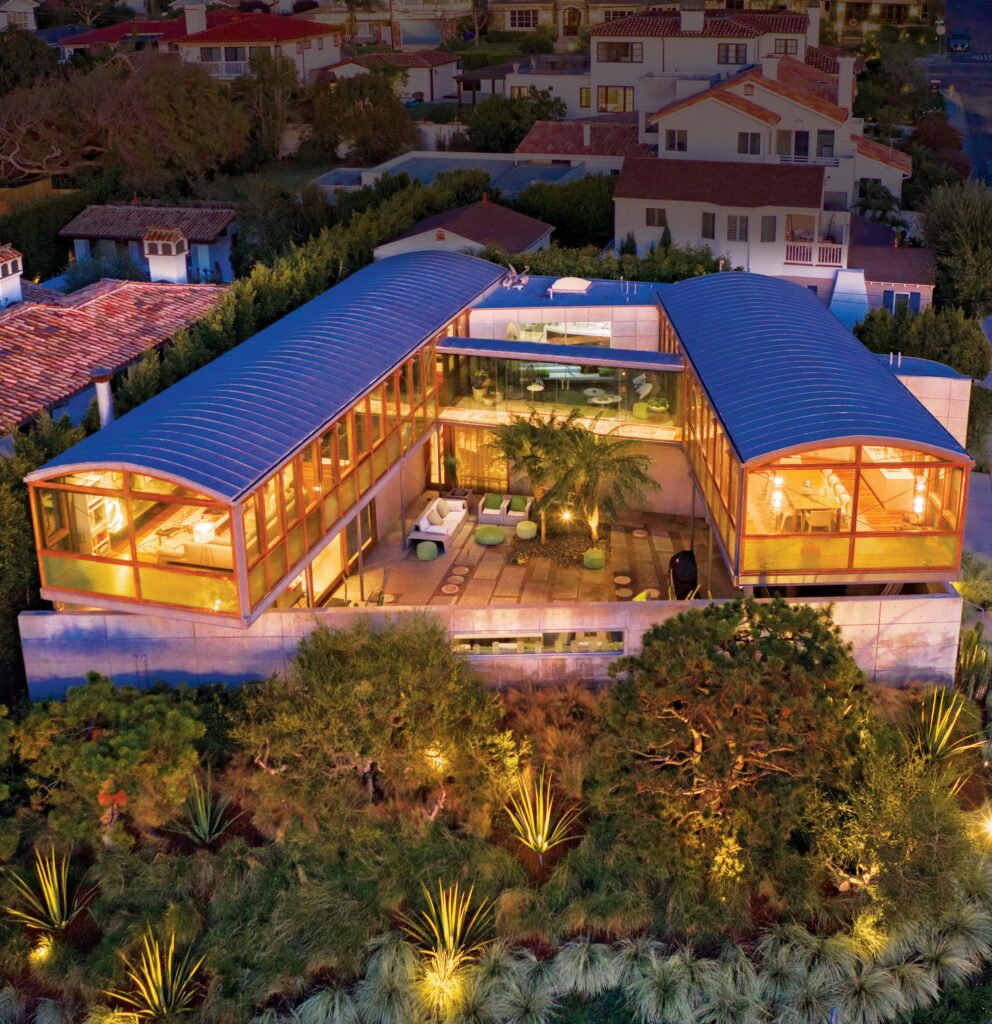 Fast forward to a dozen or so years later, when 904 Highview Avenue's new owner embarked on a mission to update the home, enlisting Margaret Griffin of Griffin-Enright Architects, another AIA Fellow, for the job.
"The new owner is an artist and did not change the architectural components of the house," points out Lauren Forbes, "but she brought it to a 2020-era time frame."
Every inviting contour of Gerald Horn's design remains the same, with the sophisticated, sun-kissed atmosphere appearing freshly au courant with revised finishes and fixtures—including glossy mahogany floors and enhanced lighting, along with new counters, cabinets and closets—and re-configured outdoor living spaces.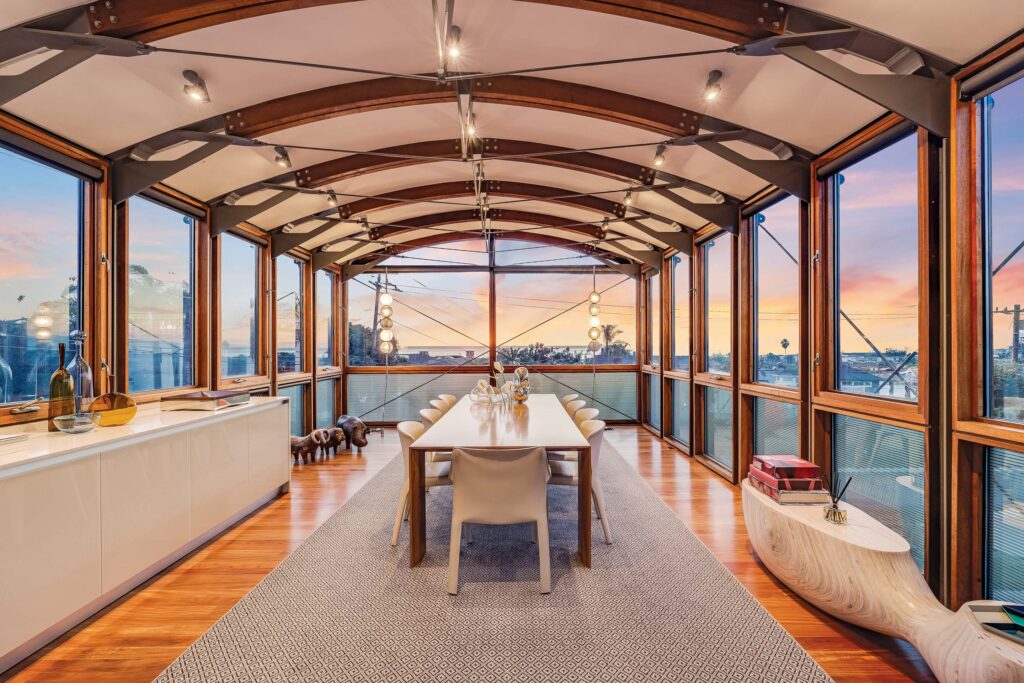 The glass-encased kitchen, for instance, was re-cast as a hyper-minimalist retreat with sleek Gaggenau and Miele appliances discreetly tucked into walnut cabinets. You can mingle and cook around the sculptural center island, sourced from German kitchen manufacturer Bulthaup, while enjoying ocean views. Steps away is a similarly airy dining room, surrounded by floor-to-ceiling windows, all neatly framed in teak, that sets the scene for unforgettable gatherings.
"The house sits high towards the back of the lot," the agent describes, "so you have this feeling of being on the hull of a boat, looking out over everything."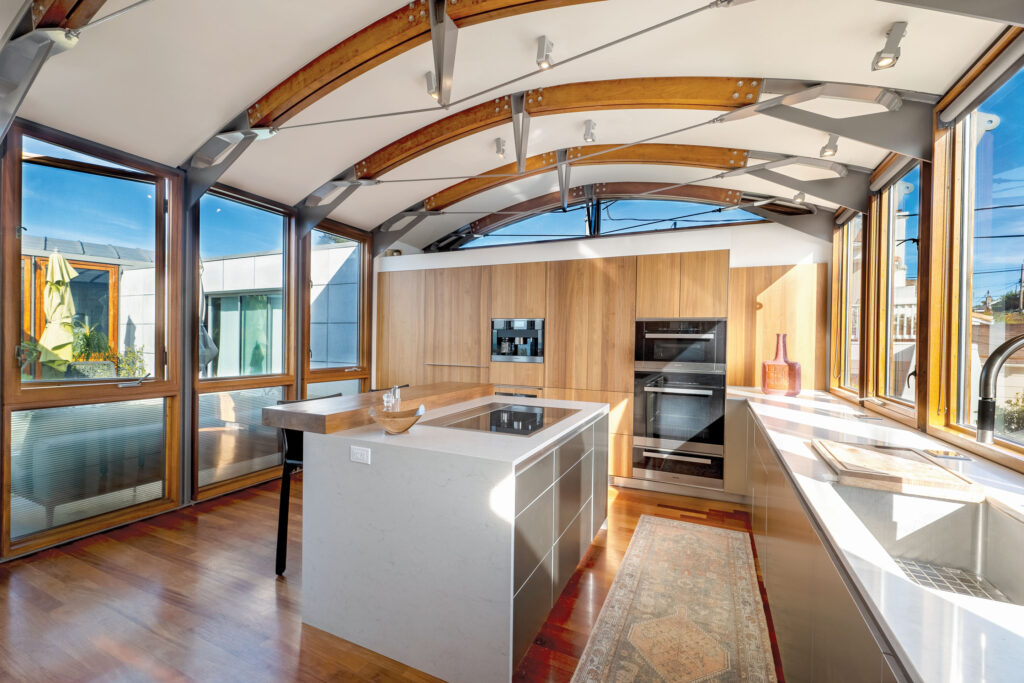 In this case, everything is an unblockable expanse of pure Southern California: from the first morning hours when light casts a new day over ocean and town, to the vivid blaze of color as the sun sinks into the horizon.
"You can see from Santa Monica and Malibu all the way to Palos Verdes," says Lauren Forbes. "You also have a great Queen's Necklace view."
At night, this twinkling of coastal lights is an elegant accompaniment to dinner parties which can wind down in a fireplaced living room, boasting equally superb ocean vistas, located in the neighboring wing. You step across a dramatic glass-encased catwalk to get there; with a sky-high patio located along the way—it's the perfect place to ponder sky and sea. Because every lot in front of the house has been built to maximum height, Lauren Forbes explains, you'll perpetually have unobstructed views looking from the house out to the ocean.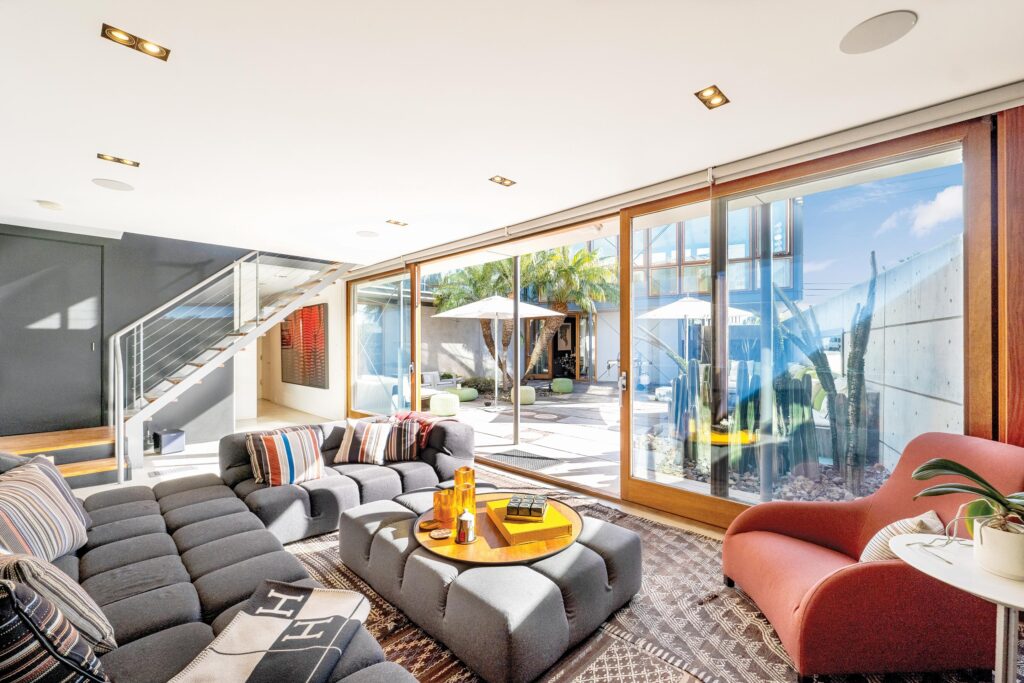 Also in this wing is a primary bedroom suite where sun streams in via slender transom windows and a generous sliding door leads to the newly remodeled bathroom. It's an amply-sized white-on-black retreat with an oceanview tub where you can soak while being refreshed by coastal air coming in from a big-picture window.
There are two more bedrooms on the floor below, and a bright den that can be transposed into a fourth bedroom. Notable in the latter room is instant outdoor access and views of a towering asymmetric sculpture, created by Angel City Lumber from resourced local lumber.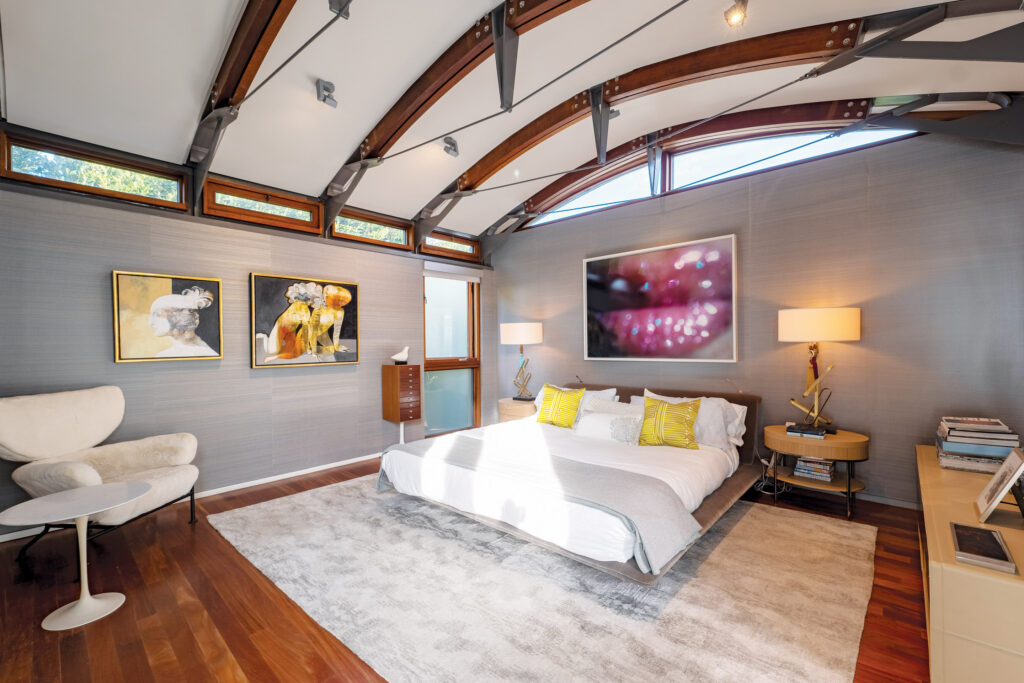 904 Highview Avenue's exterior spaces have been re-visioned by designer Kelsey Fair of Fair Studio. There's thoughtful new landscaping—a mix of desert plants and old-growth green trees—and a ground-floor central courtyard that caters to large gatherings or quiet moments. Tucked behind tall walls shrouded in greenery, you can gather with guests along built-in seating while flames flicker in the firepit, or gaze at the water through the large viewing window.
"If you are dining or lounging on the courtyard you still have an ocean view, but it's super private," points out Lauren Forbes.
It's the out-in-the-open seclusion of this home that's another master stroke of Gerald Horn's design. While many of 904 Highview Avenue's indoor spaces are sheathed in glass, they're not readily visible to outsiders.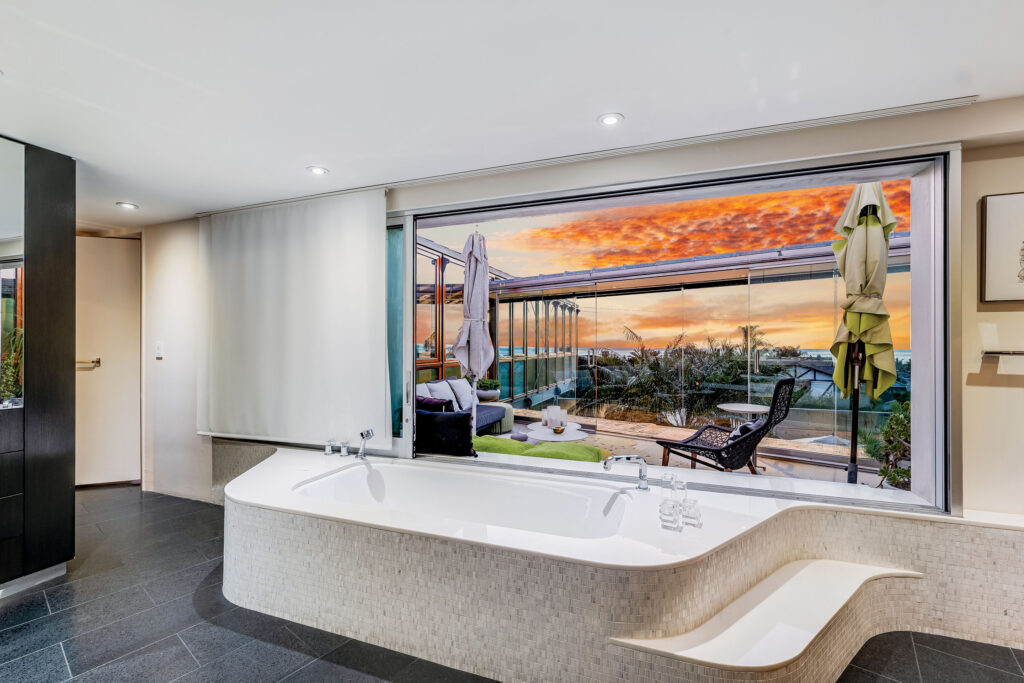 "You're only a couple of blocks away from the greenbelt," Lauren Forbes points out, "yet you feel like you're in a sanctuary."
You can walk to Downtown or bike to the beach in under 10 minutes, but back at 904 Highview Avenue, there's always a feeling of privacy and freedom while wandering through Gerald Horn's design, which so cleverly meshes its dramatic natural setting with a striking, precise structure—the hallmark of a 20th-century master who created a place to perfectly suit coastal living for many decades beyond its creation date.
Lauren Forbes | DRE# 01295248
Todd Jones | DRE# 01481426
310.901.8512
List Price: $7,499,000
Photography by Jeremy Pavia of Home Sweet Home Photography