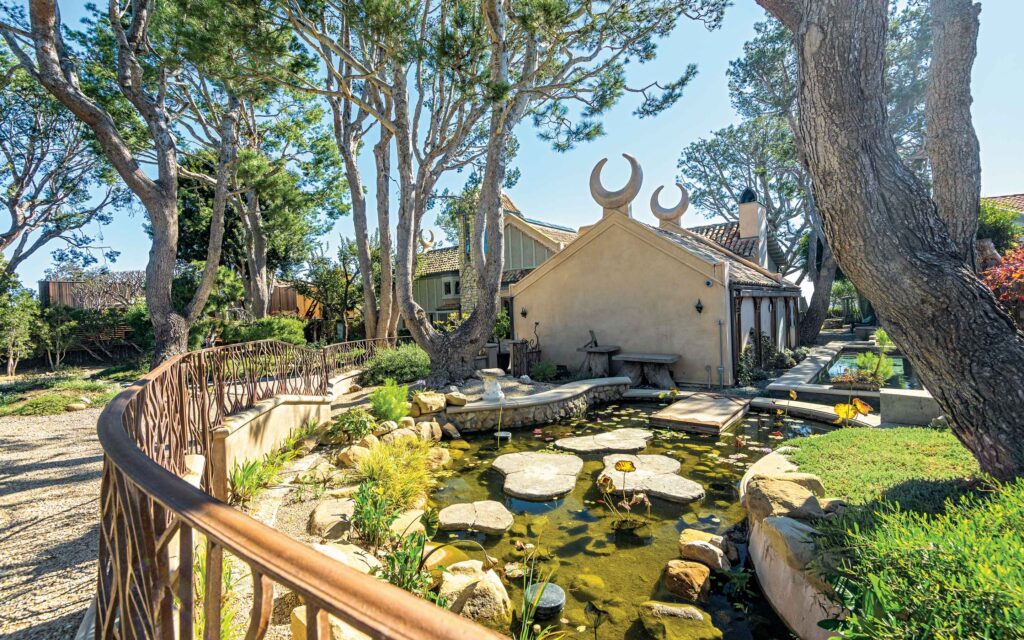 28980 Cliffside Drive, an Inspired One-acre Malibu Retreat is Distinguished by a Globally Channeled Aesthetic and Far-reaching Bluff Top Views
Cruise along the sun-dappled streets of Cliffside Drive and you're surrounded by the distinctive beauty of Point Dume—from graceful palm trees and native green plants to the jewel-like waters of Santa Monica Bay.
When you reach the landscaped stone driveway at 28980 Cliffside Drive, a gate swings open to welcome you to this peaceful 6-bedroom and 5-bathroom retreat situated on a rare oceanview lot.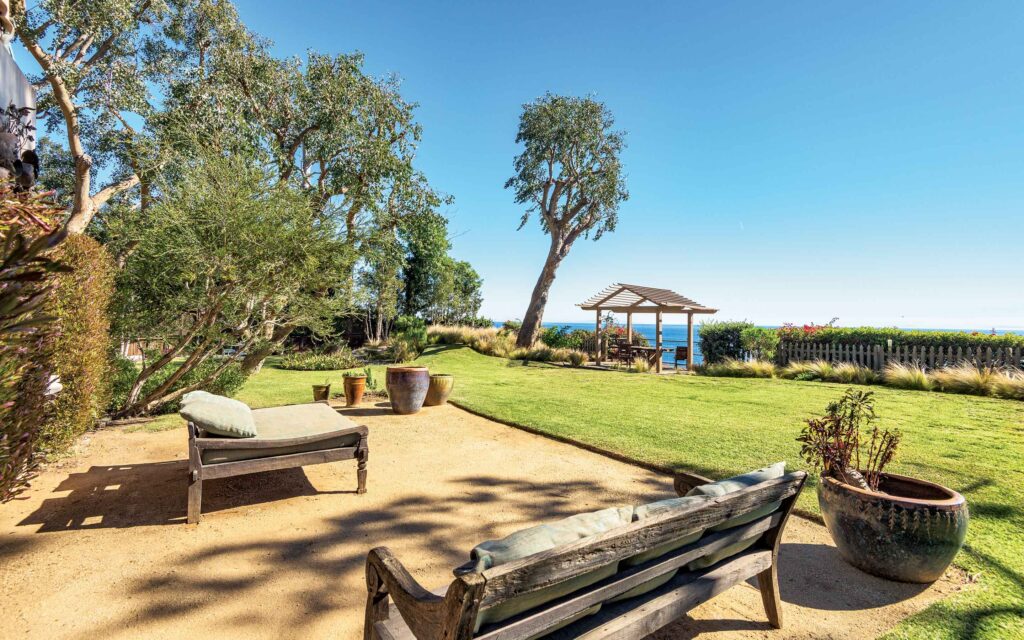 At this distinctive, 1.1-acre blufftop property 28980 Cliffside Drive, the central motif is close-to-nature living within a studied cocoon of Moroccan style, with design elements imported from Bali, Thailand, and Spain woven into the tapestry. The home's aesthetic sets it apart from other coastal dwellings in the area, though the atmosphere is just as sunlit and laidback.
From its front Balinese gate, crafted in dense wood, to poetic Moorish arches and zellij (mosaic tilework common in Moroccan and Spanish architecture)—28980 Cliffside Drive is a colorful interplay of imported style tucked within a design that makes the most of the natural splendor at one of the most charmed addresses in Malibu.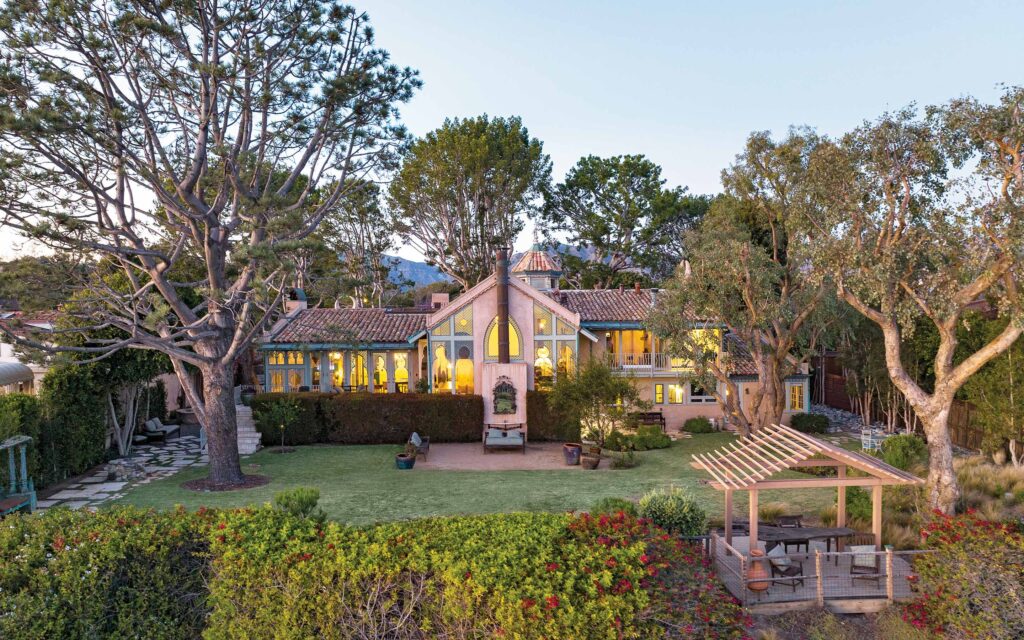 You can spend days wandering among the blossoming orange and plum trees before slipping into the slender pool, or meditating on a smooth rock in the grotto. The airy wood gazebo is an inviting space, nicely perched over the Pacific Ocean, that functions as the fresh-air heart of the property—a sanctuary to watch birds fly along the sea-sculpted bluffs or study the vivid hues of sunset. It's also an ideal spot for al fresco dining, though there's more than one, like the nearby deck or the paved terrace set amidst the manicured green lawn.
Indoors there's a richly hued kitchen with a gleaming, oversized range, which flows to a sun-drenched dining room with a star-patterned coffered ceiling. Nicely adjacent is 28980 Cliffside Drive's main gathering space: A double-height living room where you can lounge under cathedral ceilings while feel-good beach light and Pacific Ocean views pour inside.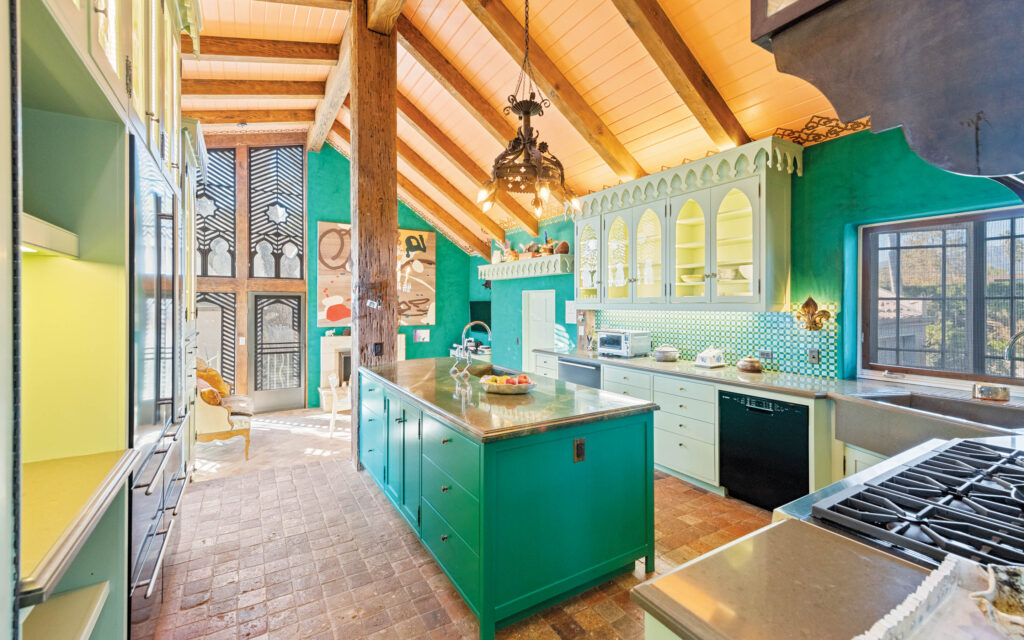 In the evening, guests can congregate in the sunken gathering area; an intimate space featuring a detailed floor mosaic of a coiled serpent (created by the late Frank Zappa), along with built-in seating and a glowing fireplace.
Warm Malibu breezes stream into the home when the living and dining room doors are open, further linking the interior with the outdoors. In addition to the network of well-placed windows, patios and doors, there are uplifting views of the sea and sky from 28980 Cliffside Drive's main living areas, and in several of the bedrooms. And a sense of privacy no matter where you roam.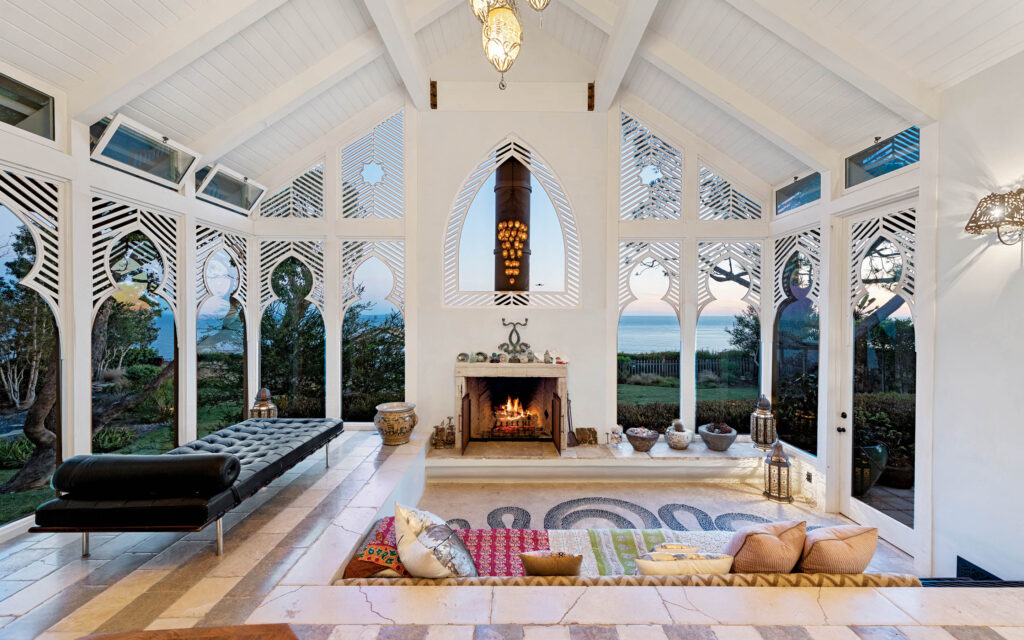 Landscaping, from pines and sea grass to dense greenery, neatly shrouds the property, as do tasteful walls of stone and wood. (A new security system adds reinforcement to this sense of being in one's own world.) When you feel like entertaining, 28980 Cliffside Drive has a separate service entrance and a circular motor court that welcomes guests with a poetic cluster of old-growth trees and parking for up to a dozen cars.
It's a Point Dume home designed around sharing special moments with others, yet there are multiple spaces to tuck away in seclusion. Notable is the primary bedroom suite with a tiled patio that draws you outdoors with its commanding views of the white-tipped waves and verdant yard.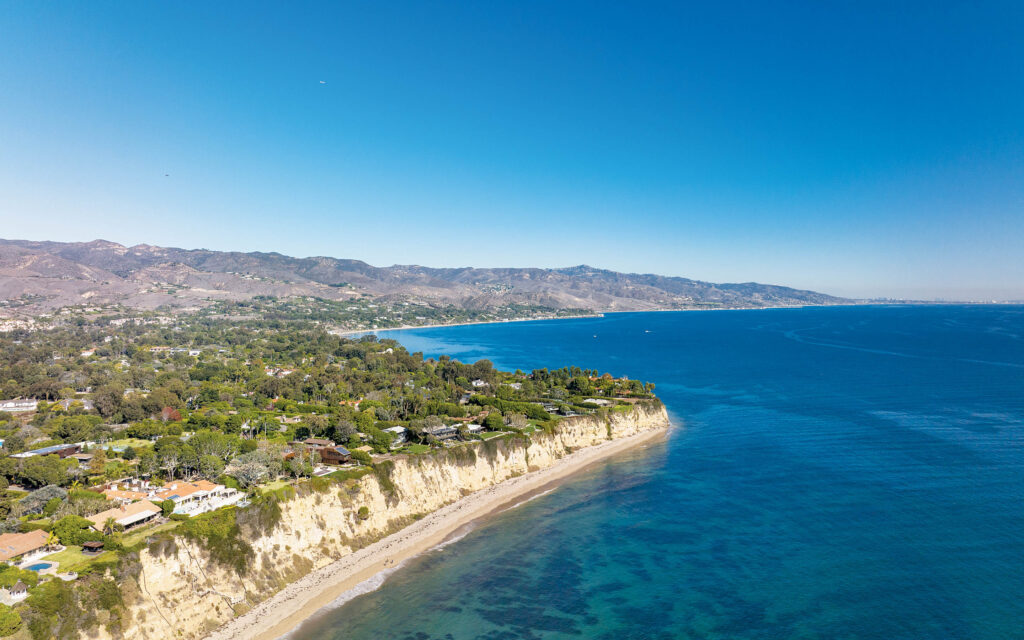 At night you can look up at the night sky filled with stars, or out ahead, at the ocean glowing with coastal lights. Adding to the retreat-like feel of this space is its peaceful sitting area and the generous, sunlit bathroom where you can bathe in an indoor/outdoor shower, surrounded by trees and ocean. 
There are four additional bedrooms, each made distinct by the one-off ornamentation that makes this home unique—from thick ceiling beams and intricately carved wood features, to character-rich tile work and quiet nooks where you can ponder the green trees and wafting seagrass against the soft blue of ocean and sky.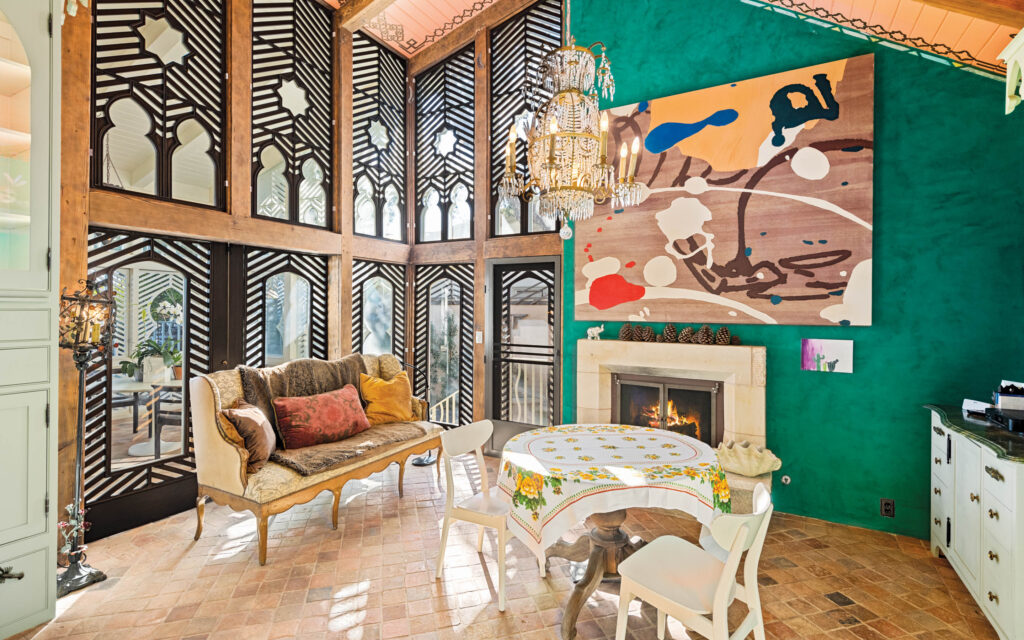 Fun quirks in the floor plan include a loft-like library with built-in bookcases, and a discreetly placed door leading to a small sunlit bonus room. When you climb the tucked-away side wood staircase you reach a tower room, a place to work or study surrounded by decoratively painted ceilings and uplifting sea views.
Step outside the gates of the estate and the lifestyle remains one of pure leisure, from exploring the trails and pinnacles of Point Dume, less than 10 minutes away on foot, to refreshing beach afternoons and surf sessions.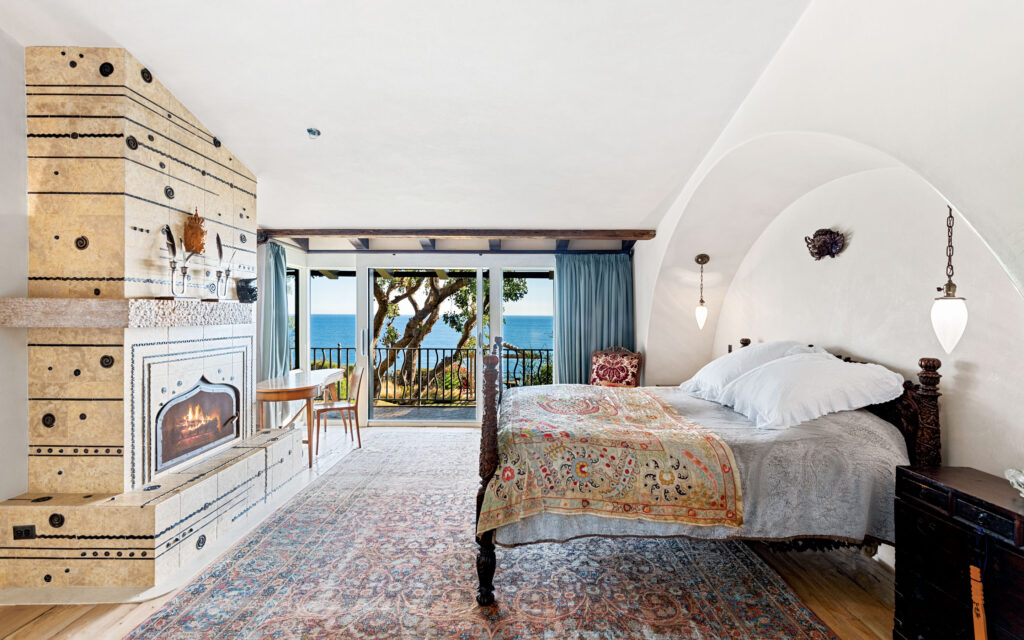 If you feel like venturing further, nearby destinations include shops and eateries at Malibu Country Mart, a 15-minute drive, and Trancas Country Market, 10 minutes by car. Though it's always tempting to stay right at home, where you're surrounded by rich, vivid spaces and a constant embrace of the land—an ideal match-up of design and nature.
Chris Cortazzo | DRE #01190363 | 310.457.3995
of Compass
List Price: $32,500,000
Photography Courtesy of Chris Cortazzo