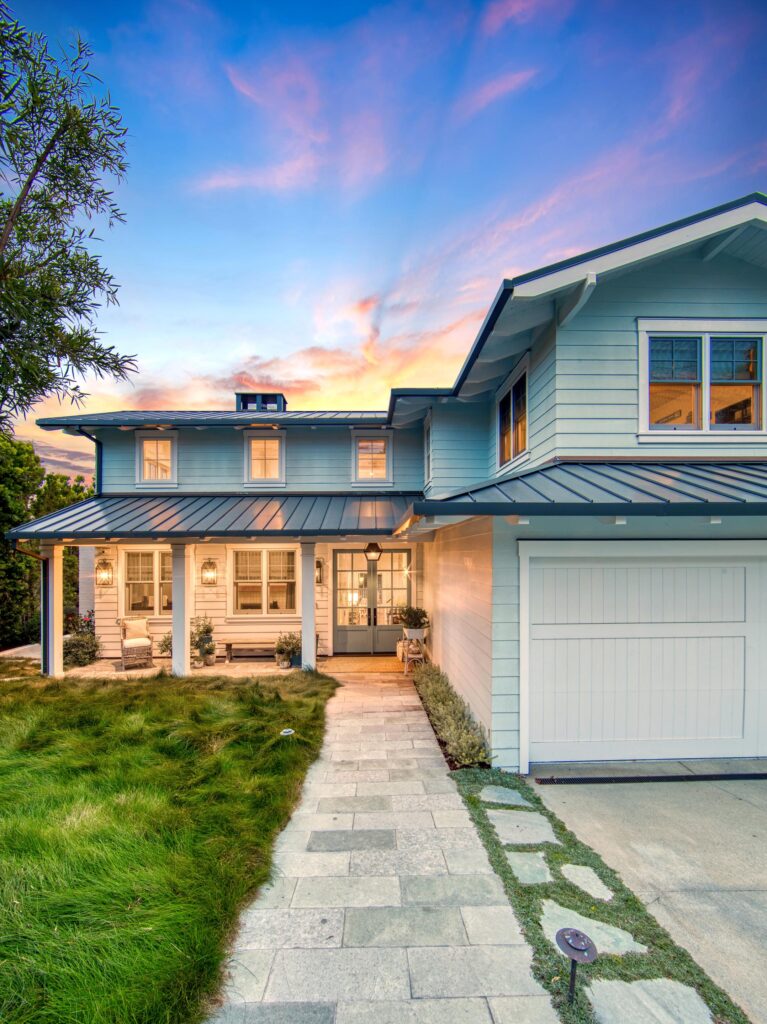 A Vibrant Family Home—located on an Oversized Manhattan Beach Lot—is Unified by a Warm, Coastal Design and a Spacious, Well-sculpted Outdoors
The Tree Section of Manhattan Beach is prized for its family-friendly streets and easy access to two of the town's primary charms—a vast sandy beachfront and a charming downtown, both brimming with life and activity. Tucked along 19th Street, just steps from the green fields of Live Oak Park and jogging paths along Valley-Ardmore, is a cluster of homes, part of an appealing pocket neighborhood. Old-growth trees and green palms line the street, and despite its low-key atmosphere, the area is remarkably central.
"It's part of American Martyrs—the most desirable part of the Tree Section," explains real estate agent Giovanni Altamura of The Altamura Real Estate Group. "You get bigger lots than what are typically found in the Tree Section, and you're right in town, so it's very walkable."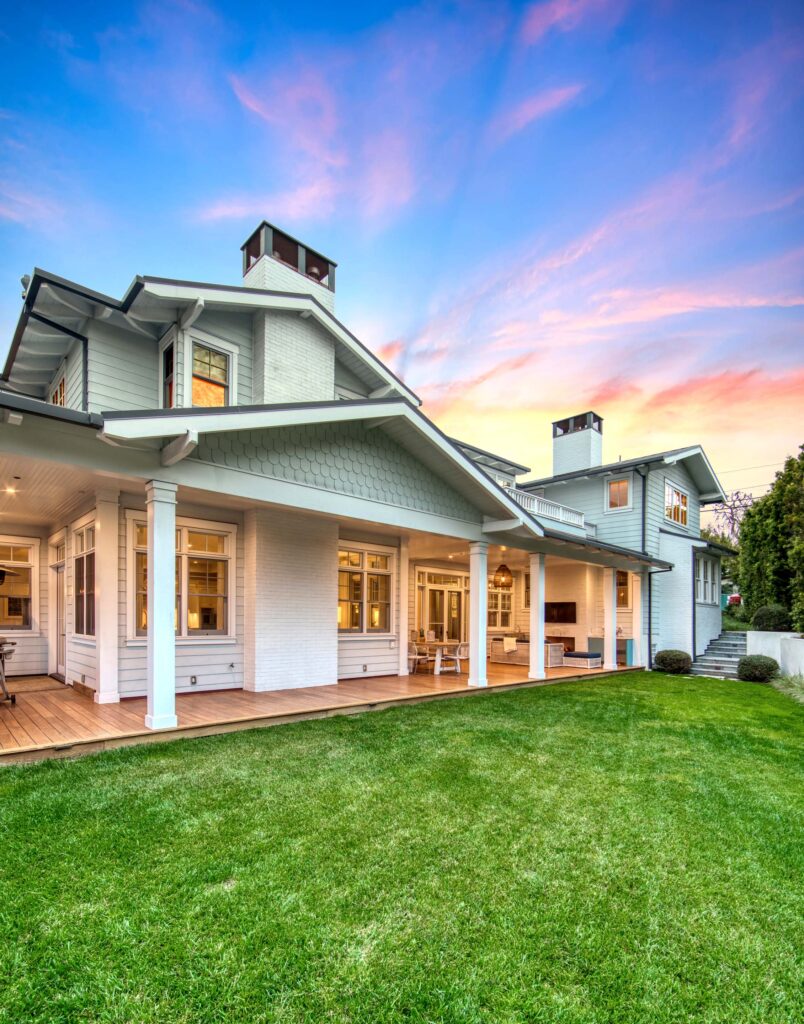 Downtown shops and restaurants are only 10 minutes away on foot, and you can hop on a beach cruiser to reach the ocean in the same amount of time. Schools are nearby, too; Pacific Elementary and American Martyrs School are just a few minutes walk from the front door of 677 19th Street.
The 6-bedroom, 7-bathroom home is a welcoming domestic hub—and a study in how to make the most of every square foot of space, both indoors and out. There's a plentiful canvas at this address, which was designed by notable architect Louis Tomaro and completed in 2016. The floorplan is expansive, with approximately 5,592 square feet of living space and three floors engineered for optimum user-friendliness. And loaded with distinctive charm and unique finishes. In this case, the interior designer was also the homeowner—and mother to four young children for whom many of 677 19th Street's most pragmatic features were created to suit.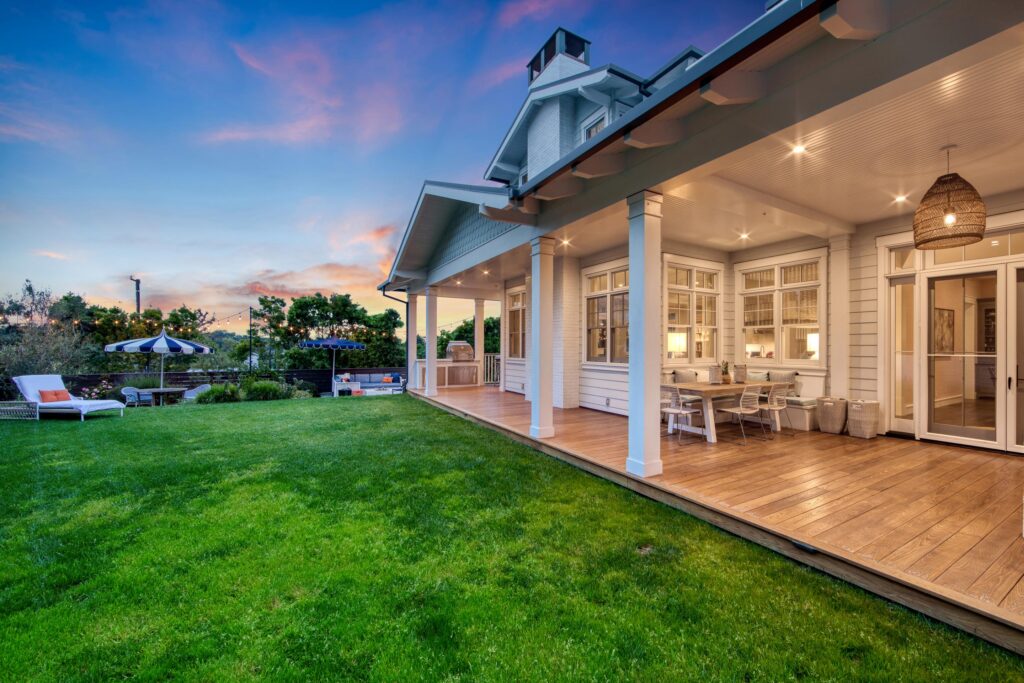 The details are extensive throughout the oversized lot—nearly 1/4 of an acre—that's designed as a fresh-air playground. Standalone spaces are woven into every corner, and there's a near-constant link to the indoors.
"It's one of the biggest lots in the Tree Section," points out Altamura. "It's a pie-shaped property that's roughly equivalent to two, average-sized yards for the area."
There's a charming front porch where you can watch kids play in the silky long grass, shaded by an old-growth eucalyptus tree. A wrap-around porch stretches across the rear of 677 19th Street, and lives like a year-round lounge: You can watch television in front of the fireplace, refreshing drinks and snacks from the built-in butler's kitchen. Steps away is an outdoor dining area with a built-in seating nook and a pizza oven. Adding structure and substance to the deck is its flooring—authentic hardwood and elevated above the grassy yard where you can play games and watch children play, even from indoors.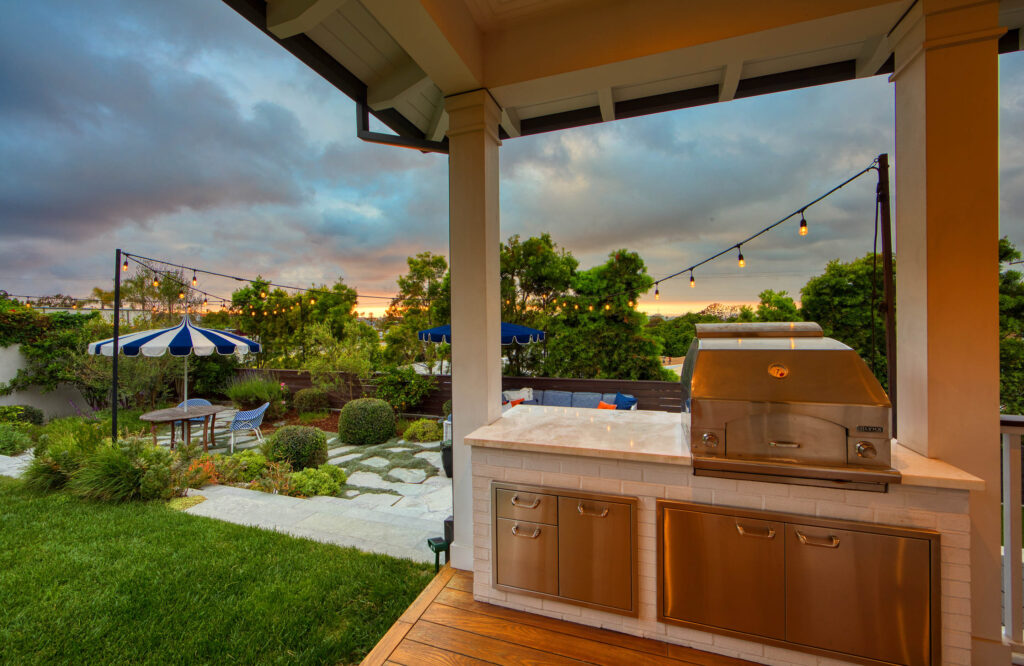 It's a place that lends itself to relaxation, particularly since it's so private. The lot slopes away from surrounding properties, points out Altamura, keeping the yard out of sight of neighbors. A pleasing white wall, adorned with thick landscaping, further adds to the shrouded feel of the spacious outdoors, where you can comfortably host events with a guest list of well over 100. After dark, you can imagine guests gathering around the paved lounge on the garden level, while the starry sky is illuminated by flames in the firepit.
Indoors, the designing homeowner has twined a sense of sunlit, coastal chic with cozy domesticity. In the kitchen, for instance, character-rich planks of hardwood play against a gleaming, marble island where family and guests gather daily. Among the extensive appliance list are a gleaming 6-burner range and a statement-making double oven in a bright blue hue, both by luxe makers BlueStar. In a novel twist, an oversized Sub-Zero refrigerator is cloaked behind a hefty, vintage-style wood cabinet.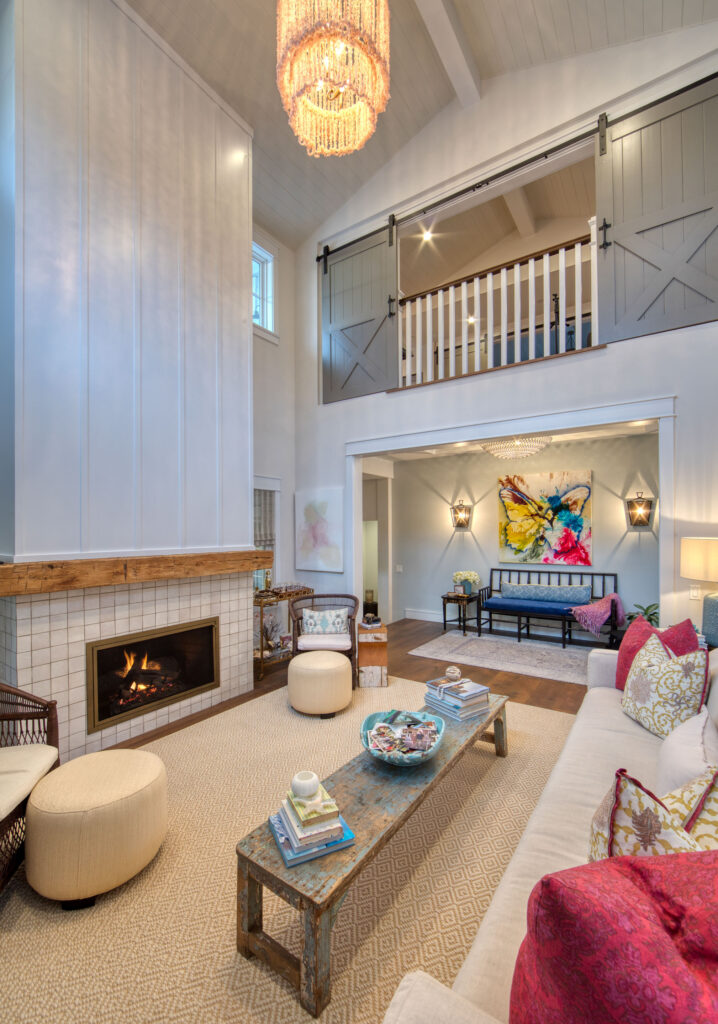 "It's big enough," the agent says of the home, "so a family of six won't feel like they're splitting at the seams."
677 19th Street's theme of spaciousness is emphasized by its great collection of places to gather. There's a formal living room with a double-height ceiling and a fireplace fronted in white tile. An elegant dining room that seats a dozen, and downstairs, a playful great room equipped with a basic kitchen and an ample refrigerator, ideal for storing drinks and snacks. This lower level also houses two bedrooms, making it the perfect standalone apartment for long-term guests.
"Everything is of custom quality, and there's a lot of thought throughout," says Altamura of 677 19th Street.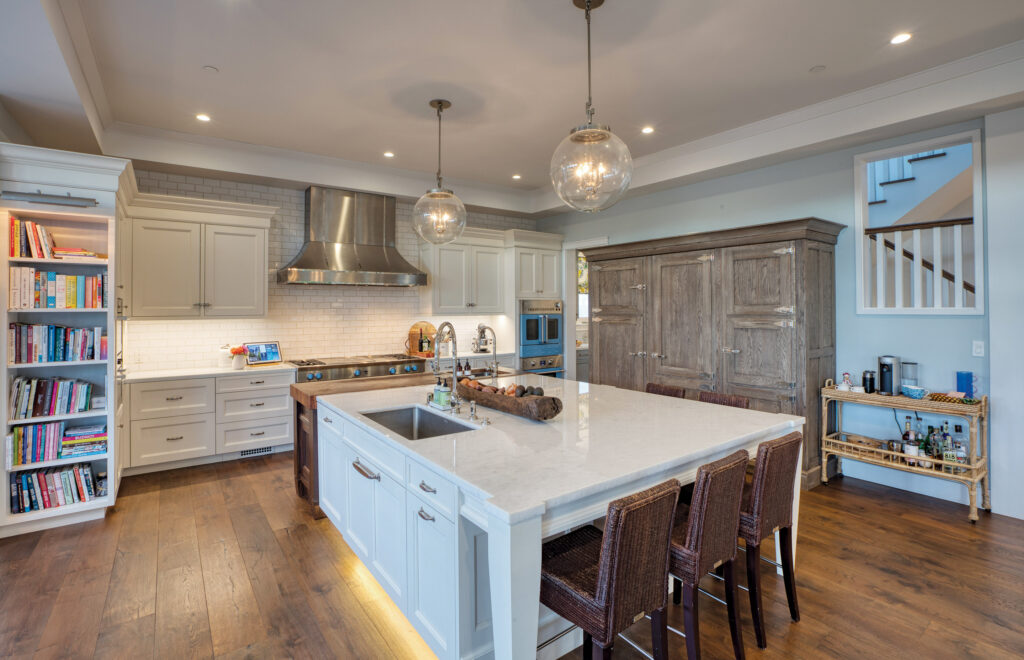 The uppermost level is home to four more bedrooms, including a sunlit primary suit where you fix your morning brew at the coffee bar before stepping into the steam shower or the infrared sauna. Sleeping spaces on this level have been interspersed smartly with places to congregate: kids can play and read in the sunny loft, or do homework at the built-in workstations in the airy study; both places are adjacent to the fresh-air balcony that overlooks the backyard. There's also storage, plenty of it, throughout the residence.
"Every little nook and cranny was used for the practical storage that parents want," describes Altamura, pointing out how the garage even houses custom nooks for things like ski equipment, beach chairs and bikes—local lifestyle necessities that add up in bulk, particularly for larger families.
"You're in the Martyrs area with a big, custom house and you essentially have two yards," he says of 677 19th Street. "Plus a sense of privacy and walkability."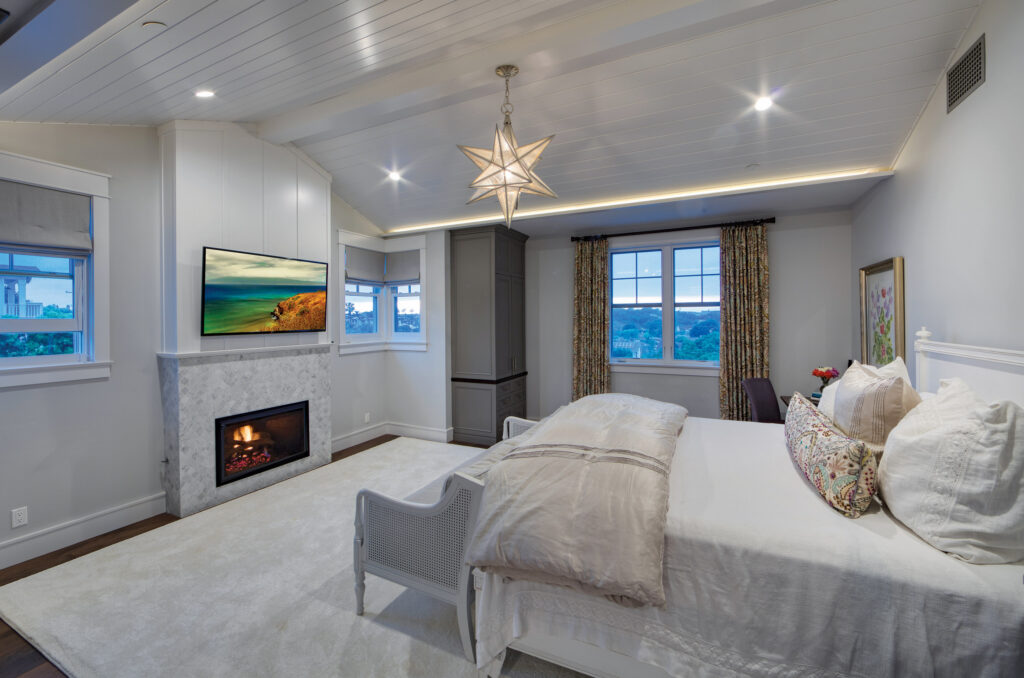 In a zip code where spaciousness and a connection to nature are particularly prized, this Manhattan Beach home has managed the twin feats of both—plus the bonus of being close to beach and town.
"This property," the agent sums up, "hits several items on the wish list of anyone looking west of Sepulveda."
Giovanni Altamura | 310.503.9293 | DRE #01818979
Altamura Real Estate Group
List Price: $8,995,000
Photography by Paul Jonason